{"PagingOverride":false,"IncludesForm":false,"RequiresKendoDatePicker":false,"RequiresMDC":false,"RequiresFileDownloader":false,"IsShop":false,"OriginalSemanticString":null,"NoFollow":false,"NoIndex":false,"CustomCanonical":null,"AttributeFilterText":null,"AttributeSignatureText":null,"UserInCorrectSite":false,"CountryCorrectorDismissed":false,"CorrectSitesForUser":[{"CountryLanguageID":5,"RegionID":2,"CountryID":238,"CountryCode":"US","LanguageID":2,"SortOrder":125,"Name":"United States","URL":"us","DotNetCulture":"en-US","ShopEnabled":true,"LanguageCode":"us","LanguageDotNetCulture":"en-US","MertexCurrencyCode":"USD","CurrencyCode":"USD","PriceListID":2,"AllowTradeOrders":true,"AcceptAmazonPay":true,"BuyOnlineRedirectAllowed":false,"EcommerceEnabled":true,"SamplesEnabled":false}],"PrefetchedResources":[{"Name":"Quantity","Value":"Cantidad"},{"Name":"QuantityRequired","Value":"Debe proporcionar una cantidad"},{"Name":"pleaseGreaterThanEqualTo","Value":"Ingrese un valor mayor o igual a"},{"Name":"pleaseLessThanEqualTo","Value":"Ingrese un valor menor o igual a"},{"Name":"ShowImageProducts","Value":"Tap here to view products in the above image"},{"Name":"HideImageProducts","Value":"Tap here to hide products in the above image"},{"Name":"Sorry","Value":"Disculpe"},{"Name":"ThereWereNoResultsForThatCombination","Value":"There were no results for that combination of filters."},{"Name":"WeHaveDeselectedTheFollowing","Value":"We have deselected the following filter(s) for you"},{"Name":"AttributeFilterTextResultFoundFor","Value":"{Count} result found for {AttributeFilterText}"},{"Name":"AttributeFilterTextResultsFoundFor","Value":"{Count} results found for {AttributeFilterText}"},{"Name":"MajorError","Value":"No hemos podido procesar su solicitud en este momento. Por favor pinche en el boton retroceso y vuelva a intentarlo. Si el problema persiste, por favor escriba a \nventasespana@designersguild.com y nuestro servicio de atencion al cliente se pondrá en contacto con usted tan pronto como sea posible"}],"PrefetchedSnippets":[],"HeaderBanners":[],"HasHeaderBanners":false,"FooterBanners":[],"HasFooterBanners":false,"EcommercePopupBanners":[],"HasEcommercePopupBanners":false,"Banners":[{"id":12,"name":"One","banners":[{"bannerId":8490,"name":"Lookbooks 12 (Inspiration)","version":9,"sortOrder":1,"overlayText":"","altText":null,"titleText":null,"width":1024,"height":960,"linkURL":"/es/folletos/l1179","newWindow":false,"foregroundColour":"#000000","backgroundColour":"#ffffff","fontClass":null,"restrictions":{"menuIds":[12,66,106],"siteSectionIds":null,"pageIds":null}},{"bannerId":6325,"name":"Christian Lacroix","version":11,"sortOrder":2,"overlayText":"","altText":"Christian Lacroix","titleText":"Christian Lacroix","width":1024,"height":394,"linkURL":"/es/christian-lacroix/l1397","newWindow":false,"foregroundColour":"#000000","backgroundColour":"#ffffff","fontClass":"default-text","restrictions":{"menuIds":[11,45,72,91,108],"siteSectionIds":null,"pageIds":null}}]},{"id":13,"name":"Two","banners":[{"bannerId":8489,"name":"Films 13 (Inspiration)","version":11,"sortOrder":1,"overlayText":"","altText":null,"titleText":null,"width":1024,"height":960,"linkURL":"/es/videos/l1180","newWindow":false,"foregroundColour":"#000000","backgroundColour":"#ffffff","fontClass":null,"restrictions":{"menuIds":[12,66,106],"siteSectionIds":null,"pageIds":null}},{"bannerId":7098,"name":"Ralph Lauren New","version":10,"sortOrder":2,"overlayText":"","altText":"Ralph Lauren","titleText":"Ralph Lauren","width":1024,"height":394,"linkURL":"/es/ralph-lauren/l1398","newWindow":false,"foregroundColour":"#000000","backgroundColour":"#ffffff","fontClass":"default-text","restrictions":{"menuIds":[45,72,91,108],"siteSectionIds":null,"pageIds":null}},{"bannerId":1975,"name":"Global 13 Furniture","version":15,"sortOrder":4,"overlayText":"#YOURSOFAYOURWAY > ","altText":"#YOURSOFAYOURWAY > ","titleText":"#YOURSOFAYOURWAY > ","width":256,"height":224,"linkURL":"/es/furniture/your-sofa-your-way/l1467","newWindow":false,"foregroundColour":"#000000","backgroundColour":"#ffffff","fontClass":"under-menu-banner-C1","restrictions":{"menuIds":[3,41],"siteSectionIds":null,"pageIds":null}},{"bannerId":1571,"name":"ES Shop 13","version":2,"sortOrder":5,"overlayText":"BASICOS PARA EL DORMITORIO","altText":"BASICOS PARA EL DORMITORIO","titleText":"BASICOS PARA EL DORMITORIO","width":1024,"height":1024,"linkURL":"/es/ropa-de-cama/l1349","newWindow":false,"foregroundColour":"#000000","backgroundColour":"#ffffff","fontClass":"under-menu-banner-C1","restrictions":{"menuIds":[1,13,21,25,30,31,50,51,56,57,69,70,71,79,92,100,101,125,126,131,132,150,151,156,157,175,176,181,182,200,201,206,207,225,226,231,232,250,251],"siteSectionIds":null,"pageIds":null}}]},{"id":14,"name":"Three","banners":[{"bannerId":8491,"name":"Blog 14 (Inspiration)","version":5,"sortOrder":1,"overlayText":"","altText":null,"titleText":null,"width":1024,"height":960,"linkURL":"/es/dg-world/blog/l601","newWindow":false,"foregroundColour":"#000000","backgroundColour":"#ffffff","fontClass":null,"restrictions":{"menuIds":[12,66,106],"siteSectionIds":null,"pageIds":null}},{"bannerId":1809,"name":"Royal Collection","version":11,"sortOrder":2,"overlayText":"","altText":"Royal Collection","titleText":"Royal Collection","width":1024,"height":394,"linkURL":"/es/the-royal-collection/l1396","newWindow":false,"foregroundColour":"#000000","backgroundColour":"#ffffff","fontClass":"default-text","restrictions":{"menuIds":[45,72,91,108],"siteSectionIds":null,"pageIds":null}}]},{"id":15,"name":"Four","banners":[{"bannerId":4115,"name":"News & Events 15 (Inspiration)","version":5,"sortOrder":1,"overlayText":"","altText":null,"titleText":null,"width":1024,"height":960,"linkURL":"/es/dg-world/news-and-events/l602","newWindow":false,"foregroundColour":"#000000","backgroundColour":"#ffffff","fontClass":null,"restrictions":{"menuIds":[12,66,106],"siteSectionIds":null,"pageIds":null}},{"bannerId":1805,"name":"William Yeoward","version":10,"sortOrder":2,"overlayText":"","altText":"William Yeoward","titleText":"William Yeoward","width":1024,"height":394,"linkURL":"/es/william-yeoward/l1399","newWindow":false,"foregroundColour":"#000000","backgroundColour":"#ffffff","fontClass":"default-text","restrictions":{"menuIds":[11,45,72,91,108],"siteSectionIds":null,"pageIds":null}}]},{"id":16,"name":"Five","banners":[{"bannerId":7779,"name":"Brands English Heritage ","version":79,"sortOrder":1,"overlayText":"","altText":"English Heritage ","titleText":"English Heritage ","width":1024,"height":394,"linkURL":"/es/english-heritage-by-designers-guild/l1852","newWindow":false,"foregroundColour":"#000000","backgroundColour":"#ffffff","fontClass":null,"restrictions":{"menuIds":[11,45,72,91,103,108],"siteSectionIds":null,"pageIds":null}},{"bannerId":4118,"name":"Social Media 16 (Inspiration)","version":7,"sortOrder":2,"overlayText":"","altText":null,"titleText":null,"width":1024,"height":960,"linkURL":"https://www.instagram.com/designersguild/?hl=en","newWindow":false,"foregroundColour":"#000000","backgroundColour":"#ffffff","fontClass":null,"restrictions":{"menuIds":[66,106],"siteSectionIds":null,"pageIds":null}}]},{"id":17,"name":"Six","banners":[{"bannerId":4113,"name":"About Us 17 (Inspiration)","version":3,"sortOrder":1,"overlayText":"","altText":null,"titleText":null,"width":1024,"height":958,"linkURL":"/es/perfil-de-compania/l1004","newWindow":false,"foregroundColour":"#000000","backgroundColour":"#ffffff","fontClass":null,"restrictions":{"menuIds":[12,66,106],"siteSectionIds":null,"pageIds":null}},{"bannerId":2117,"name":"John Derian","version":18,"sortOrder":2,"overlayText":"","altText":"John Derian","titleText":"John Derian","width":1024,"height":394,"linkURL":"/es/john-derian/l1521","newWindow":false,"foregroundColour":"#000000","backgroundColour":"#ffffff","fontClass":"default-text","restrictions":{"menuIds":[45,72,91,108],"siteSectionIds":null,"pageIds":null}}]}],"Hotspots":[],"RecentlyViewed":[],"MasterDefinition":{"SiteSectionID":14,"TitleTag":"Eco Friendly Paints | Designers Guild","MetaDescription":null,"BackInStockReminder":null,"ItemsInBasket":0.0,"UrlBreakdown":{"ContentType":0,"ContentId":1483,"ContentDate":"2023-12-06T00:00:00","SemanticString":"paint/eco-friendly","countryDetails":{"CountryLanguageID":6,"RegionID":3,"CountryID":71,"CountryCode":"ES","LanguageID":5,"SortOrder":23,"Name":"Spain","URL":"es","DotNetCulture":"es-ES","ShopEnabled":true,"LanguageCode":"es","LanguageDotNetCulture":"es-ES","MertexCurrencyCode":"EUR","CurrencyCode":"EUR","PriceListID":7,"AllowTradeOrders":true,"AcceptAmazonPay":false,"BuyOnlineRedirectAllowed":false,"EcommerceEnabled":false,"SamplesEnabled":true},"contentTypeAndIdNotFound":false,"CountryAwareness":{"Match":false,"Culture":"us","objCountryItem":{"CountryLanguageID":5,"RegionID":2,"CountryID":238,"CountryCode":null,"LanguageID":2,"SortOrder":1,"Name":"United States","URL":"us","DotNetCulture":"en-US","ShopEnabled":true,"LanguageCode":"us","LanguageDotNetCulture":"en-US","MertexCurrencyCode":"USD","CurrencyCode":"USD","PriceListID":2,"AllowTradeOrders":true,"AcceptAmazonPay":true,"BuyOnlineRedirectAllowed":false,"EcommerceEnabled":false,"SamplesEnabled":false}},"GeoIPCulture":null,"siteCountryNotFoundInUrl":false},"GoogleHrefs":[{"hreflang":"de","href":"https://www.designersguild.com/de/umweltfreundliche-farbe/l1483"},{"hreflang":"de-at","href":"https://www.designersguild.com/at/umweltfreundliche-farbe/l1483"},{"hreflang":"de-ch","href":"https://www.designersguild.com/de-ch/umweltfreundliche-farbe/l1483"},{"hreflang":"en","href":"https://www.designersguild.com/row/paint/eco-friendly/l1483"},{"hreflang":"en-au","href":"https://www.designersguild.com/au/paint/eco-friendly/l1483"},{"hreflang":"en-be","href":"https://www.designersguild.com/be/paint/eco-friendly/l1483"},{"hreflang":"en-ca","href":"https://www.designersguild.com/us/paint/eco-friendly/l1483"},{"hreflang":"en-dk","href":"https://www.designersguild.com/dk/paint/eco-friendly/l1483"},{"hreflang":"en-gb","href":"https://www.designersguild.com/uk/paint/eco-friendly/l1483"},{"hreflang":"en-gg","href":"https://www.designersguild.com/uk/paint/eco-friendly/l1483"},{"hreflang":"en-gr","href":"https://www.designersguild.com/eu/paint/eco-friendly/l1483"},{"hreflang":"en-ie","href":"https://www.designersguild.com/ie/paint/eco-friendly/l1483"},{"hreflang":"en-im","href":"https://www.designersguild.com/uk/paint/eco-friendly/l1483"},{"hreflang":"en-je","href":"https://www.designersguild.com/uk/paint/eco-friendly/l1483"},{"hreflang":"en-lu","href":"https://www.designersguild.com/be/paint/eco-friendly/l1483"},{"hreflang":"en-nl","href":"https://www.designersguild.com/nl/paint/eco-friendly/l1483"},{"hreflang":"en-no","href":"https://www.designersguild.com/no/paint/eco-friendly/l1483"},{"hreflang":"en-nz","href":"https://www.designersguild.com/nz/paint/eco-friendly/l1483"},{"hreflang":"en-se","href":"https://www.designersguild.com/se/paint/eco-friendly/l1483"},{"hreflang":"en-us","href":"https://www.designersguild.com/us/paint/eco-friendly/l1483"},{"hreflang":"es","href":"https://www.designersguild.com/es/paint/eco-friendly/l1483"},{"hreflang":"fi-fi","href":"https://www.designersguild.com/fi/paint/eco-friendly/l1483"},{"hreflang":"fr","href":"https://www.designersguild.com/fr/paint/eco-friendly/l1483"},{"hreflang":"fr-ch","href":"https://www.designersguild.com/fr-ch/paint/eco-friendly/l1483"},{"hreflang":"it-it","href":"https://www.designersguild.com/it/paint/eco-friendly/l1483"},{"hreflang":"ru","href":"https://www.designersguild.com/ru/paint/eco-friendly/l1483"},{"hreflang":"x-default","href":"https://www.designersguild.com/uk/paint/eco-friendly/l1483"}],"CountryDropDown":{"countryDropDownItems":[{"CountryID":81,"Code":null,"LanguageID":1,"RegionID":3,"LanguageCode":"en","Country":"UK","Region":"Europe","URL":"uk","URLKeywords":"","SortOrder":1,"PageID":0},{"CountryID":15,"Code":null,"LanguageID":4,"RegionID":3,"LanguageCode":"de","Country":"Austria","Region":"Europe","URL":"at","URLKeywords":"","SortOrder":11,"PageID":0},{"CountryID":23,"Code":null,"LanguageID":1,"RegionID":3,"LanguageCode":"en","Country":"Belgium","Region":"Europe","URL":"be","URLKeywords":"","SortOrder":12,"PageID":0},{"CountryID":62,"Code":null,"LanguageID":1,"RegionID":3,"LanguageCode":"en","Country":"Denmark","Region":"Europe","URL":"dk","URLKeywords":"","SortOrder":13,"PageID":0},{"CountryID":74,"Code":null,"LanguageID":15,"RegionID":3,"LanguageCode":"fi","Country":"Finland","Region":"Europe","URL":"fi","URLKeywords":"","SortOrder":15,"PageID":0},{"CountryID":79,"Code":null,"LanguageID":3,"RegionID":3,"LanguageCode":"fr","Country":"France","Region":"Europe","URL":"fr","URLKeywords":"","SortOrder":16,"PageID":0},{"CountryID":60,"Code":null,"LanguageID":4,"RegionID":3,"LanguageCode":"de","Country":"Germany","Region":"Europe","URL":"de","URLKeywords":"","SortOrder":17,"PageID":0},{"CountryID":106,"Code":null,"LanguageID":1,"RegionID":3,"LanguageCode":"en","Country":"Ireland","Region":"Europe","URL":"ie","URLKeywords":"","SortOrder":18,"PageID":0},{"CountryID":114,"Code":null,"LanguageID":6,"RegionID":3,"LanguageCode":"it","Country":"Italy","Region":"Europe","URL":"it","URLKeywords":"","SortOrder":19,"PageID":0},{"CountryID":170,"Code":null,"LanguageID":13,"RegionID":3,"LanguageCode":"en","Country":"Netherlands","Region":"Europe","URL":"nl","URLKeywords":"","SortOrder":20,"PageID":0},{"CountryID":71,"Code":null,"LanguageID":5,"RegionID":3,"LanguageCode":"es","Country":"Spain","Region":"Europe","URL":"es","URLKeywords":"","SortOrder":23,"PageID":0},{"CountryID":202,"Code":null,"LanguageID":1,"RegionID":3,"LanguageCode":"en","Country":"Sweden","Region":"Europe","URL":"se","URLKeywords":"","SortOrder":24,"PageID":0},{"CountryID":171,"Code":null,"LanguageID":1,"RegionID":3,"LanguageCode":"en","Country":"Norway","Region":"Europe","URL":"no","URLKeywords":"","SortOrder":52,"PageID":0},{"CountryID":118,"Code":null,"LanguageID":11,"RegionID":4,"LanguageCode":"jp","Country":"Nihon","Region":"Africa, Asia & the Middle East","URL":"jp","URLKeywords":"","SortOrder":71,"PageID":0},{"CountryID":46,"Code":null,"LanguageID":3,"RegionID":3,"LanguageCode":"fr","Country":"Switzerland","Region":"Europe","URL":"fr-ch","URLKeywords":"","SortOrder":102,"PageID":0},{"CountryID":46,"Code":null,"LanguageID":4,"RegionID":3,"LanguageCode":"de","Country":"Switzerland","Region":"Europe","URL":"de-ch","URLKeywords":"","SortOrder":103,"PageID":0},{"CountryID":196,"Code":null,"LanguageID":10,"RegionID":3,"LanguageCode":"ru","Country":"Russian Federation","Region":"Europe","URL":"ru","URLKeywords":"","SortOrder":109,"PageID":0},{"CountryID":238,"Code":null,"LanguageID":2,"RegionID":2,"LanguageCode":"us","Country":"United States","Region":"North America","URL":"us","URLKeywords":"","SortOrder":125,"PageID":0},{"CountryID":16,"Code":null,"LanguageID":12,"RegionID":6,"LanguageCode":"au","Country":"Australia","Region":"Australasia","URL":"au","URLKeywords":"","SortOrder":150,"PageID":0},{"CountryID":175,"Code":null,"LanguageID":18,"RegionID":6,"LanguageCode":"nz","Country":"New Zealand","Region":"Australasia","URL":"nz","URLKeywords":"","SortOrder":151,"PageID":0},{"CountryID":67,"Code":null,"LanguageID":1,"RegionID":3,"LanguageCode":"en","Country":"Other Countries in Europe","Region":"Europe","URL":"eu","URLKeywords":"","SortOrder":255,"PageID":0},{"CountryID":51,"Code":null,"LanguageID":1,"RegionID":4,"LanguageCode":"en","Country":"Rest of the World","Region":"Africa, Asia & the Middle East","URL":"row","URLKeywords":"","SortOrder":255,"PageID":0}]},"ProductTypeDropDown":{"ProductTypes":[{"ProductTypeID":15,"Name":"Tela","NamePlural":null,"URLKeywords":null,"SortOrder":0,"FilterIndexRestrictions":null,"ProductPageIDs":null,"FormValue":"tela"},{"ProductTypeID":18,"Name":"Papel Pintado","NamePlural":null,"URLKeywords":null,"SortOrder":0,"FilterIndexRestrictions":null,"ProductPageIDs":null,"FormValue":"papel-pintado"},{"ProductTypeID":8,"Name":"Pintura","NamePlural":null,"URLKeywords":null,"SortOrder":0,"FilterIndexRestrictions":null,"ProductPageIDs":null,"FormValue":"pintura"},{"ProductTypeID":10,"Name":"Alfombra","NamePlural":null,"URLKeywords":null,"SortOrder":0,"FilterIndexRestrictions":null,"ProductPageIDs":null,"FormValue":"alfombra"},{"ProductTypeID":4,"Name":"Cojin","NamePlural":null,"URLKeywords":null,"SortOrder":0,"FilterIndexRestrictions":null,"ProductPageIDs":null,"FormValue":"cojin"},{"ProductTypeID":1,"Name":"Ropa de Cama","NamePlural":null,"URLKeywords":null,"SortOrder":0,"FilterIndexRestrictions":null,"ProductPageIDs":null,"FormValue":"ropa-de-cama"},{"ProductTypeID":2,"Name":"Manta","NamePlural":null,"URLKeywords":null,"SortOrder":0,"FilterIndexRestrictions":null,"ProductPageIDs":null,"FormValue":"manta"},{"ProductTypeID":35,"Name":"Muebles","NamePlural":null,"URLKeywords":null,"SortOrder":0,"FilterIndexRestrictions":null,"ProductPageIDs":null,"FormValue":"muebles"}]},"TradeMember":false,"TradeAllowed":false,"CanViewRRPs":false,"LoginStatus":0,"UserName":null},"Visitor":{"visitorDbId":213415312,"FullName":null,"Email":null,"Culture":null,"VisitorCreatedDT":"0001-01-01T00:00:00","memberId":null,"tradePriceListId":null,"memberTradeAccountNumber":null,"memberTradeAccountID":null,"memberDisplayTradePrice":false,"memberTradeDataSourceJson":null,"tradePermissionAccountAdmin":false,"tradePermissionPlaceOrder":false,"tradePermissionViewAccounts":false,"tradePermissionDownloadPricelistsBrochures":false,"tradePermissionDownloadProductFeeds":false},"DotDigitalBehaviourProfile":{"WebBehaviourTrackingProfileID":"DM-1667704159-01"},"Scrapbook":{"Images":[]},"TradeOrderingAllowed":true,"SearchTerm":null,"ProductType":null,"LanguageID":5,"CountryID":71,"Date":"2023-12-06T00:00:00","ContentType":0,"ContentID":1483,"SiteSectionID":14,"ShowRecentlyViewed":true,"Partial":null,"IsBot":true,"CategoryPageProductType":{"ProductTypeID":8,"Name":"Pintura","NamePlural":"Pinturas","URLKeywords":"pinturas","SortOrder":3,"FilterIndexRestrictions":[{"ProductTypeID":8,"AttributeGroupSignature":"1","AttributeGroupDescription":"Colour","Deleted":false}],"ProductPageIDs":[12334,12336,12345,12371,12372,12374,12382,12392,12396,12407,12417,12425,12429,12444,12446,12450,12421,12471,12473,12476],"FormValue":"pintura"}}
{"PageSectionID":7718,"SlideID":28410,"AnimationID":2383,"SlideTypeID":1,"DisplayCallsToAction":true,"AutoHideCallsToAction":true,"DisplayHotspots":true,"AutoHideHotspots":true,"ImageID":111833,"TitleText":null,"AltText":null,"Width":3000,"Height":3000,"MaxWidth":1546,"AspectRatio":1.0000000,"VideoID":null,"VideoEmbedCode":null,"SortOrder":1,"URL":null,"NewWindow":false,"Hotspots":[]}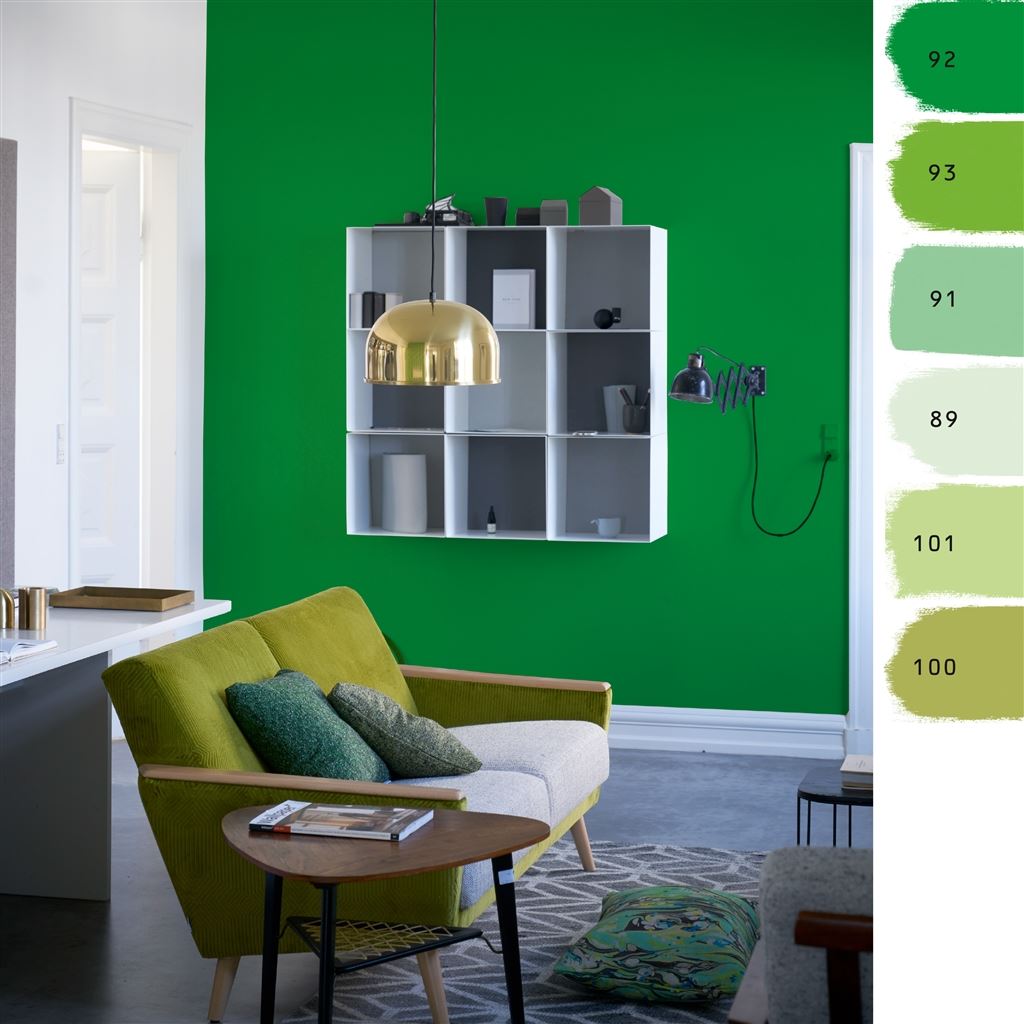 Agregar al Scrapbook
We are committed to minimising the impact of all our products on the environment.
All our paints are water-based and low or very low in VOCs (Volatile Organic Compounds, that contribute to atmospheric pollution). VOCs in paints are usually solvents, which evaporate as paint dries and release pollutants into the environment.
Water-based paints are kinder to the environment, and being water-based means you can clean your brushes and other equipment simply using warm, soapy water. No need for harsh chemicals.
Designed to last our paints are washable (including our chalky matt emulsion) and extremely durable. All offer excellent coverage, adhesion and flow, meaning fewer coats are needed, when compared with other premium paints. They are also quick-drying meaning your decorator can finish sooner.
Designers Guild paints are manufactured in the UK.
Our paint tins are made using over 50% recycled steel and can be recycled again after use.
Our packaging is made using recycled materials and can be recycled again.
VIEW OUR COLOURS
CREATE / VIEW MOODBOARDS
VIEW BROCHURES