{"PagingOverride":false,"IncludesForm":false,"RequiresKendoDatePicker":false,"RequiresMDC":false,"RequiresFileDownloader":false,"IsShop":false,"PrefetchedResources":[],"PrefetchedSnippets":[],"HeaderBanners":[],"HasHeaderBanners":false,"FooterBanners":[],"HasFooterBanners":false,"EcommercePopupBanners":[],"HasEcommercePopupBanners":false,"Banners":[{"id":12,"name":"One","banners":[{"bannerId":6325,"name":"Christian Lacroix","version":11,"sortOrder":1,"overlayText":"","altText":"Christian Lacroix","titleText":"Christian Lacroix","width":1024,"height":394,"linkURL":"/fr-ch/christian-lacroix/l1397","newWindow":false,"foregroundColour":"#000000","backgroundColour":"#ffffff","fontClass":"default-text","restrictions":{"menuIds":[11,45,72,91,108],"siteSectionIds":null,"pageIds":null}},{"bannerId":4116,"name":"Lookbooks 12 (Inspiration)","version":6,"sortOrder":2,"overlayText":"","altText":null,"titleText":null,"width":342,"height":320,"linkURL":"/fr-ch/brochures/l1179","newWindow":false,"foregroundColour":"#000000","backgroundColour":"#ffffff","fontClass":null,"restrictions":{"menuIds":[12,66,106],"siteSectionIds":null,"pageIds":null}}]},{"id":13,"name":"Two","banners":[{"bannerId":7098,"name":"Ralph Lauren New","version":10,"sortOrder":1,"overlayText":"","altText":"Ralph Lauren","titleText":"Ralph Lauren","width":1024,"height":394,"linkURL":"/fr-ch/ralph-lauren/l1398","newWindow":false,"foregroundColour":"#000000","backgroundColour":"#ffffff","fontClass":"default-text","restrictions":{"menuIds":[45,72,91,108],"siteSectionIds":null,"pageIds":null}},{"bannerId":5320,"name":"Films 13 (Inspiration)","version":9,"sortOrder":2,"overlayText":"","altText":null,"titleText":null,"width":1024,"height":958,"linkURL":"/fr-ch/films/l1180","newWindow":false,"foregroundColour":"#000000","backgroundColour":"#ffffff","fontClass":null,"restrictions":{"menuIds":[12,66,106],"siteSectionIds":null,"pageIds":null}}]},{"id":14,"name":"Three","banners":[{"bannerId":4114,"name":"Blog 14 (Inspiration)","version":3,"sortOrder":1,"overlayText":"","altText":null,"titleText":null,"width":1024,"height":958,"linkURL":"/fr-ch/dg-world/blog/l601","newWindow":false,"foregroundColour":"#000000","backgroundColour":"#ffffff","fontClass":null,"restrictions":{"menuIds":[12,66,106],"siteSectionIds":null,"pageIds":null}},{"bannerId":1809,"name":"Royal Collection","version":11,"sortOrder":2,"overlayText":"","altText":"Royal Collection","titleText":"Royal Collection","width":1024,"height":394,"linkURL":"/fr-ch/the-royal-collection/l1396","newWindow":false,"foregroundColour":"#000000","backgroundColour":"#ffffff","fontClass":"default-text","restrictions":{"menuIds":[45,72,91,108],"siteSectionIds":null,"pageIds":null}}]},{"id":15,"name":"Four","banners":[{"bannerId":4115,"name":"News & Events 15 (Inspiration)","version":4,"sortOrder":1,"overlayText":"","altText":null,"titleText":null,"width":1024,"height":958,"linkURL":"/fr-ch/dg-world/evenements/l602","newWindow":false,"foregroundColour":"#000000","backgroundColour":"#ffffff","fontClass":"default-text-bold text-banner-center","restrictions":{"menuIds":[12,66,106],"siteSectionIds":null,"pageIds":null}},{"bannerId":1805,"name":"William Yeoward","version":10,"sortOrder":2,"overlayText":"","altText":"William Yeoward","titleText":"William Yeoward","width":1024,"height":394,"linkURL":"/fr-ch/william-yeoward/l1399","newWindow":false,"foregroundColour":"#000000","backgroundColour":"#ffffff","fontClass":"default-text","restrictions":{"menuIds":[11,45,72,91,108],"siteSectionIds":null,"pageIds":null}}]},{"id":16,"name":"Five","banners":[{"bannerId":7779,"name":"Brands English Heritage ","version":79,"sortOrder":1,"overlayText":"","altText":"English Heritage ","titleText":"English Heritage ","width":1024,"height":394,"linkURL":"/fr-ch/english-heritage-by-designers-guild/l1852","newWindow":false,"foregroundColour":"#000000","backgroundColour":"#ffffff","fontClass":null,"restrictions":{"menuIds":[11,45,72,91,103,108],"siteSectionIds":null,"pageIds":null}},{"bannerId":4118,"name":"Social Media 16 (Inspiration)","version":6,"sortOrder":2,"overlayText":"","altText":null,"titleText":null,"width":1024,"height":958,"linkURL":"/fr-ch/dg-world/dgyourspace/a26","newWindow":false,"foregroundColour":"#000000","backgroundColour":"#ffffff","fontClass":null,"restrictions":{"menuIds":[12,66,106],"siteSectionIds":null,"pageIds":null}}]},{"id":17,"name":"Six","banners":[{"bannerId":4113,"name":"About Us 17 (Inspiration)","version":3,"sortOrder":1,"overlayText":"","altText":null,"titleText":null,"width":1024,"height":958,"linkURL":"/fr-ch/profil-de-lenterprise/l1004","newWindow":false,"foregroundColour":"#000000","backgroundColour":"#ffffff","fontClass":null,"restrictions":{"menuIds":[12,66,106],"siteSectionIds":null,"pageIds":null}},{"bannerId":2117,"name":"John Derian","version":18,"sortOrder":2,"overlayText":"","altText":"John Derian","titleText":"John Derian","width":1024,"height":394,"linkURL":"/fr-ch/john-derian/l1521","newWindow":false,"foregroundColour":"#000000","backgroundColour":"#ffffff","fontClass":"default-text","restrictions":{"menuIds":[45,72,91,108],"siteSectionIds":null,"pageIds":null}}]}],"Hotspots":[],"RecentlyViewed":[],"MasterDefinition":{"SiteSectionID":0,"TitleTag":"München Showroom | Designers Guild","MetaDescription":null,"BackInStockReminder":null,"ItemsInBasket":0.0,"UrlBreakdown":{"ContentType":0,"ContentId":1316,"ContentDate":"2022-09-26T00:00:00","SemanticString":"munchen-showroom","countryDetails":{"CountryLanguageID":28,"RegionID":3,"CountryID":46,"CountryCode":"CH","LanguageID":3,"SortOrder":102,"Name":"Switzerland","URL":"fr-ch","DotNetCulture":"fr-CH","ShopEnabled":true,"LanguageCode":"fr","LanguageDotNetCulture":"fr-FR","MertexCurrencyCode":"CHf","CurrencyCode":"CHF","PriceListID":16,"AllowTradeOrders":true,"AcceptAmazonPay":false,"BuyOnlineRedirectAllowed":false,"EcommerceEnabled":false,"SamplesEnabled":true},"ColonyRedirectUrl":"","ColonyRedirectForceCountryLanguageID":null,"ColonyRedirectPermanent":null,"contentTypeAndIdNotFound":false,"CountryAwareness":{"Match":false,"Culture":"us","objCountryItem":{"CountryLanguageID":5,"RegionID":2,"CountryID":238,"CountryCode":null,"LanguageID":2,"SortOrder":1,"Name":"United States","URL":"us","DotNetCulture":"en-US","ShopEnabled":true,"LanguageCode":"us","LanguageDotNetCulture":"en-US","MertexCurrencyCode":"USD","CurrencyCode":"USD","PriceListID":2,"AllowTradeOrders":false,"AcceptAmazonPay":true,"BuyOnlineRedirectAllowed":false,"EcommerceEnabled":false,"SamplesEnabled":false}},"GeoIPCulture":null},"GoogleHrefs":[{"hreflang":"de","href":"https://www.designersguild.com/de/munchen-showroom/l1316"},{"hreflang":"de-at","href":"https://www.designersguild.com/at/munchen-showroom/l1316"},{"hreflang":"de-ch","href":"https://www.designersguild.com/de-ch/munchen-showroom/l1316"},{"hreflang":"fr-ch","href":"https://www.designersguild.com/fr-ch/munchen-showroom/l1316"},{"hreflang":"x-default","href":"https://www.designersguild.com/munchen-showroom/p1316"}],"CountryDropDown":{"countryDropDownItems":[{"CountryID":81,"Code":null,"LanguageID":1,"RegionID":3,"LanguageCode":"en","Country":"UK","Region":"Europe","URL":"uk","URLKeywords":"","SortOrder":1,"PageID":0},{"CountryID":15,"Code":null,"LanguageID":4,"RegionID":3,"LanguageCode":"de","Country":"Austria","Region":"Europe","URL":"at","URLKeywords":"","SortOrder":11,"PageID":0},{"CountryID":23,"Code":null,"LanguageID":1,"RegionID":3,"LanguageCode":"en","Country":"Belgium","Region":"Europe","URL":"be","URLKeywords":"","SortOrder":12,"PageID":0},{"CountryID":62,"Code":null,"LanguageID":1,"RegionID":3,"LanguageCode":"en","Country":"Denmark","Region":"Europe","URL":"dk","URLKeywords":"","SortOrder":13,"PageID":0},{"CountryID":74,"Code":null,"LanguageID":15,"RegionID":3,"LanguageCode":"fi","Country":"Finland","Region":"Europe","URL":"fi","URLKeywords":"","SortOrder":15,"PageID":0},{"CountryID":79,"Code":null,"LanguageID":3,"RegionID":3,"LanguageCode":"fr","Country":"France","Region":"Europe","URL":"fr","URLKeywords":"bienvenue-chez-designers-guild","SortOrder":16,"PageID":0},{"CountryID":60,"Code":null,"LanguageID":4,"RegionID":3,"LanguageCode":"de","Country":"Germany","Region":"Europe","URL":"de","URLKeywords":"","SortOrder":17,"PageID":0},{"CountryID":106,"Code":null,"LanguageID":1,"RegionID":3,"LanguageCode":"en","Country":"Ireland","Region":"Europe","URL":"ie","URLKeywords":"","SortOrder":18,"PageID":0},{"CountryID":114,"Code":null,"LanguageID":6,"RegionID":3,"LanguageCode":"it","Country":"Italy","Region":"Europe","URL":"it","URLKeywords":"","SortOrder":19,"PageID":0},{"CountryID":170,"Code":null,"LanguageID":13,"RegionID":3,"LanguageCode":"en","Country":"Netherlands","Region":"Europe","URL":"nl","URLKeywords":"","SortOrder":20,"PageID":0},{"CountryID":71,"Code":null,"LanguageID":5,"RegionID":3,"LanguageCode":"es","Country":"Spain","Region":"Europe","URL":"es","URLKeywords":"","SortOrder":23,"PageID":0},{"CountryID":202,"Code":null,"LanguageID":1,"RegionID":3,"LanguageCode":"en","Country":"Sweden","Region":"Europe","URL":"se","URLKeywords":"","SortOrder":24,"PageID":0},{"CountryID":171,"Code":null,"LanguageID":1,"RegionID":3,"LanguageCode":"en","Country":"Norway","Region":"Europe","URL":"no","URLKeywords":"","SortOrder":52,"PageID":0},{"CountryID":118,"Code":null,"LanguageID":11,"RegionID":4,"LanguageCode":"jp","Country":"Nihon","Region":"Africa, Asia & the Middle East","URL":"jp","URLKeywords":"","SortOrder":71,"PageID":0},{"CountryID":46,"Code":null,"LanguageID":3,"RegionID":3,"LanguageCode":"fr","Country":"Switzerland","Region":"Europe","URL":"fr-ch","URLKeywords":"bienvenue-chez-designers-guild","SortOrder":102,"PageID":0},{"CountryID":46,"Code":null,"LanguageID":4,"RegionID":3,"LanguageCode":"de","Country":"Switzerland","Region":"Europe","URL":"de-ch","URLKeywords":"","SortOrder":103,"PageID":0},{"CountryID":196,"Code":null,"LanguageID":10,"RegionID":3,"LanguageCode":"ru","Country":"Russian Federation","Region":"Europe","URL":"ru","URLKeywords":"","SortOrder":109,"PageID":0},{"CountryID":238,"Code":null,"LanguageID":2,"RegionID":2,"LanguageCode":"us","Country":"United States","Region":"North America","URL":"us","URLKeywords":"","SortOrder":125,"PageID":0},{"CountryID":16,"Code":null,"LanguageID":12,"RegionID":6,"LanguageCode":"au","Country":"Australia","Region":"Australasia","URL":"au","URLKeywords":"","SortOrder":150,"PageID":0},{"CountryID":175,"Code":null,"LanguageID":18,"RegionID":6,"LanguageCode":"nz","Country":"New Zealand","Region":"Australasia","URL":"nz","URLKeywords":"","SortOrder":151,"PageID":0},{"CountryID":67,"Code":null,"LanguageID":1,"RegionID":3,"LanguageCode":"en","Country":"Other Countries in Europe","Region":"Europe","URL":"eu","URLKeywords":"","SortOrder":255,"PageID":0},{"CountryID":51,"Code":null,"LanguageID":1,"RegionID":4,"LanguageCode":"en","Country":"Rest of the World","Region":"Africa, Asia & the Middle East","URL":"row","URLKeywords":"","SortOrder":255,"PageID":0}]},"ProductTypeDropDown":{"ProductTypes":[{"ProductTypeID":15,"Name":"Tissu","SortOrder":0,"ProductPageIDs":null,"FormValue":"tissu"},{"ProductTypeID":18,"Name":"Papier Peint","SortOrder":0,"ProductPageIDs":null,"FormValue":"papier+peint"},{"ProductTypeID":8,"Name":"Peinture","SortOrder":0,"ProductPageIDs":null,"FormValue":"peinture"},{"ProductTypeID":10,"Name":"Tapis","SortOrder":0,"ProductPageIDs":null,"FormValue":"tapis"},{"ProductTypeID":4,"Name":"Coussin","SortOrder":0,"ProductPageIDs":null,"FormValue":"coussin"},{"ProductTypeID":1,"Name":"Linge de Lit","SortOrder":0,"ProductPageIDs":null,"FormValue":"linge+de+lit"},{"ProductTypeID":2,"Name":"Plaid","SortOrder":0,"ProductPageIDs":null,"FormValue":"plaid"},{"ProductTypeID":35,"Name":"Mobilier","SortOrder":0,"ProductPageIDs":null,"FormValue":"mobilier"}]},"TradeMember":false,"TradeAllowed":false,"CanViewRRPs":false,"LoginStatus":0,"UserName":null},"Visitor":{"visitorDbId":189482788,"FullName":null,"Email":null,"Culture":null,"VisitorCreatedDT":"0001-01-01T00:00:00","memberId":null,"tradePriceListId":null,"memberTradeAccountNumber":null,"memberTradeAccountID":null,"memberDisplayTradePrice":false,"memberTradeDataSourceJson":null,"tradePermissionAccountAdmin":false,"tradePermissionPlaceOrder":false,"tradePermissionViewAccounts":false,"tradePermissionDownloadPricelistsBrochures":false,"tradePermissionDownloadProductFeeds":false},"DotDigitalBehaviourProfile":{"WebBehaviourTrackingProfileID":"DM-1667704159-01"},"Scrapbook":{"Images":[]},"TradeOrderingAllowed":true,"SearchTerm":null,"ProductType":null,"LanguageID":3,"CountryID":46,"Date":"2022-09-26T00:00:00","ContentType":0,"ContentID":1316,"SiteSectionID":0,"ShowRecentlyViewed":true,"Partial":null}
München Showroom
Designers Guild Showroom sowie Verkauf im Geschäft von Hochwertigen Wand, Boden und Fassadenfarben der eigenen Marke.
Kommen Sie uns besuchen, in wenigen Minuten haben unsere fachkundigen Mitarbeiter Ihre Designers Guild Wunschfarbe direkt an unserer Farbmischmaschine hergestellt. Die Farben können sofort innerhalb der Öffnungszeiten mit genommen werden.
ÖFFNUNGSZEITEN
Montag bis Freitag: 9 – 18 Uhr
ANFAHRT
Straßenbahn 27 oder 28 bis Ottostrasse Alle S-Bahnen bzw. U-Bahn U4 oder U5 bis Karlsplatz (Stachus), dann ein kurzer Fußweg bis zu uns in die Ottostrasse
Designers Guild Einrichtungs GmbH Ottostrasse 5, 80333 München
+49 89 203 03 285
munich@designersguild.com
Showroom Designers Guild Einrichtungs GmbH
Unser Showroom liegt im Herzen von München, im Kunstblock. In der Nähe des Lenbachplatz, Königsplatz und des Karlsplatz. Der Designers Guild Showroom ist der ideale Ort um sich inspirieren zu lassen und die Welten von Designers Guild und unseren Marken The Royal Collection, Christian Lacroix,William Yeoward & Ralph Lauren zu entdecken. Unser Team freut sich, Sie vor Ort begrüßen zu dürfen, wo Sie sich unsere Tapeten, Möbel und Wohnaccessoires und natürlich viele unserer Stoff - Designs in groß ansehen können. Bitte beachten Sie dass wir ein Showroom für den Fach - und Einzelhandel sind. Gerne können Sie sich auch als Endverbraucher bei uns inspirieren lassen. Wenn Sie eine Einrichtungsberatung wünsche oder unsere Produkte beziehen möchten, bitten wir Sie sich an einen unserer Fachhändler zu wenden.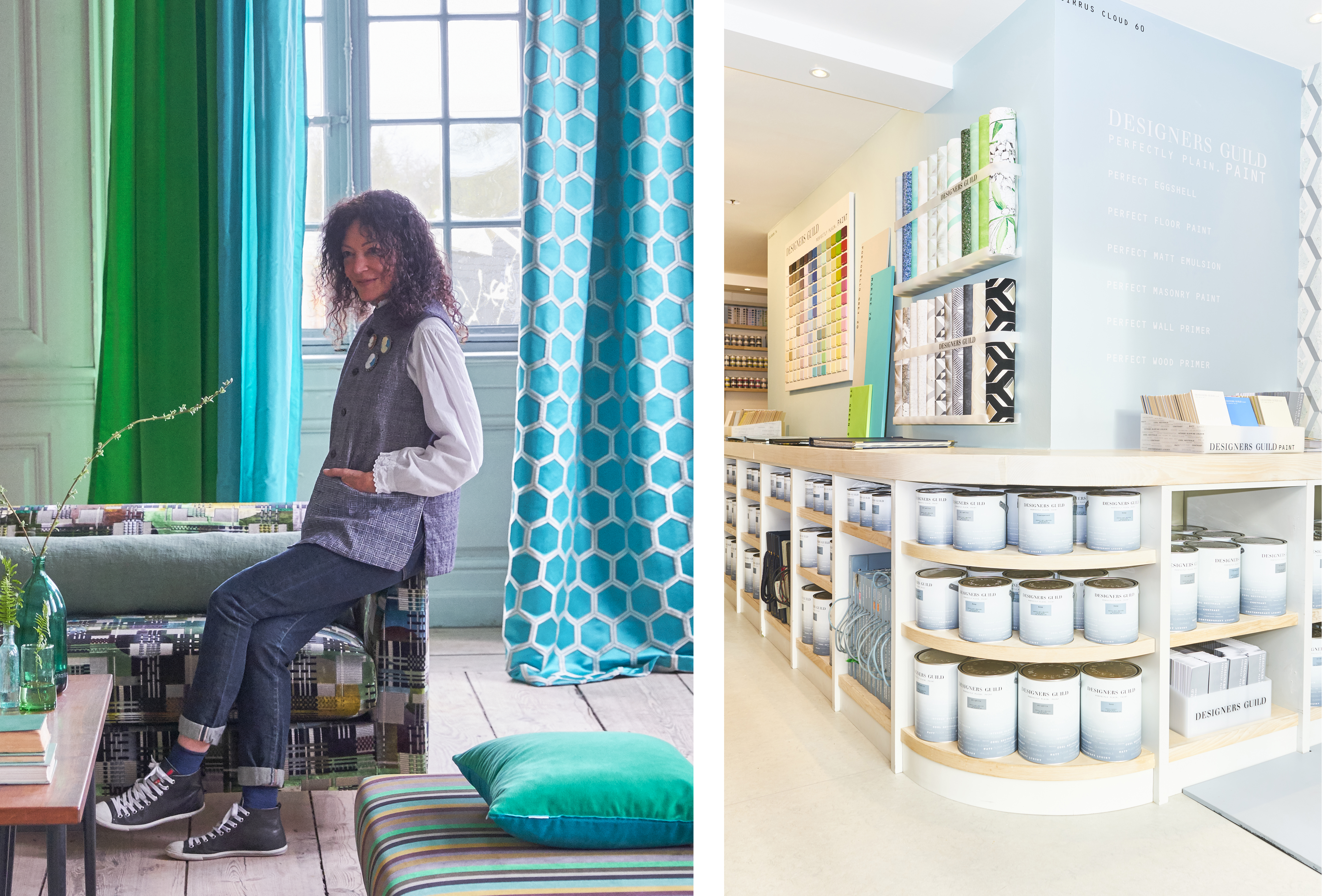 DIE ADRESSE FÜR INNENDEKORATION
Wir freuen uns die Eröffnung unseres neuen Designers Guild Paint & Wallpaper Shop in München bekannt zu geben. Dieser neue Showroom konzentriert sich auf unsere Designers Guild Farben sowie unsere Tapetenkollektionen undunserer Marken: Christian Lacroix, William Yeoward, Ralph Lauren und The Royal Collection. Dieser aufregende neue Bereich befindet sich im Erdgeschoss unseres bestehenden Showrooms in der Ottostraße in München und wird so zu einer zentralen Anlaufstelle für unsere Tapetenkollektionen sowie die Farben.In unserem Paint Shop werden alle farben sofort gemischt und direkt auch an Endverbraucher verkauft. Durch die Erweiterung des Showrooms sind wir ab sofort das ultimative Ziel für Inneneinrichtung und freuen uns, sie ab März 2018 im neuen Designers Guild Farb – und Tapeten Showroom begrüßen zu dürfen.