{"PagingOverride":false,"IncludesForm":false,"RequiresKendoDatePicker":false,"RequiresMDC":false,"RequiresFileDownloader":false,"IsShop":false,"OriginalSemanticString":null,"NoFollow":false,"NoIndex":false,"CustomCanonical":null,"AttributeFilterText":null,"AttributeSignatureText":null,"UserInCorrectSite":false,"CountryCorrectorDismissed":false,"CorrectSitesForUser":[{"CountryLanguageID":5,"RegionID":2,"CountryID":238,"CountryCode":"US","LanguageID":2,"SortOrder":125,"Name":"United States","URL":"us","DotNetCulture":"en-US","ShopEnabled":true,"LanguageCode":"us","LanguageDotNetCulture":"en-US","MertexCurrencyCode":"USD","CurrencyCode":"USD","PriceListID":2,"AllowTradeOrders":true,"AcceptAmazonPay":true,"BuyOnlineRedirectAllowed":false,"EcommerceEnabled":true,"SamplesEnabled":false}],"PrefetchedResources":[{"Name":"Quantity","Value":"Quantity"},{"Name":"QuantityRequired","Value":"You must provide a quantity"},{"Name":"pleaseGreaterThanEqualTo","Value":"Please enter a value greater than or equal to"},{"Name":"pleaseLessThanEqualTo","Value":"Please enter a value less than or equal to"},{"Name":"ShowImageProducts","Value":"Tap here to view products in the above image"},{"Name":"HideImageProducts","Value":"Tap here to hide products in the above image"},{"Name":"Sorry","Value":"Sorry"},{"Name":"ThereWereNoResultsForThatCombination","Value":"There were no results for that combination of filters."},{"Name":"WeHaveDeselectedTheFollowing","Value":"We have deselected the following filter(s) for you"},{"Name":"AttributeFilterTextResultFoundFor","Value":"{Count} result found for {AttributeFilterText}"},{"Name":"AttributeFilterTextResultsFoundFor","Value":"{Count} results found for {AttributeFilterText}"},{"Name":"MajorError","Value":"We could not process your request at this present time. Please click on the back button and try again. If this problem re-occurs, please email shoponlineuk@designersguild.com and one of our customer service agents will get back to you as soon as possible"}],"PrefetchedSnippets":[],"HeaderBanners":[],"HasHeaderBanners":false,"FooterBanners":[],"HasFooterBanners":false,"EcommercePopupBanners":[],"HasEcommercePopupBanners":false,"Banners":[{"id":12,"name":"One","banners":[{"bannerId":8490,"name":"Lookbooks 12 (Inspiration)","version":9,"sortOrder":1,"overlayText":"","altText":null,"titleText":null,"width":1024,"height":960,"linkURL":"/fi/brochures/l1179","newWindow":false,"foregroundColour":"#000000","backgroundColour":"#ffffff","fontClass":null,"restrictions":{"menuIds":[12,66,106],"siteSectionIds":null,"pageIds":null}},{"bannerId":6325,"name":"Christian Lacroix","version":11,"sortOrder":2,"overlayText":"","altText":"Christian Lacroix","titleText":"Christian Lacroix","width":1024,"height":394,"linkURL":"/fi/christian-lacroix/l1397","newWindow":false,"foregroundColour":"#000000","backgroundColour":"#ffffff","fontClass":"default-text","restrictions":{"menuIds":[11,45,72,91,108],"siteSectionIds":null,"pageIds":null}}]},{"id":13,"name":"Two","banners":[{"bannerId":8489,"name":"Films 13 (Inspiration)","version":11,"sortOrder":1,"overlayText":"","altText":null,"titleText":null,"width":1024,"height":960,"linkURL":"/fi/films/l1180","newWindow":false,"foregroundColour":"#000000","backgroundColour":"#ffffff","fontClass":null,"restrictions":{"menuIds":[12,66,106],"siteSectionIds":null,"pageIds":null}},{"bannerId":7098,"name":"Ralph Lauren New","version":10,"sortOrder":2,"overlayText":"","altText":"Ralph Lauren","titleText":"Ralph Lauren","width":1024,"height":394,"linkURL":"/fi/ralph-lauren/l1398","newWindow":false,"foregroundColour":"#000000","backgroundColour":"#ffffff","fontClass":"default-text","restrictions":{"menuIds":[45,72,91,108],"siteSectionIds":null,"pageIds":null}},{"bannerId":1975,"name":"Global 13 Furniture","version":15,"sortOrder":4,"overlayText":"#YOURSOFAYOURWAY > ","altText":"#YOURSOFAYOURWAY > ","titleText":"#YOURSOFAYOURWAY > ","width":256,"height":224,"linkURL":"/fi/furniture/your-sofa-your-way/l1467","newWindow":false,"foregroundColour":"#000000","backgroundColour":"#ffffff","fontClass":"under-menu-banner-C1","restrictions":{"menuIds":[3,41],"siteSectionIds":null,"pageIds":null}}]},{"id":14,"name":"Three","banners":[{"bannerId":8491,"name":"Blog 14 (Inspiration)","version":5,"sortOrder":1,"overlayText":"","altText":null,"titleText":null,"width":1024,"height":960,"linkURL":"/fi/dg-world/blog/l601","newWindow":false,"foregroundColour":"#000000","backgroundColour":"#ffffff","fontClass":null,"restrictions":{"menuIds":[12,66,106],"siteSectionIds":null,"pageIds":null}},{"bannerId":1809,"name":"Royal Collection","version":11,"sortOrder":2,"overlayText":"","altText":"Royal Collection","titleText":"Royal Collection","width":1024,"height":394,"linkURL":"/fi/the-royal-collection/l1396","newWindow":false,"foregroundColour":"#000000","backgroundColour":"#ffffff","fontClass":"default-text","restrictions":{"menuIds":[45,72,91,108],"siteSectionIds":null,"pageIds":null}}]},{"id":15,"name":"Four","banners":[{"bannerId":4115,"name":"News & Events 15 (Inspiration)","version":5,"sortOrder":1,"overlayText":"","altText":null,"titleText":null,"width":1024,"height":960,"linkURL":"/fi/dg-world/news-and-events/l602","newWindow":false,"foregroundColour":"#000000","backgroundColour":"#ffffff","fontClass":null,"restrictions":{"menuIds":[12,66,106],"siteSectionIds":null,"pageIds":null}},{"bannerId":1805,"name":"William Yeoward","version":10,"sortOrder":2,"overlayText":"","altText":"William Yeoward","titleText":"William Yeoward","width":1024,"height":394,"linkURL":"/fi/william-yeoward/l1399","newWindow":false,"foregroundColour":"#000000","backgroundColour":"#ffffff","fontClass":"default-text","restrictions":{"menuIds":[11,45,72,91,108],"siteSectionIds":null,"pageIds":null}}]},{"id":16,"name":"Five","banners":[{"bannerId":7779,"name":"Brands English Heritage ","version":79,"sortOrder":1,"overlayText":"","altText":"English Heritage ","titleText":"English Heritage ","width":1024,"height":394,"linkURL":"/fi/english-heritage-by-designers-guild/l1852","newWindow":false,"foregroundColour":"#000000","backgroundColour":"#ffffff","fontClass":null,"restrictions":{"menuIds":[11,45,72,91,103,108],"siteSectionIds":null,"pageIds":null}},{"bannerId":4118,"name":"Social Media 16 (Inspiration)","version":7,"sortOrder":2,"overlayText":"","altText":null,"titleText":null,"width":1024,"height":960,"linkURL":"https://www.instagram.com/designersguild/?hl=en","newWindow":false,"foregroundColour":"#000000","backgroundColour":"#ffffff","fontClass":null,"restrictions":{"menuIds":[66,106],"siteSectionIds":null,"pageIds":null}}]},{"id":17,"name":"Six","banners":[{"bannerId":4113,"name":"About Us 17 (Inspiration)","version":3,"sortOrder":1,"overlayText":"","altText":null,"titleText":null,"width":1024,"height":958,"linkURL":"/fi/company-profile/l1004","newWindow":false,"foregroundColour":"#000000","backgroundColour":"#ffffff","fontClass":null,"restrictions":{"menuIds":[12,66,106],"siteSectionIds":null,"pageIds":null}},{"bannerId":2117,"name":"John Derian","version":18,"sortOrder":2,"overlayText":"","altText":"John Derian","titleText":"John Derian","width":1024,"height":394,"linkURL":"/fi/john-derian/l1521","newWindow":false,"foregroundColour":"#000000","backgroundColour":"#ffffff","fontClass":"default-text","restrictions":{"menuIds":[45,72,91,108],"siteSectionIds":null,"pageIds":null}}]}],"Hotspots":[],"RecentlyViewed":[],"MasterDefinition":{"SiteSectionID":9,"TitleTag":"THREE NEW WAYS TO SHOP WITH US","MetaDescription":null,"BackInStockReminder":null,"ItemsInBasket":0.0,"UrlBreakdown":{"ContentType":0,"ContentId":1737,"ContentDate":"2023-12-07T00:00:00","SemanticString":"","countryDetails":{"CountryLanguageID":38,"RegionID":3,"CountryID":74,"CountryCode":"FI","LanguageID":15,"SortOrder":15,"Name":"Finland","URL":"fi","DotNetCulture":"fi-FI","ShopEnabled":true,"LanguageCode":"fi","LanguageDotNetCulture":"fi-FI","MertexCurrencyCode":"EUR","CurrencyCode":"EUR","PriceListID":12,"AllowTradeOrders":true,"AcceptAmazonPay":false,"BuyOnlineRedirectAllowed":false,"EcommerceEnabled":false,"SamplesEnabled":true},"contentTypeAndIdNotFound":false,"CountryAwareness":{"Match":false,"Culture":"us","objCountryItem":{"CountryLanguageID":5,"RegionID":2,"CountryID":238,"CountryCode":null,"LanguageID":2,"SortOrder":1,"Name":"United States","URL":"us","DotNetCulture":"en-US","ShopEnabled":true,"LanguageCode":"us","LanguageDotNetCulture":"en-US","MertexCurrencyCode":"USD","CurrencyCode":"USD","PriceListID":2,"AllowTradeOrders":true,"AcceptAmazonPay":true,"BuyOnlineRedirectAllowed":false,"EcommerceEnabled":false,"SamplesEnabled":false}},"GeoIPCulture":null,"siteCountryNotFoundInUrl":false},"GoogleHrefs":[{"hreflang":"de","href":"https://www.designersguild.com/de/l1737"},{"hreflang":"de-at","href":"https://www.designersguild.com/at/l1737"},{"hreflang":"de-ch","href":"https://www.designersguild.com/de-ch/l1737"},{"hreflang":"en","href":"https://www.designersguild.com/row/l1737"},{"hreflang":"en-au","href":"https://www.designersguild.com/au/l1737"},{"hreflang":"en-be","href":"https://www.designersguild.com/be/l1737"},{"hreflang":"en-ca","href":"https://www.designersguild.com/us/l1737"},{"hreflang":"en-dk","href":"https://www.designersguild.com/dk/l1737"},{"hreflang":"en-gb","href":"https://www.designersguild.com/uk/l1737"},{"hreflang":"en-gg","href":"https://www.designersguild.com/uk/l1737"},{"hreflang":"en-gr","href":"https://www.designersguild.com/eu/l1737"},{"hreflang":"en-ie","href":"https://www.designersguild.com/ie/l1737"},{"hreflang":"en-im","href":"https://www.designersguild.com/uk/l1737"},{"hreflang":"en-je","href":"https://www.designersguild.com/uk/l1737"},{"hreflang":"en-lu","href":"https://www.designersguild.com/be/l1737"},{"hreflang":"en-nl","href":"https://www.designersguild.com/nl/l1737"},{"hreflang":"en-no","href":"https://www.designersguild.com/no/l1737"},{"hreflang":"en-nz","href":"https://www.designersguild.com/nz/l1737"},{"hreflang":"en-se","href":"https://www.designersguild.com/se/l1737"},{"hreflang":"en-us","href":"https://www.designersguild.com/us/l1737"},{"hreflang":"es","href":"https://www.designersguild.com/es/l1737"},{"hreflang":"fi-fi","href":"https://www.designersguild.com/fi/l1737"},{"hreflang":"fr","href":"https://www.designersguild.com/fr/l1737"},{"hreflang":"fr-ch","href":"https://www.designersguild.com/fr-ch/l1737"},{"hreflang":"it-it","href":"https://www.designersguild.com/it/l1737"},{"hreflang":"ru","href":"https://www.designersguild.com/ru/l1737"},{"hreflang":"x-default","href":"https://www.designersguild.com/uk/l1737"}],"CountryDropDown":{"countryDropDownItems":[{"CountryID":81,"Code":null,"LanguageID":1,"RegionID":3,"LanguageCode":"en","Country":"UK","Region":"Europe","URL":"uk","URLKeywords":"","SortOrder":1,"PageID":0},{"CountryID":15,"Code":null,"LanguageID":4,"RegionID":3,"LanguageCode":"de","Country":"Austria","Region":"Europe","URL":"at","URLKeywords":"","SortOrder":11,"PageID":0},{"CountryID":23,"Code":null,"LanguageID":1,"RegionID":3,"LanguageCode":"en","Country":"Belgium","Region":"Europe","URL":"be","URLKeywords":"","SortOrder":12,"PageID":0},{"CountryID":62,"Code":null,"LanguageID":1,"RegionID":3,"LanguageCode":"en","Country":"Denmark","Region":"Europe","URL":"dk","URLKeywords":"","SortOrder":13,"PageID":0},{"CountryID":74,"Code":null,"LanguageID":15,"RegionID":3,"LanguageCode":"fi","Country":"Finland","Region":"Europe","URL":"fi","URLKeywords":"","SortOrder":15,"PageID":0},{"CountryID":79,"Code":null,"LanguageID":3,"RegionID":3,"LanguageCode":"fr","Country":"France","Region":"Europe","URL":"fr","URLKeywords":"","SortOrder":16,"PageID":0},{"CountryID":60,"Code":null,"LanguageID":4,"RegionID":3,"LanguageCode":"de","Country":"Germany","Region":"Europe","URL":"de","URLKeywords":"","SortOrder":17,"PageID":0},{"CountryID":106,"Code":null,"LanguageID":1,"RegionID":3,"LanguageCode":"en","Country":"Ireland","Region":"Europe","URL":"ie","URLKeywords":"","SortOrder":18,"PageID":0},{"CountryID":114,"Code":null,"LanguageID":6,"RegionID":3,"LanguageCode":"it","Country":"Italy","Region":"Europe","URL":"it","URLKeywords":"","SortOrder":19,"PageID":0},{"CountryID":170,"Code":null,"LanguageID":13,"RegionID":3,"LanguageCode":"en","Country":"Netherlands","Region":"Europe","URL":"nl","URLKeywords":"","SortOrder":20,"PageID":0},{"CountryID":71,"Code":null,"LanguageID":5,"RegionID":3,"LanguageCode":"es","Country":"Spain","Region":"Europe","URL":"es","URLKeywords":"","SortOrder":23,"PageID":0},{"CountryID":202,"Code":null,"LanguageID":1,"RegionID":3,"LanguageCode":"en","Country":"Sweden","Region":"Europe","URL":"se","URLKeywords":"","SortOrder":24,"PageID":0},{"CountryID":171,"Code":null,"LanguageID":1,"RegionID":3,"LanguageCode":"en","Country":"Norway","Region":"Europe","URL":"no","URLKeywords":"","SortOrder":52,"PageID":0},{"CountryID":46,"Code":null,"LanguageID":3,"RegionID":3,"LanguageCode":"fr","Country":"Switzerland","Region":"Europe","URL":"fr-ch","URLKeywords":"","SortOrder":102,"PageID":0},{"CountryID":46,"Code":null,"LanguageID":4,"RegionID":3,"LanguageCode":"de","Country":"Switzerland","Region":"Europe","URL":"de-ch","URLKeywords":"","SortOrder":103,"PageID":0},{"CountryID":196,"Code":null,"LanguageID":10,"RegionID":3,"LanguageCode":"ru","Country":"Russian Federation","Region":"Europe","URL":"ru","URLKeywords":"","SortOrder":109,"PageID":0},{"CountryID":238,"Code":null,"LanguageID":2,"RegionID":2,"LanguageCode":"us","Country":"United States","Region":"North America","URL":"us","URLKeywords":"","SortOrder":125,"PageID":0},{"CountryID":16,"Code":null,"LanguageID":12,"RegionID":6,"LanguageCode":"au","Country":"Australia","Region":"Australasia","URL":"au","URLKeywords":"","SortOrder":150,"PageID":0},{"CountryID":175,"Code":null,"LanguageID":18,"RegionID":6,"LanguageCode":"nz","Country":"New Zealand","Region":"Australasia","URL":"nz","URLKeywords":"","SortOrder":151,"PageID":0},{"CountryID":51,"Code":null,"LanguageID":1,"RegionID":4,"LanguageCode":"en","Country":"Rest of the World","Region":"Africa, Asia & the Middle East","URL":"row","URLKeywords":"","SortOrder":255,"PageID":0},{"CountryID":67,"Code":null,"LanguageID":1,"RegionID":3,"LanguageCode":"en","Country":"Other Countries in Europe","Region":"Europe","URL":"eu","URLKeywords":"","SortOrder":255,"PageID":0}]},"ProductTypeDropDown":{"ProductTypes":[{"ProductTypeID":15,"Name":"Fabric","NamePlural":null,"URLKeywords":null,"SortOrder":0,"FilterIndexRestrictions":null,"ProductPageIDs":null,"FormValue":"fabric"},{"ProductTypeID":18,"Name":"Wallpaper","NamePlural":null,"URLKeywords":null,"SortOrder":0,"FilterIndexRestrictions":null,"ProductPageIDs":null,"FormValue":"wallpaper"},{"ProductTypeID":8,"Name":"Paint","NamePlural":null,"URLKeywords":null,"SortOrder":0,"FilterIndexRestrictions":null,"ProductPageIDs":null,"FormValue":"paint"},{"ProductTypeID":10,"Name":"Rug","NamePlural":null,"URLKeywords":null,"SortOrder":0,"FilterIndexRestrictions":null,"ProductPageIDs":null,"FormValue":"rug"},{"ProductTypeID":4,"Name":"Tyyny","NamePlural":null,"URLKeywords":null,"SortOrder":0,"FilterIndexRestrictions":null,"ProductPageIDs":null,"FormValue":"tyyny"},{"ProductTypeID":1,"Name":"Bed Linen","NamePlural":null,"URLKeywords":null,"SortOrder":0,"FilterIndexRestrictions":null,"ProductPageIDs":null,"FormValue":"bed-linen"},{"ProductTypeID":2,"Name":"Throw","NamePlural":null,"URLKeywords":null,"SortOrder":0,"FilterIndexRestrictions":null,"ProductPageIDs":null,"FormValue":"throw"},{"ProductTypeID":35,"Name":"Furniture","NamePlural":null,"URLKeywords":null,"SortOrder":0,"FilterIndexRestrictions":null,"ProductPageIDs":null,"FormValue":"furniture"}]},"TradeMember":false,"TradeAllowed":false,"CanViewRRPs":false,"LoginStatus":0,"UserName":null},"Visitor":{"visitorDbId":213613863,"FullName":null,"Email":null,"Culture":null,"VisitorCreatedDT":"0001-01-01T00:00:00","memberId":null,"tradePriceListId":null,"memberTradeAccountNumber":null,"memberTradeAccountID":null,"memberDisplayTradePrice":false,"memberTradeDataSourceJson":null,"tradePermissionAccountAdmin":false,"tradePermissionPlaceOrder":false,"tradePermissionViewAccounts":false,"tradePermissionDownloadPricelistsBrochures":false,"tradePermissionDownloadProductFeeds":false},"DotDigitalBehaviourProfile":{"WebBehaviourTrackingProfileID":"DM-1667704159-01"},"Scrapbook":{"Images":[]},"TradeOrderingAllowed":true,"SearchTerm":null,"ProductType":null,"LanguageID":15,"CountryID":74,"Date":"2023-12-07T00:00:00","ContentType":0,"ContentID":1737,"SiteSectionID":9,"ShowRecentlyViewed":true,"Partial":null,"IsBot":true,"CategoryPageProductType":null}
{"PageSectionID":11932,"SlideID":44972,"AnimationID":3702,"SlideTypeID":1,"DisplayCallsToAction":true,"AutoHideCallsToAction":true,"DisplayHotspots":true,"AutoHideHotspots":true,"ImageID":128954,"TitleText":null,"AltText":null,"Width":3000,"Height":3000,"MaxWidth":1546,"AspectRatio":1.0000000,"VideoID":null,"VideoEmbedCode":null,"SortOrder":1,"URL":null,"NewWindow":false,"Hotspots":[]}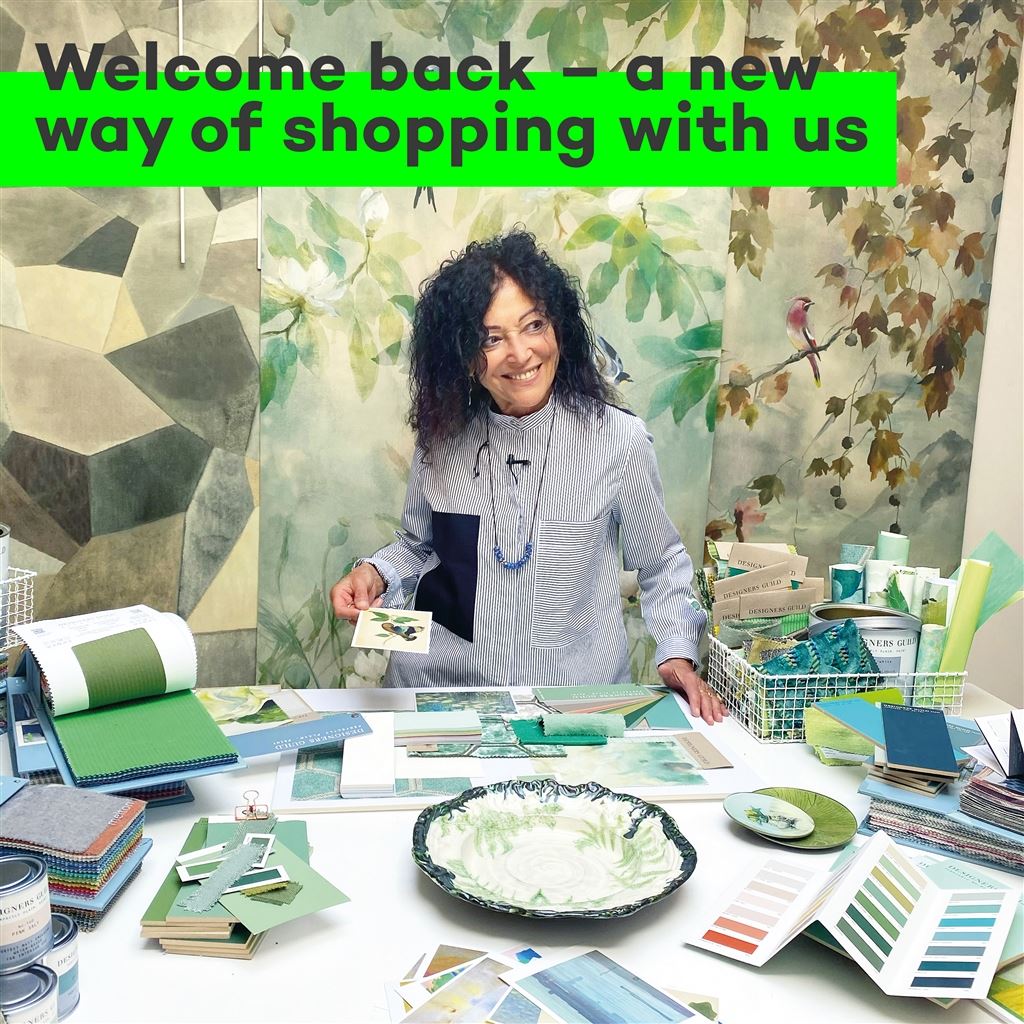 Add to Scrapbook
As our homes take on deeper meaning - keeping them looking and feeling good is even more important. During these lockdown weeks, you may have viewed your home in a different light and noticed your living patterns have changed and adjusted, having the space to fit both our work and personal lives in a way that feels stylish, practical and habitable all at once. And so you may be in need of an interior refresh.
Our virtual doors are always open to you to explore a world of creativity, with inspiration and a genuine passion for living well. And now we have adapted access to our in-store expert services so that you can continue with your interior design project ideas whilst you and our Interior Design Consultants remain safe.
To adhere to government guidelines on safe working practices and social distancing, we are introducing some alternative ways to shop with us:
1| Book an appointment for an in-store visit – You will have exclusive access to browse the stores during a one-hour time slot to discuss our bespoke services such as made-to-measure curtains and colour consultancy, with the reassurance of safe distancing in place.
2| Book a video consultation – Our in-store consultants can provide you with a personal remote service with secure measures in place, for all your design project needs and requests, tailored to suit your personal style and budget.
3| Get in touch – We would love to hear from you, whether you are looking for a particular shade of paint, a unique finishing touch for your bedroom or some much needed bathroom luxuries. Our staff can provide options and ideas for you in the comfort on your own home.
Click here to book your free appointment online >
or call us on 020 7351 5775
We will continue to closely monitor the complex situation and provide further updates accordingly.