{"PagingOverride":false,"IncludesForm":true,"RequiresKendoDatePicker":true,"RequiresMDC":false,"RequiresFileDownloader":false,"IsShop":false,"OriginalSemanticString":null,"NoFollow":false,"NoIndex":false,"CustomCanonical":null,"AttributeFilterText":null,"AttributeSignatureText":null,"UserInCorrectSite":true,"CountryCorrectorDismissed":false,"CorrectSitesForUser":[{"CountryLanguageID":5,"RegionID":2,"CountryID":238,"CountryCode":"US","LanguageID":2,"SortOrder":125,"Name":"United States","URL":"us","DotNetCulture":"en-US","ShopEnabled":true,"LanguageCode":"us","LanguageDotNetCulture":"en-US","MertexCurrencyCode":"USD","CurrencyCode":"USD","PriceListID":2,"AllowTradeOrders":true,"AcceptAmazonPay":true,"BuyOnlineRedirectAllowed":false,"EcommerceEnabled":true,"SamplesEnabled":false}],"PrefetchedResources":[{"Name":"Quantity","Value":"Quantity"},{"Name":"QuantityRequired","Value":"You must provide a quantity"},{"Name":"pleaseGreaterThanEqualTo","Value":"Please enter a value greater than or equal to"},{"Name":"pleaseLessThanEqualTo","Value":"Please enter a value less than or equal to"},{"Name":"ShowImageProducts","Value":"Tap here to view products in the above image"},{"Name":"HideImageProducts","Value":"Tap here to hide products in the above image"},{"Name":"Sorry","Value":"Sorry"},{"Name":"ThereWereNoResultsForThatCombination","Value":"There were no results for that combination of filters."},{"Name":"WeHaveDeselectedTheFollowing","Value":"We have deselected the following filter(s) for you"},{"Name":"AttributeFilterTextResultFoundFor","Value":"{Count} result found for {AttributeFilterText}"},{"Name":"AttributeFilterTextResultsFoundFor","Value":"{Count} results found for {AttributeFilterText}"},{"Name":"MajorError","Value":"We could not process your request at this present time. Please click on the back button and try again. If this problem re-occurs, please email shoponlineuk@designersguild.com and one of our customer service agents will get back to you as soon as possibl"},{"Name":"PleaseSelect","Value":"Please Select"},{"Name":"PleaseCorrectAll","Value":"Please correct all errors"},{"Name":"AddressSearchPlaceholder","Value":"Start typing your address"},{"Name":"FormsErrorSelectLocation","Value":"Please select a location"},{"Name":"FormsErrorSelectDate","Value":"Please select a date"},{"Name":"FormsErrorSelectTimeSlot","Value":"Please select a time"},{"Name":"FormsErrorSelectAppointmentAgenda","Value":"Please select an agenda"},{"Name":"FormsErrorSelectAppointmentType","Value":"Please select a meeting type"},{"Name":"FormsErrorName","Value":"Your name must be between 2 and 50 characters"},{"Name":"NoMarketingPermissions","Value":"Sorry, there was a problem submitting this form. Please contact Customer Services."},{"Name":"FormsErrorEmail","Value":"Your email address must be between 5 and 100 characters"},{"Name":"FormsErrorEmailFormat","Value":"Your email address is not in the correct format"},{"Name":"FormsErrorEmailCompare","Value":"Your email and confirm email entries do not match"},{"Name":"FormsErrorCompanyName","Value":"Your company name must not exceed 35 characters"},{"Name":"FormsErrorLineOne","Value":"Your address line one must be between 2 and 60 characters"},{"Name":"FormsErrorLineTwo","Value":"Your address line one must not exceed 60 characters"},{"Name":"FormsErrorTown","Value":"Your town must be between 2 and 50 characters"},{"Name":"FormsErrorCounty","Value":"Your state must be between 2 and 40 characters"},{"Name":"FormsErrorPostCode","Value":"Your zipcode must be between 2 and 20 characters"},{"Name":"FormsCountryRequired","Value":"You must specify a country"},{"Name":"FormsLanguageRequired","Value":"You must specify a language"},{"Name":"phoneValidation","Value":"Please provide a phone number"},{"Name":"FormsErrorPhone","Value":"Your phone number must be between 2 and 20 characters"},{"Name":"FormsErrorCaptchaCompare","Value":"The characters entered do not match the characters shown above"},{"Name":"MoodboardSave","Value":"Save"},{"Name":"PleaseProvideCompanyName","Value":"Please provide a Company Name"},{"Name":"FormsCompanyName","Value":"Company Name"},{"Name":"PleaseProvideName","Value":"Please provide a Name"},{"Name":"PleaseProvideAddressLine1","Value":"Please provide Address Line 1"},{"Name":"FormsAddressLineTwo","Value":"Address Line 2"},{"Name":"PleaseProvideTown","Value":"Please provide a Town"},{"Name":"PleaseProvidePostcode","Value":"Please provide a Postcode"},{"Name":"PleaseSelectCountry","Value":"Please select a Country"},{"Name":"PleaseSelectCountryBefore","Value":"Please select a Country before searching"},{"Name":"FormsCompanyName","Value":"Company Name"},{"Name":"FormsFullName","Value":"Name"},{"Name":"FormsAddressLineOne","Value":"Address Line 1"},{"Name":"FormsAddressLineTwo","Value":"Address Line 2"},{"Name":"FormsTown","Value":"Town / City"},{"Name":"FormsCounty","Value":"State"},{"Name":"FormsPostCode","Value":"Zip code"},{"Name":"FormsPhoneNumber","Value":"Phone Number"},{"Name":"FormsEmail","Value":"Email Address"},{"Name":"FormsConfirmEmail","Value":"Confirm Email Address"},{"Name":"email","Value":"Email"},{"Name":"SearchForAddress","Value":"Search for an Address"},{"Name":"FormsCountry","Value":"Country"},{"Name":"Sorry","Value":"Sorry"},{"Name":"PleaseTryAgain","Value":"Please try again"}],"PrefetchedSnippets":[],"HeaderBanners":[],"HasHeaderBanners":false,"FooterBanners":[],"HasFooterBanners":false,"EcommercePopupBanners":[],"HasEcommercePopupBanners":false,"Banners":[{"id":12,"name":"One","banners":[{"bannerId":8494,"name":"USA Shop 12","version":44,"sortOrder":1,"overlayText":"SHOP PILLOWS >","altText":"SHOP PILLOWS >","titleText":"SHOP PILLOWS >","width":1024,"height":1024,"linkURL":"/us/designer-cushions/l1046","newWindow":false,"foregroundColour":"#000000","backgroundColour":"#ffffff","fontClass":null,"restrictions":{"menuIds":[71,92],"siteSectionIds":null,"pageIds":null}},{"bannerId":8490,"name":"Lookbooks 12 (Inspiration)","version":9,"sortOrder":2,"overlayText":"","altText":null,"titleText":null,"width":1024,"height":960,"linkURL":"/us/brochures/l1179","newWindow":false,"foregroundColour":"#000000","backgroundColour":"#ffffff","fontClass":null,"restrictions":{"menuIds":[12,66,106],"siteSectionIds":null,"pageIds":null}},{"bannerId":6325,"name":"Christian Lacroix","version":11,"sortOrder":3,"overlayText":"","altText":"Christian Lacroix","titleText":"Christian Lacroix","width":1024,"height":394,"linkURL":"/us/christian-lacroix/l1397","newWindow":false,"foregroundColour":"#000000","backgroundColour":"#ffffff","fontClass":"default-text","restrictions":{"menuIds":[11,45,72,91,108],"siteSectionIds":null,"pageIds":null}}]},{"id":13,"name":"Two","banners":[{"bannerId":8489,"name":"Films 13 (Inspiration)","version":11,"sortOrder":1,"overlayText":"","altText":null,"titleText":null,"width":1024,"height":960,"linkURL":"/us/films/l1180","newWindow":false,"foregroundColour":"#000000","backgroundColour":"#ffffff","fontClass":null,"restrictions":{"menuIds":[12,66,106],"siteSectionIds":null,"pageIds":null}},{"bannerId":8475,"name":"SS21 USA Shop 13 shipping","version":24,"sortOrder":2,"overlayText":"","altText":null,"titleText":null,"width":1024,"height":1024,"linkURL":"/us/delivery-and-returns/l1144","newWindow":false,"foregroundColour":"#000000","backgroundColour":"#ffffff","fontClass":null,"restrictions":{"menuIds":[71],"siteSectionIds":null,"pageIds":null}},{"bannerId":6978,"name":"RALPH LAUREN USA MENU","version":26,"sortOrder":3,"overlayText":"","altText":null,"titleText":null,"width":1024,"height":394,"linkURL":"/us/fabric/designers-guild/ralph-lauren-fabrics/l1842","newWindow":false,"foregroundColour":"#000000","backgroundColour":"#ffffff","fontClass":null,"restrictions":{"menuIds":[72,92],"siteSectionIds":null,"pageIds":null}}]},{"id":14,"name":"Three","banners":[{"bannerId":8491,"name":"Blog 14 (Inspiration)","version":5,"sortOrder":1,"overlayText":"","altText":null,"titleText":null,"width":1024,"height":960,"linkURL":"/us/dg-world/blog/l601","newWindow":false,"foregroundColour":"#000000","backgroundColour":"#ffffff","fontClass":null,"restrictions":{"menuIds":[12,66,106],"siteSectionIds":null,"pageIds":null}},{"bannerId":2585,"name":"USA LIFESTYLE MENU","version":13,"sortOrder":2,"overlayText":"","altText":null,"titleText":null,"width":1024,"height":950,"linkURL":"/us/trade-login/l104","newWindow":false,"foregroundColour":"#000000","backgroundColour":"#ffffff","fontClass":null,"restrictions":{"menuIds":[90],"siteSectionIds":null,"pageIds":null}},{"bannerId":1809,"name":"Royal Collection","version":11,"sortOrder":3,"overlayText":"","altText":"Royal Collection","titleText":"Royal Collection","width":1024,"height":394,"linkURL":"/us/the-royal-collection/l1396","newWindow":false,"foregroundColour":"#000000","backgroundColour":"#ffffff","fontClass":"default-text","restrictions":{"menuIds":[45,72,91,108],"siteSectionIds":null,"pageIds":null}}]},{"id":15,"name":"Four","banners":[{"bannerId":4115,"name":"News & Events 15 (Inspiration)","version":5,"sortOrder":1,"overlayText":"","altText":null,"titleText":null,"width":1024,"height":960,"linkURL":"/us/dg-world/news-and-events/l602","newWindow":false,"foregroundColour":"#000000","backgroundColour":"#ffffff","fontClass":null,"restrictions":{"menuIds":[12,66,106],"siteSectionIds":null,"pageIds":null}},{"bannerId":1805,"name":"William Yeoward","version":10,"sortOrder":2,"overlayText":"","altText":"William Yeoward","titleText":"William Yeoward","width":1024,"height":394,"linkURL":"/us/william-yeoward/l1399","newWindow":false,"foregroundColour":"#000000","backgroundColour":"#ffffff","fontClass":"default-text","restrictions":{"menuIds":[11,45,72,91,108],"siteSectionIds":null,"pageIds":null}}]},{"id":16,"name":"Five","banners":[{"bannerId":7779,"name":"Brands English Heritage ","version":79,"sortOrder":1,"overlayText":"","altText":"English Heritage ","titleText":"English Heritage ","width":1024,"height":394,"linkURL":"/us/english-heritage-by-designers-guild/l1852","newWindow":false,"foregroundColour":"#000000","backgroundColour":"#ffffff","fontClass":null,"restrictions":{"menuIds":[11,45,72,91,103,108],"siteSectionIds":null,"pageIds":null}},{"bannerId":4118,"name":"Social Media 16 (Inspiration)","version":7,"sortOrder":2,"overlayText":"","altText":null,"titleText":null,"width":1024,"height":960,"linkURL":"https://www.instagram.com/designersguild/?hl=en","newWindow":false,"foregroundColour":"#000000","backgroundColour":"#ffffff","fontClass":null,"restrictions":{"menuIds":[66,106],"siteSectionIds":null,"pageIds":null}}]},{"id":17,"name":"Six","banners":[{"bannerId":4113,"name":"About Us 17 (Inspiration)","version":3,"sortOrder":1,"overlayText":"","altText":null,"titleText":null,"width":1024,"height":958,"linkURL":"/us/company-profile/l1004","newWindow":false,"foregroundColour":"#000000","backgroundColour":"#ffffff","fontClass":null,"restrictions":{"menuIds":[12,66,106],"siteSectionIds":null,"pageIds":null}},{"bannerId":2117,"name":"John Derian","version":18,"sortOrder":2,"overlayText":"","altText":"John Derian","titleText":"John Derian","width":1024,"height":394,"linkURL":"/us/john-derian/l1521","newWindow":false,"foregroundColour":"#000000","backgroundColour":"#ffffff","fontClass":"default-text","restrictions":{"menuIds":[45,72,91,108],"siteSectionIds":null,"pageIds":null}}]}],"Hotspots":[],"RecentlyViewed":[],"MasterDefinition":{"SiteSectionID":9,"TitleTag":"Interior Design Department | Designers Guild","MetaDescription":null,"BackInStockReminder":null,"ItemsInBasket":0.0,"UrlBreakdown":{"ContentType":0,"ContentId":1635,"ContentDate":"2023-12-08T00:00:00","SemanticString":"","countryDetails":{"CountryLanguageID":5,"RegionID":2,"CountryID":238,"CountryCode":"US","LanguageID":2,"SortOrder":125,"Name":"United States","URL":"us","DotNetCulture":"en-US","ShopEnabled":true,"LanguageCode":"us","LanguageDotNetCulture":"en-US","MertexCurrencyCode":"USD","CurrencyCode":"USD","PriceListID":2,"AllowTradeOrders":true,"AcceptAmazonPay":true,"BuyOnlineRedirectAllowed":false,"EcommerceEnabled":true,"SamplesEnabled":false},"contentTypeAndIdNotFound":false,"CountryAwareness":{"Match":true,"Culture":null,"objCountryItem":{"CountryLanguageID":0,"RegionID":0,"CountryID":0,"CountryCode":null,"LanguageID":0,"SortOrder":0,"Name":null,"URL":null,"DotNetCulture":null,"ShopEnabled":false,"LanguageCode":null,"LanguageDotNetCulture":null,"MertexCurrencyCode":null,"CurrencyCode":null,"PriceListID":null,"AllowTradeOrders":false,"AcceptAmazonPay":false,"BuyOnlineRedirectAllowed":false,"EcommerceEnabled":false,"SamplesEnabled":false}},"GeoIPCulture":null,"siteCountryNotFoundInUrl":false},"GoogleHrefs":[{"hreflang":"de","href":"https://www.designersguild.com/de/l1635"},{"hreflang":"de-at","href":"https://www.designersguild.com/at/l1635"},{"hreflang":"de-ch","href":"https://www.designersguild.com/de-ch/l1635"},{"hreflang":"en","href":"https://www.designersguild.com/row/l1635"},{"hreflang":"en-au","href":"https://www.designersguild.com/au/l1635"},{"hreflang":"en-be","href":"https://www.designersguild.com/be/l1635"},{"hreflang":"en-ca","href":"https://www.designersguild.com/us/l1635"},{"hreflang":"en-dk","href":"https://www.designersguild.com/dk/l1635"},{"hreflang":"en-gb","href":"https://www.designersguild.com/uk/l1635"},{"hreflang":"en-gg","href":"https://www.designersguild.com/uk/l1635"},{"hreflang":"en-gr","href":"https://www.designersguild.com/eu/l1635"},{"hreflang":"en-ie","href":"https://www.designersguild.com/ie/l1635"},{"hreflang":"en-im","href":"https://www.designersguild.com/uk/l1635"},{"hreflang":"en-je","href":"https://www.designersguild.com/uk/l1635"},{"hreflang":"en-lu","href":"https://www.designersguild.com/be/l1635"},{"hreflang":"en-nl","href":"https://www.designersguild.com/nl/l1635"},{"hreflang":"en-no","href":"https://www.designersguild.com/no/l1635"},{"hreflang":"en-nz","href":"https://www.designersguild.com/nz/l1635"},{"hreflang":"en-se","href":"https://www.designersguild.com/se/l1635"},{"hreflang":"en-us","href":"https://www.designersguild.com/us/l1635"},{"hreflang":"es","href":"https://www.designersguild.com/es/l1635"},{"hreflang":"fi-fi","href":"https://www.designersguild.com/fi/l1635"},{"hreflang":"fr","href":"https://www.designersguild.com/fr/l1635"},{"hreflang":"fr-ch","href":"https://www.designersguild.com/fr-ch/l1635"},{"hreflang":"it-it","href":"https://www.designersguild.com/it/l1635"},{"hreflang":"ru","href":"https://www.designersguild.com/ru/l1635"},{"hreflang":"x-default","href":"https://www.designersguild.com/uk/l1635"}],"CountryDropDown":{"countryDropDownItems":[{"CountryID":81,"Code":null,"LanguageID":1,"RegionID":3,"LanguageCode":"en","Country":"UK","Region":"Europe","URL":"uk","URLKeywords":"","SortOrder":1,"PageID":0},{"CountryID":15,"Code":null,"LanguageID":4,"RegionID":3,"LanguageCode":"de","Country":"Austria","Region":"Europe","URL":"at","URLKeywords":"","SortOrder":11,"PageID":0},{"CountryID":23,"Code":null,"LanguageID":1,"RegionID":3,"LanguageCode":"en","Country":"Belgium","Region":"Europe","URL":"be","URLKeywords":"","SortOrder":12,"PageID":0},{"CountryID":62,"Code":null,"LanguageID":1,"RegionID":3,"LanguageCode":"en","Country":"Denmark","Region":"Europe","URL":"dk","URLKeywords":"","SortOrder":13,"PageID":0},{"CountryID":74,"Code":null,"LanguageID":15,"RegionID":3,"LanguageCode":"fi","Country":"Finland","Region":"Europe","URL":"fi","URLKeywords":"","SortOrder":15,"PageID":0},{"CountryID":79,"Code":null,"LanguageID":3,"RegionID":3,"LanguageCode":"fr","Country":"France","Region":"Europe","URL":"fr","URLKeywords":"","SortOrder":16,"PageID":0},{"CountryID":60,"Code":null,"LanguageID":4,"RegionID":3,"LanguageCode":"de","Country":"Germany","Region":"Europe","URL":"de","URLKeywords":"","SortOrder":17,"PageID":0},{"CountryID":106,"Code":null,"LanguageID":1,"RegionID":3,"LanguageCode":"en","Country":"Ireland","Region":"Europe","URL":"ie","URLKeywords":"","SortOrder":18,"PageID":0},{"CountryID":114,"Code":null,"LanguageID":6,"RegionID":3,"LanguageCode":"it","Country":"Italy","Region":"Europe","URL":"it","URLKeywords":"","SortOrder":19,"PageID":0},{"CountryID":170,"Code":null,"LanguageID":13,"RegionID":3,"LanguageCode":"en","Country":"Netherlands","Region":"Europe","URL":"nl","URLKeywords":"","SortOrder":20,"PageID":0},{"CountryID":71,"Code":null,"LanguageID":5,"RegionID":3,"LanguageCode":"es","Country":"Spain","Region":"Europe","URL":"es","URLKeywords":"","SortOrder":23,"PageID":0},{"CountryID":202,"Code":null,"LanguageID":1,"RegionID":3,"LanguageCode":"en","Country":"Sweden","Region":"Europe","URL":"se","URLKeywords":"","SortOrder":24,"PageID":0},{"CountryID":171,"Code":null,"LanguageID":1,"RegionID":3,"LanguageCode":"en","Country":"Norway","Region":"Europe","URL":"no","URLKeywords":"","SortOrder":52,"PageID":0},{"CountryID":46,"Code":null,"LanguageID":3,"RegionID":3,"LanguageCode":"fr","Country":"Switzerland","Region":"Europe","URL":"fr-ch","URLKeywords":"","SortOrder":102,"PageID":0},{"CountryID":46,"Code":null,"LanguageID":4,"RegionID":3,"LanguageCode":"de","Country":"Switzerland","Region":"Europe","URL":"de-ch","URLKeywords":"","SortOrder":103,"PageID":0},{"CountryID":196,"Code":null,"LanguageID":10,"RegionID":3,"LanguageCode":"ru","Country":"Russian Federation","Region":"Europe","URL":"ru","URLKeywords":"","SortOrder":109,"PageID":0},{"CountryID":238,"Code":null,"LanguageID":2,"RegionID":2,"LanguageCode":"us","Country":"United States","Region":"North America","URL":"us","URLKeywords":"","SortOrder":125,"PageID":0},{"CountryID":16,"Code":null,"LanguageID":12,"RegionID":6,"LanguageCode":"au","Country":"Australia","Region":"Australasia","URL":"au","URLKeywords":"","SortOrder":150,"PageID":0},{"CountryID":175,"Code":null,"LanguageID":18,"RegionID":6,"LanguageCode":"nz","Country":"New Zealand","Region":"Australasia","URL":"nz","URLKeywords":"","SortOrder":151,"PageID":0},{"CountryID":51,"Code":null,"LanguageID":1,"RegionID":4,"LanguageCode":"en","Country":"Rest of the World","Region":"Africa, Asia & the Middle East","URL":"row","URLKeywords":"","SortOrder":255,"PageID":0},{"CountryID":67,"Code":null,"LanguageID":1,"RegionID":3,"LanguageCode":"en","Country":"Other Countries in Europe","Region":"Europe","URL":"eu","URLKeywords":"","SortOrder":255,"PageID":0}]},"ProductTypeDropDown":{"ProductTypes":[{"ProductTypeID":15,"Name":"Fabric","NamePlural":null,"URLKeywords":null,"SortOrder":0,"FilterIndexRestrictions":null,"ProductPageIDs":null,"FormValue":"fabric"},{"ProductTypeID":18,"Name":"Wallpaper","NamePlural":null,"URLKeywords":null,"SortOrder":0,"FilterIndexRestrictions":null,"ProductPageIDs":null,"FormValue":"wallpaper"},{"ProductTypeID":10,"Name":"Rug","NamePlural":null,"URLKeywords":null,"SortOrder":0,"FilterIndexRestrictions":null,"ProductPageIDs":null,"FormValue":"rug"},{"ProductTypeID":4,"Name":"Throw Pillow","NamePlural":null,"URLKeywords":null,"SortOrder":0,"FilterIndexRestrictions":null,"ProductPageIDs":null,"FormValue":"throw-pillow"},{"ProductTypeID":1,"Name":"Bed Linen","NamePlural":null,"URLKeywords":null,"SortOrder":0,"FilterIndexRestrictions":null,"ProductPageIDs":null,"FormValue":"bed-linen"},{"ProductTypeID":2,"Name":"Throw","NamePlural":null,"URLKeywords":null,"SortOrder":0,"FilterIndexRestrictions":null,"ProductPageIDs":null,"FormValue":"throw"}]},"TradeMember":false,"TradeAllowed":false,"CanViewRRPs":true,"LoginStatus":0,"UserName":null},"Visitor":{"visitorDbId":213720899,"FullName":null,"Email":null,"Culture":null,"VisitorCreatedDT":"0001-01-01T00:00:00","memberId":null,"tradePriceListId":null,"memberTradeAccountNumber":null,"memberTradeAccountID":null,"memberDisplayTradePrice":false,"memberTradeDataSourceJson":null,"tradePermissionAccountAdmin":false,"tradePermissionPlaceOrder":false,"tradePermissionViewAccounts":false,"tradePermissionDownloadPricelistsBrochures":false,"tradePermissionDownloadProductFeeds":false},"DotDigitalBehaviourProfile":{"WebBehaviourTrackingProfileID":"DM-3990244702-01"},"Scrapbook":{"Images":[]},"TradeOrderingAllowed":true,"SearchTerm":null,"ProductType":null,"LanguageID":2,"CountryID":238,"Date":"2023-12-08T00:00:00","ContentType":0,"ContentID":1635,"SiteSectionID":9,"ShowRecentlyViewed":false,"Partial":null,"IsBot":true,"CategoryPageProductType":null}
{"PageSectionID":17219,"SlideID":60030,"AnimationID":4605,"SlideTypeID":1,"DisplayCallsToAction":false,"AutoHideCallsToAction":false,"DisplayHotspots":false,"AutoHideHotspots":false,"ImageID":149826,"TitleText":null,"AltText":null,"Width":6484,"Height":1621,"MaxWidth":3092,"AspectRatio":0.2500000,"VideoID":null,"VideoEmbedCode":null,"SortOrder":0,"URL":null,"NewWindow":false,"Hotspots":[]}

Add to Scrapbook
Interior Design Department
Interior design is our world
Experience first-hand our take on modern luxury and discover creativity, inspiration and a genuine passion for living well.
Make an appointment to meet with our friendly and knowledgeable team and discuss your needs. We will be delighted to assist.
We guide you through the entire process of designing and decorating your space however large or small you project and from beginning to end.
Whether you are decorating one room, a whole house, a hotel or a set of showhouses, our team are experienced and qualified to help at the highest level – domestic and contract.
Be inspired- We work hard to ensure that every step of the process is as inspiring as it is enjoyable.
In addition to Designers Guild and our extensive library of brands we also source products wherever necessary including contemporary furniture and furnishings, vintage or antique.
Our interior design service is personally tailored to you. We're here to help from start to finish, with an efficient and friendly approach and you will liaise with one designated designer from the beginning to the end of your project.
Whether you are simply browsing for new accessories, need new curtains, or are decorating your entire house - our interior design team will be delighted to assist.
The Design Process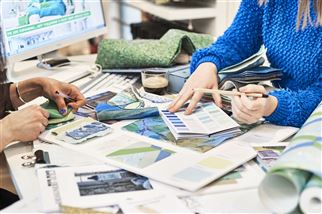 Step 1: Meet
Book an initial one hour design consultation with one of our interior designers free of charge to discuss and determine your style, requirements, budget and timescale. At this first appointment we hope to inspire you and explore the possibilities of designing your space.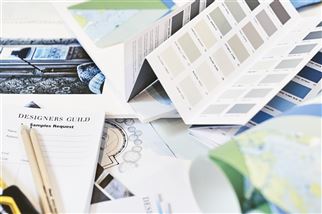 Step 2: Consult
Choose from either a virtual or in home consultation during which your personal designer can assess your space and identify your requirements. They will be able to advise on schemes and working with you, start to create ideas and a style for your space.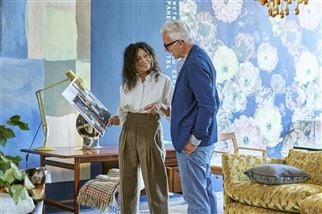 Step 3: Design
You will receive a carefully curated design pack with inspirational references, images , samples and virtual mood boards. Your personal designer will take you through the next steps and answer any questions and queries you may have.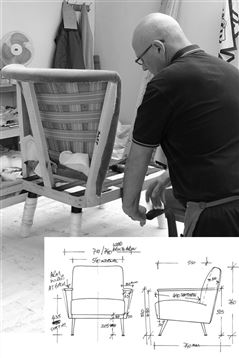 Step 4: Measure and Make
Our team will measure, appoint and organise specialist curtain and blind makers, upholsterers and craftsmen to work on your project following their instructions and with your approval.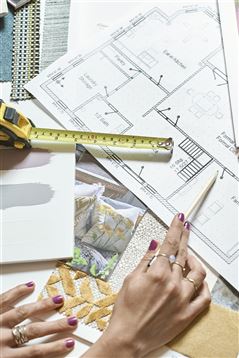 Step 5: Project Manage
Your personal designer will keep you informed of progress every step of the way and will manage and oversee every aspect of your project whether in our own workroom or at one of our specialist craftsmen.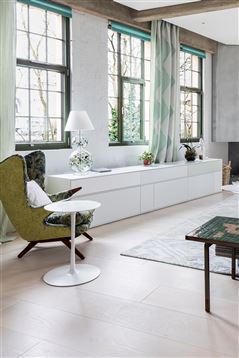 Step 6: Install and Fit
As completion of the project approaches, your personal designer as always, will be on hand to assist. Our 'white glove' delivery service ensures all items are delivered, unpacked and styled with the utmost care and attention.
Consultations
In-store, Virtual or at Home
Initial consultations - Book a personal one hour appointment below to have in store or virtually with one of our design team free of charge to discuss your needs and requirements and start the design conversation.
In home Consultation – 3 Hours - £295 London and the Home Counties ( outside this area – please call for more information)
You will receive a carefully curated design pack with inspirational references, images, samples and virtual mood boards and a full quotation. Your personal designer will take you through the next steps and answer any questions and queries you may have.
This charge is redeemable against your project