{"UseSizeButtons":false,"UseOrderFormGrouping":false,"UsePaintOrderForm":false,"TechInfo":{"width":"56 in","weight":"7.4 oz/sq.yd","horizontalPatternRepeat":"17.91 in","verticalPatternRepeat":"25.2 in","martindale":20000.0,"composition":"100% Co","patternMatch":"Half drop","flamcode":"(UK Flamcode B+M) Cigarette Resistant - In UK/Eire Upholstery use FR interliner or FR treat","domesticFR":"Cigarette Resistant","additionalInfo":"Iron on reverse.","collections":[{"collectionId":800,"name":"Heritage Prints","urlSemantics":"fabric/english-heritage-by-designers-guild/heritage-prints","url":"/us/fabric/english-heritage-by-designers-guild/heritage-prints/c800"}],"tests":[{"test":"EN1021-1 Cigarette - UPHOLSTERY"},{"test":"BS5852 Cigarette - UPHOLSTERY"}],"usages":[{"usageId":1,"usage":"Cushions"},{"usageId":2,"usage":"Curtains And Blinds"},{"usageId":3,"usage":"Loose Covers"},{"usageId":4,"usage":"Upholstery"}],"aftercares":[{"aftercareId":4,"aftercare":"NO WASH"},{"aftercareId":17,"aftercare":"DRY CLEAN - P process (GENTLE)"},{"aftercareId":27,"aftercare":"IRON COOL (1 spot - 110deg c)"},{"aftercareId":47,"aftercare":"NO TUMBLE DRY"},{"aftercareId":50,"aftercare":"NO BLEACH"}]},"Prices":{"productPages":[{"productPageId":39119,"productPage":{"productPageId":39119,"heading":null,"subheading":null,"new":null,"productTypeId":null,"urlKeywords":null,"url":null,"imageId":null,"imageWidth":null,"imageHeight":null,"aspectRatio":null,"merchandisedSortOrder":null,"searchSortOrder":null,"colourSort":255,"stockSortOrder":103.2,"azSortOrder":1,"reviewCount":null,"reviewAverage":null,"ratingSortOrder":1,"priceSortOrder":1,"discountSortOrder":1,"newSort":1,"designId":20643,"brandId":16,"alternateColourwayIncludeSize":true,"sizeMetric":null,"productPagePrice":{"priceMin":null,"priceMax":null,"salePriceMin":null,"salePriceMax":null,"discountPercentageMin":null,"discountPercentageMax":null,"clearanceDiscountPercentageMin":null,"clearanceDiscountPercentageMax":null,"discountMessage":null,"priceMessage":null,"rRPMessage":null,"codeMessage":"FEH0006/04"}}}]},"Definition":{"productPageId":39119,"productTypeId":0,"languageId":2,"countryId":238,"templateId":2,"titleTag":"Suffolk Garden Birch Fabric | English Heritage","heading":"Suffolk Garden Birch","subHeading":"Fabric","brand":"English Heritage","isNew":true,"metaDescription":"A wonderfully flowing floral print in a medium scale accentuated with detailed birds and butterflies. Digitally printed onto a softly textured cotton to re","urlKeywords":"/us/fabric/english-heritage/suffolk-garden-birch-fabric/p39119","isRugOrRunner":false,"urlSemantics":"fabric/english-heritage/suffolk-garden-birch-fabric","googleHrefs":[{"hreflang":"de","href":"https://www.designersguild.com/de/fabric/english-heritage/suffolk-garden-birch-fabric/p39119"},{"hreflang":"fr","href":"https://www.designersguild.com/fr/fabric/english-heritage/suffolk-garden-birch-fabric/p39119"},{"hreflang":"en-gb","href":"https://www.designersguild.com/uk/fabric/english-heritage/suffolk-garden-birch-fabric/p39119"},{"hreflang":"en-se","href":"https://www.designersguild.com/se/fabric/english-heritage/suffolk-garden-birch-fabric/p39119"},{"hreflang":"en-us","href":"https://www.designersguild.com/us/fabric/english-heritage/suffolk-garden-birch-fabric/p39119"},{"hreflang":"es","href":"https://www.designersguild.com/es/fabric/english-heritage/suffolk-garden-birch-fabric/p39119"},{"hreflang":"it-it","href":"https://www.designersguild.com/it/fabric/english-heritage/suffolk-garden-birch-fabric/p39119"},{"hreflang":"en-nl","href":"https://www.designersguild.com/nl/fabric/english-heritage/suffolk-garden-birch-fabric/p39119"},{"hreflang":"ru","href":"https://www.designersguild.com/ru/fabric/english-heritage/suffolk-garden-birch-fabric/p39119"},{"hreflang":"ja-jp","href":"https://www.designersguild.com/jp/fabric/english-heritage/suffolk-garden-birch-fabric/p39119"},{"hreflang":"en-be","href":"https://www.designersguild.com/be/fabric/english-heritage/suffolk-garden-birch-fabric/p39119"},{"hreflang":"en-au","href":"https://www.designersguild.com/au/fabric/english-heritage/suffolk-garden-birch-fabric/p39119"},{"hreflang":"en-dk","href":"https://www.designersguild.com/dk/fabric/english-heritage/suffolk-garden-birch-fabric/p39119"},{"hreflang":"en-gr","href":"https://www.designersguild.com/eu/fabric/english-heritage/suffolk-garden-birch-fabric/p39119"},{"hreflang":"en-no","href":"https://www.designersguild.com/no/fabric/english-heritage/suffolk-garden-birch-fabric/p39119"},{"hreflang":"de-at","href":"https://www.designersguild.com/at/fabric/english-heritage/suffolk-garden-birch-fabric/p39119"},{"hreflang":"de-ch","href":"https://www.designersguild.com/de-ch/fabric/english-heritage/suffolk-garden-birch-fabric/p39119"},{"hreflang":"fr-ch","href":"https://www.designersguild.com/fr-ch/fabric/english-heritage/suffolk-garden-birch-fabric/p39119"},{"hreflang":"en","href":"https://www.designersguild.com/row/fabric/english-heritage/suffolk-garden-birch-fabric/p39119"},{"hreflang":"en-nz","href":"https://www.designersguild.com/nz/fabric/english-heritage/suffolk-garden-birch-fabric/p39119"},{"hreflang":"en-ie","href":"https://www.designersguild.com/ie/fabric/english-heritage/suffolk-garden-birch-fabric/p39119"},{"hreflang":"fi-fi","href":"https://www.designersguild.com/fi/fabric/english-heritage/suffolk-garden-birch-fabric/p39119"},{"hreflang":"x-default","href":"https://www.designersguild.com/fabric/english-heritage/suffolk-garden-birch-fabric/p39119"}],"pinterestImageId":146982,"breadcrumb":"<li><a href=\"/us/fabric/l1292\">FABRIC</a></li><li><span>Suffolk Garden Birch</span></li>","Images":[{"imageId":146982,"templateImageId":2,"altText":"suffolk garden - birch","titleText":"suffolk garden - birch","sortOrder":0,"maxWidth":1024},{"imageId":148053,"templateImageId":2,"altText":null,"titleText":null,"sortOrder":1,"maxWidth":1024},{"imageId":148045,"templateImageId":2,"altText":null,"titleText":null,"sortOrder":2,"maxWidth":1024},{"imageId":148051,"templateImageId":2,"altText":null,"titleText":null,"sortOrder":3,"maxWidth":1024}],"PageJSON":"{\"productPageId\":39119,\"productTypeId\":15,\"heading\":\"Suffolk Garden Birch\",\"subHeading\":\"Fabric\",\"category\":\"Arts & Entertainment > Hobbies & Creative Arts > Crafts & Hobbies > Fibercraft & Textile Arts > Textile Art Materials > Fabric\",\"brand\":\"English Heritage\",\"description\":\"A wonderfully flowing floral print in a medium scale accentuated with detailed birds and butterflies. Digitally printed onto a softly textured cotton to retain all the nuances of the original painting. In five elegant colourways and suitable for all interior applications.\\n </p>\\nThe 'Hoho' bird depicted in the original archival fragment derives from the mythical East-Asian version of the Phoenix. Hoho birds first started appearing in England in the 18th Century on Georgian Furniture and chinoiserie. This wallpaper was found in the entrance hall of Crowe Hall in Stutton, Suffolk. The hall was built in around 1605 for a member of the Bowes family but redesigned in a gothic style circa 1824-26 for George Reade by Richard Beales of Lawford Sussex. The design commissioned by Designers Guild is by an artist specialising in traditional chinoiserie style work for interior textiles so as to retain as much of the character of the original fragment as possible.\\n\",\"urlSemantics\":\"fabric/english-heritage/suffolk-garden-birch-fabric\",\"breadcrumb\":\"<li><a href=\\\"/us/fabric/l1292\\\">FABRIC</a></li><li><span>Suffolk Garden Birch</span></li>\",\"url\":\"/us/fabric/english-heritage/suffolk-garden-birch-fabric/p39119\",\"titleTag\":\"Suffolk Garden Birch Fabric | English Heritage\",\"metaDescription\":\"A wonderfully flowing floral print in a medium scale accentuated with detailed birds and butterflies. Digitally printed onto a softly textured cotton to re\",\"reviewAverage\":null,\"reviewCount\":null,\"isNew\":true,\"templateId\":2,\"isRugOrRunner\":false,\"delivery\":\"<div style=\\\"width: 100%;\\\">\\n\\t<p>We are currently able to offer delivery to USA mainland, Hawaii, and Canada.</p><p><span style=\\\"color: #535353; font-family: &quot;Open Sans&quot;, sans-serif; font-variant-ligatures: common-ligatures; letter-spacing: 1px; text-decoration-color: initial;\\\">Standard shipping cost : $15</span></p>\\n\\n\\t<p>All shipping options will take approximately 7-10 business days to arrive.\\n\\t</p>\\n\\t<p>\\n\\t\\tFor more information, please visit our <a style=\\\"display: inline-block;\\\" href=\\\"l1144\\\" rel=\\\"nofollow\\\">Delivery &amp; Returns Information page</a>\\n\\t</p>\\n</div>\",\"returns\":\"<p>We hope you will be delighted with your order. However, if for any reason you are not completely satisfied we are happy to offer a refund on all goods returned to us within 30 days from the despatch of your order provided you return the items using our returns paperwork, they are in their original packaging, unopened and in an unused resellable condition.</p><p>\\n\\n</p><p>For more information, please <a style=\\\"display: inline-block\\\" href=\\\"l1146\\\" rel=\\\"nofollow\\\">visit our Delivery &amp; Returns Information page</a>.</p>\",\"products\":[{\"productId\":214468,\"code\":\"FEH0006/04\",\"orderFormName\":\"Suffolk Garden - Birch\",\"brand\":\"English Heritage\",\"images\":[{\"imageId\":146982,\"altText\":\"Suffolk Garden - Birch Cutting\",\"titleText\":\"Suffolk Garden - Birch Cutting\",\"templateImageId\":true,\"maxWidth\":1024}]}],\"images\":[{\"imageId\":146982,\"templateImageId\":2,\"altText\":\"suffolk garden - birch\",\"titleText\":\"suffolk garden - birch\",\"sortOrder\":0,\"maxWidth\":1024},{\"imageId\":148053,\"templateImageId\":2,\"sortOrder\":1,\"maxWidth\":1024},{\"imageId\":148045,\"templateImageId\":2,\"sortOrder\":2,\"maxWidth\":1024},{\"imageId\":148051,\"templateImageId\":2,\"sortOrder\":3,\"maxWidth\":1024}],\"alternateColourways\":[{\"productPageId\":39116,\"urlSemantics\":\"fabric/english-heritage/suffolk-garden-delft-fabric\",\"code\":\"FEH0006/04\",\"url\":\"/us/fabric/english-heritage/suffolk-garden-delft-fabric/p39116\",\"heading\":\"Suffolk Garden Delft\",\"imageId\":146985},{\"productPageId\":39117,\"urlSemantics\":\"fabric/english-heritage/suffolk-garden-chalk-blue-fabric\",\"code\":\"FEH0006/04\",\"url\":\"/us/fabric/english-heritage/suffolk-garden-chalk-blue-fabric/p39117\",\"heading\":\"Suffolk Garden Chalk Blue\",\"imageId\":146984},{\"productPageId\":39118,\"urlSemantics\":\"fabric/english-heritage/suffolk-garden-slate-blue-fabric\",\"code\":\"FEH0006/04\",\"url\":\"/us/fabric/english-heritage/suffolk-garden-slate-blue-fabric/p39118\",\"heading\":\"Suffolk Garden Slate Blue\",\"imageId\":146990},{\"productPageId\":39120,\"urlSemantics\":\"fabric/english-heritage/suffolk-garden-chestnut-fabric\",\"code\":\"FEH0006/04\",\"url\":\"/us/fabric/english-heritage/suffolk-garden-chestnut-fabric/p39120\",\"heading\":\"Suffolk Garden Chestnut\",\"imageId\":146986},{\"productPageId\":39119,\"urlSemantics\":\"fabric/english-heritage/suffolk-garden-birch-fabric\",\"code\":\"FEH0006/04\",\"url\":\"/us/fabric/english-heritage/suffolk-garden-birch-fabric/p39119\",\"heading\":\"Suffolk Garden Birch\",\"imageId\":146982}],\"reviews\":null,\"hreflangs\":[{\"hreflang\":\"de\",\"href\":\"https://www.designersguild.com/de/fabric/english-heritage/suffolk-garden-birch-fabric/p39119\"},{\"hreflang\":\"fr\",\"href\":\"https://www.designersguild.com/fr/fabric/english-heritage/suffolk-garden-birch-fabric/p39119\"},{\"hreflang\":\"en-gb\",\"href\":\"https://www.designersguild.com/uk/fabric/english-heritage/suffolk-garden-birch-fabric/p39119\"},{\"hreflang\":\"en-se\",\"href\":\"https://www.designersguild.com/se/fabric/english-heritage/suffolk-garden-birch-fabric/p39119\"},{\"hreflang\":\"en-us\",\"href\":\"https://www.designersguild.com/us/fabric/english-heritage/suffolk-garden-birch-fabric/p39119\"},{\"hreflang\":\"es\",\"href\":\"https://www.designersguild.com/es/fabric/english-heritage/suffolk-garden-birch-fabric/p39119\"},{\"hreflang\":\"it-it\",\"href\":\"https://www.designersguild.com/it/fabric/english-heritage/suffolk-garden-birch-fabric/p39119\"},{\"hreflang\":\"en-nl\",\"href\":\"https://www.designersguild.com/nl/fabric/english-heritage/suffolk-garden-birch-fabric/p39119\"},{\"hreflang\":\"ru\",\"href\":\"https://www.designersguild.com/ru/fabric/english-heritage/suffolk-garden-birch-fabric/p39119\"},{\"hreflang\":\"ja-jp\",\"href\":\"https://www.designersguild.com/jp/fabric/english-heritage/suffolk-garden-birch-fabric/p39119\"},{\"hreflang\":\"en-be\",\"href\":\"https://www.designersguild.com/be/fabric/english-heritage/suffolk-garden-birch-fabric/p39119\"},{\"hreflang\":\"en-au\",\"href\":\"https://www.designersguild.com/au/fabric/english-heritage/suffolk-garden-birch-fabric/p39119\"},{\"hreflang\":\"en-dk\",\"href\":\"https://www.designersguild.com/dk/fabric/english-heritage/suffolk-garden-birch-fabric/p39119\"},{\"hreflang\":\"en-gr\",\"href\":\"https://www.designersguild.com/eu/fabric/english-heritage/suffolk-garden-birch-fabric/p39119\"},{\"hreflang\":\"en-no\",\"href\":\"https://www.designersguild.com/no/fabric/english-heritage/suffolk-garden-birch-fabric/p39119\"},{\"hreflang\":\"de-at\",\"href\":\"https://www.designersguild.com/at/fabric/english-heritage/suffolk-garden-birch-fabric/p39119\"},{\"hreflang\":\"de-ch\",\"href\":\"https://www.designersguild.com/de-ch/fabric/english-heritage/suffolk-garden-birch-fabric/p39119\"},{\"hreflang\":\"fr-ch\",\"href\":\"https://www.designersguild.com/fr-ch/fabric/english-heritage/suffolk-garden-birch-fabric/p39119\"},{\"hreflang\":\"en\",\"href\":\"https://www.designersguild.com/row/fabric/english-heritage/suffolk-garden-birch-fabric/p39119\"},{\"hreflang\":\"en-nz\",\"href\":\"https://www.designersguild.com/nz/fabric/english-heritage/suffolk-garden-birch-fabric/p39119\"},{\"hreflang\":\"en-ie\",\"href\":\"https://www.designersguild.com/ie/fabric/english-heritage/suffolk-garden-birch-fabric/p39119\"},{\"hreflang\":\"fi-fi\",\"href\":\"https://www.designersguild.com/fi/fabric/english-heritage/suffolk-garden-birch-fabric/p39119\"},{\"hreflang\":\"x-default\",\"href\":\"https://www.designersguild.com/fabric/english-heritage/suffolk-garden-birch-fabric/p39119\"}],\"relatedProductPages\":null,\"attributes\":[{\"attributeGroup\":\"Brand\",\"attribute\":\"English Heritage\"},{\"attributeGroup\":\"Pattern\",\"attribute\":\"Floral\"},{\"attributeGroup\":\"Pattern\",\"attribute\":\"Patterned\"},{\"attributeGroup\":\"Type\",\"attribute\":\"Print\"}],\"collection\":{\"collectionId\":800,\"heading\":\"Heritage Prints\",\"description\":\"In partnership with English Heritage, our first exciting collection of printed furnishing designs re-worked and re-imagined by the Designers Guild studio from wallpaper fragments held within the English Heritage archive. Steeped in history, this collection has been created for the contemporary interior with a beautiful and harmonious colour palette. Produced using specialist mills with traditional rotary printing methods as well as embracing digital printing to capture the fullest of detail held within the designs. \\n\\n\\n\\n\\n\\n\\n\\n\\n\\n\\n\\n\",\"name\":\"Heritage Prints\",\"urlSemantics\":\"fabric/english-heritage-by-designers-guild/heritage-prints\",\"url\":\"/us/fabric/english-heritage-by-designers-guild/heritage-prints/c800\"},\"moduleOptions\":null,\"modules\":null,\"moduleOptionGroups\":null,\"wholesaleFurniture\":null}","json":{"productPageId":39119,"productTypeId":15,"heading":"Suffolk Garden Birch","subHeading":"Fabric","category":"Arts & Entertainment > Hobbies & Creative Arts > Crafts & Hobbies > Fibercraft & Textile Arts > Textile Art Materials > Fabric","brand":"English Heritage","description":"A wonderfully flowing floral print in a medium scale accentuated with detailed birds and butterflies. Digitally printed onto a softly textured cotton to retain all the nuances of the original painting. In five elegant colourways and suitable for all interior applications.\n </p>\nThe 'Hoho' bird depicted in the original archival fragment derives from the mythical East-Asian version of the Phoenix. Hoho birds first started appearing in England in the 18th Century on Georgian Furniture and chinoiserie. This wallpaper was found in the entrance hall of Crowe Hall in Stutton, Suffolk. The hall was built in around 1605 for a member of the Bowes family but redesigned in a gothic style circa 1824-26 for George Reade by Richard Beales of Lawford Sussex. The design commissioned by Designers Guild is by an artist specialising in traditional chinoiserie style work for interior textiles so as to retain as much of the character of the original fragment as possible.\n","urlSemantics":"fabric/english-heritage/suffolk-garden-birch-fabric","breadcrumb":"<li><a href=\"/us/fabric/l1292\">FABRIC</a></li><li><span>Suffolk Garden Birch</span></li>","url":"/us/fabric/english-heritage/suffolk-garden-birch-fabric/p39119","titleTag":"Suffolk Garden Birch Fabric | English Heritage","metaDescription":"A wonderfully flowing floral print in a medium scale accentuated with detailed birds and butterflies. Digitally printed onto a softly textured cotton to re","reviewAverage":null,"reviewCount":null,"isNew":true,"templateId":2,"isRugOrRunner":false,"delivery":"<div style=\"width: 100%;\">\n\t<p>We are currently able to offer delivery to USA mainland, Hawaii, and Canada.</p><p><span style=\"color: #535353; font-family: &quot;Open Sans&quot;, sans-serif; font-variant-ligatures: common-ligatures; letter-spacing: 1px; text-decoration-color: initial;\">Standard shipping cost : $15</span></p>\n\n\t<p>All shipping options will take approximately 7-10 business days to arrive.\n\t</p>\n\t<p>\n\t\tFor more information, please visit our <a style=\"display: inline-block;\" href=\"l1144\" rel=\"nofollow\">Delivery &amp; Returns Information page</a>\n\t</p>\n</div>","returns":"<p>We hope you will be delighted with your order. However, if for any reason you are not completely satisfied we are happy to offer a refund on all goods returned to us within 30 days from the despatch of your order provided you return the items using our returns paperwork, they are in their original packaging, unopened and in an unused resellable condition.</p><p>\n\n</p><p>For more information, please <a style=\"display: inline-block\" href=\"l1146\" rel=\"nofollow\">visit our Delivery &amp; Returns Information page</a>.</p>","products":[{"productId":214468,"code":"FEH0006/04","orderFormName":"Suffolk Garden - Birch","brand":"English Heritage","images":[{"imageId":146982,"altText":"Suffolk Garden - Birch Cutting","titleText":"Suffolk Garden - Birch Cutting","templateImageId":true,"maxWidth":1024}]}],"images":[{"imageId":146982,"templateImageId":2,"altText":"suffolk garden - birch","titleText":"suffolk garden - birch","sortOrder":0,"maxWidth":1024},{"imageId":148053,"templateImageId":2,"sortOrder":1,"maxWidth":1024},{"imageId":148045,"templateImageId":2,"sortOrder":2,"maxWidth":1024},{"imageId":148051,"templateImageId":2,"sortOrder":3,"maxWidth":1024}],"alternateColourways":[{"productPageId":39116,"urlSemantics":"fabric/english-heritage/suffolk-garden-delft-fabric","code":"FEH0006/04","url":"/us/fabric/english-heritage/suffolk-garden-delft-fabric/p39116","heading":"Suffolk Garden Delft","imageId":146985},{"productPageId":39117,"urlSemantics":"fabric/english-heritage/suffolk-garden-chalk-blue-fabric","code":"FEH0006/04","url":"/us/fabric/english-heritage/suffolk-garden-chalk-blue-fabric/p39117","heading":"Suffolk Garden Chalk Blue","imageId":146984},{"productPageId":39118,"urlSemantics":"fabric/english-heritage/suffolk-garden-slate-blue-fabric","code":"FEH0006/04","url":"/us/fabric/english-heritage/suffolk-garden-slate-blue-fabric/p39118","heading":"Suffolk Garden Slate Blue","imageId":146990},{"productPageId":39120,"urlSemantics":"fabric/english-heritage/suffolk-garden-chestnut-fabric","code":"FEH0006/04","url":"/us/fabric/english-heritage/suffolk-garden-chestnut-fabric/p39120","heading":"Suffolk Garden Chestnut","imageId":146986},{"productPageId":39119,"urlSemantics":"fabric/english-heritage/suffolk-garden-birch-fabric","code":"FEH0006/04","url":"/us/fabric/english-heritage/suffolk-garden-birch-fabric/p39119","heading":"Suffolk Garden Birch","imageId":146982}],"reviews":null,"hreflangs":[{"hreflang":"de","href":"https://www.designersguild.com/de/fabric/english-heritage/suffolk-garden-birch-fabric/p39119"},{"hreflang":"fr","href":"https://www.designersguild.com/fr/fabric/english-heritage/suffolk-garden-birch-fabric/p39119"},{"hreflang":"en-gb","href":"https://www.designersguild.com/uk/fabric/english-heritage/suffolk-garden-birch-fabric/p39119"},{"hreflang":"en-se","href":"https://www.designersguild.com/se/fabric/english-heritage/suffolk-garden-birch-fabric/p39119"},{"hreflang":"en-us","href":"https://www.designersguild.com/us/fabric/english-heritage/suffolk-garden-birch-fabric/p39119"},{"hreflang":"es","href":"https://www.designersguild.com/es/fabric/english-heritage/suffolk-garden-birch-fabric/p39119"},{"hreflang":"it-it","href":"https://www.designersguild.com/it/fabric/english-heritage/suffolk-garden-birch-fabric/p39119"},{"hreflang":"en-nl","href":"https://www.designersguild.com/nl/fabric/english-heritage/suffolk-garden-birch-fabric/p39119"},{"hreflang":"ru","href":"https://www.designersguild.com/ru/fabric/english-heritage/suffolk-garden-birch-fabric/p39119"},{"hreflang":"ja-jp","href":"https://www.designersguild.com/jp/fabric/english-heritage/suffolk-garden-birch-fabric/p39119"},{"hreflang":"en-be","href":"https://www.designersguild.com/be/fabric/english-heritage/suffolk-garden-birch-fabric/p39119"},{"hreflang":"en-au","href":"https://www.designersguild.com/au/fabric/english-heritage/suffolk-garden-birch-fabric/p39119"},{"hreflang":"en-dk","href":"https://www.designersguild.com/dk/fabric/english-heritage/suffolk-garden-birch-fabric/p39119"},{"hreflang":"en-gr","href":"https://www.designersguild.com/eu/fabric/english-heritage/suffolk-garden-birch-fabric/p39119"},{"hreflang":"en-no","href":"https://www.designersguild.com/no/fabric/english-heritage/suffolk-garden-birch-fabric/p39119"},{"hreflang":"de-at","href":"https://www.designersguild.com/at/fabric/english-heritage/suffolk-garden-birch-fabric/p39119"},{"hreflang":"de-ch","href":"https://www.designersguild.com/de-ch/fabric/english-heritage/suffolk-garden-birch-fabric/p39119"},{"hreflang":"fr-ch","href":"https://www.designersguild.com/fr-ch/fabric/english-heritage/suffolk-garden-birch-fabric/p39119"},{"hreflang":"en","href":"https://www.designersguild.com/row/fabric/english-heritage/suffolk-garden-birch-fabric/p39119"},{"hreflang":"en-nz","href":"https://www.designersguild.com/nz/fabric/english-heritage/suffolk-garden-birch-fabric/p39119"},{"hreflang":"en-ie","href":"https://www.designersguild.com/ie/fabric/english-heritage/suffolk-garden-birch-fabric/p39119"},{"hreflang":"fi-fi","href":"https://www.designersguild.com/fi/fabric/english-heritage/suffolk-garden-birch-fabric/p39119"},{"hreflang":"x-default","href":"https://www.designersguild.com/fabric/english-heritage/suffolk-garden-birch-fabric/p39119"}],"relatedProductPages":null,"attributes":[{"attributeGroup":"Brand","attribute":"English Heritage"},{"attributeGroup":"Pattern","attribute":"Floral"},{"attributeGroup":"Pattern","attribute":"Patterned"},{"attributeGroup":"Type","attribute":"Print"}],"collection":{"collectionId":800,"heading":"Heritage Prints","description":"In partnership with English Heritage, our first exciting collection of printed furnishing designs re-worked and re-imagined by the Designers Guild studio from wallpaper fragments held within the English Heritage archive. Steeped in history, this collection has been created for the contemporary interior with a beautiful and harmonious colour palette. Produced using specialist mills with traditional rotary printing methods as well as embracing digital printing to capture the fullest of detail held within the designs. \n\n\n\n\n\n\n\n\n\n\n\n","name":"Heritage Prints","urlSemantics":"fabric/english-heritage-by-designers-guild/heritage-prints","url":"/us/fabric/english-heritage-by-designers-guild/heritage-prints/c800"},"moduleOptions":null,"modules":null,"moduleOptionGroups":null,"wholesaleFurniture":null}},"Stock":{"OrderFormJSON":"{\"products\":[{\"product\":{\"productId\":214468,\"sortOrder\":50,\"productTypeId\":15,\"templateId\":2,\"code\":\"FEH0006\\/04\",\"brand\":\"English Heritage\",\"gtin13\":null,\"name\":\"Suffolk Garden - Birch\",\"AKA\":null,\"size\":null,\"imageId\":146982,\"imageAltText\":\"Suffolk Garden - Birch Cutting\",\"imageTitleText\":\"Suffolk Garden - Birch Cutting\",\"rRPMessage\":null,\"rLRRP\":null,\"rLTradePrice\":null,\"displayPrice\":null,\"displaySalePrice\":null,\"priceMessage\":null,\"statusMessage\":null,\"urlSemantics\":\"fabric\\/english-heritage\\/suffolk-garden-birch-fabric\",\"productPageId\":39119,\"url\":\"\\/us\\/fabric\\/english-heritage\\/suffolk-garden-birch-fabric\\/p39119\",\"itemAvailability\":\"InStock\",\"orderFormGroupId\":null,\"orderFormName\":\"Suffolk Garden - Birch\",\"attributes\":null,\"orderFormGroup\":null,\"orderFormProperties\":[{\"key\":\"Colour\",\"value\":\"Birch\"},{\"key\":\"Code\",\"value\":\"FEH0006\\/04\"}],\"controls\":{\"allowOrder\":false,\"allowReserve\":false,\"allowReserveWithBatchSample\":false,\"allowSample\":false,\"allowLargeSample\":false,\"allowBackInStockReminder\":false,\"disableOrder\":false,\"disableSample\":false},\"stockMessage\":{\"productTypeID\":15,\"quantityMinimum\":1.00,\"quantityMaximum\":0.00,\"productTypeQuantityMaximum\":null,\"quantityIncrement\":0.10,\"reserveQuantityMaximum\":50.00,\"unit\":\"m\",\"allowStockCheck\":false,\"pieceBreakdownMinimum\":1.00,\"pieceBreakdownMaximum\":50.00,\"allowBackInStockReminder\":false,\"freeStock\":103.20,\"nextPOFreeStock\":0.00,\"nextPODueDate\":null,\"totalPOFreeStock\":0.00,\"basketQuantityThresholds\":[{\"minimum\":0,\"maximum\":99999.99}]},\"orderButtonText\":\"Add to Basket\",\"reserveButtonText\":\"Reserve\",\"reserveWithBatchSampleButtonText\":\"Reserve with Batch Sample\",\"sample\":{\"productId\":214469,\"stockMessage\":{\"productTypeID\":null,\"quantityMinimum\":1.00,\"quantityMaximum\":99.00,\"productTypeQuantityMaximum\":null,\"quantityIncrement\":1.00,\"reserveQuantityMaximum\":null,\"unit\":\"\",\"allowStockCheck\":false,\"pieceBreakdownMinimum\":null,\"pieceBreakdownMaximum\":null,\"allowBackInStockReminder\":false,\"freeStock\":null,\"nextPOFreeStock\":null,\"nextPODueDate\":null,\"totalPOFreeStock\":null,\"basketQuantityThresholds\":[{\"minimum\":0,\"maximum\":99999.99,\"stockMessages\":[{\"stockMessage\":\" more due in (1-2 weeks)\",\"class\":\"\",\"stockBreakdownTab\":1}]}]},\"orderButtonText\":\"Add to Basket\",\"displayPrice\":null,\"displaySalePrice\":null,\"priceMessage\":null},\"largeSample\":{\"productId\":214470,\"stockMessage\":{\"productTypeID\":null,\"quantityMinimum\":1.00,\"quantityMaximum\":99.00,\"productTypeQuantityMaximum\":null,\"quantityIncrement\":1.00,\"reserveQuantityMaximum\":null,\"unit\":\"\",\"allowStockCheck\":false,\"pieceBreakdownMinimum\":null,\"pieceBreakdownMaximum\":null,\"allowBackInStockReminder\":false,\"freeStock\":null,\"nextPOFreeStock\":null,\"nextPODueDate\":null,\"totalPOFreeStock\":null,\"basketQuantityThresholds\":[{\"minimum\":0,\"maximum\":99999.99,\"stockMessages\":[{\"stockMessage\":\" more due in (1-2 weeks)\",\"class\":\"\",\"stockBreakdownTab\":1}]}]},\"orderButtonText\":\"Add to Basket\",\"displayPrice\":null,\"displaySalePrice\":null,\"priceMessage\":null}}}]}","orderForm":{"products":[{"product":{"productId":214468,"sortOrder":50,"productTypeId":15,"templateId":2,"code":"FEH0006/04","brand":"English Heritage","gtin13":null,"name":"Suffolk Garden - Birch","AKA":null,"size":null,"imageId":146982,"imageAltText":"Suffolk Garden - Birch Cutting","imageTitleText":"Suffolk Garden - Birch Cutting","rRPMessage":null,"rLRRP":null,"rLTradePrice":null,"displayPrice":null,"displaySalePrice":null,"priceMessage":null,"statusMessage":null,"urlSemantics":"fabric/english-heritage/suffolk-garden-birch-fabric","productPageId":39119,"url":"/us/fabric/english-heritage/suffolk-garden-birch-fabric/p39119","itemAvailability":"InStock","orderFormGroupId":null,"orderFormName":"Suffolk Garden - Birch","attributes":null,"orderFormGroup":null,"orderFormProperties":[{"key":"Colour","value":"Birch"},{"key":"Code","value":"FEH0006/04"}],"controls":{"allowOrder":false,"allowReserve":false,"allowReserveWithBatchSample":false,"allowSample":false,"allowLargeSample":false,"allowBackInStockReminder":false,"disableOrder":false,"disableSample":false},"stockMessage":{"productTypeID":15,"quantityMinimum":1.0,"quantityMaximum":0.0,"productTypeQuantityMaximum":null,"quantityIncrement":0.1,"reserveQuantityMaximum":50.0,"unit":"m","allowStockCheck":false,"pieceBreakdownMinimum":1.0,"pieceBreakdownMaximum":50.0,"allowBackInStockReminder":false,"freeStock":103.2,"nextPOFreeStock":0.0,"nextPODueDate":null,"totalPOFreeStock":0.0,"basketQuantityThresholds":[{"minimum":0,"maximum":99999.99}]},"orderButtonText":"Add to Basket","reserveButtonText":"Reserve","reserveWithBatchSampleButtonText":"Reserve with Batch Sample","sample":{"productId":214469,"stockMessage":{"productTypeID":null,"quantityMinimum":1.0,"quantityMaximum":99.0,"productTypeQuantityMaximum":null,"quantityIncrement":1.0,"reserveQuantityMaximum":null,"unit":"","allowStockCheck":false,"pieceBreakdownMinimum":null,"pieceBreakdownMaximum":null,"allowBackInStockReminder":false,"freeStock":null,"nextPOFreeStock":null,"nextPODueDate":null,"totalPOFreeStock":null,"basketQuantityThresholds":[{"minimum":0,"maximum":99999.99,"stockMessages":[{"stockMessage":" more due in (1-2 weeks)","class":"","stockBreakdownTab":1}]}]},"orderButtonText":"Add to Basket","displayPrice":null,"displaySalePrice":null,"priceMessage":null},"largeSample":{"productId":214470,"stockMessage":{"productTypeID":null,"quantityMinimum":1.0,"quantityMaximum":99.0,"productTypeQuantityMaximum":null,"quantityIncrement":1.0,"reserveQuantityMaximum":null,"unit":"","allowStockCheck":false,"pieceBreakdownMinimum":null,"pieceBreakdownMaximum":null,"allowBackInStockReminder":false,"freeStock":null,"nextPOFreeStock":null,"nextPODueDate":null,"totalPOFreeStock":null,"basketQuantityThresholds":[{"minimum":0,"maximum":99999.99,"stockMessages":[{"stockMessage":" more due in (1-2 weeks)","class":"","stockBreakdownTab":1}]}]},"orderButtonText":"Add to Basket","displayPrice":null,"displaySalePrice":null,"priceMessage":null}}}]}},"Carousel":{"CarouselID":"#product-page-39119-carousel","WrapperCSSClass":null,"AspectRatio":1.0,"Heading":"Suffolk Garden Birch","Images":[{"ImageID":146982,"SortOrder":0,"AltText":"suffolk garden - birch","Overlay":null,"MaxWidth":1024,"ApproximateImageSize":5},{"ImageID":148053,"SortOrder":1,"AltText":null,"Overlay":null,"MaxWidth":1024,"ApproximateImageSize":5},{"ImageID":148045,"SortOrder":2,"AltText":null,"Overlay":null,"MaxWidth":1024,"ApproximateImageSize":5},{"ImageID":148051,"SortOrder":3,"AltText":null,"Overlay":null,"MaxWidth":1024,"ApproximateImageSize":5}],"ApproximateImageSize":4,"DisplayThumbnails":true,"DisplayDashes":true,"Interval":null},"MainProduct":{"Solitary":false,"ProductBase":{"product":{"productId":214468,"sortOrder":50,"productTypeId":15,"templateId":2,"code":"FEH0006/04","brand":"English Heritage","gtin13":null,"name":"Suffolk Garden - Birch","AKA":null,"size":null,"imageId":146982,"imageAltText":"Suffolk Garden - Birch Cutting","imageTitleText":"Suffolk Garden - Birch Cutting","rRPMessage":null,"rLRRP":null,"rLTradePrice":null,"displayPrice":null,"displaySalePrice":null,"priceMessage":null,"statusMessage":null,"urlSemantics":"fabric/english-heritage/suffolk-garden-birch-fabric","productPageId":39119,"url":"/us/fabric/english-heritage/suffolk-garden-birch-fabric/p39119","itemAvailability":"InStock","orderFormGroupId":null,"orderFormName":"Suffolk Garden - Birch","attributes":null,"orderFormGroup":null,"orderFormProperties":[{"key":"Colour","value":"Birch"},{"key":"Code","value":"FEH0006/04"}],"controls":{"allowOrder":false,"allowReserve":false,"allowReserveWithBatchSample":false,"allowSample":false,"allowLargeSample":false,"allowBackInStockReminder":false,"disableOrder":false,"disableSample":false},"stockMessage":{"productTypeID":15,"quantityMinimum":1.0,"quantityMaximum":0.0,"productTypeQuantityMaximum":null,"quantityIncrement":0.1,"reserveQuantityMaximum":50.0,"unit":"m","allowStockCheck":false,"pieceBreakdownMinimum":1.0,"pieceBreakdownMaximum":50.0,"allowBackInStockReminder":false,"freeStock":103.2,"nextPOFreeStock":0.0,"nextPODueDate":null,"totalPOFreeStock":0.0,"basketQuantityThresholds":[{"minimum":0,"maximum":99999.99}]},"orderButtonText":"Add to Basket","reserveButtonText":"Reserve","reserveWithBatchSampleButtonText":"Reserve with Batch Sample","sample":{"productId":214469,"stockMessage":{"productTypeID":null,"quantityMinimum":1.0,"quantityMaximum":99.0,"productTypeQuantityMaximum":null,"quantityIncrement":1.0,"reserveQuantityMaximum":null,"unit":"","allowStockCheck":false,"pieceBreakdownMinimum":null,"pieceBreakdownMaximum":null,"allowBackInStockReminder":false,"freeStock":null,"nextPOFreeStock":null,"nextPODueDate":null,"totalPOFreeStock":null,"basketQuantityThresholds":[{"minimum":0,"maximum":99999.99,"stockMessages":[{"stockMessage":" more due in (1-2 weeks)","class":"","stockBreakdownTab":1}]}]},"orderButtonText":"Add to Basket","displayPrice":null,"displaySalePrice":null,"priceMessage":null},"largeSample":{"productId":214470,"stockMessage":{"productTypeID":null,"quantityMinimum":1.0,"quantityMaximum":99.0,"productTypeQuantityMaximum":null,"quantityIncrement":1.0,"reserveQuantityMaximum":null,"unit":"","allowStockCheck":false,"pieceBreakdownMinimum":null,"pieceBreakdownMaximum":null,"allowBackInStockReminder":false,"freeStock":null,"nextPOFreeStock":null,"nextPODueDate":null,"totalPOFreeStock":null,"basketQuantityThresholds":[{"minimum":0,"maximum":99999.99,"stockMessages":[{"stockMessage":" more due in (1-2 weeks)","class":"","stockBreakdownTab":1}]}]},"orderButtonText":"Add to Basket","displayPrice":null,"displaySalePrice":null,"priceMessage":null}}},"Product":{"productId":214468,"sortOrder":50,"productTypeId":15,"templateId":2,"code":"FEH0006/04","brand":"English Heritage","gtin13":null,"name":"Suffolk Garden - Birch","AKA":null,"size":null,"imageId":146982,"imageAltText":"Suffolk Garden - Birch Cutting","imageTitleText":"Suffolk Garden - Birch Cutting","rRPMessage":null,"rLRRP":null,"rLTradePrice":null,"displayPrice":null,"displaySalePrice":null,"priceMessage":null,"statusMessage":null,"urlSemantics":"fabric/english-heritage/suffolk-garden-birch-fabric","productPageId":39119,"url":"/us/fabric/english-heritage/suffolk-garden-birch-fabric/p39119","itemAvailability":"InStock","orderFormGroupId":null,"orderFormName":"Suffolk Garden - Birch","attributes":null,"orderFormGroup":null,"orderFormProperties":[{"key":"Colour","value":"Birch"},{"key":"Code","value":"FEH0006/04"}],"controls":{"allowOrder":false,"allowReserve":false,"allowReserveWithBatchSample":false,"allowSample":false,"allowLargeSample":false,"allowBackInStockReminder":false,"disableOrder":false,"disableSample":false},"stockMessage":{"productTypeID":15,"quantityMinimum":1.0,"quantityMaximum":0.0,"productTypeQuantityMaximum":null,"quantityIncrement":0.1,"reserveQuantityMaximum":50.0,"unit":"m","allowStockCheck":false,"pieceBreakdownMinimum":1.0,"pieceBreakdownMaximum":50.0,"allowBackInStockReminder":false,"freeStock":103.2,"nextPOFreeStock":0.0,"nextPODueDate":null,"totalPOFreeStock":0.0,"basketQuantityThresholds":[{"minimum":0,"maximum":99999.99}]},"orderButtonText":"Add to Basket","reserveButtonText":"Reserve","reserveWithBatchSampleButtonText":"Reserve with Batch Sample","sample":{"productId":214469,"stockMessage":{"productTypeID":null,"quantityMinimum":1.0,"quantityMaximum":99.0,"productTypeQuantityMaximum":null,"quantityIncrement":1.0,"reserveQuantityMaximum":null,"unit":"","allowStockCheck":false,"pieceBreakdownMinimum":null,"pieceBreakdownMaximum":null,"allowBackInStockReminder":false,"freeStock":null,"nextPOFreeStock":null,"nextPODueDate":null,"totalPOFreeStock":null,"basketQuantityThresholds":[{"minimum":0,"maximum":99999.99,"stockMessages":[{"stockMessage":" more due in (1-2 weeks)","class":"","stockBreakdownTab":1}]}]},"orderButtonText":"Add to Basket","displayPrice":null,"displaySalePrice":null,"priceMessage":null},"largeSample":{"productId":214470,"stockMessage":{"productTypeID":null,"quantityMinimum":1.0,"quantityMaximum":99.0,"productTypeQuantityMaximum":null,"quantityIncrement":1.0,"reserveQuantityMaximum":null,"unit":"","allowStockCheck":false,"pieceBreakdownMinimum":null,"pieceBreakdownMaximum":null,"allowBackInStockReminder":false,"freeStock":null,"nextPOFreeStock":null,"nextPODueDate":null,"totalPOFreeStock":null,"basketQuantityThresholds":[{"minimum":0,"maximum":99999.99,"stockMessages":[{"stockMessage":" more due in (1-2 weeks)","class":"","stockBreakdownTab":1}]}]},"orderButtonText":"Add to Basket","displayPrice":null,"displaySalePrice":null,"priceMessage":null}},"Carousel":{"CarouselID":"#product-214468-carsouel","WrapperCSSClass":null,"AspectRatio":1.0,"Heading":"Suffolk Garden - Birch","Images":[{"ImageID":146982,"SortOrder":0,"AltText":"Suffolk Garden - Birch Cutting","Overlay":null,"MaxWidth":null,"ApproximateImageSize":5}],"ApproximateImageSize":5,"DisplayThumbnails":false,"DisplayDashes":true,"Interval":null},"ProductID":214468,"ProductTypeID":15,"ProductPageID":39119,"ProductCode":"FEH0006/04","Brand":"English Heritage","OrderFormID":"#product-214468","OrderFormCarouselID":"#product-214468-slide","OrderFormGroupID":null,"OrderFormGroup":null,"Size":null,"OrderFormName":"Suffolk Garden - Birch","BasketName":"Suffolk Garden - Birch","SortOrder":50,"Attributes":null,"Image":{"imageId":146982,"templateImageId":2,"altText":"Suffolk Garden - Birch Cutting","titleText":"Suffolk Garden - Birch Cutting","sortOrder":0,"maxWidth":488},"OrderFormProperties":[{"Key":"Colour","Value":"Birch"},{"Key":"Code","Value":"FEH0006/04"}],"AllowSample":false,"AllowLargeSample":false,"AllowOrder":false,"AllowReserve":false,"AllowReserveWithBatchCutting":false,"ClientProductViewModels":"","URLKeywords":"fabric/english-heritage/suffolk-garden-birch-fabric","ImageLinkToProductPage":false,"IsLifestyle":false},"OtherProducts":[],"RelatedProductPages":[],"AllProducts":[{"Solitary":false,"ProductBase":{"product":{"productId":214468,"sortOrder":50,"productTypeId":15,"templateId":2,"code":"FEH0006/04","brand":"English Heritage","gtin13":null,"name":"Suffolk Garden - Birch","AKA":null,"size":null,"imageId":146982,"imageAltText":"Suffolk Garden - Birch Cutting","imageTitleText":"Suffolk Garden - Birch Cutting","rRPMessage":null,"rLRRP":null,"rLTradePrice":null,"displayPrice":null,"displaySalePrice":null,"priceMessage":null,"statusMessage":null,"urlSemantics":"fabric/english-heritage/suffolk-garden-birch-fabric","productPageId":39119,"url":"/us/fabric/english-heritage/suffolk-garden-birch-fabric/p39119","itemAvailability":"InStock","orderFormGroupId":null,"orderFormName":"Suffolk Garden - Birch","attributes":null,"orderFormGroup":null,"orderFormProperties":[{"key":"Colour","value":"Birch"},{"key":"Code","value":"FEH0006/04"}],"controls":{"allowOrder":false,"allowReserve":false,"allowReserveWithBatchSample":false,"allowSample":false,"allowLargeSample":false,"allowBackInStockReminder":false,"disableOrder":false,"disableSample":false},"stockMessage":{"productTypeID":15,"quantityMinimum":1.0,"quantityMaximum":0.0,"productTypeQuantityMaximum":null,"quantityIncrement":0.1,"reserveQuantityMaximum":50.0,"unit":"m","allowStockCheck":false,"pieceBreakdownMinimum":1.0,"pieceBreakdownMaximum":50.0,"allowBackInStockReminder":false,"freeStock":103.2,"nextPOFreeStock":0.0,"nextPODueDate":null,"totalPOFreeStock":0.0,"basketQuantityThresholds":[{"minimum":0,"maximum":99999.99}]},"orderButtonText":"Add to Basket","reserveButtonText":"Reserve","reserveWithBatchSampleButtonText":"Reserve with Batch Sample","sample":{"productId":214469,"stockMessage":{"productTypeID":null,"quantityMinimum":1.0,"quantityMaximum":99.0,"productTypeQuantityMaximum":null,"quantityIncrement":1.0,"reserveQuantityMaximum":null,"unit":"","allowStockCheck":false,"pieceBreakdownMinimum":null,"pieceBreakdownMaximum":null,"allowBackInStockReminder":false,"freeStock":null,"nextPOFreeStock":null,"nextPODueDate":null,"totalPOFreeStock":null,"basketQuantityThresholds":[{"minimum":0,"maximum":99999.99,"stockMessages":[{"stockMessage":" more due in (1-2 weeks)","class":"","stockBreakdownTab":1}]}]},"orderButtonText":"Add to Basket","displayPrice":null,"displaySalePrice":null,"priceMessage":null},"largeSample":{"productId":214470,"stockMessage":{"productTypeID":null,"quantityMinimum":1.0,"quantityMaximum":99.0,"productTypeQuantityMaximum":null,"quantityIncrement":1.0,"reserveQuantityMaximum":null,"unit":"","allowStockCheck":false,"pieceBreakdownMinimum":null,"pieceBreakdownMaximum":null,"allowBackInStockReminder":false,"freeStock":null,"nextPOFreeStock":null,"nextPODueDate":null,"totalPOFreeStock":null,"basketQuantityThresholds":[{"minimum":0,"maximum":99999.99,"stockMessages":[{"stockMessage":" more due in (1-2 weeks)","class":"","stockBreakdownTab":1}]}]},"orderButtonText":"Add to Basket","displayPrice":null,"displaySalePrice":null,"priceMessage":null}}},"Product":{"productId":214468,"sortOrder":50,"productTypeId":15,"templateId":2,"code":"FEH0006/04","brand":"English Heritage","gtin13":null,"name":"Suffolk Garden - Birch","AKA":null,"size":null,"imageId":146982,"imageAltText":"Suffolk Garden - Birch Cutting","imageTitleText":"Suffolk Garden - Birch Cutting","rRPMessage":null,"rLRRP":null,"rLTradePrice":null,"displayPrice":null,"displaySalePrice":null,"priceMessage":null,"statusMessage":null,"urlSemantics":"fabric/english-heritage/suffolk-garden-birch-fabric","productPageId":39119,"url":"/us/fabric/english-heritage/suffolk-garden-birch-fabric/p39119","itemAvailability":"InStock","orderFormGroupId":null,"orderFormName":"Suffolk Garden - Birch","attributes":null,"orderFormGroup":null,"orderFormProperties":[{"key":"Colour","value":"Birch"},{"key":"Code","value":"FEH0006/04"}],"controls":{"allowOrder":false,"allowReserve":false,"allowReserveWithBatchSample":false,"allowSample":false,"allowLargeSample":false,"allowBackInStockReminder":false,"disableOrder":false,"disableSample":false},"stockMessage":{"productTypeID":15,"quantityMinimum":1.0,"quantityMaximum":0.0,"productTypeQuantityMaximum":null,"quantityIncrement":0.1,"reserveQuantityMaximum":50.0,"unit":"m","allowStockCheck":false,"pieceBreakdownMinimum":1.0,"pieceBreakdownMaximum":50.0,"allowBackInStockReminder":false,"freeStock":103.2,"nextPOFreeStock":0.0,"nextPODueDate":null,"totalPOFreeStock":0.0,"basketQuantityThresholds":[{"minimum":0,"maximum":99999.99}]},"orderButtonText":"Add to Basket","reserveButtonText":"Reserve","reserveWithBatchSampleButtonText":"Reserve with Batch Sample","sample":{"productId":214469,"stockMessage":{"productTypeID":null,"quantityMinimum":1.0,"quantityMaximum":99.0,"productTypeQuantityMaximum":null,"quantityIncrement":1.0,"reserveQuantityMaximum":null,"unit":"","allowStockCheck":false,"pieceBreakdownMinimum":null,"pieceBreakdownMaximum":null,"allowBackInStockReminder":false,"freeStock":null,"nextPOFreeStock":null,"nextPODueDate":null,"totalPOFreeStock":null,"basketQuantityThresholds":[{"minimum":0,"maximum":99999.99,"stockMessages":[{"stockMessage":" more due in (1-2 weeks)","class":"","stockBreakdownTab":1}]}]},"orderButtonText":"Add to Basket","displayPrice":null,"displaySalePrice":null,"priceMessage":null},"largeSample":{"productId":214470,"stockMessage":{"productTypeID":null,"quantityMinimum":1.0,"quantityMaximum":99.0,"productTypeQuantityMaximum":null,"quantityIncrement":1.0,"reserveQuantityMaximum":null,"unit":"","allowStockCheck":false,"pieceBreakdownMinimum":null,"pieceBreakdownMaximum":null,"allowBackInStockReminder":false,"freeStock":null,"nextPOFreeStock":null,"nextPODueDate":null,"totalPOFreeStock":null,"basketQuantityThresholds":[{"minimum":0,"maximum":99999.99,"stockMessages":[{"stockMessage":" more due in (1-2 weeks)","class":"","stockBreakdownTab":1}]}]},"orderButtonText":"Add to Basket","displayPrice":null,"displaySalePrice":null,"priceMessage":null}},"Carousel":{"CarouselID":"#product-214468-carsouel","WrapperCSSClass":null,"AspectRatio":1.0,"Heading":"Suffolk Garden - Birch","Images":[{"ImageID":146982,"SortOrder":0,"AltText":"Suffolk Garden - Birch Cutting","Overlay":null,"MaxWidth":null,"ApproximateImageSize":5}],"ApproximateImageSize":5,"DisplayThumbnails":false,"DisplayDashes":true,"Interval":null},"ProductID":214468,"ProductTypeID":15,"ProductPageID":39119,"ProductCode":"FEH0006/04","Brand":"English Heritage","OrderFormID":"#product-214468","OrderFormCarouselID":"#product-214468-slide","OrderFormGroupID":null,"OrderFormGroup":null,"Size":null,"OrderFormName":"Suffolk Garden - Birch","BasketName":"Suffolk Garden - Birch","SortOrder":50,"Attributes":null,"Image":{"imageId":146982,"templateImageId":2,"altText":"Suffolk Garden - Birch Cutting","titleText":"Suffolk Garden - Birch Cutting","sortOrder":0,"maxWidth":488},"OrderFormProperties":[{"Key":"Colour","Value":"Birch"},{"Key":"Code","Value":"FEH0006/04"}],"AllowSample":false,"AllowLargeSample":false,"AllowOrder":false,"AllowReserve":false,"AllowReserveWithBatchCutting":false,"ClientProductViewModels":"","URLKeywords":"fabric/english-heritage/suffolk-garden-birch-fabric","ImageLinkToProductPage":false,"IsLifestyle":false}],"OrderFormGroups":[{"OrderFormGroupID":null,"Name":null,"UseSizeButtons":false,"Items":[{"Solitary":false,"ProductBase":{"product":{"productId":214468,"sortOrder":50,"productTypeId":15,"templateId":2,"code":"FEH0006/04","brand":"English Heritage","gtin13":null,"name":"Suffolk Garden - Birch","AKA":null,"size":null,"imageId":146982,"imageAltText":"Suffolk Garden - Birch Cutting","imageTitleText":"Suffolk Garden - Birch Cutting","rRPMessage":null,"rLRRP":null,"rLTradePrice":null,"displayPrice":null,"displaySalePrice":null,"priceMessage":null,"statusMessage":null,"urlSemantics":"fabric/english-heritage/suffolk-garden-birch-fabric","productPageId":39119,"url":"/us/fabric/english-heritage/suffolk-garden-birch-fabric/p39119","itemAvailability":"InStock","orderFormGroupId":null,"orderFormName":"Suffolk Garden - Birch","attributes":null,"orderFormGroup":null,"orderFormProperties":[{"key":"Colour","value":"Birch"},{"key":"Code","value":"FEH0006/04"}],"controls":{"allowOrder":false,"allowReserve":false,"allowReserveWithBatchSample":false,"allowSample":false,"allowLargeSample":false,"allowBackInStockReminder":false,"disableOrder":false,"disableSample":false},"stockMessage":{"productTypeID":15,"quantityMinimum":1.0,"quantityMaximum":0.0,"productTypeQuantityMaximum":null,"quantityIncrement":0.1,"reserveQuantityMaximum":50.0,"unit":"m","allowStockCheck":false,"pieceBreakdownMinimum":1.0,"pieceBreakdownMaximum":50.0,"allowBackInStockReminder":false,"freeStock":103.2,"nextPOFreeStock":0.0,"nextPODueDate":null,"totalPOFreeStock":0.0,"basketQuantityThresholds":[{"minimum":0,"maximum":99999.99}]},"orderButtonText":"Add to Basket","reserveButtonText":"Reserve","reserveWithBatchSampleButtonText":"Reserve with Batch Sample","sample":{"productId":214469,"stockMessage":{"productTypeID":null,"quantityMinimum":1.0,"quantityMaximum":99.0,"productTypeQuantityMaximum":null,"quantityIncrement":1.0,"reserveQuantityMaximum":null,"unit":"","allowStockCheck":false,"pieceBreakdownMinimum":null,"pieceBreakdownMaximum":null,"allowBackInStockReminder":false,"freeStock":null,"nextPOFreeStock":null,"nextPODueDate":null,"totalPOFreeStock":null,"basketQuantityThresholds":[{"minimum":0,"maximum":99999.99,"stockMessages":[{"stockMessage":" more due in (1-2 weeks)","class":"","stockBreakdownTab":1}]}]},"orderButtonText":"Add to Basket","displayPrice":null,"displaySalePrice":null,"priceMessage":null},"largeSample":{"productId":214470,"stockMessage":{"productTypeID":null,"quantityMinimum":1.0,"quantityMaximum":99.0,"productTypeQuantityMaximum":null,"quantityIncrement":1.0,"reserveQuantityMaximum":null,"unit":"","allowStockCheck":false,"pieceBreakdownMinimum":null,"pieceBreakdownMaximum":null,"allowBackInStockReminder":false,"freeStock":null,"nextPOFreeStock":null,"nextPODueDate":null,"totalPOFreeStock":null,"basketQuantityThresholds":[{"minimum":0,"maximum":99999.99,"stockMessages":[{"stockMessage":" more due in (1-2 weeks)","class":"","stockBreakdownTab":1}]}]},"orderButtonText":"Add to Basket","displayPrice":null,"displaySalePrice":null,"priceMessage":null}}},"Product":{"productId":214468,"sortOrder":50,"productTypeId":15,"templateId":2,"code":"FEH0006/04","brand":"English Heritage","gtin13":null,"name":"Suffolk Garden - Birch","AKA":null,"size":null,"imageId":146982,"imageAltText":"Suffolk Garden - Birch Cutting","imageTitleText":"Suffolk Garden - Birch Cutting","rRPMessage":null,"rLRRP":null,"rLTradePrice":null,"displayPrice":null,"displaySalePrice":null,"priceMessage":null,"statusMessage":null,"urlSemantics":"fabric/english-heritage/suffolk-garden-birch-fabric","productPageId":39119,"url":"/us/fabric/english-heritage/suffolk-garden-birch-fabric/p39119","itemAvailability":"InStock","orderFormGroupId":null,"orderFormName":"Suffolk Garden - Birch","attributes":null,"orderFormGroup":null,"orderFormProperties":[{"key":"Colour","value":"Birch"},{"key":"Code","value":"FEH0006/04"}],"controls":{"allowOrder":false,"allowReserve":false,"allowReserveWithBatchSample":false,"allowSample":false,"allowLargeSample":false,"allowBackInStockReminder":false,"disableOrder":false,"disableSample":false},"stockMessage":{"productTypeID":15,"quantityMinimum":1.0,"quantityMaximum":0.0,"productTypeQuantityMaximum":null,"quantityIncrement":0.1,"reserveQuantityMaximum":50.0,"unit":"m","allowStockCheck":false,"pieceBreakdownMinimum":1.0,"pieceBreakdownMaximum":50.0,"allowBackInStockReminder":false,"freeStock":103.2,"nextPOFreeStock":0.0,"nextPODueDate":null,"totalPOFreeStock":0.0,"basketQuantityThresholds":[{"minimum":0,"maximum":99999.99}]},"orderButtonText":"Add to Basket","reserveButtonText":"Reserve","reserveWithBatchSampleButtonText":"Reserve with Batch Sample","sample":{"productId":214469,"stockMessage":{"productTypeID":null,"quantityMinimum":1.0,"quantityMaximum":99.0,"productTypeQuantityMaximum":null,"quantityIncrement":1.0,"reserveQuantityMaximum":null,"unit":"","allowStockCheck":false,"pieceBreakdownMinimum":null,"pieceBreakdownMaximum":null,"allowBackInStockReminder":false,"freeStock":null,"nextPOFreeStock":null,"nextPODueDate":null,"totalPOFreeStock":null,"basketQuantityThresholds":[{"minimum":0,"maximum":99999.99,"stockMessages":[{"stockMessage":" more due in (1-2 weeks)","class":"","stockBreakdownTab":1}]}]},"orderButtonText":"Add to Basket","displayPrice":null,"displaySalePrice":null,"priceMessage":null},"largeSample":{"productId":214470,"stockMessage":{"productTypeID":null,"quantityMinimum":1.0,"quantityMaximum":99.0,"productTypeQuantityMaximum":null,"quantityIncrement":1.0,"reserveQuantityMaximum":null,"unit":"","allowStockCheck":false,"pieceBreakdownMinimum":null,"pieceBreakdownMaximum":null,"allowBackInStockReminder":false,"freeStock":null,"nextPOFreeStock":null,"nextPODueDate":null,"totalPOFreeStock":null,"basketQuantityThresholds":[{"minimum":0,"maximum":99999.99,"stockMessages":[{"stockMessage":" more due in (1-2 weeks)","class":"","stockBreakdownTab":1}]}]},"orderButtonText":"Add to Basket","displayPrice":null,"displaySalePrice":null,"priceMessage":null}},"Carousel":{"CarouselID":"#product-214468-carsouel","WrapperCSSClass":null,"AspectRatio":1.0,"Heading":"Suffolk Garden - Birch","Images":[{"ImageID":146982,"SortOrder":0,"AltText":"Suffolk Garden - Birch Cutting","Overlay":null,"MaxWidth":null,"ApproximateImageSize":5}],"ApproximateImageSize":5,"DisplayThumbnails":false,"DisplayDashes":true,"Interval":null},"ProductID":214468,"ProductTypeID":15,"ProductPageID":39119,"ProductCode":"FEH0006/04","Brand":"English Heritage","OrderFormID":"#product-214468","OrderFormCarouselID":"#product-214468-slide","OrderFormGroupID":null,"OrderFormGroup":null,"Size":null,"OrderFormName":"Suffolk Garden - Birch","BasketName":"Suffolk Garden - Birch","SortOrder":50,"Attributes":null,"Image":{"imageId":146982,"templateImageId":2,"altText":"Suffolk Garden - Birch Cutting","titleText":"Suffolk Garden - Birch Cutting","sortOrder":0,"maxWidth":488},"OrderFormProperties":[{"Key":"Colour","Value":"Birch"},{"Key":"Code","Value":"FEH0006/04"}],"AllowSample":false,"AllowLargeSample":false,"AllowOrder":false,"AllowReserve":false,"AllowReserveWithBatchCutting":false,"ClientProductViewModels":"","URLKeywords":"fabric/english-heritage/suffolk-garden-birch-fabric","ImageLinkToProductPage":false,"IsLifestyle":false}],"MasterDefinition":{"SiteSectionID":null,"TitleTag":"Suffolk Garden Birch Fabric | English Heritage","MetaDescription":"A wonderfully flowing floral print in a medium scale accentuated with detailed birds and butterflies. Digitally printed onto a softly textured cotton to re","BackInStockReminder":null,"ItemsInBasket":0.0,"UrlBreakdown":{"ContentType":1,"ContentId":39119,"ContentDate":"2022-09-27T00:00:00","SemanticString":"fabric/english-heritage/suffolk-garden-birch-fabric","countryDetails":{"CountryLanguageID":5,"RegionID":2,"CountryID":238,"CountryCode":"US","LanguageID":2,"SortOrder":125,"Name":"United States","URL":"us","DotNetCulture":"en-US","ShopEnabled":true,"LanguageCode":"us","LanguageDotNetCulture":"en-US","MertexCurrencyCode":"USD","CurrencyCode":"USD","PriceListID":2,"AllowTradeOrders":false,"AcceptAmazonPay":true,"BuyOnlineRedirectAllowed":false,"EcommerceEnabled":true,"SamplesEnabled":false},"ColonyRedirectUrl":"","ColonyRedirectForceCountryLanguageID":null,"ColonyRedirectPermanent":null,"contentTypeAndIdNotFound":false,"CountryAwareness":{"Match":true,"Culture":null,"objCountryItem":{"CountryLanguageID":0,"RegionID":0,"CountryID":0,"CountryCode":null,"LanguageID":0,"SortOrder":0,"Name":null,"URL":null,"DotNetCulture":null,"ShopEnabled":false,"LanguageCode":null,"LanguageDotNetCulture":null,"MertexCurrencyCode":null,"CurrencyCode":null,"PriceListID":null,"AllowTradeOrders":false,"AcceptAmazonPay":false,"BuyOnlineRedirectAllowed":false,"EcommerceEnabled":false,"SamplesEnabled":false}},"GeoIPCulture":null},"GoogleHrefs":[{"hreflang":"de","href":"https://www.designersguild.com/de/fabric/english-heritage/suffolk-garden-birch-fabric/p39119"},{"hreflang":"fr","href":"https://www.designersguild.com/fr/fabric/english-heritage/suffolk-garden-birch-fabric/p39119"},{"hreflang":"en-gb","href":"https://www.designersguild.com/uk/fabric/english-heritage/suffolk-garden-birch-fabric/p39119"},{"hreflang":"en-se","href":"https://www.designersguild.com/se/fabric/english-heritage/suffolk-garden-birch-fabric/p39119"},{"hreflang":"en-us","href":"https://www.designersguild.com/us/fabric/english-heritage/suffolk-garden-birch-fabric/p39119"},{"hreflang":"es","href":"https://www.designersguild.com/es/fabric/english-heritage/suffolk-garden-birch-fabric/p39119"},{"hreflang":"it-it","href":"https://www.designersguild.com/it/fabric/english-heritage/suffolk-garden-birch-fabric/p39119"},{"hreflang":"en-nl","href":"https://www.designersguild.com/nl/fabric/english-heritage/suffolk-garden-birch-fabric/p39119"},{"hreflang":"ru","href":"https://www.designersguild.com/ru/fabric/english-heritage/suffolk-garden-birch-fabric/p39119"},{"hreflang":"ja-jp","href":"https://www.designersguild.com/jp/fabric/english-heritage/suffolk-garden-birch-fabric/p39119"},{"hreflang":"en-be","href":"https://www.designersguild.com/be/fabric/english-heritage/suffolk-garden-birch-fabric/p39119"},{"hreflang":"en-au","href":"https://www.designersguild.com/au/fabric/english-heritage/suffolk-garden-birch-fabric/p39119"},{"hreflang":"en-dk","href":"https://www.designersguild.com/dk/fabric/english-heritage/suffolk-garden-birch-fabric/p39119"},{"hreflang":"en-gr","href":"https://www.designersguild.com/eu/fabric/english-heritage/suffolk-garden-birch-fabric/p39119"},{"hreflang":"en-no","href":"https://www.designersguild.com/no/fabric/english-heritage/suffolk-garden-birch-fabric/p39119"},{"hreflang":"de-at","href":"https://www.designersguild.com/at/fabric/english-heritage/suffolk-garden-birch-fabric/p39119"},{"hreflang":"de-ch","href":"https://www.designersguild.com/de-ch/fabric/english-heritage/suffolk-garden-birch-fabric/p39119"},{"hreflang":"fr-ch","href":"https://www.designersguild.com/fr-ch/fabric/english-heritage/suffolk-garden-birch-fabric/p39119"},{"hreflang":"en","href":"https://www.designersguild.com/row/fabric/english-heritage/suffolk-garden-birch-fabric/p39119"},{"hreflang":"en-nz","href":"https://www.designersguild.com/nz/fabric/english-heritage/suffolk-garden-birch-fabric/p39119"},{"hreflang":"en-ie","href":"https://www.designersguild.com/ie/fabric/english-heritage/suffolk-garden-birch-fabric/p39119"},{"hreflang":"fi-fi","href":"https://www.designersguild.com/fi/fabric/english-heritage/suffolk-garden-birch-fabric/p39119"},{"hreflang":"x-default","href":"https://www.designersguild.com/fabric/english-heritage/suffolk-garden-birch-fabric/p39119"}],"CountryDropDown":{"countryDropDownItems":[{"CountryID":81,"Code":null,"LanguageID":1,"RegionID":3,"LanguageCode":"en","Country":"UK","Region":"Europe","URL":"uk","URLKeywords":"","SortOrder":1,"PageID":0},{"CountryID":15,"Code":null,"LanguageID":4,"RegionID":3,"LanguageCode":"de","Country":"Austria","Region":"Europe","URL":"at","URLKeywords":"","SortOrder":11,"PageID":0},{"CountryID":23,"Code":null,"LanguageID":1,"RegionID":3,"LanguageCode":"en","Country":"Belgium","Region":"Europe","URL":"be","URLKeywords":"","SortOrder":12,"PageID":0},{"CountryID":62,"Code":null,"LanguageID":1,"RegionID":3,"LanguageCode":"en","Country":"Denmark","Region":"Europe","URL":"dk","URLKeywords":"","SortOrder":13,"PageID":0},{"CountryID":74,"Code":null,"LanguageID":15,"RegionID":3,"LanguageCode":"fi","Country":"Finland","Region":"Europe","URL":"fi","URLKeywords":"","SortOrder":15,"PageID":0},{"CountryID":79,"Code":null,"LanguageID":3,"RegionID":3,"LanguageCode":"fr","Country":"France","Region":"Europe","URL":"fr","URLKeywords":"bienvenue-chez-designers-guild","SortOrder":16,"PageID":0},{"CountryID":60,"Code":null,"LanguageID":4,"RegionID":3,"LanguageCode":"de","Country":"Germany","Region":"Europe","URL":"de","URLKeywords":"","SortOrder":17,"PageID":0},{"CountryID":106,"Code":null,"LanguageID":1,"RegionID":3,"LanguageCode":"en","Country":"Ireland","Region":"Europe","URL":"ie","URLKeywords":"","SortOrder":18,"PageID":0},{"CountryID":114,"Code":null,"LanguageID":6,"RegionID":3,"LanguageCode":"it","Country":"Italy","Region":"Europe","URL":"it","URLKeywords":"","SortOrder":19,"PageID":0},{"CountryID":170,"Code":null,"LanguageID":13,"RegionID":3,"LanguageCode":"en","Country":"Netherlands","Region":"Europe","URL":"nl","URLKeywords":"","SortOrder":20,"PageID":0},{"CountryID":71,"Code":null,"LanguageID":5,"RegionID":3,"LanguageCode":"es","Country":"Spain","Region":"Europe","URL":"es","URLKeywords":"","SortOrder":23,"PageID":0},{"CountryID":202,"Code":null,"LanguageID":1,"RegionID":3,"LanguageCode":"en","Country":"Sweden","Region":"Europe","URL":"se","URLKeywords":"","SortOrder":24,"PageID":0},{"CountryID":171,"Code":null,"LanguageID":1,"RegionID":3,"LanguageCode":"en","Country":"Norway","Region":"Europe","URL":"no","URLKeywords":"","SortOrder":52,"PageID":0},{"CountryID":118,"Code":null,"LanguageID":11,"RegionID":4,"LanguageCode":"jp","Country":"Nihon","Region":"Africa, Asia & the Middle East","URL":"jp","URLKeywords":"","SortOrder":71,"PageID":0},{"CountryID":46,"Code":null,"LanguageID":3,"RegionID":3,"LanguageCode":"fr","Country":"Switzerland","Region":"Europe","URL":"fr-ch","URLKeywords":"bienvenue-chez-designers-guild","SortOrder":102,"PageID":0},{"CountryID":46,"Code":null,"LanguageID":4,"RegionID":3,"LanguageCode":"de","Country":"Switzerland","Region":"Europe","URL":"de-ch","URLKeywords":"","SortOrder":103,"PageID":0},{"CountryID":196,"Code":null,"LanguageID":10,"RegionID":3,"LanguageCode":"ru","Country":"Russian Federation","Region":"Europe","URL":"ru","URLKeywords":"","SortOrder":109,"PageID":0},{"CountryID":238,"Code":null,"LanguageID":2,"RegionID":2,"LanguageCode":"us","Country":"United States","Region":"North America","URL":"us","URLKeywords":"","SortOrder":125,"PageID":0},{"CountryID":16,"Code":null,"LanguageID":12,"RegionID":6,"LanguageCode":"au","Country":"Australia","Region":"Australasia","URL":"au","URLKeywords":"","SortOrder":150,"PageID":0},{"CountryID":175,"Code":null,"LanguageID":18,"RegionID":6,"LanguageCode":"nz","Country":"New Zealand","Region":"Australasia","URL":"nz","URLKeywords":"","SortOrder":151,"PageID":0},{"CountryID":67,"Code":null,"LanguageID":1,"RegionID":3,"LanguageCode":"en","Country":"Other Countries in Europe","Region":"Europe","URL":"eu","URLKeywords":"","SortOrder":255,"PageID":0},{"CountryID":51,"Code":null,"LanguageID":1,"RegionID":4,"LanguageCode":"en","Country":"Rest of the World","Region":"Africa, Asia & the Middle East","URL":"row","URLKeywords":"","SortOrder":255,"PageID":0}]},"ProductTypeDropDown":{"ProductTypes":[{"ProductTypeID":15,"Name":"Fabric","SortOrder":0,"ProductPageIDs":null,"FormValue":"fabric"},{"ProductTypeID":18,"Name":"Wallpaper","SortOrder":0,"ProductPageIDs":null,"FormValue":"wallpaper"},{"ProductTypeID":10,"Name":"Rug","SortOrder":0,"ProductPageIDs":null,"FormValue":"rug"},{"ProductTypeID":4,"Name":"Throw Pillow","SortOrder":0,"ProductPageIDs":null,"FormValue":"throw+pillow"},{"ProductTypeID":1,"Name":"Bed Linen","SortOrder":0,"ProductPageIDs":null,"FormValue":"bed+linen"},{"ProductTypeID":2,"Name":"Throw","SortOrder":0,"ProductPageIDs":null,"FormValue":"throw"}]},"TradeMember":false,"TradeAllowed":false,"CanViewRRPs":true,"LoginStatus":0,"UserName":null},"ParentProductPageProductTypeID":0,"SortOrder":50,"OrderFormCarouselID":"order-form-group--carousel"}],"AlternateColourways":[{"productPageId":39116,"code":"FEH0006/04","heading":"Suffolk Garden Delft","imageId":146985,"url":"/us/fabric/english-heritage/suffolk-garden-delft-fabric/p39116","urlSemantics":"fabric/english-heritage/suffolk-garden-delft-fabric"},{"productPageId":39117,"code":"FEH0006/04","heading":"Suffolk Garden Chalk Blue","imageId":146984,"url":"/us/fabric/english-heritage/suffolk-garden-chalk-blue-fabric/p39117","urlSemantics":"fabric/english-heritage/suffolk-garden-chalk-blue-fabric"},{"productPageId":39118,"code":"FEH0006/04","heading":"Suffolk Garden Slate Blue","imageId":146990,"url":"/us/fabric/english-heritage/suffolk-garden-slate-blue-fabric/p39118","urlSemantics":"fabric/english-heritage/suffolk-garden-slate-blue-fabric"},{"productPageId":39120,"code":"FEH0006/04","heading":"Suffolk Garden Chestnut","imageId":146986,"url":"/us/fabric/english-heritage/suffolk-garden-chestnut-fabric/p39120","urlSemantics":"fabric/english-heritage/suffolk-garden-chestnut-fabric"},{"productPageId":39119,"code":"FEH0006/04","heading":"Suffolk Garden Birch","imageId":146982,"url":"/us/fabric/english-heritage/suffolk-garden-birch-fabric/p39119","urlSemantics":"fabric/english-heritage/suffolk-garden-birch-fabric"}],"ProductPagePrice":{"priceMin":null,"priceMax":null,"salePriceMin":null,"salePriceMax":null,"discountPercentageMin":null,"discountPercentageMax":null,"clearanceDiscountPercentageMin":null,"clearanceDiscountPercentageMax":null,"discountMessage":null,"priceMessage":null,"rRPMessage":null,"codeMessage":"FEH0006/04"},"Reviews":[],"TechInfoCollections":[{"CollectionID":800,"Name":"Heritage Prints","URL":"/us/fabric/english-heritage-by-designers-guild/heritage-prints/c800","URLSemantics":"fabric/english-heritage-by-designers-guild/heritage-prints","BrochureURL":null}],"TechInfoAftercares":[{"AftercareID":4,"Aftercare":"NO WASH"},{"AftercareID":17,"Aftercare":"DRY CLEAN - P process (GENTLE)"},{"AftercareID":27,"Aftercare":"IRON COOL (1 spot - 110deg c)"},{"AftercareID":47,"Aftercare":"NO TUMBLE DRY"},{"AftercareID":50,"Aftercare":"NO BLEACH"}],"TechInfoUsages":[{"UsageID":1,"Usage":"Cushions"},{"UsageID":2,"Usage":"Curtains And Blinds"},{"UsageID":3,"Usage":"Loose Covers"},{"UsageID":4,"Usage":"Upholstery"}],"TechInfoTests":[{"Test":"EN1021-1 Cigarette - UPHOLSTERY"},{"Test":"BS5852 Cigarette - UPHOLSTERY"}],"Width":"56 in","Weight":"7.4 oz/sq.yd","HorizontalPatternRepeat":"17.91 in","VerticalPatternRepeat":"25.2 in","Martindale":"20000","Composition":"100% Co","PatternMatch":"Half drop","Flamcode":"(UK Flamcode B+M) Cigarette Resistant - In UK/Eire Upholstery use FR interliner or FR treat","ContractFR":null,"DomesticFR":"Cigarette Resistant","Type":null,"AdditionalInfo":"Iron on reverse.","RollLength":null,"PileHeight":null,"WideWidthFabricDefaultPoleWidth":null,"MaxFoldLength":null,"TechInfoDisplayBase64":"PGR0PkNvbGxlY3Rpb24ocyk8L2R0PjxkZD48YSBjbGFzcz0iZC1ibG9jayBtYi0xIiBocmVmPSIvdXMvZmFicmljL2VuZ2xpc2gtaGVyaXRhZ2UtYnktZGVzaWduZXJzLWd1aWxkL2hlcml0YWdlLXByaW50cy9jODAwIj5IZXJpdGFnZSBQcmludHM8L2E+PC9kZD48ZHQ+Q29tcG9zaXRpb248L2R0PjxkZD4xMDAlIENvPC9kZD48ZHQ+VUsvRUlSRSBGbGFtY29kZTwvZHQ+PGRkPihVSyBGbGFtY29kZSBCK00pIENpZ2FyZXR0ZSBSZXNpc3RhbnQgLSBJbiBVSy9FaXJlIFVwaG9sc3RlcnkgdXNlIEZSIGludGVybGluZXIgb3IgRlIgdHJlYXQ8L2RkPjxkdD5XaWR0aDwvZHQ+PGRkPjU2IGluPC9kZD48ZHQ+V2VpZ2h0PC9kdD48ZGQ+Ny40IG96L3NxLnlkPC9kZD48ZHQ+TWFydGluZGFsZTwvZHQ+PGRkPjIwMDAwPC9kZD48ZHQ+UGF0dGVybiBNYXRjaDwvZHQ+PGRkPkhhbGYgZHJvcDwvZGQ+PGR0PlZlcnRpY2FsIFBhdHRlcm4gUmVwZWF0PC9kdD48ZGQ+MjUuMiBpbjwvZGQ+PGR0Pkhvcml6b250YWwgUGF0dGVybiBSZXBlYXQ8L2R0PjxkZD4xNy45MSBpbjwvZGQ+PGR0PlRlc3RzIFBhc3NlZDwvZHQ+PGRkPjxzcGFuIGNsYXNzPSJkLWJsb2NrIj5FTjEwMjEtMSBDaWdhcmV0dGUgLSBVUEhPTFNURVJZPC9zcGFuPjxzcGFuIGNsYXNzPSJkLWJsb2NrIj5CUzU4NTIgQ2lnYXJldHRlIC0gVVBIT0xTVEVSWTwvc3Bhbj48L2RkPjxkdD5Qcm9kdWN0IFVzYWdlPC9kdD48ZGQ+PGRpdiBjbGFzcz0iZC1mbGV4IGFsaWduLWl0ZW1zLWNlbnRlciI+PGltZyB3aWR0aD0iMzIiIGhlaWdodD0iMzIiIGNsYXNzPSJ1c2FnZS1pY29uIiB0aXRsZT0iQ3VzaGlvbnMiIGFsdD0iQ3VzaGlvbnMiIHNyYz0iaHR0cHM6Ly93d3cuZGVzaWduZXJzZ3VpbGQuY29tL2ltYWdlcy9pY29ucy90ZWNoaW5mby91c2FnZS8xLmdpZiIgLz48c3BhbiBjbGFzcz0iZC1ibG9jayI+Q3VzaGlvbnM8L3NwYW4+PC9kaXY+PGRpdiBjbGFzcz0iZC1mbGV4IGFsaWduLWl0ZW1zLWNlbnRlciI+PGltZyB3aWR0aD0iMzIiIGhlaWdodD0iMzIiIGNsYXNzPSJ1c2FnZS1pY29uIiB0aXRsZT0iQ3VydGFpbnMgQW5kIEJsaW5kcyIgYWx0PSJDdXJ0YWlucyBBbmQgQmxpbmRzIiBzcmM9Imh0dHBzOi8vd3d3LmRlc2lnbmVyc2d1aWxkLmNvbS9pbWFnZXMvaWNvbnMvdGVjaGluZm8vdXNhZ2UvMi5naWYiIC8+PHNwYW4gY2xhc3M9ImQtYmxvY2siPkN1cnRhaW5zIEFuZCBCbGluZHM8L3NwYW4+PC9kaXY+PGRpdiBjbGFzcz0iZC1mbGV4IGFsaWduLWl0ZW1zLWNlbnRlciI+PGltZyB3aWR0aD0iMzIiIGhlaWdodD0iMzIiIGNsYXNzPSJ1c2FnZS1pY29uIiB0aXRsZT0iTG9vc2UgQ292ZXJzIiBhbHQ9Ikxvb3NlIENvdmVycyIgc3JjPSJodHRwczovL3d3dy5kZXNpZ25lcnNndWlsZC5jb20vaW1hZ2VzL2ljb25zL3RlY2hpbmZvL3VzYWdlLzMuZ2lmIiAvPjxzcGFuIGNsYXNzPSJkLWJsb2NrIj5Mb29zZSBDb3ZlcnM8L3NwYW4+PC9kaXY+PGRpdiBjbGFzcz0iZC1mbGV4IGFsaWduLWl0ZW1zLWNlbnRlciI+PGltZyB3aWR0aD0iMzIiIGhlaWdodD0iMzIiIGNsYXNzPSJ1c2FnZS1pY29uIiB0aXRsZT0iVXBob2xzdGVyeSIgYWx0PSJVcGhvbHN0ZXJ5IiBzcmM9Imh0dHBzOi8vd3d3LmRlc2lnbmVyc2d1aWxkLmNvbS9pbWFnZXMvaWNvbnMvdGVjaGluZm8vdXNhZ2UvNC5naWYiIC8+PHNwYW4gY2xhc3M9ImQtYmxvY2siPlVwaG9sc3Rlcnk8L3NwYW4+PC9kaXY+PC9kZD48ZHQ+UHJvZHVjdCBBZnRlciBDYXJlPC9kdD48ZGQ+PGRpdiBjbGFzcz0iZC1mbGV4IGFsaWduLWl0ZW1zLWNlbnRlciI+PGltZyB3aWR0aD0iMzIiIGhlaWdodD0iMzIiIGNsYXNzPSJ1c2FnZS1pY29uIiB0aXRsZT0iTk8gV0FTSCIgYWx0PSJOTyBXQVNIIiBzcmM9Imh0dHBzOi8vd3d3LmRlc2lnbmVyc2d1aWxkLmNvbS9pbWFnZXMvaWNvbnMvdGVjaGluZm8vYWZ0ZXJjYXJlLzQuZ2lmIiAvPjxzcGFuIGNsYXNzPSJkLWJsb2NrIj5OTyBXQVNIPC9zcGFuPjwvZGl2PjxkaXYgY2xhc3M9ImQtZmxleCBhbGlnbi1pdGVtcy1jZW50ZXIiPjxpbWcgd2lkdGg9IjMyIiBoZWlnaHQ9IjMyIiBjbGFzcz0idXNhZ2UtaWNvbiIgdGl0bGU9IkRSWSBDTEVBTiAtIFAgcHJvY2VzcyAoR0VOVExFKSIgYWx0PSJEUlkgQ0xFQU4gLSBQIHByb2Nlc3MgKEdFTlRMRSkiIHNyYz0iaHR0cHM6Ly93d3cuZGVzaWduZXJzZ3VpbGQuY29tL2ltYWdlcy9pY29ucy90ZWNoaW5mby9hZnRlcmNhcmUvMTcuZ2lmIiAvPjxzcGFuIGNsYXNzPSJkLWJsb2NrIj5EUlkgQ0xFQU4gLSBQIHByb2Nlc3MgKEdFTlRMRSk8L3NwYW4+PC9kaXY+PGRpdiBjbGFzcz0iZC1mbGV4IGFsaWduLWl0ZW1zLWNlbnRlciI+PGltZyB3aWR0aD0iMzIiIGhlaWdodD0iMzIiIGNsYXNzPSJ1c2FnZS1pY29uIiB0aXRsZT0iSVJPTiBDT09MICgxIHNwb3QgLSAxMTBkZWcgYykiIGFsdD0iSVJPTiBDT09MICgxIHNwb3QgLSAxMTBkZWcgYykiIHNyYz0iaHR0cHM6Ly93d3cuZGVzaWduZXJzZ3VpbGQuY29tL2ltYWdlcy9pY29ucy90ZWNoaW5mby9hZnRlcmNhcmUvMjcuZ2lmIiAvPjxzcGFuIGNsYXNzPSJkLWJsb2NrIj5JUk9OIENPT0wgKDEgc3BvdCAtIDExMGRlZyBjKTwvc3Bhbj48L2Rpdj48ZGl2IGNsYXNzPSJkLWZsZXggYWxpZ24taXRlbXMtY2VudGVyIj48aW1nIHdpZHRoPSIzMiIgaGVpZ2h0PSIzMiIgY2xhc3M9InVzYWdlLWljb24iIHRpdGxlPSJOTyBUVU1CTEUgRFJZIiBhbHQ9Ik5PIFRVTUJMRSBEUlkiIHNyYz0iaHR0cHM6Ly93d3cuZGVzaWduZXJzZ3VpbGQuY29tL2ltYWdlcy9pY29ucy90ZWNoaW5mby9hZnRlcmNhcmUvNDcuZ2lmIiAvPjxzcGFuIGNsYXNzPSJkLWJsb2NrIj5OTyBUVU1CTEUgRFJZPC9zcGFuPjwvZGl2PjxkaXYgY2xhc3M9ImQtZmxleCBhbGlnbi1pdGVtcy1jZW50ZXIiPjxpbWcgd2lkdGg9IjMyIiBoZWlnaHQ9IjMyIiBjbGFzcz0idXNhZ2UtaWNvbiIgdGl0bGU9Ik5PIEJMRUFDSCIgYWx0PSJOTyBCTEVBQ0giIHNyYz0iaHR0cHM6Ly93d3cuZGVzaWduZXJzZ3VpbGQuY29tL2ltYWdlcy9pY29ucy90ZWNoaW5mby9hZnRlcmNhcmUvNTAuZ2lmIiAvPjxzcGFuIGNsYXNzPSJkLWJsb2NrIj5OTyBCTEVBQ0g8L3NwYW4+PC9kaXY+PC9kZD48ZHQ+QWRkaXRpb25hbCBJbmZvPC9kdD48ZGQ+SXJvbiBvbiByZXZlcnNlLjwvZGQ+","IsShop":true,"NoFollow":false,"NoIndex":false,"CustomCanonical":null,"UserInCorrectSite":true,"CountryCorrectorDismissed":false,"CorrectSiteForUser":{"CountryLanguageID":5,"RegionID":2,"CountryID":238,"CountryCode":"US","LanguageID":2,"SortOrder":125,"Name":"United States","URL":"us","DotNetCulture":"en-US","ShopEnabled":true,"LanguageCode":"us","LanguageDotNetCulture":"en-US","MertexCurrencyCode":"USD","CurrencyCode":"USD","PriceListID":2,"AllowTradeOrders":false,"AcceptAmazonPay":true,"BuyOnlineRedirectAllowed":false,"EcommerceEnabled":true,"SamplesEnabled":false},"PrefetchedResources":[{"Name":"PleaseProvideWidth","Value":"Please provide a Width"},{"Name":"PleaseProvideHeight","Value":"Please provide a Height"},{"Name":"PleaseProvideLength","Value":"Please provide a Length"},{"Name":"Width","Value":"Width"},{"Name":"Length","Value":"Length"},{"Name":"Height","Value":"Height"},{"Name":"CalculatorMustBeBetween","Value":"must be between 1 and 99"},{"Name":"FormsErrorEmailFormat","Value":"Your email address is not in the correct format"},{"Name":"FormsErrorEmail","Value":"Your email address must be between 5 and 100 characters"},{"Name":"ThankYou","Value":"Thank You"},{"Name":"ThankYouEmailSent","Value":"Thank you, your email has been sent."}],"PrefetchedSnippets":[],"HeaderBanners":[],"HasHeaderBanners":false,"FooterBanners":[],"HasFooterBanners":false,"EcommercePopupBanners":[],"HasEcommercePopupBanners":false,"Banners":[{"id":12,"name":"One","banners":[{"bannerId":8436,"name":"AW22 USA Shop 12","version":39,"sortOrder":1,"overlayText":"SHOP RUGS >","altText":"SHOP RUGS >","titleText":"SHOP RUGS >","width":1024,"height":1024,"linkURL":"/us/rugs/l1044","newWindow":false,"foregroundColour":"#000000","backgroundColour":"#ffffff","fontClass":"default-text-bold text-banner-center","restrictions":{"menuIds":[71,92],"siteSectionIds":null,"pageIds":null}},{"bannerId":6325,"name":"Christian Lacroix","version":11,"sortOrder":2,"overlayText":"","altText":"Christian Lacroix","titleText":"Christian Lacroix","width":1024,"height":394,"linkURL":"/us/christian-lacroix/l1397","newWindow":false,"foregroundColour":"#000000","backgroundColour":"#ffffff","fontClass":"default-text","restrictions":{"menuIds":[11,45,72,91,108],"siteSectionIds":null,"pageIds":null}},{"bannerId":4116,"name":"Lookbooks 12 (Inspiration)","version":6,"sortOrder":3,"overlayText":"","altText":null,"titleText":null,"width":342,"height":320,"linkURL":"/us/lookbooks/l1179","newWindow":false,"foregroundColour":"#000000","backgroundColour":"#ffffff","fontClass":null,"restrictions":{"menuIds":[12,66,106],"siteSectionIds":null,"pageIds":null}}]},{"id":13,"name":"Two","banners":[{"bannerId":6978,"name":"RALPH LAUREN USA MENU","version":26,"sortOrder":1,"overlayText":"","altText":null,"titleText":null,"width":1024,"height":394,"linkURL":"/us/fabric/designers-guild/ralph-lauren-fabrics/l1842","newWindow":false,"foregroundColour":"#000000","backgroundColour":"#ffffff","fontClass":null,"restrictions":{"menuIds":[72,92],"siteSectionIds":null,"pageIds":null}},{"bannerId":6977,"name":"SS21 USA Shop 13 shipping","version":22,"sortOrder":2,"overlayText":"","altText":null,"titleText":null,"width":1024,"height":1024,"linkURL":"/us/delivery-and-returns/l1144","newWindow":false,"foregroundColour":"#000000","backgroundColour":"#ffffff","fontClass":null,"restrictions":{"menuIds":[71],"siteSectionIds":null,"pageIds":null}},{"bannerId":5320,"name":"Films 13 (Inspiration)","version":9,"sortOrder":3,"overlayText":"","altText":null,"titleText":null,"width":1024,"height":958,"linkURL":"/us/films/l1180","newWindow":false,"foregroundColour":"#000000","backgroundColour":"#ffffff","fontClass":null,"restrictions":{"menuIds":[12,66,106],"siteSectionIds":null,"pageIds":null}}]},{"id":14,"name":"Three","banners":[{"bannerId":8448,"name":"AW22 USA Shop 14","version":33,"sortOrder":1,"overlayText":"WITH CODE 20FIG >","altText":"WITH CODE 20FIG >","titleText":"WITH CODE 20FIG >","width":1024,"height":1024,"linkURL":"/us/bed-and-bath/l1367","newWindow":false,"foregroundColour":"#000000","backgroundColour":"#ffffff","fontClass":"default-text-bold text-banner-center","restrictions":{"menuIds":[71,92],"siteSectionIds":null,"pageIds":null}},{"bannerId":4114,"name":"Blog 14 (Inspiration)","version":3,"sortOrder":2,"overlayText":"","altText":null,"titleText":null,"width":1024,"height":958,"linkURL":"/us/dg-world/blog/l601","newWindow":false,"foregroundColour":"#000000","backgroundColour":"#ffffff","fontClass":null,"restrictions":{"menuIds":[12,66,106],"siteSectionIds":null,"pageIds":null}},{"bannerId":2585,"name":"USA LIFESTYLE MENU","version":13,"sortOrder":3,"overlayText":"","altText":null,"titleText":null,"width":1024,"height":950,"linkURL":"/us/trade-login/l104","newWindow":false,"foregroundColour":"#000000","backgroundColour":"#ffffff","fontClass":null,"restrictions":{"menuIds":[90],"siteSectionIds":null,"pageIds":null}},{"bannerId":1809,"name":"Royal Collection","version":11,"sortOrder":4,"overlayText":"","altText":"Royal Collection","titleText":"Royal Collection","width":1024,"height":394,"linkURL":"/us/the-royal-collection/l1396","newWindow":false,"foregroundColour":"#000000","backgroundColour":"#ffffff","fontClass":"default-text","restrictions":{"menuIds":[45,72,91,108],"siteSectionIds":null,"pageIds":null}}]},{"id":15,"name":"Four","banners":[{"bannerId":8437,"name":"AW22 UK Shop 15","version":40,"sortOrder":1,"overlayText":"SHOP PILLOWS >","altText":"SHOP PILLOWS >","titleText":"SHOP PILLOWS >","width":1024,"height":1024,"linkURL":"/us/decorative-pillows/l1046","newWindow":false,"foregroundColour":"#000000","backgroundColour":"#ffffff","fontClass":"default-text-bold text-banner-center","restrictions":{"menuIds":[71,92],"siteSectionIds":null,"pageIds":null}},{"bannerId":4115,"name":"News & Events 15 (Inspiration)","version":4,"sortOrder":2,"overlayText":"","altText":null,"titleText":null,"width":1024,"height":958,"linkURL":"/us/dg-world/news-and-events/l602","newWindow":false,"foregroundColour":"#000000","backgroundColour":"#ffffff","fontClass":"default-text-bold text-banner-center","restrictions":{"menuIds":[12,66,106],"siteSectionIds":null,"pageIds":null}},{"bannerId":1805,"name":"William Yeoward","version":10,"sortOrder":3,"overlayText":"","altText":"William Yeoward","titleText":"William Yeoward","width":1024,"height":394,"linkURL":"/us/william-yeoward/l1399","newWindow":false,"foregroundColour":"#000000","backgroundColour":"#ffffff","fontClass":"default-text","restrictions":{"menuIds":[11,45,72,91,108],"siteSectionIds":null,"pageIds":null}}]},{"id":16,"name":"Five","banners":[{"bannerId":7779,"name":"Brands English Heritage ","version":79,"sortOrder":1,"overlayText":"","altText":"English Heritage ","titleText":"English Heritage ","width":1024,"height":394,"linkURL":"/us/english-heritage-by-designers-guild/l1852","newWindow":false,"foregroundColour":"#000000","backgroundColour":"#ffffff","fontClass":null,"restrictions":{"menuIds":[11,45,72,91,103,108],"siteSectionIds":null,"pageIds":null}},{"bannerId":4118,"name":"Social Media 16 (Inspiration)","version":6,"sortOrder":2,"overlayText":"","altText":null,"titleText":null,"width":1024,"height":958,"linkURL":"/us/dg-world/dgyourspace/a26","newWindow":false,"foregroundColour":"#000000","backgroundColour":"#ffffff","fontClass":null,"restrictions":{"menuIds":[12,66,106],"siteSectionIds":null,"pageIds":null}}]},{"id":17,"name":"Six","banners":[{"bannerId":4113,"name":"About Us 17 (Inspiration)","version":3,"sortOrder":1,"overlayText":"","altText":null,"titleText":null,"width":1024,"height":958,"linkURL":"/us/company-profile/l1004","newWindow":false,"foregroundColour":"#000000","backgroundColour":"#ffffff","fontClass":null,"restrictions":{"menuIds":[12,66,106],"siteSectionIds":null,"pageIds":null}},{"bannerId":2117,"name":"John Derian","version":18,"sortOrder":2,"overlayText":"","altText":"John Derian","titleText":"John Derian","width":1024,"height":394,"linkURL":"/us/john-derian/l1521","newWindow":false,"foregroundColour":"#000000","backgroundColour":"#ffffff","fontClass":"default-text","restrictions":{"menuIds":[45,72,91,108],"siteSectionIds":null,"pageIds":null}}]}],"Hotspots":[{"ImageID":148045,"Hotspots":[{"X":47.9475568831327,"x":"calc(47.9476% - 12.5px)","Y":11.7287468593095,"y":"calc(11.7287% - 12.5px)","OverlayPosition":"top-left","Product":{"Solitary":false,"ProductBase":{"x":47.947556883132727,"y":11.72874685930946,"product":{"productId":214468,"sortOrder":0,"productTypeId":15,"templateId":2,"code":"FEH0006/04","brand":"English Heritage","gtin13":null,"name":"Suffolk Garden - Birch","AKA":null,"size":null,"imageId":146982,"imageAltText":"Suffolk Garden - Birch Cutting","imageTitleText":"Suffolk Garden - Birch Cutting","rRPMessage":null,"rLRRP":null,"rLTradePrice":null,"displayPrice":null,"displaySalePrice":null,"priceMessage":null,"statusMessage":null,"urlSemantics":"fabric/english-heritage/suffolk-garden-birch-fabric","productPageId":39119,"url":"/us/fabric/english-heritage/suffolk-garden-birch-fabric/p39119","itemAvailability":"InStock","orderFormGroupId":null,"orderFormName":"Suffolk Garden - Birch","attributes":null,"orderFormGroup":null,"orderFormProperties":[{"key":"Colour","value":"Birch"},{"key":"Code","value":"FEH0006/04"}],"controls":{"allowOrder":false,"allowReserve":false,"allowReserveWithBatchSample":false,"allowSample":false,"allowLargeSample":false,"allowBackInStockReminder":false,"disableOrder":false,"disableSample":false},"stockMessage":{"productTypeID":15,"quantityMinimum":1.0,"quantityMaximum":0.0,"productTypeQuantityMaximum":null,"quantityIncrement":0.1,"reserveQuantityMaximum":50.0,"unit":"m","allowStockCheck":false,"pieceBreakdownMinimum":1.0,"pieceBreakdownMaximum":50.0,"allowBackInStockReminder":false,"freeStock":103.2,"nextPOFreeStock":0.0,"nextPODueDate":null,"totalPOFreeStock":0.0,"basketQuantityThresholds":[{"minimum":0,"maximum":99999.99}]},"orderButtonText":"Add to Basket","reserveButtonText":"Reserve","reserveWithBatchSampleButtonText":"Reserve with Batch Sample","sample":{"productId":214469,"stockMessage":{"productTypeID":55,"quantityMinimum":1.0,"quantityMaximum":2.0,"productTypeQuantityMaximum":20.0,"quantityIncrement":1.0,"reserveQuantityMaximum":28.0,"unit":"","allowStockCheck":false,"pieceBreakdownMinimum":null,"pieceBreakdownMaximum":null,"allowBackInStockReminder":false,"freeStock":28.0,"nextPOFreeStock":99.0,"nextPODueDate":"2022-10-11","totalPOFreeStock":99.0,"basketQuantityThresholds":[{"minimum":0,"maximum":99999.99,"stockMessages":[{"stockMessage":"In stock","class":"","stockBreakdownTab":0}]}]},"orderButtonText":"Request a Sample","displayPrice":null,"displaySalePrice":null,"priceMessage":null},"largeSample":{"productId":214470,"stockMessage":{"productTypeID":56,"quantityMinimum":1.0,"quantityMaximum":4.0,"productTypeQuantityMaximum":null,"quantityIncrement":1.0,"reserveQuantityMaximum":0.0,"unit":"","allowStockCheck":false,"pieceBreakdownMinimum":null,"pieceBreakdownMaximum":null,"allowBackInStockReminder":true,"freeStock":0.0,"nextPOFreeStock":4.0,"nextPODueDate":null,"totalPOFreeStock":4.0,"basketQuantityThresholds":[{"minimum":0,"maximum":99999.99,"stockMessages":[{"stockMessage":" more due in (1-2 weeks)","class":"","stockBreakdownTab":1}]}]},"orderButtonText":"Request a Large Sample","displayPrice":null,"displaySalePrice":null,"priceMessage":null}}},"Product":{"productId":214468,"sortOrder":0,"productTypeId":15,"templateId":2,"code":"FEH0006/04","brand":"English Heritage","gtin13":null,"name":"Suffolk Garden - Birch","AKA":null,"size":null,"imageId":146982,"imageAltText":"Suffolk Garden - Birch Cutting","imageTitleText":"Suffolk Garden - Birch Cutting","rRPMessage":null,"rLRRP":null,"rLTradePrice":null,"displayPrice":null,"displaySalePrice":null,"priceMessage":null,"statusMessage":null,"urlSemantics":"fabric/english-heritage/suffolk-garden-birch-fabric","productPageId":39119,"url":"/us/fabric/english-heritage/suffolk-garden-birch-fabric/p39119","itemAvailability":"InStock","orderFormGroupId":null,"orderFormName":"Suffolk Garden - Birch","attributes":null,"orderFormGroup":null,"orderFormProperties":[{"key":"Name","value":"Suffolk Garden - Birch"},{"key":"Colour","value":"Birch"},{"key":"Code","value":"FEH0006/04"}],"controls":{"allowOrder":false,"allowReserve":false,"allowReserveWithBatchSample":false,"allowSample":false,"allowLargeSample":false,"allowBackInStockReminder":false,"disableOrder":false,"disableSample":false},"stockMessage":{"productTypeID":15,"quantityMinimum":1.0,"quantityMaximum":0.0,"productTypeQuantityMaximum":null,"quantityIncrement":0.1,"reserveQuantityMaximum":50.0,"unit":"m","allowStockCheck":false,"pieceBreakdownMinimum":1.0,"pieceBreakdownMaximum":50.0,"allowBackInStockReminder":false,"freeStock":103.2,"nextPOFreeStock":0.0,"nextPODueDate":null,"totalPOFreeStock":0.0,"basketQuantityThresholds":[{"minimum":0,"maximum":99999.99}]},"orderButtonText":"Add to Basket","reserveButtonText":"Reserve","reserveWithBatchSampleButtonText":"Reserve with Batch Sample","sample":{"productId":214469,"stockMessage":{"productTypeID":55,"quantityMinimum":1.0,"quantityMaximum":2.0,"productTypeQuantityMaximum":20.0,"quantityIncrement":1.0,"reserveQuantityMaximum":28.0,"unit":"","allowStockCheck":false,"pieceBreakdownMinimum":null,"pieceBreakdownMaximum":null,"allowBackInStockReminder":false,"freeStock":28.0,"nextPOFreeStock":99.0,"nextPODueDate":"2022-10-11","totalPOFreeStock":99.0,"basketQuantityThresholds":[{"minimum":0,"maximum":99999.99,"stockMessages":[{"stockMessage":"In stock","class":"","stockBreakdownTab":0}]}]},"orderButtonText":"Request a Sample","displayPrice":null,"displaySalePrice":null,"priceMessage":null},"largeSample":{"productId":214470,"stockMessage":{"productTypeID":56,"quantityMinimum":1.0,"quantityMaximum":4.0,"productTypeQuantityMaximum":null,"quantityIncrement":1.0,"reserveQuantityMaximum":0.0,"unit":"","allowStockCheck":false,"pieceBreakdownMinimum":null,"pieceBreakdownMaximum":null,"allowBackInStockReminder":true,"freeStock":0.0,"nextPOFreeStock":4.0,"nextPODueDate":null,"totalPOFreeStock":4.0,"basketQuantityThresholds":[{"minimum":0,"maximum":99999.99,"stockMessages":[{"stockMessage":" more due in (1-2 weeks)","class":"","stockBreakdownTab":1}]}]},"orderButtonText":"Request a Large Sample","displayPrice":null,"displaySalePrice":null,"priceMessage":null}},"Carousel":{"CarouselID":"#product-214468-carsouel","WrapperCSSClass":null,"AspectRatio":1.0,"Heading":"Suffolk Garden - Birch","Images":[{"ImageID":146982,"SortOrder":0,"AltText":"Suffolk Garden - Birch Cutting","Overlay":null,"MaxWidth":null,"ApproximateImageSize":5}],"ApproximateImageSize":2,"DisplayThumbnails":false,"DisplayDashes":true,"Interval":null},"ProductID":214468,"ProductTypeID":15,"ProductPageID":39119,"ProductCode":"FEH0006/04","Brand":"English Heritage","OrderFormID":"#product-214468","OrderFormCarouselID":"#product-214468-slide","OrderFormGroupID":null,"OrderFormGroup":null,"Size":null,"OrderFormName":"Suffolk Garden - Birch","BasketName":"Suffolk Garden - Birch","SortOrder":0,"Attributes":null,"Image":{"imageId":146982,"templateImageId":2,"altText":"Suffolk Garden - Birch Cutting","titleText":"Suffolk Garden - Birch Cutting","sortOrder":0,"maxWidth":488},"OrderFormProperties":[{"Key":"Name","Value":"Suffolk Garden - Birch"},{"Key":"Colour","Value":"Birch"},{"Key":"Code","Value":"FEH0006/04"}],"AllowSample":false,"AllowLargeSample":false,"AllowOrder":false,"AllowReserve":false,"AllowReserveWithBatchCutting":false,"ClientProductViewModels":"","URLKeywords":"fabric/english-heritage/suffolk-garden-birch-fabric","ImageLinkToProductPage":true,"IsLifestyle":false}}]},{"ImageID":148051,"Hotspots":[{"X":46.6028574786895,"x":"calc(46.6029% - 12.5px)","Y":41.1549010181485,"y":"calc(41.1549% - 12.5px)","OverlayPosition":"top-left","Product":{"Solitary":false,"ProductBase":{"x":46.602857478689529,"y":41.154901018148479,"product":{"productId":214468,"sortOrder":0,"productTypeId":15,"templateId":2,"code":"FEH0006/04","brand":"English Heritage","gtin13":null,"name":"Suffolk Garden - Birch","AKA":null,"size":null,"imageId":146982,"imageAltText":"Suffolk Garden - Birch Cutting","imageTitleText":"Suffolk Garden - Birch Cutting","rRPMessage":null,"rLRRP":null,"rLTradePrice":null,"displayPrice":null,"displaySalePrice":null,"priceMessage":null,"statusMessage":null,"urlSemantics":"fabric/english-heritage/suffolk-garden-birch-fabric","productPageId":39119,"url":"/us/fabric/english-heritage/suffolk-garden-birch-fabric/p39119","itemAvailability":"InStock","orderFormGroupId":null,"orderFormName":"Suffolk Garden - Birch","attributes":null,"orderFormGroup":null,"orderFormProperties":[{"key":"Colour","value":"Birch"},{"key":"Code","value":"FEH0006/04"}],"controls":{"allowOrder":false,"allowReserve":false,"allowReserveWithBatchSample":false,"allowSample":false,"allowLargeSample":false,"allowBackInStockReminder":false,"disableOrder":false,"disableSample":false},"stockMessage":{"productTypeID":15,"quantityMinimum":1.0,"quantityMaximum":0.0,"productTypeQuantityMaximum":null,"quantityIncrement":0.1,"reserveQuantityMaximum":50.0,"unit":"m","allowStockCheck":false,"pieceBreakdownMinimum":1.0,"pieceBreakdownMaximum":50.0,"allowBackInStockReminder":false,"freeStock":103.2,"nextPOFreeStock":0.0,"nextPODueDate":null,"totalPOFreeStock":0.0,"basketQuantityThresholds":[{"minimum":0,"maximum":99999.99}]},"orderButtonText":"Add to Basket","reserveButtonText":"Reserve","reserveWithBatchSampleButtonText":"Reserve with Batch Sample","sample":{"productId":214469,"stockMessage":{"productTypeID":55,"quantityMinimum":1.0,"quantityMaximum":2.0,"productTypeQuantityMaximum":20.0,"quantityIncrement":1.0,"reserveQuantityMaximum":28.0,"unit":"","allowStockCheck":false,"pieceBreakdownMinimum":null,"pieceBreakdownMaximum":null,"allowBackInStockReminder":false,"freeStock":28.0,"nextPOFreeStock":99.0,"nextPODueDate":"2022-10-11","totalPOFreeStock":99.0,"basketQuantityThresholds":[{"minimum":0,"maximum":99999.99,"stockMessages":[{"stockMessage":"In stock","class":"","stockBreakdownTab":0}]}]},"orderButtonText":"Request a Sample","displayPrice":null,"displaySalePrice":null,"priceMessage":null},"largeSample":{"productId":214470,"stockMessage":{"productTypeID":56,"quantityMinimum":1.0,"quantityMaximum":4.0,"productTypeQuantityMaximum":null,"quantityIncrement":1.0,"reserveQuantityMaximum":0.0,"unit":"","allowStockCheck":false,"pieceBreakdownMinimum":null,"pieceBreakdownMaximum":null,"allowBackInStockReminder":true,"freeStock":0.0,"nextPOFreeStock":4.0,"nextPODueDate":null,"totalPOFreeStock":4.0,"basketQuantityThresholds":[{"minimum":0,"maximum":99999.99,"stockMessages":[{"stockMessage":" more due in (1-2 weeks)","class":"","stockBreakdownTab":1}]}]},"orderButtonText":"Request a Large Sample","displayPrice":null,"displaySalePrice":null,"priceMessage":null}}},"Product":{"productId":214468,"sortOrder":0,"productTypeId":15,"templateId":2,"code":"FEH0006/04","brand":"English Heritage","gtin13":null,"name":"Suffolk Garden - Birch","AKA":null,"size":null,"imageId":146982,"imageAltText":"Suffolk Garden - Birch Cutting","imageTitleText":"Suffolk Garden - Birch Cutting","rRPMessage":null,"rLRRP":null,"rLTradePrice":null,"displayPrice":null,"displaySalePrice":null,"priceMessage":null,"statusMessage":null,"urlSemantics":"fabric/english-heritage/suffolk-garden-birch-fabric","productPageId":39119,"url":"/us/fabric/english-heritage/suffolk-garden-birch-fabric/p39119","itemAvailability":"InStock","orderFormGroupId":null,"orderFormName":"Suffolk Garden - Birch","attributes":null,"orderFormGroup":null,"orderFormProperties":[{"key":"Name","value":"Suffolk Garden - Birch"},{"key":"Colour","value":"Birch"},{"key":"Code","value":"FEH0006/04"}],"controls":{"allowOrder":false,"allowReserve":false,"allowReserveWithBatchSample":false,"allowSample":false,"allowLargeSample":false,"allowBackInStockReminder":false,"disableOrder":false,"disableSample":false},"stockMessage":{"productTypeID":15,"quantityMinimum":1.0,"quantityMaximum":0.0,"productTypeQuantityMaximum":null,"quantityIncrement":0.1,"reserveQuantityMaximum":50.0,"unit":"m","allowStockCheck":false,"pieceBreakdownMinimum":1.0,"pieceBreakdownMaximum":50.0,"allowBackInStockReminder":false,"freeStock":103.2,"nextPOFreeStock":0.0,"nextPODueDate":null,"totalPOFreeStock":0.0,"basketQuantityThresholds":[{"minimum":0,"maximum":99999.99}]},"orderButtonText":"Add to Basket","reserveButtonText":"Reserve","reserveWithBatchSampleButtonText":"Reserve with Batch Sample","sample":{"productId":214469,"stockMessage":{"productTypeID":55,"quantityMinimum":1.0,"quantityMaximum":2.0,"productTypeQuantityMaximum":20.0,"quantityIncrement":1.0,"reserveQuantityMaximum":28.0,"unit":"","allowStockCheck":false,"pieceBreakdownMinimum":null,"pieceBreakdownMaximum":null,"allowBackInStockReminder":false,"freeStock":28.0,"nextPOFreeStock":99.0,"nextPODueDate":"2022-10-11","totalPOFreeStock":99.0,"basketQuantityThresholds":[{"minimum":0,"maximum":99999.99,"stockMessages":[{"stockMessage":"In stock","class":"","stockBreakdownTab":0}]}]},"orderButtonText":"Request a Sample","displayPrice":null,"displaySalePrice":null,"priceMessage":null},"largeSample":{"productId":214470,"stockMessage":{"productTypeID":56,"quantityMinimum":1.0,"quantityMaximum":4.0,"productTypeQuantityMaximum":null,"quantityIncrement":1.0,"reserveQuantityMaximum":0.0,"unit":"","allowStockCheck":false,"pieceBreakdownMinimum":null,"pieceBreakdownMaximum":null,"allowBackInStockReminder":true,"freeStock":0.0,"nextPOFreeStock":4.0,"nextPODueDate":null,"totalPOFreeStock":4.0,"basketQuantityThresholds":[{"minimum":0,"maximum":99999.99,"stockMessages":[{"stockMessage":" more due in (1-2 weeks)","class":"","stockBreakdownTab":1}]}]},"orderButtonText":"Request a Large Sample","displayPrice":null,"displaySalePrice":null,"priceMessage":null}},"Carousel":{"CarouselID":"#product-214468-carsouel","WrapperCSSClass":null,"AspectRatio":1.0,"Heading":"Suffolk Garden - Birch","Images":[{"ImageID":146982,"SortOrder":0,"AltText":"Suffolk Garden - Birch Cutting","Overlay":null,"MaxWidth":null,"ApproximateImageSize":5}],"ApproximateImageSize":2,"DisplayThumbnails":false,"DisplayDashes":true,"Interval":null},"ProductID":214468,"ProductTypeID":15,"ProductPageID":39119,"ProductCode":"FEH0006/04","Brand":"English Heritage","OrderFormID":"#product-214468","OrderFormCarouselID":"#product-214468-slide","OrderFormGroupID":null,"OrderFormGroup":null,"Size":null,"OrderFormName":"Suffolk Garden - Birch","BasketName":"Suffolk Garden - Birch","SortOrder":0,"Attributes":null,"Image":{"imageId":146982,"templateImageId":2,"altText":"Suffolk Garden - Birch Cutting","titleText":"Suffolk Garden - Birch Cutting","sortOrder":0,"maxWidth":488},"OrderFormProperties":[{"Key":"Name","Value":"Suffolk Garden - Birch"},{"Key":"Colour","Value":"Birch"},{"Key":"Code","Value":"FEH0006/04"}],"AllowSample":false,"AllowLargeSample":false,"AllowOrder":false,"AllowReserve":false,"AllowReserveWithBatchCutting":false,"ClientProductViewModels":"","URLKeywords":"fabric/english-heritage/suffolk-garden-birch-fabric","ImageLinkToProductPage":true,"IsLifestyle":false}}]},{"ImageID":148053,"Hotspots":[{"X":11.388501253995,"x":"calc(11.3885% - 12.5px)","Y":56.4532231515556,"y":"calc(56.4532% - 12.5px)","OverlayPosition":"top-left","Product":{"Solitary":false,"ProductBase":{"x":11.388501253995029,"y":56.453223151555569,"product":{"productId":215999,"sortOrder":0,"productTypeId":4,"templateId":3,"code":"CCEH0004","brand":"English Heritage","gtin13":"5051001613626","name":"Suffolk Garden Birch Cushion ","AKA":null,"size":"16 x 16in","imageId":148175,"imageAltText":"Suffolk Garden Birch Cushion ","imageTitleText":"Suffolk Garden Birch Cushion ","rRPMessage":"RRP: $155 inc.VAT","rLRRP":"$155","rLTradePrice":"$155","displayPrice":155.0,"displaySalePrice":null,"priceMessage":"$155","statusMessage":null,"urlSemantics":"suffolk-garden-birch-cushion","productPageId":39209,"url":"/us/suffolk-garden-birch-cushion/p39209","itemAvailability":"InStock","orderFormGroupId":null,"orderFormName":"Suffolk Garden Birch Cushion ","attributes":null,"orderFormGroup":null,"orderFormProperties":[{"key":"Size","value":"16 x 16in"},{"key":"Colour","value":"Birch"},{"key":"Code","value":"CCEH0004"}],"controls":{"allowOrder":true,"allowReserve":false,"allowReserveWithBatchSample":false,"allowSample":false,"allowLargeSample":false,"allowBackInStockReminder":false,"disableOrder":false,"disableSample":false},"stockMessage":{"productTypeID":4,"quantityMinimum":1.0,"quantityMaximum":66.0,"productTypeQuantityMaximum":null,"quantityIncrement":1.0,"reserveQuantityMaximum":50.0,"unit":"","allowStockCheck":false,"pieceBreakdownMinimum":null,"pieceBreakdownMaximum":null,"allowBackInStockReminder":false,"freeStock":66.0,"nextPOFreeStock":0.0,"nextPODueDate":null,"totalPOFreeStock":0.0,"basketQuantityThresholds":[{"minimum":0,"maximum":99999.99,"stockMessages":[{"stockMessage":"In stock","class":"","stockBreakdownTab":0}]}]},"orderButtonText":"Add to Basket","reserveButtonText":"Reserve","reserveWithBatchSampleButtonText":"Reserve with Batch Sample","sample":{"productId":null,"stockMessage":null,"orderButtonText":"Add to Basket","displayPrice":null,"displaySalePrice":null,"priceMessage":null},"largeSample":{"productId":null,"stockMessage":null,"orderButtonText":"Add to Basket","displayPrice":null,"displaySalePrice":null,"priceMessage":null}}},"Product":{"productId":215999,"sortOrder":0,"productTypeId":4,"templateId":3,"code":"CCEH0004","brand":"English Heritage","gtin13":"5051001613626","name":"Suffolk Garden Birch Cushion ","AKA":null,"size":"16 x 16in","imageId":148175,"imageAltText":"Suffolk Garden Birch Cushion ","imageTitleText":"Suffolk Garden Birch Cushion ","rRPMessage":"RRP: $155 inc.VAT","rLRRP":"$155","rLTradePrice":"$155","displayPrice":155.0,"displaySalePrice":null,"priceMessage":"$155","statusMessage":null,"urlSemantics":"suffolk-garden-birch-cushion","productPageId":39209,"url":"/us/suffolk-garden-birch-cushion/p39209","itemAvailability":"InStock","orderFormGroupId":null,"orderFormName":"Suffolk Garden Birch Cushion ","attributes":null,"orderFormGroup":null,"orderFormProperties":[{"key":"Name","value":"Suffolk Garden Birch Cushion "},{"key":"Size","value":"16 x 16in"},{"key":"Colour","value":"Birch"},{"key":"Code","value":"CCEH0004"}],"controls":{"allowOrder":true,"allowReserve":false,"allowReserveWithBatchSample":false,"allowSample":false,"allowLargeSample":false,"allowBackInStockReminder":false,"disableOrder":false,"disableSample":false},"stockMessage":{"productTypeID":4,"quantityMinimum":1.0,"quantityMaximum":66.0,"productTypeQuantityMaximum":null,"quantityIncrement":1.0,"reserveQuantityMaximum":50.0,"unit":"","allowStockCheck":false,"pieceBreakdownMinimum":null,"pieceBreakdownMaximum":null,"allowBackInStockReminder":false,"freeStock":66.0,"nextPOFreeStock":0.0,"nextPODueDate":null,"totalPOFreeStock":0.0,"basketQuantityThresholds":[{"minimum":0,"maximum":99999.99,"stockMessages":[{"stockMessage":"In stock","class":"","stockBreakdownTab":0}]}]},"orderButtonText":"Add to Basket","reserveButtonText":"Reserve","reserveWithBatchSampleButtonText":"Reserve with Batch Sample","sample":{"productId":null,"stockMessage":null,"orderButtonText":"Add to Basket","displayPrice":null,"displaySalePrice":null,"priceMessage":null},"largeSample":{"productId":null,"stockMessage":null,"orderButtonText":"Add to Basket","displayPrice":null,"displaySalePrice":null,"priceMessage":null}},"Carousel":{"CarouselID":"#product-215999-carsouel","WrapperCSSClass":null,"AspectRatio":1.0,"Heading":"Suffolk Garden Birch Cushion ","Images":[{"ImageID":148175,"SortOrder":0,"AltText":"Suffolk Garden Birch Cushion ","Overlay":null,"MaxWidth":null,"ApproximateImageSize":5}],"ApproximateImageSize":2,"DisplayThumbnails":false,"DisplayDashes":true,"Interval":null},"ProductID":215999,"ProductTypeID":4,"ProductPageID":39209,"ProductCode":"CCEH0004","Brand":"English Heritage","OrderFormID":"#product-215999","OrderFormCarouselID":"#product-215999-slide","OrderFormGroupID":null,"OrderFormGroup":null,"Size":"16 x 16in","OrderFormName":"Suffolk Garden Birch Cushion ","BasketName":"Suffolk Garden Birch Cushion ","SortOrder":0,"Attributes":null,"Image":{"imageId":148175,"templateImageId":2,"altText":"Suffolk Garden Birch Cushion ","titleText":"Suffolk Garden Birch Cushion ","sortOrder":0,"maxWidth":488},"OrderFormProperties":[{"Key":"Name","Value":"Suffolk Garden Birch Cushion "},{"Key":"Size","Value":"16 x 16in"},{"Key":"Colour","Value":"Birch"},{"Key":"Code","Value":"CCEH0004"}],"AllowSample":false,"AllowLargeSample":false,"AllowOrder":true,"AllowReserve":false,"AllowReserveWithBatchCutting":false,"ClientProductViewModels":"productViewModel(215999, 1)","URLKeywords":"suffolk-garden-birch-cushion","ImageLinkToProductPage":true,"IsLifestyle":false}},{"X":13.6157700509736,"x":"calc(13.6158% - 12.5px)","Y":64.730085400063,"y":"calc(64.7301% - 12.5px)","OverlayPosition":"top-left","Product":{"Solitary":false,"ProductBase":{"x":13.6157700509736,"y":64.730085400062976,"product":{"productId":215990,"sortOrder":0,"productTypeId":4,"templateId":3,"code":"CCDG1308","brand":"Designers Guild","gtin13":"5051001603993","name":"Brera Lino Brick & Turmeric Cushion","AKA":null,"size":"17 x 17in","imageId":147197,"imageAltText":"Brera Lino Brick & Turmeric Cushion","imageTitleText":"Brera Lino Brick & Turmeric Cushion","rRPMessage":"RRP: $145 inc.VAT","rLRRP":"$145","rLTradePrice":"$145","displayPrice":145.0,"displaySalePrice":null,"priceMessage":"$145","statusMessage":null,"urlSemantics":"brera-lino-brick-turmeric-linen-cushion","productPageId":39197,"url":"/us/brera-lino-brick-turmeric-linen-cushion/p39197","itemAvailability":"InStock","orderFormGroupId":null,"orderFormName":"Brera Lino Brick & Turmeric Cushion","attributes":null,"orderFormGroup":null,"orderFormProperties":[{"key":"Size","value":"17 x 17in"},{"key":"Colour","value":"Brick & Turmeric"},{"key":"Code","value":"CCDG1308"}],"controls":{"allowOrder":true,"allowReserve":false,"allowReserveWithBatchSample":false,"allowSample":false,"allowLargeSample":false,"allowBackInStockReminder":false,"disableOrder":false,"disableSample":false},"stockMessage":{"productTypeID":4,"quantityMinimum":1.0,"quantityMaximum":44.0,"productTypeQuantityMaximum":null,"quantityIncrement":1.0,"reserveQuantityMaximum":44.0,"unit":"","allowStockCheck":false,"pieceBreakdownMinimum":null,"pieceBreakdownMaximum":null,"allowBackInStockReminder":false,"freeStock":44.0,"nextPOFreeStock":0.0,"nextPODueDate":null,"totalPOFreeStock":0.0,"basketQuantityThresholds":[{"minimum":0,"maximum":99999.99,"stockMessages":[{"stockMessage":"In stock","class":"","stockBreakdownTab":0}]}]},"orderButtonText":"Add to Basket","reserveButtonText":"Reserve","reserveWithBatchSampleButtonText":"Reserve with Batch Sample","sample":{"productId":null,"stockMessage":null,"orderButtonText":"Add to Basket","displayPrice":null,"displaySalePrice":null,"priceMessage":null},"largeSample":{"productId":null,"stockMessage":null,"orderButtonText":"Add to Basket","displayPrice":null,"displaySalePrice":null,"priceMessage":null}}},"Product":{"productId":215990,"sortOrder":0,"productTypeId":4,"templateId":3,"code":"CCDG1308","brand":"Designers Guild","gtin13":"5051001603993","name":"Brera Lino Brick & Turmeric Cushion","AKA":null,"size":"17 x 17in","imageId":147197,"imageAltText":"Brera Lino Brick & Turmeric Cushion","imageTitleText":"Brera Lino Brick & Turmeric Cushion","rRPMessage":"RRP: $145 inc.VAT","rLRRP":"$145","rLTradePrice":"$145","displayPrice":145.0,"displaySalePrice":null,"priceMessage":"$145","statusMessage":null,"urlSemantics":"brera-lino-brick-turmeric-linen-cushion","productPageId":39197,"url":"/us/brera-lino-brick-turmeric-linen-cushion/p39197","itemAvailability":"InStock","orderFormGroupId":null,"orderFormName":"Brera Lino Brick & Turmeric Cushion","attributes":null,"orderFormGroup":null,"orderFormProperties":[{"key":"Name","value":"Brera Lino Brick & Turmeric Cushion"},{"key":"Size","value":"17 x 17in"},{"key":"Colour","value":"Brick & Turmeric"},{"key":"Code","value":"CCDG1308"}],"controls":{"allowOrder":true,"allowReserve":false,"allowReserveWithBatchSample":false,"allowSample":false,"allowLargeSample":false,"allowBackInStockReminder":false,"disableOrder":false,"disableSample":false},"stockMessage":{"productTypeID":4,"quantityMinimum":1.0,"quantityMaximum":44.0,"productTypeQuantityMaximum":null,"quantityIncrement":1.0,"reserveQuantityMaximum":44.0,"unit":"","allowStockCheck":false,"pieceBreakdownMinimum":null,"pieceBreakdownMaximum":null,"allowBackInStockReminder":false,"freeStock":44.0,"nextPOFreeStock":0.0,"nextPODueDate":null,"totalPOFreeStock":0.0,"basketQuantityThresholds":[{"minimum":0,"maximum":99999.99,"stockMessages":[{"stockMessage":"In stock","class":"","stockBreakdownTab":0}]}]},"orderButtonText":"Add to Basket","reserveButtonText":"Reserve","reserveWithBatchSampleButtonText":"Reserve with Batch Sample","sample":{"productId":null,"stockMessage":null,"orderButtonText":"Add to Basket","displayPrice":null,"displaySalePrice":null,"priceMessage":null},"largeSample":{"productId":null,"stockMessage":null,"orderButtonText":"Add to Basket","displayPrice":null,"displaySalePrice":null,"priceMessage":null}},"Carousel":{"CarouselID":"#product-215990-carsouel","WrapperCSSClass":null,"AspectRatio":1.0,"Heading":"Brera Lino Brick & Turmeric Cushion","Images":[{"ImageID":147197,"SortOrder":0,"AltText":"Brera Lino Brick & Turmeric Cushion","Overlay":null,"MaxWidth":null,"ApproximateImageSize":5}],"ApproximateImageSize":2,"DisplayThumbnails":false,"DisplayDashes":true,"Interval":null},"ProductID":215990,"ProductTypeID":4,"ProductPageID":39197,"ProductCode":"CCDG1308","Brand":"Designers Guild","OrderFormID":"#product-215990","OrderFormCarouselID":"#product-215990-slide","OrderFormGroupID":null,"OrderFormGroup":null,"Size":"17 x 17in","OrderFormName":"Brera Lino Brick & Turmeric Cushion","BasketName":"Brera Lino Brick & Turmeric Cushion","SortOrder":0,"Attributes":null,"Image":{"imageId":147197,"templateImageId":2,"altText":"Brera Lino Brick & Turmeric Cushion","titleText":"Brera Lino Brick & Turmeric Cushion","sortOrder":0,"maxWidth":488},"OrderFormProperties":[{"Key":"Name","Value":"Brera Lino Brick & Turmeric Cushion"},{"Key":"Size","Value":"17 x 17in"},{"Key":"Colour","Value":"Brick & Turmeric"},{"Key":"Code","Value":"CCDG1308"}],"AllowSample":false,"AllowLargeSample":false,"AllowOrder":true,"AllowReserve":false,"AllowReserveWithBatchCutting":false,"ClientProductViewModels":"productViewModel(215990, 1)","URLKeywords":"brera-lino-brick-turmeric-linen-cushion","ImageLinkToProductPage":true,"IsLifestyle":false}},{"X":38.3278933438388,"x":"calc(38.3279% - 12.5px)","Y":65.7710084088372,"y":"calc(65.7710% - 12.5px)","OverlayPosition":"top-left","Product":{"Solitary":false,"ProductBase":{"x":38.327893343838781,"y":65.771008408837247,"product":{"productId":216000,"sortOrder":0,"productTypeId":4,"templateId":3,"code":"CCEH0005","brand":"English Heritage","gtin13":"5051001499015","name":"Eagle House Damask Limestone Cushion","AKA":null,"size":"17 x 17in","imageId":148174,"imageAltText":"Eagle House Damask Limestone Cushion","imageTitleText":"Eagle House Damask Limestone Cushion","rRPMessage":"RRP: $155 inc.VAT","rLRRP":"$155","rLTradePrice":"$155","displayPrice":155.0,"displaySalePrice":null,"priceMessage":"$155","statusMessage":null,"urlSemantics":"eagle-house-damask-limestone-cushion","productPageId":39204,"url":"/us/eagle-house-damask-limestone-cushion/p39204","itemAvailability":"InStock","orderFormGroupId":null,"orderFormName":"Eagle House Damask Limestone Cushion","attributes":null,"orderFormGroup":null,"orderFormProperties":[{"key":"Size","value":"17 x 17in"},{"key":"Colour","value":"Limestone"},{"key":"Code","value":"CCEH0005"}],"controls":{"allowOrder":true,"allowReserve":false,"allowReserveWithBatchSample":false,"allowSample":false,"allowLargeSample":false,"allowBackInStockReminder":false,"disableOrder":false,"disableSample":false},"stockMessage":{"productTypeID":4,"quantityMinimum":1.0,"quantityMaximum":64.0,"productTypeQuantityMaximum":null,"quantityIncrement":1.0,"reserveQuantityMaximum":50.0,"unit":"","allowStockCheck":false,"pieceBreakdownMinimum":null,"pieceBreakdownMaximum":null,"allowBackInStockReminder":false,"freeStock":64.0,"nextPOFreeStock":0.0,"nextPODueDate":null,"totalPOFreeStock":0.0,"basketQuantityThresholds":[{"minimum":0,"maximum":99999.99,"stockMessages":[{"stockMessage":"In stock","class":"","stockBreakdownTab":0}]}]},"orderButtonText":"Add to Basket","reserveButtonText":"Reserve","reserveWithBatchSampleButtonText":"Reserve with Batch Sample","sample":{"productId":null,"stockMessage":null,"orderButtonText":"Add to Basket","displayPrice":null,"displaySalePrice":null,"priceMessage":null},"largeSample":{"productId":null,"stockMessage":null,"orderButtonText":"Add to Basket","displayPrice":null,"displaySalePrice":null,"priceMessage":null}}},"Product":{"productId":216000,"sortOrder":0,"productTypeId":4,"templateId":3,"code":"CCEH0005","brand":"English Heritage","gtin13":"5051001499015","name":"Eagle House Damask Limestone Cushion","AKA":null,"size":"17 x 17in","imageId":148174,"imageAltText":"Eagle House Damask Limestone Cushion","imageTitleText":"Eagle House Damask Limestone Cushion","rRPMessage":"RRP: $155 inc.VAT","rLRRP":"$155","rLTradePrice":"$155","displayPrice":155.0,"displaySalePrice":null,"priceMessage":"$155","statusMessage":null,"urlSemantics":"eagle-house-damask-limestone-cushion","productPageId":39204,"url":"/us/eagle-house-damask-limestone-cushion/p39204","itemAvailability":"InStock","orderFormGroupId":null,"orderFormName":"Eagle House Damask Limestone Cushion","attributes":null,"orderFormGroup":null,"orderFormProperties":[{"key":"Name","value":"Eagle House Damask Limestone Cushion"},{"key":"Size","value":"17 x 17in"},{"key":"Colour","value":"Limestone"},{"key":"Code","value":"CCEH0005"}],"controls":{"allowOrder":true,"allowReserve":false,"allowReserveWithBatchSample":false,"allowSample":false,"allowLargeSample":false,"allowBackInStockReminder":false,"disableOrder":false,"disableSample":false},"stockMessage":{"productTypeID":4,"quantityMinimum":1.0,"quantityMaximum":64.0,"productTypeQuantityMaximum":null,"quantityIncrement":1.0,"reserveQuantityMaximum":50.0,"unit":"","allowStockCheck":false,"pieceBreakdownMinimum":null,"pieceBreakdownMaximum":null,"allowBackInStockReminder":false,"freeStock":64.0,"nextPOFreeStock":0.0,"nextPODueDate":null,"totalPOFreeStock":0.0,"basketQuantityThresholds":[{"minimum":0,"maximum":99999.99,"stockMessages":[{"stockMessage":"In stock","class":"","stockBreakdownTab":0}]}]},"orderButtonText":"Add to Basket","reserveButtonText":"Reserve","reserveWithBatchSampleButtonText":"Reserve with Batch Sample","sample":{"productId":null,"stockMessage":null,"orderButtonText":"Add to Basket","displayPrice":null,"displaySalePrice":null,"priceMessage":null},"largeSample":{"productId":null,"stockMessage":null,"orderButtonText":"Add to Basket","displayPrice":null,"displaySalePrice":null,"priceMessage":null}},"Carousel":{"CarouselID":"#product-216000-carsouel","WrapperCSSClass":null,"AspectRatio":1.0,"Heading":"Eagle House Damask Limestone Cushion","Images":[{"ImageID":148174,"SortOrder":0,"AltText":"Eagle House Damask Limestone Cushion","Overlay":null,"MaxWidth":null,"ApproximateImageSize":5}],"ApproximateImageSize":2,"DisplayThumbnails":false,"DisplayDashes":true,"Interval":null},"ProductID":216000,"ProductTypeID":4,"ProductPageID":39204,"ProductCode":"CCEH0005","Brand":"English Heritage","OrderFormID":"#product-216000","OrderFormCarouselID":"#product-216000-slide","OrderFormGroupID":null,"OrderFormGroup":null,"Size":"17 x 17in","OrderFormName":"Eagle House Damask Limestone Cushion","BasketName":"Eagle House Damask Limestone Cushion","SortOrder":0,"Attributes":null,"Image":{"imageId":148174,"templateImageId":2,"altText":"Eagle House Damask Limestone Cushion","titleText":"Eagle House Damask Limestone Cushion","sortOrder":0,"maxWidth":488},"OrderFormProperties":[{"Key":"Name","Value":"Eagle House Damask Limestone Cushion"},{"Key":"Size","Value":"17 x 17in"},{"Key":"Colour","Value":"Limestone"},{"Key":"Code","Value":"CCEH0005"}],"AllowSample":false,"AllowLargeSample":false,"AllowOrder":true,"AllowReserve":false,"AllowReserveWithBatchCutting":false,"ClientProductViewModels":"productViewModel(216000, 1)","URLKeywords":"eagle-house-damask-limestone-cushion","ImageLinkToProductPage":true,"IsLifestyle":false}},{"X":53.1157695885861,"x":"calc(53.1158% - 12.5px)","Y":83.082695161619,"y":"calc(83.0827% - 12.5px)","OverlayPosition":"top-right","Product":{"Solitary":false,"ProductBase":{"x":53.115769588586062,"y":83.082695161618972,"product":{"productId":214471,"sortOrder":0,"productTypeId":15,"templateId":2,"code":"FEH0006/05","brand":"English Heritage","gtin13":null,"name":"Suffolk Garden - Chestnut","AKA":null,"size":null,"imageId":146986,"imageAltText":"Suffolk Garden - Chestnut Cutting","imageTitleText":"Suffolk Garden - Chestnut Cutting","rRPMessage":null,"rLRRP":null,"rLTradePrice":null,"displayPrice":null,"displaySalePrice":null,"priceMessage":null,"statusMessage":null,"urlSemantics":"fabric/english-heritage/suffolk-garden-chestnut-fabric","productPageId":39120,"url":"/us/fabric/english-heritage/suffolk-garden-chestnut-fabric/p39120","itemAvailability":"InStock","orderFormGroupId":null,"orderFormName":"Suffolk Garden - Chestnut","attributes":null,"orderFormGroup":null,"orderFormProperties":[{"key":"Colour","value":"Chestnut"},{"key":"Code","value":"FEH0006/05"}],"controls":{"allowOrder":false,"allowReserve":false,"allowReserveWithBatchSample":false,"allowSample":false,"allowLargeSample":false,"allowBackInStockReminder":false,"disableOrder":false,"disableSample":false},"stockMessage":{"productTypeID":15,"quantityMinimum":1.0,"quantityMaximum":0.0,"productTypeQuantityMaximum":null,"quantityIncrement":0.1,"reserveQuantityMaximum":50.0,"unit":"m","allowStockCheck":false,"pieceBreakdownMinimum":1.0,"pieceBreakdownMaximum":50.0,"allowBackInStockReminder":false,"freeStock":72.12,"nextPOFreeStock":100.0,"nextPODueDate":"2022-09-29","totalPOFreeStock":100.0,"basketQuantityThresholds":[{"minimum":0,"maximum":99999.99}]},"orderButtonText":"Add to Basket","reserveButtonText":"Reserve","reserveWithBatchSampleButtonText":"Reserve with Batch Sample","sample":{"productId":214472,"stockMessage":{"productTypeID":55,"quantityMinimum":1.0,"quantityMaximum":2.0,"productTypeQuantityMaximum":20.0,"quantityIncrement":1.0,"reserveQuantityMaximum":39.0,"unit":"","allowStockCheck":false,"pieceBreakdownMinimum":null,"pieceBreakdownMaximum":null,"allowBackInStockReminder":false,"freeStock":39.0,"nextPOFreeStock":99.0,"nextPODueDate":"2022-10-11","totalPOFreeStock":99.0,"basketQuantityThresholds":[{"minimum":0,"maximum":99999.99,"stockMessages":[{"stockMessage":"In stock","class":"","stockBreakdownTab":0}]}]},"orderButtonText":"Request a Sample","displayPrice":null,"displaySalePrice":null,"priceMessage":null},"largeSample":{"productId":214473,"stockMessage":{"productTypeID":56,"quantityMinimum":1.0,"quantityMaximum":4.0,"productTypeQuantityMaximum":null,"quantityIncrement":1.0,"reserveQuantityMaximum":0.0,"unit":"","allowStockCheck":false,"pieceBreakdownMinimum":null,"pieceBreakdownMaximum":null,"allowBackInStockReminder":true,"freeStock":0.0,"nextPOFreeStock":4.0,"nextPODueDate":null,"totalPOFreeStock":4.0,"basketQuantityThresholds":[{"minimum":0,"maximum":99999.99,"stockMessages":[{"stockMessage":" more due in (1-2 weeks)","class":"","stockBreakdownTab":1}]}]},"orderButtonText":"Request a Large Sample","displayPrice":null,"displaySalePrice":null,"priceMessage":null}}},"Product":{"productId":214471,"sortOrder":0,"productTypeId":15,"templateId":2,"code":"FEH0006/05","brand":"English Heritage","gtin13":null,"name":"Suffolk Garden - Chestnut","AKA":null,"size":null,"imageId":146986,"imageAltText":"Suffolk Garden - Chestnut Cutting","imageTitleText":"Suffolk Garden - Chestnut Cutting","rRPMessage":null,"rLRRP":null,"rLTradePrice":null,"displayPrice":null,"displaySalePrice":null,"priceMessage":null,"statusMessage":null,"urlSemantics":"fabric/english-heritage/suffolk-garden-chestnut-fabric","productPageId":39120,"url":"/us/fabric/english-heritage/suffolk-garden-chestnut-fabric/p39120","itemAvailability":"InStock","orderFormGroupId":null,"orderFormName":"Suffolk Garden - Chestnut","attributes":null,"orderFormGroup":null,"orderFormProperties":[{"key":"Name","value":"Suffolk Garden - Chestnut"},{"key":"Colour","value":"Chestnut"},{"key":"Code","value":"FEH0006/05"}],"controls":{"allowOrder":false,"allowReserve":false,"allowReserveWithBatchSample":false,"allowSample":false,"allowLargeSample":false,"allowBackInStockReminder":false,"disableOrder":false,"disableSample":false},"stockMessage":{"productTypeID":15,"quantityMinimum":1.0,"quantityMaximum":0.0,"productTypeQuantityMaximum":null,"quantityIncrement":0.1,"reserveQuantityMaximum":50.0,"unit":"m","allowStockCheck":false,"pieceBreakdownMinimum":1.0,"pieceBreakdownMaximum":50.0,"allowBackInStockReminder":false,"freeStock":72.12,"nextPOFreeStock":100.0,"nextPODueDate":"2022-09-29","totalPOFreeStock":100.0,"basketQuantityThresholds":[{"minimum":0,"maximum":99999.99}]},"orderButtonText":"Add to Basket","reserveButtonText":"Reserve","reserveWithBatchSampleButtonText":"Reserve with Batch Sample","sample":{"productId":214472,"stockMessage":{"productTypeID":55,"quantityMinimum":1.0,"quantityMaximum":2.0,"productTypeQuantityMaximum":20.0,"quantityIncrement":1.0,"reserveQuantityMaximum":39.0,"unit":"","allowStockCheck":false,"pieceBreakdownMinimum":null,"pieceBreakdownMaximum":null,"allowBackInStockReminder":false,"freeStock":39.0,"nextPOFreeStock":99.0,"nextPODueDate":"2022-10-11","totalPOFreeStock":99.0,"basketQuantityThresholds":[{"minimum":0,"maximum":99999.99,"stockMessages":[{"stockMessage":"In stock","class":"","stockBreakdownTab":0}]}]},"orderButtonText":"Request a Sample","displayPrice":null,"displaySalePrice":null,"priceMessage":null},"largeSample":{"productId":214473,"stockMessage":{"productTypeID":56,"quantityMinimum":1.0,"quantityMaximum":4.0,"productTypeQuantityMaximum":null,"quantityIncrement":1.0,"reserveQuantityMaximum":0.0,"unit":"","allowStockCheck":false,"pieceBreakdownMinimum":null,"pieceBreakdownMaximum":null,"allowBackInStockReminder":true,"freeStock":0.0,"nextPOFreeStock":4.0,"nextPODueDate":null,"totalPOFreeStock":4.0,"basketQuantityThresholds":[{"minimum":0,"maximum":99999.99,"stockMessages":[{"stockMessage":" more due in (1-2 weeks)","class":"","stockBreakdownTab":1}]}]},"orderButtonText":"Request a Large Sample","displayPrice":null,"displaySalePrice":null,"priceMessage":null}},"Carousel":{"CarouselID":"#product-214471-carsouel","WrapperCSSClass":null,"AspectRatio":1.0,"Heading":"Suffolk Garden - Chestnut","Images":[{"ImageID":146986,"SortOrder":0,"AltText":"Suffolk Garden - Chestnut Cutting","Overlay":null,"MaxWidth":null,"ApproximateImageSize":5}],"ApproximateImageSize":2,"DisplayThumbnails":false,"DisplayDashes":true,"Interval":null},"ProductID":214471,"ProductTypeID":15,"ProductPageID":39120,"ProductCode":"FEH0006/05","Brand":"English Heritage","OrderFormID":"#product-214471","OrderFormCarouselID":"#product-214471-slide","OrderFormGroupID":null,"OrderFormGroup":null,"Size":null,"OrderFormName":"Suffolk Garden - Chestnut","BasketName":"Suffolk Garden - Chestnut","SortOrder":0,"Attributes":null,"Image":{"imageId":146986,"templateImageId":2,"altText":"Suffolk Garden - Chestnut Cutting","titleText":"Suffolk Garden - Chestnut Cutting","sortOrder":0,"maxWidth":488},"OrderFormProperties":[{"Key":"Name","Value":"Suffolk Garden - Chestnut"},{"Key":"Colour","Value":"Chestnut"},{"Key":"Code","Value":"FEH0006/05"}],"AllowSample":false,"AllowLargeSample":false,"AllowOrder":false,"AllowReserve":false,"AllowReserveWithBatchCutting":false,"ClientProductViewModels":"","URLKeywords":"fabric/english-heritage/suffolk-garden-chestnut-fabric","ImageLinkToProductPage":true,"IsLifestyle":false}},{"X":54.6006231596976,"x":"calc(54.6006% - 12.5px)","Y":63.9923434384393,"y":"calc(63.9923% - 12.5px)","OverlayPosition":"top-right","Product":{"Solitary":false,"ProductBase":{"x":54.600623159697562,"y":63.9923434384393,"product":{"productId":216201,"sortOrder":0,"productTypeId":4,"templateId":3,"code":"CCDG1367","brand":"Designers Guild","gtin13":"5051001699576","name":"Brera Lino Lime & Moss Cushion","AKA":null,"size":"17 x 17in","imageId":148998,"imageAltText":"Brera Lino Lime & Moss Cushion","imageTitleText":"Brera Lino Lime & Moss Cushion","rRPMessage":"RRP: $145 inc.VAT","rLRRP":"$145","rLTradePrice":"$145","displayPrice":145.0,"displaySalePrice":null,"priceMessage":"$145","statusMessage":null,"urlSemantics":"brera-lino-lime-moss-linen-cushion","productPageId":37851,"url":"/us/brera-lino-lime-moss-linen-cushion/p37851","itemAvailability":"InStock","orderFormGroupId":null,"orderFormName":"Brera Lino Lime & Moss Cushion","attributes":null,"orderFormGroup":null,"orderFormProperties":[{"key":"Size","value":"17 x 17in"},{"key":"Colour","value":"Lime & Moss"},{"key":"Code","value":"CCDG1367"}],"controls":{"allowOrder":true,"allowReserve":false,"allowReserveWithBatchSample":false,"allowSample":false,"allowLargeSample":false,"allowBackInStockReminder":false,"disableOrder":false,"disableSample":false},"stockMessage":{"productTypeID":4,"quantityMinimum":1.0,"quantityMaximum":48.0,"productTypeQuantityMaximum":null,"quantityIncrement":1.0,"reserveQuantityMaximum":18.0,"unit":"","allowStockCheck":false,"pieceBreakdownMinimum":null,"pieceBreakdownMaximum":null,"allowBackInStockReminder":false,"freeStock":18.0,"nextPOFreeStock":30.0,"nextPODueDate":"2022-10-31","totalPOFreeStock":30.0,"basketQuantityThresholds":[{"minimum":0,"maximum":99999.99,"stockMessages":[{"stockMessage":"In stock","class":"","stockBreakdownTab":0}]}]},"orderButtonText":"Add to Basket","reserveButtonText":"Reserve","reserveWithBatchSampleButtonText":"Reserve with Batch Sample","sample":{"productId":null,"stockMessage":null,"orderButtonText":"Add to Basket","displayPrice":null,"displaySalePrice":null,"priceMessage":null},"largeSample":{"productId":null,"stockMessage":null,"orderButtonText":"Add to Basket","displayPrice":null,"displaySalePrice":null,"priceMessage":null}}},"Product":{"productId":216201,"sortOrder":0,"productTypeId":4,"templateId":3,"code":"CCDG1367","brand":"Designers Guild","gtin13":"5051001699576","name":"Brera Lino Lime & Moss Cushion","AKA":null,"size":"17 x 17in","imageId":148998,"imageAltText":"Brera Lino Lime & Moss Cushion","imageTitleText":"Brera Lino Lime & Moss Cushion","rRPMessage":"RRP: $145 inc.VAT","rLRRP":"$145","rLTradePrice":"$145","displayPrice":145.0,"displaySalePrice":null,"priceMessage":"$145","statusMessage":null,"urlSemantics":"brera-lino-lime-moss-linen-cushion","productPageId":37851,"url":"/us/brera-lino-lime-moss-linen-cushion/p37851","itemAvailability":"InStock","orderFormGroupId":null,"orderFormName":"Brera Lino Lime & Moss Cushion","attributes":null,"orderFormGroup":null,"orderFormProperties":[{"key":"Name","value":"Brera Lino Lime & Moss Cushion"},{"key":"Size","value":"17 x 17in"},{"key":"Colour","value":"Lime & Moss"},{"key":"Code","value":"CCDG1367"}],"controls":{"allowOrder":true,"allowReserve":false,"allowReserveWithBatchSample":false,"allowSample":false,"allowLargeSample":false,"allowBackInStockReminder":false,"disableOrder":false,"disableSample":false},"stockMessage":{"productTypeID":4,"quantityMinimum":1.0,"quantityMaximum":48.0,"productTypeQuantityMaximum":null,"quantityIncrement":1.0,"reserveQuantityMaximum":18.0,"unit":"","allowStockCheck":false,"pieceBreakdownMinimum":null,"pieceBreakdownMaximum":null,"allowBackInStockReminder":false,"freeStock":18.0,"nextPOFreeStock":30.0,"nextPODueDate":"2022-10-31","totalPOFreeStock":30.0,"basketQuantityThresholds":[{"minimum":0,"maximum":99999.99,"stockMessages":[{"stockMessage":"In stock","class":"","stockBreakdownTab":0}]}]},"orderButtonText":"Add to Basket","reserveButtonText":"Reserve","reserveWithBatchSampleButtonText":"Reserve with Batch Sample","sample":{"productId":null,"stockMessage":null,"orderButtonText":"Add to Basket","displayPrice":null,"displaySalePrice":null,"priceMessage":null},"largeSample":{"productId":null,"stockMessage":null,"orderButtonText":"Add to Basket","displayPrice":null,"displaySalePrice":null,"priceMessage":null}},"Carousel":{"CarouselID":"#product-216201-carsouel","WrapperCSSClass":null,"AspectRatio":1.0,"Heading":"Brera Lino Lime & Moss Cushion","Images":[{"ImageID":148998,"SortOrder":0,"AltText":"Brera Lino Lime & Moss Cushion","Overlay":null,"MaxWidth":null,"ApproximateImageSize":5}],"ApproximateImageSize":2,"DisplayThumbnails":false,"DisplayDashes":true,"Interval":null},"ProductID":216201,"ProductTypeID":4,"ProductPageID":37851,"ProductCode":"CCDG1367","Brand":"Designers Guild","OrderFormID":"#product-216201","OrderFormCarouselID":"#product-216201-slide","OrderFormGroupID":null,"OrderFormGroup":null,"Size":"17 x 17in","OrderFormName":"Brera Lino Lime & Moss Cushion","BasketName":"Brera Lino Lime & Moss Cushion","SortOrder":0,"Attributes":null,"Image":{"imageId":148998,"templateImageId":2,"altText":"Brera Lino Lime & Moss Cushion","titleText":"Brera Lino Lime & Moss Cushion","sortOrder":0,"maxWidth":488},"OrderFormProperties":[{"Key":"Name","Value":"Brera Lino Lime & Moss Cushion"},{"Key":"Size","Value":"17 x 17in"},{"Key":"Colour","Value":"Lime & Moss"},{"Key":"Code","Value":"CCDG1367"}],"AllowSample":false,"AllowLargeSample":false,"AllowOrder":true,"AllowReserve":false,"AllowReserveWithBatchCutting":false,"ClientProductViewModels":"productViewModel(216201, 1)","URLKeywords":"brera-lino-lime-moss-linen-cushion","ImageLinkToProductPage":true,"IsLifestyle":false}},{"X":77.0854660958955,"x":"calc(77.0855% - 12.5px)","Y":46.5391801643101,"y":"calc(46.5392% - 12.5px)","OverlayPosition":"top-right","Product":{"Solitary":false,"ProductBase":{"x":77.085466095895484,"y":46.539180164310068,"product":{"productId":214468,"sortOrder":0,"productTypeId":15,"templateId":2,"code":"FEH0006/04","brand":"English Heritage","gtin13":null,"name":"Suffolk Garden - Birch","AKA":null,"size":null,"imageId":146982,"imageAltText":"Suffolk Garden - Birch Cutting","imageTitleText":"Suffolk Garden - Birch Cutting","rRPMessage":null,"rLRRP":null,"rLTradePrice":null,"displayPrice":null,"displaySalePrice":null,"priceMessage":null,"statusMessage":null,"urlSemantics":"fabric/english-heritage/suffolk-garden-birch-fabric","productPageId":39119,"url":"/us/fabric/english-heritage/suffolk-garden-birch-fabric/p39119","itemAvailability":"InStock","orderFormGroupId":null,"orderFormName":"Suffolk Garden - Birch","attributes":null,"orderFormGroup":null,"orderFormProperties":[{"key":"Colour","value":"Birch"},{"key":"Code","value":"FEH0006/04"}],"controls":{"allowOrder":false,"allowReserve":false,"allowReserveWithBatchSample":false,"allowSample":false,"allowLargeSample":false,"allowBackInStockReminder":false,"disableOrder":false,"disableSample":false},"stockMessage":{"productTypeID":15,"quantityMinimum":1.0,"quantityMaximum":0.0,"productTypeQuantityMaximum":null,"quantityIncrement":0.1,"reserveQuantityMaximum":50.0,"unit":"m","allowStockCheck":false,"pieceBreakdownMinimum":1.0,"pieceBreakdownMaximum":50.0,"allowBackInStockReminder":false,"freeStock":103.2,"nextPOFreeStock":0.0,"nextPODueDate":null,"totalPOFreeStock":0.0,"basketQuantityThresholds":[{"minimum":0,"maximum":99999.99}]},"orderButtonText":"Add to Basket","reserveButtonText":"Reserve","reserveWithBatchSampleButtonText":"Reserve with Batch Sample","sample":{"productId":214469,"stockMessage":{"productTypeID":55,"quantityMinimum":1.0,"quantityMaximum":2.0,"productTypeQuantityMaximum":20.0,"quantityIncrement":1.0,"reserveQuantityMaximum":28.0,"unit":"","allowStockCheck":false,"pieceBreakdownMinimum":null,"pieceBreakdownMaximum":null,"allowBackInStockReminder":false,"freeStock":28.0,"nextPOFreeStock":99.0,"nextPODueDate":"2022-10-11","totalPOFreeStock":99.0,"basketQuantityThresholds":[{"minimum":0,"maximum":99999.99,"stockMessages":[{"stockMessage":"In stock","class":"","stockBreakdownTab":0}]}]},"orderButtonText":"Request a Sample","displayPrice":null,"displaySalePrice":null,"priceMessage":null},"largeSample":{"productId":214470,"stockMessage":{"productTypeID":56,"quantityMinimum":1.0,"quantityMaximum":4.0,"productTypeQuantityMaximum":null,"quantityIncrement":1.0,"reserveQuantityMaximum":0.0,"unit":"","allowStockCheck":false,"pieceBreakdownMinimum":null,"pieceBreakdownMaximum":null,"allowBackInStockReminder":true,"freeStock":0.0,"nextPOFreeStock":4.0,"nextPODueDate":null,"totalPOFreeStock":4.0,"basketQuantityThresholds":[{"minimum":0,"maximum":99999.99,"stockMessages":[{"stockMessage":" more due in (1-2 weeks)","class":"","stockBreakdownTab":1}]}]},"orderButtonText":"Request a Large Sample","displayPrice":null,"displaySalePrice":null,"priceMessage":null}}},"Product":{"productId":214468,"sortOrder":0,"productTypeId":15,"templateId":2,"code":"FEH0006/04","brand":"English Heritage","gtin13":null,"name":"Suffolk Garden - Birch","AKA":null,"size":null,"imageId":146982,"imageAltText":"Suffolk Garden - Birch Cutting","imageTitleText":"Suffolk Garden - Birch Cutting","rRPMessage":null,"rLRRP":null,"rLTradePrice":null,"displayPrice":null,"displaySalePrice":null,"priceMessage":null,"statusMessage":null,"urlSemantics":"fabric/english-heritage/suffolk-garden-birch-fabric","productPageId":39119,"url":"/us/fabric/english-heritage/suffolk-garden-birch-fabric/p39119","itemAvailability":"InStock","orderFormGroupId":null,"orderFormName":"Suffolk Garden - Birch","attributes":null,"orderFormGroup":null,"orderFormProperties":[{"key":"Name","value":"Suffolk Garden - Birch"},{"key":"Colour","value":"Birch"},{"key":"Code","value":"FEH0006/04"}],"controls":{"allowOrder":false,"allowReserve":false,"allowReserveWithBatchSample":false,"allowSample":false,"allowLargeSample":false,"allowBackInStockReminder":false,"disableOrder":false,"disableSample":false},"stockMessage":{"productTypeID":15,"quantityMinimum":1.0,"quantityMaximum":0.0,"productTypeQuantityMaximum":null,"quantityIncrement":0.1,"reserveQuantityMaximum":50.0,"unit":"m","allowStockCheck":false,"pieceBreakdownMinimum":1.0,"pieceBreakdownMaximum":50.0,"allowBackInStockReminder":false,"freeStock":103.2,"nextPOFreeStock":0.0,"nextPODueDate":null,"totalPOFreeStock":0.0,"basketQuantityThresholds":[{"minimum":0,"maximum":99999.99}]},"orderButtonText":"Add to Basket","reserveButtonText":"Reserve","reserveWithBatchSampleButtonText":"Reserve with Batch Sample","sample":{"productId":214469,"stockMessage":{"productTypeID":55,"quantityMinimum":1.0,"quantityMaximum":2.0,"productTypeQuantityMaximum":20.0,"quantityIncrement":1.0,"reserveQuantityMaximum":28.0,"unit":"","allowStockCheck":false,"pieceBreakdownMinimum":null,"pieceBreakdownMaximum":null,"allowBackInStockReminder":false,"freeStock":28.0,"nextPOFreeStock":99.0,"nextPODueDate":"2022-10-11","totalPOFreeStock":99.0,"basketQuantityThresholds":[{"minimum":0,"maximum":99999.99,"stockMessages":[{"stockMessage":"In stock","class":"","stockBreakdownTab":0}]}]},"orderButtonText":"Request a Sample","displayPrice":null,"displaySalePrice":null,"priceMessage":null},"largeSample":{"productId":214470,"stockMessage":{"productTypeID":56,"quantityMinimum":1.0,"quantityMaximum":4.0,"productTypeQuantityMaximum":null,"quantityIncrement":1.0,"reserveQuantityMaximum":0.0,"unit":"","allowStockCheck":false,"pieceBreakdownMinimum":null,"pieceBreakdownMaximum":null,"allowBackInStockReminder":true,"freeStock":0.0,"nextPOFreeStock":4.0,"nextPODueDate":null,"totalPOFreeStock":4.0,"basketQuantityThresholds":[{"minimum":0,"maximum":99999.99,"stockMessages":[{"stockMessage":" more due in (1-2 weeks)","class":"","stockBreakdownTab":1}]}]},"orderButtonText":"Request a Large Sample","displayPrice":null,"displaySalePrice":null,"priceMessage":null}},"Carousel":{"CarouselID":"#product-214468-carsouel","WrapperCSSClass":null,"AspectRatio":1.0,"Heading":"Suffolk Garden - Birch","Images":[{"ImageID":146982,"SortOrder":0,"AltText":"Suffolk Garden - Birch Cutting","Overlay":null,"MaxWidth":null,"ApproximateImageSize":5}],"ApproximateImageSize":2,"DisplayThumbnails":false,"DisplayDashes":true,"Interval":null},"ProductID":214468,"ProductTypeID":15,"ProductPageID":39119,"ProductCode":"FEH0006/04","Brand":"English Heritage","OrderFormID":"#product-214468","OrderFormCarouselID":"#product-214468-slide","OrderFormGroupID":null,"OrderFormGroup":null,"Size":null,"OrderFormName":"Suffolk Garden - Birch","BasketName":"Suffolk Garden - Birch","SortOrder":0,"Attributes":null,"Image":{"imageId":146982,"templateImageId":2,"altText":"Suffolk Garden - Birch Cutting","titleText":"Suffolk Garden - Birch Cutting","sortOrder":0,"maxWidth":488},"OrderFormProperties":[{"Key":"Name","Value":"Suffolk Garden - Birch"},{"Key":"Colour","Value":"Birch"},{"Key":"Code","Value":"FEH0006/04"}],"AllowSample":false,"AllowLargeSample":false,"AllowOrder":false,"AllowReserve":false,"AllowReserveWithBatchCutting":false,"ClientProductViewModels":"","URLKeywords":"fabric/english-heritage/suffolk-garden-birch-fabric","ImageLinkToProductPage":true,"IsLifestyle":false}}]}],"RecentlyViewed":[],"MasterDefinition":{"SiteSectionID":null,"TitleTag":"Suffolk Garden Birch Fabric | English Heritage","MetaDescription":"A wonderfully flowing floral print in a medium scale accentuated with detailed birds and butterflies. Digitally printed onto a softly textured cotton to re","BackInStockReminder":null,"ItemsInBasket":0.0,"UrlBreakdown":{"ContentType":1,"ContentId":39119,"ContentDate":"2022-09-27T00:00:00","SemanticString":"fabric/english-heritage/suffolk-garden-birch-fabric","countryDetails":{"CountryLanguageID":5,"RegionID":2,"CountryID":238,"CountryCode":"US","LanguageID":2,"SortOrder":125,"Name":"United States","URL":"us","DotNetCulture":"en-US","ShopEnabled":true,"LanguageCode":"us","LanguageDotNetCulture":"en-US","MertexCurrencyCode":"USD","CurrencyCode":"USD","PriceListID":2,"AllowTradeOrders":false,"AcceptAmazonPay":true,"BuyOnlineRedirectAllowed":false,"EcommerceEnabled":true,"SamplesEnabled":false},"ColonyRedirectUrl":"","ColonyRedirectForceCountryLanguageID":null,"ColonyRedirectPermanent":null,"contentTypeAndIdNotFound":false,"CountryAwareness":{"Match":true,"Culture":null,"objCountryItem":{"CountryLanguageID":0,"RegionID":0,"CountryID":0,"CountryCode":null,"LanguageID":0,"SortOrder":0,"Name":null,"URL":null,"DotNetCulture":null,"ShopEnabled":false,"LanguageCode":null,"LanguageDotNetCulture":null,"MertexCurrencyCode":null,"CurrencyCode":null,"PriceListID":null,"AllowTradeOrders":false,"AcceptAmazonPay":false,"BuyOnlineRedirectAllowed":false,"EcommerceEnabled":false,"SamplesEnabled":false}},"GeoIPCulture":null},"GoogleHrefs":[{"hreflang":"de","href":"https://www.designersguild.com/de/fabric/english-heritage/suffolk-garden-birch-fabric/p39119"},{"hreflang":"fr","href":"https://www.designersguild.com/fr/fabric/english-heritage/suffolk-garden-birch-fabric/p39119"},{"hreflang":"en-gb","href":"https://www.designersguild.com/uk/fabric/english-heritage/suffolk-garden-birch-fabric/p39119"},{"hreflang":"en-se","href":"https://www.designersguild.com/se/fabric/english-heritage/suffolk-garden-birch-fabric/p39119"},{"hreflang":"en-us","href":"https://www.designersguild.com/us/fabric/english-heritage/suffolk-garden-birch-fabric/p39119"},{"hreflang":"es","href":"https://www.designersguild.com/es/fabric/english-heritage/suffolk-garden-birch-fabric/p39119"},{"hreflang":"it-it","href":"https://www.designersguild.com/it/fabric/english-heritage/suffolk-garden-birch-fabric/p39119"},{"hreflang":"en-nl","href":"https://www.designersguild.com/nl/fabric/english-heritage/suffolk-garden-birch-fabric/p39119"},{"hreflang":"ru","href":"https://www.designersguild.com/ru/fabric/english-heritage/suffolk-garden-birch-fabric/p39119"},{"hreflang":"ja-jp","href":"https://www.designersguild.com/jp/fabric/english-heritage/suffolk-garden-birch-fabric/p39119"},{"hreflang":"en-be","href":"https://www.designersguild.com/be/fabric/english-heritage/suffolk-garden-birch-fabric/p39119"},{"hreflang":"en-au","href":"https://www.designersguild.com/au/fabric/english-heritage/suffolk-garden-birch-fabric/p39119"},{"hreflang":"en-dk","href":"https://www.designersguild.com/dk/fabric/english-heritage/suffolk-garden-birch-fabric/p39119"},{"hreflang":"en-gr","href":"https://www.designersguild.com/eu/fabric/english-heritage/suffolk-garden-birch-fabric/p39119"},{"hreflang":"en-no","href":"https://www.designersguild.com/no/fabric/english-heritage/suffolk-garden-birch-fabric/p39119"},{"hreflang":"de-at","href":"https://www.designersguild.com/at/fabric/english-heritage/suffolk-garden-birch-fabric/p39119"},{"hreflang":"de-ch","href":"https://www.designersguild.com/de-ch/fabric/english-heritage/suffolk-garden-birch-fabric/p39119"},{"hreflang":"fr-ch","href":"https://www.designersguild.com/fr-ch/fabric/english-heritage/suffolk-garden-birch-fabric/p39119"},{"hreflang":"en","href":"https://www.designersguild.com/row/fabric/english-heritage/suffolk-garden-birch-fabric/p39119"},{"hreflang":"en-nz","href":"https://www.designersguild.com/nz/fabric/english-heritage/suffolk-garden-birch-fabric/p39119"},{"hreflang":"en-ie","href":"https://www.designersguild.com/ie/fabric/english-heritage/suffolk-garden-birch-fabric/p39119"},{"hreflang":"fi-fi","href":"https://www.designersguild.com/fi/fabric/english-heritage/suffolk-garden-birch-fabric/p39119"},{"hreflang":"x-default","href":"https://www.designersguild.com/fabric/english-heritage/suffolk-garden-birch-fabric/p39119"}],"CountryDropDown":{"countryDropDownItems":[{"CountryID":81,"Code":null,"LanguageID":1,"RegionID":3,"LanguageCode":"en","Country":"UK","Region":"Europe","URL":"uk","URLKeywords":"","SortOrder":1,"PageID":0},{"CountryID":15,"Code":null,"LanguageID":4,"RegionID":3,"LanguageCode":"de","Country":"Austria","Region":"Europe","URL":"at","URLKeywords":"","SortOrder":11,"PageID":0},{"CountryID":23,"Code":null,"LanguageID":1,"RegionID":3,"LanguageCode":"en","Country":"Belgium","Region":"Europe","URL":"be","URLKeywords":"","SortOrder":12,"PageID":0},{"CountryID":62,"Code":null,"LanguageID":1,"RegionID":3,"LanguageCode":"en","Country":"Denmark","Region":"Europe","URL":"dk","URLKeywords":"","SortOrder":13,"PageID":0},{"CountryID":74,"Code":null,"LanguageID":15,"RegionID":3,"LanguageCode":"fi","Country":"Finland","Region":"Europe","URL":"fi","URLKeywords":"","SortOrder":15,"PageID":0},{"CountryID":79,"Code":null,"LanguageID":3,"RegionID":3,"LanguageCode":"fr","Country":"France","Region":"Europe","URL":"fr","URLKeywords":"bienvenue-chez-designers-guild","SortOrder":16,"PageID":0},{"CountryID":60,"Code":null,"LanguageID":4,"RegionID":3,"LanguageCode":"de","Country":"Germany","Region":"Europe","URL":"de","URLKeywords":"","SortOrder":17,"PageID":0},{"CountryID":106,"Code":null,"LanguageID":1,"RegionID":3,"LanguageCode":"en","Country":"Ireland","Region":"Europe","URL":"ie","URLKeywords":"","SortOrder":18,"PageID":0},{"CountryID":114,"Code":null,"LanguageID":6,"RegionID":3,"LanguageCode":"it","Country":"Italy","Region":"Europe","URL":"it","URLKeywords":"","SortOrder":19,"PageID":0},{"CountryID":170,"Code":null,"LanguageID":13,"RegionID":3,"LanguageCode":"en","Country":"Netherlands","Region":"Europe","URL":"nl","URLKeywords":"","SortOrder":20,"PageID":0},{"CountryID":71,"Code":null,"LanguageID":5,"RegionID":3,"LanguageCode":"es","Country":"Spain","Region":"Europe","URL":"es","URLKeywords":"","SortOrder":23,"PageID":0},{"CountryID":202,"Code":null,"LanguageID":1,"RegionID":3,"LanguageCode":"en","Country":"Sweden","Region":"Europe","URL":"se","URLKeywords":"","SortOrder":24,"PageID":0},{"CountryID":171,"Code":null,"LanguageID":1,"RegionID":3,"LanguageCode":"en","Country":"Norway","Region":"Europe","URL":"no","URLKeywords":"","SortOrder":52,"PageID":0},{"CountryID":118,"Code":null,"LanguageID":11,"RegionID":4,"LanguageCode":"jp","Country":"Nihon","Region":"Africa, Asia & the Middle East","URL":"jp","URLKeywords":"","SortOrder":71,"PageID":0},{"CountryID":46,"Code":null,"LanguageID":3,"RegionID":3,"LanguageCode":"fr","Country":"Switzerland","Region":"Europe","URL":"fr-ch","URLKeywords":"bienvenue-chez-designers-guild","SortOrder":102,"PageID":0},{"CountryID":46,"Code":null,"LanguageID":4,"RegionID":3,"LanguageCode":"de","Country":"Switzerland","Region":"Europe","URL":"de-ch","URLKeywords":"","SortOrder":103,"PageID":0},{"CountryID":196,"Code":null,"LanguageID":10,"RegionID":3,"LanguageCode":"ru","Country":"Russian Federation","Region":"Europe","URL":"ru","URLKeywords":"","SortOrder":109,"PageID":0},{"CountryID":238,"Code":null,"LanguageID":2,"RegionID":2,"LanguageCode":"us","Country":"United States","Region":"North America","URL":"us","URLKeywords":"","SortOrder":125,"PageID":0},{"CountryID":16,"Code":null,"LanguageID":12,"RegionID":6,"LanguageCode":"au","Country":"Australia","Region":"Australasia","URL":"au","URLKeywords":"","SortOrder":150,"PageID":0},{"CountryID":175,"Code":null,"LanguageID":18,"RegionID":6,"LanguageCode":"nz","Country":"New Zealand","Region":"Australasia","URL":"nz","URLKeywords":"","SortOrder":151,"PageID":0},{"CountryID":67,"Code":null,"LanguageID":1,"RegionID":3,"LanguageCode":"en","Country":"Other Countries in Europe","Region":"Europe","URL":"eu","URLKeywords":"","SortOrder":255,"PageID":0},{"CountryID":51,"Code":null,"LanguageID":1,"RegionID":4,"LanguageCode":"en","Country":"Rest of the World","Region":"Africa, Asia & the Middle East","URL":"row","URLKeywords":"","SortOrder":255,"PageID":0}]},"ProductTypeDropDown":{"ProductTypes":[{"ProductTypeID":15,"Name":"Fabric","SortOrder":0,"ProductPageIDs":null,"FormValue":"fabric"},{"ProductTypeID":18,"Name":"Wallpaper","SortOrder":0,"ProductPageIDs":null,"FormValue":"wallpaper"},{"ProductTypeID":10,"Name":"Rug","SortOrder":0,"ProductPageIDs":null,"FormValue":"rug"},{"ProductTypeID":4,"Name":"Throw Pillow","SortOrder":0,"ProductPageIDs":null,"FormValue":"throw+pillow"},{"ProductTypeID":1,"Name":"Bed Linen","SortOrder":0,"ProductPageIDs":null,"FormValue":"bed+linen"},{"ProductTypeID":2,"Name":"Throw","SortOrder":0,"ProductPageIDs":null,"FormValue":"throw"}]},"TradeMember":false,"TradeAllowed":false,"CanViewRRPs":true,"LoginStatus":0,"UserName":null},"Visitor":{"visitorDbId":189691692,"FullName":null,"Email":null,"Culture":null,"VisitorCreatedDT":"0001-01-01T00:00:00","memberId":null,"tradePriceListId":null,"memberTradeAccountNumber":null,"memberTradeAccountID":null,"memberDisplayTradePrice":false,"memberTradeDataSourceJson":null,"tradePermissionAccountAdmin":false,"tradePermissionPlaceOrder":false,"tradePermissionViewAccounts":false,"tradePermissionDownloadPricelistsBrochures":false,"tradePermissionDownloadProductFeeds":false},"DotDigitalBehaviourProfile":{"WebBehaviourTrackingProfileID":"DM-3990244702-01"},"Scrapbook":{"Images":[]},"TradeOrderingAllowed":false,"SearchTerm":null,"ProductType":null,"LanguageID":2,"CountryID":238,"Date":"2022-09-27T00:00:00","ContentType":1,"ContentID":39119,"SiteSectionID":null,"ShowRecentlyViewed":true,"Partial":null}
{"ImageID":146982,"SortOrder":0,"AltText":"suffolk garden - birch","Overlay":null,"MaxWidth":1024,"ApproximateImageSize":5}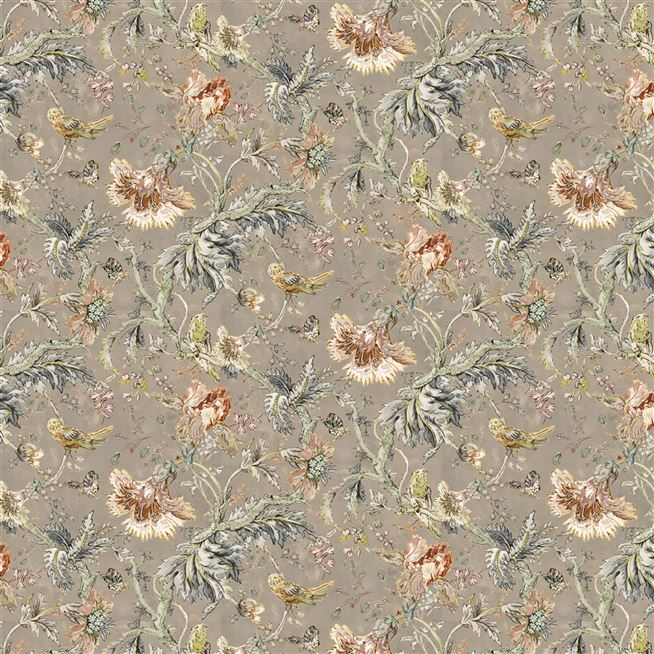 {"ImageID":148053,"SortOrder":1,"AltText":null,"Overlay":null,"MaxWidth":1024,"ApproximateImageSize":5}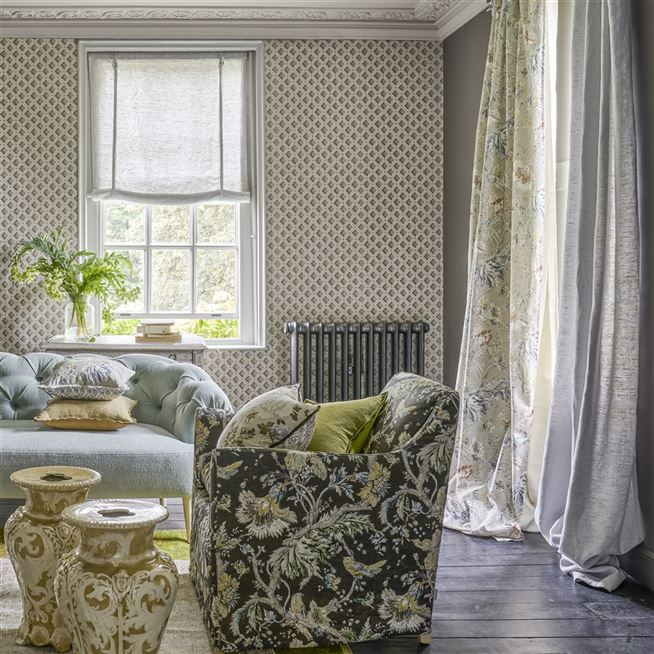 {"ImageID":148045,"SortOrder":2,"AltText":null,"Overlay":null,"MaxWidth":1024,"ApproximateImageSize":5}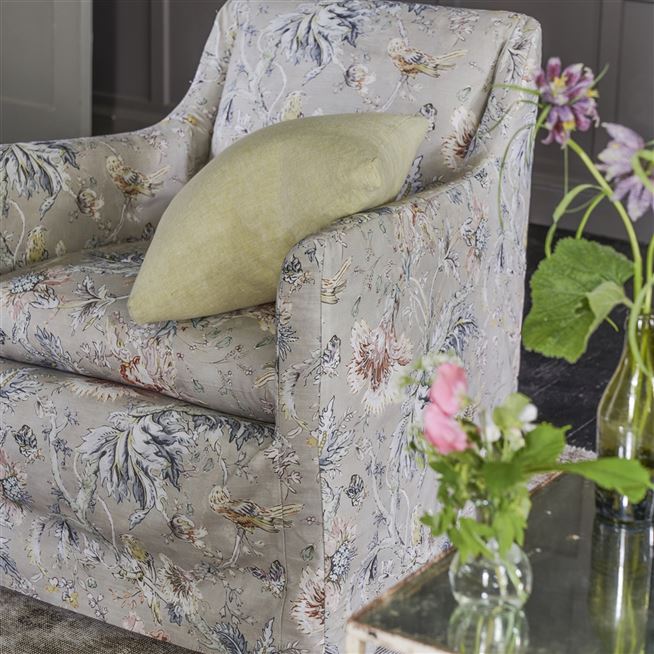 {"ImageID":148051,"SortOrder":3,"AltText":null,"Overlay":null,"MaxWidth":1024,"ApproximateImageSize":5}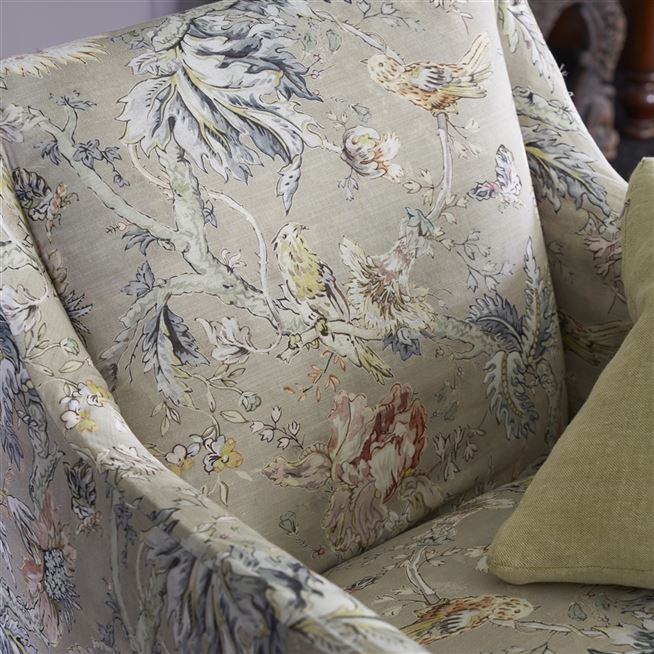 Suffolk Garden Birch
English Heritage
Fabric
---
---
{"imageId":146982,"templateImageId":2,"altText":"Suffolk Garden - Birch Cutting","titleText":"Suffolk Garden - Birch Cutting","sortOrder":0,"maxWidth":488}
"FEH0006/04"

Colour
Birch
Code
FEH0006/04
---
A wonderfully flowing floral print in a medium scale accentuated with detailed birds and butterflies. Digitally printed onto a softly textured cotton to retain all the nuances of the original painting. In five elegant colourways and suitable for all interior applications. The 'Hoho' bird depicted in the original archival fragment derives from the mythical East-Asian version of the Phoenix. Hoho birds first started appearing in England in the 18th Century on Georgian Furniture and chinoiserie. This wallpaper was found in the entrance hall of Crowe Hall in Stutton, Suffolk. The hall was built in around 1605 for a member of the Bowes family but redesigned in a gothic style circa 1824-26 for George Reade by Richard Beales of Lawford Sussex. The design commissioned by Designers Guild is by an artist specialising in traditional chinoiserie style work for interior textiles so as to retain as much of the character of the original fragment as possible.
Collection(s)

Composition

100% Co

UK/EIRE Flamcode

(UK Flamcode B+M) Cigarette Resistant - In UK/Eire Upholstery use FR interliner or FR treat

Width

56 in

Weight

7.4 oz/sq.yd

Martindale

20000

Pattern Match

Half drop

Vertical Pattern Repeat

25.2 in

Horizontal Pattern Repeat

17.91 in

Tests Passed

EN1021-1 Cigarette - UPHOLSTERY

BS5852 Cigarette - UPHOLSTERY

Product Usage

Cushions

Curtains And Blinds

Loose Covers

Upholstery

Product After Care

NO WASH

DRY CLEAN - P process (GENTLE)

IRON COOL (1 spot - 110deg c)

NO TUMBLE DRY

NO BLEACH

Additional Info

Iron on reverse.