{"AllProductsUnavailable":false,"UseSizeButtons":true,"UseOrderFormGrouping":true,"UsePaintOrderForm":false,"TechInfo":{"width":"1 cm","weight":"1 gsm","composition":"100% Co"},"Prices":{"productPages":[{"productPageId":39275,"productPage":{"productPageId":39275,"heading":null,"subheading":null,"shortHeading":null,"new":null,"productTypeId":null,"urlKeywords":null,"url":null,"imageId":null,"imageWidth":null,"imageHeight":null,"aspectRatio":null,"podImages":[{"imageId":160121}],"merchandisedSortOrder":null,"searchSortOrder":null,"colourSort":255,"stockSortOrder":4.0,"azSortOrder":1,"reviewCount":null,"reviewAverage":null,"ratingSortOrder":1,"priceSortOrder":1,"discountSortOrder":1,"salesRank":2147483647,"newSort":1,"designId":18973,"brandId":2,"alternateColourwayIncludeSize":true,"sizeMetric":"60 x 90cm","productPagePrice":{"priceMin":null,"priceMax":null,"salePriceMin":null,"salePriceMax":null,"discountPercentageMin":0.0,"discountPercentageMax":null,"clearanceDiscountPercentageMin":null,"clearanceDiscountPercentageMax":null,"discountMessage":null,"priceMessage":null,"rRPMessage":null,"codeMessage":null}}}]},"Definition":{"productPageId":39275,"productTypeId":0,"languageId":1,"countryId":202,"templateId":6,"titleTag":"Loweswater Antique Jade Organic Bath Mat | Designers Guild","heading":"Loweswater Antique Jade Organic Bath Mat","subHeading":null,"brand":"Designers Guild","isNew":false,"metaDescription":"A new addition to our successful Loweswater organic towel range - this luxurious large size bathmat is woven from superior 850gsm Egyptian cotton, grown wi","urlKeywords":"/se/loweswater-antique-jade-organic-bath-mat/p39275","isRugOrRunner":false,"urlSemantics":"loweswater-antique-jade-organic-bath-mat","googleHrefs":[{"hreflang":"de","href":"https://www.designersguild.com/de/loweswater-antique-jade-organic-bath-mat/p39275"},{"hreflang":"fr","href":"https://www.designersguild.com/fr/loweswater-antique-jade-organic-bath-mat/p39275"},{"hreflang":"en-gb","href":"https://www.designersguild.com/uk/loweswater-antique-jade-organic-bath-mat/p39275"},{"hreflang":"en-se","href":"https://www.designersguild.com/se/loweswater-antique-jade-organic-bath-mat/p39275"},{"hreflang":"en-us","href":"https://www.designersguild.com/us/loweswater-antique-jade-organic-bath-mat/p39275"},{"hreflang":"es","href":"https://www.designersguild.com/es/loweswater-antique-jade-organic-bath-mat/p39275"},{"hreflang":"it-it","href":"https://www.designersguild.com/it/loweswater-antique-jade-organic-bath-mat/p39275"},{"hreflang":"en-nl","href":"https://www.designersguild.com/nl/loweswater-antique-jade-organic-bath-mat/p39275"},{"hreflang":"ru","href":"https://www.designersguild.com/ru/loweswater-antique-jade-organic-bath-mat/p39275"},{"hreflang":"ja-jp","href":"https://www.designersguild.com/jp/loweswater-antique-jade-organic-bath-mat/p39275"},{"hreflang":"en-be","href":"https://www.designersguild.com/be/loweswater-antique-jade-organic-bath-mat/p39275"},{"hreflang":"en-au","href":"https://www.designersguild.com/au/loweswater-antique-jade-organic-bath-mat/p39275"},{"hreflang":"en-dk","href":"https://www.designersguild.com/dk/loweswater-antique-jade-organic-bath-mat/p39275"},{"hreflang":"en-gr","href":"https://www.designersguild.com/eu/loweswater-antique-jade-organic-bath-mat/p39275"},{"hreflang":"en-no","href":"https://www.designersguild.com/no/loweswater-antique-jade-organic-bath-mat/p39275"},{"hreflang":"de-at","href":"https://www.designersguild.com/at/loweswater-antique-jade-organic-bath-mat/p39275"},{"hreflang":"de-ch","href":"https://www.designersguild.com/de-ch/loweswater-antique-jade-organic-bath-mat/p39275"},{"hreflang":"fr-ch","href":"https://www.designersguild.com/fr-ch/loweswater-antique-jade-organic-bath-mat/p39275"},{"hreflang":"en","href":"https://www.designersguild.com/row/loweswater-antique-jade-organic-bath-mat/p39275"},{"hreflang":"en-nz","href":"https://www.designersguild.com/nz/loweswater-antique-jade-organic-bath-mat/p39275"},{"hreflang":"en-ie","href":"https://www.designersguild.com/ie/loweswater-antique-jade-organic-bath-mat/p39275"},{"hreflang":"fi-fi","href":"https://www.designersguild.com/fi/loweswater-antique-jade-organic-bath-mat/p39275"},{"hreflang":"x-default","href":"https://www.designersguild.com/uk/loweswater-antique-jade-organic-bath-mat/p39275"}],"pinterestImageId":160121,"breadcrumb":"<li><a href=\"/se/towels-and-bath-mats/l1054\">TOWELS & BATH MATS </a></li><li><span>Loweswater Antique Jade Organic Bath Mat</span></li>","Images":[{"imageId":160121,"templateImageId":2,"altText":"Loweswater Antique Jade Bath Mat","titleText":"Loweswater Antique Jade Bath Mat","sortOrder":0,"maxWidth":1024},{"imageId":155793,"templateImageId":2,"altText":null,"titleText":null,"sortOrder":1,"maxWidth":1024}],"RelatedSearches":[],"CustomCanonical":"https://www.designersguild.com/se/loweswater-bianco-organic-bath-mat/p39239","PageJSON":"{\"productPageId\":39275,\"productTypeId\":54,\"heading\":\"Loweswater Antique Jade Organic Bath Mat\",\"subHeading\":null,\"shortHeading\":\"Loweswater Antique Jade\",\"category\":\"\",\"brand\":\"Designers Guild\",\"description\":\"A new addition to our successful Loweswater organic towel range - this luxurious large size bathmat is woven from superior 850gsm Egyptian cotton, grown without the use of synthetic additives or pesticides and is not genetically modified. OEKO-TEX« Standard 100 approved for added confidence. Shown here in antique jade.\",\"urlSemantics\":\"loweswater-antique-jade-organic-bath-mat\",\"breadcrumb\":\"<li><a href=\\\"/se/towels-and-bath-mats/l1054\\\">TOWELS & BATH MATS </a></li><li><span>Loweswater Antique Jade Organic Bath Mat</span></li>\",\"url\":\"/se/loweswater-antique-jade-organic-bath-mat/p39275\",\"titleTag\":\"Loweswater Antique Jade Organic Bath Mat | Designers Guild\",\"metaDescription\":\"A new addition to our successful Loweswater organic towel range - this luxurious large size bathmat is woven from superior 850gsm Egyptian cotton, grown wi\",\"reviewAverage\":null,\"reviewCount\":null,\"isNew\":false,\"customCanonical\":\"https://www.designersguild.com/se/loweswater-bianco-organic-bath-mat/p39239\",\"templateId\":6,\"isRugOrRunner\":false,\"delivery\":null,\"returns\":null,\"products\":[{\"productId\":216031,\"code\":\"TOWDG0833\",\"orderFormName\":\"Bath Mat\",\"size\":\"60 x 90cm\",\"brand\":\"Designers Guild\",\"gtin13\":\"5051001689676\",\"images\":[{\"imageId\":160121,\"altText\":\"Loweswater Antique Jade Bath Mat\",\"titleText\":\"Loweswater Antique Jade Bath Mat\",\"templateImageId\":true,\"maxWidth\":1024}]},{\"productId\":199462,\"code\":\"TOWDG0770\",\"orderFormName\":\"Wash Cloth (Set of 2)\",\"orderFormGroup\":\"Co-ordinates with\",\"size\":\"30 x 30cm\",\"brand\":\"Designers Guild\",\"gtin13\":\"5051001516873\",\"images\":[{\"imageId\":135183,\"altText\":\"Loweswater Antique Jade Wash Cloth 30x30cm - Pack of 2\",\"titleText\":\"Loweswater Antique Jade Wash Cloth 30x30cm - Pack of 2\",\"templateImageId\":true,\"maxWidth\":1024}]},{\"productId\":199443,\"code\":\"TOWDG0746\",\"orderFormName\":\"Hand Towel\",\"orderFormGroup\":\"Co-ordinates with\",\"size\":\"50 x 100cm\",\"brand\":\"Designers Guild\",\"gtin13\":\"5051001640950\",\"images\":[{\"imageId\":135190,\"altText\":\"Loweswater Antique Jade Hand Towel\",\"titleText\":\"Loweswater Antique Jade Hand Towel\",\"templateImageId\":true,\"maxWidth\":1024}]},{\"productId\":199444,\"code\":\"TOWDG0747\",\"orderFormName\":\"Bath Towel\",\"orderFormGroup\":\"Co-ordinates with\",\"size\":\"70 x 130cm\",\"brand\":\"Designers Guild\",\"gtin13\":\"5051001001034\",\"images\":[{\"imageId\":135184,\"altText\":\"Loweswater Antique Jade Bath Towel\",\"titleText\":\"Loweswater Antique Jade Bath Towel\",\"templateImageId\":true,\"maxWidth\":1024}]},{\"productId\":199445,\"code\":\"TOWDG0748\",\"orderFormName\":\"Bath Sheet\",\"orderFormGroup\":\"Co-ordinates with\",\"size\":\"100 x 165cm\",\"brand\":\"Designers Guild\",\"gtin13\":\"5051001526339\",\"images\":[{\"imageId\":135188,\"altText\":\"Loweswater Antique Jade Bath Sheet\",\"titleText\":\"Loweswater Antique Jade Bath Sheet\",\"templateImageId\":true,\"maxWidth\":1024}]}],\"images\":[{\"imageId\":160121,\"templateImageId\":2,\"altText\":\"Loweswater Antique Jade Bath Mat\",\"titleText\":\"Loweswater Antique Jade Bath Mat\",\"sortOrder\":0,\"maxWidth\":1024},{\"imageId\":155793,\"templateImageId\":2,\"sortOrder\":1,\"maxWidth\":1024}],\"alternateColourways\":[{\"productPageId\":39239,\"urlSemantics\":\"loweswater-bianco-organic-bath-mat\",\"code\":\"TOWDG0833\",\"url\":\"/se/loweswater-bianco-organic-bath-mat/p39239\",\"heading\":\"Loweswater Bianco Organic Bath Mat\",\"imageId\":148793},{\"productPageId\":39240,\"urlSemantics\":\"loweswater-birch-organic-bath-mat\",\"code\":\"TOWDG0833\",\"url\":\"/se/loweswater-birch-organic-bath-mat/p39240\",\"heading\":\"Loweswater Birch Organic Bath Mat\",\"imageId\":148797},{\"productPageId\":39275,\"urlSemantics\":\"loweswater-antique-jade-organic-bath-mat\",\"code\":\"TOWDG0833\",\"url\":\"/se/loweswater-antique-jade-organic-bath-mat/p39275\",\"heading\":\"Loweswater Antique Jade Organic Bath Mat\",\"imageId\":160121},{\"productPageId\":39267,\"urlSemantics\":\"loweswater-willow-organic-bath-mat\",\"code\":\"TOWDG0833\",\"url\":\"/se/loweswater-willow-organic-bath-mat/p39267\",\"heading\":\"Loweswater Willow Organic Bath Mat\",\"imageId\":152551},{\"productPageId\":40042,\"urlSemantics\":\"loweswater-viridian-organic-bath-mat\",\"code\":\"TOWDG0833\",\"url\":\"/se/loweswater-viridian-organic-bath-mat/p40042\",\"heading\":\"Loweswater Viridian Organic Bath Mat\",\"imageId\":155293},{\"productPageId\":39274,\"urlSemantics\":\"loweswater-delft-organic-bath-mat\",\"code\":\"TOWDG0833\",\"url\":\"/se/loweswater-delft-organic-bath-mat/p39274\",\"heading\":\"Loweswater Delft Organic Bath Mat\",\"imageId\":148796},{\"productPageId\":40041,\"urlSemantics\":\"loweswater-geranium-bath-organic-mat\",\"code\":\"TOWDG0833\",\"url\":\"/se/loweswater-geranium-bath-organic-mat/p40041\",\"heading\":\"Loweswater Geranium Organic Bath Mat\",\"imageId\":153770},{\"productPageId\":39241,\"urlSemantics\":\"loweswater-orchid-organic-bath-mat\",\"code\":\"TOWDG0833\",\"url\":\"/se/loweswater-orchid-organic-bath-mat/p39241\",\"heading\":\"Loweswater Orchid Organic Bath Mat\",\"imageId\":148798}],\"reviews\":null,\"hreflangs\":[{\"hreflang\":\"de\",\"href\":\"https://www.designersguild.com/de/loweswater-antique-jade-organic-bath-mat/p39275\"},{\"hreflang\":\"fr\",\"href\":\"https://www.designersguild.com/fr/loweswater-antique-jade-organic-bath-mat/p39275\"},{\"hreflang\":\"en-gb\",\"href\":\"https://www.designersguild.com/uk/loweswater-antique-jade-organic-bath-mat/p39275\"},{\"hreflang\":\"en-se\",\"href\":\"https://www.designersguild.com/se/loweswater-antique-jade-organic-bath-mat/p39275\"},{\"hreflang\":\"en-us\",\"href\":\"https://www.designersguild.com/us/loweswater-antique-jade-organic-bath-mat/p39275\"},{\"hreflang\":\"es\",\"href\":\"https://www.designersguild.com/es/loweswater-antique-jade-organic-bath-mat/p39275\"},{\"hreflang\":\"it-it\",\"href\":\"https://www.designersguild.com/it/loweswater-antique-jade-organic-bath-mat/p39275\"},{\"hreflang\":\"en-nl\",\"href\":\"https://www.designersguild.com/nl/loweswater-antique-jade-organic-bath-mat/p39275\"},{\"hreflang\":\"ru\",\"href\":\"https://www.designersguild.com/ru/loweswater-antique-jade-organic-bath-mat/p39275\"},{\"hreflang\":\"ja-jp\",\"href\":\"https://www.designersguild.com/jp/loweswater-antique-jade-organic-bath-mat/p39275\"},{\"hreflang\":\"en-be\",\"href\":\"https://www.designersguild.com/be/loweswater-antique-jade-organic-bath-mat/p39275\"},{\"hreflang\":\"en-au\",\"href\":\"https://www.designersguild.com/au/loweswater-antique-jade-organic-bath-mat/p39275\"},{\"hreflang\":\"en-dk\",\"href\":\"https://www.designersguild.com/dk/loweswater-antique-jade-organic-bath-mat/p39275\"},{\"hreflang\":\"en-gr\",\"href\":\"https://www.designersguild.com/eu/loweswater-antique-jade-organic-bath-mat/p39275\"},{\"hreflang\":\"en-no\",\"href\":\"https://www.designersguild.com/no/loweswater-antique-jade-organic-bath-mat/p39275\"},{\"hreflang\":\"de-at\",\"href\":\"https://www.designersguild.com/at/loweswater-antique-jade-organic-bath-mat/p39275\"},{\"hreflang\":\"de-ch\",\"href\":\"https://www.designersguild.com/de-ch/loweswater-antique-jade-organic-bath-mat/p39275\"},{\"hreflang\":\"fr-ch\",\"href\":\"https://www.designersguild.com/fr-ch/loweswater-antique-jade-organic-bath-mat/p39275\"},{\"hreflang\":\"en\",\"href\":\"https://www.designersguild.com/row/loweswater-antique-jade-organic-bath-mat/p39275\"},{\"hreflang\":\"en-nz\",\"href\":\"https://www.designersguild.com/nz/loweswater-antique-jade-organic-bath-mat/p39275\"},{\"hreflang\":\"en-ie\",\"href\":\"https://www.designersguild.com/ie/loweswater-antique-jade-organic-bath-mat/p39275\"},{\"hreflang\":\"fi-fi\",\"href\":\"https://www.designersguild.com/fi/loweswater-antique-jade-organic-bath-mat/p39275\"},{\"hreflang\":\"x-default\",\"href\":\"https://www.designersguild.com/uk/loweswater-antique-jade-organic-bath-mat/p39275\"}],\"relatedProductPages\":null,\"attributes\":[{\"attributeGroup\":\"Brand\",\"attribute\":\"Designers Guild\"},{\"attributeGroup\":\"Weight\",\"attribute\":\"700gsm Cotton\"},{\"attributeGroup\":\"Fabric\",\"attribute\":\"Cotton\"},{\"attributeGroup\":\"Care Instructions\",\"attribute\":\"Machine washable at 40 degrees\"},{\"attributeGroup\":\"Care Instructions\",\"attribute\":\"Do not bleach\"},{\"attributeGroup\":\"Care Instructions\",\"attribute\":\"Medium iron at 150 degrees\"},{\"attributeGroup\":\"Care Instructions\",\"attribute\":\"Do not dry clean\"},{\"attributeGroup\":\"Composition\",\"attribute\":\"100%Co\"}],\"collection\":null,\"moduleOptions\":null,\"modules\":null,\"moduleOptionGroups\":null,\"wholesaleFurniture\":null,\"relatedSearches\":null}","json":{"productPageId":39275,"productTypeId":54,"heading":"Loweswater Antique Jade Organic Bath Mat","subHeading":null,"shortHeading":"Loweswater Antique Jade","category":"","brand":"Designers Guild","description":"A new addition to our successful Loweswater organic towel range - this luxurious large size bathmat is woven from superior 850gsm Egyptian cotton, grown without the use of synthetic additives or pesticides and is not genetically modified. OEKO-TEX« Standard 100 approved for added confidence. Shown here in antique jade.","urlSemantics":"loweswater-antique-jade-organic-bath-mat","breadcrumb":"<li><a href=\"/se/towels-and-bath-mats/l1054\">TOWELS & BATH MATS </a></li><li><span>Loweswater Antique Jade Organic Bath Mat</span></li>","url":"/se/loweswater-antique-jade-organic-bath-mat/p39275","titleTag":"Loweswater Antique Jade Organic Bath Mat | Designers Guild","metaDescription":"A new addition to our successful Loweswater organic towel range - this luxurious large size bathmat is woven from superior 850gsm Egyptian cotton, grown wi","reviewAverage":null,"reviewCount":null,"isNew":false,"customCanonical":"https://www.designersguild.com/se/loweswater-bianco-organic-bath-mat/p39239","templateId":6,"isRugOrRunner":false,"delivery":null,"returns":null,"products":[{"productId":216031,"code":"TOWDG0833","orderFormName":"Bath Mat","size":"60 x 90cm","brand":"Designers Guild","gtin13":"5051001689676","images":[{"imageId":160121,"altText":"Loweswater Antique Jade Bath Mat","titleText":"Loweswater Antique Jade Bath Mat","templateImageId":true,"maxWidth":1024}]},{"productId":199462,"code":"TOWDG0770","orderFormName":"Wash Cloth (Set of 2)","orderFormGroup":"Co-ordinates with","size":"30 x 30cm","brand":"Designers Guild","gtin13":"5051001516873","images":[{"imageId":135183,"altText":"Loweswater Antique Jade Wash Cloth 30x30cm - Pack of 2","titleText":"Loweswater Antique Jade Wash Cloth 30x30cm - Pack of 2","templateImageId":true,"maxWidth":1024}]},{"productId":199443,"code":"TOWDG0746","orderFormName":"Hand Towel","orderFormGroup":"Co-ordinates with","size":"50 x 100cm","brand":"Designers Guild","gtin13":"5051001640950","images":[{"imageId":135190,"altText":"Loweswater Antique Jade Hand Towel","titleText":"Loweswater Antique Jade Hand Towel","templateImageId":true,"maxWidth":1024}]},{"productId":199444,"code":"TOWDG0747","orderFormName":"Bath Towel","orderFormGroup":"Co-ordinates with","size":"70 x 130cm","brand":"Designers Guild","gtin13":"5051001001034","images":[{"imageId":135184,"altText":"Loweswater Antique Jade Bath Towel","titleText":"Loweswater Antique Jade Bath Towel","templateImageId":true,"maxWidth":1024}]},{"productId":199445,"code":"TOWDG0748","orderFormName":"Bath Sheet","orderFormGroup":"Co-ordinates with","size":"100 x 165cm","brand":"Designers Guild","gtin13":"5051001526339","images":[{"imageId":135188,"altText":"Loweswater Antique Jade Bath Sheet","titleText":"Loweswater Antique Jade Bath Sheet","templateImageId":true,"maxWidth":1024}]}],"images":[{"imageId":160121,"templateImageId":2,"altText":"Loweswater Antique Jade Bath Mat","titleText":"Loweswater Antique Jade Bath Mat","sortOrder":0,"maxWidth":1024},{"imageId":155793,"templateImageId":2,"sortOrder":1,"maxWidth":1024}],"alternateColourways":[{"productPageId":39239,"urlSemantics":"loweswater-bianco-organic-bath-mat","code":"TOWDG0833","url":"/se/loweswater-bianco-organic-bath-mat/p39239","heading":"Loweswater Bianco Organic Bath Mat","imageId":148793},{"productPageId":39240,"urlSemantics":"loweswater-birch-organic-bath-mat","code":"TOWDG0833","url":"/se/loweswater-birch-organic-bath-mat/p39240","heading":"Loweswater Birch Organic Bath Mat","imageId":148797},{"productPageId":39275,"urlSemantics":"loweswater-antique-jade-organic-bath-mat","code":"TOWDG0833","url":"/se/loweswater-antique-jade-organic-bath-mat/p39275","heading":"Loweswater Antique Jade Organic Bath Mat","imageId":160121},{"productPageId":39267,"urlSemantics":"loweswater-willow-organic-bath-mat","code":"TOWDG0833","url":"/se/loweswater-willow-organic-bath-mat/p39267","heading":"Loweswater Willow Organic Bath Mat","imageId":152551},{"productPageId":40042,"urlSemantics":"loweswater-viridian-organic-bath-mat","code":"TOWDG0833","url":"/se/loweswater-viridian-organic-bath-mat/p40042","heading":"Loweswater Viridian Organic Bath Mat","imageId":155293},{"productPageId":39274,"urlSemantics":"loweswater-delft-organic-bath-mat","code":"TOWDG0833","url":"/se/loweswater-delft-organic-bath-mat/p39274","heading":"Loweswater Delft Organic Bath Mat","imageId":148796},{"productPageId":40041,"urlSemantics":"loweswater-geranium-bath-organic-mat","code":"TOWDG0833","url":"/se/loweswater-geranium-bath-organic-mat/p40041","heading":"Loweswater Geranium Organic Bath Mat","imageId":153770},{"productPageId":39241,"urlSemantics":"loweswater-orchid-organic-bath-mat","code":"TOWDG0833","url":"/se/loweswater-orchid-organic-bath-mat/p39241","heading":"Loweswater Orchid Organic Bath Mat","imageId":148798}],"reviews":null,"hreflangs":[{"hreflang":"de","href":"https://www.designersguild.com/de/loweswater-antique-jade-organic-bath-mat/p39275"},{"hreflang":"fr","href":"https://www.designersguild.com/fr/loweswater-antique-jade-organic-bath-mat/p39275"},{"hreflang":"en-gb","href":"https://www.designersguild.com/uk/loweswater-antique-jade-organic-bath-mat/p39275"},{"hreflang":"en-se","href":"https://www.designersguild.com/se/loweswater-antique-jade-organic-bath-mat/p39275"},{"hreflang":"en-us","href":"https://www.designersguild.com/us/loweswater-antique-jade-organic-bath-mat/p39275"},{"hreflang":"es","href":"https://www.designersguild.com/es/loweswater-antique-jade-organic-bath-mat/p39275"},{"hreflang":"it-it","href":"https://www.designersguild.com/it/loweswater-antique-jade-organic-bath-mat/p39275"},{"hreflang":"en-nl","href":"https://www.designersguild.com/nl/loweswater-antique-jade-organic-bath-mat/p39275"},{"hreflang":"ru","href":"https://www.designersguild.com/ru/loweswater-antique-jade-organic-bath-mat/p39275"},{"hreflang":"ja-jp","href":"https://www.designersguild.com/jp/loweswater-antique-jade-organic-bath-mat/p39275"},{"hreflang":"en-be","href":"https://www.designersguild.com/be/loweswater-antique-jade-organic-bath-mat/p39275"},{"hreflang":"en-au","href":"https://www.designersguild.com/au/loweswater-antique-jade-organic-bath-mat/p39275"},{"hreflang":"en-dk","href":"https://www.designersguild.com/dk/loweswater-antique-jade-organic-bath-mat/p39275"},{"hreflang":"en-gr","href":"https://www.designersguild.com/eu/loweswater-antique-jade-organic-bath-mat/p39275"},{"hreflang":"en-no","href":"https://www.designersguild.com/no/loweswater-antique-jade-organic-bath-mat/p39275"},{"hreflang":"de-at","href":"https://www.designersguild.com/at/loweswater-antique-jade-organic-bath-mat/p39275"},{"hreflang":"de-ch","href":"https://www.designersguild.com/de-ch/loweswater-antique-jade-organic-bath-mat/p39275"},{"hreflang":"fr-ch","href":"https://www.designersguild.com/fr-ch/loweswater-antique-jade-organic-bath-mat/p39275"},{"hreflang":"en","href":"https://www.designersguild.com/row/loweswater-antique-jade-organic-bath-mat/p39275"},{"hreflang":"en-nz","href":"https://www.designersguild.com/nz/loweswater-antique-jade-organic-bath-mat/p39275"},{"hreflang":"en-ie","href":"https://www.designersguild.com/ie/loweswater-antique-jade-organic-bath-mat/p39275"},{"hreflang":"fi-fi","href":"https://www.designersguild.com/fi/loweswater-antique-jade-organic-bath-mat/p39275"},{"hreflang":"x-default","href":"https://www.designersguild.com/uk/loweswater-antique-jade-organic-bath-mat/p39275"}],"relatedProductPages":null,"attributes":[{"attributeGroup":"Brand","attribute":"Designers Guild"},{"attributeGroup":"Weight","attribute":"700gsm Cotton"},{"attributeGroup":"Fabric","attribute":"Cotton"},{"attributeGroup":"Care Instructions","attribute":"Machine washable at 40 degrees"},{"attributeGroup":"Care Instructions","attribute":"Do not bleach"},{"attributeGroup":"Care Instructions","attribute":"Medium iron at 150 degrees"},{"attributeGroup":"Care Instructions","attribute":"Do not dry clean"},{"attributeGroup":"Composition","attribute":"100%Co"}],"collection":null,"moduleOptions":null,"modules":null,"moduleOptionGroups":null,"wholesaleFurniture":null,"relatedSearches":null}},"Stock":{"OrderFormJSON":"{\"products\":[{\"product\":{\"productId\":216031,\"sortOrder\":50,\"productTypeId\":13,\"templateId\":3,\"code\":\"TOWDG0833\",\"brand\":\"Designers Guild\",\"gtin13\":\"5051001689676\",\"name\":\"Loweswater Antique Jade Bath Mat\",\"AKA\":null,\"size\":\"60 x 90cm\",\"imageId\":160121,\"imageAltText\":\"Loweswater Antique Jade Bath Mat\",\"imageTitleText\":\"Loweswater Antique Jade Bath Mat\",\"rRPMessage\":null,\"rLRRP\":\"610 kr\",\"rLTradePrice\":null,\"displayPrice\":null,\"displaySalePrice\":null,\"priceMessage\":null,\"statusMessage\":null,\"urlSemantics\":\"loweswater-antique-jade-organic-bath-mat\",\"productPageId\":39275,\"url\":\"\\/se\\/loweswater-antique-jade-organic-bath-mat\\/p39275\",\"itemAvailability\":\"LimitedAvailability\",\"primaryProduct\":true,\"orderFormGroupId\":null,\"orderFormName\":\"Bath Mat\",\"attributes\":null,\"orderFormGroup\":null,\"orderFormProperties\":[{\"key\":\"Size\",\"value\":\"60 x 90cm\"},{\"key\":\"Colour\",\"value\":\"Antique Jade\"},{\"key\":\"Code\",\"value\":\"TOWDG0833\"}],\"controls\":{\"allowOrder\":false,\"allowReserve\":false,\"allowReserveWithBatchSample\":false,\"allowSample\":false,\"allowLargeSample\":false,\"allowBackInStockReminder\":false,\"disableOrder\":false,\"disableSample\":false},\"stockMessage\":{\"productTypeID\":13,\"quantityMinimum\":1.00,\"quantityMaximum\":99.00,\"productTypeQuantityMaximum\":null,\"quantityIncrement\":1.00,\"reserveQuantityMaximum\":4.00,\"unit\":\"\",\"allowStockCheck\":false,\"pieceBreakdownMinimum\":null,\"pieceBreakdownMaximum\":null,\"allowBackInStockReminder\":false,\"freeStock\":4.00,\"nextPOFreeStock\":150.00,\"nextPODueDate\":\"2023-12-21\",\"totalPOFreeStock\":150.00,\"basketQuantityThresholds\":[{\"minimum\":0,\"maximum\":99999.99,\"stockMessages\":[{\"stockMessage\":\"4 in stock\",\"class\":\"\",\"stockBreakdownTab\":0},{\"stockMessage\":\" more due in (2-3 weeks)\",\"class\":\"\",\"stockBreakdownTab\":1}]}]},\"orderButtonText\":\"Add to Basket\",\"reserveButtonText\":\"Reserve\",\"reserveWithBatchSampleButtonText\":\"Reserve with Batch Sample\",\"sample\":{\"productId\":null,\"stockMessage\":null,\"orderButtonText\":\"Add to Basket\",\"displayPrice\":null,\"displaySalePrice\":null,\"priceMessage\":null},\"largeSample\":{\"productId\":null,\"stockMessage\":null,\"orderButtonText\":\"Add to Basket\",\"displayPrice\":null,\"displaySalePrice\":null,\"priceMessage\":null}}},{\"product\":{\"productId\":199462,\"sortOrder\":150,\"productTypeId\":13,\"templateId\":3,\"code\":\"TOWDG0770\",\"brand\":\"Designers Guild\",\"gtin13\":\"5051001516873\",\"name\":\"Loweswater Antique Jade Wash Cloth Pack of 2\",\"AKA\":null,\"size\":\"30 x 30cm\",\"imageId\":135183,\"imageAltText\":\"Loweswater Antique Jade Wash Cloth 30x30cm - Pack of 2\",\"imageTitleText\":\"Loweswater Antique Jade Wash Cloth 30x30cm - Pack of 2\",\"rRPMessage\":null,\"rLRRP\":\"190 kr\",\"rLTradePrice\":null,\"displayPrice\":null,\"displaySalePrice\":null,\"priceMessage\":null,\"statusMessage\":null,\"urlSemantics\":\"loweswater-antique-jade-organic-towels\",\"productPageId\":36074,\"url\":\"\\/se\\/loweswater-antique-jade-organic-towels\\/p36074\",\"itemAvailability\":\"InStock\",\"primaryProduct\":false,\"orderFormGroupId\":8,\"orderFormName\":\"Wash Cloth (Set of 2)\",\"attributes\":null,\"orderFormGroup\":\"Co-ordinates with\",\"orderFormProperties\":[{\"key\":\"Size\",\"value\":\"30 x 30cm\"},{\"key\":\"Colour\",\"value\":\"Antique Jade\"},{\"key\":\"Code\",\"value\":\"TOWDG0770\"}],\"controls\":{\"allowOrder\":false,\"allowReserve\":false,\"allowReserveWithBatchSample\":false,\"allowSample\":false,\"allowLargeSample\":false,\"allowBackInStockReminder\":false,\"disableOrder\":false,\"disableSample\":false},\"stockMessage\":{\"productTypeID\":13,\"quantityMinimum\":1.00,\"quantityMaximum\":99.00,\"productTypeQuantityMaximum\":null,\"quantityIncrement\":1.00,\"reserveQuantityMaximum\":50.00,\"unit\":\"\",\"allowStockCheck\":false,\"pieceBreakdownMinimum\":null,\"pieceBreakdownMaximum\":null,\"allowBackInStockReminder\":false,\"freeStock\":188.00,\"nextPOFreeStock\":0.00,\"nextPODueDate\":null,\"totalPOFreeStock\":0.00,\"basketQuantityThresholds\":[{\"minimum\":0,\"maximum\":99999.99,\"stockMessages\":[{\"stockMessage\":\"In stock\",\"class\":\"\",\"stockBreakdownTab\":0}]}]},\"orderButtonText\":\"Add to Basket\",\"reserveButtonText\":\"Reserve\",\"reserveWithBatchSampleButtonText\":\"Reserve with Batch Sample\",\"sample\":{\"productId\":null,\"stockMessage\":null,\"orderButtonText\":\"Add to Basket\",\"displayPrice\":null,\"displaySalePrice\":null,\"priceMessage\":null},\"largeSample\":{\"productId\":null,\"stockMessage\":null,\"orderButtonText\":\"Add to Basket\",\"displayPrice\":null,\"displaySalePrice\":null,\"priceMessage\":null}}},{\"product\":{\"productId\":199443,\"sortOrder\":151,\"productTypeId\":13,\"templateId\":3,\"code\":\"TOWDG0746\",\"brand\":\"Designers Guild\",\"gtin13\":\"5051001640950\",\"name\":\"Loweswater Antique Jade Hand Towel\",\"AKA\":null,\"size\":\"50 x 100cm\",\"imageId\":135190,\"imageAltText\":\"Loweswater Antique Jade Hand Towel\",\"imageTitleText\":\"Loweswater Antique Jade Hand Towel\",\"rRPMessage\":null,\"rLRRP\":\"250 kr\",\"rLTradePrice\":null,\"displayPrice\":null,\"displaySalePrice\":null,\"priceMessage\":null,\"statusMessage\":null,\"urlSemantics\":\"loweswater-antique-jade-organic-towels\",\"productPageId\":36074,\"url\":\"\\/se\\/loweswater-antique-jade-organic-towels\\/p36074\",\"itemAvailability\":\"LimitedAvailability\",\"primaryProduct\":false,\"orderFormGroupId\":8,\"orderFormName\":\"Hand Towel\",\"attributes\":null,\"orderFormGroup\":\"Co-ordinates with\",\"orderFormProperties\":[{\"key\":\"Size\",\"value\":\"50 x 100cm\"},{\"key\":\"Colour\",\"value\":\"Antique Jade\"},{\"key\":\"Code\",\"value\":\"TOWDG0746\"}],\"controls\":{\"allowOrder\":false,\"allowReserve\":false,\"allowReserveWithBatchSample\":false,\"allowSample\":false,\"allowLargeSample\":false,\"allowBackInStockReminder\":false,\"disableOrder\":false,\"disableSample\":false},\"stockMessage\":{\"productTypeID\":13,\"quantityMinimum\":1.00,\"quantityMaximum\":99.00,\"productTypeQuantityMaximum\":null,\"quantityIncrement\":1.00,\"reserveQuantityMaximum\":0.00,\"unit\":\"\",\"allowStockCheck\":false,\"pieceBreakdownMinimum\":null,\"pieceBreakdownMaximum\":null,\"allowBackInStockReminder\":true,\"freeStock\":0.00,\"nextPOFreeStock\":129.00,\"nextPODueDate\":\"2023-12-21\",\"totalPOFreeStock\":129.00,\"basketQuantityThresholds\":[{\"minimum\":0,\"maximum\":99999.99,\"stockMessages\":[{\"stockMessage\":\" more due in (2-3 weeks)\",\"class\":\"\",\"stockBreakdownTab\":1}]}]},\"orderButtonText\":\"Add to Basket\",\"reserveButtonText\":\"Reserve\",\"reserveWithBatchSampleButtonText\":\"Reserve with Batch Sample\",\"sample\":{\"productId\":null,\"stockMessage\":null,\"orderButtonText\":\"Add to Basket\",\"displayPrice\":null,\"displaySalePrice\":null,\"priceMessage\":null},\"largeSample\":{\"productId\":null,\"stockMessage\":null,\"orderButtonText\":\"Add to Basket\",\"displayPrice\":null,\"displaySalePrice\":null,\"priceMessage\":null}}},{\"product\":{\"productId\":199444,\"sortOrder\":152,\"productTypeId\":13,\"templateId\":3,\"code\":\"TOWDG0747\",\"brand\":\"Designers Guild\",\"gtin13\":\"5051001001034\",\"name\":\"Loweswater Antique Jade Bath Towel\",\"AKA\":null,\"size\":\"70 x 130cm\",\"imageId\":135184,\"imageAltText\":\"Loweswater Antique Jade Bath Towel\",\"imageTitleText\":\"Loweswater Antique Jade Bath Towel\",\"rRPMessage\":null,\"rLRRP\":\"450 kr\",\"rLTradePrice\":null,\"displayPrice\":null,\"displaySalePrice\":null,\"priceMessage\":null,\"statusMessage\":null,\"urlSemantics\":\"loweswater-antique-jade-organic-towels\",\"productPageId\":36074,\"url\":\"\\/se\\/loweswater-antique-jade-organic-towels\\/p36074\",\"itemAvailability\":\"InStock\",\"primaryProduct\":false,\"orderFormGroupId\":8,\"orderFormName\":\"Bath Towel\",\"attributes\":null,\"orderFormGroup\":\"Co-ordinates with\",\"orderFormProperties\":[{\"key\":\"Size\",\"value\":\"70 x 130cm\"},{\"key\":\"Colour\",\"value\":\"Antique Jade\"},{\"key\":\"Code\",\"value\":\"TOWDG0747\"}],\"controls\":{\"allowOrder\":false,\"allowReserve\":false,\"allowReserveWithBatchSample\":false,\"allowSample\":false,\"allowLargeSample\":false,\"allowBackInStockReminder\":false,\"disableOrder\":false,\"disableSample\":false},\"stockMessage\":{\"productTypeID\":13,\"quantityMinimum\":1.00,\"quantityMaximum\":99.00,\"productTypeQuantityMaximum\":null,\"quantityIncrement\":1.00,\"reserveQuantityMaximum\":50.00,\"unit\":\"\",\"allowStockCheck\":false,\"pieceBreakdownMinimum\":null,\"pieceBreakdownMaximum\":null,\"allowBackInStockReminder\":false,\"freeStock\":112.00,\"nextPOFreeStock\":0.00,\"nextPODueDate\":null,\"totalPOFreeStock\":0.00,\"basketQuantityThresholds\":[{\"minimum\":0,\"maximum\":99999.99,\"stockMessages\":[{\"stockMessage\":\"In stock\",\"class\":\"\",\"stockBreakdownTab\":0}]}]},\"orderButtonText\":\"Add to Basket\",\"reserveButtonText\":\"Reserve\",\"reserveWithBatchSampleButtonText\":\"Reserve with Batch Sample\",\"sample\":{\"productId\":null,\"stockMessage\":null,\"orderButtonText\":\"Add to Basket\",\"displayPrice\":null,\"displaySalePrice\":null,\"priceMessage\":null},\"largeSample\":{\"productId\":null,\"stockMessage\":null,\"orderButtonText\":\"Add to Basket\",\"displayPrice\":null,\"displaySalePrice\":null,\"priceMessage\":null}}},{\"product\":{\"productId\":199445,\"sortOrder\":153,\"productTypeId\":13,\"templateId\":3,\"code\":\"TOWDG0748\",\"brand\":\"Designers Guild\",\"gtin13\":\"5051001526339\",\"name\":\"Loweswater Antique Jade Bath Sheet\",\"AKA\":null,\"size\":\"100 x 165cm\",\"imageId\":135188,\"imageAltText\":\"Loweswater Antique Jade Bath Sheet\",\"imageTitleText\":\"Loweswater Antique Jade Bath Sheet\",\"rRPMessage\":null,\"rLRRP\":\"690 kr\",\"rLTradePrice\":null,\"displayPrice\":null,\"displaySalePrice\":null,\"priceMessage\":null,\"statusMessage\":null,\"urlSemantics\":\"loweswater-antique-jade-organic-towels\",\"productPageId\":36074,\"url\":\"\\/se\\/loweswater-antique-jade-organic-towels\\/p36074\",\"itemAvailability\":\"InStock\",\"primaryProduct\":false,\"orderFormGroupId\":8,\"orderFormName\":\"Bath Sheet\",\"attributes\":null,\"orderFormGroup\":\"Co-ordinates with\",\"orderFormProperties\":[{\"key\":\"Size\",\"value\":\"100 x 165cm\"},{\"key\":\"Colour\",\"value\":\"Antique Jade\"},{\"key\":\"Code\",\"value\":\"TOWDG0748\"}],\"controls\":{\"allowOrder\":false,\"allowReserve\":false,\"allowReserveWithBatchSample\":false,\"allowSample\":false,\"allowLargeSample\":false,\"allowBackInStockReminder\":false,\"disableOrder\":false,\"disableSample\":false},\"stockMessage\":{\"productTypeID\":13,\"quantityMinimum\":1.00,\"quantityMaximum\":99.00,\"productTypeQuantityMaximum\":null,\"quantityIncrement\":1.00,\"reserveQuantityMaximum\":50.00,\"unit\":\"\",\"allowStockCheck\":false,\"pieceBreakdownMinimum\":null,\"pieceBreakdownMaximum\":null,\"allowBackInStockReminder\":false,\"freeStock\":216.00,\"nextPOFreeStock\":0.00,\"nextPODueDate\":null,\"totalPOFreeStock\":0.00,\"basketQuantityThresholds\":[{\"minimum\":0,\"maximum\":99999.99,\"stockMessages\":[{\"stockMessage\":\"In stock\",\"class\":\"\",\"stockBreakdownTab\":0}]}]},\"orderButtonText\":\"Add to Basket\",\"reserveButtonText\":\"Reserve\",\"reserveWithBatchSampleButtonText\":\"Reserve with Batch Sample\",\"sample\":{\"productId\":null,\"stockMessage\":null,\"orderButtonText\":\"Add to Basket\",\"displayPrice\":null,\"displaySalePrice\":null,\"priceMessage\":null},\"largeSample\":{\"productId\":null,\"stockMessage\":null,\"orderButtonText\":\"Add to Basket\",\"displayPrice\":null,\"displaySalePrice\":null,\"priceMessage\":null}}}]}","orderForm":{"products":[{"product":{"productId":216031,"sortOrder":50,"productTypeId":13,"templateId":3,"code":"TOWDG0833","brand":"Designers Guild","gtin13":"5051001689676","name":"Loweswater Antique Jade Bath Mat","AKA":null,"size":"60 x 90cm","imageId":160121,"imageAltText":"Loweswater Antique Jade Bath Mat","imageTitleText":"Loweswater Antique Jade Bath Mat","rRPMessage":null,"rLRRP":"610 kr","rLTradePrice":null,"displayPrice":null,"displaySalePrice":null,"priceMessage":null,"statusMessage":null,"urlSemantics":"loweswater-antique-jade-organic-bath-mat","productPageId":39275,"url":"/se/loweswater-antique-jade-organic-bath-mat/p39275","itemAvailability":"LimitedAvailability","primaryProduct":true,"orderFormGroupId":null,"orderFormName":"Bath Mat","attributes":null,"orderFormGroup":null,"orderFormProperties":[{"key":"Size","value":"60 x 90cm"},{"key":"Colour","value":"Antique Jade"},{"key":"Code","value":"TOWDG0833"}],"controls":{"allowOrder":false,"allowReserve":false,"allowReserveWithBatchSample":false,"allowSample":false,"allowLargeSample":false,"allowBackInStockReminder":false,"disableOrder":false,"disableSample":false},"stockMessage":{"productTypeID":13,"quantityMinimum":1.0,"quantityMaximum":99.0,"productTypeQuantityMaximum":null,"quantityIncrement":1.0,"reserveQuantityMaximum":4.0,"unit":"","allowStockCheck":false,"pieceBreakdownMinimum":null,"pieceBreakdownMaximum":null,"allowBackInStockReminder":false,"freeStock":4.0,"nextPOFreeStock":150.0,"nextPODueDate":"2023-12-21","totalPOFreeStock":150.0,"basketQuantityThresholds":[{"minimum":0,"maximum":99999.99,"stockMessages":[{"stockMessage":"4 in stock","class":"","stockBreakdownTab":0},{"stockMessage":" more due in (2-3 weeks)","class":"","stockBreakdownTab":1}]}]},"orderButtonText":"Add to Basket","reserveButtonText":"Reserve","reserveWithBatchSampleButtonText":"Reserve with Batch Sample","sample":{"productId":null,"stockMessage":null,"orderButtonText":"Add to Basket","displayPrice":null,"displaySalePrice":null,"priceMessage":null},"largeSample":{"productId":null,"stockMessage":null,"orderButtonText":"Add to Basket","displayPrice":null,"displaySalePrice":null,"priceMessage":null}}},{"product":{"productId":199462,"sortOrder":150,"productTypeId":13,"templateId":3,"code":"TOWDG0770","brand":"Designers Guild","gtin13":"5051001516873","name":"Loweswater Antique Jade Wash Cloth Pack of 2","AKA":null,"size":"30 x 30cm","imageId":135183,"imageAltText":"Loweswater Antique Jade Wash Cloth 30x30cm - Pack of 2","imageTitleText":"Loweswater Antique Jade Wash Cloth 30x30cm - Pack of 2","rRPMessage":null,"rLRRP":"190 kr","rLTradePrice":null,"displayPrice":null,"displaySalePrice":null,"priceMessage":null,"statusMessage":null,"urlSemantics":"loweswater-antique-jade-organic-towels","productPageId":36074,"url":"/se/loweswater-antique-jade-organic-towels/p36074","itemAvailability":"InStock","primaryProduct":false,"orderFormGroupId":8,"orderFormName":"Wash Cloth (Set of 2)","attributes":null,"orderFormGroup":"Co-ordinates with","orderFormProperties":[{"key":"Size","value":"30 x 30cm"},{"key":"Colour","value":"Antique Jade"},{"key":"Code","value":"TOWDG0770"}],"controls":{"allowOrder":false,"allowReserve":false,"allowReserveWithBatchSample":false,"allowSample":false,"allowLargeSample":false,"allowBackInStockReminder":false,"disableOrder":false,"disableSample":false},"stockMessage":{"productTypeID":13,"quantityMinimum":1.0,"quantityMaximum":99.0,"productTypeQuantityMaximum":null,"quantityIncrement":1.0,"reserveQuantityMaximum":50.0,"unit":"","allowStockCheck":false,"pieceBreakdownMinimum":null,"pieceBreakdownMaximum":null,"allowBackInStockReminder":false,"freeStock":188.0,"nextPOFreeStock":0.0,"nextPODueDate":null,"totalPOFreeStock":0.0,"basketQuantityThresholds":[{"minimum":0,"maximum":99999.99,"stockMessages":[{"stockMessage":"In stock","class":"","stockBreakdownTab":0}]}]},"orderButtonText":"Add to Basket","reserveButtonText":"Reserve","reserveWithBatchSampleButtonText":"Reserve with Batch Sample","sample":{"productId":null,"stockMessage":null,"orderButtonText":"Add to Basket","displayPrice":null,"displaySalePrice":null,"priceMessage":null},"largeSample":{"productId":null,"stockMessage":null,"orderButtonText":"Add to Basket","displayPrice":null,"displaySalePrice":null,"priceMessage":null}}},{"product":{"productId":199443,"sortOrder":151,"productTypeId":13,"templateId":3,"code":"TOWDG0746","brand":"Designers Guild","gtin13":"5051001640950","name":"Loweswater Antique Jade Hand Towel","AKA":null,"size":"50 x 100cm","imageId":135190,"imageAltText":"Loweswater Antique Jade Hand Towel","imageTitleText":"Loweswater Antique Jade Hand Towel","rRPMessage":null,"rLRRP":"250 kr","rLTradePrice":null,"displayPrice":null,"displaySalePrice":null,"priceMessage":null,"statusMessage":null,"urlSemantics":"loweswater-antique-jade-organic-towels","productPageId":36074,"url":"/se/loweswater-antique-jade-organic-towels/p36074","itemAvailability":"LimitedAvailability","primaryProduct":false,"orderFormGroupId":8,"orderFormName":"Hand Towel","attributes":null,"orderFormGroup":"Co-ordinates with","orderFormProperties":[{"key":"Size","value":"50 x 100cm"},{"key":"Colour","value":"Antique Jade"},{"key":"Code","value":"TOWDG0746"}],"controls":{"allowOrder":false,"allowReserve":false,"allowReserveWithBatchSample":false,"allowSample":false,"allowLargeSample":false,"allowBackInStockReminder":false,"disableOrder":false,"disableSample":false},"stockMessage":{"productTypeID":13,"quantityMinimum":1.0,"quantityMaximum":99.0,"productTypeQuantityMaximum":null,"quantityIncrement":1.0,"reserveQuantityMaximum":0.0,"unit":"","allowStockCheck":false,"pieceBreakdownMinimum":null,"pieceBreakdownMaximum":null,"allowBackInStockReminder":true,"freeStock":0.0,"nextPOFreeStock":129.0,"nextPODueDate":"2023-12-21","totalPOFreeStock":129.0,"basketQuantityThresholds":[{"minimum":0,"maximum":99999.99,"stockMessages":[{"stockMessage":" more due in (2-3 weeks)","class":"","stockBreakdownTab":1}]}]},"orderButtonText":"Add to Basket","reserveButtonText":"Reserve","reserveWithBatchSampleButtonText":"Reserve with Batch Sample","sample":{"productId":null,"stockMessage":null,"orderButtonText":"Add to Basket","displayPrice":null,"displaySalePrice":null,"priceMessage":null},"largeSample":{"productId":null,"stockMessage":null,"orderButtonText":"Add to Basket","displayPrice":null,"displaySalePrice":null,"priceMessage":null}}},{"product":{"productId":199444,"sortOrder":152,"productTypeId":13,"templateId":3,"code":"TOWDG0747","brand":"Designers Guild","gtin13":"5051001001034","name":"Loweswater Antique Jade Bath Towel","AKA":null,"size":"70 x 130cm","imageId":135184,"imageAltText":"Loweswater Antique Jade Bath Towel","imageTitleText":"Loweswater Antique Jade Bath Towel","rRPMessage":null,"rLRRP":"450 kr","rLTradePrice":null,"displayPrice":null,"displaySalePrice":null,"priceMessage":null,"statusMessage":null,"urlSemantics":"loweswater-antique-jade-organic-towels","productPageId":36074,"url":"/se/loweswater-antique-jade-organic-towels/p36074","itemAvailability":"InStock","primaryProduct":false,"orderFormGroupId":8,"orderFormName":"Bath Towel","attributes":null,"orderFormGroup":"Co-ordinates with","orderFormProperties":[{"key":"Size","value":"70 x 130cm"},{"key":"Colour","value":"Antique Jade"},{"key":"Code","value":"TOWDG0747"}],"controls":{"allowOrder":false,"allowReserve":false,"allowReserveWithBatchSample":false,"allowSample":false,"allowLargeSample":false,"allowBackInStockReminder":false,"disableOrder":false,"disableSample":false},"stockMessage":{"productTypeID":13,"quantityMinimum":1.0,"quantityMaximum":99.0,"productTypeQuantityMaximum":null,"quantityIncrement":1.0,"reserveQuantityMaximum":50.0,"unit":"","allowStockCheck":false,"pieceBreakdownMinimum":null,"pieceBreakdownMaximum":null,"allowBackInStockReminder":false,"freeStock":112.0,"nextPOFreeStock":0.0,"nextPODueDate":null,"totalPOFreeStock":0.0,"basketQuantityThresholds":[{"minimum":0,"maximum":99999.99,"stockMessages":[{"stockMessage":"In stock","class":"","stockBreakdownTab":0}]}]},"orderButtonText":"Add to Basket","reserveButtonText":"Reserve","reserveWithBatchSampleButtonText":"Reserve with Batch Sample","sample":{"productId":null,"stockMessage":null,"orderButtonText":"Add to Basket","displayPrice":null,"displaySalePrice":null,"priceMessage":null},"largeSample":{"productId":null,"stockMessage":null,"orderButtonText":"Add to Basket","displayPrice":null,"displaySalePrice":null,"priceMessage":null}}},{"product":{"productId":199445,"sortOrder":153,"productTypeId":13,"templateId":3,"code":"TOWDG0748","brand":"Designers Guild","gtin13":"5051001526339","name":"Loweswater Antique Jade Bath Sheet","AKA":null,"size":"100 x 165cm","imageId":135188,"imageAltText":"Loweswater Antique Jade Bath Sheet","imageTitleText":"Loweswater Antique Jade Bath Sheet","rRPMessage":null,"rLRRP":"690 kr","rLTradePrice":null,"displayPrice":null,"displaySalePrice":null,"priceMessage":null,"statusMessage":null,"urlSemantics":"loweswater-antique-jade-organic-towels","productPageId":36074,"url":"/se/loweswater-antique-jade-organic-towels/p36074","itemAvailability":"InStock","primaryProduct":false,"orderFormGroupId":8,"orderFormName":"Bath Sheet","attributes":null,"orderFormGroup":"Co-ordinates with","orderFormProperties":[{"key":"Size","value":"100 x 165cm"},{"key":"Colour","value":"Antique Jade"},{"key":"Code","value":"TOWDG0748"}],"controls":{"allowOrder":false,"allowReserve":false,"allowReserveWithBatchSample":false,"allowSample":false,"allowLargeSample":false,"allowBackInStockReminder":false,"disableOrder":false,"disableSample":false},"stockMessage":{"productTypeID":13,"quantityMinimum":1.0,"quantityMaximum":99.0,"productTypeQuantityMaximum":null,"quantityIncrement":1.0,"reserveQuantityMaximum":50.0,"unit":"","allowStockCheck":false,"pieceBreakdownMinimum":null,"pieceBreakdownMaximum":null,"allowBackInStockReminder":false,"freeStock":216.0,"nextPOFreeStock":0.0,"nextPODueDate":null,"totalPOFreeStock":0.0,"basketQuantityThresholds":[{"minimum":0,"maximum":99999.99,"stockMessages":[{"stockMessage":"In stock","class":"","stockBreakdownTab":0}]}]},"orderButtonText":"Add to Basket","reserveButtonText":"Reserve","reserveWithBatchSampleButtonText":"Reserve with Batch Sample","sample":{"productId":null,"stockMessage":null,"orderButtonText":"Add to Basket","displayPrice":null,"displaySalePrice":null,"priceMessage":null},"largeSample":{"productId":null,"stockMessage":null,"orderButtonText":"Add to Basket","displayPrice":null,"displaySalePrice":null,"priceMessage":null}}}]}},"Carousel":{"CarouselID":"#product-page-39275-carousel","WrapperCSSClass":null,"AspectRatio":1.0,"Heading":"Loweswater Antique Jade Organic Bath Mat","Images":[{"ImageID":160121,"SortOrder":0,"AltText":"Loweswater Antique Jade Bath Mat","Overlay":null,"MaxWidth":1024,"ImageSize":6,"ForceLazyLoading":false},{"ImageID":155793,"SortOrder":1,"AltText":null,"Overlay":null,"MaxWidth":1024,"ImageSize":6,"ForceLazyLoading":false}],"DisplayThumbnails":true,"DisplayDashes":true,"Interval":null,"PermitLargeImageModal":true},"MainProduct":{"Solitary":false,"ProductBase":{"product":{"productId":216031,"sortOrder":50,"productTypeId":13,"templateId":3,"code":"TOWDG0833","brand":"Designers Guild","gtin13":"5051001689676","name":"Loweswater Antique Jade Bath Mat","AKA":null,"size":"60 x 90cm","imageId":160121,"imageAltText":"Loweswater Antique Jade Bath Mat","imageTitleText":"Loweswater Antique Jade Bath Mat","rRPMessage":null,"rLRRP":"610 kr","rLTradePrice":null,"displayPrice":null,"displaySalePrice":null,"priceMessage":null,"statusMessage":null,"urlSemantics":"loweswater-antique-jade-organic-bath-mat","productPageId":39275,"url":"/se/loweswater-antique-jade-organic-bath-mat/p39275","itemAvailability":"LimitedAvailability","primaryProduct":true,"orderFormGroupId":null,"orderFormName":"Bath Mat","attributes":null,"orderFormGroup":null,"orderFormProperties":[{"key":"Size","value":"60 x 90cm"},{"key":"Colour","value":"Antique Jade"},{"key":"Code","value":"TOWDG0833"}],"controls":{"allowOrder":false,"allowReserve":false,"allowReserveWithBatchSample":false,"allowSample":false,"allowLargeSample":false,"allowBackInStockReminder":false,"disableOrder":false,"disableSample":false},"stockMessage":{"productTypeID":13,"quantityMinimum":1.0,"quantityMaximum":99.0,"productTypeQuantityMaximum":null,"quantityIncrement":1.0,"reserveQuantityMaximum":4.0,"unit":"","allowStockCheck":false,"pieceBreakdownMinimum":null,"pieceBreakdownMaximum":null,"allowBackInStockReminder":false,"freeStock":4.0,"nextPOFreeStock":150.0,"nextPODueDate":"2023-12-21","totalPOFreeStock":150.0,"basketQuantityThresholds":[{"minimum":0,"maximum":99999.99,"stockMessages":[{"stockMessage":"4 in stock","class":"","stockBreakdownTab":0},{"stockMessage":" more due in (2-3 weeks)","class":"","stockBreakdownTab":1}]}]},"orderButtonText":"Add to Basket","reserveButtonText":"Reserve","reserveWithBatchSampleButtonText":"Reserve with Batch Sample","sample":{"productId":null,"stockMessage":null,"orderButtonText":"Add to Basket","displayPrice":null,"displaySalePrice":null,"priceMessage":null},"largeSample":{"productId":null,"stockMessage":null,"orderButtonText":"Add to Basket","displayPrice":null,"displaySalePrice":null,"priceMessage":null}}},"Product":{"productId":216031,"sortOrder":50,"productTypeId":13,"templateId":3,"code":"TOWDG0833","brand":"Designers Guild","gtin13":"5051001689676","name":"Loweswater Antique Jade Bath Mat","AKA":null,"size":"60 x 90cm","imageId":160121,"imageAltText":"Loweswater Antique Jade Bath Mat","imageTitleText":"Loweswater Antique Jade Bath Mat","rRPMessage":null,"rLRRP":"610 kr","rLTradePrice":null,"displayPrice":null,"displaySalePrice":null,"priceMessage":null,"statusMessage":null,"urlSemantics":"loweswater-antique-jade-organic-bath-mat","productPageId":39275,"url":"/se/loweswater-antique-jade-organic-bath-mat/p39275","itemAvailability":"LimitedAvailability","primaryProduct":true,"orderFormGroupId":null,"orderFormName":"Bath Mat","attributes":null,"orderFormGroup":null,"orderFormProperties":[{"key":"Size","value":"60 x 90cm"},{"key":"Colour","value":"Antique Jade"},{"key":"Code","value":"TOWDG0833"}],"controls":{"allowOrder":false,"allowReserve":false,"allowReserveWithBatchSample":false,"allowSample":false,"allowLargeSample":false,"allowBackInStockReminder":false,"disableOrder":false,"disableSample":false},"stockMessage":{"productTypeID":13,"quantityMinimum":1.0,"quantityMaximum":99.0,"productTypeQuantityMaximum":null,"quantityIncrement":1.0,"reserveQuantityMaximum":4.0,"unit":"","allowStockCheck":false,"pieceBreakdownMinimum":null,"pieceBreakdownMaximum":null,"allowBackInStockReminder":false,"freeStock":4.0,"nextPOFreeStock":150.0,"nextPODueDate":"2023-12-21","totalPOFreeStock":150.0,"basketQuantityThresholds":[{"minimum":0,"maximum":99999.99,"stockMessages":[{"stockMessage":"4 in stock","class":"","stockBreakdownTab":0},{"stockMessage":" more due in (2-3 weeks)","class":"","stockBreakdownTab":1}]}]},"orderButtonText":"Add to Basket","reserveButtonText":"Reserve","reserveWithBatchSampleButtonText":"Reserve with Batch Sample","sample":{"productId":null,"stockMessage":null,"orderButtonText":"Add to Basket","displayPrice":null,"displaySalePrice":null,"priceMessage":null},"largeSample":{"productId":null,"stockMessage":null,"orderButtonText":"Add to Basket","displayPrice":null,"displaySalePrice":null,"priceMessage":null}},"Carousel":{"CarouselID":"#product-216031-carsouel","WrapperCSSClass":null,"AspectRatio":1.0,"Heading":"Bath Mat","Images":[{"ImageID":160121,"SortOrder":0,"AltText":"Loweswater Antique Jade Bath Mat","Overlay":null,"MaxWidth":null,"ImageSize":1,"ForceLazyLoading":false}],"DisplayThumbnails":false,"DisplayDashes":true,"Interval":null,"PermitLargeImageModal":true},"ProductID":216031,"ProductTypeID":13,"ProductPageID":39275,"ProductCode":"TOWDG0833","Brand":"Designers Guild","OrderFormID":"#product-216031","OrderFormCarouselID":"#product-216031-slide","PrimaryProduct":true,"OrderFormGroupID":null,"OrderFormGroup":null,"Size":"60 x 90cm","OrderFormName":"Bath Mat","BasketName":"Loweswater Antique Jade Bath Mat","SortOrder":50,"Attributes":null,"Image":{"imageId":160121,"templateImageId":2,"altText":"Loweswater Antique Jade Bath Mat","titleText":"Loweswater Antique Jade Bath Mat","sortOrder":0,"maxWidth":488},"OrderFormProperties":[{"Key":"Size","Value":"60 x 90cm"},{"Key":"Colour","Value":"Antique Jade"},{"Key":"Code","Value":"TOWDG0833"}],"AllowSample":false,"AllowLargeSample":false,"AllowOrder":false,"AllowReserve":false,"AllowReserveWithBatchCutting":false,"ClientProductViewModels":"","URLKeywords":"loweswater-antique-jade-organic-bath-mat","ImageLinkToProductPage":false,"IsLifestyle":false,"IsHotspot":false},"OtherProducts":[{"Solitary":false,"ProductBase":{"product":{"productId":199462,"sortOrder":150,"productTypeId":13,"templateId":3,"code":"TOWDG0770","brand":"Designers Guild","gtin13":"5051001516873","name":"Loweswater Antique Jade Wash Cloth Pack of 2","AKA":null,"size":"30 x 30cm","imageId":135183,"imageAltText":"Loweswater Antique Jade Wash Cloth 30x30cm - Pack of 2","imageTitleText":"Loweswater Antique Jade Wash Cloth 30x30cm - Pack of 2","rRPMessage":null,"rLRRP":"190 kr","rLTradePrice":null,"displayPrice":null,"displaySalePrice":null,"priceMessage":null,"statusMessage":null,"urlSemantics":"loweswater-antique-jade-organic-towels","productPageId":36074,"url":"/se/loweswater-antique-jade-organic-towels/p36074","itemAvailability":"InStock","primaryProduct":false,"orderFormGroupId":8,"orderFormName":"Wash Cloth (Set of 2)","attributes":null,"orderFormGroup":"Co-ordinates with","orderFormProperties":[{"key":"Size","value":"30 x 30cm"},{"key":"Colour","value":"Antique Jade"},{"key":"Code","value":"TOWDG0770"}],"controls":{"allowOrder":false,"allowReserve":false,"allowReserveWithBatchSample":false,"allowSample":false,"allowLargeSample":false,"allowBackInStockReminder":false,"disableOrder":false,"disableSample":false},"stockMessage":{"productTypeID":13,"quantityMinimum":1.0,"quantityMaximum":99.0,"productTypeQuantityMaximum":null,"quantityIncrement":1.0,"reserveQuantityMaximum":50.0,"unit":"","allowStockCheck":false,"pieceBreakdownMinimum":null,"pieceBreakdownMaximum":null,"allowBackInStockReminder":false,"freeStock":188.0,"nextPOFreeStock":0.0,"nextPODueDate":null,"totalPOFreeStock":0.0,"basketQuantityThresholds":[{"minimum":0,"maximum":99999.99,"stockMessages":[{"stockMessage":"In stock","class":"","stockBreakdownTab":0}]}]},"orderButtonText":"Add to Basket","reserveButtonText":"Reserve","reserveWithBatchSampleButtonText":"Reserve with Batch Sample","sample":{"productId":null,"stockMessage":null,"orderButtonText":"Add to Basket","displayPrice":null,"displaySalePrice":null,"priceMessage":null},"largeSample":{"productId":null,"stockMessage":null,"orderButtonText":"Add to Basket","displayPrice":null,"displaySalePrice":null,"priceMessage":null}}},"Product":{"productId":199462,"sortOrder":150,"productTypeId":13,"templateId":3,"code":"TOWDG0770","brand":"Designers Guild","gtin13":"5051001516873","name":"Loweswater Antique Jade Wash Cloth Pack of 2","AKA":null,"size":"30 x 30cm","imageId":135183,"imageAltText":"Loweswater Antique Jade Wash Cloth 30x30cm - Pack of 2","imageTitleText":"Loweswater Antique Jade Wash Cloth 30x30cm - Pack of 2","rRPMessage":null,"rLRRP":"190 kr","rLTradePrice":null,"displayPrice":null,"displaySalePrice":null,"priceMessage":null,"statusMessage":null,"urlSemantics":"loweswater-antique-jade-organic-towels","productPageId":36074,"url":"/se/loweswater-antique-jade-organic-towels/p36074","itemAvailability":"InStock","primaryProduct":false,"orderFormGroupId":8,"orderFormName":"Wash Cloth (Set of 2)","attributes":null,"orderFormGroup":"Co-ordinates with","orderFormProperties":[{"key":"Size","value":"30 x 30cm"},{"key":"Colour","value":"Antique Jade"},{"key":"Code","value":"TOWDG0770"}],"controls":{"allowOrder":false,"allowReserve":false,"allowReserveWithBatchSample":false,"allowSample":false,"allowLargeSample":false,"allowBackInStockReminder":false,"disableOrder":false,"disableSample":false},"stockMessage":{"productTypeID":13,"quantityMinimum":1.0,"quantityMaximum":99.0,"productTypeQuantityMaximum":null,"quantityIncrement":1.0,"reserveQuantityMaximum":50.0,"unit":"","allowStockCheck":false,"pieceBreakdownMinimum":null,"pieceBreakdownMaximum":null,"allowBackInStockReminder":false,"freeStock":188.0,"nextPOFreeStock":0.0,"nextPODueDate":null,"totalPOFreeStock":0.0,"basketQuantityThresholds":[{"minimum":0,"maximum":99999.99,"stockMessages":[{"stockMessage":"In stock","class":"","stockBreakdownTab":0}]}]},"orderButtonText":"Add to Basket","reserveButtonText":"Reserve","reserveWithBatchSampleButtonText":"Reserve with Batch Sample","sample":{"productId":null,"stockMessage":null,"orderButtonText":"Add to Basket","displayPrice":null,"displaySalePrice":null,"priceMessage":null},"largeSample":{"productId":null,"stockMessage":null,"orderButtonText":"Add to Basket","displayPrice":null,"displaySalePrice":null,"priceMessage":null}},"Carousel":{"CarouselID":"#product-199462-carsouel","WrapperCSSClass":null,"AspectRatio":1.0,"Heading":"Wash Cloth (Set of 2)","Images":[{"ImageID":135183,"SortOrder":0,"AltText":"Loweswater Antique Jade Wash Cloth 30x30cm - Pack of 2","Overlay":null,"MaxWidth":null,"ImageSize":1,"ForceLazyLoading":false}],"DisplayThumbnails":false,"DisplayDashes":true,"Interval":null,"PermitLargeImageModal":true},"ProductID":199462,"ProductTypeID":13,"ProductPageID":36074,"ProductCode":"TOWDG0770","Brand":"Designers Guild","OrderFormID":"#product-199462","OrderFormCarouselID":"#product-199462-slide","PrimaryProduct":false,"OrderFormGroupID":8,"OrderFormGroup":"Co-ordinates with","Size":"30 x 30cm","OrderFormName":"Wash Cloth (Set of 2)","BasketName":"Loweswater Antique Jade Wash Cloth Pack of 2","SortOrder":150,"Attributes":null,"Image":{"imageId":135183,"templateImageId":2,"altText":"Loweswater Antique Jade Wash Cloth 30x30cm - Pack of 2","titleText":"Loweswater Antique Jade Wash Cloth 30x30cm - Pack of 2","sortOrder":0,"maxWidth":488},"OrderFormProperties":[{"Key":"Size","Value":"30 x 30cm"},{"Key":"Colour","Value":"Antique Jade"},{"Key":"Code","Value":"TOWDG0770"}],"AllowSample":false,"AllowLargeSample":false,"AllowOrder":false,"AllowReserve":false,"AllowReserveWithBatchCutting":false,"ClientProductViewModels":"","URLKeywords":"loweswater-antique-jade-organic-towels","ImageLinkToProductPage":false,"IsLifestyle":false,"IsHotspot":false},{"Solitary":false,"ProductBase":{"product":{"productId":199443,"sortOrder":151,"productTypeId":13,"templateId":3,"code":"TOWDG0746","brand":"Designers Guild","gtin13":"5051001640950","name":"Loweswater Antique Jade Hand Towel","AKA":null,"size":"50 x 100cm","imageId":135190,"imageAltText":"Loweswater Antique Jade Hand Towel","imageTitleText":"Loweswater Antique Jade Hand Towel","rRPMessage":null,"rLRRP":"250 kr","rLTradePrice":null,"displayPrice":null,"displaySalePrice":null,"priceMessage":null,"statusMessage":null,"urlSemantics":"loweswater-antique-jade-organic-towels","productPageId":36074,"url":"/se/loweswater-antique-jade-organic-towels/p36074","itemAvailability":"LimitedAvailability","primaryProduct":false,"orderFormGroupId":8,"orderFormName":"Hand Towel","attributes":null,"orderFormGroup":"Co-ordinates with","orderFormProperties":[{"key":"Size","value":"50 x 100cm"},{"key":"Colour","value":"Antique Jade"},{"key":"Code","value":"TOWDG0746"}],"controls":{"allowOrder":false,"allowReserve":false,"allowReserveWithBatchSample":false,"allowSample":false,"allowLargeSample":false,"allowBackInStockReminder":false,"disableOrder":false,"disableSample":false},"stockMessage":{"productTypeID":13,"quantityMinimum":1.0,"quantityMaximum":99.0,"productTypeQuantityMaximum":null,"quantityIncrement":1.0,"reserveQuantityMaximum":0.0,"unit":"","allowStockCheck":false,"pieceBreakdownMinimum":null,"pieceBreakdownMaximum":null,"allowBackInStockReminder":true,"freeStock":0.0,"nextPOFreeStock":129.0,"nextPODueDate":"2023-12-21","totalPOFreeStock":129.0,"basketQuantityThresholds":[{"minimum":0,"maximum":99999.99,"stockMessages":[{"stockMessage":" more due in (2-3 weeks)","class":"","stockBreakdownTab":1}]}]},"orderButtonText":"Add to Basket","reserveButtonText":"Reserve","reserveWithBatchSampleButtonText":"Reserve with Batch Sample","sample":{"productId":null,"stockMessage":null,"orderButtonText":"Add to Basket","displayPrice":null,"displaySalePrice":null,"priceMessage":null},"largeSample":{"productId":null,"stockMessage":null,"orderButtonText":"Add to Basket","displayPrice":null,"displaySalePrice":null,"priceMessage":null}}},"Product":{"productId":199443,"sortOrder":151,"productTypeId":13,"templateId":3,"code":"TOWDG0746","brand":"Designers Guild","gtin13":"5051001640950","name":"Loweswater Antique Jade Hand Towel","AKA":null,"size":"50 x 100cm","imageId":135190,"imageAltText":"Loweswater Antique Jade Hand Towel","imageTitleText":"Loweswater Antique Jade Hand Towel","rRPMessage":null,"rLRRP":"250 kr","rLTradePrice":null,"displayPrice":null,"displaySalePrice":null,"priceMessage":null,"statusMessage":null,"urlSemantics":"loweswater-antique-jade-organic-towels","productPageId":36074,"url":"/se/loweswater-antique-jade-organic-towels/p36074","itemAvailability":"LimitedAvailability","primaryProduct":false,"orderFormGroupId":8,"orderFormName":"Hand Towel","attributes":null,"orderFormGroup":"Co-ordinates with","orderFormProperties":[{"key":"Size","value":"50 x 100cm"},{"key":"Colour","value":"Antique Jade"},{"key":"Code","value":"TOWDG0746"}],"controls":{"allowOrder":false,"allowReserve":false,"allowReserveWithBatchSample":false,"allowSample":false,"allowLargeSample":false,"allowBackInStockReminder":false,"disableOrder":false,"disableSample":false},"stockMessage":{"productTypeID":13,"quantityMinimum":1.0,"quantityMaximum":99.0,"productTypeQuantityMaximum":null,"quantityIncrement":1.0,"reserveQuantityMaximum":0.0,"unit":"","allowStockCheck":false,"pieceBreakdownMinimum":null,"pieceBreakdownMaximum":null,"allowBackInStockReminder":true,"freeStock":0.0,"nextPOFreeStock":129.0,"nextPODueDate":"2023-12-21","totalPOFreeStock":129.0,"basketQuantityThresholds":[{"minimum":0,"maximum":99999.99,"stockMessages":[{"stockMessage":" more due in (2-3 weeks)","class":"","stockBreakdownTab":1}]}]},"orderButtonText":"Add to Basket","reserveButtonText":"Reserve","reserveWithBatchSampleButtonText":"Reserve with Batch Sample","sample":{"productId":null,"stockMessage":null,"orderButtonText":"Add to Basket","displayPrice":null,"displaySalePrice":null,"priceMessage":null},"largeSample":{"productId":null,"stockMessage":null,"orderButtonText":"Add to Basket","displayPrice":null,"displaySalePrice":null,"priceMessage":null}},"Carousel":{"CarouselID":"#product-199443-carsouel","WrapperCSSClass":null,"AspectRatio":1.0,"Heading":"Hand Towel","Images":[{"ImageID":135190,"SortOrder":0,"AltText":"Loweswater Antique Jade Hand Towel","Overlay":null,"MaxWidth":null,"ImageSize":1,"ForceLazyLoading":false}],"DisplayThumbnails":false,"DisplayDashes":true,"Interval":null,"PermitLargeImageModal":true},"ProductID":199443,"ProductTypeID":13,"ProductPageID":36074,"ProductCode":"TOWDG0746","Brand":"Designers Guild","OrderFormID":"#product-199443","OrderFormCarouselID":"#product-199443-slide","PrimaryProduct":false,"OrderFormGroupID":8,"OrderFormGroup":"Co-ordinates with","Size":"50 x 100cm","OrderFormName":"Hand Towel","BasketName":"Loweswater Antique Jade Hand Towel","SortOrder":151,"Attributes":null,"Image":{"imageId":135190,"templateImageId":2,"altText":"Loweswater Antique Jade Hand Towel","titleText":"Loweswater Antique Jade Hand Towel","sortOrder":0,"maxWidth":488},"OrderFormProperties":[{"Key":"Size","Value":"50 x 100cm"},{"Key":"Colour","Value":"Antique Jade"},{"Key":"Code","Value":"TOWDG0746"}],"AllowSample":false,"AllowLargeSample":false,"AllowOrder":false,"AllowReserve":false,"AllowReserveWithBatchCutting":false,"ClientProductViewModels":"","URLKeywords":"loweswater-antique-jade-organic-towels","ImageLinkToProductPage":false,"IsLifestyle":false,"IsHotspot":false},{"Solitary":false,"ProductBase":{"product":{"productId":199444,"sortOrder":152,"productTypeId":13,"templateId":3,"code":"TOWDG0747","brand":"Designers Guild","gtin13":"5051001001034","name":"Loweswater Antique Jade Bath Towel","AKA":null,"size":"70 x 130cm","imageId":135184,"imageAltText":"Loweswater Antique Jade Bath Towel","imageTitleText":"Loweswater Antique Jade Bath Towel","rRPMessage":null,"rLRRP":"450 kr","rLTradePrice":null,"displayPrice":null,"displaySalePrice":null,"priceMessage":null,"statusMessage":null,"urlSemantics":"loweswater-antique-jade-organic-towels","productPageId":36074,"url":"/se/loweswater-antique-jade-organic-towels/p36074","itemAvailability":"InStock","primaryProduct":false,"orderFormGroupId":8,"orderFormName":"Bath Towel","attributes":null,"orderFormGroup":"Co-ordinates with","orderFormProperties":[{"key":"Size","value":"70 x 130cm"},{"key":"Colour","value":"Antique Jade"},{"key":"Code","value":"TOWDG0747"}],"controls":{"allowOrder":false,"allowReserve":false,"allowReserveWithBatchSample":false,"allowSample":false,"allowLargeSample":false,"allowBackInStockReminder":false,"disableOrder":false,"disableSample":false},"stockMessage":{"productTypeID":13,"quantityMinimum":1.0,"quantityMaximum":99.0,"productTypeQuantityMaximum":null,"quantityIncrement":1.0,"reserveQuantityMaximum":50.0,"unit":"","allowStockCheck":false,"pieceBreakdownMinimum":null,"pieceBreakdownMaximum":null,"allowBackInStockReminder":false,"freeStock":112.0,"nextPOFreeStock":0.0,"nextPODueDate":null,"totalPOFreeStock":0.0,"basketQuantityThresholds":[{"minimum":0,"maximum":99999.99,"stockMessages":[{"stockMessage":"In stock","class":"","stockBreakdownTab":0}]}]},"orderButtonText":"Add to Basket","reserveButtonText":"Reserve","reserveWithBatchSampleButtonText":"Reserve with Batch Sample","sample":{"productId":null,"stockMessage":null,"orderButtonText":"Add to Basket","displayPrice":null,"displaySalePrice":null,"priceMessage":null},"largeSample":{"productId":null,"stockMessage":null,"orderButtonText":"Add to Basket","displayPrice":null,"displaySalePrice":null,"priceMessage":null}}},"Product":{"productId":199444,"sortOrder":152,"productTypeId":13,"templateId":3,"code":"TOWDG0747","brand":"Designers Guild","gtin13":"5051001001034","name":"Loweswater Antique Jade Bath Towel","AKA":null,"size":"70 x 130cm","imageId":135184,"imageAltText":"Loweswater Antique Jade Bath Towel","imageTitleText":"Loweswater Antique Jade Bath Towel","rRPMessage":null,"rLRRP":"450 kr","rLTradePrice":null,"displayPrice":null,"displaySalePrice":null,"priceMessage":null,"statusMessage":null,"urlSemantics":"loweswater-antique-jade-organic-towels","productPageId":36074,"url":"/se/loweswater-antique-jade-organic-towels/p36074","itemAvailability":"InStock","primaryProduct":false,"orderFormGroupId":8,"orderFormName":"Bath Towel","attributes":null,"orderFormGroup":"Co-ordinates with","orderFormProperties":[{"key":"Size","value":"70 x 130cm"},{"key":"Colour","value":"Antique Jade"},{"key":"Code","value":"TOWDG0747"}],"controls":{"allowOrder":false,"allowReserve":false,"allowReserveWithBatchSample":false,"allowSample":false,"allowLargeSample":false,"allowBackInStockReminder":false,"disableOrder":false,"disableSample":false},"stockMessage":{"productTypeID":13,"quantityMinimum":1.0,"quantityMaximum":99.0,"productTypeQuantityMaximum":null,"quantityIncrement":1.0,"reserveQuantityMaximum":50.0,"unit":"","allowStockCheck":false,"pieceBreakdownMinimum":null,"pieceBreakdownMaximum":null,"allowBackInStockReminder":false,"freeStock":112.0,"nextPOFreeStock":0.0,"nextPODueDate":null,"totalPOFreeStock":0.0,"basketQuantityThresholds":[{"minimum":0,"maximum":99999.99,"stockMessages":[{"stockMessage":"In stock","class":"","stockBreakdownTab":0}]}]},"orderButtonText":"Add to Basket","reserveButtonText":"Reserve","reserveWithBatchSampleButtonText":"Reserve with Batch Sample","sample":{"productId":null,"stockMessage":null,"orderButtonText":"Add to Basket","displayPrice":null,"displaySalePrice":null,"priceMessage":null},"largeSample":{"productId":null,"stockMessage":null,"orderButtonText":"Add to Basket","displayPrice":null,"displaySalePrice":null,"priceMessage":null}},"Carousel":{"CarouselID":"#product-199444-carsouel","WrapperCSSClass":null,"AspectRatio":1.0,"Heading":"Bath Towel","Images":[{"ImageID":135184,"SortOrder":0,"AltText":"Loweswater Antique Jade Bath Towel","Overlay":null,"MaxWidth":null,"ImageSize":1,"ForceLazyLoading":false}],"DisplayThumbnails":false,"DisplayDashes":true,"Interval":null,"PermitLargeImageModal":true},"ProductID":199444,"ProductTypeID":13,"ProductPageID":36074,"ProductCode":"TOWDG0747","Brand":"Designers Guild","OrderFormID":"#product-199444","OrderFormCarouselID":"#product-199444-slide","PrimaryProduct":false,"OrderFormGroupID":8,"OrderFormGroup":"Co-ordinates with","Size":"70 x 130cm","OrderFormName":"Bath Towel","BasketName":"Loweswater Antique Jade Bath Towel","SortOrder":152,"Attributes":null,"Image":{"imageId":135184,"templateImageId":2,"altText":"Loweswater Antique Jade Bath Towel","titleText":"Loweswater Antique Jade Bath Towel","sortOrder":0,"maxWidth":488},"OrderFormProperties":[{"Key":"Size","Value":"70 x 130cm"},{"Key":"Colour","Value":"Antique Jade"},{"Key":"Code","Value":"TOWDG0747"}],"AllowSample":false,"AllowLargeSample":false,"AllowOrder":false,"AllowReserve":false,"AllowReserveWithBatchCutting":false,"ClientProductViewModels":"","URLKeywords":"loweswater-antique-jade-organic-towels","ImageLinkToProductPage":false,"IsLifestyle":false,"IsHotspot":false},{"Solitary":false,"ProductBase":{"product":{"productId":199445,"sortOrder":153,"productTypeId":13,"templateId":3,"code":"TOWDG0748","brand":"Designers Guild","gtin13":"5051001526339","name":"Loweswater Antique Jade Bath Sheet","AKA":null,"size":"100 x 165cm","imageId":135188,"imageAltText":"Loweswater Antique Jade Bath Sheet","imageTitleText":"Loweswater Antique Jade Bath Sheet","rRPMessage":null,"rLRRP":"690 kr","rLTradePrice":null,"displayPrice":null,"displaySalePrice":null,"priceMessage":null,"statusMessage":null,"urlSemantics":"loweswater-antique-jade-organic-towels","productPageId":36074,"url":"/se/loweswater-antique-jade-organic-towels/p36074","itemAvailability":"InStock","primaryProduct":false,"orderFormGroupId":8,"orderFormName":"Bath Sheet","attributes":null,"orderFormGroup":"Co-ordinates with","orderFormProperties":[{"key":"Size","value":"100 x 165cm"},{"key":"Colour","value":"Antique Jade"},{"key":"Code","value":"TOWDG0748"}],"controls":{"allowOrder":false,"allowReserve":false,"allowReserveWithBatchSample":false,"allowSample":false,"allowLargeSample":false,"allowBackInStockReminder":false,"disableOrder":false,"disableSample":false},"stockMessage":{"productTypeID":13,"quantityMinimum":1.0,"quantityMaximum":99.0,"productTypeQuantityMaximum":null,"quantityIncrement":1.0,"reserveQuantityMaximum":50.0,"unit":"","allowStockCheck":false,"pieceBreakdownMinimum":null,"pieceBreakdownMaximum":null,"allowBackInStockReminder":false,"freeStock":216.0,"nextPOFreeStock":0.0,"nextPODueDate":null,"totalPOFreeStock":0.0,"basketQuantityThresholds":[{"minimum":0,"maximum":99999.99,"stockMessages":[{"stockMessage":"In stock","class":"","stockBreakdownTab":0}]}]},"orderButtonText":"Add to Basket","reserveButtonText":"Reserve","reserveWithBatchSampleButtonText":"Reserve with Batch Sample","sample":{"productId":null,"stockMessage":null,"orderButtonText":"Add to Basket","displayPrice":null,"displaySalePrice":null,"priceMessage":null},"largeSample":{"productId":null,"stockMessage":null,"orderButtonText":"Add to Basket","displayPrice":null,"displaySalePrice":null,"priceMessage":null}}},"Product":{"productId":199445,"sortOrder":153,"productTypeId":13,"templateId":3,"code":"TOWDG0748","brand":"Designers Guild","gtin13":"5051001526339","name":"Loweswater Antique Jade Bath Sheet","AKA":null,"size":"100 x 165cm","imageId":135188,"imageAltText":"Loweswater Antique Jade Bath Sheet","imageTitleText":"Loweswater Antique Jade Bath Sheet","rRPMessage":null,"rLRRP":"690 kr","rLTradePrice":null,"displayPrice":null,"displaySalePrice":null,"priceMessage":null,"statusMessage":null,"urlSemantics":"loweswater-antique-jade-organic-towels","productPageId":36074,"url":"/se/loweswater-antique-jade-organic-towels/p36074","itemAvailability":"InStock","primaryProduct":false,"orderFormGroupId":8,"orderFormName":"Bath Sheet","attributes":null,"orderFormGroup":"Co-ordinates with","orderFormProperties":[{"key":"Size","value":"100 x 165cm"},{"key":"Colour","value":"Antique Jade"},{"key":"Code","value":"TOWDG0748"}],"controls":{"allowOrder":false,"allowReserve":false,"allowReserveWithBatchSample":false,"allowSample":false,"allowLargeSample":false,"allowBackInStockReminder":false,"disableOrder":false,"disableSample":false},"stockMessage":{"productTypeID":13,"quantityMinimum":1.0,"quantityMaximum":99.0,"productTypeQuantityMaximum":null,"quantityIncrement":1.0,"reserveQuantityMaximum":50.0,"unit":"","allowStockCheck":false,"pieceBreakdownMinimum":null,"pieceBreakdownMaximum":null,"allowBackInStockReminder":false,"freeStock":216.0,"nextPOFreeStock":0.0,"nextPODueDate":null,"totalPOFreeStock":0.0,"basketQuantityThresholds":[{"minimum":0,"maximum":99999.99,"stockMessages":[{"stockMessage":"In stock","class":"","stockBreakdownTab":0}]}]},"orderButtonText":"Add to Basket","reserveButtonText":"Reserve","reserveWithBatchSampleButtonText":"Reserve with Batch Sample","sample":{"productId":null,"stockMessage":null,"orderButtonText":"Add to Basket","displayPrice":null,"displaySalePrice":null,"priceMessage":null},"largeSample":{"productId":null,"stockMessage":null,"orderButtonText":"Add to Basket","displayPrice":null,"displaySalePrice":null,"priceMessage":null}},"Carousel":{"CarouselID":"#product-199445-carsouel","WrapperCSSClass":null,"AspectRatio":1.0,"Heading":"Bath Sheet","Images":[{"ImageID":135188,"SortOrder":0,"AltText":"Loweswater Antique Jade Bath Sheet","Overlay":null,"MaxWidth":null,"ImageSize":1,"ForceLazyLoading":false}],"DisplayThumbnails":false,"DisplayDashes":true,"Interval":null,"PermitLargeImageModal":true},"ProductID":199445,"ProductTypeID":13,"ProductPageID":36074,"ProductCode":"TOWDG0748","Brand":"Designers Guild","OrderFormID":"#product-199445","OrderFormCarouselID":"#product-199445-slide","PrimaryProduct":false,"OrderFormGroupID":8,"OrderFormGroup":"Co-ordinates with","Size":"100 x 165cm","OrderFormName":"Bath Sheet","BasketName":"Loweswater Antique Jade Bath Sheet","SortOrder":153,"Attributes":null,"Image":{"imageId":135188,"templateImageId":2,"altText":"Loweswater Antique Jade Bath Sheet","titleText":"Loweswater Antique Jade Bath Sheet","sortOrder":0,"maxWidth":488},"OrderFormProperties":[{"Key":"Size","Value":"100 x 165cm"},{"Key":"Colour","Value":"Antique Jade"},{"Key":"Code","Value":"TOWDG0748"}],"AllowSample":false,"AllowLargeSample":false,"AllowOrder":false,"AllowReserve":false,"AllowReserveWithBatchCutting":false,"ClientProductViewModels":"","URLKeywords":"loweswater-antique-jade-organic-towels","ImageLinkToProductPage":false,"IsLifestyle":false,"IsHotspot":false}],"RelatedProductPages":[],"RelatedSearches":[],"AllProducts":[{"Solitary":false,"ProductBase":{"product":{"productId":216031,"sortOrder":50,"productTypeId":13,"templateId":3,"code":"TOWDG0833","brand":"Designers Guild","gtin13":"5051001689676","name":"Loweswater Antique Jade Bath Mat","AKA":null,"size":"60 x 90cm","imageId":160121,"imageAltText":"Loweswater Antique Jade Bath Mat","imageTitleText":"Loweswater Antique Jade Bath Mat","rRPMessage":null,"rLRRP":"610 kr","rLTradePrice":null,"displayPrice":null,"displaySalePrice":null,"priceMessage":null,"statusMessage":null,"urlSemantics":"loweswater-antique-jade-organic-bath-mat","productPageId":39275,"url":"/se/loweswater-antique-jade-organic-bath-mat/p39275","itemAvailability":"LimitedAvailability","primaryProduct":true,"orderFormGroupId":null,"orderFormName":"Bath Mat","attributes":null,"orderFormGroup":null,"orderFormProperties":[{"key":"Size","value":"60 x 90cm"},{"key":"Colour","value":"Antique Jade"},{"key":"Code","value":"TOWDG0833"}],"controls":{"allowOrder":false,"allowReserve":false,"allowReserveWithBatchSample":false,"allowSample":false,"allowLargeSample":false,"allowBackInStockReminder":false,"disableOrder":false,"disableSample":false},"stockMessage":{"productTypeID":13,"quantityMinimum":1.0,"quantityMaximum":99.0,"productTypeQuantityMaximum":null,"quantityIncrement":1.0,"reserveQuantityMaximum":4.0,"unit":"","allowStockCheck":false,"pieceBreakdownMinimum":null,"pieceBreakdownMaximum":null,"allowBackInStockReminder":false,"freeStock":4.0,"nextPOFreeStock":150.0,"nextPODueDate":"2023-12-21","totalPOFreeStock":150.0,"basketQuantityThresholds":[{"minimum":0,"maximum":99999.99,"stockMessages":[{"stockMessage":"4 in stock","class":"","stockBreakdownTab":0},{"stockMessage":" more due in (2-3 weeks)","class":"","stockBreakdownTab":1}]}]},"orderButtonText":"Add to Basket","reserveButtonText":"Reserve","reserveWithBatchSampleButtonText":"Reserve with Batch Sample","sample":{"productId":null,"stockMessage":null,"orderButtonText":"Add to Basket","displayPrice":null,"displaySalePrice":null,"priceMessage":null},"largeSample":{"productId":null,"stockMessage":null,"orderButtonText":"Add to Basket","displayPrice":null,"displaySalePrice":null,"priceMessage":null}}},"Product":{"productId":216031,"sortOrder":50,"productTypeId":13,"templateId":3,"code":"TOWDG0833","brand":"Designers Guild","gtin13":"5051001689676","name":"Loweswater Antique Jade Bath Mat","AKA":null,"size":"60 x 90cm","imageId":160121,"imageAltText":"Loweswater Antique Jade Bath Mat","imageTitleText":"Loweswater Antique Jade Bath Mat","rRPMessage":null,"rLRRP":"610 kr","rLTradePrice":null,"displayPrice":null,"displaySalePrice":null,"priceMessage":null,"statusMessage":null,"urlSemantics":"loweswater-antique-jade-organic-bath-mat","productPageId":39275,"url":"/se/loweswater-antique-jade-organic-bath-mat/p39275","itemAvailability":"LimitedAvailability","primaryProduct":true,"orderFormGroupId":null,"orderFormName":"Bath Mat","attributes":null,"orderFormGroup":null,"orderFormProperties":[{"key":"Size","value":"60 x 90cm"},{"key":"Colour","value":"Antique Jade"},{"key":"Code","value":"TOWDG0833"}],"controls":{"allowOrder":false,"allowReserve":false,"allowReserveWithBatchSample":false,"allowSample":false,"allowLargeSample":false,"allowBackInStockReminder":false,"disableOrder":false,"disableSample":false},"stockMessage":{"productTypeID":13,"quantityMinimum":1.0,"quantityMaximum":99.0,"productTypeQuantityMaximum":null,"quantityIncrement":1.0,"reserveQuantityMaximum":4.0,"unit":"","allowStockCheck":false,"pieceBreakdownMinimum":null,"pieceBreakdownMaximum":null,"allowBackInStockReminder":false,"freeStock":4.0,"nextPOFreeStock":150.0,"nextPODueDate":"2023-12-21","totalPOFreeStock":150.0,"basketQuantityThresholds":[{"minimum":0,"maximum":99999.99,"stockMessages":[{"stockMessage":"4 in stock","class":"","stockBreakdownTab":0},{"stockMessage":" more due in (2-3 weeks)","class":"","stockBreakdownTab":1}]}]},"orderButtonText":"Add to Basket","reserveButtonText":"Reserve","reserveWithBatchSampleButtonText":"Reserve with Batch Sample","sample":{"productId":null,"stockMessage":null,"orderButtonText":"Add to Basket","displayPrice":null,"displaySalePrice":null,"priceMessage":null},"largeSample":{"productId":null,"stockMessage":null,"orderButtonText":"Add to Basket","displayPrice":null,"displaySalePrice":null,"priceMessage":null}},"Carousel":{"CarouselID":"#product-216031-carsouel","WrapperCSSClass":null,"AspectRatio":1.0,"Heading":"Bath Mat","Images":[{"ImageID":160121,"SortOrder":0,"AltText":"Loweswater Antique Jade Bath Mat","Overlay":null,"MaxWidth":null,"ImageSize":1,"ForceLazyLoading":false}],"DisplayThumbnails":false,"DisplayDashes":true,"Interval":null,"PermitLargeImageModal":true},"ProductID":216031,"ProductTypeID":13,"ProductPageID":39275,"ProductCode":"TOWDG0833","Brand":"Designers Guild","OrderFormID":"#product-216031","OrderFormCarouselID":"#product-216031-slide","PrimaryProduct":true,"OrderFormGroupID":null,"OrderFormGroup":null,"Size":"60 x 90cm","OrderFormName":"Bath Mat","BasketName":"Loweswater Antique Jade Bath Mat","SortOrder":50,"Attributes":null,"Image":{"imageId":160121,"templateImageId":2,"altText":"Loweswater Antique Jade Bath Mat","titleText":"Loweswater Antique Jade Bath Mat","sortOrder":0,"maxWidth":488},"OrderFormProperties":[{"Key":"Size","Value":"60 x 90cm"},{"Key":"Colour","Value":"Antique Jade"},{"Key":"Code","Value":"TOWDG0833"}],"AllowSample":false,"AllowLargeSample":false,"AllowOrder":false,"AllowReserve":false,"AllowReserveWithBatchCutting":false,"ClientProductViewModels":"","URLKeywords":"loweswater-antique-jade-organic-bath-mat","ImageLinkToProductPage":false,"IsLifestyle":false,"IsHotspot":false},{"Solitary":false,"ProductBase":{"product":{"productId":199462,"sortOrder":150,"productTypeId":13,"templateId":3,"code":"TOWDG0770","brand":"Designers Guild","gtin13":"5051001516873","name":"Loweswater Antique Jade Wash Cloth Pack of 2","AKA":null,"size":"30 x 30cm","imageId":135183,"imageAltText":"Loweswater Antique Jade Wash Cloth 30x30cm - Pack of 2","imageTitleText":"Loweswater Antique Jade Wash Cloth 30x30cm - Pack of 2","rRPMessage":null,"rLRRP":"190 kr","rLTradePrice":null,"displayPrice":null,"displaySalePrice":null,"priceMessage":null,"statusMessage":null,"urlSemantics":"loweswater-antique-jade-organic-towels","productPageId":36074,"url":"/se/loweswater-antique-jade-organic-towels/p36074","itemAvailability":"InStock","primaryProduct":false,"orderFormGroupId":8,"orderFormName":"Wash Cloth (Set of 2)","attributes":null,"orderFormGroup":"Co-ordinates with","orderFormProperties":[{"key":"Size","value":"30 x 30cm"},{"key":"Colour","value":"Antique Jade"},{"key":"Code","value":"TOWDG0770"}],"controls":{"allowOrder":false,"allowReserve":false,"allowReserveWithBatchSample":false,"allowSample":false,"allowLargeSample":false,"allowBackInStockReminder":false,"disableOrder":false,"disableSample":false},"stockMessage":{"productTypeID":13,"quantityMinimum":1.0,"quantityMaximum":99.0,"productTypeQuantityMaximum":null,"quantityIncrement":1.0,"reserveQuantityMaximum":50.0,"unit":"","allowStockCheck":false,"pieceBreakdownMinimum":null,"pieceBreakdownMaximum":null,"allowBackInStockReminder":false,"freeStock":188.0,"nextPOFreeStock":0.0,"nextPODueDate":null,"totalPOFreeStock":0.0,"basketQuantityThresholds":[{"minimum":0,"maximum":99999.99,"stockMessages":[{"stockMessage":"In stock","class":"","stockBreakdownTab":0}]}]},"orderButtonText":"Add to Basket","reserveButtonText":"Reserve","reserveWithBatchSampleButtonText":"Reserve with Batch Sample","sample":{"productId":null,"stockMessage":null,"orderButtonText":"Add to Basket","displayPrice":null,"displaySalePrice":null,"priceMessage":null},"largeSample":{"productId":null,"stockMessage":null,"orderButtonText":"Add to Basket","displayPrice":null,"displaySalePrice":null,"priceMessage":null}}},"Product":{"productId":199462,"sortOrder":150,"productTypeId":13,"templateId":3,"code":"TOWDG0770","brand":"Designers Guild","gtin13":"5051001516873","name":"Loweswater Antique Jade Wash Cloth Pack of 2","AKA":null,"size":"30 x 30cm","imageId":135183,"imageAltText":"Loweswater Antique Jade Wash Cloth 30x30cm - Pack of 2","imageTitleText":"Loweswater Antique Jade Wash Cloth 30x30cm - Pack of 2","rRPMessage":null,"rLRRP":"190 kr","rLTradePrice":null,"displayPrice":null,"displaySalePrice":null,"priceMessage":null,"statusMessage":null,"urlSemantics":"loweswater-antique-jade-organic-towels","productPageId":36074,"url":"/se/loweswater-antique-jade-organic-towels/p36074","itemAvailability":"InStock","primaryProduct":false,"orderFormGroupId":8,"orderFormName":"Wash Cloth (Set of 2)","attributes":null,"orderFormGroup":"Co-ordinates with","orderFormProperties":[{"key":"Size","value":"30 x 30cm"},{"key":"Colour","value":"Antique Jade"},{"key":"Code","value":"TOWDG0770"}],"controls":{"allowOrder":false,"allowReserve":false,"allowReserveWithBatchSample":false,"allowSample":false,"allowLargeSample":false,"allowBackInStockReminder":false,"disableOrder":false,"disableSample":false},"stockMessage":{"productTypeID":13,"quantityMinimum":1.0,"quantityMaximum":99.0,"productTypeQuantityMaximum":null,"quantityIncrement":1.0,"reserveQuantityMaximum":50.0,"unit":"","allowStockCheck":false,"pieceBreakdownMinimum":null,"pieceBreakdownMaximum":null,"allowBackInStockReminder":false,"freeStock":188.0,"nextPOFreeStock":0.0,"nextPODueDate":null,"totalPOFreeStock":0.0,"basketQuantityThresholds":[{"minimum":0,"maximum":99999.99,"stockMessages":[{"stockMessage":"In stock","class":"","stockBreakdownTab":0}]}]},"orderButtonText":"Add to Basket","reserveButtonText":"Reserve","reserveWithBatchSampleButtonText":"Reserve with Batch Sample","sample":{"productId":null,"stockMessage":null,"orderButtonText":"Add to Basket","displayPrice":null,"displaySalePrice":null,"priceMessage":null},"largeSample":{"productId":null,"stockMessage":null,"orderButtonText":"Add to Basket","displayPrice":null,"displaySalePrice":null,"priceMessage":null}},"Carousel":{"CarouselID":"#product-199462-carsouel","WrapperCSSClass":null,"AspectRatio":1.0,"Heading":"Wash Cloth (Set of 2)","Images":[{"ImageID":135183,"SortOrder":0,"AltText":"Loweswater Antique Jade Wash Cloth 30x30cm - Pack of 2","Overlay":null,"MaxWidth":null,"ImageSize":1,"ForceLazyLoading":false}],"DisplayThumbnails":false,"DisplayDashes":true,"Interval":null,"PermitLargeImageModal":true},"ProductID":199462,"ProductTypeID":13,"ProductPageID":36074,"ProductCode":"TOWDG0770","Brand":"Designers Guild","OrderFormID":"#product-199462","OrderFormCarouselID":"#product-199462-slide","PrimaryProduct":false,"OrderFormGroupID":8,"OrderFormGroup":"Co-ordinates with","Size":"30 x 30cm","OrderFormName":"Wash Cloth (Set of 2)","BasketName":"Loweswater Antique Jade Wash Cloth Pack of 2","SortOrder":150,"Attributes":null,"Image":{"imageId":135183,"templateImageId":2,"altText":"Loweswater Antique Jade Wash Cloth 30x30cm - Pack of 2","titleText":"Loweswater Antique Jade Wash Cloth 30x30cm - Pack of 2","sortOrder":0,"maxWidth":488},"OrderFormProperties":[{"Key":"Size","Value":"30 x 30cm"},{"Key":"Colour","Value":"Antique Jade"},{"Key":"Code","Value":"TOWDG0770"}],"AllowSample":false,"AllowLargeSample":false,"AllowOrder":false,"AllowReserve":false,"AllowReserveWithBatchCutting":false,"ClientProductViewModels":"","URLKeywords":"loweswater-antique-jade-organic-towels","ImageLinkToProductPage":false,"IsLifestyle":false,"IsHotspot":false},{"Solitary":false,"ProductBase":{"product":{"productId":199443,"sortOrder":151,"productTypeId":13,"templateId":3,"code":"TOWDG0746","brand":"Designers Guild","gtin13":"5051001640950","name":"Loweswater Antique Jade Hand Towel","AKA":null,"size":"50 x 100cm","imageId":135190,"imageAltText":"Loweswater Antique Jade Hand Towel","imageTitleText":"Loweswater Antique Jade Hand Towel","rRPMessage":null,"rLRRP":"250 kr","rLTradePrice":null,"displayPrice":null,"displaySalePrice":null,"priceMessage":null,"statusMessage":null,"urlSemantics":"loweswater-antique-jade-organic-towels","productPageId":36074,"url":"/se/loweswater-antique-jade-organic-towels/p36074","itemAvailability":"LimitedAvailability","primaryProduct":false,"orderFormGroupId":8,"orderFormName":"Hand Towel","attributes":null,"orderFormGroup":"Co-ordinates with","orderFormProperties":[{"key":"Size","value":"50 x 100cm"},{"key":"Colour","value":"Antique Jade"},{"key":"Code","value":"TOWDG0746"}],"controls":{"allowOrder":false,"allowReserve":false,"allowReserveWithBatchSample":false,"allowSample":false,"allowLargeSample":false,"allowBackInStockReminder":false,"disableOrder":false,"disableSample":false},"stockMessage":{"productTypeID":13,"quantityMinimum":1.0,"quantityMaximum":99.0,"productTypeQuantityMaximum":null,"quantityIncrement":1.0,"reserveQuantityMaximum":0.0,"unit":"","allowStockCheck":false,"pieceBreakdownMinimum":null,"pieceBreakdownMaximum":null,"allowBackInStockReminder":true,"freeStock":0.0,"nextPOFreeStock":129.0,"nextPODueDate":"2023-12-21","totalPOFreeStock":129.0,"basketQuantityThresholds":[{"minimum":0,"maximum":99999.99,"stockMessages":[{"stockMessage":" more due in (2-3 weeks)","class":"","stockBreakdownTab":1}]}]},"orderButtonText":"Add to Basket","reserveButtonText":"Reserve","reserveWithBatchSampleButtonText":"Reserve with Batch Sample","sample":{"productId":null,"stockMessage":null,"orderButtonText":"Add to Basket","displayPrice":null,"displaySalePrice":null,"priceMessage":null},"largeSample":{"productId":null,"stockMessage":null,"orderButtonText":"Add to Basket","displayPrice":null,"displaySalePrice":null,"priceMessage":null}}},"Product":{"productId":199443,"sortOrder":151,"productTypeId":13,"templateId":3,"code":"TOWDG0746","brand":"Designers Guild","gtin13":"5051001640950","name":"Loweswater Antique Jade Hand Towel","AKA":null,"size":"50 x 100cm","imageId":135190,"imageAltText":"Loweswater Antique Jade Hand Towel","imageTitleText":"Loweswater Antique Jade Hand Towel","rRPMessage":null,"rLRRP":"250 kr","rLTradePrice":null,"displayPrice":null,"displaySalePrice":null,"priceMessage":null,"statusMessage":null,"urlSemantics":"loweswater-antique-jade-organic-towels","productPageId":36074,"url":"/se/loweswater-antique-jade-organic-towels/p36074","itemAvailability":"LimitedAvailability","primaryProduct":false,"orderFormGroupId":8,"orderFormName":"Hand Towel","attributes":null,"orderFormGroup":"Co-ordinates with","orderFormProperties":[{"key":"Size","value":"50 x 100cm"},{"key":"Colour","value":"Antique Jade"},{"key":"Code","value":"TOWDG0746"}],"controls":{"allowOrder":false,"allowReserve":false,"allowReserveWithBatchSample":false,"allowSample":false,"allowLargeSample":false,"allowBackInStockReminder":false,"disableOrder":false,"disableSample":false},"stockMessage":{"productTypeID":13,"quantityMinimum":1.0,"quantityMaximum":99.0,"productTypeQuantityMaximum":null,"quantityIncrement":1.0,"reserveQuantityMaximum":0.0,"unit":"","allowStockCheck":false,"pieceBreakdownMinimum":null,"pieceBreakdownMaximum":null,"allowBackInStockReminder":true,"freeStock":0.0,"nextPOFreeStock":129.0,"nextPODueDate":"2023-12-21","totalPOFreeStock":129.0,"basketQuantityThresholds":[{"minimum":0,"maximum":99999.99,"stockMessages":[{"stockMessage":" more due in (2-3 weeks)","class":"","stockBreakdownTab":1}]}]},"orderButtonText":"Add to Basket","reserveButtonText":"Reserve","reserveWithBatchSampleButtonText":"Reserve with Batch Sample","sample":{"productId":null,"stockMessage":null,"orderButtonText":"Add to Basket","displayPrice":null,"displaySalePrice":null,"priceMessage":null},"largeSample":{"productId":null,"stockMessage":null,"orderButtonText":"Add to Basket","displayPrice":null,"displaySalePrice":null,"priceMessage":null}},"Carousel":{"CarouselID":"#product-199443-carsouel","WrapperCSSClass":null,"AspectRatio":1.0,"Heading":"Hand Towel","Images":[{"ImageID":135190,"SortOrder":0,"AltText":"Loweswater Antique Jade Hand Towel","Overlay":null,"MaxWidth":null,"ImageSize":1,"ForceLazyLoading":false}],"DisplayThumbnails":false,"DisplayDashes":true,"Interval":null,"PermitLargeImageModal":true},"ProductID":199443,"ProductTypeID":13,"ProductPageID":36074,"ProductCode":"TOWDG0746","Brand":"Designers Guild","OrderFormID":"#product-199443","OrderFormCarouselID":"#product-199443-slide","PrimaryProduct":false,"OrderFormGroupID":8,"OrderFormGroup":"Co-ordinates with","Size":"50 x 100cm","OrderFormName":"Hand Towel","BasketName":"Loweswater Antique Jade Hand Towel","SortOrder":151,"Attributes":null,"Image":{"imageId":135190,"templateImageId":2,"altText":"Loweswater Antique Jade Hand Towel","titleText":"Loweswater Antique Jade Hand Towel","sortOrder":0,"maxWidth":488},"OrderFormProperties":[{"Key":"Size","Value":"50 x 100cm"},{"Key":"Colour","Value":"Antique Jade"},{"Key":"Code","Value":"TOWDG0746"}],"AllowSample":false,"AllowLargeSample":false,"AllowOrder":false,"AllowReserve":false,"AllowReserveWithBatchCutting":false,"ClientProductViewModels":"","URLKeywords":"loweswater-antique-jade-organic-towels","ImageLinkToProductPage":false,"IsLifestyle":false,"IsHotspot":false},{"Solitary":false,"ProductBase":{"product":{"productId":199444,"sortOrder":152,"productTypeId":13,"templateId":3,"code":"TOWDG0747","brand":"Designers Guild","gtin13":"5051001001034","name":"Loweswater Antique Jade Bath Towel","AKA":null,"size":"70 x 130cm","imageId":135184,"imageAltText":"Loweswater Antique Jade Bath Towel","imageTitleText":"Loweswater Antique Jade Bath Towel","rRPMessage":null,"rLRRP":"450 kr","rLTradePrice":null,"displayPrice":null,"displaySalePrice":null,"priceMessage":null,"statusMessage":null,"urlSemantics":"loweswater-antique-jade-organic-towels","productPageId":36074,"url":"/se/loweswater-antique-jade-organic-towels/p36074","itemAvailability":"InStock","primaryProduct":false,"orderFormGroupId":8,"orderFormName":"Bath Towel","attributes":null,"orderFormGroup":"Co-ordinates with","orderFormProperties":[{"key":"Size","value":"70 x 130cm"},{"key":"Colour","value":"Antique Jade"},{"key":"Code","value":"TOWDG0747"}],"controls":{"allowOrder":false,"allowReserve":false,"allowReserveWithBatchSample":false,"allowSample":false,"allowLargeSample":false,"allowBackInStockReminder":false,"disableOrder":false,"disableSample":false},"stockMessage":{"productTypeID":13,"quantityMinimum":1.0,"quantityMaximum":99.0,"productTypeQuantityMaximum":null,"quantityIncrement":1.0,"reserveQuantityMaximum":50.0,"unit":"","allowStockCheck":false,"pieceBreakdownMinimum":null,"pieceBreakdownMaximum":null,"allowBackInStockReminder":false,"freeStock":112.0,"nextPOFreeStock":0.0,"nextPODueDate":null,"totalPOFreeStock":0.0,"basketQuantityThresholds":[{"minimum":0,"maximum":99999.99,"stockMessages":[{"stockMessage":"In stock","class":"","stockBreakdownTab":0}]}]},"orderButtonText":"Add to Basket","reserveButtonText":"Reserve","reserveWithBatchSampleButtonText":"Reserve with Batch Sample","sample":{"productId":null,"stockMessage":null,"orderButtonText":"Add to Basket","displayPrice":null,"displaySalePrice":null,"priceMessage":null},"largeSample":{"productId":null,"stockMessage":null,"orderButtonText":"Add to Basket","displayPrice":null,"displaySalePrice":null,"priceMessage":null}}},"Product":{"productId":199444,"sortOrder":152,"productTypeId":13,"templateId":3,"code":"TOWDG0747","brand":"Designers Guild","gtin13":"5051001001034","name":"Loweswater Antique Jade Bath Towel","AKA":null,"size":"70 x 130cm","imageId":135184,"imageAltText":"Loweswater Antique Jade Bath Towel","imageTitleText":"Loweswater Antique Jade Bath Towel","rRPMessage":null,"rLRRP":"450 kr","rLTradePrice":null,"displayPrice":null,"displaySalePrice":null,"priceMessage":null,"statusMessage":null,"urlSemantics":"loweswater-antique-jade-organic-towels","productPageId":36074,"url":"/se/loweswater-antique-jade-organic-towels/p36074","itemAvailability":"InStock","primaryProduct":false,"orderFormGroupId":8,"orderFormName":"Bath Towel","attributes":null,"orderFormGroup":"Co-ordinates with","orderFormProperties":[{"key":"Size","value":"70 x 130cm"},{"key":"Colour","value":"Antique Jade"},{"key":"Code","value":"TOWDG0747"}],"controls":{"allowOrder":false,"allowReserve":false,"allowReserveWithBatchSample":false,"allowSample":false,"allowLargeSample":false,"allowBackInStockReminder":false,"disableOrder":false,"disableSample":false},"stockMessage":{"productTypeID":13,"quantityMinimum":1.0,"quantityMaximum":99.0,"productTypeQuantityMaximum":null,"quantityIncrement":1.0,"reserveQuantityMaximum":50.0,"unit":"","allowStockCheck":false,"pieceBreakdownMinimum":null,"pieceBreakdownMaximum":null,"allowBackInStockReminder":false,"freeStock":112.0,"nextPOFreeStock":0.0,"nextPODueDate":null,"totalPOFreeStock":0.0,"basketQuantityThresholds":[{"minimum":0,"maximum":99999.99,"stockMessages":[{"stockMessage":"In stock","class":"","stockBreakdownTab":0}]}]},"orderButtonText":"Add to Basket","reserveButtonText":"Reserve","reserveWithBatchSampleButtonText":"Reserve with Batch Sample","sample":{"productId":null,"stockMessage":null,"orderButtonText":"Add to Basket","displayPrice":null,"displaySalePrice":null,"priceMessage":null},"largeSample":{"productId":null,"stockMessage":null,"orderButtonText":"Add to Basket","displayPrice":null,"displaySalePrice":null,"priceMessage":null}},"Carousel":{"CarouselID":"#product-199444-carsouel","WrapperCSSClass":null,"AspectRatio":1.0,"Heading":"Bath Towel","Images":[{"ImageID":135184,"SortOrder":0,"AltText":"Loweswater Antique Jade Bath Towel","Overlay":null,"MaxWidth":null,"ImageSize":1,"ForceLazyLoading":false}],"DisplayThumbnails":false,"DisplayDashes":true,"Interval":null,"PermitLargeImageModal":true},"ProductID":199444,"ProductTypeID":13,"ProductPageID":36074,"ProductCode":"TOWDG0747","Brand":"Designers Guild","OrderFormID":"#product-199444","OrderFormCarouselID":"#product-199444-slide","PrimaryProduct":false,"OrderFormGroupID":8,"OrderFormGroup":"Co-ordinates with","Size":"70 x 130cm","OrderFormName":"Bath Towel","BasketName":"Loweswater Antique Jade Bath Towel","SortOrder":152,"Attributes":null,"Image":{"imageId":135184,"templateImageId":2,"altText":"Loweswater Antique Jade Bath Towel","titleText":"Loweswater Antique Jade Bath Towel","sortOrder":0,"maxWidth":488},"OrderFormProperties":[{"Key":"Size","Value":"70 x 130cm"},{"Key":"Colour","Value":"Antique Jade"},{"Key":"Code","Value":"TOWDG0747"}],"AllowSample":false,"AllowLargeSample":false,"AllowOrder":false,"AllowReserve":false,"AllowReserveWithBatchCutting":false,"ClientProductViewModels":"","URLKeywords":"loweswater-antique-jade-organic-towels","ImageLinkToProductPage":false,"IsLifestyle":false,"IsHotspot":false},{"Solitary":false,"ProductBase":{"product":{"productId":199445,"sortOrder":153,"productTypeId":13,"templateId":3,"code":"TOWDG0748","brand":"Designers Guild","gtin13":"5051001526339","name":"Loweswater Antique Jade Bath Sheet","AKA":null,"size":"100 x 165cm","imageId":135188,"imageAltText":"Loweswater Antique Jade Bath Sheet","imageTitleText":"Loweswater Antique Jade Bath Sheet","rRPMessage":null,"rLRRP":"690 kr","rLTradePrice":null,"displayPrice":null,"displaySalePrice":null,"priceMessage":null,"statusMessage":null,"urlSemantics":"loweswater-antique-jade-organic-towels","productPageId":36074,"url":"/se/loweswater-antique-jade-organic-towels/p36074","itemAvailability":"InStock","primaryProduct":false,"orderFormGroupId":8,"orderFormName":"Bath Sheet","attributes":null,"orderFormGroup":"Co-ordinates with","orderFormProperties":[{"key":"Size","value":"100 x 165cm"},{"key":"Colour","value":"Antique Jade"},{"key":"Code","value":"TOWDG0748"}],"controls":{"allowOrder":false,"allowReserve":false,"allowReserveWithBatchSample":false,"allowSample":false,"allowLargeSample":false,"allowBackInStockReminder":false,"disableOrder":false,"disableSample":false},"stockMessage":{"productTypeID":13,"quantityMinimum":1.0,"quantityMaximum":99.0,"productTypeQuantityMaximum":null,"quantityIncrement":1.0,"reserveQuantityMaximum":50.0,"unit":"","allowStockCheck":false,"pieceBreakdownMinimum":null,"pieceBreakdownMaximum":null,"allowBackInStockReminder":false,"freeStock":216.0,"nextPOFreeStock":0.0,"nextPODueDate":null,"totalPOFreeStock":0.0,"basketQuantityThresholds":[{"minimum":0,"maximum":99999.99,"stockMessages":[{"stockMessage":"In stock","class":"","stockBreakdownTab":0}]}]},"orderButtonText":"Add to Basket","reserveButtonText":"Reserve","reserveWithBatchSampleButtonText":"Reserve with Batch Sample","sample":{"productId":null,"stockMessage":null,"orderButtonText":"Add to Basket","displayPrice":null,"displaySalePrice":null,"priceMessage":null},"largeSample":{"productId":null,"stockMessage":null,"orderButtonText":"Add to Basket","displayPrice":null,"displaySalePrice":null,"priceMessage":null}}},"Product":{"productId":199445,"sortOrder":153,"productTypeId":13,"templateId":3,"code":"TOWDG0748","brand":"Designers Guild","gtin13":"5051001526339","name":"Loweswater Antique Jade Bath Sheet","AKA":null,"size":"100 x 165cm","imageId":135188,"imageAltText":"Loweswater Antique Jade Bath Sheet","imageTitleText":"Loweswater Antique Jade Bath Sheet","rRPMessage":null,"rLRRP":"690 kr","rLTradePrice":null,"displayPrice":null,"displaySalePrice":null,"priceMessage":null,"statusMessage":null,"urlSemantics":"loweswater-antique-jade-organic-towels","productPageId":36074,"url":"/se/loweswater-antique-jade-organic-towels/p36074","itemAvailability":"InStock","primaryProduct":false,"orderFormGroupId":8,"orderFormName":"Bath Sheet","attributes":null,"orderFormGroup":"Co-ordinates with","orderFormProperties":[{"key":"Size","value":"100 x 165cm"},{"key":"Colour","value":"Antique Jade"},{"key":"Code","value":"TOWDG0748"}],"controls":{"allowOrder":false,"allowReserve":false,"allowReserveWithBatchSample":false,"allowSample":false,"allowLargeSample":false,"allowBackInStockReminder":false,"disableOrder":false,"disableSample":false},"stockMessage":{"productTypeID":13,"quantityMinimum":1.0,"quantityMaximum":99.0,"productTypeQuantityMaximum":null,"quantityIncrement":1.0,"reserveQuantityMaximum":50.0,"unit":"","allowStockCheck":false,"pieceBreakdownMinimum":null,"pieceBreakdownMaximum":null,"allowBackInStockReminder":false,"freeStock":216.0,"nextPOFreeStock":0.0,"nextPODueDate":null,"totalPOFreeStock":0.0,"basketQuantityThresholds":[{"minimum":0,"maximum":99999.99,"stockMessages":[{"stockMessage":"In stock","class":"","stockBreakdownTab":0}]}]},"orderButtonText":"Add to Basket","reserveButtonText":"Reserve","reserveWithBatchSampleButtonText":"Reserve with Batch Sample","sample":{"productId":null,"stockMessage":null,"orderButtonText":"Add to Basket","displayPrice":null,"displaySalePrice":null,"priceMessage":null},"largeSample":{"productId":null,"stockMessage":null,"orderButtonText":"Add to Basket","displayPrice":null,"displaySalePrice":null,"priceMessage":null}},"Carousel":{"CarouselID":"#product-199445-carsouel","WrapperCSSClass":null,"AspectRatio":1.0,"Heading":"Bath Sheet","Images":[{"ImageID":135188,"SortOrder":0,"AltText":"Loweswater Antique Jade Bath Sheet","Overlay":null,"MaxWidth":null,"ImageSize":1,"ForceLazyLoading":false}],"DisplayThumbnails":false,"DisplayDashes":true,"Interval":null,"PermitLargeImageModal":true},"ProductID":199445,"ProductTypeID":13,"ProductPageID":36074,"ProductCode":"TOWDG0748","Brand":"Designers Guild","OrderFormID":"#product-199445","OrderFormCarouselID":"#product-199445-slide","PrimaryProduct":false,"OrderFormGroupID":8,"OrderFormGroup":"Co-ordinates with","Size":"100 x 165cm","OrderFormName":"Bath Sheet","BasketName":"Loweswater Antique Jade Bath Sheet","SortOrder":153,"Attributes":null,"Image":{"imageId":135188,"templateImageId":2,"altText":"Loweswater Antique Jade Bath Sheet","titleText":"Loweswater Antique Jade Bath Sheet","sortOrder":0,"maxWidth":488},"OrderFormProperties":[{"Key":"Size","Value":"100 x 165cm"},{"Key":"Colour","Value":"Antique Jade"},{"Key":"Code","Value":"TOWDG0748"}],"AllowSample":false,"AllowLargeSample":false,"AllowOrder":false,"AllowReserve":false,"AllowReserveWithBatchCutting":false,"ClientProductViewModels":"","URLKeywords":"loweswater-antique-jade-organic-towels","ImageLinkToProductPage":false,"IsLifestyle":false,"IsHotspot":false}],"OrderFormGroups":[{"OrderFormGroupID":null,"Name":null,"UseSizeButtons":true,"Items":[{"Solitary":false,"ProductBase":{"product":{"productId":216031,"sortOrder":50,"productTypeId":13,"templateId":3,"code":"TOWDG0833","brand":"Designers Guild","gtin13":"5051001689676","name":"Loweswater Antique Jade Bath Mat","AKA":null,"size":"60 x 90cm","imageId":160121,"imageAltText":"Loweswater Antique Jade Bath Mat","imageTitleText":"Loweswater Antique Jade Bath Mat","rRPMessage":null,"rLRRP":"610 kr","rLTradePrice":null,"displayPrice":null,"displaySalePrice":null,"priceMessage":null,"statusMessage":null,"urlSemantics":"loweswater-antique-jade-organic-bath-mat","productPageId":39275,"url":"/se/loweswater-antique-jade-organic-bath-mat/p39275","itemAvailability":"LimitedAvailability","primaryProduct":true,"orderFormGroupId":null,"orderFormName":"Bath Mat","attributes":null,"orderFormGroup":null,"orderFormProperties":[{"key":"Size","value":"60 x 90cm"},{"key":"Colour","value":"Antique Jade"},{"key":"Code","value":"TOWDG0833"}],"controls":{"allowOrder":false,"allowReserve":false,"allowReserveWithBatchSample":false,"allowSample":false,"allowLargeSample":false,"allowBackInStockReminder":false,"disableOrder":false,"disableSample":false},"stockMessage":{"productTypeID":13,"quantityMinimum":1.0,"quantityMaximum":99.0,"productTypeQuantityMaximum":null,"quantityIncrement":1.0,"reserveQuantityMaximum":4.0,"unit":"","allowStockCheck":false,"pieceBreakdownMinimum":null,"pieceBreakdownMaximum":null,"allowBackInStockReminder":false,"freeStock":4.0,"nextPOFreeStock":150.0,"nextPODueDate":"2023-12-21","totalPOFreeStock":150.0,"basketQuantityThresholds":[{"minimum":0,"maximum":99999.99,"stockMessages":[{"stockMessage":"4 in stock","class":"","stockBreakdownTab":0},{"stockMessage":" more due in (2-3 weeks)","class":"","stockBreakdownTab":1}]}]},"orderButtonText":"Add to Basket","reserveButtonText":"Reserve","reserveWithBatchSampleButtonText":"Reserve with Batch Sample","sample":{"productId":null,"stockMessage":null,"orderButtonText":"Add to Basket","displayPrice":null,"displaySalePrice":null,"priceMessage":null},"largeSample":{"productId":null,"stockMessage":null,"orderButtonText":"Add to Basket","displayPrice":null,"displaySalePrice":null,"priceMessage":null}}},"Product":{"productId":216031,"sortOrder":50,"productTypeId":13,"templateId":3,"code":"TOWDG0833","brand":"Designers Guild","gtin13":"5051001689676","name":"Loweswater Antique Jade Bath Mat","AKA":null,"size":"60 x 90cm","imageId":160121,"imageAltText":"Loweswater Antique Jade Bath Mat","imageTitleText":"Loweswater Antique Jade Bath Mat","rRPMessage":null,"rLRRP":"610 kr","rLTradePrice":null,"displayPrice":null,"displaySalePrice":null,"priceMessage":null,"statusMessage":null,"urlSemantics":"loweswater-antique-jade-organic-bath-mat","productPageId":39275,"url":"/se/loweswater-antique-jade-organic-bath-mat/p39275","itemAvailability":"LimitedAvailability","primaryProduct":true,"orderFormGroupId":null,"orderFormName":"Bath Mat","attributes":null,"orderFormGroup":null,"orderFormProperties":[{"key":"Size","value":"60 x 90cm"},{"key":"Colour","value":"Antique Jade"},{"key":"Code","value":"TOWDG0833"}],"controls":{"allowOrder":false,"allowReserve":false,"allowReserveWithBatchSample":false,"allowSample":false,"allowLargeSample":false,"allowBackInStockReminder":false,"disableOrder":false,"disableSample":false},"stockMessage":{"productTypeID":13,"quantityMinimum":1.0,"quantityMaximum":99.0,"productTypeQuantityMaximum":null,"quantityIncrement":1.0,"reserveQuantityMaximum":4.0,"unit":"","allowStockCheck":false,"pieceBreakdownMinimum":null,"pieceBreakdownMaximum":null,"allowBackInStockReminder":false,"freeStock":4.0,"nextPOFreeStock":150.0,"nextPODueDate":"2023-12-21","totalPOFreeStock":150.0,"basketQuantityThresholds":[{"minimum":0,"maximum":99999.99,"stockMessages":[{"stockMessage":"4 in stock","class":"","stockBreakdownTab":0},{"stockMessage":" more due in (2-3 weeks)","class":"","stockBreakdownTab":1}]}]},"orderButtonText":"Add to Basket","reserveButtonText":"Reserve","reserveWithBatchSampleButtonText":"Reserve with Batch Sample","sample":{"productId":null,"stockMessage":null,"orderButtonText":"Add to Basket","displayPrice":null,"displaySalePrice":null,"priceMessage":null},"largeSample":{"productId":null,"stockMessage":null,"orderButtonText":"Add to Basket","displayPrice":null,"displaySalePrice":null,"priceMessage":null}},"Carousel":{"CarouselID":"#product-216031-carsouel","WrapperCSSClass":null,"AspectRatio":1.0,"Heading":"Bath Mat","Images":[{"ImageID":160121,"SortOrder":0,"AltText":"Loweswater Antique Jade Bath Mat","Overlay":null,"MaxWidth":null,"ImageSize":1,"ForceLazyLoading":false}],"DisplayThumbnails":false,"DisplayDashes":true,"Interval":null,"PermitLargeImageModal":true},"ProductID":216031,"ProductTypeID":13,"ProductPageID":39275,"ProductCode":"TOWDG0833","Brand":"Designers Guild","OrderFormID":"#product-216031","OrderFormCarouselID":"#product-216031-slide","PrimaryProduct":true,"OrderFormGroupID":null,"OrderFormGroup":null,"Size":"60 x 90cm","OrderFormName":"Bath Mat","BasketName":"Loweswater Antique Jade Bath Mat","SortOrder":50,"Attributes":null,"Image":{"imageId":160121,"templateImageId":2,"altText":"Loweswater Antique Jade Bath Mat","titleText":"Loweswater Antique Jade Bath Mat","sortOrder":0,"maxWidth":488},"OrderFormProperties":[{"Key":"Size","Value":"60 x 90cm"},{"Key":"Colour","Value":"Antique Jade"},{"Key":"Code","Value":"TOWDG0833"}],"AllowSample":false,"AllowLargeSample":false,"AllowOrder":false,"AllowReserve":false,"AllowReserveWithBatchCutting":false,"ClientProductViewModels":"","URLKeywords":"loweswater-antique-jade-organic-bath-mat","ImageLinkToProductPage":false,"IsLifestyle":false,"IsHotspot":false}],"MasterDefinition":{"SiteSectionID":null,"TitleTag":"Loweswater Antique Jade Organic Bath Mat | Designers Guild","MetaDescription":"A new addition to our successful Loweswater organic towel range - this luxurious large size bathmat is woven from superior 850gsm Egyptian cotton, grown wi","BackInStockReminder":null,"ItemsInBasket":0.0,"UrlBreakdown":{"ContentType":1,"ContentId":39275,"ContentDate":"2023-12-06T00:00:00","SemanticString":"loweswater-antique-jade-organic-bath-mat","countryDetails":{"CountryLanguageID":4,"RegionID":3,"CountryID":202,"CountryCode":"SE","LanguageID":1,"SortOrder":24,"Name":"Sweden","URL":"se","DotNetCulture":"sv-SE","ShopEnabled":true,"LanguageCode":"en","LanguageDotNetCulture":"en-GB","MertexCurrencyCode":"SKr","CurrencyCode":"SEK","PriceListID":3,"AllowTradeOrders":true,"AcceptAmazonPay":false,"BuyOnlineRedirectAllowed":false,"EcommerceEnabled":false,"SamplesEnabled":true},"contentTypeAndIdNotFound":false,"CountryAwareness":{"Match":false,"Culture":"us","objCountryItem":{"CountryLanguageID":5,"RegionID":2,"CountryID":238,"CountryCode":null,"LanguageID":2,"SortOrder":1,"Name":"United States","URL":"us","DotNetCulture":"en-US","ShopEnabled":true,"LanguageCode":"us","LanguageDotNetCulture":"en-US","MertexCurrencyCode":"USD","CurrencyCode":"USD","PriceListID":2,"AllowTradeOrders":true,"AcceptAmazonPay":true,"BuyOnlineRedirectAllowed":false,"EcommerceEnabled":false,"SamplesEnabled":false}},"GeoIPCulture":null,"siteCountryNotFoundInUrl":false},"GoogleHrefs":[{"hreflang":"de","href":"https://www.designersguild.com/de/loweswater-antique-jade-organic-bath-mat/p39275"},{"hreflang":"fr","href":"https://www.designersguild.com/fr/loweswater-antique-jade-organic-bath-mat/p39275"},{"hreflang":"en-gb","href":"https://www.designersguild.com/uk/loweswater-antique-jade-organic-bath-mat/p39275"},{"hreflang":"en-se","href":"https://www.designersguild.com/se/loweswater-antique-jade-organic-bath-mat/p39275"},{"hreflang":"en-us","href":"https://www.designersguild.com/us/loweswater-antique-jade-organic-bath-mat/p39275"},{"hreflang":"es","href":"https://www.designersguild.com/es/loweswater-antique-jade-organic-bath-mat/p39275"},{"hreflang":"it-it","href":"https://www.designersguild.com/it/loweswater-antique-jade-organic-bath-mat/p39275"},{"hreflang":"en-nl","href":"https://www.designersguild.com/nl/loweswater-antique-jade-organic-bath-mat/p39275"},{"hreflang":"ru","href":"https://www.designersguild.com/ru/loweswater-antique-jade-organic-bath-mat/p39275"},{"hreflang":"ja-jp","href":"https://www.designersguild.com/jp/loweswater-antique-jade-organic-bath-mat/p39275"},{"hreflang":"en-be","href":"https://www.designersguild.com/be/loweswater-antique-jade-organic-bath-mat/p39275"},{"hreflang":"en-au","href":"https://www.designersguild.com/au/loweswater-antique-jade-organic-bath-mat/p39275"},{"hreflang":"en-dk","href":"https://www.designersguild.com/dk/loweswater-antique-jade-organic-bath-mat/p39275"},{"hreflang":"en-gr","href":"https://www.designersguild.com/eu/loweswater-antique-jade-organic-bath-mat/p39275"},{"hreflang":"en-no","href":"https://www.designersguild.com/no/loweswater-antique-jade-organic-bath-mat/p39275"},{"hreflang":"de-at","href":"https://www.designersguild.com/at/loweswater-antique-jade-organic-bath-mat/p39275"},{"hreflang":"de-ch","href":"https://www.designersguild.com/de-ch/loweswater-antique-jade-organic-bath-mat/p39275"},{"hreflang":"fr-ch","href":"https://www.designersguild.com/fr-ch/loweswater-antique-jade-organic-bath-mat/p39275"},{"hreflang":"en","href":"https://www.designersguild.com/row/loweswater-antique-jade-organic-bath-mat/p39275"},{"hreflang":"en-nz","href":"https://www.designersguild.com/nz/loweswater-antique-jade-organic-bath-mat/p39275"},{"hreflang":"en-ie","href":"https://www.designersguild.com/ie/loweswater-antique-jade-organic-bath-mat/p39275"},{"hreflang":"fi-fi","href":"https://www.designersguild.com/fi/loweswater-antique-jade-organic-bath-mat/p39275"},{"hreflang":"x-default","href":"https://www.designersguild.com/uk/loweswater-antique-jade-organic-bath-mat/p39275"}],"CountryDropDown":{"countryDropDownItems":[{"CountryID":81,"Code":null,"LanguageID":1,"RegionID":3,"LanguageCode":"en","Country":"UK","Region":"Europe","URL":"uk","URLKeywords":"","SortOrder":1,"PageID":0},{"CountryID":15,"Code":null,"LanguageID":4,"RegionID":3,"LanguageCode":"de","Country":"Austria","Region":"Europe","URL":"at","URLKeywords":"","SortOrder":11,"PageID":0},{"CountryID":23,"Code":null,"LanguageID":1,"RegionID":3,"LanguageCode":"en","Country":"Belgium","Region":"Europe","URL":"be","URLKeywords":"","SortOrder":12,"PageID":0},{"CountryID":62,"Code":null,"LanguageID":1,"RegionID":3,"LanguageCode":"en","Country":"Denmark","Region":"Europe","URL":"dk","URLKeywords":"","SortOrder":13,"PageID":0},{"CountryID":74,"Code":null,"LanguageID":15,"RegionID":3,"LanguageCode":"fi","Country":"Finland","Region":"Europe","URL":"fi","URLKeywords":"","SortOrder":15,"PageID":0},{"CountryID":79,"Code":null,"LanguageID":3,"RegionID":3,"LanguageCode":"fr","Country":"France","Region":"Europe","URL":"fr","URLKeywords":"","SortOrder":16,"PageID":0},{"CountryID":60,"Code":null,"LanguageID":4,"RegionID":3,"LanguageCode":"de","Country":"Germany","Region":"Europe","URL":"de","URLKeywords":"","SortOrder":17,"PageID":0},{"CountryID":106,"Code":null,"LanguageID":1,"RegionID":3,"LanguageCode":"en","Country":"Ireland","Region":"Europe","URL":"ie","URLKeywords":"","SortOrder":18,"PageID":0},{"CountryID":114,"Code":null,"LanguageID":6,"RegionID":3,"LanguageCode":"it","Country":"Italy","Region":"Europe","URL":"it","URLKeywords":"","SortOrder":19,"PageID":0},{"CountryID":170,"Code":null,"LanguageID":13,"RegionID":3,"LanguageCode":"en","Country":"Netherlands","Region":"Europe","URL":"nl","URLKeywords":"","SortOrder":20,"PageID":0},{"CountryID":71,"Code":null,"LanguageID":5,"RegionID":3,"LanguageCode":"es","Country":"Spain","Region":"Europe","URL":"es","URLKeywords":"","SortOrder":23,"PageID":0},{"CountryID":202,"Code":null,"LanguageID":1,"RegionID":3,"LanguageCode":"en","Country":"Sweden","Region":"Europe","URL":"se","URLKeywords":"","SortOrder":24,"PageID":0},{"CountryID":171,"Code":null,"LanguageID":1,"RegionID":3,"LanguageCode":"en","Country":"Norway","Region":"Europe","URL":"no","URLKeywords":"","SortOrder":52,"PageID":0},{"CountryID":118,"Code":null,"LanguageID":11,"RegionID":4,"LanguageCode":"jp","Country":"Nihon","Region":"Africa, Asia & the Middle East","URL":"jp","URLKeywords":"","SortOrder":71,"PageID":0},{"CountryID":46,"Code":null,"LanguageID":3,"RegionID":3,"LanguageCode":"fr","Country":"Switzerland","Region":"Europe","URL":"fr-ch","URLKeywords":"","SortOrder":102,"PageID":0},{"CountryID":46,"Code":null,"LanguageID":4,"RegionID":3,"LanguageCode":"de","Country":"Switzerland","Region":"Europe","URL":"de-ch","URLKeywords":"","SortOrder":103,"PageID":0},{"CountryID":196,"Code":null,"LanguageID":10,"RegionID":3,"LanguageCode":"ru","Country":"Russian Federation","Region":"Europe","URL":"ru","URLKeywords":"","SortOrder":109,"PageID":0},{"CountryID":238,"Code":null,"LanguageID":2,"RegionID":2,"LanguageCode":"us","Country":"United States","Region":"North America","URL":"us","URLKeywords":"","SortOrder":125,"PageID":0},{"CountryID":16,"Code":null,"LanguageID":12,"RegionID":6,"LanguageCode":"au","Country":"Australia","Region":"Australasia","URL":"au","URLKeywords":"","SortOrder":150,"PageID":0},{"CountryID":175,"Code":null,"LanguageID":18,"RegionID":6,"LanguageCode":"nz","Country":"New Zealand","Region":"Australasia","URL":"nz","URLKeywords":"","SortOrder":151,"PageID":0},{"CountryID":67,"Code":null,"LanguageID":1,"RegionID":3,"LanguageCode":"en","Country":"Other Countries in Europe","Region":"Europe","URL":"eu","URLKeywords":"","SortOrder":255,"PageID":0},{"CountryID":51,"Code":null,"LanguageID":1,"RegionID":4,"LanguageCode":"en","Country":"Rest of the World","Region":"Africa, Asia & the Middle East","URL":"row","URLKeywords":"","SortOrder":255,"PageID":0}]},"ProductTypeDropDown":{"ProductTypes":[{"ProductTypeID":15,"Name":"Fabric","NamePlural":null,"URLKeywords":null,"SortOrder":0,"FilterIndexRestrictions":null,"ProductPageIDs":null,"FormValue":"fabric"},{"ProductTypeID":18,"Name":"Wallpaper","NamePlural":null,"URLKeywords":null,"SortOrder":0,"FilterIndexRestrictions":null,"ProductPageIDs":null,"FormValue":"wallpaper"},{"ProductTypeID":8,"Name":"Paint","NamePlural":null,"URLKeywords":null,"SortOrder":0,"FilterIndexRestrictions":null,"ProductPageIDs":null,"FormValue":"paint"},{"ProductTypeID":10,"Name":"Rug","NamePlural":null,"URLKeywords":null,"SortOrder":0,"FilterIndexRestrictions":null,"ProductPageIDs":null,"FormValue":"rug"},{"ProductTypeID":4,"Name":"Cushion","NamePlural":null,"URLKeywords":null,"SortOrder":0,"FilterIndexRestrictions":null,"ProductPageIDs":null,"FormValue":"cushion"},{"ProductTypeID":1,"Name":"Bed Linen","NamePlural":null,"URLKeywords":null,"SortOrder":0,"FilterIndexRestrictions":null,"ProductPageIDs":null,"FormValue":"bed-linen"},{"ProductTypeID":2,"Name":"Throw","NamePlural":null,"URLKeywords":null,"SortOrder":0,"FilterIndexRestrictions":null,"ProductPageIDs":null,"FormValue":"throw"},{"ProductTypeID":35,"Name":"Furniture","NamePlural":null,"URLKeywords":null,"SortOrder":0,"FilterIndexRestrictions":null,"ProductPageIDs":null,"FormValue":"furniture"}]},"TradeMember":false,"TradeAllowed":false,"CanViewRRPs":false,"LoginStatus":0,"UserName":null},"ParentProductPageProductTypeID":0,"SortOrder":50,"OrderFormCarouselID":"order-form-group--carousel","AutoOpenFirstSize":true},{"OrderFormGroupID":8,"Name":"Co-ordinates with","UseSizeButtons":true,"Items":[{"Solitary":false,"ProductBase":{"product":{"productId":199462,"sortOrder":150,"productTypeId":13,"templateId":3,"code":"TOWDG0770","brand":"Designers Guild","gtin13":"5051001516873","name":"Loweswater Antique Jade Wash Cloth Pack of 2","AKA":null,"size":"30 x 30cm","imageId":135183,"imageAltText":"Loweswater Antique Jade Wash Cloth 30x30cm - Pack of 2","imageTitleText":"Loweswater Antique Jade Wash Cloth 30x30cm - Pack of 2","rRPMessage":null,"rLRRP":"190 kr","rLTradePrice":null,"displayPrice":null,"displaySalePrice":null,"priceMessage":null,"statusMessage":null,"urlSemantics":"loweswater-antique-jade-organic-towels","productPageId":36074,"url":"/se/loweswater-antique-jade-organic-towels/p36074","itemAvailability":"InStock","primaryProduct":false,"orderFormGroupId":8,"orderFormName":"Wash Cloth (Set of 2)","attributes":null,"orderFormGroup":"Co-ordinates with","orderFormProperties":[{"key":"Size","value":"30 x 30cm"},{"key":"Colour","value":"Antique Jade"},{"key":"Code","value":"TOWDG0770"}],"controls":{"allowOrder":false,"allowReserve":false,"allowReserveWithBatchSample":false,"allowSample":false,"allowLargeSample":false,"allowBackInStockReminder":false,"disableOrder":false,"disableSample":false},"stockMessage":{"productTypeID":13,"quantityMinimum":1.0,"quantityMaximum":99.0,"productTypeQuantityMaximum":null,"quantityIncrement":1.0,"reserveQuantityMaximum":50.0,"unit":"","allowStockCheck":false,"pieceBreakdownMinimum":null,"pieceBreakdownMaximum":null,"allowBackInStockReminder":false,"freeStock":188.0,"nextPOFreeStock":0.0,"nextPODueDate":null,"totalPOFreeStock":0.0,"basketQuantityThresholds":[{"minimum":0,"maximum":99999.99,"stockMessages":[{"stockMessage":"In stock","class":"","stockBreakdownTab":0}]}]},"orderButtonText":"Add to Basket","reserveButtonText":"Reserve","reserveWithBatchSampleButtonText":"Reserve with Batch Sample","sample":{"productId":null,"stockMessage":null,"orderButtonText":"Add to Basket","displayPrice":null,"displaySalePrice":null,"priceMessage":null},"largeSample":{"productId":null,"stockMessage":null,"orderButtonText":"Add to Basket","displayPrice":null,"displaySalePrice":null,"priceMessage":null}}},"Product":{"productId":199462,"sortOrder":150,"productTypeId":13,"templateId":3,"code":"TOWDG0770","brand":"Designers Guild","gtin13":"5051001516873","name":"Loweswater Antique Jade Wash Cloth Pack of 2","AKA":null,"size":"30 x 30cm","imageId":135183,"imageAltText":"Loweswater Antique Jade Wash Cloth 30x30cm - Pack of 2","imageTitleText":"Loweswater Antique Jade Wash Cloth 30x30cm - Pack of 2","rRPMessage":null,"rLRRP":"190 kr","rLTradePrice":null,"displayPrice":null,"displaySalePrice":null,"priceMessage":null,"statusMessage":null,"urlSemantics":"loweswater-antique-jade-organic-towels","productPageId":36074,"url":"/se/loweswater-antique-jade-organic-towels/p36074","itemAvailability":"InStock","primaryProduct":false,"orderFormGroupId":8,"orderFormName":"Wash Cloth (Set of 2)","attributes":null,"orderFormGroup":"Co-ordinates with","orderFormProperties":[{"key":"Size","value":"30 x 30cm"},{"key":"Colour","value":"Antique Jade"},{"key":"Code","value":"TOWDG0770"}],"controls":{"allowOrder":false,"allowReserve":false,"allowReserveWithBatchSample":false,"allowSample":false,"allowLargeSample":false,"allowBackInStockReminder":false,"disableOrder":false,"disableSample":false},"stockMessage":{"productTypeID":13,"quantityMinimum":1.0,"quantityMaximum":99.0,"productTypeQuantityMaximum":null,"quantityIncrement":1.0,"reserveQuantityMaximum":50.0,"unit":"","allowStockCheck":false,"pieceBreakdownMinimum":null,"pieceBreakdownMaximum":null,"allowBackInStockReminder":false,"freeStock":188.0,"nextPOFreeStock":0.0,"nextPODueDate":null,"totalPOFreeStock":0.0,"basketQuantityThresholds":[{"minimum":0,"maximum":99999.99,"stockMessages":[{"stockMessage":"In stock","class":"","stockBreakdownTab":0}]}]},"orderButtonText":"Add to Basket","reserveButtonText":"Reserve","reserveWithBatchSampleButtonText":"Reserve with Batch Sample","sample":{"productId":null,"stockMessage":null,"orderButtonText":"Add to Basket","displayPrice":null,"displaySalePrice":null,"priceMessage":null},"largeSample":{"productId":null,"stockMessage":null,"orderButtonText":"Add to Basket","displayPrice":null,"displaySalePrice":null,"priceMessage":null}},"Carousel":{"CarouselID":"#product-199462-carsouel","WrapperCSSClass":null,"AspectRatio":1.0,"Heading":"Wash Cloth (Set of 2)","Images":[{"ImageID":135183,"SortOrder":0,"AltText":"Loweswater Antique Jade Wash Cloth 30x30cm - Pack of 2","Overlay":null,"MaxWidth":null,"ImageSize":1,"ForceLazyLoading":false}],"DisplayThumbnails":false,"DisplayDashes":true,"Interval":null,"PermitLargeImageModal":true},"ProductID":199462,"ProductTypeID":13,"ProductPageID":36074,"ProductCode":"TOWDG0770","Brand":"Designers Guild","OrderFormID":"#product-199462","OrderFormCarouselID":"#product-199462-slide","PrimaryProduct":false,"OrderFormGroupID":8,"OrderFormGroup":"Co-ordinates with","Size":"30 x 30cm","OrderFormName":"Wash Cloth (Set of 2)","BasketName":"Loweswater Antique Jade Wash Cloth Pack of 2","SortOrder":150,"Attributes":null,"Image":{"imageId":135183,"templateImageId":2,"altText":"Loweswater Antique Jade Wash Cloth 30x30cm - Pack of 2","titleText":"Loweswater Antique Jade Wash Cloth 30x30cm - Pack of 2","sortOrder":0,"maxWidth":488},"OrderFormProperties":[{"Key":"Size","Value":"30 x 30cm"},{"Key":"Colour","Value":"Antique Jade"},{"Key":"Code","Value":"TOWDG0770"}],"AllowSample":false,"AllowLargeSample":false,"AllowOrder":false,"AllowReserve":false,"AllowReserveWithBatchCutting":false,"ClientProductViewModels":"","URLKeywords":"loweswater-antique-jade-organic-towels","ImageLinkToProductPage":false,"IsLifestyle":false,"IsHotspot":false},{"Solitary":false,"ProductBase":{"product":{"productId":199443,"sortOrder":151,"productTypeId":13,"templateId":3,"code":"TOWDG0746","brand":"Designers Guild","gtin13":"5051001640950","name":"Loweswater Antique Jade Hand Towel","AKA":null,"size":"50 x 100cm","imageId":135190,"imageAltText":"Loweswater Antique Jade Hand Towel","imageTitleText":"Loweswater Antique Jade Hand Towel","rRPMessage":null,"rLRRP":"250 kr","rLTradePrice":null,"displayPrice":null,"displaySalePrice":null,"priceMessage":null,"statusMessage":null,"urlSemantics":"loweswater-antique-jade-organic-towels","productPageId":36074,"url":"/se/loweswater-antique-jade-organic-towels/p36074","itemAvailability":"LimitedAvailability","primaryProduct":false,"orderFormGroupId":8,"orderFormName":"Hand Towel","attributes":null,"orderFormGroup":"Co-ordinates with","orderFormProperties":[{"key":"Size","value":"50 x 100cm"},{"key":"Colour","value":"Antique Jade"},{"key":"Code","value":"TOWDG0746"}],"controls":{"allowOrder":false,"allowReserve":false,"allowReserveWithBatchSample":false,"allowSample":false,"allowLargeSample":false,"allowBackInStockReminder":false,"disableOrder":false,"disableSample":false},"stockMessage":{"productTypeID":13,"quantityMinimum":1.0,"quantityMaximum":99.0,"productTypeQuantityMaximum":null,"quantityIncrement":1.0,"reserveQuantityMaximum":0.0,"unit":"","allowStockCheck":false,"pieceBreakdownMinimum":null,"pieceBreakdownMaximum":null,"allowBackInStockReminder":true,"freeStock":0.0,"nextPOFreeStock":129.0,"nextPODueDate":"2023-12-21","totalPOFreeStock":129.0,"basketQuantityThresholds":[{"minimum":0,"maximum":99999.99,"stockMessages":[{"stockMessage":" more due in (2-3 weeks)","class":"","stockBreakdownTab":1}]}]},"orderButtonText":"Add to Basket","reserveButtonText":"Reserve","reserveWithBatchSampleButtonText":"Reserve with Batch Sample","sample":{"productId":null,"stockMessage":null,"orderButtonText":"Add to Basket","displayPrice":null,"displaySalePrice":null,"priceMessage":null},"largeSample":{"productId":null,"stockMessage":null,"orderButtonText":"Add to Basket","displayPrice":null,"displaySalePrice":null,"priceMessage":null}}},"Product":{"productId":199443,"sortOrder":151,"productTypeId":13,"templateId":3,"code":"TOWDG0746","brand":"Designers Guild","gtin13":"5051001640950","name":"Loweswater Antique Jade Hand Towel","AKA":null,"size":"50 x 100cm","imageId":135190,"imageAltText":"Loweswater Antique Jade Hand Towel","imageTitleText":"Loweswater Antique Jade Hand Towel","rRPMessage":null,"rLRRP":"250 kr","rLTradePrice":null,"displayPrice":null,"displaySalePrice":null,"priceMessage":null,"statusMessage":null,"urlSemantics":"loweswater-antique-jade-organic-towels","productPageId":36074,"url":"/se/loweswater-antique-jade-organic-towels/p36074","itemAvailability":"LimitedAvailability","primaryProduct":false,"orderFormGroupId":8,"orderFormName":"Hand Towel","attributes":null,"orderFormGroup":"Co-ordinates with","orderFormProperties":[{"key":"Size","value":"50 x 100cm"},{"key":"Colour","value":"Antique Jade"},{"key":"Code","value":"TOWDG0746"}],"controls":{"allowOrder":false,"allowReserve":false,"allowReserveWithBatchSample":false,"allowSample":false,"allowLargeSample":false,"allowBackInStockReminder":false,"disableOrder":false,"disableSample":false},"stockMessage":{"productTypeID":13,"quantityMinimum":1.0,"quantityMaximum":99.0,"productTypeQuantityMaximum":null,"quantityIncrement":1.0,"reserveQuantityMaximum":0.0,"unit":"","allowStockCheck":false,"pieceBreakdownMinimum":null,"pieceBreakdownMaximum":null,"allowBackInStockReminder":true,"freeStock":0.0,"nextPOFreeStock":129.0,"nextPODueDate":"2023-12-21","totalPOFreeStock":129.0,"basketQuantityThresholds":[{"minimum":0,"maximum":99999.99,"stockMessages":[{"stockMessage":" more due in (2-3 weeks)","class":"","stockBreakdownTab":1}]}]},"orderButtonText":"Add to Basket","reserveButtonText":"Reserve","reserveWithBatchSampleButtonText":"Reserve with Batch Sample","sample":{"productId":null,"stockMessage":null,"orderButtonText":"Add to Basket","displayPrice":null,"displaySalePrice":null,"priceMessage":null},"largeSample":{"productId":null,"stockMessage":null,"orderButtonText":"Add to Basket","displayPrice":null,"displaySalePrice":null,"priceMessage":null}},"Carousel":{"CarouselID":"#product-199443-carsouel","WrapperCSSClass":null,"AspectRatio":1.0,"Heading":"Hand Towel","Images":[{"ImageID":135190,"SortOrder":0,"AltText":"Loweswater Antique Jade Hand Towel","Overlay":null,"MaxWidth":null,"ImageSize":1,"ForceLazyLoading":false}],"DisplayThumbnails":false,"DisplayDashes":true,"Interval":null,"PermitLargeImageModal":true},"ProductID":199443,"ProductTypeID":13,"ProductPageID":36074,"ProductCode":"TOWDG0746","Brand":"Designers Guild","OrderFormID":"#product-199443","OrderFormCarouselID":"#product-199443-slide","PrimaryProduct":false,"OrderFormGroupID":8,"OrderFormGroup":"Co-ordinates with","Size":"50 x 100cm","OrderFormName":"Hand Towel","BasketName":"Loweswater Antique Jade Hand Towel","SortOrder":151,"Attributes":null,"Image":{"imageId":135190,"templateImageId":2,"altText":"Loweswater Antique Jade Hand Towel","titleText":"Loweswater Antique Jade Hand Towel","sortOrder":0,"maxWidth":488},"OrderFormProperties":[{"Key":"Size","Value":"50 x 100cm"},{"Key":"Colour","Value":"Antique Jade"},{"Key":"Code","Value":"TOWDG0746"}],"AllowSample":false,"AllowLargeSample":false,"AllowOrder":false,"AllowReserve":false,"AllowReserveWithBatchCutting":false,"ClientProductViewModels":"","URLKeywords":"loweswater-antique-jade-organic-towels","ImageLinkToProductPage":false,"IsLifestyle":false,"IsHotspot":false},{"Solitary":false,"ProductBase":{"product":{"productId":199444,"sortOrder":152,"productTypeId":13,"templateId":3,"code":"TOWDG0747","brand":"Designers Guild","gtin13":"5051001001034","name":"Loweswater Antique Jade Bath Towel","AKA":null,"size":"70 x 130cm","imageId":135184,"imageAltText":"Loweswater Antique Jade Bath Towel","imageTitleText":"Loweswater Antique Jade Bath Towel","rRPMessage":null,"rLRRP":"450 kr","rLTradePrice":null,"displayPrice":null,"displaySalePrice":null,"priceMessage":null,"statusMessage":null,"urlSemantics":"loweswater-antique-jade-organic-towels","productPageId":36074,"url":"/se/loweswater-antique-jade-organic-towels/p36074","itemAvailability":"InStock","primaryProduct":false,"orderFormGroupId":8,"orderFormName":"Bath Towel","attributes":null,"orderFormGroup":"Co-ordinates with","orderFormProperties":[{"key":"Size","value":"70 x 130cm"},{"key":"Colour","value":"Antique Jade"},{"key":"Code","value":"TOWDG0747"}],"controls":{"allowOrder":false,"allowReserve":false,"allowReserveWithBatchSample":false,"allowSample":false,"allowLargeSample":false,"allowBackInStockReminder":false,"disableOrder":false,"disableSample":false},"stockMessage":{"productTypeID":13,"quantityMinimum":1.0,"quantityMaximum":99.0,"productTypeQuantityMaximum":null,"quantityIncrement":1.0,"reserveQuantityMaximum":50.0,"unit":"","allowStockCheck":false,"pieceBreakdownMinimum":null,"pieceBreakdownMaximum":null,"allowBackInStockReminder":false,"freeStock":112.0,"nextPOFreeStock":0.0,"nextPODueDate":null,"totalPOFreeStock":0.0,"basketQuantityThresholds":[{"minimum":0,"maximum":99999.99,"stockMessages":[{"stockMessage":"In stock","class":"","stockBreakdownTab":0}]}]},"orderButtonText":"Add to Basket","reserveButtonText":"Reserve","reserveWithBatchSampleButtonText":"Reserve with Batch Sample","sample":{"productId":null,"stockMessage":null,"orderButtonText":"Add to Basket","displayPrice":null,"displaySalePrice":null,"priceMessage":null},"largeSample":{"productId":null,"stockMessage":null,"orderButtonText":"Add to Basket","displayPrice":null,"displaySalePrice":null,"priceMessage":null}}},"Product":{"productId":199444,"sortOrder":152,"productTypeId":13,"templateId":3,"code":"TOWDG0747","brand":"Designers Guild","gtin13":"5051001001034","name":"Loweswater Antique Jade Bath Towel","AKA":null,"size":"70 x 130cm","imageId":135184,"imageAltText":"Loweswater Antique Jade Bath Towel","imageTitleText":"Loweswater Antique Jade Bath Towel","rRPMessage":null,"rLRRP":"450 kr","rLTradePrice":null,"displayPrice":null,"displaySalePrice":null,"priceMessage":null,"statusMessage":null,"urlSemantics":"loweswater-antique-jade-organic-towels","productPageId":36074,"url":"/se/loweswater-antique-jade-organic-towels/p36074","itemAvailability":"InStock","primaryProduct":false,"orderFormGroupId":8,"orderFormName":"Bath Towel","attributes":null,"orderFormGroup":"Co-ordinates with","orderFormProperties":[{"key":"Size","value":"70 x 130cm"},{"key":"Colour","value":"Antique Jade"},{"key":"Code","value":"TOWDG0747"}],"controls":{"allowOrder":false,"allowReserve":false,"allowReserveWithBatchSample":false,"allowSample":false,"allowLargeSample":false,"allowBackInStockReminder":false,"disableOrder":false,"disableSample":false},"stockMessage":{"productTypeID":13,"quantityMinimum":1.0,"quantityMaximum":99.0,"productTypeQuantityMaximum":null,"quantityIncrement":1.0,"reserveQuantityMaximum":50.0,"unit":"","allowStockCheck":false,"pieceBreakdownMinimum":null,"pieceBreakdownMaximum":null,"allowBackInStockReminder":false,"freeStock":112.0,"nextPOFreeStock":0.0,"nextPODueDate":null,"totalPOFreeStock":0.0,"basketQuantityThresholds":[{"minimum":0,"maximum":99999.99,"stockMessages":[{"stockMessage":"In stock","class":"","stockBreakdownTab":0}]}]},"orderButtonText":"Add to Basket","reserveButtonText":"Reserve","reserveWithBatchSampleButtonText":"Reserve with Batch Sample","sample":{"productId":null,"stockMessage":null,"orderButtonText":"Add to Basket","displayPrice":null,"displaySalePrice":null,"priceMessage":null},"largeSample":{"productId":null,"stockMessage":null,"orderButtonText":"Add to Basket","displayPrice":null,"displaySalePrice":null,"priceMessage":null}},"Carousel":{"CarouselID":"#product-199444-carsouel","WrapperCSSClass":null,"AspectRatio":1.0,"Heading":"Bath Towel","Images":[{"ImageID":135184,"SortOrder":0,"AltText":"Loweswater Antique Jade Bath Towel","Overlay":null,"MaxWidth":null,"ImageSize":1,"ForceLazyLoading":false}],"DisplayThumbnails":false,"DisplayDashes":true,"Interval":null,"PermitLargeImageModal":true},"ProductID":199444,"ProductTypeID":13,"ProductPageID":36074,"ProductCode":"TOWDG0747","Brand":"Designers Guild","OrderFormID":"#product-199444","OrderFormCarouselID":"#product-199444-slide","PrimaryProduct":false,"OrderFormGroupID":8,"OrderFormGroup":"Co-ordinates with","Size":"70 x 130cm","OrderFormName":"Bath Towel","BasketName":"Loweswater Antique Jade Bath Towel","SortOrder":152,"Attributes":null,"Image":{"imageId":135184,"templateImageId":2,"altText":"Loweswater Antique Jade Bath Towel","titleText":"Loweswater Antique Jade Bath Towel","sortOrder":0,"maxWidth":488},"OrderFormProperties":[{"Key":"Size","Value":"70 x 130cm"},{"Key":"Colour","Value":"Antique Jade"},{"Key":"Code","Value":"TOWDG0747"}],"AllowSample":false,"AllowLargeSample":false,"AllowOrder":false,"AllowReserve":false,"AllowReserveWithBatchCutting":false,"ClientProductViewModels":"","URLKeywords":"loweswater-antique-jade-organic-towels","ImageLinkToProductPage":false,"IsLifestyle":false,"IsHotspot":false},{"Solitary":false,"ProductBase":{"product":{"productId":199445,"sortOrder":153,"productTypeId":13,"templateId":3,"code":"TOWDG0748","brand":"Designers Guild","gtin13":"5051001526339","name":"Loweswater Antique Jade Bath Sheet","AKA":null,"size":"100 x 165cm","imageId":135188,"imageAltText":"Loweswater Antique Jade Bath Sheet","imageTitleText":"Loweswater Antique Jade Bath Sheet","rRPMessage":null,"rLRRP":"690 kr","rLTradePrice":null,"displayPrice":null,"displaySalePrice":null,"priceMessage":null,"statusMessage":null,"urlSemantics":"loweswater-antique-jade-organic-towels","productPageId":36074,"url":"/se/loweswater-antique-jade-organic-towels/p36074","itemAvailability":"InStock","primaryProduct":false,"orderFormGroupId":8,"orderFormName":"Bath Sheet","attributes":null,"orderFormGroup":"Co-ordinates with","orderFormProperties":[{"key":"Size","value":"100 x 165cm"},{"key":"Colour","value":"Antique Jade"},{"key":"Code","value":"TOWDG0748"}],"controls":{"allowOrder":false,"allowReserve":false,"allowReserveWithBatchSample":false,"allowSample":false,"allowLargeSample":false,"allowBackInStockReminder":false,"disableOrder":false,"disableSample":false},"stockMessage":{"productTypeID":13,"quantityMinimum":1.0,"quantityMaximum":99.0,"productTypeQuantityMaximum":null,"quantityIncrement":1.0,"reserveQuantityMaximum":50.0,"unit":"","allowStockCheck":false,"pieceBreakdownMinimum":null,"pieceBreakdownMaximum":null,"allowBackInStockReminder":false,"freeStock":216.0,"nextPOFreeStock":0.0,"nextPODueDate":null,"totalPOFreeStock":0.0,"basketQuantityThresholds":[{"minimum":0,"maximum":99999.99,"stockMessages":[{"stockMessage":"In stock","class":"","stockBreakdownTab":0}]}]},"orderButtonText":"Add to Basket","reserveButtonText":"Reserve","reserveWithBatchSampleButtonText":"Reserve with Batch Sample","sample":{"productId":null,"stockMessage":null,"orderButtonText":"Add to Basket","displayPrice":null,"displaySalePrice":null,"priceMessage":null},"largeSample":{"productId":null,"stockMessage":null,"orderButtonText":"Add to Basket","displayPrice":null,"displaySalePrice":null,"priceMessage":null}}},"Product":{"productId":199445,"sortOrder":153,"productTypeId":13,"templateId":3,"code":"TOWDG0748","brand":"Designers Guild","gtin13":"5051001526339","name":"Loweswater Antique Jade Bath Sheet","AKA":null,"size":"100 x 165cm","imageId":135188,"imageAltText":"Loweswater Antique Jade Bath Sheet","imageTitleText":"Loweswater Antique Jade Bath Sheet","rRPMessage":null,"rLRRP":"690 kr","rLTradePrice":null,"displayPrice":null,"displaySalePrice":null,"priceMessage":null,"statusMessage":null,"urlSemantics":"loweswater-antique-jade-organic-towels","productPageId":36074,"url":"/se/loweswater-antique-jade-organic-towels/p36074","itemAvailability":"InStock","primaryProduct":false,"orderFormGroupId":8,"orderFormName":"Bath Sheet","attributes":null,"orderFormGroup":"Co-ordinates with","orderFormProperties":[{"key":"Size","value":"100 x 165cm"},{"key":"Colour","value":"Antique Jade"},{"key":"Code","value":"TOWDG0748"}],"controls":{"allowOrder":false,"allowReserve":false,"allowReserveWithBatchSample":false,"allowSample":false,"allowLargeSample":false,"allowBackInStockReminder":false,"disableOrder":false,"disableSample":false},"stockMessage":{"productTypeID":13,"quantityMinimum":1.0,"quantityMaximum":99.0,"productTypeQuantityMaximum":null,"quantityIncrement":1.0,"reserveQuantityMaximum":50.0,"unit":"","allowStockCheck":false,"pieceBreakdownMinimum":null,"pieceBreakdownMaximum":null,"allowBackInStockReminder":false,"freeStock":216.0,"nextPOFreeStock":0.0,"nextPODueDate":null,"totalPOFreeStock":0.0,"basketQuantityThresholds":[{"minimum":0,"maximum":99999.99,"stockMessages":[{"stockMessage":"In stock","class":"","stockBreakdownTab":0}]}]},"orderButtonText":"Add to Basket","reserveButtonText":"Reserve","reserveWithBatchSampleButtonText":"Reserve with Batch Sample","sample":{"productId":null,"stockMessage":null,"orderButtonText":"Add to Basket","displayPrice":null,"displaySalePrice":null,"priceMessage":null},"largeSample":{"productId":null,"stockMessage":null,"orderButtonText":"Add to Basket","displayPrice":null,"displaySalePrice":null,"priceMessage":null}},"Carousel":{"CarouselID":"#product-199445-carsouel","WrapperCSSClass":null,"AspectRatio":1.0,"Heading":"Bath Sheet","Images":[{"ImageID":135188,"SortOrder":0,"AltText":"Loweswater Antique Jade Bath Sheet","Overlay":null,"MaxWidth":null,"ImageSize":1,"ForceLazyLoading":false}],"DisplayThumbnails":false,"DisplayDashes":true,"Interval":null,"PermitLargeImageModal":true},"ProductID":199445,"ProductTypeID":13,"ProductPageID":36074,"ProductCode":"TOWDG0748","Brand":"Designers Guild","OrderFormID":"#product-199445","OrderFormCarouselID":"#product-199445-slide","PrimaryProduct":false,"OrderFormGroupID":8,"OrderFormGroup":"Co-ordinates with","Size":"100 x 165cm","OrderFormName":"Bath Sheet","BasketName":"Loweswater Antique Jade Bath Sheet","SortOrder":153,"Attributes":null,"Image":{"imageId":135188,"templateImageId":2,"altText":"Loweswater Antique Jade Bath Sheet","titleText":"Loweswater Antique Jade Bath Sheet","sortOrder":0,"maxWidth":488},"OrderFormProperties":[{"Key":"Size","Value":"100 x 165cm"},{"Key":"Colour","Value":"Antique Jade"},{"Key":"Code","Value":"TOWDG0748"}],"AllowSample":false,"AllowLargeSample":false,"AllowOrder":false,"AllowReserve":false,"AllowReserveWithBatchCutting":false,"ClientProductViewModels":"","URLKeywords":"loweswater-antique-jade-organic-towels","ImageLinkToProductPage":false,"IsLifestyle":false,"IsHotspot":false}],"MasterDefinition":{"SiteSectionID":null,"TitleTag":"Loweswater Antique Jade Organic Bath Mat | Designers Guild","MetaDescription":"A new addition to our successful Loweswater organic towel range - this luxurious large size bathmat is woven from superior 850gsm Egyptian cotton, grown wi","BackInStockReminder":null,"ItemsInBasket":0.0,"UrlBreakdown":{"ContentType":1,"ContentId":39275,"ContentDate":"2023-12-06T00:00:00","SemanticString":"loweswater-antique-jade-organic-bath-mat","countryDetails":{"CountryLanguageID":4,"RegionID":3,"CountryID":202,"CountryCode":"SE","LanguageID":1,"SortOrder":24,"Name":"Sweden","URL":"se","DotNetCulture":"sv-SE","ShopEnabled":true,"LanguageCode":"en","LanguageDotNetCulture":"en-GB","MertexCurrencyCode":"SKr","CurrencyCode":"SEK","PriceListID":3,"AllowTradeOrders":true,"AcceptAmazonPay":false,"BuyOnlineRedirectAllowed":false,"EcommerceEnabled":false,"SamplesEnabled":true},"contentTypeAndIdNotFound":false,"CountryAwareness":{"Match":false,"Culture":"us","objCountryItem":{"CountryLanguageID":5,"RegionID":2,"CountryID":238,"CountryCode":null,"LanguageID":2,"SortOrder":1,"Name":"United States","URL":"us","DotNetCulture":"en-US","ShopEnabled":true,"LanguageCode":"us","LanguageDotNetCulture":"en-US","MertexCurrencyCode":"USD","CurrencyCode":"USD","PriceListID":2,"AllowTradeOrders":true,"AcceptAmazonPay":true,"BuyOnlineRedirectAllowed":false,"EcommerceEnabled":false,"SamplesEnabled":false}},"GeoIPCulture":null,"siteCountryNotFoundInUrl":false},"GoogleHrefs":[{"hreflang":"de","href":"https://www.designersguild.com/de/loweswater-antique-jade-organic-bath-mat/p39275"},{"hreflang":"fr","href":"https://www.designersguild.com/fr/loweswater-antique-jade-organic-bath-mat/p39275"},{"hreflang":"en-gb","href":"https://www.designersguild.com/uk/loweswater-antique-jade-organic-bath-mat/p39275"},{"hreflang":"en-se","href":"https://www.designersguild.com/se/loweswater-antique-jade-organic-bath-mat/p39275"},{"hreflang":"en-us","href":"https://www.designersguild.com/us/loweswater-antique-jade-organic-bath-mat/p39275"},{"hreflang":"es","href":"https://www.designersguild.com/es/loweswater-antique-jade-organic-bath-mat/p39275"},{"hreflang":"it-it","href":"https://www.designersguild.com/it/loweswater-antique-jade-organic-bath-mat/p39275"},{"hreflang":"en-nl","href":"https://www.designersguild.com/nl/loweswater-antique-jade-organic-bath-mat/p39275"},{"hreflang":"ru","href":"https://www.designersguild.com/ru/loweswater-antique-jade-organic-bath-mat/p39275"},{"hreflang":"ja-jp","href":"https://www.designersguild.com/jp/loweswater-antique-jade-organic-bath-mat/p39275"},{"hreflang":"en-be","href":"https://www.designersguild.com/be/loweswater-antique-jade-organic-bath-mat/p39275"},{"hreflang":"en-au","href":"https://www.designersguild.com/au/loweswater-antique-jade-organic-bath-mat/p39275"},{"hreflang":"en-dk","href":"https://www.designersguild.com/dk/loweswater-antique-jade-organic-bath-mat/p39275"},{"hreflang":"en-gr","href":"https://www.designersguild.com/eu/loweswater-antique-jade-organic-bath-mat/p39275"},{"hreflang":"en-no","href":"https://www.designersguild.com/no/loweswater-antique-jade-organic-bath-mat/p39275"},{"hreflang":"de-at","href":"https://www.designersguild.com/at/loweswater-antique-jade-organic-bath-mat/p39275"},{"hreflang":"de-ch","href":"https://www.designersguild.com/de-ch/loweswater-antique-jade-organic-bath-mat/p39275"},{"hreflang":"fr-ch","href":"https://www.designersguild.com/fr-ch/loweswater-antique-jade-organic-bath-mat/p39275"},{"hreflang":"en","href":"https://www.designersguild.com/row/loweswater-antique-jade-organic-bath-mat/p39275"},{"hreflang":"en-nz","href":"https://www.designersguild.com/nz/loweswater-antique-jade-organic-bath-mat/p39275"},{"hreflang":"en-ie","href":"https://www.designersguild.com/ie/loweswater-antique-jade-organic-bath-mat/p39275"},{"hreflang":"fi-fi","href":"https://www.designersguild.com/fi/loweswater-antique-jade-organic-bath-mat/p39275"},{"hreflang":"x-default","href":"https://www.designersguild.com/uk/loweswater-antique-jade-organic-bath-mat/p39275"}],"CountryDropDown":{"countryDropDownItems":[{"CountryID":81,"Code":null,"LanguageID":1,"RegionID":3,"LanguageCode":"en","Country":"UK","Region":"Europe","URL":"uk","URLKeywords":"","SortOrder":1,"PageID":0},{"CountryID":15,"Code":null,"LanguageID":4,"RegionID":3,"LanguageCode":"de","Country":"Austria","Region":"Europe","URL":"at","URLKeywords":"","SortOrder":11,"PageID":0},{"CountryID":23,"Code":null,"LanguageID":1,"RegionID":3,"LanguageCode":"en","Country":"Belgium","Region":"Europe","URL":"be","URLKeywords":"","SortOrder":12,"PageID":0},{"CountryID":62,"Code":null,"LanguageID":1,"RegionID":3,"LanguageCode":"en","Country":"Denmark","Region":"Europe","URL":"dk","URLKeywords":"","SortOrder":13,"PageID":0},{"CountryID":74,"Code":null,"LanguageID":15,"RegionID":3,"LanguageCode":"fi","Country":"Finland","Region":"Europe","URL":"fi","URLKeywords":"","SortOrder":15,"PageID":0},{"CountryID":79,"Code":null,"LanguageID":3,"RegionID":3,"LanguageCode":"fr","Country":"France","Region":"Europe","URL":"fr","URLKeywords":"","SortOrder":16,"PageID":0},{"CountryID":60,"Code":null,"LanguageID":4,"RegionID":3,"LanguageCode":"de","Country":"Germany","Region":"Europe","URL":"de","URLKeywords":"","SortOrder":17,"PageID":0},{"CountryID":106,"Code":null,"LanguageID":1,"RegionID":3,"LanguageCode":"en","Country":"Ireland","Region":"Europe","URL":"ie","URLKeywords":"","SortOrder":18,"PageID":0},{"CountryID":114,"Code":null,"LanguageID":6,"RegionID":3,"LanguageCode":"it","Country":"Italy","Region":"Europe","URL":"it","URLKeywords":"","SortOrder":19,"PageID":0},{"CountryID":170,"Code":null,"LanguageID":13,"RegionID":3,"LanguageCode":"en","Country":"Netherlands","Region":"Europe","URL":"nl","URLKeywords":"","SortOrder":20,"PageID":0},{"CountryID":71,"Code":null,"LanguageID":5,"RegionID":3,"LanguageCode":"es","Country":"Spain","Region":"Europe","URL":"es","URLKeywords":"","SortOrder":23,"PageID":0},{"CountryID":202,"Code":null,"LanguageID":1,"RegionID":3,"LanguageCode":"en","Country":"Sweden","Region":"Europe","URL":"se","URLKeywords":"","SortOrder":24,"PageID":0},{"CountryID":171,"Code":null,"LanguageID":1,"RegionID":3,"LanguageCode":"en","Country":"Norway","Region":"Europe","URL":"no","URLKeywords":"","SortOrder":52,"PageID":0},{"CountryID":118,"Code":null,"LanguageID":11,"RegionID":4,"LanguageCode":"jp","Country":"Nihon","Region":"Africa, Asia & the Middle East","URL":"jp","URLKeywords":"","SortOrder":71,"PageID":0},{"CountryID":46,"Code":null,"LanguageID":3,"RegionID":3,"LanguageCode":"fr","Country":"Switzerland","Region":"Europe","URL":"fr-ch","URLKeywords":"","SortOrder":102,"PageID":0},{"CountryID":46,"Code":null,"LanguageID":4,"RegionID":3,"LanguageCode":"de","Country":"Switzerland","Region":"Europe","URL":"de-ch","URLKeywords":"","SortOrder":103,"PageID":0},{"CountryID":196,"Code":null,"LanguageID":10,"RegionID":3,"LanguageCode":"ru","Country":"Russian Federation","Region":"Europe","URL":"ru","URLKeywords":"","SortOrder":109,"PageID":0},{"CountryID":238,"Code":null,"LanguageID":2,"RegionID":2,"LanguageCode":"us","Country":"United States","Region":"North America","URL":"us","URLKeywords":"","SortOrder":125,"PageID":0},{"CountryID":16,"Code":null,"LanguageID":12,"RegionID":6,"LanguageCode":"au","Country":"Australia","Region":"Australasia","URL":"au","URLKeywords":"","SortOrder":150,"PageID":0},{"CountryID":175,"Code":null,"LanguageID":18,"RegionID":6,"LanguageCode":"nz","Country":"New Zealand","Region":"Australasia","URL":"nz","URLKeywords":"","SortOrder":151,"PageID":0},{"CountryID":67,"Code":null,"LanguageID":1,"RegionID":3,"LanguageCode":"en","Country":"Other Countries in Europe","Region":"Europe","URL":"eu","URLKeywords":"","SortOrder":255,"PageID":0},{"CountryID":51,"Code":null,"LanguageID":1,"RegionID":4,"LanguageCode":"en","Country":"Rest of the World","Region":"Africa, Asia & the Middle East","URL":"row","URLKeywords":"","SortOrder":255,"PageID":0}]},"ProductTypeDropDown":{"ProductTypes":[{"ProductTypeID":15,"Name":"Fabric","NamePlural":null,"URLKeywords":null,"SortOrder":0,"FilterIndexRestrictions":null,"ProductPageIDs":null,"FormValue":"fabric"},{"ProductTypeID":18,"Name":"Wallpaper","NamePlural":null,"URLKeywords":null,"SortOrder":0,"FilterIndexRestrictions":null,"ProductPageIDs":null,"FormValue":"wallpaper"},{"ProductTypeID":8,"Name":"Paint","NamePlural":null,"URLKeywords":null,"SortOrder":0,"FilterIndexRestrictions":null,"ProductPageIDs":null,"FormValue":"paint"},{"ProductTypeID":10,"Name":"Rug","NamePlural":null,"URLKeywords":null,"SortOrder":0,"FilterIndexRestrictions":null,"ProductPageIDs":null,"FormValue":"rug"},{"ProductTypeID":4,"Name":"Cushion","NamePlural":null,"URLKeywords":null,"SortOrder":0,"FilterIndexRestrictions":null,"ProductPageIDs":null,"FormValue":"cushion"},{"ProductTypeID":1,"Name":"Bed Linen","NamePlural":null,"URLKeywords":null,"SortOrder":0,"FilterIndexRestrictions":null,"ProductPageIDs":null,"FormValue":"bed-linen"},{"ProductTypeID":2,"Name":"Throw","NamePlural":null,"URLKeywords":null,"SortOrder":0,"FilterIndexRestrictions":null,"ProductPageIDs":null,"FormValue":"throw"},{"ProductTypeID":35,"Name":"Furniture","NamePlural":null,"URLKeywords":null,"SortOrder":0,"FilterIndexRestrictions":null,"ProductPageIDs":null,"FormValue":"furniture"}]},"TradeMember":false,"TradeAllowed":false,"CanViewRRPs":false,"LoginStatus":0,"UserName":null},"ParentProductPageProductTypeID":0,"SortOrder":150,"OrderFormCarouselID":"order-form-group-8-carousel","AutoOpenFirstSize":false}],"AlternateColourways":[{"productPageId":39239,"code":"TOWDG0833","heading":"Loweswater Bianco Organic Bath Mat","imageId":148793,"url":"/se/loweswater-bianco-organic-bath-mat/p39239","urlSemantics":"loweswater-bianco-organic-bath-mat"},{"productPageId":39240,"code":"TOWDG0833","heading":"Loweswater Birch Organic Bath Mat","imageId":148797,"url":"/se/loweswater-birch-organic-bath-mat/p39240","urlSemantics":"loweswater-birch-organic-bath-mat"},{"productPageId":39275,"code":"TOWDG0833","heading":"Loweswater Antique Jade Organic Bath Mat","imageId":160121,"url":"/se/loweswater-antique-jade-organic-bath-mat/p39275","urlSemantics":"loweswater-antique-jade-organic-bath-mat"},{"productPageId":39267,"code":"TOWDG0833","heading":"Loweswater Willow Organic Bath Mat","imageId":152551,"url":"/se/loweswater-willow-organic-bath-mat/p39267","urlSemantics":"loweswater-willow-organic-bath-mat"},{"productPageId":40042,"code":"TOWDG0833","heading":"Loweswater Viridian Organic Bath Mat","imageId":155293,"url":"/se/loweswater-viridian-organic-bath-mat/p40042","urlSemantics":"loweswater-viridian-organic-bath-mat"},{"productPageId":39274,"code":"TOWDG0833","heading":"Loweswater Delft Organic Bath Mat","imageId":148796,"url":"/se/loweswater-delft-organic-bath-mat/p39274","urlSemantics":"loweswater-delft-organic-bath-mat"},{"productPageId":40041,"code":"TOWDG0833","heading":"Loweswater Geranium Organic Bath Mat","imageId":153770,"url":"/se/loweswater-geranium-bath-organic-mat/p40041","urlSemantics":"loweswater-geranium-bath-organic-mat"},{"productPageId":39241,"code":"TOWDG0833","heading":"Loweswater Orchid Organic Bath Mat","imageId":148798,"url":"/se/loweswater-orchid-organic-bath-mat/p39241","urlSemantics":"loweswater-orchid-organic-bath-mat"}],"ProductPagePrice":{"priceMin":null,"priceMax":null,"salePriceMin":null,"salePriceMax":null,"discountPercentageMin":0.0,"discountPercentageMax":null,"clearanceDiscountPercentageMin":null,"clearanceDiscountPercentageMax":null,"discountMessage":null,"priceMessage":null,"rRPMessage":null,"codeMessage":null},"Reviews":[],"TechInfoCollections":[],"TechInfoAftercares":[],"TechInfoUsages":[],"TechInfoTests":[],"Width":"1 cm","Weight":"1 gsm","HorizontalPatternRepeat":null,"VerticalPatternRepeat":null,"Martindale":null,"Composition":"100% Co","PatternMatch":null,"Flamcode":null,"ContractFR":null,"DomesticFR":null,"Type":null,"AdditionalInfo":null,"RollLength":null,"PileHeight":null,"WideWidthFabricDefaultPoleWidth":null,"MaxFoldLength":null,"TechInfoDisplayBase64":"PGR0PkNvbXBvc2l0aW9uPC9kdD48ZGQ+MTAwJSBDbzwvZGQ+PGR0PldpZHRoPC9kdD48ZGQ+MSBjbTwvZGQ+PGR0PldlaWdodDwvZHQ+PGRkPjEgZ3NtPC9kZD4=","IsShop":true,"IsLifestyle":false,"NoFollow":false,"NoIndex":false,"CustomCanonical":"https://www.designersguild.com/se/loweswater-bianco-organic-bath-mat/p39239","AttributeFilterText":null,"AttributeSignatureText":null,"UserInCorrectSite":false,"CountryCorrectorDismissed":false,"CorrectSitesForUser":[{"CountryLanguageID":5,"RegionID":2,"CountryID":238,"CountryCode":"US","LanguageID":2,"SortOrder":125,"Name":"United States","URL":"us","DotNetCulture":"en-US","ShopEnabled":true,"LanguageCode":"us","LanguageDotNetCulture":"en-US","MertexCurrencyCode":"USD","CurrencyCode":"USD","PriceListID":2,"AllowTradeOrders":true,"AcceptAmazonPay":true,"BuyOnlineRedirectAllowed":false,"EcommerceEnabled":true,"SamplesEnabled":false}],"PrefetchedResources":[{"Name":"Quantity","Value":"Quantity"},{"Name":"QuantityRequired","Value":"You must provide a quantity"},{"Name":"pleaseGreaterThanEqualTo","Value":"Please enter a value greater than or equal to"},{"Name":"pleaseLessThanEqualTo","Value":"Please enter a value less than or equal to"},{"Name":"FormsErrorEmail","Value":"Your email address must be between 5 and 100 characters"},{"Name":"FormsErrorEmailFormat","Value":"Your email address is not in the correct format"},{"Name":"ThankYou","Value":"Thank You"},{"Name":"ThankYouEmailSent","Value":"Thank you, your email has been sent."},{"Name":"PleaseProvideWidth","Value":"Please provide a Width"},{"Name":"CalculatorMustBeBetween","Value":"must be between 1 and 99"},{"Name":"Width","Value":"Width"},{"Name":"Height","Value":"Height"},{"Name":"Length","Value":"Length"},{"Name":"PleaseProvideHeight","Value":"Please provide a Height"},{"Name":"PleaseProvideWidth","Value":"Please provide a Width"},{"Name":"PleaseProvideLength","Value":"Please provide a Length"},{"Name":"MajorError","Value":"We could not process your request at this present time. Please click on the back button and try again. If this problem re-occurs, please email shoponlineuk@designersguild.com and one of our customer service agents will get back to you as soon as possibl"}],"PrefetchedSnippets":[],"HeaderBanners":[],"HasHeaderBanners":false,"FooterBanners":[],"HasFooterBanners":false,"EcommercePopupBanners":[],"HasEcommercePopupBanners":false,"Banners":[{"id":12,"name":"One","banners":[{"bannerId":8490,"name":"Lookbooks 12 (Inspiration)","version":9,"sortOrder":1,"overlayText":"","altText":null,"titleText":null,"width":1024,"height":960,"linkURL":"/se/brochures/l1179","newWindow":false,"foregroundColour":"#000000","backgroundColour":"#ffffff","fontClass":null,"restrictions":{"menuIds":[12,66,106],"siteSectionIds":null,"pageIds":null}},{"bannerId":6325,"name":"Christian Lacroix","version":11,"sortOrder":2,"overlayText":"","altText":"Christian Lacroix","titleText":"Christian Lacroix","width":1024,"height":394,"linkURL":"/se/christian-lacroix/l1397","newWindow":false,"foregroundColour":"#000000","backgroundColour":"#ffffff","fontClass":"default-text","restrictions":{"menuIds":[11,45,72,91,108],"siteSectionIds":null,"pageIds":null}}]},{"id":13,"name":"Two","banners":[{"bannerId":8489,"name":"Films 13 (Inspiration)","version":11,"sortOrder":1,"overlayText":"","altText":null,"titleText":null,"width":1024,"height":960,"linkURL":"/se/films/l1180","newWindow":false,"foregroundColour":"#000000","backgroundColour":"#ffffff","fontClass":null,"restrictions":{"menuIds":[12,66,106],"siteSectionIds":null,"pageIds":null}},{"bannerId":7098,"name":"Ralph Lauren New","version":10,"sortOrder":2,"overlayText":"","altText":"Ralph Lauren","titleText":"Ralph Lauren","width":1024,"height":394,"linkURL":"/se/ralph-lauren/l1398","newWindow":false,"foregroundColour":"#000000","backgroundColour":"#ffffff","fontClass":"default-text","restrictions":{"menuIds":[45,72,91,108],"siteSectionIds":null,"pageIds":null}},{"bannerId":1975,"name":"Global 13 Furniture","version":15,"sortOrder":4,"overlayText":"#YOURSOFAYOURWAY > ","altText":"#YOURSOFAYOURWAY > ","titleText":"#YOURSOFAYOURWAY > ","width":256,"height":224,"linkURL":"/se/furniture/your-sofa-your-way/l1467","newWindow":false,"foregroundColour":"#000000","backgroundColour":"#ffffff","fontClass":"under-menu-banner-C1","restrictions":{"menuIds":[3,41],"siteSectionIds":null,"pageIds":null}}]},{"id":14,"name":"Three","banners":[{"bannerId":8491,"name":"Blog 14 (Inspiration)","version":5,"sortOrder":1,"overlayText":"","altText":null,"titleText":null,"width":1024,"height":960,"linkURL":"/se/dg-world/blog/l601","newWindow":false,"foregroundColour":"#000000","backgroundColour":"#ffffff","fontClass":null,"restrictions":{"menuIds":[12,66,106],"siteSectionIds":null,"pageIds":null}},{"bannerId":1809,"name":"Royal Collection","version":11,"sortOrder":2,"overlayText":"","altText":"Royal Collection","titleText":"Royal Collection","width":1024,"height":394,"linkURL":"/se/the-royal-collection/l1396","newWindow":false,"foregroundColour":"#000000","backgroundColour":"#ffffff","fontClass":"default-text","restrictions":{"menuIds":[45,72,91,108],"siteSectionIds":null,"pageIds":null}}]},{"id":15,"name":"Four","banners":[{"bannerId":4115,"name":"News & Events 15 (Inspiration)","version":5,"sortOrder":1,"overlayText":"","altText":null,"titleText":null,"width":1024,"height":960,"linkURL":"/se/dg-world/news-and-events/l602","newWindow":false,"foregroundColour":"#000000","backgroundColour":"#ffffff","fontClass":null,"restrictions":{"menuIds":[12,66,106],"siteSectionIds":null,"pageIds":null}},{"bannerId":1805,"name":"William Yeoward","version":10,"sortOrder":2,"overlayText":"","altText":"William Yeoward","titleText":"William Yeoward","width":1024,"height":394,"linkURL":"/se/william-yeoward/l1399","newWindow":false,"foregroundColour":"#000000","backgroundColour":"#ffffff","fontClass":"default-text","restrictions":{"menuIds":[11,45,72,91,108],"siteSectionIds":null,"pageIds":null}}]},{"id":16,"name":"Five","banners":[{"bannerId":7779,"name":"Brands English Heritage ","version":79,"sortOrder":1,"overlayText":"","altText":"English Heritage ","titleText":"English Heritage ","width":1024,"height":394,"linkURL":"/se/english-heritage-by-designers-guild/l1852","newWindow":false,"foregroundColour":"#000000","backgroundColour":"#ffffff","fontClass":null,"restrictions":{"menuIds":[11,45,72,91,103,108],"siteSectionIds":null,"pageIds":null}},{"bannerId":4118,"name":"Social Media 16 (Inspiration)","version":7,"sortOrder":2,"overlayText":"","altText":null,"titleText":null,"width":1024,"height":960,"linkURL":"https://www.instagram.com/designersguild/?hl=en","newWindow":false,"foregroundColour":"#000000","backgroundColour":"#ffffff","fontClass":null,"restrictions":{"menuIds":[66,106],"siteSectionIds":null,"pageIds":null}}]},{"id":17,"name":"Six","banners":[{"bannerId":4113,"name":"About Us 17 (Inspiration)","version":3,"sortOrder":1,"overlayText":"","altText":null,"titleText":null,"width":1024,"height":958,"linkURL":"/se/company-profile/l1004","newWindow":false,"foregroundColour":"#000000","backgroundColour":"#ffffff","fontClass":null,"restrictions":{"menuIds":[12,66,106],"siteSectionIds":null,"pageIds":null}},{"bannerId":2117,"name":"John Derian","version":18,"sortOrder":2,"overlayText":"","altText":"John Derian","titleText":"John Derian","width":1024,"height":394,"linkURL":"/se/john-derian/l1521","newWindow":false,"foregroundColour":"#000000","backgroundColour":"#ffffff","fontClass":"default-text","restrictions":{"menuIds":[45,72,91,108],"siteSectionIds":null,"pageIds":null}}]}],"Hotspots":[],"RecentlyViewed":[],"MasterDefinition":{"SiteSectionID":null,"TitleTag":"Loweswater Antique Jade Organic Bath Mat | Designers Guild","MetaDescription":"A new addition to our successful Loweswater organic towel range - this luxurious large size bathmat is woven from superior 850gsm Egyptian cotton, grown wi","BackInStockReminder":null,"ItemsInBasket":0.0,"UrlBreakdown":{"ContentType":1,"ContentId":39275,"ContentDate":"2023-12-06T00:00:00","SemanticString":"loweswater-antique-jade-organic-bath-mat","countryDetails":{"CountryLanguageID":4,"RegionID":3,"CountryID":202,"CountryCode":"SE","LanguageID":1,"SortOrder":24,"Name":"Sweden","URL":"se","DotNetCulture":"sv-SE","ShopEnabled":true,"LanguageCode":"en","LanguageDotNetCulture":"en-GB","MertexCurrencyCode":"SKr","CurrencyCode":"SEK","PriceListID":3,"AllowTradeOrders":true,"AcceptAmazonPay":false,"BuyOnlineRedirectAllowed":false,"EcommerceEnabled":false,"SamplesEnabled":true},"contentTypeAndIdNotFound":false,"CountryAwareness":{"Match":false,"Culture":"us","objCountryItem":{"CountryLanguageID":5,"RegionID":2,"CountryID":238,"CountryCode":null,"LanguageID":2,"SortOrder":1,"Name":"United States","URL":"us","DotNetCulture":"en-US","ShopEnabled":true,"LanguageCode":"us","LanguageDotNetCulture":"en-US","MertexCurrencyCode":"USD","CurrencyCode":"USD","PriceListID":2,"AllowTradeOrders":true,"AcceptAmazonPay":true,"BuyOnlineRedirectAllowed":false,"EcommerceEnabled":false,"SamplesEnabled":false}},"GeoIPCulture":null,"siteCountryNotFoundInUrl":false},"GoogleHrefs":[{"hreflang":"de","href":"https://www.designersguild.com/de/loweswater-antique-jade-organic-bath-mat/p39275"},{"hreflang":"fr","href":"https://www.designersguild.com/fr/loweswater-antique-jade-organic-bath-mat/p39275"},{"hreflang":"en-gb","href":"https://www.designersguild.com/uk/loweswater-antique-jade-organic-bath-mat/p39275"},{"hreflang":"en-se","href":"https://www.designersguild.com/se/loweswater-antique-jade-organic-bath-mat/p39275"},{"hreflang":"en-us","href":"https://www.designersguild.com/us/loweswater-antique-jade-organic-bath-mat/p39275"},{"hreflang":"es","href":"https://www.designersguild.com/es/loweswater-antique-jade-organic-bath-mat/p39275"},{"hreflang":"it-it","href":"https://www.designersguild.com/it/loweswater-antique-jade-organic-bath-mat/p39275"},{"hreflang":"en-nl","href":"https://www.designersguild.com/nl/loweswater-antique-jade-organic-bath-mat/p39275"},{"hreflang":"ru","href":"https://www.designersguild.com/ru/loweswater-antique-jade-organic-bath-mat/p39275"},{"hreflang":"ja-jp","href":"https://www.designersguild.com/jp/loweswater-antique-jade-organic-bath-mat/p39275"},{"hreflang":"en-be","href":"https://www.designersguild.com/be/loweswater-antique-jade-organic-bath-mat/p39275"},{"hreflang":"en-au","href":"https://www.designersguild.com/au/loweswater-antique-jade-organic-bath-mat/p39275"},{"hreflang":"en-dk","href":"https://www.designersguild.com/dk/loweswater-antique-jade-organic-bath-mat/p39275"},{"hreflang":"en-gr","href":"https://www.designersguild.com/eu/loweswater-antique-jade-organic-bath-mat/p39275"},{"hreflang":"en-no","href":"https://www.designersguild.com/no/loweswater-antique-jade-organic-bath-mat/p39275"},{"hreflang":"de-at","href":"https://www.designersguild.com/at/loweswater-antique-jade-organic-bath-mat/p39275"},{"hreflang":"de-ch","href":"https://www.designersguild.com/de-ch/loweswater-antique-jade-organic-bath-mat/p39275"},{"hreflang":"fr-ch","href":"https://www.designersguild.com/fr-ch/loweswater-antique-jade-organic-bath-mat/p39275"},{"hreflang":"en","href":"https://www.designersguild.com/row/loweswater-antique-jade-organic-bath-mat/p39275"},{"hreflang":"en-nz","href":"https://www.designersguild.com/nz/loweswater-antique-jade-organic-bath-mat/p39275"},{"hreflang":"en-ie","href":"https://www.designersguild.com/ie/loweswater-antique-jade-organic-bath-mat/p39275"},{"hreflang":"fi-fi","href":"https://www.designersguild.com/fi/loweswater-antique-jade-organic-bath-mat/p39275"},{"hreflang":"x-default","href":"https://www.designersguild.com/uk/loweswater-antique-jade-organic-bath-mat/p39275"}],"CountryDropDown":{"countryDropDownItems":[{"CountryID":81,"Code":null,"LanguageID":1,"RegionID":3,"LanguageCode":"en","Country":"UK","Region":"Europe","URL":"uk","URLKeywords":"","SortOrder":1,"PageID":0},{"CountryID":15,"Code":null,"LanguageID":4,"RegionID":3,"LanguageCode":"de","Country":"Austria","Region":"Europe","URL":"at","URLKeywords":"","SortOrder":11,"PageID":0},{"CountryID":23,"Code":null,"LanguageID":1,"RegionID":3,"LanguageCode":"en","Country":"Belgium","Region":"Europe","URL":"be","URLKeywords":"","SortOrder":12,"PageID":0},{"CountryID":62,"Code":null,"LanguageID":1,"RegionID":3,"LanguageCode":"en","Country":"Denmark","Region":"Europe","URL":"dk","URLKeywords":"","SortOrder":13,"PageID":0},{"CountryID":74,"Code":null,"LanguageID":15,"RegionID":3,"LanguageCode":"fi","Country":"Finland","Region":"Europe","URL":"fi","URLKeywords":"","SortOrder":15,"PageID":0},{"CountryID":79,"Code":null,"LanguageID":3,"RegionID":3,"LanguageCode":"fr","Country":"France","Region":"Europe","URL":"fr","URLKeywords":"","SortOrder":16,"PageID":0},{"CountryID":60,"Code":null,"LanguageID":4,"RegionID":3,"LanguageCode":"de","Country":"Germany","Region":"Europe","URL":"de","URLKeywords":"","SortOrder":17,"PageID":0},{"CountryID":106,"Code":null,"LanguageID":1,"RegionID":3,"LanguageCode":"en","Country":"Ireland","Region":"Europe","URL":"ie","URLKeywords":"","SortOrder":18,"PageID":0},{"CountryID":114,"Code":null,"LanguageID":6,"RegionID":3,"LanguageCode":"it","Country":"Italy","Region":"Europe","URL":"it","URLKeywords":"","SortOrder":19,"PageID":0},{"CountryID":170,"Code":null,"LanguageID":13,"RegionID":3,"LanguageCode":"en","Country":"Netherlands","Region":"Europe","URL":"nl","URLKeywords":"","SortOrder":20,"PageID":0},{"CountryID":71,"Code":null,"LanguageID":5,"RegionID":3,"LanguageCode":"es","Country":"Spain","Region":"Europe","URL":"es","URLKeywords":"","SortOrder":23,"PageID":0},{"CountryID":202,"Code":null,"LanguageID":1,"RegionID":3,"LanguageCode":"en","Country":"Sweden","Region":"Europe","URL":"se","URLKeywords":"","SortOrder":24,"PageID":0},{"CountryID":171,"Code":null,"LanguageID":1,"RegionID":3,"LanguageCode":"en","Country":"Norway","Region":"Europe","URL":"no","URLKeywords":"","SortOrder":52,"PageID":0},{"CountryID":118,"Code":null,"LanguageID":11,"RegionID":4,"LanguageCode":"jp","Country":"Nihon","Region":"Africa, Asia & the Middle East","URL":"jp","URLKeywords":"","SortOrder":71,"PageID":0},{"CountryID":46,"Code":null,"LanguageID":3,"RegionID":3,"LanguageCode":"fr","Country":"Switzerland","Region":"Europe","URL":"fr-ch","URLKeywords":"","SortOrder":102,"PageID":0},{"CountryID":46,"Code":null,"LanguageID":4,"RegionID":3,"LanguageCode":"de","Country":"Switzerland","Region":"Europe","URL":"de-ch","URLKeywords":"","SortOrder":103,"PageID":0},{"CountryID":196,"Code":null,"LanguageID":10,"RegionID":3,"LanguageCode":"ru","Country":"Russian Federation","Region":"Europe","URL":"ru","URLKeywords":"","SortOrder":109,"PageID":0},{"CountryID":238,"Code":null,"LanguageID":2,"RegionID":2,"LanguageCode":"us","Country":"United States","Region":"North America","URL":"us","URLKeywords":"","SortOrder":125,"PageID":0},{"CountryID":16,"Code":null,"LanguageID":12,"RegionID":6,"LanguageCode":"au","Country":"Australia","Region":"Australasia","URL":"au","URLKeywords":"","SortOrder":150,"PageID":0},{"CountryID":175,"Code":null,"LanguageID":18,"RegionID":6,"LanguageCode":"nz","Country":"New Zealand","Region":"Australasia","URL":"nz","URLKeywords":"","SortOrder":151,"PageID":0},{"CountryID":67,"Code":null,"LanguageID":1,"RegionID":3,"LanguageCode":"en","Country":"Other Countries in Europe","Region":"Europe","URL":"eu","URLKeywords":"","SortOrder":255,"PageID":0},{"CountryID":51,"Code":null,"LanguageID":1,"RegionID":4,"LanguageCode":"en","Country":"Rest of the World","Region":"Africa, Asia & the Middle East","URL":"row","URLKeywords":"","SortOrder":255,"PageID":0}]},"ProductTypeDropDown":{"ProductTypes":[{"ProductTypeID":15,"Name":"Fabric","NamePlural":null,"URLKeywords":null,"SortOrder":0,"FilterIndexRestrictions":null,"ProductPageIDs":null,"FormValue":"fabric"},{"ProductTypeID":18,"Name":"Wallpaper","NamePlural":null,"URLKeywords":null,"SortOrder":0,"FilterIndexRestrictions":null,"ProductPageIDs":null,"FormValue":"wallpaper"},{"ProductTypeID":8,"Name":"Paint","NamePlural":null,"URLKeywords":null,"SortOrder":0,"FilterIndexRestrictions":null,"ProductPageIDs":null,"FormValue":"paint"},{"ProductTypeID":10,"Name":"Rug","NamePlural":null,"URLKeywords":null,"SortOrder":0,"FilterIndexRestrictions":null,"ProductPageIDs":null,"FormValue":"rug"},{"ProductTypeID":4,"Name":"Cushion","NamePlural":null,"URLKeywords":null,"SortOrder":0,"FilterIndexRestrictions":null,"ProductPageIDs":null,"FormValue":"cushion"},{"ProductTypeID":1,"Name":"Bed Linen","NamePlural":null,"URLKeywords":null,"SortOrder":0,"FilterIndexRestrictions":null,"ProductPageIDs":null,"FormValue":"bed-linen"},{"ProductTypeID":2,"Name":"Throw","NamePlural":null,"URLKeywords":null,"SortOrder":0,"FilterIndexRestrictions":null,"ProductPageIDs":null,"FormValue":"throw"},{"ProductTypeID":35,"Name":"Furniture","NamePlural":null,"URLKeywords":null,"SortOrder":0,"FilterIndexRestrictions":null,"ProductPageIDs":null,"FormValue":"furniture"}]},"TradeMember":false,"TradeAllowed":false,"CanViewRRPs":false,"LoginStatus":0,"UserName":null},"Visitor":{"visitorDbId":213416427,"FullName":null,"Email":null,"Culture":null,"VisitorCreatedDT":"0001-01-01T00:00:00","memberId":null,"tradePriceListId":null,"memberTradeAccountNumber":null,"memberTradeAccountID":null,"memberDisplayTradePrice":false,"memberTradeDataSourceJson":null,"tradePermissionAccountAdmin":false,"tradePermissionPlaceOrder":false,"tradePermissionViewAccounts":false,"tradePermissionDownloadPricelistsBrochures":false,"tradePermissionDownloadProductFeeds":false},"DotDigitalBehaviourProfile":{"WebBehaviourTrackingProfileID":"DM-1667704159-01"},"Scrapbook":{"Images":[]},"TradeOrderingAllowed":true,"SearchTerm":null,"ProductType":null,"LanguageID":1,"CountryID":202,"Date":"2023-12-06T00:00:00","ContentType":1,"ContentID":39275,"SiteSectionID":null,"ShowRecentlyViewed":true,"Partial":null,"IsBot":true,"CategoryPageProductType":null}
{"ImageID":160121,"SortOrder":0,"AltText":"Loweswater Antique Jade Bath Mat","Overlay":null,"MaxWidth":1024,"ImageSize":6,"ForceLazyLoading":false}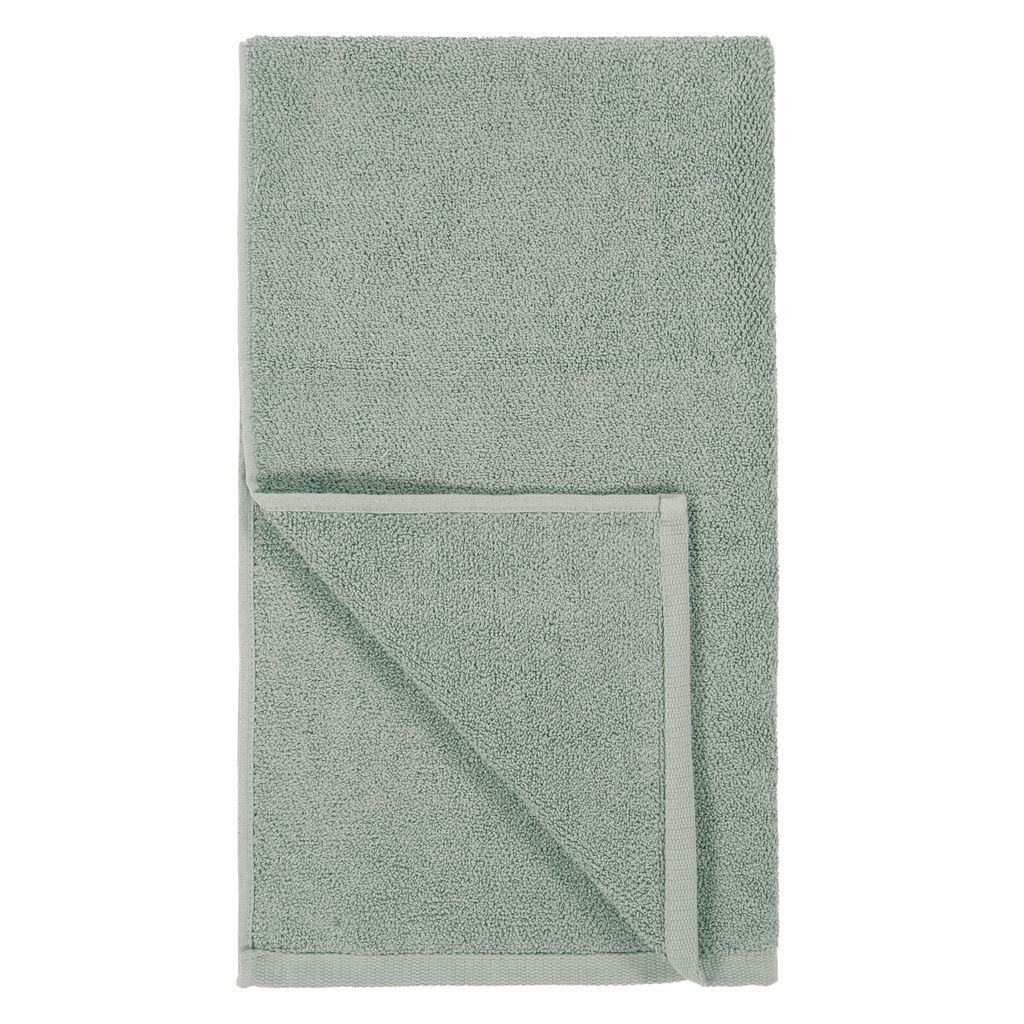 {"ImageID":155793,"SortOrder":1,"AltText":null,"Overlay":null,"MaxWidth":1024,"ImageSize":6,"ForceLazyLoading":false}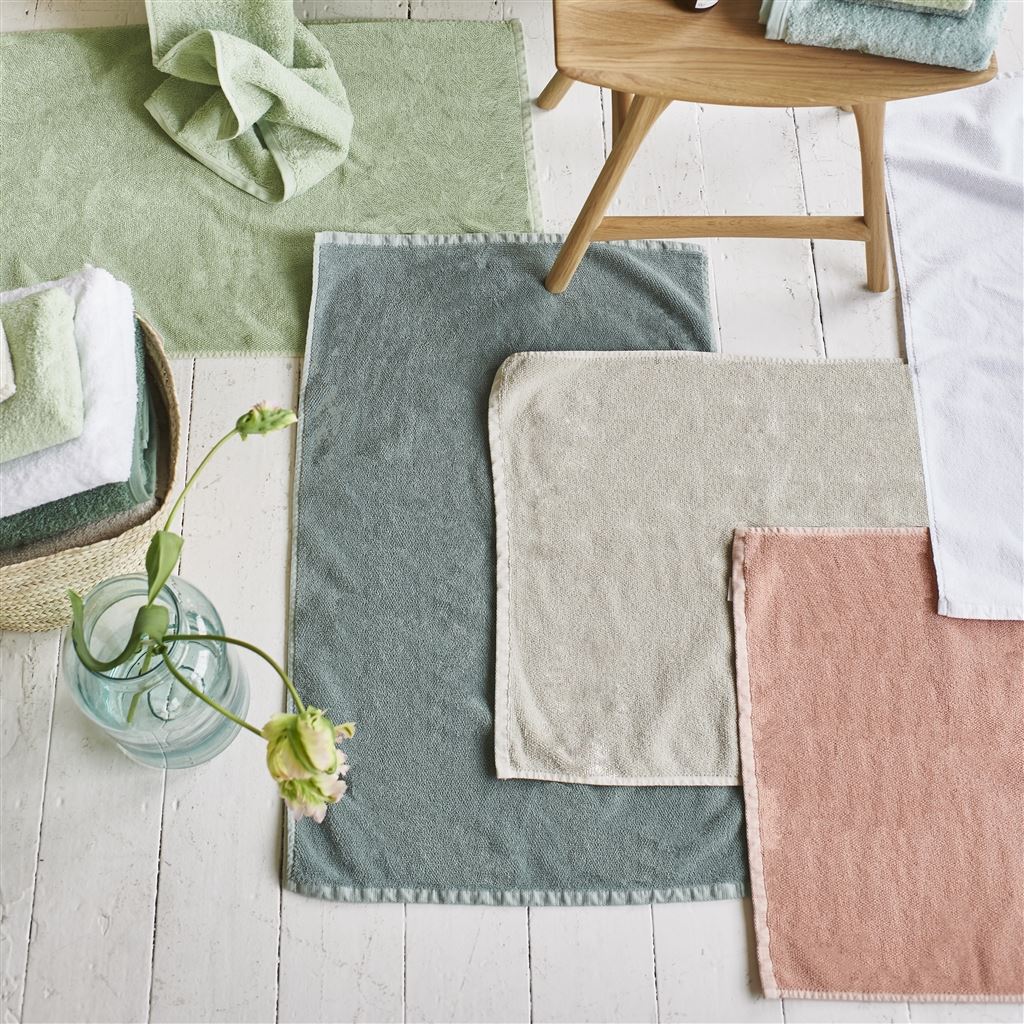 Loweswater Antique Jade Organic Bath Mat
Designers Guild
---
---
Select an Option
{"imageId":160121,"templateImageId":2,"altText":"Loweswater Antique Jade Bath Mat","titleText":"Loweswater Antique Jade Bath Mat","sortOrder":0,"maxWidth":488}
"TOWDG0833"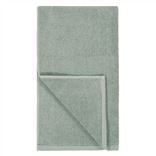 Size
60 x 90cm
Colour
Antique Jade
Code
TOWDG0833
---
Co-ordinates with
Select an Option
A new addition to our successful Loweswater organic towel range - this luxurious large size bathmat is woven from superior 850gsm Egyptian cotton, grown without the use of synthetic additives or pesticides and is not genetically modified. OEKO-TEX« Standard 100 approved for added confidence. Shown here in antique jade.
Brand

Designers Guild

Weight

700gsm Cotton

Fabric

Cotton

Care Instructions

Machine washable at 40 degrees
Do not bleach
Medium iron at 150 degrees
Do not dry clean

Composition

100%Co
No reviews are available for this product yet.