{"AllProductsUnavailable":false,"UseSizeButtons":false,"UseOrderFormGrouping":false,"UsePaintOrderForm":false,"TechInfo":{"width":"52 cm","weight":"225 gsm","horizontalPatternRepeat":"52 cm","verticalPatternRepeat":"52 cm","composition":"NON-WOVEN WALLPAPER","patternMatch":"Half drop","additionalInfo":"Roll: 10m - Spongeable - Paste the wall - Strippable. Flock wallpapers are reverse rolled. Please check design direction before hanging.","rollLength":"10 m","collections":[{"collectionId":818,"name":"Lacroix Stravaganza Wallpaper","urlSemantics":"wallpaper/christian-lacroix/lacroix-stravaganza-wallpaper","url":"/jp/wallpaper/christian-lacroix/lacroix-stravaganza-wallpaper/c818"}],"tests":[{"test":"EN13501 Class B-s1-d0"},{"test":"EN15102"},{"test":"ASTM E84 Class A"}],"aftercares":[{"aftercareId":51,"aftercare":"SPONGEABLE WALLCOVERING"}]},"Prices":{"productPages":[{"productPageId":25902,"productPage":{"productPageId":25902,"heading":null,"subheading":null,"shortHeading":null,"new":null,"productTypeId":null,"urlKeywords":null,"url":null,"imageId":null,"imageWidth":null,"imageHeight":null,"aspectRatio":null,"merchandisedSortOrder":null,"searchSortOrder":null,"colourSort":255,"stockSortOrder":74.0,"azSortOrder":2,"reviewCount":null,"reviewAverage":null,"ratingSortOrder":2,"priceSortOrder":2,"discountSortOrder":1,"salesRank":null,"newSort":1,"designId":10610,"brandId":1,"alternateColourwayIncludeSize":true,"sizeMetric":null,"productPagePrice":{"priceMin":null,"priceMax":null,"salePriceMin":null,"salePriceMax":null,"discountPercentageMin":null,"discountPercentageMax":null,"clearanceDiscountPercentageMin":null,"clearanceDiscountPercentageMax":null,"discountMessage":null,"priceMessage":null,"rRPMessage":null,"codeMessage":null}}},{"productPageId":25912,"productPage":{"productPageId":25912,"heading":null,"subheading":null,"shortHeading":null,"new":null,"productTypeId":null,"urlKeywords":null,"url":null,"imageId":null,"imageWidth":null,"imageHeight":null,"aspectRatio":null,"merchandisedSortOrder":null,"searchSortOrder":null,"colourSort":255,"stockSortOrder":179.1,"azSortOrder":3,"reviewCount":null,"reviewAverage":null,"ratingSortOrder":3,"priceSortOrder":3,"discountSortOrder":2,"salesRank":null,"newSort":2,"designId":10562,"brandId":1,"alternateColourwayIncludeSize":true,"sizeMetric":null,"productPagePrice":{"priceMin":null,"priceMax":null,"salePriceMin":null,"salePriceMax":null,"discountPercentageMin":null,"discountPercentageMax":null,"clearanceDiscountPercentageMin":null,"clearanceDiscountPercentageMax":null,"discountMessage":null,"priceMessage":null,"rRPMessage":null,"codeMessage":null}}},{"productPageId":25874,"productPage":{"productPageId":25874,"heading":null,"subheading":null,"shortHeading":null,"new":null,"productTypeId":null,"urlKeywords":null,"url":null,"imageId":null,"imageWidth":null,"imageHeight":null,"aspectRatio":null,"merchandisedSortOrder":null,"searchSortOrder":null,"colourSort":255,"stockSortOrder":0.0,"azSortOrder":4,"reviewCount":null,"reviewAverage":null,"ratingSortOrder":4,"priceSortOrder":4,"discountSortOrder":3,"salesRank":null,"newSort":3,"designId":10562,"brandId":1,"alternateColourwayIncludeSize":true,"sizeMetric":null,"productPagePrice":{"priceMin":null,"priceMax":null,"salePriceMin":null,"salePriceMax":null,"discountPercentageMin":null,"discountPercentageMax":null,"clearanceDiscountPercentageMin":null,"clearanceDiscountPercentageMax":null,"discountMessage":null,"priceMessage":null,"rRPMessage":null,"codeMessage":null}}},{"productPageId":21583,"productPage":{"productPageId":21583,"heading":null,"subheading":null,"shortHeading":null,"new":null,"productTypeId":null,"urlKeywords":null,"url":null,"imageId":null,"imageWidth":null,"imageHeight":null,"aspectRatio":null,"merchandisedSortOrder":null,"searchSortOrder":null,"colourSort":255,"stockSortOrder":0.0,"azSortOrder":1,"reviewCount":null,"reviewAverage":null,"ratingSortOrder":1,"priceSortOrder":1,"discountSortOrder":4,"salesRank":null,"newSort":4,"designId":2097,"brandId":1,"alternateColourwayIncludeSize":true,"sizeMetric":null,"productPagePrice":{"priceMin":null,"priceMax":null,"salePriceMin":null,"salePriceMax":null,"discountPercentageMin":null,"discountPercentageMax":null,"clearanceDiscountPercentageMin":null,"clearanceDiscountPercentageMax":null,"discountMessage":null,"priceMessage":null,"rRPMessage":null,"codeMessage":null}}},{"productPageId":6994,"productPage":{"productPageId":6994,"heading":null,"subheading":null,"shortHeading":null,"new":null,"productTypeId":null,"urlKeywords":null,"url":null,"imageId":null,"imageWidth":null,"imageHeight":null,"aspectRatio":null,"merchandisedSortOrder":null,"searchSortOrder":null,"colourSort":255,"stockSortOrder":123.0,"azSortOrder":5,"reviewCount":null,"reviewAverage":null,"ratingSortOrder":5,"priceSortOrder":5,"discountSortOrder":5,"salesRank":null,"newSort":5,"designId":574,"brandId":1,"alternateColourwayIncludeSize":true,"sizeMetric":null,"productPagePrice":{"priceMin":null,"priceMax":null,"salePriceMin":null,"salePriceMax":null,"discountPercentageMin":null,"discountPercentageMax":null,"clearanceDiscountPercentageMin":50.0,"clearanceDiscountPercentageMax":50.0,"discountMessage":null,"priceMessage":null,"rRPMessage":null,"codeMessage":null}}}]},"Definition":{"productPageId":25874,"productTypeId":0,"languageId":11,"countryId":118,"templateId":2,"titleTag":"Babylonia Nights Soft Crepuscule Wallpaper | Christian Lacroix | Designers Guild","heading":"Babylonia Nights Soft Crepuscule","subHeading":"Wallpaper","brand":"Christian Lacroix","isNew":false,"metaDescription":"Signature Christian Lacroix florals bloom in technicolour glory feature in this digitally printed wallpaper design which is taken to a dramatic new height ","urlKeywords":"/jp/wallpaper/christian-lacroix/babylonia-nights-soft-crepuscule-wallpaper/p25874","isRugOrRunner":false,"urlSemantics":"wallpaper/christian-lacroix/babylonia-nights-soft-crepuscule-wallpaper","googleHrefs":[{"hreflang":"de","href":"https://www.designersguild.com/de/wallpaper/christian-lacroix/babylonia-nights-soft-crepuscule-wallpaper/p25874"},{"hreflang":"fr","href":"https://www.designersguild.com/fr/wallpaper/christian-lacroix/babylonia-nights-soft-crepuscule-wallpaper/p25874"},{"hreflang":"en-gb","href":"https://www.designersguild.com/uk/wallpaper/christian-lacroix/babylonia-nights-soft-crepuscule-wallpaper/p25874"},{"hreflang":"en-se","href":"https://www.designersguild.com/se/wallpaper/christian-lacroix/babylonia-nights-soft-crepuscule-wallpaper/p25874"},{"hreflang":"en-us","href":"https://www.designersguild.com/us/wallpaper/christian-lacroix/babylonia-nights-soft-crepuscule-wallpaper/p25874"},{"hreflang":"es","href":"https://www.designersguild.com/es/wallpaper/christian-lacroix/babylonia-nights-soft-crepuscule-wallpaper/p25874"},{"hreflang":"it-it","href":"https://www.designersguild.com/it/wallpaper/christian-lacroix/babylonia-nights-soft-crepuscule-wallpaper/p25874"},{"hreflang":"en-nl","href":"https://www.designersguild.com/nl/wallpaper/christian-lacroix/babylonia-nights-soft-crepuscule-wallpaper/p25874"},{"hreflang":"ru","href":"https://www.designersguild.com/ru/wallpaper/christian-lacroix/babylonia-nights-soft-crepuscule-wallpaper/p25874"},{"hreflang":"ja-jp","href":"https://www.designersguild.com/jp/wallpaper/christian-lacroix/babylonia-nights-soft-crepuscule-wallpaper/p25874"},{"hreflang":"en-be","href":"https://www.designersguild.com/be/wallpaper/christian-lacroix/babylonia-nights-soft-crepuscule-wallpaper/p25874"},{"hreflang":"en-au","href":"https://www.designersguild.com/au/wallpaper/christian-lacroix/babylonia-nights-soft-crepuscule-wallpaper/p25874"},{"hreflang":"en-dk","href":"https://www.designersguild.com/dk/wallpaper/christian-lacroix/babylonia-nights-soft-crepuscule-wallpaper/p25874"},{"hreflang":"en-gr","href":"https://www.designersguild.com/eu/wallpaper/christian-lacroix/babylonia-nights-soft-crepuscule-wallpaper/p25874"},{"hreflang":"en-no","href":"https://www.designersguild.com/no/wallpaper/christian-lacroix/babylonia-nights-soft-crepuscule-wallpaper/p25874"},{"hreflang":"de-at","href":"https://www.designersguild.com/at/wallpaper/christian-lacroix/babylonia-nights-soft-crepuscule-wallpaper/p25874"},{"hreflang":"de-ch","href":"https://www.designersguild.com/de-ch/wallpaper/christian-lacroix/babylonia-nights-soft-crepuscule-wallpaper/p25874"},{"hreflang":"fr-ch","href":"https://www.designersguild.com/fr-ch/wallpaper/christian-lacroix/babylonia-nights-soft-crepuscule-wallpaper/p25874"},{"hreflang":"en","href":"https://www.designersguild.com/row/wallpaper/christian-lacroix/babylonia-nights-soft-crepuscule-wallpaper/p25874"},{"hreflang":"en-nz","href":"https://www.designersguild.com/nz/wallpaper/christian-lacroix/babylonia-nights-soft-crepuscule-wallpaper/p25874"},{"hreflang":"en-ie","href":"https://www.designersguild.com/ie/wallpaper/christian-lacroix/babylonia-nights-soft-crepuscule-wallpaper/p25874"},{"hreflang":"fi-fi","href":"https://www.designersguild.com/fi/wallpaper/christian-lacroix/babylonia-nights-soft-crepuscule-wallpaper/p25874"}],"pinterestImageId":91899,"breadcrumb":"<li><a href=\"/jp/wallpaper/l1115\">DESIGNER WALLPAPER</a></li><li><span>Babylonia Nights Soft Crepuscule</span></li>","Images":[{"imageId":91899,"templateImageId":2,"altText":"babylonia nights soft crepuscule","titleText":"babylonia nights soft crepuscule","sortOrder":0,"maxWidth":1024},{"imageId":94184,"templateImageId":2,"altText":null,"titleText":null,"sortOrder":1,"maxWidth":1024},{"imageId":94182,"templateImageId":2,"altText":null,"titleText":null,"sortOrder":2,"maxWidth":1024}],"RelatedSearches":[],"CustomCanonical":null,"PageJSON":"{\"productPageId\":25874,\"productTypeId\":18,\"heading\":\"Babylonia Nights Soft Crepuscule\",\"subHeading\":\"Wallpaper\",\"shortHeading\":\"Babylonia Nights Soft Crepuscule\",\"category\":\"\",\"brand\":\"Christian Lacroix\",\"description\":\"Signature Christian Lacroix florals bloom in technicolour glory feature in this digitally printed wallpaper design which is taken to a dramatic new height by the black flock over-printed stripes in varying scales. Find the secret Love message ! Produced onto a luxurious non-woven ground for ease of hanging. \",\"urlSemantics\":\"wallpaper/christian-lacroix/babylonia-nights-soft-crepuscule-wallpaper\",\"breadcrumb\":\"<li><a href=\\\"/jp/wallpaper/l1115\\\">DESIGNER WALLPAPER</a></li><li><span>Babylonia Nights Soft Crepuscule</span></li>\",\"url\":\"/jp/wallpaper/christian-lacroix/babylonia-nights-soft-crepuscule-wallpaper/p25874\",\"titleTag\":\"Babylonia Nights Soft Crepuscule Wallpaper | Christian Lacroix | Designers Guild\",\"metaDescription\":\"Signature Christian Lacroix florals bloom in technicolour glory feature in this digitally printed wallpaper design which is taken to a dramatic new height \",\"reviewAverage\":null,\"reviewCount\":null,\"isNew\":false,\"customCanonical\":null,\"templateId\":2,\"isRugOrRunner\":false,\"delivery\":null,\"returns\":null,\"products\":[{\"productId\":149609,\"code\":\"PCL7019/01\",\"orderFormName\":\"Babylonia Nights Soft Crepuscule\",\"brand\":\"Christian Lacroix\",\"gtin13\":\"5051001734284\",\"images\":[{\"imageId\":91899,\"altText\":\"Babylonia Nights Soft Crepuscule\",\"titleText\":\"Babylonia Nights Soft Crepuscule\",\"templateImageId\":true,\"maxWidth\":1024}]}],\"images\":[{\"imageId\":91899,\"templateImageId\":2,\"altText\":\"babylonia nights soft crepuscule\",\"titleText\":\"babylonia nights soft crepuscule\",\"sortOrder\":0,\"maxWidth\":1024},{\"imageId\":94184,\"templateImageId\":2,\"sortOrder\":1,\"maxWidth\":1024},{\"imageId\":94182,\"templateImageId\":2,\"sortOrder\":2,\"maxWidth\":1024}],\"alternateColourways\":[{\"productPageId\":25874,\"urlSemantics\":\"wallpaper/christian-lacroix/babylonia-nights-soft-crepuscule-wallpaper\",\"code\":\"PCL7019/01\",\"url\":\"/jp/wallpaper/christian-lacroix/babylonia-nights-soft-crepuscule-wallpaper/p25874\",\"heading\":\"Babylonia Nights Soft Crepuscule\",\"imageId\":91899}],\"reviews\":null,\"hreflangs\":[{\"hreflang\":\"de\",\"href\":\"https://www.designersguild.com/de/wallpaper/christian-lacroix/babylonia-nights-soft-crepuscule-wallpaper/p25874\"},{\"hreflang\":\"fr\",\"href\":\"https://www.designersguild.com/fr/wallpaper/christian-lacroix/babylonia-nights-soft-crepuscule-wallpaper/p25874\"},{\"hreflang\":\"en-gb\",\"href\":\"https://www.designersguild.com/uk/wallpaper/christian-lacroix/babylonia-nights-soft-crepuscule-wallpaper/p25874\"},{\"hreflang\":\"en-se\",\"href\":\"https://www.designersguild.com/se/wallpaper/christian-lacroix/babylonia-nights-soft-crepuscule-wallpaper/p25874\"},{\"hreflang\":\"en-us\",\"href\":\"https://www.designersguild.com/us/wallpaper/christian-lacroix/babylonia-nights-soft-crepuscule-wallpaper/p25874\"},{\"hreflang\":\"es\",\"href\":\"https://www.designersguild.com/es/wallpaper/christian-lacroix/babylonia-nights-soft-crepuscule-wallpaper/p25874\"},{\"hreflang\":\"it-it\",\"href\":\"https://www.designersguild.com/it/wallpaper/christian-lacroix/babylonia-nights-soft-crepuscule-wallpaper/p25874\"},{\"hreflang\":\"en-nl\",\"href\":\"https://www.designersguild.com/nl/wallpaper/christian-lacroix/babylonia-nights-soft-crepuscule-wallpaper/p25874\"},{\"hreflang\":\"ru\",\"href\":\"https://www.designersguild.com/ru/wallpaper/christian-lacroix/babylonia-nights-soft-crepuscule-wallpaper/p25874\"},{\"hreflang\":\"ja-jp\",\"href\":\"https://www.designersguild.com/jp/wallpaper/christian-lacroix/babylonia-nights-soft-crepuscule-wallpaper/p25874\"},{\"hreflang\":\"en-be\",\"href\":\"https://www.designersguild.com/be/wallpaper/christian-lacroix/babylonia-nights-soft-crepuscule-wallpaper/p25874\"},{\"hreflang\":\"en-au\",\"href\":\"https://www.designersguild.com/au/wallpaper/christian-lacroix/babylonia-nights-soft-crepuscule-wallpaper/p25874\"},{\"hreflang\":\"en-dk\",\"href\":\"https://www.designersguild.com/dk/wallpaper/christian-lacroix/babylonia-nights-soft-crepuscule-wallpaper/p25874\"},{\"hreflang\":\"en-gr\",\"href\":\"https://www.designersguild.com/eu/wallpaper/christian-lacroix/babylonia-nights-soft-crepuscule-wallpaper/p25874\"},{\"hreflang\":\"en-no\",\"href\":\"https://www.designersguild.com/no/wallpaper/christian-lacroix/babylonia-nights-soft-crepuscule-wallpaper/p25874\"},{\"hreflang\":\"de-at\",\"href\":\"https://www.designersguild.com/at/wallpaper/christian-lacroix/babylonia-nights-soft-crepuscule-wallpaper/p25874\"},{\"hreflang\":\"de-ch\",\"href\":\"https://www.designersguild.com/de-ch/wallpaper/christian-lacroix/babylonia-nights-soft-crepuscule-wallpaper/p25874\"},{\"hreflang\":\"fr-ch\",\"href\":\"https://www.designersguild.com/fr-ch/wallpaper/christian-lacroix/babylonia-nights-soft-crepuscule-wallpaper/p25874\"},{\"hreflang\":\"en\",\"href\":\"https://www.designersguild.com/row/wallpaper/christian-lacroix/babylonia-nights-soft-crepuscule-wallpaper/p25874\"},{\"hreflang\":\"en-nz\",\"href\":\"https://www.designersguild.com/nz/wallpaper/christian-lacroix/babylonia-nights-soft-crepuscule-wallpaper/p25874\"},{\"hreflang\":\"en-ie\",\"href\":\"https://www.designersguild.com/ie/wallpaper/christian-lacroix/babylonia-nights-soft-crepuscule-wallpaper/p25874\"},{\"hreflang\":\"fi-fi\",\"href\":\"https://www.designersguild.com/fi/wallpaper/christian-lacroix/babylonia-nights-soft-crepuscule-wallpaper/p25874\"}],\"relatedProductPages\":[{\"productPageId\":25902,\"heading\":\"Primavera Labyrinthum Crepuscule\",\"subHeading\":\"Wallpaper\",\"urlSemantics\":\"wallpaper/christian-lacroix/primavera-labyrinthum-crepuscule-wallpaper\",\"url\":\"/jp/wallpaper/christian-lacroix/primavera-labyrinthum-crepuscule-wallpaper/p25902\",\"imageId\":90472,\"aspectRatio\":1.0,\"reviewAverage\":null,\"reviewCount\":null},{\"productPageId\":6994,\"heading\":\"boutis - grenat\",\"subHeading\":\"Wallpaper\",\"urlSemantics\":\"wallpaper/christian-lacroix/boutis-grenat-wallpaper\",\"url\":\"/jp/wallpaper/christian-lacroix/boutis-grenat-wallpaper/p6994\",\"imageId\":3987,\"aspectRatio\":1.0,\"reviewAverage\":null,\"reviewCount\":null},{\"productPageId\":21583,\"heading\":\"honneurs - groseille\",\"subHeading\":null,\"urlSemantics\":\"fabric/christian-lacroix/honneurs-groseille-fabric\",\"url\":\"/jp/fabric/christian-lacroix/honneurs-groseille-fabric/p21583\",\"imageId\":58511,\"aspectRatio\":1.0,\"reviewAverage\":null,\"reviewCount\":null},{\"productPageId\":25912,\"heading\":\"Babylonia Nights Soft Crepuscule\",\"subHeading\":\"Fabric\",\"urlSemantics\":\"fabric/christian-lacroix/babylonia-nights-soft-crepuscule-fabric\",\"url\":\"/jp/fabric/christian-lacroix/babylonia-nights-soft-crepuscule-fabric/p25912\",\"imageId\":90438,\"aspectRatio\":1.0,\"reviewAverage\":null,\"reviewCount\":null}],\"attributes\":[{\"attributeGroup\":\"Brand\",\"attribute\":\"Christian Lacroix\"},{\"attributeGroup\":\"Pattern\",\"attribute\":\"Floral\"},{\"attributeGroup\":\"Type\",\"attribute\":\"Flock\"},{\"attributeGroup\":\"Type\",\"attribute\":\"Paper\"}],\"collection\":{\"collectionId\":818,\"heading\":\"Lacroix Stravaganza Wallpaper\",\"description\":\"Celebrating Creative Director Sacha Walckhoff's 30 years at Christian Lacroix, this collection is an extravagant kaleidoscope of colours and shapes to which only Christian Lacroix knows the secret. With its eclectic mix of patterns, this collection evokes a wide and varied range of stories while affirming its fanciful, singular and eclectic nature, which constitutes the very essence of this House that has been plotting its course for over 35 years. Digitally printed statement scenic panels are partnered with all-over gravure printed designs to extend the narrative onto every wall in your interior. This collection also includes the full library of Christian Lacroix scenic panel wallpapers and selection of iconic patterns.\\n\\n\\n\\n\\n\\n\\n\\n\\n\\n\\n\\n\\n\\n\\n\\n\\n\\n\\n\\n\\n\",\"name\":\"Lacroix Stravaganza Wallpaper\",\"urlSemantics\":\"wallpaper/christian-lacroix/lacroix-stravaganza-wallpaper\",\"url\":\"/jp/wallpaper/christian-lacroix/lacroix-stravaganza-wallpaper/c818\"},\"moduleOptions\":null,\"modules\":null,\"moduleOptionGroups\":null,\"wholesaleFurniture\":null,\"relatedSearches\":null}","json":{"productPageId":25874,"productTypeId":18,"heading":"Babylonia Nights Soft Crepuscule","subHeading":"Wallpaper","shortHeading":"Babylonia Nights Soft Crepuscule","category":"","brand":"Christian Lacroix","description":"Signature Christian Lacroix florals bloom in technicolour glory feature in this digitally printed wallpaper design which is taken to a dramatic new height by the black flock over-printed stripes in varying scales. Find the secret Love message ! Produced onto a luxurious non-woven ground for ease of hanging. ","urlSemantics":"wallpaper/christian-lacroix/babylonia-nights-soft-crepuscule-wallpaper","breadcrumb":"<li><a href=\"/jp/wallpaper/l1115\">DESIGNER WALLPAPER</a></li><li><span>Babylonia Nights Soft Crepuscule</span></li>","url":"/jp/wallpaper/christian-lacroix/babylonia-nights-soft-crepuscule-wallpaper/p25874","titleTag":"Babylonia Nights Soft Crepuscule Wallpaper | Christian Lacroix | Designers Guild","metaDescription":"Signature Christian Lacroix florals bloom in technicolour glory feature in this digitally printed wallpaper design which is taken to a dramatic new height ","reviewAverage":null,"reviewCount":null,"isNew":false,"customCanonical":null,"templateId":2,"isRugOrRunner":false,"delivery":null,"returns":null,"products":[{"productId":149609,"code":"PCL7019/01","orderFormName":"Babylonia Nights Soft Crepuscule","brand":"Christian Lacroix","gtin13":"5051001734284","images":[{"imageId":91899,"altText":"Babylonia Nights Soft Crepuscule","titleText":"Babylonia Nights Soft Crepuscule","templateImageId":true,"maxWidth":1024}]}],"images":[{"imageId":91899,"templateImageId":2,"altText":"babylonia nights soft crepuscule","titleText":"babylonia nights soft crepuscule","sortOrder":0,"maxWidth":1024},{"imageId":94184,"templateImageId":2,"sortOrder":1,"maxWidth":1024},{"imageId":94182,"templateImageId":2,"sortOrder":2,"maxWidth":1024}],"alternateColourways":[{"productPageId":25874,"urlSemantics":"wallpaper/christian-lacroix/babylonia-nights-soft-crepuscule-wallpaper","code":"PCL7019/01","url":"/jp/wallpaper/christian-lacroix/babylonia-nights-soft-crepuscule-wallpaper/p25874","heading":"Babylonia Nights Soft Crepuscule","imageId":91899}],"reviews":null,"hreflangs":[{"hreflang":"de","href":"https://www.designersguild.com/de/wallpaper/christian-lacroix/babylonia-nights-soft-crepuscule-wallpaper/p25874"},{"hreflang":"fr","href":"https://www.designersguild.com/fr/wallpaper/christian-lacroix/babylonia-nights-soft-crepuscule-wallpaper/p25874"},{"hreflang":"en-gb","href":"https://www.designersguild.com/uk/wallpaper/christian-lacroix/babylonia-nights-soft-crepuscule-wallpaper/p25874"},{"hreflang":"en-se","href":"https://www.designersguild.com/se/wallpaper/christian-lacroix/babylonia-nights-soft-crepuscule-wallpaper/p25874"},{"hreflang":"en-us","href":"https://www.designersguild.com/us/wallpaper/christian-lacroix/babylonia-nights-soft-crepuscule-wallpaper/p25874"},{"hreflang":"es","href":"https://www.designersguild.com/es/wallpaper/christian-lacroix/babylonia-nights-soft-crepuscule-wallpaper/p25874"},{"hreflang":"it-it","href":"https://www.designersguild.com/it/wallpaper/christian-lacroix/babylonia-nights-soft-crepuscule-wallpaper/p25874"},{"hreflang":"en-nl","href":"https://www.designersguild.com/nl/wallpaper/christian-lacroix/babylonia-nights-soft-crepuscule-wallpaper/p25874"},{"hreflang":"ru","href":"https://www.designersguild.com/ru/wallpaper/christian-lacroix/babylonia-nights-soft-crepuscule-wallpaper/p25874"},{"hreflang":"ja-jp","href":"https://www.designersguild.com/jp/wallpaper/christian-lacroix/babylonia-nights-soft-crepuscule-wallpaper/p25874"},{"hreflang":"en-be","href":"https://www.designersguild.com/be/wallpaper/christian-lacroix/babylonia-nights-soft-crepuscule-wallpaper/p25874"},{"hreflang":"en-au","href":"https://www.designersguild.com/au/wallpaper/christian-lacroix/babylonia-nights-soft-crepuscule-wallpaper/p25874"},{"hreflang":"en-dk","href":"https://www.designersguild.com/dk/wallpaper/christian-lacroix/babylonia-nights-soft-crepuscule-wallpaper/p25874"},{"hreflang":"en-gr","href":"https://www.designersguild.com/eu/wallpaper/christian-lacroix/babylonia-nights-soft-crepuscule-wallpaper/p25874"},{"hreflang":"en-no","href":"https://www.designersguild.com/no/wallpaper/christian-lacroix/babylonia-nights-soft-crepuscule-wallpaper/p25874"},{"hreflang":"de-at","href":"https://www.designersguild.com/at/wallpaper/christian-lacroix/babylonia-nights-soft-crepuscule-wallpaper/p25874"},{"hreflang":"de-ch","href":"https://www.designersguild.com/de-ch/wallpaper/christian-lacroix/babylonia-nights-soft-crepuscule-wallpaper/p25874"},{"hreflang":"fr-ch","href":"https://www.designersguild.com/fr-ch/wallpaper/christian-lacroix/babylonia-nights-soft-crepuscule-wallpaper/p25874"},{"hreflang":"en","href":"https://www.designersguild.com/row/wallpaper/christian-lacroix/babylonia-nights-soft-crepuscule-wallpaper/p25874"},{"hreflang":"en-nz","href":"https://www.designersguild.com/nz/wallpaper/christian-lacroix/babylonia-nights-soft-crepuscule-wallpaper/p25874"},{"hreflang":"en-ie","href":"https://www.designersguild.com/ie/wallpaper/christian-lacroix/babylonia-nights-soft-crepuscule-wallpaper/p25874"},{"hreflang":"fi-fi","href":"https://www.designersguild.com/fi/wallpaper/christian-lacroix/babylonia-nights-soft-crepuscule-wallpaper/p25874"}],"relatedProductPages":[{"productPageId":25902,"heading":"Primavera Labyrinthum Crepuscule","subHeading":"Wallpaper","urlSemantics":"wallpaper/christian-lacroix/primavera-labyrinthum-crepuscule-wallpaper","url":"/jp/wallpaper/christian-lacroix/primavera-labyrinthum-crepuscule-wallpaper/p25902","imageId":90472,"aspectRatio":1.0,"reviewAverage":null,"reviewCount":null},{"productPageId":6994,"heading":"boutis - grenat","subHeading":"Wallpaper","urlSemantics":"wallpaper/christian-lacroix/boutis-grenat-wallpaper","url":"/jp/wallpaper/christian-lacroix/boutis-grenat-wallpaper/p6994","imageId":3987,"aspectRatio":1.0,"reviewAverage":null,"reviewCount":null},{"productPageId":21583,"heading":"honneurs - groseille","subHeading":null,"urlSemantics":"fabric/christian-lacroix/honneurs-groseille-fabric","url":"/jp/fabric/christian-lacroix/honneurs-groseille-fabric/p21583","imageId":58511,"aspectRatio":1.0,"reviewAverage":null,"reviewCount":null},{"productPageId":25912,"heading":"Babylonia Nights Soft Crepuscule","subHeading":"Fabric","urlSemantics":"fabric/christian-lacroix/babylonia-nights-soft-crepuscule-fabric","url":"/jp/fabric/christian-lacroix/babylonia-nights-soft-crepuscule-fabric/p25912","imageId":90438,"aspectRatio":1.0,"reviewAverage":null,"reviewCount":null}],"attributes":[{"attributeGroup":"Brand","attribute":"Christian Lacroix"},{"attributeGroup":"Pattern","attribute":"Floral"},{"attributeGroup":"Type","attribute":"Flock"},{"attributeGroup":"Type","attribute":"Paper"}],"collection":{"collectionId":818,"heading":"Lacroix Stravaganza Wallpaper","description":"Celebrating Creative Director Sacha Walckhoff's 30 years at Christian Lacroix, this collection is an extravagant kaleidoscope of colours and shapes to which only Christian Lacroix knows the secret. With its eclectic mix of patterns, this collection evokes a wide and varied range of stories while affirming its fanciful, singular and eclectic nature, which constitutes the very essence of this House that has been plotting its course for over 35 years. Digitally printed statement scenic panels are partnered with all-over gravure printed designs to extend the narrative onto every wall in your interior. This collection also includes the full library of Christian Lacroix scenic panel wallpapers and selection of iconic patterns.\n\n\n\n\n\n\n\n\n\n\n\n\n\n\n\n\n\n\n\n\n","name":"Lacroix Stravaganza Wallpaper","urlSemantics":"wallpaper/christian-lacroix/lacroix-stravaganza-wallpaper","url":"/jp/wallpaper/christian-lacroix/lacroix-stravaganza-wallpaper/c818"},"moduleOptions":null,"modules":null,"moduleOptionGroups":null,"wholesaleFurniture":null,"relatedSearches":null}},"Stock":{"OrderFormJSON":"{\"products\":[{\"product\":{\"productId\":149609,\"sortOrder\":50,\"productTypeId\":18,\"templateId\":2,\"code\":\"PCL7019\\/01\",\"brand\":\"Christian Lacroix\",\"gtin13\":\"5051001734284\",\"name\":\"Babylonia Nights Soft Crepuscule\",\"AKA\":null,\"size\":null,\"imageId\":91899,\"imageAltText\":\"Babylonia Nights Soft Crepuscule\",\"imageTitleText\":\"Babylonia Nights Soft Crepuscule\",\"rRPMessage\":null,\"rLRRP\":null,\"rLTradePrice\":null,\"displayPrice\":null,\"displaySalePrice\":null,\"priceMessage\":null,\"statusMessage\":null,\"urlSemantics\":\"wallpaper\\/christian-lacroix\\/babylonia-nights-soft-crepuscule-wallpaper\",\"productPageId\":25874,\"url\":\"\\/jp\\/wallpaper\\/christian-lacroix\\/babylonia-nights-soft-crepuscule-wallpaper\\/p25874\",\"itemAvailability\":\"LimitedAvailability\",\"orderFormGroupId\":null,\"orderFormName\":\"Babylonia Nights Soft Crepuscule\",\"attributes\":null,\"orderFormGroup\":null,\"orderFormProperties\":[{\"key\":\"Colour\",\"value\":\"Crepuscule\"},{\"key\":\"Code\",\"value\":\"PCL7019\\/01\"}],\"controls\":{\"allowOrder\":false,\"allowReserve\":false,\"allowReserveWithBatchSample\":false,\"allowSample\":false,\"allowLargeSample\":false,\"allowBackInStockReminder\":false,\"disableOrder\":false,\"disableSample\":false},\"stockMessage\":{\"productTypeID\":18,\"quantityMinimum\":1.00,\"quantityMaximum\":0.00,\"productTypeQuantityMaximum\":null,\"quantityIncrement\":1.00,\"reserveQuantityMaximum\":0.00,\"unit\":\" roll(s)\",\"allowStockCheck\":false,\"pieceBreakdownMinimum\":null,\"pieceBreakdownMaximum\":null,\"allowBackInStockReminder\":true,\"freeStock\":0.00,\"nextPOFreeStock\":142.00,\"nextPODueDate\":\"2023-06-06\",\"totalPOFreeStock\":142.00,\"basketQuantityThresholds\":[{\"minimum\":0,\"maximum\":99999.99,\"stockMessages\":[{\"stockMessage\":\" more due in (3-5 days)\",\"class\":\"\",\"stockBreakdownTab\":1}]}]},\"orderButtonText\":\"Add to Basket\",\"reserveButtonText\":\"Reserve\",\"reserveWithBatchSampleButtonText\":\"Reserve with Batch Sample\",\"sample\":{\"productId\":150216,\"stockMessage\":{\"productTypeID\":55,\"quantityMinimum\":1.00,\"quantityMaximum\":2.00,\"productTypeQuantityMaximum\":20.00,\"quantityIncrement\":1.00,\"reserveQuantityMaximum\":50.00,\"unit\":\"\",\"allowStockCheck\":false,\"pieceBreakdownMinimum\":null,\"pieceBreakdownMaximum\":null,\"allowBackInStockReminder\":false,\"freeStock\":59.00,\"nextPOFreeStock\":99.00,\"nextPODueDate\":\"2023-06-06\",\"totalPOFreeStock\":99.00,\"basketQuantityThresholds\":[{\"minimum\":0,\"maximum\":99999.99,\"stockMessages\":[{\"stockMessage\":\"In stock\",\"class\":\"\",\"stockBreakdownTab\":0}]}]},\"orderButtonText\":\"Request a Sample\",\"displayPrice\":null,\"displaySalePrice\":null,\"priceMessage\":null},\"largeSample\":{\"productId\":151279,\"stockMessage\":{\"productTypeID\":null,\"quantityMinimum\":1.00,\"quantityMaximum\":99.00,\"productTypeQuantityMaximum\":null,\"quantityIncrement\":1.00,\"reserveQuantityMaximum\":null,\"unit\":\"\",\"allowStockCheck\":false,\"pieceBreakdownMinimum\":null,\"pieceBreakdownMaximum\":null,\"allowBackInStockReminder\":false,\"freeStock\":null,\"nextPOFreeStock\":null,\"nextPODueDate\":null,\"totalPOFreeStock\":null,\"basketQuantityThresholds\":[{\"minimum\":0,\"maximum\":99999.99,\"stockMessages\":[{\"stockMessage\":\" more due in (1-2 weeks)\",\"class\":\"\",\"stockBreakdownTab\":1}]}]},\"orderButtonText\":\"Add to Basket\",\"displayPrice\":null,\"displaySalePrice\":null,\"priceMessage\":null}}}]}","orderForm":{"products":[{"product":{"productId":149609,"sortOrder":50,"productTypeId":18,"templateId":2,"code":"PCL7019/01","brand":"Christian Lacroix","gtin13":"5051001734284","name":"Babylonia Nights Soft Crepuscule","AKA":null,"size":null,"imageId":91899,"imageAltText":"Babylonia Nights Soft Crepuscule","imageTitleText":"Babylonia Nights Soft Crepuscule","rRPMessage":null,"rLRRP":null,"rLTradePrice":null,"displayPrice":null,"displaySalePrice":null,"priceMessage":null,"statusMessage":null,"urlSemantics":"wallpaper/christian-lacroix/babylonia-nights-soft-crepuscule-wallpaper","productPageId":25874,"url":"/jp/wallpaper/christian-lacroix/babylonia-nights-soft-crepuscule-wallpaper/p25874","itemAvailability":"LimitedAvailability","orderFormGroupId":null,"orderFormName":"Babylonia Nights Soft Crepuscule","attributes":null,"orderFormGroup":null,"orderFormProperties":[{"key":"Colour","value":"Crepuscule"},{"key":"Code","value":"PCL7019/01"}],"controls":{"allowOrder":false,"allowReserve":false,"allowReserveWithBatchSample":false,"allowSample":false,"allowLargeSample":false,"allowBackInStockReminder":false,"disableOrder":false,"disableSample":false},"stockMessage":{"productTypeID":18,"quantityMinimum":1.0,"quantityMaximum":0.0,"productTypeQuantityMaximum":null,"quantityIncrement":1.0,"reserveQuantityMaximum":0.0,"unit":" roll(s)","allowStockCheck":false,"pieceBreakdownMinimum":null,"pieceBreakdownMaximum":null,"allowBackInStockReminder":true,"freeStock":0.0,"nextPOFreeStock":142.0,"nextPODueDate":"2023-06-06","totalPOFreeStock":142.0,"basketQuantityThresholds":[{"minimum":0,"maximum":99999.99,"stockMessages":[{"stockMessage":" more due in (3-5 days)","class":"","stockBreakdownTab":1}]}]},"orderButtonText":"Add to Basket","reserveButtonText":"Reserve","reserveWithBatchSampleButtonText":"Reserve with Batch Sample","sample":{"productId":150216,"stockMessage":{"productTypeID":55,"quantityMinimum":1.0,"quantityMaximum":2.0,"productTypeQuantityMaximum":20.0,"quantityIncrement":1.0,"reserveQuantityMaximum":50.0,"unit":"","allowStockCheck":false,"pieceBreakdownMinimum":null,"pieceBreakdownMaximum":null,"allowBackInStockReminder":false,"freeStock":59.0,"nextPOFreeStock":99.0,"nextPODueDate":"2023-06-06","totalPOFreeStock":99.0,"basketQuantityThresholds":[{"minimum":0,"maximum":99999.99,"stockMessages":[{"stockMessage":"In stock","class":"","stockBreakdownTab":0}]}]},"orderButtonText":"Request a Sample","displayPrice":null,"displaySalePrice":null,"priceMessage":null},"largeSample":{"productId":151279,"stockMessage":{"productTypeID":null,"quantityMinimum":1.0,"quantityMaximum":99.0,"productTypeQuantityMaximum":null,"quantityIncrement":1.0,"reserveQuantityMaximum":null,"unit":"","allowStockCheck":false,"pieceBreakdownMinimum":null,"pieceBreakdownMaximum":null,"allowBackInStockReminder":false,"freeStock":null,"nextPOFreeStock":null,"nextPODueDate":null,"totalPOFreeStock":null,"basketQuantityThresholds":[{"minimum":0,"maximum":99999.99,"stockMessages":[{"stockMessage":" more due in (1-2 weeks)","class":"","stockBreakdownTab":1}]}]},"orderButtonText":"Add to Basket","displayPrice":null,"displaySalePrice":null,"priceMessage":null}}}]}},"Carousel":{"CarouselID":"#product-page-25874-carousel","WrapperCSSClass":null,"AspectRatio":1.0,"Heading":"Babylonia Nights Soft Crepuscule","Images":[{"ImageID":91899,"SortOrder":0,"AltText":"babylonia nights soft crepuscule","Overlay":null,"MaxWidth":1024,"ImageSize":6,"ForceLazyLoading":false},{"ImageID":94184,"SortOrder":1,"AltText":null,"Overlay":null,"MaxWidth":1024,"ImageSize":6,"ForceLazyLoading":false},{"ImageID":94182,"SortOrder":2,"AltText":null,"Overlay":null,"MaxWidth":1024,"ImageSize":6,"ForceLazyLoading":false}],"DisplayThumbnails":true,"DisplayDashes":true,"Interval":null,"PermitLargeImageModal":true},"MainProduct":{"Solitary":false,"ProductBase":{"product":{"productId":149609,"sortOrder":50,"productTypeId":18,"templateId":2,"code":"PCL7019/01","brand":"Christian Lacroix","gtin13":"5051001734284","name":"Babylonia Nights Soft Crepuscule","AKA":null,"size":null,"imageId":91899,"imageAltText":"Babylonia Nights Soft Crepuscule","imageTitleText":"Babylonia Nights Soft Crepuscule","rRPMessage":null,"rLRRP":null,"rLTradePrice":null,"displayPrice":null,"displaySalePrice":null,"priceMessage":null,"statusMessage":null,"urlSemantics":"wallpaper/christian-lacroix/babylonia-nights-soft-crepuscule-wallpaper","productPageId":25874,"url":"/jp/wallpaper/christian-lacroix/babylonia-nights-soft-crepuscule-wallpaper/p25874","itemAvailability":"LimitedAvailability","orderFormGroupId":null,"orderFormName":"Babylonia Nights Soft Crepuscule","attributes":null,"orderFormGroup":null,"orderFormProperties":[{"key":"Colour","value":"Crepuscule"},{"key":"Code","value":"PCL7019/01"}],"controls":{"allowOrder":false,"allowReserve":false,"allowReserveWithBatchSample":false,"allowSample":false,"allowLargeSample":false,"allowBackInStockReminder":false,"disableOrder":false,"disableSample":false},"stockMessage":{"productTypeID":18,"quantityMinimum":1.0,"quantityMaximum":0.0,"productTypeQuantityMaximum":null,"quantityIncrement":1.0,"reserveQuantityMaximum":0.0,"unit":" roll(s)","allowStockCheck":false,"pieceBreakdownMinimum":null,"pieceBreakdownMaximum":null,"allowBackInStockReminder":true,"freeStock":0.0,"nextPOFreeStock":142.0,"nextPODueDate":"2023-06-06","totalPOFreeStock":142.0,"basketQuantityThresholds":[{"minimum":0,"maximum":99999.99,"stockMessages":[{"stockMessage":" more due in (3-5 days)","class":"","stockBreakdownTab":1}]}]},"orderButtonText":"Add to Basket","reserveButtonText":"Reserve","reserveWithBatchSampleButtonText":"Reserve with Batch Sample","sample":{"productId":150216,"stockMessage":{"productTypeID":55,"quantityMinimum":1.0,"quantityMaximum":2.0,"productTypeQuantityMaximum":20.0,"quantityIncrement":1.0,"reserveQuantityMaximum":50.0,"unit":"","allowStockCheck":false,"pieceBreakdownMinimum":null,"pieceBreakdownMaximum":null,"allowBackInStockReminder":false,"freeStock":59.0,"nextPOFreeStock":99.0,"nextPODueDate":"2023-06-06","totalPOFreeStock":99.0,"basketQuantityThresholds":[{"minimum":0,"maximum":99999.99,"stockMessages":[{"stockMessage":"In stock","class":"","stockBreakdownTab":0}]}]},"orderButtonText":"Request a Sample","displayPrice":null,"displaySalePrice":null,"priceMessage":null},"largeSample":{"productId":151279,"stockMessage":{"productTypeID":null,"quantityMinimum":1.0,"quantityMaximum":99.0,"productTypeQuantityMaximum":null,"quantityIncrement":1.0,"reserveQuantityMaximum":null,"unit":"","allowStockCheck":false,"pieceBreakdownMinimum":null,"pieceBreakdownMaximum":null,"allowBackInStockReminder":false,"freeStock":null,"nextPOFreeStock":null,"nextPODueDate":null,"totalPOFreeStock":null,"basketQuantityThresholds":[{"minimum":0,"maximum":99999.99,"stockMessages":[{"stockMessage":" more due in (1-2 weeks)","class":"","stockBreakdownTab":1}]}]},"orderButtonText":"Add to Basket","displayPrice":null,"displaySalePrice":null,"priceMessage":null}}},"Product":{"productId":149609,"sortOrder":50,"productTypeId":18,"templateId":2,"code":"PCL7019/01","brand":"Christian Lacroix","gtin13":"5051001734284","name":"Babylonia Nights Soft Crepuscule","AKA":null,"size":null,"imageId":91899,"imageAltText":"Babylonia Nights Soft Crepuscule","imageTitleText":"Babylonia Nights Soft Crepuscule","rRPMessage":null,"rLRRP":null,"rLTradePrice":null,"displayPrice":null,"displaySalePrice":null,"priceMessage":null,"statusMessage":null,"urlSemantics":"wallpaper/christian-lacroix/babylonia-nights-soft-crepuscule-wallpaper","productPageId":25874,"url":"/jp/wallpaper/christian-lacroix/babylonia-nights-soft-crepuscule-wallpaper/p25874","itemAvailability":"LimitedAvailability","orderFormGroupId":null,"orderFormName":"Babylonia Nights Soft Crepuscule","attributes":null,"orderFormGroup":null,"orderFormProperties":[{"key":"Colour","value":"Crepuscule"},{"key":"Code","value":"PCL7019/01"}],"controls":{"allowOrder":false,"allowReserve":false,"allowReserveWithBatchSample":false,"allowSample":false,"allowLargeSample":false,"allowBackInStockReminder":false,"disableOrder":false,"disableSample":false},"stockMessage":{"productTypeID":18,"quantityMinimum":1.0,"quantityMaximum":0.0,"productTypeQuantityMaximum":null,"quantityIncrement":1.0,"reserveQuantityMaximum":0.0,"unit":" roll(s)","allowStockCheck":false,"pieceBreakdownMinimum":null,"pieceBreakdownMaximum":null,"allowBackInStockReminder":true,"freeStock":0.0,"nextPOFreeStock":142.0,"nextPODueDate":"2023-06-06","totalPOFreeStock":142.0,"basketQuantityThresholds":[{"minimum":0,"maximum":99999.99,"stockMessages":[{"stockMessage":" more due in (3-5 days)","class":"","stockBreakdownTab":1}]}]},"orderButtonText":"Add to Basket","reserveButtonText":"Reserve","reserveWithBatchSampleButtonText":"Reserve with Batch Sample","sample":{"productId":150216,"stockMessage":{"productTypeID":55,"quantityMinimum":1.0,"quantityMaximum":2.0,"productTypeQuantityMaximum":20.0,"quantityIncrement":1.0,"reserveQuantityMaximum":50.0,"unit":"","allowStockCheck":false,"pieceBreakdownMinimum":null,"pieceBreakdownMaximum":null,"allowBackInStockReminder":false,"freeStock":59.0,"nextPOFreeStock":99.0,"nextPODueDate":"2023-06-06","totalPOFreeStock":99.0,"basketQuantityThresholds":[{"minimum":0,"maximum":99999.99,"stockMessages":[{"stockMessage":"In stock","class":"","stockBreakdownTab":0}]}]},"orderButtonText":"Request a Sample","displayPrice":null,"displaySalePrice":null,"priceMessage":null},"largeSample":{"productId":151279,"stockMessage":{"productTypeID":null,"quantityMinimum":1.0,"quantityMaximum":99.0,"productTypeQuantityMaximum":null,"quantityIncrement":1.0,"reserveQuantityMaximum":null,"unit":"","allowStockCheck":false,"pieceBreakdownMinimum":null,"pieceBreakdownMaximum":null,"allowBackInStockReminder":false,"freeStock":null,"nextPOFreeStock":null,"nextPODueDate":null,"totalPOFreeStock":null,"basketQuantityThresholds":[{"minimum":0,"maximum":99999.99,"stockMessages":[{"stockMessage":" more due in (1-2 weeks)","class":"","stockBreakdownTab":1}]}]},"orderButtonText":"Add to Basket","displayPrice":null,"displaySalePrice":null,"priceMessage":null}},"Carousel":{"CarouselID":"#product-149609-carsouel","WrapperCSSClass":null,"AspectRatio":1.0,"Heading":"Babylonia Nights Soft Crepuscule","Images":[{"ImageID":91899,"SortOrder":0,"AltText":"Babylonia Nights Soft Crepuscule","Overlay":null,"MaxWidth":null,"ImageSize":1,"ForceLazyLoading":false}],"DisplayThumbnails":false,"DisplayDashes":true,"Interval":null,"PermitLargeImageModal":true},"ProductID":149609,"ProductTypeID":18,"ProductPageID":25874,"ProductCode":"PCL7019/01","Brand":"Christian Lacroix","OrderFormID":"#product-149609","OrderFormCarouselID":"#product-149609-slide","OrderFormGroupID":null,"OrderFormGroup":null,"Size":null,"OrderFormName":"Babylonia Nights Soft Crepuscule","BasketName":"Babylonia Nights Soft Crepuscule","SortOrder":50,"Attributes":null,"Image":{"imageId":91899,"templateImageId":2,"altText":"Babylonia Nights Soft Crepuscule","titleText":"Babylonia Nights Soft Crepuscule","sortOrder":0,"maxWidth":488},"OrderFormProperties":[{"Key":"Colour","Value":"Crepuscule"},{"Key":"Code","Value":"PCL7019/01"}],"AllowSample":false,"AllowLargeSample":false,"AllowOrder":false,"AllowReserve":false,"AllowReserveWithBatchCutting":false,"ClientProductViewModels":"","URLKeywords":"wallpaper/christian-lacroix/babylonia-nights-soft-crepuscule-wallpaper","ImageLinkToProductPage":false,"IsLifestyle":false,"IsHotspot":false},"OtherProducts":[],"RelatedProductPages":[{"ImageSize":2,"MasterDefinition":{"SiteSectionID":null,"TitleTag":"Babylonia Nights Soft Crepuscule Wallpaper | Christian Lacroix | Designers Guild","MetaDescription":"Signature Christian Lacroix florals bloom in technicolour glory feature in this digitally printed wallpaper design which is taken to a dramatic new height ","BackInStockReminder":null,"ItemsInBasket":0.0,"UrlBreakdown":{"ContentType":1,"ContentId":25874,"ContentDate":"2023-06-05T00:00:00","SemanticString":"wallpaper/christian-lacroix/babylonia-nights-soft-crepuscule-wallpaper","countryDetails":{"CountryLanguageID":15,"RegionID":4,"CountryID":118,"CountryCode":"JP","LanguageID":11,"SortOrder":71,"Name":"Japan","URL":"jp","DotNetCulture":"ja-JP","ShopEnabled":false,"LanguageCode":"jp","LanguageDotNetCulture":"ja-JP","MertexCurrencyCode":null,"CurrencyCode":null,"PriceListID":null,"AllowTradeOrders":false,"AcceptAmazonPay":false,"BuyOnlineRedirectAllowed":false,"EcommerceEnabled":false,"SamplesEnabled":false},"contentTypeAndIdNotFound":false,"CountryAwareness":{"Match":false,"Culture":"us","objCountryItem":{"CountryLanguageID":5,"RegionID":2,"CountryID":238,"CountryCode":null,"LanguageID":2,"SortOrder":1,"Name":"United States","URL":"us","DotNetCulture":"en-US","ShopEnabled":true,"LanguageCode":"us","LanguageDotNetCulture":"en-US","MertexCurrencyCode":"USD","CurrencyCode":"USD","PriceListID":2,"AllowTradeOrders":true,"AcceptAmazonPay":true,"BuyOnlineRedirectAllowed":false,"EcommerceEnabled":false,"SamplesEnabled":false}},"GeoIPCulture":null,"siteCountryNotFoundInUrl":false},"GoogleHrefs":[{"hreflang":"de","href":"https://www.designersguild.com/de/wallpaper/christian-lacroix/babylonia-nights-soft-crepuscule-wallpaper/p25874"},{"hreflang":"fr","href":"https://www.designersguild.com/fr/wallpaper/christian-lacroix/babylonia-nights-soft-crepuscule-wallpaper/p25874"},{"hreflang":"en-gb","href":"https://www.designersguild.com/uk/wallpaper/christian-lacroix/babylonia-nights-soft-crepuscule-wallpaper/p25874"},{"hreflang":"en-se","href":"https://www.designersguild.com/se/wallpaper/christian-lacroix/babylonia-nights-soft-crepuscule-wallpaper/p25874"},{"hreflang":"en-us","href":"https://www.designersguild.com/us/wallpaper/christian-lacroix/babylonia-nights-soft-crepuscule-wallpaper/p25874"},{"hreflang":"es","href":"https://www.designersguild.com/es/wallpaper/christian-lacroix/babylonia-nights-soft-crepuscule-wallpaper/p25874"},{"hreflang":"it-it","href":"https://www.designersguild.com/it/wallpaper/christian-lacroix/babylonia-nights-soft-crepuscule-wallpaper/p25874"},{"hreflang":"en-nl","href":"https://www.designersguild.com/nl/wallpaper/christian-lacroix/babylonia-nights-soft-crepuscule-wallpaper/p25874"},{"hreflang":"ru","href":"https://www.designersguild.com/ru/wallpaper/christian-lacroix/babylonia-nights-soft-crepuscule-wallpaper/p25874"},{"hreflang":"ja-jp","href":"https://www.designersguild.com/jp/wallpaper/christian-lacroix/babylonia-nights-soft-crepuscule-wallpaper/p25874"},{"hreflang":"en-be","href":"https://www.designersguild.com/be/wallpaper/christian-lacroix/babylonia-nights-soft-crepuscule-wallpaper/p25874"},{"hreflang":"en-au","href":"https://www.designersguild.com/au/wallpaper/christian-lacroix/babylonia-nights-soft-crepuscule-wallpaper/p25874"},{"hreflang":"en-dk","href":"https://www.designersguild.com/dk/wallpaper/christian-lacroix/babylonia-nights-soft-crepuscule-wallpaper/p25874"},{"hreflang":"en-gr","href":"https://www.designersguild.com/eu/wallpaper/christian-lacroix/babylonia-nights-soft-crepuscule-wallpaper/p25874"},{"hreflang":"en-no","href":"https://www.designersguild.com/no/wallpaper/christian-lacroix/babylonia-nights-soft-crepuscule-wallpaper/p25874"},{"hreflang":"de-at","href":"https://www.designersguild.com/at/wallpaper/christian-lacroix/babylonia-nights-soft-crepuscule-wallpaper/p25874"},{"hreflang":"de-ch","href":"https://www.designersguild.com/de-ch/wallpaper/christian-lacroix/babylonia-nights-soft-crepuscule-wallpaper/p25874"},{"hreflang":"fr-ch","href":"https://www.designersguild.com/fr-ch/wallpaper/christian-lacroix/babylonia-nights-soft-crepuscule-wallpaper/p25874"},{"hreflang":"en","href":"https://www.designersguild.com/row/wallpaper/christian-lacroix/babylonia-nights-soft-crepuscule-wallpaper/p25874"},{"hreflang":"en-nz","href":"https://www.designersguild.com/nz/wallpaper/christian-lacroix/babylonia-nights-soft-crepuscule-wallpaper/p25874"},{"hreflang":"en-ie","href":"https://www.designersguild.com/ie/wallpaper/christian-lacroix/babylonia-nights-soft-crepuscule-wallpaper/p25874"},{"hreflang":"fi-fi","href":"https://www.designersguild.com/fi/wallpaper/christian-lacroix/babylonia-nights-soft-crepuscule-wallpaper/p25874"}],"CountryDropDown":{"countryDropDownItems":[{"CountryID":81,"Code":null,"LanguageID":1,"RegionID":3,"LanguageCode":"en","Country":"UK","Region":"Europe","URL":"uk","URLKeywords":"","SortOrder":1,"PageID":0},{"CountryID":15,"Code":null,"LanguageID":4,"RegionID":3,"LanguageCode":"de","Country":"Austria","Region":"Europe","URL":"at","URLKeywords":"","SortOrder":11,"PageID":0},{"CountryID":23,"Code":null,"LanguageID":1,"RegionID":3,"LanguageCode":"en","Country":"Belgium","Region":"Europe","URL":"be","URLKeywords":"","SortOrder":12,"PageID":0},{"CountryID":62,"Code":null,"LanguageID":1,"RegionID":3,"LanguageCode":"en","Country":"Denmark","Region":"Europe","URL":"dk","URLKeywords":"","SortOrder":13,"PageID":0},{"CountryID":74,"Code":null,"LanguageID":15,"RegionID":3,"LanguageCode":"fi","Country":"Finland","Region":"Europe","URL":"fi","URLKeywords":"","SortOrder":15,"PageID":0},{"CountryID":79,"Code":null,"LanguageID":3,"RegionID":3,"LanguageCode":"fr","Country":"France","Region":"Europe","URL":"fr","URLKeywords":"","SortOrder":16,"PageID":0},{"CountryID":60,"Code":null,"LanguageID":4,"RegionID":3,"LanguageCode":"de","Country":"Germany","Region":"Europe","URL":"de","URLKeywords":"","SortOrder":17,"PageID":0},{"CountryID":106,"Code":null,"LanguageID":1,"RegionID":3,"LanguageCode":"en","Country":"Ireland","Region":"Europe","URL":"ie","URLKeywords":"","SortOrder":18,"PageID":0},{"CountryID":114,"Code":null,"LanguageID":6,"RegionID":3,"LanguageCode":"it","Country":"Italy","Region":"Europe","URL":"it","URLKeywords":"","SortOrder":19,"PageID":0},{"CountryID":170,"Code":null,"LanguageID":13,"RegionID":3,"LanguageCode":"en","Country":"Netherlands","Region":"Europe","URL":"nl","URLKeywords":"","SortOrder":20,"PageID":0},{"CountryID":71,"Code":null,"LanguageID":5,"RegionID":3,"LanguageCode":"es","Country":"Spain","Region":"Europe","URL":"es","URLKeywords":"","SortOrder":23,"PageID":0},{"CountryID":202,"Code":null,"LanguageID":1,"RegionID":3,"LanguageCode":"en","Country":"Sweden","Region":"Europe","URL":"se","URLKeywords":"","SortOrder":24,"PageID":0},{"CountryID":171,"Code":null,"LanguageID":1,"RegionID":3,"LanguageCode":"en","Country":"Norway","Region":"Europe","URL":"no","URLKeywords":"","SortOrder":52,"PageID":0},{"CountryID":118,"Code":null,"LanguageID":11,"RegionID":4,"LanguageCode":"jp","Country":"Nihon","Region":"Africa, Asia & the Middle East","URL":"jp","URLKeywords":"","SortOrder":71,"PageID":0},{"CountryID":46,"Code":null,"LanguageID":3,"RegionID":3,"LanguageCode":"fr","Country":"Switzerland","Region":"Europe","URL":"fr-ch","URLKeywords":"","SortOrder":102,"PageID":0},{"CountryID":46,"Code":null,"LanguageID":4,"RegionID":3,"LanguageCode":"de","Country":"Switzerland","Region":"Europe","URL":"de-ch","URLKeywords":"","SortOrder":103,"PageID":0},{"CountryID":196,"Code":null,"LanguageID":10,"RegionID":3,"LanguageCode":"ru","Country":"Russian Federation","Region":"Europe","URL":"ru","URLKeywords":"","SortOrder":109,"PageID":0},{"CountryID":238,"Code":null,"LanguageID":2,"RegionID":2,"LanguageCode":"us","Country":"United States","Region":"North America","URL":"us","URLKeywords":"","SortOrder":125,"PageID":0},{"CountryID":16,"Code":null,"LanguageID":12,"RegionID":6,"LanguageCode":"au","Country":"Australia","Region":"Australasia","URL":"au","URLKeywords":"","SortOrder":150,"PageID":0},{"CountryID":175,"Code":null,"LanguageID":18,"RegionID":6,"LanguageCode":"nz","Country":"New Zealand","Region":"Australasia","URL":"nz","URLKeywords":"","SortOrder":151,"PageID":0},{"CountryID":67,"Code":null,"LanguageID":1,"RegionID":3,"LanguageCode":"en","Country":"Other Countries in Europe","Region":"Europe","URL":"eu","URLKeywords":"","SortOrder":255,"PageID":0},{"CountryID":51,"Code":null,"LanguageID":1,"RegionID":4,"LanguageCode":"en","Country":"Rest of the World","Region":"Africa, Asia & the Middle East","URL":"row","URLKeywords":"","SortOrder":255,"PageID":0}]},"ProductTypeDropDown":{"ProductTypes":[{"ProductTypeID":15,"Name":"Fabric","NamePlural":null,"URLKeywords":null,"SortOrder":0,"FilterIndexRestrictions":null,"ProductPageIDs":null,"FormValue":"fabric"},{"ProductTypeID":18,"Name":"Wallpaper","NamePlural":null,"URLKeywords":null,"SortOrder":0,"FilterIndexRestrictions":null,"ProductPageIDs":null,"FormValue":"wallpaper"},{"ProductTypeID":8,"Name":"Paint","NamePlural":null,"URLKeywords":null,"SortOrder":0,"FilterIndexRestrictions":null,"ProductPageIDs":null,"FormValue":"paint"},{"ProductTypeID":10,"Name":"Rug","NamePlural":null,"URLKeywords":null,"SortOrder":0,"FilterIndexRestrictions":null,"ProductPageIDs":null,"FormValue":"rug"},{"ProductTypeID":4,"Name":"Cushion","NamePlural":null,"URLKeywords":null,"SortOrder":0,"FilterIndexRestrictions":null,"ProductPageIDs":null,"FormValue":"cushion"},{"ProductTypeID":1,"Name":"Bed Linen","NamePlural":null,"URLKeywords":null,"SortOrder":0,"FilterIndexRestrictions":null,"ProductPageIDs":null,"FormValue":"bed-linen"},{"ProductTypeID":2,"Name":"Throw","NamePlural":null,"URLKeywords":null,"SortOrder":0,"FilterIndexRestrictions":null,"ProductPageIDs":null,"FormValue":"throw"},{"ProductTypeID":35,"Name":"Furniture","NamePlural":null,"URLKeywords":null,"SortOrder":0,"FilterIndexRestrictions":null,"ProductPageIDs":null,"FormValue":"furniture"}]},"TradeMember":false,"TradeAllowed":false,"CanViewRRPs":false,"LoginStatus":0,"UserName":null},"ProductPage":{"ScorePercent":0,"URL":"/jp/wallpaper/christian-lacroix/primavera-labyrinthum-crepuscule-wallpaper/p25902","URLSemantics":"wallpaper/christian-lacroix/primavera-labyrinthum-crepuscule-wallpaper","AttributeFormValues":null,"ProductType":null,"IsLifestyle":false,"ShortHeading":null,"ProductTypeFormValue":null,"ProductPageID":25902,"Heading":"Primavera Labyrinthum Crepuscule","SubHeading":"Wallpaper","New":false,"ProductTypeID":0,"URLKeywords":null,"ImageID":90472,"ImageWidth":0,"ImageHeight":0,"AspectRatio":1.0,"MerchandisedSortOrder":null,"SearchSortOrder":null,"ColourSort":null,"StockSortOrder":0.0,"AZSortOrder":0,"SalesRank":0,"ReviewCount":0,"ReviewAverage":null,"RatingSortOrder":null,"PriceSortOrder":null,"DiscountSortOrder":null,"NewSort":null,"DesignID":null,"BrandID":0,"AlternateColourwayIncludeSize":false,"SizeMetric":null,"SizeImperial":null,"Code":null,"SortOrder":null,"Design":null,"ProductPagePrice":{"PriceMin":null,"PriceMax":null,"SalePriceMin":null,"SalePriceMax":null,"DiscountPercentageMin":null,"DiscountPercentageMax":null,"ClearanceDiscountPercentageMin":null,"ClearanceDiscountPercentageMax":null,"PriceMessageBase64":null,"DiscountMessageBase64":null,"RRPMessageBase64":null,"CodeMessageBase64":null},"DisplayParagraph":false,"DisplayRating":false,"ReviewStarsDisplayBase64":null,"DisplayRRPs":false},"UseLifestyleGalleryBehaviour":false,"ProductPageID":25902,"DisplayParagraph":false,"DisplayRating":false},{"ImageSize":2,"MasterDefinition":{"SiteSectionID":null,"TitleTag":"Babylonia Nights Soft Crepuscule Wallpaper | Christian Lacroix | Designers Guild","MetaDescription":"Signature Christian Lacroix florals bloom in technicolour glory feature in this digitally printed wallpaper design which is taken to a dramatic new height ","BackInStockReminder":null,"ItemsInBasket":0.0,"UrlBreakdown":{"ContentType":1,"ContentId":25874,"ContentDate":"2023-06-05T00:00:00","SemanticString":"wallpaper/christian-lacroix/babylonia-nights-soft-crepuscule-wallpaper","countryDetails":{"CountryLanguageID":15,"RegionID":4,"CountryID":118,"CountryCode":"JP","LanguageID":11,"SortOrder":71,"Name":"Japan","URL":"jp","DotNetCulture":"ja-JP","ShopEnabled":false,"LanguageCode":"jp","LanguageDotNetCulture":"ja-JP","MertexCurrencyCode":null,"CurrencyCode":null,"PriceListID":null,"AllowTradeOrders":false,"AcceptAmazonPay":false,"BuyOnlineRedirectAllowed":false,"EcommerceEnabled":false,"SamplesEnabled":false},"contentTypeAndIdNotFound":false,"CountryAwareness":{"Match":false,"Culture":"us","objCountryItem":{"CountryLanguageID":5,"RegionID":2,"CountryID":238,"CountryCode":null,"LanguageID":2,"SortOrder":1,"Name":"United States","URL":"us","DotNetCulture":"en-US","ShopEnabled":true,"LanguageCode":"us","LanguageDotNetCulture":"en-US","MertexCurrencyCode":"USD","CurrencyCode":"USD","PriceListID":2,"AllowTradeOrders":true,"AcceptAmazonPay":true,"BuyOnlineRedirectAllowed":false,"EcommerceEnabled":false,"SamplesEnabled":false}},"GeoIPCulture":null,"siteCountryNotFoundInUrl":false},"GoogleHrefs":[{"hreflang":"de","href":"https://www.designersguild.com/de/wallpaper/christian-lacroix/babylonia-nights-soft-crepuscule-wallpaper/p25874"},{"hreflang":"fr","href":"https://www.designersguild.com/fr/wallpaper/christian-lacroix/babylonia-nights-soft-crepuscule-wallpaper/p25874"},{"hreflang":"en-gb","href":"https://www.designersguild.com/uk/wallpaper/christian-lacroix/babylonia-nights-soft-crepuscule-wallpaper/p25874"},{"hreflang":"en-se","href":"https://www.designersguild.com/se/wallpaper/christian-lacroix/babylonia-nights-soft-crepuscule-wallpaper/p25874"},{"hreflang":"en-us","href":"https://www.designersguild.com/us/wallpaper/christian-lacroix/babylonia-nights-soft-crepuscule-wallpaper/p25874"},{"hreflang":"es","href":"https://www.designersguild.com/es/wallpaper/christian-lacroix/babylonia-nights-soft-crepuscule-wallpaper/p25874"},{"hreflang":"it-it","href":"https://www.designersguild.com/it/wallpaper/christian-lacroix/babylonia-nights-soft-crepuscule-wallpaper/p25874"},{"hreflang":"en-nl","href":"https://www.designersguild.com/nl/wallpaper/christian-lacroix/babylonia-nights-soft-crepuscule-wallpaper/p25874"},{"hreflang":"ru","href":"https://www.designersguild.com/ru/wallpaper/christian-lacroix/babylonia-nights-soft-crepuscule-wallpaper/p25874"},{"hreflang":"ja-jp","href":"https://www.designersguild.com/jp/wallpaper/christian-lacroix/babylonia-nights-soft-crepuscule-wallpaper/p25874"},{"hreflang":"en-be","href":"https://www.designersguild.com/be/wallpaper/christian-lacroix/babylonia-nights-soft-crepuscule-wallpaper/p25874"},{"hreflang":"en-au","href":"https://www.designersguild.com/au/wallpaper/christian-lacroix/babylonia-nights-soft-crepuscule-wallpaper/p25874"},{"hreflang":"en-dk","href":"https://www.designersguild.com/dk/wallpaper/christian-lacroix/babylonia-nights-soft-crepuscule-wallpaper/p25874"},{"hreflang":"en-gr","href":"https://www.designersguild.com/eu/wallpaper/christian-lacroix/babylonia-nights-soft-crepuscule-wallpaper/p25874"},{"hreflang":"en-no","href":"https://www.designersguild.com/no/wallpaper/christian-lacroix/babylonia-nights-soft-crepuscule-wallpaper/p25874"},{"hreflang":"de-at","href":"https://www.designersguild.com/at/wallpaper/christian-lacroix/babylonia-nights-soft-crepuscule-wallpaper/p25874"},{"hreflang":"de-ch","href":"https://www.designersguild.com/de-ch/wallpaper/christian-lacroix/babylonia-nights-soft-crepuscule-wallpaper/p25874"},{"hreflang":"fr-ch","href":"https://www.designersguild.com/fr-ch/wallpaper/christian-lacroix/babylonia-nights-soft-crepuscule-wallpaper/p25874"},{"hreflang":"en","href":"https://www.designersguild.com/row/wallpaper/christian-lacroix/babylonia-nights-soft-crepuscule-wallpaper/p25874"},{"hreflang":"en-nz","href":"https://www.designersguild.com/nz/wallpaper/christian-lacroix/babylonia-nights-soft-crepuscule-wallpaper/p25874"},{"hreflang":"en-ie","href":"https://www.designersguild.com/ie/wallpaper/christian-lacroix/babylonia-nights-soft-crepuscule-wallpaper/p25874"},{"hreflang":"fi-fi","href":"https://www.designersguild.com/fi/wallpaper/christian-lacroix/babylonia-nights-soft-crepuscule-wallpaper/p25874"}],"CountryDropDown":{"countryDropDownItems":[{"CountryID":81,"Code":null,"LanguageID":1,"RegionID":3,"LanguageCode":"en","Country":"UK","Region":"Europe","URL":"uk","URLKeywords":"","SortOrder":1,"PageID":0},{"CountryID":15,"Code":null,"LanguageID":4,"RegionID":3,"LanguageCode":"de","Country":"Austria","Region":"Europe","URL":"at","URLKeywords":"","SortOrder":11,"PageID":0},{"CountryID":23,"Code":null,"LanguageID":1,"RegionID":3,"LanguageCode":"en","Country":"Belgium","Region":"Europe","URL":"be","URLKeywords":"","SortOrder":12,"PageID":0},{"CountryID":62,"Code":null,"LanguageID":1,"RegionID":3,"LanguageCode":"en","Country":"Denmark","Region":"Europe","URL":"dk","URLKeywords":"","SortOrder":13,"PageID":0},{"CountryID":74,"Code":null,"LanguageID":15,"RegionID":3,"LanguageCode":"fi","Country":"Finland","Region":"Europe","URL":"fi","URLKeywords":"","SortOrder":15,"PageID":0},{"CountryID":79,"Code":null,"LanguageID":3,"RegionID":3,"LanguageCode":"fr","Country":"France","Region":"Europe","URL":"fr","URLKeywords":"","SortOrder":16,"PageID":0},{"CountryID":60,"Code":null,"LanguageID":4,"RegionID":3,"LanguageCode":"de","Country":"Germany","Region":"Europe","URL":"de","URLKeywords":"","SortOrder":17,"PageID":0},{"CountryID":106,"Code":null,"LanguageID":1,"RegionID":3,"LanguageCode":"en","Country":"Ireland","Region":"Europe","URL":"ie","URLKeywords":"","SortOrder":18,"PageID":0},{"CountryID":114,"Code":null,"LanguageID":6,"RegionID":3,"LanguageCode":"it","Country":"Italy","Region":"Europe","URL":"it","URLKeywords":"","SortOrder":19,"PageID":0},{"CountryID":170,"Code":null,"LanguageID":13,"RegionID":3,"LanguageCode":"en","Country":"Netherlands","Region":"Europe","URL":"nl","URLKeywords":"","SortOrder":20,"PageID":0},{"CountryID":71,"Code":null,"LanguageID":5,"RegionID":3,"LanguageCode":"es","Country":"Spain","Region":"Europe","URL":"es","URLKeywords":"","SortOrder":23,"PageID":0},{"CountryID":202,"Code":null,"LanguageID":1,"RegionID":3,"LanguageCode":"en","Country":"Sweden","Region":"Europe","URL":"se","URLKeywords":"","SortOrder":24,"PageID":0},{"CountryID":171,"Code":null,"LanguageID":1,"RegionID":3,"LanguageCode":"en","Country":"Norway","Region":"Europe","URL":"no","URLKeywords":"","SortOrder":52,"PageID":0},{"CountryID":118,"Code":null,"LanguageID":11,"RegionID":4,"LanguageCode":"jp","Country":"Nihon","Region":"Africa, Asia & the Middle East","URL":"jp","URLKeywords":"","SortOrder":71,"PageID":0},{"CountryID":46,"Code":null,"LanguageID":3,"RegionID":3,"LanguageCode":"fr","Country":"Switzerland","Region":"Europe","URL":"fr-ch","URLKeywords":"","SortOrder":102,"PageID":0},{"CountryID":46,"Code":null,"LanguageID":4,"RegionID":3,"LanguageCode":"de","Country":"Switzerland","Region":"Europe","URL":"de-ch","URLKeywords":"","SortOrder":103,"PageID":0},{"CountryID":196,"Code":null,"LanguageID":10,"RegionID":3,"LanguageCode":"ru","Country":"Russian Federation","Region":"Europe","URL":"ru","URLKeywords":"","SortOrder":109,"PageID":0},{"CountryID":238,"Code":null,"LanguageID":2,"RegionID":2,"LanguageCode":"us","Country":"United States","Region":"North America","URL":"us","URLKeywords":"","SortOrder":125,"PageID":0},{"CountryID":16,"Code":null,"LanguageID":12,"RegionID":6,"LanguageCode":"au","Country":"Australia","Region":"Australasia","URL":"au","URLKeywords":"","SortOrder":150,"PageID":0},{"CountryID":175,"Code":null,"LanguageID":18,"RegionID":6,"LanguageCode":"nz","Country":"New Zealand","Region":"Australasia","URL":"nz","URLKeywords":"","SortOrder":151,"PageID":0},{"CountryID":67,"Code":null,"LanguageID":1,"RegionID":3,"LanguageCode":"en","Country":"Other Countries in Europe","Region":"Europe","URL":"eu","URLKeywords":"","SortOrder":255,"PageID":0},{"CountryID":51,"Code":null,"LanguageID":1,"RegionID":4,"LanguageCode":"en","Country":"Rest of the World","Region":"Africa, Asia & the Middle East","URL":"row","URLKeywords":"","SortOrder":255,"PageID":0}]},"ProductTypeDropDown":{"ProductTypes":[{"ProductTypeID":15,"Name":"Fabric","NamePlural":null,"URLKeywords":null,"SortOrder":0,"FilterIndexRestrictions":null,"ProductPageIDs":null,"FormValue":"fabric"},{"ProductTypeID":18,"Name":"Wallpaper","NamePlural":null,"URLKeywords":null,"SortOrder":0,"FilterIndexRestrictions":null,"ProductPageIDs":null,"FormValue":"wallpaper"},{"ProductTypeID":8,"Name":"Paint","NamePlural":null,"URLKeywords":null,"SortOrder":0,"FilterIndexRestrictions":null,"ProductPageIDs":null,"FormValue":"paint"},{"ProductTypeID":10,"Name":"Rug","NamePlural":null,"URLKeywords":null,"SortOrder":0,"FilterIndexRestrictions":null,"ProductPageIDs":null,"FormValue":"rug"},{"ProductTypeID":4,"Name":"Cushion","NamePlural":null,"URLKeywords":null,"SortOrder":0,"FilterIndexRestrictions":null,"ProductPageIDs":null,"FormValue":"cushion"},{"ProductTypeID":1,"Name":"Bed Linen","NamePlural":null,"URLKeywords":null,"SortOrder":0,"FilterIndexRestrictions":null,"ProductPageIDs":null,"FormValue":"bed-linen"},{"ProductTypeID":2,"Name":"Throw","NamePlural":null,"URLKeywords":null,"SortOrder":0,"FilterIndexRestrictions":null,"ProductPageIDs":null,"FormValue":"throw"},{"ProductTypeID":35,"Name":"Furniture","NamePlural":null,"URLKeywords":null,"SortOrder":0,"FilterIndexRestrictions":null,"ProductPageIDs":null,"FormValue":"furniture"}]},"TradeMember":false,"TradeAllowed":false,"CanViewRRPs":false,"LoginStatus":0,"UserName":null},"ProductPage":{"ScorePercent":0,"URL":"/jp/wallpaper/christian-lacroix/boutis-grenat-wallpaper/p6994","URLSemantics":"wallpaper/christian-lacroix/boutis-grenat-wallpaper","AttributeFormValues":null,"ProductType":null,"IsLifestyle":false,"ShortHeading":null,"ProductTypeFormValue":null,"ProductPageID":6994,"Heading":"boutis - grenat","SubHeading":"Wallpaper","New":false,"ProductTypeID":0,"URLKeywords":null,"ImageID":3987,"ImageWidth":0,"ImageHeight":0,"AspectRatio":1.0,"MerchandisedSortOrder":null,"SearchSortOrder":null,"ColourSort":null,"StockSortOrder":0.0,"AZSortOrder":0,"SalesRank":0,"ReviewCount":0,"ReviewAverage":null,"RatingSortOrder":null,"PriceSortOrder":null,"DiscountSortOrder":null,"NewSort":null,"DesignID":null,"BrandID":0,"AlternateColourwayIncludeSize":false,"SizeMetric":null,"SizeImperial":null,"Code":null,"SortOrder":null,"Design":null,"ProductPagePrice":{"PriceMin":null,"PriceMax":null,"SalePriceMin":null,"SalePriceMax":null,"DiscountPercentageMin":null,"DiscountPercentageMax":null,"ClearanceDiscountPercentageMin":50.0,"ClearanceDiscountPercentageMax":50.0,"PriceMessageBase64":null,"DiscountMessageBase64":null,"RRPMessageBase64":null,"CodeMessageBase64":null},"DisplayParagraph":false,"DisplayRating":false,"ReviewStarsDisplayBase64":null,"DisplayRRPs":false},"UseLifestyleGalleryBehaviour":false,"ProductPageID":6994,"DisplayParagraph":false,"DisplayRating":false},{"ImageSize":2,"MasterDefinition":{"SiteSectionID":null,"TitleTag":"Babylonia Nights Soft Crepuscule Wallpaper | Christian Lacroix | Designers Guild","MetaDescription":"Signature Christian Lacroix florals bloom in technicolour glory feature in this digitally printed wallpaper design which is taken to a dramatic new height ","BackInStockReminder":null,"ItemsInBasket":0.0,"UrlBreakdown":{"ContentType":1,"ContentId":25874,"ContentDate":"2023-06-05T00:00:00","SemanticString":"wallpaper/christian-lacroix/babylonia-nights-soft-crepuscule-wallpaper","countryDetails":{"CountryLanguageID":15,"RegionID":4,"CountryID":118,"CountryCode":"JP","LanguageID":11,"SortOrder":71,"Name":"Japan","URL":"jp","DotNetCulture":"ja-JP","ShopEnabled":false,"LanguageCode":"jp","LanguageDotNetCulture":"ja-JP","MertexCurrencyCode":null,"CurrencyCode":null,"PriceListID":null,"AllowTradeOrders":false,"AcceptAmazonPay":false,"BuyOnlineRedirectAllowed":false,"EcommerceEnabled":false,"SamplesEnabled":false},"contentTypeAndIdNotFound":false,"CountryAwareness":{"Match":false,"Culture":"us","objCountryItem":{"CountryLanguageID":5,"RegionID":2,"CountryID":238,"CountryCode":null,"LanguageID":2,"SortOrder":1,"Name":"United States","URL":"us","DotNetCulture":"en-US","ShopEnabled":true,"LanguageCode":"us","LanguageDotNetCulture":"en-US","MertexCurrencyCode":"USD","CurrencyCode":"USD","PriceListID":2,"AllowTradeOrders":true,"AcceptAmazonPay":true,"BuyOnlineRedirectAllowed":false,"EcommerceEnabled":false,"SamplesEnabled":false}},"GeoIPCulture":null,"siteCountryNotFoundInUrl":false},"GoogleHrefs":[{"hreflang":"de","href":"https://www.designersguild.com/de/wallpaper/christian-lacroix/babylonia-nights-soft-crepuscule-wallpaper/p25874"},{"hreflang":"fr","href":"https://www.designersguild.com/fr/wallpaper/christian-lacroix/babylonia-nights-soft-crepuscule-wallpaper/p25874"},{"hreflang":"en-gb","href":"https://www.designersguild.com/uk/wallpaper/christian-lacroix/babylonia-nights-soft-crepuscule-wallpaper/p25874"},{"hreflang":"en-se","href":"https://www.designersguild.com/se/wallpaper/christian-lacroix/babylonia-nights-soft-crepuscule-wallpaper/p25874"},{"hreflang":"en-us","href":"https://www.designersguild.com/us/wallpaper/christian-lacroix/babylonia-nights-soft-crepuscule-wallpaper/p25874"},{"hreflang":"es","href":"https://www.designersguild.com/es/wallpaper/christian-lacroix/babylonia-nights-soft-crepuscule-wallpaper/p25874"},{"hreflang":"it-it","href":"https://www.designersguild.com/it/wallpaper/christian-lacroix/babylonia-nights-soft-crepuscule-wallpaper/p25874"},{"hreflang":"en-nl","href":"https://www.designersguild.com/nl/wallpaper/christian-lacroix/babylonia-nights-soft-crepuscule-wallpaper/p25874"},{"hreflang":"ru","href":"https://www.designersguild.com/ru/wallpaper/christian-lacroix/babylonia-nights-soft-crepuscule-wallpaper/p25874"},{"hreflang":"ja-jp","href":"https://www.designersguild.com/jp/wallpaper/christian-lacroix/babylonia-nights-soft-crepuscule-wallpaper/p25874"},{"hreflang":"en-be","href":"https://www.designersguild.com/be/wallpaper/christian-lacroix/babylonia-nights-soft-crepuscule-wallpaper/p25874"},{"hreflang":"en-au","href":"https://www.designersguild.com/au/wallpaper/christian-lacroix/babylonia-nights-soft-crepuscule-wallpaper/p25874"},{"hreflang":"en-dk","href":"https://www.designersguild.com/dk/wallpaper/christian-lacroix/babylonia-nights-soft-crepuscule-wallpaper/p25874"},{"hreflang":"en-gr","href":"https://www.designersguild.com/eu/wallpaper/christian-lacroix/babylonia-nights-soft-crepuscule-wallpaper/p25874"},{"hreflang":"en-no","href":"https://www.designersguild.com/no/wallpaper/christian-lacroix/babylonia-nights-soft-crepuscule-wallpaper/p25874"},{"hreflang":"de-at","href":"https://www.designersguild.com/at/wallpaper/christian-lacroix/babylonia-nights-soft-crepuscule-wallpaper/p25874"},{"hreflang":"de-ch","href":"https://www.designersguild.com/de-ch/wallpaper/christian-lacroix/babylonia-nights-soft-crepuscule-wallpaper/p25874"},{"hreflang":"fr-ch","href":"https://www.designersguild.com/fr-ch/wallpaper/christian-lacroix/babylonia-nights-soft-crepuscule-wallpaper/p25874"},{"hreflang":"en","href":"https://www.designersguild.com/row/wallpaper/christian-lacroix/babylonia-nights-soft-crepuscule-wallpaper/p25874"},{"hreflang":"en-nz","href":"https://www.designersguild.com/nz/wallpaper/christian-lacroix/babylonia-nights-soft-crepuscule-wallpaper/p25874"},{"hreflang":"en-ie","href":"https://www.designersguild.com/ie/wallpaper/christian-lacroix/babylonia-nights-soft-crepuscule-wallpaper/p25874"},{"hreflang":"fi-fi","href":"https://www.designersguild.com/fi/wallpaper/christian-lacroix/babylonia-nights-soft-crepuscule-wallpaper/p25874"}],"CountryDropDown":{"countryDropDownItems":[{"CountryID":81,"Code":null,"LanguageID":1,"RegionID":3,"LanguageCode":"en","Country":"UK","Region":"Europe","URL":"uk","URLKeywords":"","SortOrder":1,"PageID":0},{"CountryID":15,"Code":null,"LanguageID":4,"RegionID":3,"LanguageCode":"de","Country":"Austria","Region":"Europe","URL":"at","URLKeywords":"","SortOrder":11,"PageID":0},{"CountryID":23,"Code":null,"LanguageID":1,"RegionID":3,"LanguageCode":"en","Country":"Belgium","Region":"Europe","URL":"be","URLKeywords":"","SortOrder":12,"PageID":0},{"CountryID":62,"Code":null,"LanguageID":1,"RegionID":3,"LanguageCode":"en","Country":"Denmark","Region":"Europe","URL":"dk","URLKeywords":"","SortOrder":13,"PageID":0},{"CountryID":74,"Code":null,"LanguageID":15,"RegionID":3,"LanguageCode":"fi","Country":"Finland","Region":"Europe","URL":"fi","URLKeywords":"","SortOrder":15,"PageID":0},{"CountryID":79,"Code":null,"LanguageID":3,"RegionID":3,"LanguageCode":"fr","Country":"France","Region":"Europe","URL":"fr","URLKeywords":"","SortOrder":16,"PageID":0},{"CountryID":60,"Code":null,"LanguageID":4,"RegionID":3,"LanguageCode":"de","Country":"Germany","Region":"Europe","URL":"de","URLKeywords":"","SortOrder":17,"PageID":0},{"CountryID":106,"Code":null,"LanguageID":1,"RegionID":3,"LanguageCode":"en","Country":"Ireland","Region":"Europe","URL":"ie","URLKeywords":"","SortOrder":18,"PageID":0},{"CountryID":114,"Code":null,"LanguageID":6,"RegionID":3,"LanguageCode":"it","Country":"Italy","Region":"Europe","URL":"it","URLKeywords":"","SortOrder":19,"PageID":0},{"CountryID":170,"Code":null,"LanguageID":13,"RegionID":3,"LanguageCode":"en","Country":"Netherlands","Region":"Europe","URL":"nl","URLKeywords":"","SortOrder":20,"PageID":0},{"CountryID":71,"Code":null,"LanguageID":5,"RegionID":3,"LanguageCode":"es","Country":"Spain","Region":"Europe","URL":"es","URLKeywords":"","SortOrder":23,"PageID":0},{"CountryID":202,"Code":null,"LanguageID":1,"RegionID":3,"LanguageCode":"en","Country":"Sweden","Region":"Europe","URL":"se","URLKeywords":"","SortOrder":24,"PageID":0},{"CountryID":171,"Code":null,"LanguageID":1,"RegionID":3,"LanguageCode":"en","Country":"Norway","Region":"Europe","URL":"no","URLKeywords":"","SortOrder":52,"PageID":0},{"CountryID":118,"Code":null,"LanguageID":11,"RegionID":4,"LanguageCode":"jp","Country":"Nihon","Region":"Africa, Asia & the Middle East","URL":"jp","URLKeywords":"","SortOrder":71,"PageID":0},{"CountryID":46,"Code":null,"LanguageID":3,"RegionID":3,"LanguageCode":"fr","Country":"Switzerland","Region":"Europe","URL":"fr-ch","URLKeywords":"","SortOrder":102,"PageID":0},{"CountryID":46,"Code":null,"LanguageID":4,"RegionID":3,"LanguageCode":"de","Country":"Switzerland","Region":"Europe","URL":"de-ch","URLKeywords":"","SortOrder":103,"PageID":0},{"CountryID":196,"Code":null,"LanguageID":10,"RegionID":3,"LanguageCode":"ru","Country":"Russian Federation","Region":"Europe","URL":"ru","URLKeywords":"","SortOrder":109,"PageID":0},{"CountryID":238,"Code":null,"LanguageID":2,"RegionID":2,"LanguageCode":"us","Country":"United States","Region":"North America","URL":"us","URLKeywords":"","SortOrder":125,"PageID":0},{"CountryID":16,"Code":null,"LanguageID":12,"RegionID":6,"LanguageCode":"au","Country":"Australia","Region":"Australasia","URL":"au","URLKeywords":"","SortOrder":150,"PageID":0},{"CountryID":175,"Code":null,"LanguageID":18,"RegionID":6,"LanguageCode":"nz","Country":"New Zealand","Region":"Australasia","URL":"nz","URLKeywords":"","SortOrder":151,"PageID":0},{"CountryID":67,"Code":null,"LanguageID":1,"RegionID":3,"LanguageCode":"en","Country":"Other Countries in Europe","Region":"Europe","URL":"eu","URLKeywords":"","SortOrder":255,"PageID":0},{"CountryID":51,"Code":null,"LanguageID":1,"RegionID":4,"LanguageCode":"en","Country":"Rest of the World","Region":"Africa, Asia & the Middle East","URL":"row","URLKeywords":"","SortOrder":255,"PageID":0}]},"ProductTypeDropDown":{"ProductTypes":[{"ProductTypeID":15,"Name":"Fabric","NamePlural":null,"URLKeywords":null,"SortOrder":0,"FilterIndexRestrictions":null,"ProductPageIDs":null,"FormValue":"fabric"},{"ProductTypeID":18,"Name":"Wallpaper","NamePlural":null,"URLKeywords":null,"SortOrder":0,"FilterIndexRestrictions":null,"ProductPageIDs":null,"FormValue":"wallpaper"},{"ProductTypeID":8,"Name":"Paint","NamePlural":null,"URLKeywords":null,"SortOrder":0,"FilterIndexRestrictions":null,"ProductPageIDs":null,"FormValue":"paint"},{"ProductTypeID":10,"Name":"Rug","NamePlural":null,"URLKeywords":null,"SortOrder":0,"FilterIndexRestrictions":null,"ProductPageIDs":null,"FormValue":"rug"},{"ProductTypeID":4,"Name":"Cushion","NamePlural":null,"URLKeywords":null,"SortOrder":0,"FilterIndexRestrictions":null,"ProductPageIDs":null,"FormValue":"cushion"},{"ProductTypeID":1,"Name":"Bed Linen","NamePlural":null,"URLKeywords":null,"SortOrder":0,"FilterIndexRestrictions":null,"ProductPageIDs":null,"FormValue":"bed-linen"},{"ProductTypeID":2,"Name":"Throw","NamePlural":null,"URLKeywords":null,"SortOrder":0,"FilterIndexRestrictions":null,"ProductPageIDs":null,"FormValue":"throw"},{"ProductTypeID":35,"Name":"Furniture","NamePlural":null,"URLKeywords":null,"SortOrder":0,"FilterIndexRestrictions":null,"ProductPageIDs":null,"FormValue":"furniture"}]},"TradeMember":false,"TradeAllowed":false,"CanViewRRPs":false,"LoginStatus":0,"UserName":null},"ProductPage":{"ScorePercent":0,"URL":"/jp/fabric/christian-lacroix/honneurs-groseille-fabric/p21583","URLSemantics":"fabric/christian-lacroix/honneurs-groseille-fabric","AttributeFormValues":null,"ProductType":null,"IsLifestyle":false,"ShortHeading":null,"ProductTypeFormValue":null,"ProductPageID":21583,"Heading":"honneurs - groseille","SubHeading":null,"New":false,"ProductTypeID":0,"URLKeywords":null,"ImageID":58511,"ImageWidth":0,"ImageHeight":0,"AspectRatio":1.0,"MerchandisedSortOrder":null,"SearchSortOrder":null,"ColourSort":null,"StockSortOrder":0.0,"AZSortOrder":0,"SalesRank":0,"ReviewCount":0,"ReviewAverage":null,"RatingSortOrder":null,"PriceSortOrder":null,"DiscountSortOrder":null,"NewSort":null,"DesignID":null,"BrandID":0,"AlternateColourwayIncludeSize":false,"SizeMetric":null,"SizeImperial":null,"Code":null,"SortOrder":null,"Design":null,"ProductPagePrice":{"PriceMin":null,"PriceMax":null,"SalePriceMin":null,"SalePriceMax":null,"DiscountPercentageMin":null,"DiscountPercentageMax":null,"ClearanceDiscountPercentageMin":null,"ClearanceDiscountPercentageMax":null,"PriceMessageBase64":null,"DiscountMessageBase64":null,"RRPMessageBase64":null,"CodeMessageBase64":null},"DisplayParagraph":false,"DisplayRating":false,"ReviewStarsDisplayBase64":null,"DisplayRRPs":false},"UseLifestyleGalleryBehaviour":false,"ProductPageID":21583,"DisplayParagraph":false,"DisplayRating":false},{"ImageSize":2,"MasterDefinition":{"SiteSectionID":null,"TitleTag":"Babylonia Nights Soft Crepuscule Wallpaper | Christian Lacroix | Designers Guild","MetaDescription":"Signature Christian Lacroix florals bloom in technicolour glory feature in this digitally printed wallpaper design which is taken to a dramatic new height ","BackInStockReminder":null,"ItemsInBasket":0.0,"UrlBreakdown":{"ContentType":1,"ContentId":25874,"ContentDate":"2023-06-05T00:00:00","SemanticString":"wallpaper/christian-lacroix/babylonia-nights-soft-crepuscule-wallpaper","countryDetails":{"CountryLanguageID":15,"RegionID":4,"CountryID":118,"CountryCode":"JP","LanguageID":11,"SortOrder":71,"Name":"Japan","URL":"jp","DotNetCulture":"ja-JP","ShopEnabled":false,"LanguageCode":"jp","LanguageDotNetCulture":"ja-JP","MertexCurrencyCode":null,"CurrencyCode":null,"PriceListID":null,"AllowTradeOrders":false,"AcceptAmazonPay":false,"BuyOnlineRedirectAllowed":false,"EcommerceEnabled":false,"SamplesEnabled":false},"contentTypeAndIdNotFound":false,"CountryAwareness":{"Match":false,"Culture":"us","objCountryItem":{"CountryLanguageID":5,"RegionID":2,"CountryID":238,"CountryCode":null,"LanguageID":2,"SortOrder":1,"Name":"United States","URL":"us","DotNetCulture":"en-US","ShopEnabled":true,"LanguageCode":"us","LanguageDotNetCulture":"en-US","MertexCurrencyCode":"USD","CurrencyCode":"USD","PriceListID":2,"AllowTradeOrders":true,"AcceptAmazonPay":true,"BuyOnlineRedirectAllowed":false,"EcommerceEnabled":false,"SamplesEnabled":false}},"GeoIPCulture":null,"siteCountryNotFoundInUrl":false},"GoogleHrefs":[{"hreflang":"de","href":"https://www.designersguild.com/de/wallpaper/christian-lacroix/babylonia-nights-soft-crepuscule-wallpaper/p25874"},{"hreflang":"fr","href":"https://www.designersguild.com/fr/wallpaper/christian-lacroix/babylonia-nights-soft-crepuscule-wallpaper/p25874"},{"hreflang":"en-gb","href":"https://www.designersguild.com/uk/wallpaper/christian-lacroix/babylonia-nights-soft-crepuscule-wallpaper/p25874"},{"hreflang":"en-se","href":"https://www.designersguild.com/se/wallpaper/christian-lacroix/babylonia-nights-soft-crepuscule-wallpaper/p25874"},{"hreflang":"en-us","href":"https://www.designersguild.com/us/wallpaper/christian-lacroix/babylonia-nights-soft-crepuscule-wallpaper/p25874"},{"hreflang":"es","href":"https://www.designersguild.com/es/wallpaper/christian-lacroix/babylonia-nights-soft-crepuscule-wallpaper/p25874"},{"hreflang":"it-it","href":"https://www.designersguild.com/it/wallpaper/christian-lacroix/babylonia-nights-soft-crepuscule-wallpaper/p25874"},{"hreflang":"en-nl","href":"https://www.designersguild.com/nl/wallpaper/christian-lacroix/babylonia-nights-soft-crepuscule-wallpaper/p25874"},{"hreflang":"ru","href":"https://www.designersguild.com/ru/wallpaper/christian-lacroix/babylonia-nights-soft-crepuscule-wallpaper/p25874"},{"hreflang":"ja-jp","href":"https://www.designersguild.com/jp/wallpaper/christian-lacroix/babylonia-nights-soft-crepuscule-wallpaper/p25874"},{"hreflang":"en-be","href":"https://www.designersguild.com/be/wallpaper/christian-lacroix/babylonia-nights-soft-crepuscule-wallpaper/p25874"},{"hreflang":"en-au","href":"https://www.designersguild.com/au/wallpaper/christian-lacroix/babylonia-nights-soft-crepuscule-wallpaper/p25874"},{"hreflang":"en-dk","href":"https://www.designersguild.com/dk/wallpaper/christian-lacroix/babylonia-nights-soft-crepuscule-wallpaper/p25874"},{"hreflang":"en-gr","href":"https://www.designersguild.com/eu/wallpaper/christian-lacroix/babylonia-nights-soft-crepuscule-wallpaper/p25874"},{"hreflang":"en-no","href":"https://www.designersguild.com/no/wallpaper/christian-lacroix/babylonia-nights-soft-crepuscule-wallpaper/p25874"},{"hreflang":"de-at","href":"https://www.designersguild.com/at/wallpaper/christian-lacroix/babylonia-nights-soft-crepuscule-wallpaper/p25874"},{"hreflang":"de-ch","href":"https://www.designersguild.com/de-ch/wallpaper/christian-lacroix/babylonia-nights-soft-crepuscule-wallpaper/p25874"},{"hreflang":"fr-ch","href":"https://www.designersguild.com/fr-ch/wallpaper/christian-lacroix/babylonia-nights-soft-crepuscule-wallpaper/p25874"},{"hreflang":"en","href":"https://www.designersguild.com/row/wallpaper/christian-lacroix/babylonia-nights-soft-crepuscule-wallpaper/p25874"},{"hreflang":"en-nz","href":"https://www.designersguild.com/nz/wallpaper/christian-lacroix/babylonia-nights-soft-crepuscule-wallpaper/p25874"},{"hreflang":"en-ie","href":"https://www.designersguild.com/ie/wallpaper/christian-lacroix/babylonia-nights-soft-crepuscule-wallpaper/p25874"},{"hreflang":"fi-fi","href":"https://www.designersguild.com/fi/wallpaper/christian-lacroix/babylonia-nights-soft-crepuscule-wallpaper/p25874"}],"CountryDropDown":{"countryDropDownItems":[{"CountryID":81,"Code":null,"LanguageID":1,"RegionID":3,"LanguageCode":"en","Country":"UK","Region":"Europe","URL":"uk","URLKeywords":"","SortOrder":1,"PageID":0},{"CountryID":15,"Code":null,"LanguageID":4,"RegionID":3,"LanguageCode":"de","Country":"Austria","Region":"Europe","URL":"at","URLKeywords":"","SortOrder":11,"PageID":0},{"CountryID":23,"Code":null,"LanguageID":1,"RegionID":3,"LanguageCode":"en","Country":"Belgium","Region":"Europe","URL":"be","URLKeywords":"","SortOrder":12,"PageID":0},{"CountryID":62,"Code":null,"LanguageID":1,"RegionID":3,"LanguageCode":"en","Country":"Denmark","Region":"Europe","URL":"dk","URLKeywords":"","SortOrder":13,"PageID":0},{"CountryID":74,"Code":null,"LanguageID":15,"RegionID":3,"LanguageCode":"fi","Country":"Finland","Region":"Europe","URL":"fi","URLKeywords":"","SortOrder":15,"PageID":0},{"CountryID":79,"Code":null,"LanguageID":3,"RegionID":3,"LanguageCode":"fr","Country":"France","Region":"Europe","URL":"fr","URLKeywords":"","SortOrder":16,"PageID":0},{"CountryID":60,"Code":null,"LanguageID":4,"RegionID":3,"LanguageCode":"de","Country":"Germany","Region":"Europe","URL":"de","URLKeywords":"","SortOrder":17,"PageID":0},{"CountryID":106,"Code":null,"LanguageID":1,"RegionID":3,"LanguageCode":"en","Country":"Ireland","Region":"Europe","URL":"ie","URLKeywords":"","SortOrder":18,"PageID":0},{"CountryID":114,"Code":null,"LanguageID":6,"RegionID":3,"LanguageCode":"it","Country":"Italy","Region":"Europe","URL":"it","URLKeywords":"","SortOrder":19,"PageID":0},{"CountryID":170,"Code":null,"LanguageID":13,"RegionID":3,"LanguageCode":"en","Country":"Netherlands","Region":"Europe","URL":"nl","URLKeywords":"","SortOrder":20,"PageID":0},{"CountryID":71,"Code":null,"LanguageID":5,"RegionID":3,"LanguageCode":"es","Country":"Spain","Region":"Europe","URL":"es","URLKeywords":"","SortOrder":23,"PageID":0},{"CountryID":202,"Code":null,"LanguageID":1,"RegionID":3,"LanguageCode":"en","Country":"Sweden","Region":"Europe","URL":"se","URLKeywords":"","SortOrder":24,"PageID":0},{"CountryID":171,"Code":null,"LanguageID":1,"RegionID":3,"LanguageCode":"en","Country":"Norway","Region":"Europe","URL":"no","URLKeywords":"","SortOrder":52,"PageID":0},{"CountryID":118,"Code":null,"LanguageID":11,"RegionID":4,"LanguageCode":"jp","Country":"Nihon","Region":"Africa, Asia & the Middle East","URL":"jp","URLKeywords":"","SortOrder":71,"PageID":0},{"CountryID":46,"Code":null,"LanguageID":3,"RegionID":3,"LanguageCode":"fr","Country":"Switzerland","Region":"Europe","URL":"fr-ch","URLKeywords":"","SortOrder":102,"PageID":0},{"CountryID":46,"Code":null,"LanguageID":4,"RegionID":3,"LanguageCode":"de","Country":"Switzerland","Region":"Europe","URL":"de-ch","URLKeywords":"","SortOrder":103,"PageID":0},{"CountryID":196,"Code":null,"LanguageID":10,"RegionID":3,"LanguageCode":"ru","Country":"Russian Federation","Region":"Europe","URL":"ru","URLKeywords":"","SortOrder":109,"PageID":0},{"CountryID":238,"Code":null,"LanguageID":2,"RegionID":2,"LanguageCode":"us","Country":"United States","Region":"North America","URL":"us","URLKeywords":"","SortOrder":125,"PageID":0},{"CountryID":16,"Code":null,"LanguageID":12,"RegionID":6,"LanguageCode":"au","Country":"Australia","Region":"Australasia","URL":"au","URLKeywords":"","SortOrder":150,"PageID":0},{"CountryID":175,"Code":null,"LanguageID":18,"RegionID":6,"LanguageCode":"nz","Country":"New Zealand","Region":"Australasia","URL":"nz","URLKeywords":"","SortOrder":151,"PageID":0},{"CountryID":67,"Code":null,"LanguageID":1,"RegionID":3,"LanguageCode":"en","Country":"Other Countries in Europe","Region":"Europe","URL":"eu","URLKeywords":"","SortOrder":255,"PageID":0},{"CountryID":51,"Code":null,"LanguageID":1,"RegionID":4,"LanguageCode":"en","Country":"Rest of the World","Region":"Africa, Asia & the Middle East","URL":"row","URLKeywords":"","SortOrder":255,"PageID":0}]},"ProductTypeDropDown":{"ProductTypes":[{"ProductTypeID":15,"Name":"Fabric","NamePlural":null,"URLKeywords":null,"SortOrder":0,"FilterIndexRestrictions":null,"ProductPageIDs":null,"FormValue":"fabric"},{"ProductTypeID":18,"Name":"Wallpaper","NamePlural":null,"URLKeywords":null,"SortOrder":0,"FilterIndexRestrictions":null,"ProductPageIDs":null,"FormValue":"wallpaper"},{"ProductTypeID":8,"Name":"Paint","NamePlural":null,"URLKeywords":null,"SortOrder":0,"FilterIndexRestrictions":null,"ProductPageIDs":null,"FormValue":"paint"},{"ProductTypeID":10,"Name":"Rug","NamePlural":null,"URLKeywords":null,"SortOrder":0,"FilterIndexRestrictions":null,"ProductPageIDs":null,"FormValue":"rug"},{"ProductTypeID":4,"Name":"Cushion","NamePlural":null,"URLKeywords":null,"SortOrder":0,"FilterIndexRestrictions":null,"ProductPageIDs":null,"FormValue":"cushion"},{"ProductTypeID":1,"Name":"Bed Linen","NamePlural":null,"URLKeywords":null,"SortOrder":0,"FilterIndexRestrictions":null,"ProductPageIDs":null,"FormValue":"bed-linen"},{"ProductTypeID":2,"Name":"Throw","NamePlural":null,"URLKeywords":null,"SortOrder":0,"FilterIndexRestrictions":null,"ProductPageIDs":null,"FormValue":"throw"},{"ProductTypeID":35,"Name":"Furniture","NamePlural":null,"URLKeywords":null,"SortOrder":0,"FilterIndexRestrictions":null,"ProductPageIDs":null,"FormValue":"furniture"}]},"TradeMember":false,"TradeAllowed":false,"CanViewRRPs":false,"LoginStatus":0,"UserName":null},"ProductPage":{"ScorePercent":0,"URL":"/jp/fabric/christian-lacroix/babylonia-nights-soft-crepuscule-fabric/p25912","URLSemantics":"fabric/christian-lacroix/babylonia-nights-soft-crepuscule-fabric","AttributeFormValues":null,"ProductType":null,"IsLifestyle":false,"ShortHeading":null,"ProductTypeFormValue":null,"ProductPageID":25912,"Heading":"Babylonia Nights Soft Crepuscule","SubHeading":"Fabric","New":false,"ProductTypeID":0,"URLKeywords":null,"ImageID":90438,"ImageWidth":0,"ImageHeight":0,"AspectRatio":1.0,"MerchandisedSortOrder":null,"SearchSortOrder":null,"ColourSort":null,"StockSortOrder":0.0,"AZSortOrder":0,"SalesRank":0,"ReviewCount":0,"ReviewAverage":null,"RatingSortOrder":null,"PriceSortOrder":null,"DiscountSortOrder":null,"NewSort":null,"DesignID":null,"BrandID":0,"AlternateColourwayIncludeSize":false,"SizeMetric":null,"SizeImperial":null,"Code":null,"SortOrder":null,"Design":null,"ProductPagePrice":{"PriceMin":null,"PriceMax":null,"SalePriceMin":null,"SalePriceMax":null,"DiscountPercentageMin":null,"DiscountPercentageMax":null,"ClearanceDiscountPercentageMin":null,"ClearanceDiscountPercentageMax":null,"PriceMessageBase64":null,"DiscountMessageBase64":null,"RRPMessageBase64":null,"CodeMessageBase64":null},"DisplayParagraph":false,"DisplayRating":false,"ReviewStarsDisplayBase64":null,"DisplayRRPs":false},"UseLifestyleGalleryBehaviour":false,"ProductPageID":25912,"DisplayParagraph":false,"DisplayRating":false}],"RelatedSearches":[],"AllProducts":[{"Solitary":false,"ProductBase":{"product":{"productId":149609,"sortOrder":50,"productTypeId":18,"templateId":2,"code":"PCL7019/01","brand":"Christian Lacroix","gtin13":"5051001734284","name":"Babylonia Nights Soft Crepuscule","AKA":null,"size":null,"imageId":91899,"imageAltText":"Babylonia Nights Soft Crepuscule","imageTitleText":"Babylonia Nights Soft Crepuscule","rRPMessage":null,"rLRRP":null,"rLTradePrice":null,"displayPrice":null,"displaySalePrice":null,"priceMessage":null,"statusMessage":null,"urlSemantics":"wallpaper/christian-lacroix/babylonia-nights-soft-crepuscule-wallpaper","productPageId":25874,"url":"/jp/wallpaper/christian-lacroix/babylonia-nights-soft-crepuscule-wallpaper/p25874","itemAvailability":"LimitedAvailability","orderFormGroupId":null,"orderFormName":"Babylonia Nights Soft Crepuscule","attributes":null,"orderFormGroup":null,"orderFormProperties":[{"key":"Colour","value":"Crepuscule"},{"key":"Code","value":"PCL7019/01"}],"controls":{"allowOrder":false,"allowReserve":false,"allowReserveWithBatchSample":false,"allowSample":false,"allowLargeSample":false,"allowBackInStockReminder":false,"disableOrder":false,"disableSample":false},"stockMessage":{"productTypeID":18,"quantityMinimum":1.0,"quantityMaximum":0.0,"productTypeQuantityMaximum":null,"quantityIncrement":1.0,"reserveQuantityMaximum":0.0,"unit":" roll(s)","allowStockCheck":false,"pieceBreakdownMinimum":null,"pieceBreakdownMaximum":null,"allowBackInStockReminder":true,"freeStock":0.0,"nextPOFreeStock":142.0,"nextPODueDate":"2023-06-06","totalPOFreeStock":142.0,"basketQuantityThresholds":[{"minimum":0,"maximum":99999.99,"stockMessages":[{"stockMessage":" more due in (3-5 days)","class":"","stockBreakdownTab":1}]}]},"orderButtonText":"Add to Basket","reserveButtonText":"Reserve","reserveWithBatchSampleButtonText":"Reserve with Batch Sample","sample":{"productId":150216,"stockMessage":{"productTypeID":55,"quantityMinimum":1.0,"quantityMaximum":2.0,"productTypeQuantityMaximum":20.0,"quantityIncrement":1.0,"reserveQuantityMaximum":50.0,"unit":"","allowStockCheck":false,"pieceBreakdownMinimum":null,"pieceBreakdownMaximum":null,"allowBackInStockReminder":false,"freeStock":59.0,"nextPOFreeStock":99.0,"nextPODueDate":"2023-06-06","totalPOFreeStock":99.0,"basketQuantityThresholds":[{"minimum":0,"maximum":99999.99,"stockMessages":[{"stockMessage":"In stock","class":"","stockBreakdownTab":0}]}]},"orderButtonText":"Request a Sample","displayPrice":null,"displaySalePrice":null,"priceMessage":null},"largeSample":{"productId":151279,"stockMessage":{"productTypeID":null,"quantityMinimum":1.0,"quantityMaximum":99.0,"productTypeQuantityMaximum":null,"quantityIncrement":1.0,"reserveQuantityMaximum":null,"unit":"","allowStockCheck":false,"pieceBreakdownMinimum":null,"pieceBreakdownMaximum":null,"allowBackInStockReminder":false,"freeStock":null,"nextPOFreeStock":null,"nextPODueDate":null,"totalPOFreeStock":null,"basketQuantityThresholds":[{"minimum":0,"maximum":99999.99,"stockMessages":[{"stockMessage":" more due in (1-2 weeks)","class":"","stockBreakdownTab":1}]}]},"orderButtonText":"Add to Basket","displayPrice":null,"displaySalePrice":null,"priceMessage":null}}},"Product":{"productId":149609,"sortOrder":50,"productTypeId":18,"templateId":2,"code":"PCL7019/01","brand":"Christian Lacroix","gtin13":"5051001734284","name":"Babylonia Nights Soft Crepuscule","AKA":null,"size":null,"imageId":91899,"imageAltText":"Babylonia Nights Soft Crepuscule","imageTitleText":"Babylonia Nights Soft Crepuscule","rRPMessage":null,"rLRRP":null,"rLTradePrice":null,"displayPrice":null,"displaySalePrice":null,"priceMessage":null,"statusMessage":null,"urlSemantics":"wallpaper/christian-lacroix/babylonia-nights-soft-crepuscule-wallpaper","productPageId":25874,"url":"/jp/wallpaper/christian-lacroix/babylonia-nights-soft-crepuscule-wallpaper/p25874","itemAvailability":"LimitedAvailability","orderFormGroupId":null,"orderFormName":"Babylonia Nights Soft Crepuscule","attributes":null,"orderFormGroup":null,"orderFormProperties":[{"key":"Colour","value":"Crepuscule"},{"key":"Code","value":"PCL7019/01"}],"controls":{"allowOrder":false,"allowReserve":false,"allowReserveWithBatchSample":false,"allowSample":false,"allowLargeSample":false,"allowBackInStockReminder":false,"disableOrder":false,"disableSample":false},"stockMessage":{"productTypeID":18,"quantityMinimum":1.0,"quantityMaximum":0.0,"productTypeQuantityMaximum":null,"quantityIncrement":1.0,"reserveQuantityMaximum":0.0,"unit":" roll(s)","allowStockCheck":false,"pieceBreakdownMinimum":null,"pieceBreakdownMaximum":null,"allowBackInStockReminder":true,"freeStock":0.0,"nextPOFreeStock":142.0,"nextPODueDate":"2023-06-06","totalPOFreeStock":142.0,"basketQuantityThresholds":[{"minimum":0,"maximum":99999.99,"stockMessages":[{"stockMessage":" more due in (3-5 days)","class":"","stockBreakdownTab":1}]}]},"orderButtonText":"Add to Basket","reserveButtonText":"Reserve","reserveWithBatchSampleButtonText":"Reserve with Batch Sample","sample":{"productId":150216,"stockMessage":{"productTypeID":55,"quantityMinimum":1.0,"quantityMaximum":2.0,"productTypeQuantityMaximum":20.0,"quantityIncrement":1.0,"reserveQuantityMaximum":50.0,"unit":"","allowStockCheck":false,"pieceBreakdownMinimum":null,"pieceBreakdownMaximum":null,"allowBackInStockReminder":false,"freeStock":59.0,"nextPOFreeStock":99.0,"nextPODueDate":"2023-06-06","totalPOFreeStock":99.0,"basketQuantityThresholds":[{"minimum":0,"maximum":99999.99,"stockMessages":[{"stockMessage":"In stock","class":"","stockBreakdownTab":0}]}]},"orderButtonText":"Request a Sample","displayPrice":null,"displaySalePrice":null,"priceMessage":null},"largeSample":{"productId":151279,"stockMessage":{"productTypeID":null,"quantityMinimum":1.0,"quantityMaximum":99.0,"productTypeQuantityMaximum":null,"quantityIncrement":1.0,"reserveQuantityMaximum":null,"unit":"","allowStockCheck":false,"pieceBreakdownMinimum":null,"pieceBreakdownMaximum":null,"allowBackInStockReminder":false,"freeStock":null,"nextPOFreeStock":null,"nextPODueDate":null,"totalPOFreeStock":null,"basketQuantityThresholds":[{"minimum":0,"maximum":99999.99,"stockMessages":[{"stockMessage":" more due in (1-2 weeks)","class":"","stockBreakdownTab":1}]}]},"orderButtonText":"Add to Basket","displayPrice":null,"displaySalePrice":null,"priceMessage":null}},"Carousel":{"CarouselID":"#product-149609-carsouel","WrapperCSSClass":null,"AspectRatio":1.0,"Heading":"Babylonia Nights Soft Crepuscule","Images":[{"ImageID":91899,"SortOrder":0,"AltText":"Babylonia Nights Soft Crepuscule","Overlay":null,"MaxWidth":null,"ImageSize":1,"ForceLazyLoading":false}],"DisplayThumbnails":false,"DisplayDashes":true,"Interval":null,"PermitLargeImageModal":true},"ProductID":149609,"ProductTypeID":18,"ProductPageID":25874,"ProductCode":"PCL7019/01","Brand":"Christian Lacroix","OrderFormID":"#product-149609","OrderFormCarouselID":"#product-149609-slide","OrderFormGroupID":null,"OrderFormGroup":null,"Size":null,"OrderFormName":"Babylonia Nights Soft Crepuscule","BasketName":"Babylonia Nights Soft Crepuscule","SortOrder":50,"Attributes":null,"Image":{"imageId":91899,"templateImageId":2,"altText":"Babylonia Nights Soft Crepuscule","titleText":"Babylonia Nights Soft Crepuscule","sortOrder":0,"maxWidth":488},"OrderFormProperties":[{"Key":"Colour","Value":"Crepuscule"},{"Key":"Code","Value":"PCL7019/01"}],"AllowSample":false,"AllowLargeSample":false,"AllowOrder":false,"AllowReserve":false,"AllowReserveWithBatchCutting":false,"ClientProductViewModels":"","URLKeywords":"wallpaper/christian-lacroix/babylonia-nights-soft-crepuscule-wallpaper","ImageLinkToProductPage":false,"IsLifestyle":false,"IsHotspot":false}],"OrderFormGroups":[{"OrderFormGroupID":null,"Name":null,"UseSizeButtons":false,"Items":[{"Solitary":false,"ProductBase":{"product":{"productId":149609,"sortOrder":50,"productTypeId":18,"templateId":2,"code":"PCL7019/01","brand":"Christian Lacroix","gtin13":"5051001734284","name":"Babylonia Nights Soft Crepuscule","AKA":null,"size":null,"imageId":91899,"imageAltText":"Babylonia Nights Soft Crepuscule","imageTitleText":"Babylonia Nights Soft Crepuscule","rRPMessage":null,"rLRRP":null,"rLTradePrice":null,"displayPrice":null,"displaySalePrice":null,"priceMessage":null,"statusMessage":null,"urlSemantics":"wallpaper/christian-lacroix/babylonia-nights-soft-crepuscule-wallpaper","productPageId":25874,"url":"/jp/wallpaper/christian-lacroix/babylonia-nights-soft-crepuscule-wallpaper/p25874","itemAvailability":"LimitedAvailability","orderFormGroupId":null,"orderFormName":"Babylonia Nights Soft Crepuscule","attributes":null,"orderFormGroup":null,"orderFormProperties":[{"key":"Colour","value":"Crepuscule"},{"key":"Code","value":"PCL7019/01"}],"controls":{"allowOrder":false,"allowReserve":false,"allowReserveWithBatchSample":false,"allowSample":false,"allowLargeSample":false,"allowBackInStockReminder":false,"disableOrder":false,"disableSample":false},"stockMessage":{"productTypeID":18,"quantityMinimum":1.0,"quantityMaximum":0.0,"productTypeQuantityMaximum":null,"quantityIncrement":1.0,"reserveQuantityMaximum":0.0,"unit":" roll(s)","allowStockCheck":false,"pieceBreakdownMinimum":null,"pieceBreakdownMaximum":null,"allowBackInStockReminder":true,"freeStock":0.0,"nextPOFreeStock":142.0,"nextPODueDate":"2023-06-06","totalPOFreeStock":142.0,"basketQuantityThresholds":[{"minimum":0,"maximum":99999.99,"stockMessages":[{"stockMessage":" more due in (3-5 days)","class":"","stockBreakdownTab":1}]}]},"orderButtonText":"Add to Basket","reserveButtonText":"Reserve","reserveWithBatchSampleButtonText":"Reserve with Batch Sample","sample":{"productId":150216,"stockMessage":{"productTypeID":55,"quantityMinimum":1.0,"quantityMaximum":2.0,"productTypeQuantityMaximum":20.0,"quantityIncrement":1.0,"reserveQuantityMaximum":50.0,"unit":"","allowStockCheck":false,"pieceBreakdownMinimum":null,"pieceBreakdownMaximum":null,"allowBackInStockReminder":false,"freeStock":59.0,"nextPOFreeStock":99.0,"nextPODueDate":"2023-06-06","totalPOFreeStock":99.0,"basketQuantityThresholds":[{"minimum":0,"maximum":99999.99,"stockMessages":[{"stockMessage":"In stock","class":"","stockBreakdownTab":0}]}]},"orderButtonText":"Request a Sample","displayPrice":null,"displaySalePrice":null,"priceMessage":null},"largeSample":{"productId":151279,"stockMessage":{"productTypeID":null,"quantityMinimum":1.0,"quantityMaximum":99.0,"productTypeQuantityMaximum":null,"quantityIncrement":1.0,"reserveQuantityMaximum":null,"unit":"","allowStockCheck":false,"pieceBreakdownMinimum":null,"pieceBreakdownMaximum":null,"allowBackInStockReminder":false,"freeStock":null,"nextPOFreeStock":null,"nextPODueDate":null,"totalPOFreeStock":null,"basketQuantityThresholds":[{"minimum":0,"maximum":99999.99,"stockMessages":[{"stockMessage":" more due in (1-2 weeks)","class":"","stockBreakdownTab":1}]}]},"orderButtonText":"Add to Basket","displayPrice":null,"displaySalePrice":null,"priceMessage":null}}},"Product":{"productId":149609,"sortOrder":50,"productTypeId":18,"templateId":2,"code":"PCL7019/01","brand":"Christian Lacroix","gtin13":"5051001734284","name":"Babylonia Nights Soft Crepuscule","AKA":null,"size":null,"imageId":91899,"imageAltText":"Babylonia Nights Soft Crepuscule","imageTitleText":"Babylonia Nights Soft Crepuscule","rRPMessage":null,"rLRRP":null,"rLTradePrice":null,"displayPrice":null,"displaySalePrice":null,"priceMessage":null,"statusMessage":null,"urlSemantics":"wallpaper/christian-lacroix/babylonia-nights-soft-crepuscule-wallpaper","productPageId":25874,"url":"/jp/wallpaper/christian-lacroix/babylonia-nights-soft-crepuscule-wallpaper/p25874","itemAvailability":"LimitedAvailability","orderFormGroupId":null,"orderFormName":"Babylonia Nights Soft Crepuscule","attributes":null,"orderFormGroup":null,"orderFormProperties":[{"key":"Colour","value":"Crepuscule"},{"key":"Code","value":"PCL7019/01"}],"controls":{"allowOrder":false,"allowReserve":false,"allowReserveWithBatchSample":false,"allowSample":false,"allowLargeSample":false,"allowBackInStockReminder":false,"disableOrder":false,"disableSample":false},"stockMessage":{"productTypeID":18,"quantityMinimum":1.0,"quantityMaximum":0.0,"productTypeQuantityMaximum":null,"quantityIncrement":1.0,"reserveQuantityMaximum":0.0,"unit":" roll(s)","allowStockCheck":false,"pieceBreakdownMinimum":null,"pieceBreakdownMaximum":null,"allowBackInStockReminder":true,"freeStock":0.0,"nextPOFreeStock":142.0,"nextPODueDate":"2023-06-06","totalPOFreeStock":142.0,"basketQuantityThresholds":[{"minimum":0,"maximum":99999.99,"stockMessages":[{"stockMessage":" more due in (3-5 days)","class":"","stockBreakdownTab":1}]}]},"orderButtonText":"Add to Basket","reserveButtonText":"Reserve","reserveWithBatchSampleButtonText":"Reserve with Batch Sample","sample":{"productId":150216,"stockMessage":{"productTypeID":55,"quantityMinimum":1.0,"quantityMaximum":2.0,"productTypeQuantityMaximum":20.0,"quantityIncrement":1.0,"reserveQuantityMaximum":50.0,"unit":"","allowStockCheck":false,"pieceBreakdownMinimum":null,"pieceBreakdownMaximum":null,"allowBackInStockReminder":false,"freeStock":59.0,"nextPOFreeStock":99.0,"nextPODueDate":"2023-06-06","totalPOFreeStock":99.0,"basketQuantityThresholds":[{"minimum":0,"maximum":99999.99,"stockMessages":[{"stockMessage":"In stock","class":"","stockBreakdownTab":0}]}]},"orderButtonText":"Request a Sample","displayPrice":null,"displaySalePrice":null,"priceMessage":null},"largeSample":{"productId":151279,"stockMessage":{"productTypeID":null,"quantityMinimum":1.0,"quantityMaximum":99.0,"productTypeQuantityMaximum":null,"quantityIncrement":1.0,"reserveQuantityMaximum":null,"unit":"","allowStockCheck":false,"pieceBreakdownMinimum":null,"pieceBreakdownMaximum":null,"allowBackInStockReminder":false,"freeStock":null,"nextPOFreeStock":null,"nextPODueDate":null,"totalPOFreeStock":null,"basketQuantityThresholds":[{"minimum":0,"maximum":99999.99,"stockMessages":[{"stockMessage":" more due in (1-2 weeks)","class":"","stockBreakdownTab":1}]}]},"orderButtonText":"Add to Basket","displayPrice":null,"displaySalePrice":null,"priceMessage":null}},"Carousel":{"CarouselID":"#product-149609-carsouel","WrapperCSSClass":null,"AspectRatio":1.0,"Heading":"Babylonia Nights Soft Crepuscule","Images":[{"ImageID":91899,"SortOrder":0,"AltText":"Babylonia Nights Soft Crepuscule","Overlay":null,"MaxWidth":null,"ImageSize":1,"ForceLazyLoading":false}],"DisplayThumbnails":false,"DisplayDashes":true,"Interval":null,"PermitLargeImageModal":true},"ProductID":149609,"ProductTypeID":18,"ProductPageID":25874,"ProductCode":"PCL7019/01","Brand":"Christian Lacroix","OrderFormID":"#product-149609","OrderFormCarouselID":"#product-149609-slide","OrderFormGroupID":null,"OrderFormGroup":null,"Size":null,"OrderFormName":"Babylonia Nights Soft Crepuscule","BasketName":"Babylonia Nights Soft Crepuscule","SortOrder":50,"Attributes":null,"Image":{"imageId":91899,"templateImageId":2,"altText":"Babylonia Nights Soft Crepuscule","titleText":"Babylonia Nights Soft Crepuscule","sortOrder":0,"maxWidth":488},"OrderFormProperties":[{"Key":"Colour","Value":"Crepuscule"},{"Key":"Code","Value":"PCL7019/01"}],"AllowSample":false,"AllowLargeSample":false,"AllowOrder":false,"AllowReserve":false,"AllowReserveWithBatchCutting":false,"ClientProductViewModels":"","URLKeywords":"wallpaper/christian-lacroix/babylonia-nights-soft-crepuscule-wallpaper","ImageLinkToProductPage":false,"IsLifestyle":false,"IsHotspot":false}],"MasterDefinition":{"SiteSectionID":null,"TitleTag":"Babylonia Nights Soft Crepuscule Wallpaper | Christian Lacroix | Designers Guild","MetaDescription":"Signature Christian Lacroix florals bloom in technicolour glory feature in this digitally printed wallpaper design which is taken to a dramatic new height ","BackInStockReminder":null,"ItemsInBasket":0.0,"UrlBreakdown":{"ContentType":1,"ContentId":25874,"ContentDate":"2023-06-05T00:00:00","SemanticString":"wallpaper/christian-lacroix/babylonia-nights-soft-crepuscule-wallpaper","countryDetails":{"CountryLanguageID":15,"RegionID":4,"CountryID":118,"CountryCode":"JP","LanguageID":11,"SortOrder":71,"Name":"Japan","URL":"jp","DotNetCulture":"ja-JP","ShopEnabled":false,"LanguageCode":"jp","LanguageDotNetCulture":"ja-JP","MertexCurrencyCode":null,"CurrencyCode":null,"PriceListID":null,"AllowTradeOrders":false,"AcceptAmazonPay":false,"BuyOnlineRedirectAllowed":false,"EcommerceEnabled":false,"SamplesEnabled":false},"contentTypeAndIdNotFound":false,"CountryAwareness":{"Match":false,"Culture":"us","objCountryItem":{"CountryLanguageID":5,"RegionID":2,"CountryID":238,"CountryCode":null,"LanguageID":2,"SortOrder":1,"Name":"United States","URL":"us","DotNetCulture":"en-US","ShopEnabled":true,"LanguageCode":"us","LanguageDotNetCulture":"en-US","MertexCurrencyCode":"USD","CurrencyCode":"USD","PriceListID":2,"AllowTradeOrders":true,"AcceptAmazonPay":true,"BuyOnlineRedirectAllowed":false,"EcommerceEnabled":false,"SamplesEnabled":false}},"GeoIPCulture":null,"siteCountryNotFoundInUrl":false},"GoogleHrefs":[{"hreflang":"de","href":"https://www.designersguild.com/de/wallpaper/christian-lacroix/babylonia-nights-soft-crepuscule-wallpaper/p25874"},{"hreflang":"fr","href":"https://www.designersguild.com/fr/wallpaper/christian-lacroix/babylonia-nights-soft-crepuscule-wallpaper/p25874"},{"hreflang":"en-gb","href":"https://www.designersguild.com/uk/wallpaper/christian-lacroix/babylonia-nights-soft-crepuscule-wallpaper/p25874"},{"hreflang":"en-se","href":"https://www.designersguild.com/se/wallpaper/christian-lacroix/babylonia-nights-soft-crepuscule-wallpaper/p25874"},{"hreflang":"en-us","href":"https://www.designersguild.com/us/wallpaper/christian-lacroix/babylonia-nights-soft-crepuscule-wallpaper/p25874"},{"hreflang":"es","href":"https://www.designersguild.com/es/wallpaper/christian-lacroix/babylonia-nights-soft-crepuscule-wallpaper/p25874"},{"hreflang":"it-it","href":"https://www.designersguild.com/it/wallpaper/christian-lacroix/babylonia-nights-soft-crepuscule-wallpaper/p25874"},{"hreflang":"en-nl","href":"https://www.designersguild.com/nl/wallpaper/christian-lacroix/babylonia-nights-soft-crepuscule-wallpaper/p25874"},{"hreflang":"ru","href":"https://www.designersguild.com/ru/wallpaper/christian-lacroix/babylonia-nights-soft-crepuscule-wallpaper/p25874"},{"hreflang":"ja-jp","href":"https://www.designersguild.com/jp/wallpaper/christian-lacroix/babylonia-nights-soft-crepuscule-wallpaper/p25874"},{"hreflang":"en-be","href":"https://www.designersguild.com/be/wallpaper/christian-lacroix/babylonia-nights-soft-crepuscule-wallpaper/p25874"},{"hreflang":"en-au","href":"https://www.designersguild.com/au/wallpaper/christian-lacroix/babylonia-nights-soft-crepuscule-wallpaper/p25874"},{"hreflang":"en-dk","href":"https://www.designersguild.com/dk/wallpaper/christian-lacroix/babylonia-nights-soft-crepuscule-wallpaper/p25874"},{"hreflang":"en-gr","href":"https://www.designersguild.com/eu/wallpaper/christian-lacroix/babylonia-nights-soft-crepuscule-wallpaper/p25874"},{"hreflang":"en-no","href":"https://www.designersguild.com/no/wallpaper/christian-lacroix/babylonia-nights-soft-crepuscule-wallpaper/p25874"},{"hreflang":"de-at","href":"https://www.designersguild.com/at/wallpaper/christian-lacroix/babylonia-nights-soft-crepuscule-wallpaper/p25874"},{"hreflang":"de-ch","href":"https://www.designersguild.com/de-ch/wallpaper/christian-lacroix/babylonia-nights-soft-crepuscule-wallpaper/p25874"},{"hreflang":"fr-ch","href":"https://www.designersguild.com/fr-ch/wallpaper/christian-lacroix/babylonia-nights-soft-crepuscule-wallpaper/p25874"},{"hreflang":"en","href":"https://www.designersguild.com/row/wallpaper/christian-lacroix/babylonia-nights-soft-crepuscule-wallpaper/p25874"},{"hreflang":"en-nz","href":"https://www.designersguild.com/nz/wallpaper/christian-lacroix/babylonia-nights-soft-crepuscule-wallpaper/p25874"},{"hreflang":"en-ie","href":"https://www.designersguild.com/ie/wallpaper/christian-lacroix/babylonia-nights-soft-crepuscule-wallpaper/p25874"},{"hreflang":"fi-fi","href":"https://www.designersguild.com/fi/wallpaper/christian-lacroix/babylonia-nights-soft-crepuscule-wallpaper/p25874"}],"CountryDropDown":{"countryDropDownItems":[{"CountryID":81,"Code":null,"LanguageID":1,"RegionID":3,"LanguageCode":"en","Country":"UK","Region":"Europe","URL":"uk","URLKeywords":"","SortOrder":1,"PageID":0},{"CountryID":15,"Code":null,"LanguageID":4,"RegionID":3,"LanguageCode":"de","Country":"Austria","Region":"Europe","URL":"at","URLKeywords":"","SortOrder":11,"PageID":0},{"CountryID":23,"Code":null,"LanguageID":1,"RegionID":3,"LanguageCode":"en","Country":"Belgium","Region":"Europe","URL":"be","URLKeywords":"","SortOrder":12,"PageID":0},{"CountryID":62,"Code":null,"LanguageID":1,"RegionID":3,"LanguageCode":"en","Country":"Denmark","Region":"Europe","URL":"dk","URLKeywords":"","SortOrder":13,"PageID":0},{"CountryID":74,"Code":null,"LanguageID":15,"RegionID":3,"LanguageCode":"fi","Country":"Finland","Region":"Europe","URL":"fi","URLKeywords":"","SortOrder":15,"PageID":0},{"CountryID":79,"Code":null,"LanguageID":3,"RegionID":3,"LanguageCode":"fr","Country":"France","Region":"Europe","URL":"fr","URLKeywords":"","SortOrder":16,"PageID":0},{"CountryID":60,"Code":null,"LanguageID":4,"RegionID":3,"LanguageCode":"de","Country":"Germany","Region":"Europe","URL":"de","URLKeywords":"","SortOrder":17,"PageID":0},{"CountryID":106,"Code":null,"LanguageID":1,"RegionID":3,"LanguageCode":"en","Country":"Ireland","Region":"Europe","URL":"ie","URLKeywords":"","SortOrder":18,"PageID":0},{"CountryID":114,"Code":null,"LanguageID":6,"RegionID":3,"LanguageCode":"it","Country":"Italy","Region":"Europe","URL":"it","URLKeywords":"","SortOrder":19,"PageID":0},{"CountryID":170,"Code":null,"LanguageID":13,"RegionID":3,"LanguageCode":"en","Country":"Netherlands","Region":"Europe","URL":"nl","URLKeywords":"","SortOrder":20,"PageID":0},{"CountryID":71,"Code":null,"LanguageID":5,"RegionID":3,"LanguageCode":"es","Country":"Spain","Region":"Europe","URL":"es","URLKeywords":"","SortOrder":23,"PageID":0},{"CountryID":202,"Code":null,"LanguageID":1,"RegionID":3,"LanguageCode":"en","Country":"Sweden","Region":"Europe","URL":"se","URLKeywords":"","SortOrder":24,"PageID":0},{"CountryID":171,"Code":null,"LanguageID":1,"RegionID":3,"LanguageCode":"en","Country":"Norway","Region":"Europe","URL":"no","URLKeywords":"","SortOrder":52,"PageID":0},{"CountryID":118,"Code":null,"LanguageID":11,"RegionID":4,"LanguageCode":"jp","Country":"Nihon","Region":"Africa, Asia & the Middle East","URL":"jp","URLKeywords":"","SortOrder":71,"PageID":0},{"CountryID":46,"Code":null,"LanguageID":3,"RegionID":3,"LanguageCode":"fr","Country":"Switzerland","Region":"Europe","URL":"fr-ch","URLKeywords":"","SortOrder":102,"PageID":0},{"CountryID":46,"Code":null,"LanguageID":4,"RegionID":3,"LanguageCode":"de","Country":"Switzerland","Region":"Europe","URL":"de-ch","URLKeywords":"","SortOrder":103,"PageID":0},{"CountryID":196,"Code":null,"LanguageID":10,"RegionID":3,"LanguageCode":"ru","Country":"Russian Federation","Region":"Europe","URL":"ru","URLKeywords":"","SortOrder":109,"PageID":0},{"CountryID":238,"Code":null,"LanguageID":2,"RegionID":2,"LanguageCode":"us","Country":"United States","Region":"North America","URL":"us","URLKeywords":"","SortOrder":125,"PageID":0},{"CountryID":16,"Code":null,"LanguageID":12,"RegionID":6,"LanguageCode":"au","Country":"Australia","Region":"Australasia","URL":"au","URLKeywords":"","SortOrder":150,"PageID":0},{"CountryID":175,"Code":null,"LanguageID":18,"RegionID":6,"LanguageCode":"nz","Country":"New Zealand","Region":"Australasia","URL":"nz","URLKeywords":"","SortOrder":151,"PageID":0},{"CountryID":67,"Code":null,"LanguageID":1,"RegionID":3,"LanguageCode":"en","Country":"Other Countries in Europe","Region":"Europe","URL":"eu","URLKeywords":"","SortOrder":255,"PageID":0},{"CountryID":51,"Code":null,"LanguageID":1,"RegionID":4,"LanguageCode":"en","Country":"Rest of the World","Region":"Africa, Asia & the Middle East","URL":"row","URLKeywords":"","SortOrder":255,"PageID":0}]},"ProductTypeDropDown":{"ProductTypes":[{"ProductTypeID":15,"Name":"Fabric","NamePlural":null,"URLKeywords":null,"SortOrder":0,"FilterIndexRestrictions":null,"ProductPageIDs":null,"FormValue":"fabric"},{"ProductTypeID":18,"Name":"Wallpaper","NamePlural":null,"URLKeywords":null,"SortOrder":0,"FilterIndexRestrictions":null,"ProductPageIDs":null,"FormValue":"wallpaper"},{"ProductTypeID":8,"Name":"Paint","NamePlural":null,"URLKeywords":null,"SortOrder":0,"FilterIndexRestrictions":null,"ProductPageIDs":null,"FormValue":"paint"},{"ProductTypeID":10,"Name":"Rug","NamePlural":null,"URLKeywords":null,"SortOrder":0,"FilterIndexRestrictions":null,"ProductPageIDs":null,"FormValue":"rug"},{"ProductTypeID":4,"Name":"Cushion","NamePlural":null,"URLKeywords":null,"SortOrder":0,"FilterIndexRestrictions":null,"ProductPageIDs":null,"FormValue":"cushion"},{"ProductTypeID":1,"Name":"Bed Linen","NamePlural":null,"URLKeywords":null,"SortOrder":0,"FilterIndexRestrictions":null,"ProductPageIDs":null,"FormValue":"bed-linen"},{"ProductTypeID":2,"Name":"Throw","NamePlural":null,"URLKeywords":null,"SortOrder":0,"FilterIndexRestrictions":null,"ProductPageIDs":null,"FormValue":"throw"},{"ProductTypeID":35,"Name":"Furniture","NamePlural":null,"URLKeywords":null,"SortOrder":0,"FilterIndexRestrictions":null,"ProductPageIDs":null,"FormValue":"furniture"}]},"TradeMember":false,"TradeAllowed":false,"CanViewRRPs":false,"LoginStatus":0,"UserName":null},"ParentProductPageProductTypeID":0,"SortOrder":50,"OrderFormCarouselID":"order-form-group--carousel"}],"AlternateColourways":[{"productPageId":25874,"code":"PCL7019/01","heading":"Babylonia Nights Soft Crepuscule","imageId":91899,"url":"/jp/wallpaper/christian-lacroix/babylonia-nights-soft-crepuscule-wallpaper/p25874","urlSemantics":"wallpaper/christian-lacroix/babylonia-nights-soft-crepuscule-wallpaper"}],"ProductPagePrice":{"priceMin":null,"priceMax":null,"salePriceMin":null,"salePriceMax":null,"discountPercentageMin":null,"discountPercentageMax":null,"clearanceDiscountPercentageMin":null,"clearanceDiscountPercentageMax":null,"discountMessage":null,"priceMessage":null,"rRPMessage":null,"codeMessage":null},"Reviews":[],"TechInfoCollections":[{"CollectionID":818,"Name":"Lacroix Stravaganza Wallpaper","URL":"/jp/wallpaper/christian-lacroix/lacroix-stravaganza-wallpaper/c818","URLSemantics":"wallpaper/christian-lacroix/lacroix-stravaganza-wallpaper","BrochureURL":null}],"TechInfoAftercares":[{"AftercareID":51,"Aftercare":"SPONGEABLE WALLCOVERING"}],"TechInfoUsages":[],"TechInfoTests":[{"Test":"EN13501 Class B-s1-d0"},{"Test":"EN15102"},{"Test":"ASTM E84 Class A"}],"Width":"52 cm","Weight":"225 gsm","HorizontalPatternRepeat":"52 cm","VerticalPatternRepeat":"52 cm","Martindale":null,"Composition":"NON-WOVEN WALLPAPER","PatternMatch":"Half drop","Flamcode":null,"ContractFR":null,"DomesticFR":null,"Type":null,"AdditionalInfo":"Roll: 10m - Spongeable - Paste the wall - Strippable. Flock wallpapers are reverse rolled. Please check design direction before hanging.","RollLength":"10 m","PileHeight":null,"WideWidthFabricDefaultPoleWidth":null,"MaxFoldLength":null,"TechInfoDisplayBase64":"PGR0PkNvbGxlY3Rpb24ocyk8L2R0PjxkZD48YSBjbGFzcz0iZC1ibG9jayBtYi0xIiBocmVmPSIvanAvd2FsbHBhcGVyL2NocmlzdGlhbi1sYWNyb2l4L2xhY3JvaXgtc3RyYXZhZ2FuemEtd2FsbHBhcGVyL2M4MTgiPkxhY3JvaXggU3RyYXZhZ2FuemEgV2FsbHBhcGVyPC9hPjwvZGQ+PGR0PkNvbXBvc2l0aW9uPC9kdD48ZGQ+Tk9OLVdPVkVOIFdBTExQQVBFUjwvZGQ+PGR0PldpZHRoPC9kdD48ZGQ+NTIgY208L2RkPjxkdD5XZWlnaHQ8L2R0PjxkZD4yMjUgZ3NtPC9kZD48ZHQ+UGF0dGVybiBNYXRjaDwvZHQ+PGRkPkhhbGYgZHJvcDwvZGQ+PGR0PlJvbGwgTGVuZ3RoPC9kdD48ZGQ+MTAgbTwvZGQ+PGR0PlZlcnRpY2FsIFBhdHRlcm4gUmVwZWF0PC9kdD48ZGQ+NTIgY208L2RkPjxkdD5Ib3Jpem9udGFsIFBhdHRlcm4gUmVwZWF0PC9kdD48ZGQ+NTIgY208L2RkPjxkdD5UZXN0cyBQYXNzZWQ8L2R0PjxkZD48c3BhbiBjbGFzcz0iZC1ibG9jayI+RU4xMzUwMSBDbGFzcyBCLXMxLWQwPC9zcGFuPjxzcGFuIGNsYXNzPSJkLWJsb2NrIj5FTjE1MTAyPC9zcGFuPjxzcGFuIGNsYXNzPSJkLWJsb2NrIj5BU1RNIEU4NCBDbGFzcyBBPC9zcGFuPjwvZGQ+PGR0PlByb2R1Y3QgQWZ0ZXIgQ2FyZTwvZHQ+PGRkPjxkaXYgY2xhc3M9ImQtZmxleCBhbGlnbi1pdGVtcy1jZW50ZXIiPjxpbWcgd2lkdGg9IjMyIiBoZWlnaHQ9IjMyIiBjbGFzcz0idXNhZ2UtaWNvbiIgdGl0bGU9IlNQT05HRUFCTEUgV0FMTENPVkVSSU5HIiBhbHQ9IlNQT05HRUFCTEUgV0FMTENPVkVSSU5HIiBzcmM9Imh0dHBzOi8vd3d3LmRlc2lnbmVyc2d1aWxkLmNvbS9pbWFnZXMvaWNvbnMvdGVjaGluZm8vYWZ0ZXJjYXJlLzUxLmdpZiIgLz48c3BhbiBjbGFzcz0iZC1ibG9jayI+U1BPTkdFQUJMRSBXQUxMQ09WRVJJTkc8L3NwYW4+PC9kaXY+PC9kZD48ZHQ+QWRkaXRpb25hbCBJbmZvPC9kdD48ZGQ+Um9sbDogMTBtIC0gU3BvbmdlYWJsZSAtIFBhc3RlIHRoZSB3YWxsIC0gU3RyaXBwYWJsZS4gRmxvY2sgd2FsbHBhcGVycyBhcmUgcmV2ZXJzZSByb2xsZWQuIFBsZWFzZSBjaGVjayBkZXNpZ24gZGlyZWN0aW9uIGJlZm9yZSBoYW5naW5nLjwvZGQ+","IsShop":true,"IsLifestyle":false,"NoFollow":false,"NoIndex":false,"CustomCanonical":null,"AttributeFilterText":null,"AttributeSignatureText":null,"UserInCorrectSite":false,"CountryCorrectorDismissed":false,"CorrectSitesForUser":[{"CountryLanguageID":5,"RegionID":2,"CountryID":238,"CountryCode":"US","LanguageID":2,"SortOrder":125,"Name":"United States","URL":"us","DotNetCulture":"en-US","ShopEnabled":true,"LanguageCode":"us","LanguageDotNetCulture":"en-US","MertexCurrencyCode":"USD","CurrencyCode":"USD","PriceListID":2,"AllowTradeOrders":true,"AcceptAmazonPay":true,"BuyOnlineRedirectAllowed":false,"EcommerceEnabled":true,"SamplesEnabled":false}],"PrefetchedResources":[{"Name":"PleaseProvideWidth","Value":"Please provide a Width"},{"Name":"PleaseProvideHeight","Value":"Please provide a Height"},{"Name":"PleaseProvideLength","Value":"Please provide a Length"},{"Name":"Width","Value":"Width"},{"Name":"Length","Value":"Length"},{"Name":"Height","Value":"Height"},{"Name":"CalculatorMustBeBetween","Value":"must be between 1 and 99"},{"Name":"FormsErrorEmailFormat","Value":"Your email address is not in the correct format"},{"Name":"FormsErrorEmail","Value":"Your email address must be between 5 and 254 characters"},{"Name":"ThankYou","Value":"Thank You"},{"Name":"ThankYouEmailSent","Value":"Thank you, your email has been sent."},{"Name":"Quantity","Value":"Quantity"},{"Name":"QuantityRequired","Value":"You must provide a quantity"},{"Name":"pleaseGreaterThanEqualTo","Value":"Please enter a value greater than or equal to"},{"Name":"pleaseLessThanEqualTo","Value":"Please enter a value less than or equal to"},{"Name":"FormsErrorEmail","Value":"Your email address must be between 5 and 254 characters"},{"Name":"FormsErrorEmailFormat","Value":"Your email address is not in the correct format"},{"Name":"ThankYou","Value":"Thank You"},{"Name":"ThankYouEmailSent","Value":"Thank you, your email has been sent."},{"Name":"PleaseProvideWidth","Value":"Please provide a Width"},{"Name":"CalculatorMustBeBetween","Value":"must be between 1 and 99"},{"Name":"Width","Value":"Width"},{"Name":"Height","Value":"Height"},{"Name":"Length","Value":"Length"},{"Name":"PleaseProvideHeight","Value":"Please provide a Height"},{"Name":"PleaseProvideWidth","Value":"Please provide a Width"},{"Name":"PleaseProvideLength","Value":"Please provide a Length"},{"Name":"MajorError","Value":"We could not process your request at this present time. Please click on the back button and try again. If this problem re-occurs, please email shoponlineuk@designersguild.com and one of our customer service agents will get back to you as soon as possible"}],"PrefetchedSnippets":[],"HeaderBanners":[],"HasHeaderBanners":false,"FooterBanners":[],"HasFooterBanners":false,"EcommercePopupBanners":[],"HasEcommercePopupBanners":false,"Banners":[{"id":12,"name":"One","banners":[{"bannerId":6325,"name":"Christian Lacroix","version":11,"sortOrder":1,"overlayText":"","altText":"Christian Lacroix","titleText":"Christian Lacroix","width":1024,"height":394,"linkURL":"/jp/christian-lacroix/l1397","newWindow":false,"foregroundColour":"#000000","backgroundColour":"#ffffff","fontClass":"default-text","restrictions":{"menuIds":[11,45,72,91,108],"siteSectionIds":null,"pageIds":null}},{"bannerId":4116,"name":"Lookbooks 12 (Inspiration)","version":8,"sortOrder":2,"overlayText":"","altText":null,"titleText":null,"width":1024,"height":961,"linkURL":"/jp/lookbooks/l1179","newWindow":false,"foregroundColour":"#000000","backgroundColour":"#ffffff","fontClass":null,"restrictions":{"menuIds":[12,66,106],"siteSectionIds":null,"pageIds":null}},{"bannerId":2186,"name":"Where To Buy GHP UK 12","version":3,"sortOrder":3,"overlayText":"","altText":null,"titleText":null,"width":1024,"height":1024,"linkURL":"/jp/kings-road-store/l1532","newWindow":false,"foregroundColour":"#000000","backgroundColour":"#ffffff","fontClass":"default-text-bold text-banner-center","restrictions":{"menuIds":[67,94,107,109],"siteSectionIds":null,"pageIds":null}}]},{"id":13,"name":"Two","banners":[{"bannerId":5320,"name":"Films 13 (Inspiration)","version":10,"sortOrder":1,"overlayText":"","altText":null,"titleText":null,"width":1024,"height":960,"linkURL":"/jp/films/l1180","newWindow":false,"foregroundColour":"#000000","backgroundColour":"#ffffff","fontClass":null,"restrictions":{"menuIds":[12,66,106],"siteSectionIds":null,"pageIds":null}},{"bannerId":2188,"name":"Where To Buy UK GHP 13","version":5,"sortOrder":3,"overlayText":"","altText":null,"titleText":null,"width":512,"height":475,"linkURL":"/jp/wallpaper-and-paint-studio/l1536","newWindow":false,"foregroundColour":"#000000","backgroundColour":"#ffffff","fontClass":"default-text-bold text-banner-center","restrictions":{"menuIds":[8,17,48,67,94,107],"siteSectionIds":null,"pageIds":null}},{"bannerId":1975,"name":"Global 13 Furniture","version":15,"sortOrder":4,"overlayText":"#YOURSOFAYOURWAY > ","altText":"#YOURSOFAYOURWAY > ","titleText":"#YOURSOFAYOURWAY > ","width":256,"height":224,"linkURL":"/jp/furniture/your-sofa-your-way/l1467","newWindow":false,"foregroundColour":"#000000","backgroundColour":"#ffffff","fontClass":"under-menu-banner-C1","restrictions":{"menuIds":[3,41],"siteSectionIds":null,"pageIds":null}}]},{"id":14,"name":"Three","banners":[{"bannerId":4114,"name":"Blog 14 (Inspiration)","version":4,"sortOrder":1,"overlayText":"","altText":null,"titleText":null,"width":1024,"height":960,"linkURL":"/jp/dg-world/blog/l601","newWindow":false,"foregroundColour":"#000000","backgroundColour":"#ffffff","fontClass":null,"restrictions":{"menuIds":[12,66,106],"siteSectionIds":null,"pageIds":null}},{"bannerId":2187,"name":"Where To Buy GHP UK 14","version":5,"sortOrder":2,"overlayText":"","altText":null,"titleText":null,"width":1024,"height":1024,"linkURL":"/jp/marylebone-high-street-homestore/l1153","newWindow":false,"foregroundColour":"#000000","backgroundColour":"#ffffff","fontClass":"default-text-bold text-banner-center","restrictions":{"menuIds":[67,94,107,109],"siteSectionIds":null,"pageIds":null}},{"bannerId":1809,"name":"Royal Collection","version":11,"sortOrder":3,"overlayText":"","altText":"Royal Collection","titleText":"Royal Collection","width":1024,"height":394,"linkURL":"/jp/the-royal-collection/l1396","newWindow":false,"foregroundColour":"#000000","backgroundColour":"#ffffff","fontClass":"default-text","restrictions":{"menuIds":[45,72,91,108],"siteSectionIds":null,"pageIds":null}}]},{"id":15,"name":"Four","banners":[{"bannerId":4115,"name":"News & Events 15 (Inspiration)","version":5,"sortOrder":1,"overlayText":"","altText":null,"titleText":null,"width":1024,"height":960,"linkURL":"/jp/dg-world/news-and-events/l602","newWindow":false,"foregroundColour":"#000000","backgroundColour":"#ffffff","fontClass":null,"restrictions":{"menuIds":[12,66,106],"siteSectionIds":null,"pageIds":null}},{"bannerId":1988,"name":"Where To Buy GHP UK 15","version":12,"sortOrder":2,"overlayText":"","altText":null,"titleText":null,"width":1024,"height":1024,"linkURL":"/jp/l1635","newWindow":false,"foregroundColour":"#000000","backgroundColour":"#ffffff","fontClass":"default-text-bold text-banner-center","restrictions":{"menuIds":[67,94,107,109],"siteSectionIds":null,"pageIds":null}},{"bannerId":1805,"name":"William Yeoward","version":10,"sortOrder":3,"overlayText":"","altText":"William Yeoward","titleText":"William Yeoward","width":1024,"height":394,"linkURL":"/jp/william-yeoward/l1399","newWindow":false,"foregroundColour":"#000000","backgroundColour":"#ffffff","fontClass":"default-text","restrictions":{"menuIds":[11,45,72,91,108],"siteSectionIds":null,"pageIds":null}}]},{"id":16,"name":"Five","banners":[{"bannerId":7779,"name":"Brands English Heritage ","version":79,"sortOrder":1,"overlayText":"","altText":"English Heritage ","titleText":"English Heritage ","width":1024,"height":394,"linkURL":"/jp/english-heritage-by-designers-guild/l1852","newWindow":false,"foregroundColour":"#000000","backgroundColour":"#ffffff","fontClass":null,"restrictions":{"menuIds":[11,45,72,91,103,108],"siteSectionIds":null,"pageIds":null}},{"bannerId":4118,"name":"Social Media 16 (Inspiration)","version":7,"sortOrder":2,"overlayText":"","altText":null,"titleText":null,"width":1024,"height":960,"linkURL":null,"newWindow":false,"foregroundColour":"#000000","backgroundColour":"#ffffff","fontClass":null,"restrictions":{"menuIds":[12,66,106],"siteSectionIds":null,"pageIds":null}},{"bannerId":2189,"name":"Where To Buy GHP 16","version":12,"sortOrder":3,"overlayText":"","altText":null,"titleText":null,"width":1024,"height":958,"linkURL":"/jp/find-your-local-stockist/l500","newWindow":false,"foregroundColour":"#000000","backgroundColour":"#ffffff","fontClass":"default-text-bold text-banner-center","restrictions":{"menuIds":[67,94,107],"siteSectionIds":null,"pageIds":null}}]},{"id":17,"name":"Six","banners":[{"bannerId":8482,"name":"Flagship Stores GHP UK 17","version":6,"sortOrder":1,"overlayText":"","altText":null,"titleText":null,"width":1024,"height":1024,"linkURL":"/jp/flagship-store-events/l1827","newWindow":false,"foregroundColour":"#000000","backgroundColour":"#ffffff","fontClass":null,"restrictions":{"menuIds":[67,94,107,109],"siteSectionIds":null,"pageIds":null}},{"bannerId":4113,"name":"About Us 17 (Inspiration)","version":3,"sortOrder":2,"overlayText":"","altText":null,"titleText":null,"width":1024,"height":958,"linkURL":"/jp/company-profile/l1004","newWindow":false,"foregroundColour":"#000000","backgroundColour":"#ffffff","fontClass":null,"restrictions":{"menuIds":[12,66,106],"siteSectionIds":null,"pageIds":null}},{"bannerId":2117,"name":"John Derian","version":18,"sortOrder":3,"overlayText":"","altText":"John Derian","titleText":"John Derian","width":1024,"height":394,"linkURL":"/jp/john-derian/l1521","newWindow":false,"foregroundColour":"#000000","backgroundColour":"#ffffff","fontClass":"default-text","restrictions":{"menuIds":[45,72,91,108],"siteSectionIds":null,"pageIds":null}}]}],"Hotspots":[{"ImageID":94182,"Hotspots":[{"X":54.1716976306742,"x":"calc(54.1717% - 12.5px)","Y":12.2903719843314,"y":"calc(12.2904% - 12.5px)","OverlayPosition":"top-right","Product":{"Solitary":false,"ProductBase":{"x":54.171697630674252,"y":12.2903719843314,"product":{"productId":149609,"sortOrder":0,"productTypeId":18,"templateId":2,"code":"PCL7019/01","brand":"Christian Lacroix","gtin13":"5051001734284","name":"Babylonia Nights Soft Crepuscule","AKA":null,"size":null,"imageId":91899,"imageAltText":"Babylonia Nights Soft Crepuscule","imageTitleText":"Babylonia Nights Soft Crepuscule","rRPMessage":null,"rLRRP":null,"rLTradePrice":null,"displayPrice":null,"displaySalePrice":null,"priceMessage":null,"statusMessage":null,"urlSemantics":"wallpaper/christian-lacroix/babylonia-nights-soft-crepuscule-wallpaper","productPageId":25874,"url":"/jp/wallpaper/christian-lacroix/babylonia-nights-soft-crepuscule-wallpaper/p25874","itemAvailability":"LimitedAvailability","orderFormGroupId":null,"orderFormName":"Babylonia Nights Soft Crepuscule","attributes":null,"orderFormGroup":null,"orderFormProperties":[{"key":"Colour","value":"Crepuscule"},{"key":"Code","value":"PCL7019/01"}],"controls":{"allowOrder":false,"allowReserve":false,"allowReserveWithBatchSample":false,"allowSample":false,"allowLargeSample":false,"allowBackInStockReminder":false,"disableOrder":false,"disableSample":false},"stockMessage":{"productTypeID":18,"quantityMinimum":1.0,"quantityMaximum":0.0,"productTypeQuantityMaximum":null,"quantityIncrement":1.0,"reserveQuantityMaximum":0.0,"unit":" roll(s)","allowStockCheck":false,"pieceBreakdownMinimum":null,"pieceBreakdownMaximum":null,"allowBackInStockReminder":true,"freeStock":0.0,"nextPOFreeStock":142.0,"nextPODueDate":"2023-06-06","totalPOFreeStock":142.0,"basketQuantityThresholds":[{"minimum":0,"maximum":99999.99,"stockMessages":[{"stockMessage":" more due in (3-5 days)","class":"","stockBreakdownTab":1}]}]},"orderButtonText":"Add to Basket","reserveButtonText":"Reserve","reserveWithBatchSampleButtonText":"Reserve with Batch Sample","sample":{"productId":150216,"stockMessage":{"productTypeID":null,"quantityMinimum":1.0,"quantityMaximum":99.0,"productTypeQuantityMaximum":null,"quantityIncrement":1.0,"reserveQuantityMaximum":null,"unit":"","allowStockCheck":false,"pieceBreakdownMinimum":null,"pieceBreakdownMaximum":null,"allowBackInStockReminder":false,"freeStock":null,"nextPOFreeStock":null,"nextPODueDate":null,"totalPOFreeStock":null,"basketQuantityThresholds":[{"minimum":0,"maximum":99999.99,"stockMessages":[{"stockMessage":" more due in (1-2 weeks)","class":"","stockBreakdownTab":1}]}]},"orderButtonText":"Add to Basket","displayPrice":null,"displaySalePrice":null,"priceMessage":null},"largeSample":{"productId":151279,"stockMessage":{"productTypeID":null,"quantityMinimum":1.0,"quantityMaximum":99.0,"productTypeQuantityMaximum":null,"quantityIncrement":1.0,"reserveQuantityMaximum":null,"unit":"","allowStockCheck":false,"pieceBreakdownMinimum":null,"pieceBreakdownMaximum":null,"allowBackInStockReminder":false,"freeStock":null,"nextPOFreeStock":null,"nextPODueDate":null,"totalPOFreeStock":null,"basketQuantityThresholds":[{"minimum":0,"maximum":99999.99,"stockMessages":[{"stockMessage":" more due in (1-2 weeks)","class":"","stockBreakdownTab":1}]}]},"orderButtonText":"Add to Basket","displayPrice":null,"displaySalePrice":null,"priceMessage":null}}},"Product":{"productId":149609,"sortOrder":0,"productTypeId":18,"templateId":2,"code":"PCL7019/01","brand":"Christian Lacroix","gtin13":"5051001734284","name":"Babylonia Nights Soft Crepuscule","AKA":null,"size":null,"imageId":91899,"imageAltText":"Babylonia Nights Soft Crepuscule","imageTitleText":"Babylonia Nights Soft Crepuscule","rRPMessage":null,"rLRRP":null,"rLTradePrice":null,"displayPrice":null,"displaySalePrice":null,"priceMessage":null,"statusMessage":null,"urlSemantics":"wallpaper/christian-lacroix/babylonia-nights-soft-crepuscule-wallpaper","productPageId":25874,"url":"/jp/wallpaper/christian-lacroix/babylonia-nights-soft-crepuscule-wallpaper/p25874","itemAvailability":"LimitedAvailability","orderFormGroupId":null,"orderFormName":"Babylonia Nights Soft Crepuscule","attributes":null,"orderFormGroup":null,"orderFormProperties":[{"key":"Colour","value":"Crepuscule"},{"key":"Code","value":"PCL7019/01"}],"controls":{"allowOrder":false,"allowReserve":false,"allowReserveWithBatchSample":false,"allowSample":false,"allowLargeSample":false,"allowBackInStockReminder":false,"disableOrder":false,"disableSample":false},"stockMessage":{"productTypeID":18,"quantityMinimum":1.0,"quantityMaximum":0.0,"productTypeQuantityMaximum":null,"quantityIncrement":1.0,"reserveQuantityMaximum":0.0,"unit":" roll(s)","allowStockCheck":false,"pieceBreakdownMinimum":null,"pieceBreakdownMaximum":null,"allowBackInStockReminder":true,"freeStock":0.0,"nextPOFreeStock":142.0,"nextPODueDate":"2023-06-06","totalPOFreeStock":142.0,"basketQuantityThresholds":[{"minimum":0,"maximum":99999.99,"stockMessages":[{"stockMessage":" more due in (3-5 days)","class":"","stockBreakdownTab":1}]}]},"orderButtonText":"Add to Basket","reserveButtonText":"Reserve","reserveWithBatchSampleButtonText":"Reserve with Batch Sample","sample":{"productId":150216,"stockMessage":{"productTypeID":null,"quantityMinimum":1.0,"quantityMaximum":99.0,"productTypeQuantityMaximum":null,"quantityIncrement":1.0,"reserveQuantityMaximum":null,"unit":"","allowStockCheck":false,"pieceBreakdownMinimum":null,"pieceBreakdownMaximum":null,"allowBackInStockReminder":false,"freeStock":null,"nextPOFreeStock":null,"nextPODueDate":null,"totalPOFreeStock":null,"basketQuantityThresholds":[{"minimum":0,"maximum":99999.99,"stockMessages":[{"stockMessage":" more due in (1-2 weeks)","class":"","stockBreakdownTab":1}]}]},"orderButtonText":"Add to Basket","displayPrice":null,"displaySalePrice":null,"priceMessage":null},"largeSample":{"productId":151279,"stockMessage":{"productTypeID":null,"quantityMinimum":1.0,"quantityMaximum":99.0,"productTypeQuantityMaximum":null,"quantityIncrement":1.0,"reserveQuantityMaximum":null,"unit":"","allowStockCheck":false,"pieceBreakdownMinimum":null,"pieceBreakdownMaximum":null,"allowBackInStockReminder":false,"freeStock":null,"nextPOFreeStock":null,"nextPODueDate":null,"totalPOFreeStock":null,"basketQuantityThresholds":[{"minimum":0,"maximum":99999.99,"stockMessages":[{"stockMessage":" more due in (1-2 weeks)","class":"","stockBreakdownTab":1}]}]},"orderButtonText":"Add to Basket","displayPrice":null,"displaySalePrice":null,"priceMessage":null}},"Carousel":{"CarouselID":"#product-149609-carsouel","WrapperCSSClass":null,"AspectRatio":1.0,"Heading":"Babylonia Nights Soft Crepuscule","Images":[{"ImageID":91899,"SortOrder":0,"AltText":"Babylonia Nights Soft Crepuscule","Overlay":null,"MaxWidth":null,"ImageSize":1,"ForceLazyLoading":false}],"DisplayThumbnails":false,"DisplayDashes":true,"Interval":null,"PermitLargeImageModal":true},"ProductID":149609,"ProductTypeID":18,"ProductPageID":25874,"ProductCode":"PCL7019/01","Brand":"Christian Lacroix","OrderFormID":"#product-149609","OrderFormCarouselID":"#product-149609-slide","OrderFormGroupID":null,"OrderFormGroup":null,"Size":null,"OrderFormName":"Babylonia Nights Soft Crepuscule","BasketName":"Babylonia Nights Soft Crepuscule","SortOrder":0,"Attributes":null,"Image":{"imageId":91899,"templateImageId":2,"altText":"Babylonia Nights Soft Crepuscule","titleText":"Babylonia Nights Soft Crepuscule","sortOrder":0,"maxWidth":488},"OrderFormProperties":[{"Key":"Colour","Value":"Crepuscule"},{"Key":"Code","Value":"PCL7019/01"}],"AllowSample":false,"AllowLargeSample":false,"AllowOrder":false,"AllowReserve":false,"AllowReserveWithBatchCutting":false,"ClientProductViewModels":"","URLKeywords":"wallpaper/christian-lacroix/babylonia-nights-soft-crepuscule-wallpaper","ImageLinkToProductPage":true,"IsLifestyle":false,"IsHotspot":false}},{"X":57.5926431461469,"x":"calc(57.5926% - 12.5px)","Y":73.2794583965948,"y":"calc(73.2795% - 12.5px)","OverlayPosition":"top-right","Product":{"Solitary":false,"ProductBase":{"x":57.592643146146862,"y":73.279458396594791,"product":{"productId":149816,"sortOrder":0,"productTypeId":15,"templateId":2,"code":"FCL7035/02","brand":"Christian Lacroix","gtin13":null,"name":"Pergola Shades Soft - Coquelicot","AKA":null,"size":null,"imageId":92001,"imageAltText":"Pergola Shades Soft - Coquelicot","imageTitleText":"Pergola Shades Soft - Coquelicot","rRPMessage":null,"rLRRP":null,"rLTradePrice":null,"displayPrice":null,"displaySalePrice":null,"priceMessage":null,"statusMessage":null,"urlSemantics":"fabric/christian-lacroix/pergola-shades-soft-coquelicot-fabric","productPageId":25804,"url":"/jp/fabric/christian-lacroix/pergola-shades-soft-coquelicot-fabric/p25804","itemAvailability":"InStock","orderFormGroupId":null,"orderFormName":"Pergola Shades Soft - Coquelicot","attributes":null,"orderFormGroup":null,"orderFormProperties":[{"key":"Colour","value":"Coquelicot"},{"key":"Code","value":"FCL7035/02"}],"controls":{"allowOrder":false,"allowReserve":false,"allowReserveWithBatchSample":false,"allowSample":false,"allowLargeSample":false,"allowBackInStockReminder":false,"disableOrder":false,"disableSample":false},"stockMessage":{"productTypeID":15,"quantityMinimum":1.0,"quantityMaximum":0.0,"productTypeQuantityMaximum":null,"quantityIncrement":0.1,"reserveQuantityMaximum":50.0,"unit":"m","allowStockCheck":false,"pieceBreakdownMinimum":1.0,"pieceBreakdownMaximum":50.0,"allowBackInStockReminder":false,"freeStock":126.1,"nextPOFreeStock":0.0,"nextPODueDate":null,"totalPOFreeStock":0.0,"basketQuantityThresholds":[{"minimum":0,"maximum":99999.99}]},"orderButtonText":"Add to Basket","reserveButtonText":"Reserve","reserveWithBatchSampleButtonText":"Reserve with Batch Sample","sample":{"productId":149896,"stockMessage":{"productTypeID":null,"quantityMinimum":1.0,"quantityMaximum":99.0,"productTypeQuantityMaximum":null,"quantityIncrement":1.0,"reserveQuantityMaximum":null,"unit":"","allowStockCheck":false,"pieceBreakdownMinimum":null,"pieceBreakdownMaximum":null,"allowBackInStockReminder":false,"freeStock":null,"nextPOFreeStock":null,"nextPODueDate":null,"totalPOFreeStock":null,"basketQuantityThresholds":[{"minimum":0,"maximum":99999.99,"stockMessages":[{"stockMessage":" more due in (1-2 weeks)","class":"","stockBreakdownTab":1}]}]},"orderButtonText":"Add to Basket","displayPrice":null,"displaySalePrice":null,"priceMessage":null},"largeSample":{"productId":149984,"stockMessage":{"productTypeID":null,"quantityMinimum":1.0,"quantityMaximum":99.0,"productTypeQuantityMaximum":null,"quantityIncrement":1.0,"reserveQuantityMaximum":null,"unit":"","allowStockCheck":false,"pieceBreakdownMinimum":null,"pieceBreakdownMaximum":null,"allowBackInStockReminder":false,"freeStock":null,"nextPOFreeStock":null,"nextPODueDate":null,"totalPOFreeStock":null,"basketQuantityThresholds":[{"minimum":0,"maximum":99999.99,"stockMessages":[{"stockMessage":" more due in (1-2 weeks)","class":"","stockBreakdownTab":1}]}]},"orderButtonText":"Add to Basket","displayPrice":null,"displaySalePrice":null,"priceMessage":null}}},"Product":{"productId":149816,"sortOrder":0,"productTypeId":15,"templateId":2,"code":"FCL7035/02","brand":"Christian Lacroix","gtin13":null,"name":"Pergola Shades Soft - Coquelicot","AKA":null,"size":null,"imageId":92001,"imageAltText":"Pergola Shades Soft - Coquelicot","imageTitleText":"Pergola Shades Soft - Coquelicot","rRPMessage":null,"rLRRP":null,"rLTradePrice":null,"displayPrice":null,"displaySalePrice":null,"priceMessage":null,"statusMessage":null,"urlSemantics":"fabric/christian-lacroix/pergola-shades-soft-coquelicot-fabric","productPageId":25804,"url":"/jp/fabric/christian-lacroix/pergola-shades-soft-coquelicot-fabric/p25804","itemAvailability":"InStock","orderFormGroupId":null,"orderFormName":"Pergola Shades Soft - Coquelicot","attributes":null,"orderFormGroup":null,"orderFormProperties":[{"key":"Colour","value":"Coquelicot"},{"key":"Code","value":"FCL7035/02"}],"controls":{"allowOrder":false,"allowReserve":false,"allowReserveWithBatchSample":false,"allowSample":false,"allowLargeSample":false,"allowBackInStockReminder":false,"disableOrder":false,"disableSample":false},"stockMessage":{"productTypeID":15,"quantityMinimum":1.0,"quantityMaximum":0.0,"productTypeQuantityMaximum":null,"quantityIncrement":0.1,"reserveQuantityMaximum":50.0,"unit":"m","allowStockCheck":false,"pieceBreakdownMinimum":1.0,"pieceBreakdownMaximum":50.0,"allowBackInStockReminder":false,"freeStock":126.1,"nextPOFreeStock":0.0,"nextPODueDate":null,"totalPOFreeStock":0.0,"basketQuantityThresholds":[{"minimum":0,"maximum":99999.99}]},"orderButtonText":"Add to Basket","reserveButtonText":"Reserve","reserveWithBatchSampleButtonText":"Reserve with Batch Sample","sample":{"productId":149896,"stockMessage":{"productTypeID":null,"quantityMinimum":1.0,"quantityMaximum":99.0,"productTypeQuantityMaximum":null,"quantityIncrement":1.0,"reserveQuantityMaximum":null,"unit":"","allowStockCheck":false,"pieceBreakdownMinimum":null,"pieceBreakdownMaximum":null,"allowBackInStockReminder":false,"freeStock":null,"nextPOFreeStock":null,"nextPODueDate":null,"totalPOFreeStock":null,"basketQuantityThresholds":[{"minimum":0,"maximum":99999.99,"stockMessages":[{"stockMessage":" more due in (1-2 weeks)","class":"","stockBreakdownTab":1}]}]},"orderButtonText":"Add to Basket","displayPrice":null,"displaySalePrice":null,"priceMessage":null},"largeSample":{"productId":149984,"stockMessage":{"productTypeID":null,"quantityMinimum":1.0,"quantityMaximum":99.0,"productTypeQuantityMaximum":null,"quantityIncrement":1.0,"reserveQuantityMaximum":null,"unit":"","allowStockCheck":false,"pieceBreakdownMinimum":null,"pieceBreakdownMaximum":null,"allowBackInStockReminder":false,"freeStock":null,"nextPOFreeStock":null,"nextPODueDate":null,"totalPOFreeStock":null,"basketQuantityThresholds":[{"minimum":0,"maximum":99999.99,"stockMessages":[{"stockMessage":" more due in (1-2 weeks)","class":"","stockBreakdownTab":1}]}]},"orderButtonText":"Add to Basket","displayPrice":null,"displaySalePrice":null,"priceMessage":null}},"Carousel":{"CarouselID":"#product-149816-carsouel","WrapperCSSClass":null,"AspectRatio":1.0,"Heading":"Pergola Shades Soft - Coquelicot","Images":[{"ImageID":92001,"SortOrder":0,"AltText":"Pergola Shades Soft - Coquelicot","Overlay":null,"MaxWidth":null,"ImageSize":1,"ForceLazyLoading":false}],"DisplayThumbnails":false,"DisplayDashes":true,"Interval":null,"PermitLargeImageModal":true},"ProductID":149816,"ProductTypeID":15,"ProductPageID":25804,"ProductCode":"FCL7035/02","Brand":"Christian Lacroix","OrderFormID":"#product-149816","OrderFormCarouselID":"#product-149816-slide","OrderFormGroupID":null,"OrderFormGroup":null,"Size":null,"OrderFormName":"Pergola Shades Soft - Coquelicot","BasketName":"Pergola Shades Soft - Coquelicot","SortOrder":0,"Attributes":null,"Image":{"imageId":92001,"templateImageId":2,"altText":"Pergola Shades Soft - Coquelicot","titleText":"Pergola Shades Soft - Coquelicot","sortOrder":0,"maxWidth":488},"OrderFormProperties":[{"Key":"Colour","Value":"Coquelicot"},{"Key":"Code","Value":"FCL7035/02"}],"AllowSample":false,"AllowLargeSample":false,"AllowOrder":false,"AllowReserve":false,"AllowReserveWithBatchCutting":false,"ClientProductViewModels":"","URLKeywords":"fabric/christian-lacroix/pergola-shades-soft-coquelicot-fabric","ImageLinkToProductPage":true,"IsLifestyle":false,"IsHotspot":false}}]},{"ImageID":94184,"Hotspots":[{"X":12.2245708678046,"x":"calc(12.2246% - 12.5px)","Y":58.1752030278595,"y":"calc(58.1752% - 12.5px)","OverlayPosition":"top-left","Product":{"Solitary":false,"ProductBase":{"x":12.224570867804649,"y":58.175203027859538,"product":{"productId":149816,"sortOrder":0,"productTypeId":15,"templateId":2,"code":"FCL7035/02","brand":"Christian Lacroix","gtin13":null,"name":"Pergola Shades Soft - Coquelicot","AKA":null,"size":null,"imageId":92001,"imageAltText":"Pergola Shades Soft - Coquelicot","imageTitleText":"Pergola Shades Soft - Coquelicot","rRPMessage":null,"rLRRP":null,"rLTradePrice":null,"displayPrice":null,"displaySalePrice":null,"priceMessage":null,"statusMessage":null,"urlSemantics":"fabric/christian-lacroix/pergola-shades-soft-coquelicot-fabric","productPageId":25804,"url":"/jp/fabric/christian-lacroix/pergola-shades-soft-coquelicot-fabric/p25804","itemAvailability":"InStock","orderFormGroupId":null,"orderFormName":"Pergola Shades Soft - Coquelicot","attributes":null,"orderFormGroup":null,"orderFormProperties":[{"key":"Colour","value":"Coquelicot"},{"key":"Code","value":"FCL7035/02"}],"controls":{"allowOrder":false,"allowReserve":false,"allowReserveWithBatchSample":false,"allowSample":false,"allowLargeSample":false,"allowBackInStockReminder":false,"disableOrder":false,"disableSample":false},"stockMessage":{"productTypeID":15,"quantityMinimum":1.0,"quantityMaximum":0.0,"productTypeQuantityMaximum":null,"quantityIncrement":0.1,"reserveQuantityMaximum":50.0,"unit":"m","allowStockCheck":false,"pieceBreakdownMinimum":1.0,"pieceBreakdownMaximum":50.0,"allowBackInStockReminder":false,"freeStock":126.1,"nextPOFreeStock":0.0,"nextPODueDate":null,"totalPOFreeStock":0.0,"basketQuantityThresholds":[{"minimum":0,"maximum":99999.99}]},"orderButtonText":"Add to Basket","reserveButtonText":"Reserve","reserveWithBatchSampleButtonText":"Reserve with Batch Sample","sample":{"productId":149896,"stockMessage":{"productTypeID":null,"quantityMinimum":1.0,"quantityMaximum":99.0,"productTypeQuantityMaximum":null,"quantityIncrement":1.0,"reserveQuantityMaximum":null,"unit":"","allowStockCheck":false,"pieceBreakdownMinimum":null,"pieceBreakdownMaximum":null,"allowBackInStockReminder":false,"freeStock":null,"nextPOFreeStock":null,"nextPODueDate":null,"totalPOFreeStock":null,"basketQuantityThresholds":[{"minimum":0,"maximum":99999.99,"stockMessages":[{"stockMessage":" more due in (1-2 weeks)","class":"","stockBreakdownTab":1}]}]},"orderButtonText":"Add to Basket","displayPrice":null,"displaySalePrice":null,"priceMessage":null},"largeSample":{"productId":149984,"stockMessage":{"productTypeID":null,"quantityMinimum":1.0,"quantityMaximum":99.0,"productTypeQuantityMaximum":null,"quantityIncrement":1.0,"reserveQuantityMaximum":null,"unit":"","allowStockCheck":false,"pieceBreakdownMinimum":null,"pieceBreakdownMaximum":null,"allowBackInStockReminder":false,"freeStock":null,"nextPOFreeStock":null,"nextPODueDate":null,"totalPOFreeStock":null,"basketQuantityThresholds":[{"minimum":0,"maximum":99999.99,"stockMessages":[{"stockMessage":" more due in (1-2 weeks)","class":"","stockBreakdownTab":1}]}]},"orderButtonText":"Add to Basket","displayPrice":null,"displaySalePrice":null,"priceMessage":null}}},"Product":{"productId":149816,"sortOrder":0,"productTypeId":15,"templateId":2,"code":"FCL7035/02","brand":"Christian Lacroix","gtin13":null,"name":"Pergola Shades Soft - Coquelicot","AKA":null,"size":null,"imageId":92001,"imageAltText":"Pergola Shades Soft - Coquelicot","imageTitleText":"Pergola Shades Soft - Coquelicot","rRPMessage":null,"rLRRP":null,"rLTradePrice":null,"displayPrice":null,"displaySalePrice":null,"priceMessage":null,"statusMessage":null,"urlSemantics":"fabric/christian-lacroix/pergola-shades-soft-coquelicot-fabric","productPageId":25804,"url":"/jp/fabric/christian-lacroix/pergola-shades-soft-coquelicot-fabric/p25804","itemAvailability":"InStock","orderFormGroupId":null,"orderFormName":"Pergola Shades Soft - Coquelicot","attributes":null,"orderFormGroup":null,"orderFormProperties":[{"key":"Colour","value":"Coquelicot"},{"key":"Code","value":"FCL7035/02"}],"controls":{"allowOrder":false,"allowReserve":false,"allowReserveWithBatchSample":false,"allowSample":false,"allowLargeSample":false,"allowBackInStockReminder":false,"disableOrder":false,"disableSample":false},"stockMessage":{"productTypeID":15,"quantityMinimum":1.0,"quantityMaximum":0.0,"productTypeQuantityMaximum":null,"quantityIncrement":0.1,"reserveQuantityMaximum":50.0,"unit":"m","allowStockCheck":false,"pieceBreakdownMinimum":1.0,"pieceBreakdownMaximum":50.0,"allowBackInStockReminder":false,"freeStock":126.1,"nextPOFreeStock":0.0,"nextPODueDate":null,"totalPOFreeStock":0.0,"basketQuantityThresholds":[{"minimum":0,"maximum":99999.99}]},"orderButtonText":"Add to Basket","reserveButtonText":"Reserve","reserveWithBatchSampleButtonText":"Reserve with Batch Sample","sample":{"productId":149896,"stockMessage":{"productTypeID":null,"quantityMinimum":1.0,"quantityMaximum":99.0,"productTypeQuantityMaximum":null,"quantityIncrement":1.0,"reserveQuantityMaximum":null,"unit":"","allowStockCheck":false,"pieceBreakdownMinimum":null,"pieceBreakdownMaximum":null,"allowBackInStockReminder":false,"freeStock":null,"nextPOFreeStock":null,"nextPODueDate":null,"totalPOFreeStock":null,"basketQuantityThresholds":[{"minimum":0,"maximum":99999.99,"stockMessages":[{"stockMessage":" more due in (1-2 weeks)","class":"","stockBreakdownTab":1}]}]},"orderButtonText":"Add to Basket","displayPrice":null,"displaySalePrice":null,"priceMessage":null},"largeSample":{"productId":149984,"stockMessage":{"productTypeID":null,"quantityMinimum":1.0,"quantityMaximum":99.0,"productTypeQuantityMaximum":null,"quantityIncrement":1.0,"reserveQuantityMaximum":null,"unit":"","allowStockCheck":false,"pieceBreakdownMinimum":null,"pieceBreakdownMaximum":null,"allowBackInStockReminder":false,"freeStock":null,"nextPOFreeStock":null,"nextPODueDate":null,"totalPOFreeStock":null,"basketQuantityThresholds":[{"minimum":0,"maximum":99999.99,"stockMessages":[{"stockMessage":" more due in (1-2 weeks)","class":"","stockBreakdownTab":1}]}]},"orderButtonText":"Add to Basket","displayPrice":null,"displaySalePrice":null,"priceMessage":null}},"Carousel":{"CarouselID":"#product-149816-carsouel","WrapperCSSClass":null,"AspectRatio":1.0,"Heading":"Pergola Shades Soft - Coquelicot","Images":[{"ImageID":92001,"SortOrder":0,"AltText":"Pergola Shades Soft - Coquelicot","Overlay":null,"MaxWidth":null,"ImageSize":1,"ForceLazyLoading":false}],"DisplayThumbnails":false,"DisplayDashes":true,"Interval":null,"PermitLargeImageModal":true},"ProductID":149816,"ProductTypeID":15,"ProductPageID":25804,"ProductCode":"FCL7035/02","Brand":"Christian Lacroix","OrderFormID":"#product-149816","OrderFormCarouselID":"#product-149816-slide","OrderFormGroupID":null,"OrderFormGroup":null,"Size":null,"OrderFormName":"Pergola Shades Soft - Coquelicot","BasketName":"Pergola Shades Soft - Coquelicot","SortOrder":0,"Attributes":null,"Image":{"imageId":92001,"templateImageId":2,"altText":"Pergola Shades Soft - Coquelicot","titleText":"Pergola Shades Soft - Coquelicot","sortOrder":0,"maxWidth":488},"OrderFormProperties":[{"Key":"Colour","Value":"Coquelicot"},{"Key":"Code","Value":"FCL7035/02"}],"AllowSample":false,"AllowLargeSample":false,"AllowOrder":false,"AllowReserve":false,"AllowReserveWithBatchCutting":false,"ClientProductViewModels":"","URLKeywords":"fabric/christian-lacroix/pergola-shades-soft-coquelicot-fabric","ImageLinkToProductPage":true,"IsLifestyle":false,"IsHotspot":false}},{"X":28.3102092943179,"x":"calc(28.3102% - 12.5px)","Y":26.423795189656,"y":"calc(26.4238% - 12.5px)","OverlayPosition":"top-left","Product":{"Solitary":false,"ProductBase":{"x":28.310209294317929,"y":26.423795189656,"product":{"productId":149609,"sortOrder":0,"productTypeId":18,"templateId":2,"code":"PCL7019/01","brand":"Christian Lacroix","gtin13":"5051001734284","name":"Babylonia Nights Soft Crepuscule","AKA":null,"size":null,"imageId":91899,"imageAltText":"Babylonia Nights Soft Crepuscule","imageTitleText":"Babylonia Nights Soft Crepuscule","rRPMessage":null,"rLRRP":null,"rLTradePrice":null,"displayPrice":null,"displaySalePrice":null,"priceMessage":null,"statusMessage":null,"urlSemantics":"wallpaper/christian-lacroix/babylonia-nights-soft-crepuscule-wallpaper","productPageId":25874,"url":"/jp/wallpaper/christian-lacroix/babylonia-nights-soft-crepuscule-wallpaper/p25874","itemAvailability":"LimitedAvailability","orderFormGroupId":null,"orderFormName":"Babylonia Nights Soft Crepuscule","attributes":null,"orderFormGroup":null,"orderFormProperties":[{"key":"Colour","value":"Crepuscule"},{"key":"Code","value":"PCL7019/01"}],"controls":{"allowOrder":false,"allowReserve":false,"allowReserveWithBatchSample":false,"allowSample":false,"allowLargeSample":false,"allowBackInStockReminder":false,"disableOrder":false,"disableSample":false},"stockMessage":{"productTypeID":18,"quantityMinimum":1.0,"quantityMaximum":0.0,"productTypeQuantityMaximum":null,"quantityIncrement":1.0,"reserveQuantityMaximum":0.0,"unit":" roll(s)","allowStockCheck":false,"pieceBreakdownMinimum":null,"pieceBreakdownMaximum":null,"allowBackInStockReminder":true,"freeStock":0.0,"nextPOFreeStock":142.0,"nextPODueDate":"2023-06-06","totalPOFreeStock":142.0,"basketQuantityThresholds":[{"minimum":0,"maximum":99999.99,"stockMessages":[{"stockMessage":" more due in (3-5 days)","class":"","stockBreakdownTab":1}]}]},"orderButtonText":"Add to Basket","reserveButtonText":"Reserve","reserveWithBatchSampleButtonText":"Reserve with Batch Sample","sample":{"productId":150216,"stockMessage":{"productTypeID":null,"quantityMinimum":1.0,"quantityMaximum":99.0,"productTypeQuantityMaximum":null,"quantityIncrement":1.0,"reserveQuantityMaximum":null,"unit":"","allowStockCheck":false,"pieceBreakdownMinimum":null,"pieceBreakdownMaximum":null,"allowBackInStockReminder":false,"freeStock":null,"nextPOFreeStock":null,"nextPODueDate":null,"totalPOFreeStock":null,"basketQuantityThresholds":[{"minimum":0,"maximum":99999.99,"stockMessages":[{"stockMessage":" more due in (1-2 weeks)","class":"","stockBreakdownTab":1}]}]},"orderButtonText":"Add to Basket","displayPrice":null,"displaySalePrice":null,"priceMessage":null},"largeSample":{"productId":151279,"stockMessage":{"productTypeID":null,"quantityMinimum":1.0,"quantityMaximum":99.0,"productTypeQuantityMaximum":null,"quantityIncrement":1.0,"reserveQuantityMaximum":null,"unit":"","allowStockCheck":false,"pieceBreakdownMinimum":null,"pieceBreakdownMaximum":null,"allowBackInStockReminder":false,"freeStock":null,"nextPOFreeStock":null,"nextPODueDate":null,"totalPOFreeStock":null,"basketQuantityThresholds":[{"minimum":0,"maximum":99999.99,"stockMessages":[{"stockMessage":" more due in (1-2 weeks)","class":"","stockBreakdownTab":1}]}]},"orderButtonText":"Add to Basket","displayPrice":null,"displaySalePrice":null,"priceMessage":null}}},"Product":{"productId":149609,"sortOrder":0,"productTypeId":18,"templateId":2,"code":"PCL7019/01","brand":"Christian Lacroix","gtin13":"5051001734284","name":"Babylonia Nights Soft Crepuscule","AKA":null,"size":null,"imageId":91899,"imageAltText":"Babylonia Nights Soft Crepuscule","imageTitleText":"Babylonia Nights Soft Crepuscule","rRPMessage":null,"rLRRP":null,"rLTradePrice":null,"displayPrice":null,"displaySalePrice":null,"priceMessage":null,"statusMessage":null,"urlSemantics":"wallpaper/christian-lacroix/babylonia-nights-soft-crepuscule-wallpaper","productPageId":25874,"url":"/jp/wallpaper/christian-lacroix/babylonia-nights-soft-crepuscule-wallpaper/p25874","itemAvailability":"LimitedAvailability","orderFormGroupId":null,"orderFormName":"Babylonia Nights Soft Crepuscule","attributes":null,"orderFormGroup":null,"orderFormProperties":[{"key":"Colour","value":"Crepuscule"},{"key":"Code","value":"PCL7019/01"}],"controls":{"allowOrder":false,"allowReserve":false,"allowReserveWithBatchSample":false,"allowSample":false,"allowLargeSample":false,"allowBackInStockReminder":false,"disableOrder":false,"disableSample":false},"stockMessage":{"productTypeID":18,"quantityMinimum":1.0,"quantityMaximum":0.0,"productTypeQuantityMaximum":null,"quantityIncrement":1.0,"reserveQuantityMaximum":0.0,"unit":" roll(s)","allowStockCheck":false,"pieceBreakdownMinimum":null,"pieceBreakdownMaximum":null,"allowBackInStockReminder":true,"freeStock":0.0,"nextPOFreeStock":142.0,"nextPODueDate":"2023-06-06","totalPOFreeStock":142.0,"basketQuantityThresholds":[{"minimum":0,"maximum":99999.99,"stockMessages":[{"stockMessage":" more due in (3-5 days)","class":"","stockBreakdownTab":1}]}]},"orderButtonText":"Add to Basket","reserveButtonText":"Reserve","reserveWithBatchSampleButtonText":"Reserve with Batch Sample","sample":{"productId":150216,"stockMessage":{"productTypeID":null,"quantityMinimum":1.0,"quantityMaximum":99.0,"productTypeQuantityMaximum":null,"quantityIncrement":1.0,"reserveQuantityMaximum":null,"unit":"","allowStockCheck":false,"pieceBreakdownMinimum":null,"pieceBreakdownMaximum":null,"allowBackInStockReminder":false,"freeStock":null,"nextPOFreeStock":null,"nextPODueDate":null,"totalPOFreeStock":null,"basketQuantityThresholds":[{"minimum":0,"maximum":99999.99,"stockMessages":[{"stockMessage":" more due in (1-2 weeks)","class":"","stockBreakdownTab":1}]}]},"orderButtonText":"Add to Basket","displayPrice":null,"displaySalePrice":null,"priceMessage":null},"largeSample":{"productId":151279,"stockMessage":{"productTypeID":null,"quantityMinimum":1.0,"quantityMaximum":99.0,"productTypeQuantityMaximum":null,"quantityIncrement":1.0,"reserveQuantityMaximum":null,"unit":"","allowStockCheck":false,"pieceBreakdownMinimum":null,"pieceBreakdownMaximum":null,"allowBackInStockReminder":false,"freeStock":null,"nextPOFreeStock":null,"nextPODueDate":null,"totalPOFreeStock":null,"basketQuantityThresholds":[{"minimum":0,"maximum":99999.99,"stockMessages":[{"stockMessage":" more due in (1-2 weeks)","class":"","stockBreakdownTab":1}]}]},"orderButtonText":"Add to Basket","displayPrice":null,"displaySalePrice":null,"priceMessage":null}},"Carousel":{"CarouselID":"#product-149609-carsouel","WrapperCSSClass":null,"AspectRatio":1.0,"Heading":"Babylonia Nights Soft Crepuscule","Images":[{"ImageID":91899,"SortOrder":0,"AltText":"Babylonia Nights Soft Crepuscule","Overlay":null,"MaxWidth":null,"ImageSize":1,"ForceLazyLoading":false}],"DisplayThumbnails":false,"DisplayDashes":true,"Interval":null,"PermitLargeImageModal":true},"ProductID":149609,"ProductTypeID":18,"ProductPageID":25874,"ProductCode":"PCL7019/01","Brand":"Christian Lacroix","OrderFormID":"#product-149609","OrderFormCarouselID":"#product-149609-slide","OrderFormGroupID":null,"OrderFormGroup":null,"Size":null,"OrderFormName":"Babylonia Nights Soft Crepuscule","BasketName":"Babylonia Nights Soft Crepuscule","SortOrder":0,"Attributes":null,"Image":{"imageId":91899,"templateImageId":2,"altText":"Babylonia Nights Soft Crepuscule","titleText":"Babylonia Nights Soft Crepuscule","sortOrder":0,"maxWidth":488},"OrderFormProperties":[{"Key":"Colour","Value":"Crepuscule"},{"Key":"Code","Value":"PCL7019/01"}],"AllowSample":false,"AllowLargeSample":false,"AllowOrder":false,"AllowReserve":false,"AllowReserveWithBatchCutting":false,"ClientProductViewModels":"","URLKeywords":"wallpaper/christian-lacroix/babylonia-nights-soft-crepuscule-wallpaper","ImageLinkToProductPage":true,"IsLifestyle":false,"IsHotspot":false}},{"X":55.8927636570265,"x":"calc(55.8928% - 12.5px)","Y":87.3040819839692,"y":"calc(87.3041% - 12.5px)","OverlayPosition":"top-right","Product":{"Solitary":false,"ProductBase":{"x":55.8927636570265,"y":87.30408198396924,"product":{"productId":149810,"sortOrder":0,"productTypeId":15,"templateId":2,"code":"FCL7034/01","brand":"Christian Lacroix","gtin13":null,"name":"Babylonia Nights Soft - Crepuscule","AKA":null,"size":null,"imageId":90438,"imageAltText":"Babylonia Nights Soft - Crepuscule","imageTitleText":"Babylonia Nights Soft - Crepuscule","rRPMessage":null,"rLRRP":null,"rLTradePrice":null,"displayPrice":null,"displaySalePrice":null,"priceMessage":null,"statusMessage":null,"urlSemantics":"fabric/christian-lacroix/babylonia-nights-soft-crepuscule-fabric","productPageId":25912,"url":"/jp/fabric/christian-lacroix/babylonia-nights-soft-crepuscule-fabric/p25912","itemAvailability":"InStock","orderFormGroupId":null,"orderFormName":"Babylonia Nights Soft - Crepuscule","attributes":null,"orderFormGroup":null,"orderFormProperties":[{"key":"Colour","value":"Crepuscule"},{"key":"Code","value":"FCL7034/01"}],"controls":{"allowOrder":false,"allowReserve":false,"allowReserveWithBatchSample":false,"allowSample":false,"allowLargeSample":false,"allowBackInStockReminder":false,"disableOrder":false,"disableSample":false},"stockMessage":{"productTypeID":15,"quantityMinimum":1.0,"quantityMaximum":0.0,"productTypeQuantityMaximum":null,"quantityIncrement":0.1,"reserveQuantityMaximum":50.0,"unit":"m","allowStockCheck":false,"pieceBreakdownMinimum":1.0,"pieceBreakdownMaximum":50.0,"allowBackInStockReminder":false,"freeStock":179.1,"nextPOFreeStock":0.0,"nextPODueDate":null,"totalPOFreeStock":0.0,"basketQuantityThresholds":[{"minimum":0,"maximum":99999.99}]},"orderButtonText":"Add to Basket","reserveButtonText":"Reserve","reserveWithBatchSampleButtonText":"Reserve with Batch Sample","sample":{"productId":149824,"stockMessage":{"productTypeID":null,"quantityMinimum":1.0,"quantityMaximum":99.0,"productTypeQuantityMaximum":null,"quantityIncrement":1.0,"reserveQuantityMaximum":null,"unit":"","allowStockCheck":false,"pieceBreakdownMinimum":null,"pieceBreakdownMaximum":null,"allowBackInStockReminder":false,"freeStock":null,"nextPOFreeStock":null,"nextPODueDate":null,"totalPOFreeStock":null,"basketQuantityThresholds":[{"minimum":0,"maximum":99999.99,"stockMessages":[{"stockMessage":" more due in (1-2 weeks)","class":"","stockBreakdownTab":1}]}]},"orderButtonText":"Add to Basket","displayPrice":null,"displaySalePrice":null,"priceMessage":null},"largeSample":{"productId":149912,"stockMessage":{"productTypeID":null,"quantityMinimum":1.0,"quantityMaximum":99.0,"productTypeQuantityMaximum":null,"quantityIncrement":1.0,"reserveQuantityMaximum":null,"unit":"","allowStockCheck":false,"pieceBreakdownMinimum":null,"pieceBreakdownMaximum":null,"allowBackInStockReminder":false,"freeStock":null,"nextPOFreeStock":null,"nextPODueDate":null,"totalPOFreeStock":null,"basketQuantityThresholds":[{"minimum":0,"maximum":99999.99,"stockMessages":[{"stockMessage":" more due in (1-2 weeks)","class":"","stockBreakdownTab":1}]}]},"orderButtonText":"Add to Basket","displayPrice":null,"displaySalePrice":null,"priceMessage":null}}},"Product":{"productId":149810,"sortOrder":0,"productTypeId":15,"templateId":2,"code":"FCL7034/01","brand":"Christian Lacroix","gtin13":null,"name":"Babylonia Nights Soft - Crepuscule","AKA":null,"size":null,"imageId":90438,"imageAltText":"Babylonia Nights Soft - Crepuscule","imageTitleText":"Babylonia Nights Soft - Crepuscule","rRPMessage":null,"rLRRP":null,"rLTradePrice":null,"displayPrice":null,"displaySalePrice":null,"priceMessage":null,"statusMessage":null,"urlSemantics":"fabric/christian-lacroix/babylonia-nights-soft-crepuscule-fabric","productPageId":25912,"url":"/jp/fabric/christian-lacroix/babylonia-nights-soft-crepuscule-fabric/p25912","itemAvailability":"InStock","orderFormGroupId":null,"orderFormName":"Babylonia Nights Soft - Crepuscule","attributes":null,"orderFormGroup":null,"orderFormProperties":[{"key":"Colour","value":"Crepuscule"},{"key":"Code","value":"FCL7034/01"}],"controls":{"allowOrder":false,"allowReserve":false,"allowReserveWithBatchSample":false,"allowSample":false,"allowLargeSample":false,"allowBackInStockReminder":false,"disableOrder":false,"disableSample":false},"stockMessage":{"productTypeID":15,"quantityMinimum":1.0,"quantityMaximum":0.0,"productTypeQuantityMaximum":null,"quantityIncrement":0.1,"reserveQuantityMaximum":50.0,"unit":"m","allowStockCheck":false,"pieceBreakdownMinimum":1.0,"pieceBreakdownMaximum":50.0,"allowBackInStockReminder":false,"freeStock":179.1,"nextPOFreeStock":0.0,"nextPODueDate":null,"totalPOFreeStock":0.0,"basketQuantityThresholds":[{"minimum":0,"maximum":99999.99}]},"orderButtonText":"Add to Basket","reserveButtonText":"Reserve","reserveWithBatchSampleButtonText":"Reserve with Batch Sample","sample":{"productId":149824,"stockMessage":{"productTypeID":null,"quantityMinimum":1.0,"quantityMaximum":99.0,"productTypeQuantityMaximum":null,"quantityIncrement":1.0,"reserveQuantityMaximum":null,"unit":"","allowStockCheck":false,"pieceBreakdownMinimum":null,"pieceBreakdownMaximum":null,"allowBackInStockReminder":false,"freeStock":null,"nextPOFreeStock":null,"nextPODueDate":null,"totalPOFreeStock":null,"basketQuantityThresholds":[{"minimum":0,"maximum":99999.99,"stockMessages":[{"stockMessage":" more due in (1-2 weeks)","class":"","stockBreakdownTab":1}]}]},"orderButtonText":"Add to Basket","displayPrice":null,"displaySalePrice":null,"priceMessage":null},"largeSample":{"productId":149912,"stockMessage":{"productTypeID":null,"quantityMinimum":1.0,"quantityMaximum":99.0,"productTypeQuantityMaximum":null,"quantityIncrement":1.0,"reserveQuantityMaximum":null,"unit":"","allowStockCheck":false,"pieceBreakdownMinimum":null,"pieceBreakdownMaximum":null,"allowBackInStockReminder":false,"freeStock":null,"nextPOFreeStock":null,"nextPODueDate":null,"totalPOFreeStock":null,"basketQuantityThresholds":[{"minimum":0,"maximum":99999.99,"stockMessages":[{"stockMessage":" more due in (1-2 weeks)","class":"","stockBreakdownTab":1}]}]},"orderButtonText":"Add to Basket","displayPrice":null,"displaySalePrice":null,"priceMessage":null}},"Carousel":{"CarouselID":"#product-149810-carsouel","WrapperCSSClass":null,"AspectRatio":1.0,"Heading":"Babylonia Nights Soft - Crepuscule","Images":[{"ImageID":90438,"SortOrder":0,"AltText":"Babylonia Nights Soft - Crepuscule","Overlay":null,"MaxWidth":null,"ImageSize":1,"ForceLazyLoading":false}],"DisplayThumbnails":false,"DisplayDashes":true,"Interval":null,"PermitLargeImageModal":true},"ProductID":149810,"ProductTypeID":15,"ProductPageID":25912,"ProductCode":"FCL7034/01","Brand":"Christian Lacroix","OrderFormID":"#product-149810","OrderFormCarouselID":"#product-149810-slide","OrderFormGroupID":null,"OrderFormGroup":null,"Size":null,"OrderFormName":"Babylonia Nights Soft - Crepuscule","BasketName":"Babylonia Nights Soft - Crepuscule","SortOrder":0,"Attributes":null,"Image":{"imageId":90438,"templateImageId":2,"altText":"Babylonia Nights Soft - Crepuscule","titleText":"Babylonia Nights Soft - Crepuscule","sortOrder":0,"maxWidth":488},"OrderFormProperties":[{"Key":"Colour","Value":"Crepuscule"},{"Key":"Code","Value":"FCL7034/01"}],"AllowSample":false,"AllowLargeSample":false,"AllowOrder":false,"AllowReserve":false,"AllowReserveWithBatchCutting":false,"ClientProductViewModels":"","URLKeywords":"fabric/christian-lacroix/babylonia-nights-soft-crepuscule-fabric","ImageLinkToProductPage":true,"IsLifestyle":false,"IsHotspot":false}}]}],"RecentlyViewed":[],"MasterDefinition":{"SiteSectionID":null,"TitleTag":"Babylonia Nights Soft Crepuscule Wallpaper | Christian Lacroix | Designers Guild","MetaDescription":"Signature Christian Lacroix florals bloom in technicolour glory feature in this digitally printed wallpaper design which is taken to a dramatic new height ","BackInStockReminder":null,"ItemsInBasket":0.0,"UrlBreakdown":{"ContentType":1,"ContentId":25874,"ContentDate":"2023-06-05T00:00:00","SemanticString":"wallpaper/christian-lacroix/babylonia-nights-soft-crepuscule-wallpaper","countryDetails":{"CountryLanguageID":15,"RegionID":4,"CountryID":118,"CountryCode":"JP","LanguageID":11,"SortOrder":71,"Name":"Japan","URL":"jp","DotNetCulture":"ja-JP","ShopEnabled":false,"LanguageCode":"jp","LanguageDotNetCulture":"ja-JP","MertexCurrencyCode":null,"CurrencyCode":null,"PriceListID":null,"AllowTradeOrders":false,"AcceptAmazonPay":false,"BuyOnlineRedirectAllowed":false,"EcommerceEnabled":false,"SamplesEnabled":false},"contentTypeAndIdNotFound":false,"CountryAwareness":{"Match":false,"Culture":"us","objCountryItem":{"CountryLanguageID":5,"RegionID":2,"CountryID":238,"CountryCode":null,"LanguageID":2,"SortOrder":1,"Name":"United States","URL":"us","DotNetCulture":"en-US","ShopEnabled":true,"LanguageCode":"us","LanguageDotNetCulture":"en-US","MertexCurrencyCode":"USD","CurrencyCode":"USD","PriceListID":2,"AllowTradeOrders":true,"AcceptAmazonPay":true,"BuyOnlineRedirectAllowed":false,"EcommerceEnabled":false,"SamplesEnabled":false}},"GeoIPCulture":null,"siteCountryNotFoundInUrl":false},"GoogleHrefs":[{"hreflang":"de","href":"https://www.designersguild.com/de/wallpaper/christian-lacroix/babylonia-nights-soft-crepuscule-wallpaper/p25874"},{"hreflang":"fr","href":"https://www.designersguild.com/fr/wallpaper/christian-lacroix/babylonia-nights-soft-crepuscule-wallpaper/p25874"},{"hreflang":"en-gb","href":"https://www.designersguild.com/uk/wallpaper/christian-lacroix/babylonia-nights-soft-crepuscule-wallpaper/p25874"},{"hreflang":"en-se","href":"https://www.designersguild.com/se/wallpaper/christian-lacroix/babylonia-nights-soft-crepuscule-wallpaper/p25874"},{"hreflang":"en-us","href":"https://www.designersguild.com/us/wallpaper/christian-lacroix/babylonia-nights-soft-crepuscule-wallpaper/p25874"},{"hreflang":"es","href":"https://www.designersguild.com/es/wallpaper/christian-lacroix/babylonia-nights-soft-crepuscule-wallpaper/p25874"},{"hreflang":"it-it","href":"https://www.designersguild.com/it/wallpaper/christian-lacroix/babylonia-nights-soft-crepuscule-wallpaper/p25874"},{"hreflang":"en-nl","href":"https://www.designersguild.com/nl/wallpaper/christian-lacroix/babylonia-nights-soft-crepuscule-wallpaper/p25874"},{"hreflang":"ru","href":"https://www.designersguild.com/ru/wallpaper/christian-lacroix/babylonia-nights-soft-crepuscule-wallpaper/p25874"},{"hreflang":"ja-jp","href":"https://www.designersguild.com/jp/wallpaper/christian-lacroix/babylonia-nights-soft-crepuscule-wallpaper/p25874"},{"hreflang":"en-be","href":"https://www.designersguild.com/be/wallpaper/christian-lacroix/babylonia-nights-soft-crepuscule-wallpaper/p25874"},{"hreflang":"en-au","href":"https://www.designersguild.com/au/wallpaper/christian-lacroix/babylonia-nights-soft-crepuscule-wallpaper/p25874"},{"hreflang":"en-dk","href":"https://www.designersguild.com/dk/wallpaper/christian-lacroix/babylonia-nights-soft-crepuscule-wallpaper/p25874"},{"hreflang":"en-gr","href":"https://www.designersguild.com/eu/wallpaper/christian-lacroix/babylonia-nights-soft-crepuscule-wallpaper/p25874"},{"hreflang":"en-no","href":"https://www.designersguild.com/no/wallpaper/christian-lacroix/babylonia-nights-soft-crepuscule-wallpaper/p25874"},{"hreflang":"de-at","href":"https://www.designersguild.com/at/wallpaper/christian-lacroix/babylonia-nights-soft-crepuscule-wallpaper/p25874"},{"hreflang":"de-ch","href":"https://www.designersguild.com/de-ch/wallpaper/christian-lacroix/babylonia-nights-soft-crepuscule-wallpaper/p25874"},{"hreflang":"fr-ch","href":"https://www.designersguild.com/fr-ch/wallpaper/christian-lacroix/babylonia-nights-soft-crepuscule-wallpaper/p25874"},{"hreflang":"en","href":"https://www.designersguild.com/row/wallpaper/christian-lacroix/babylonia-nights-soft-crepuscule-wallpaper/p25874"},{"hreflang":"en-nz","href":"https://www.designersguild.com/nz/wallpaper/christian-lacroix/babylonia-nights-soft-crepuscule-wallpaper/p25874"},{"hreflang":"en-ie","href":"https://www.designersguild.com/ie/wallpaper/christian-lacroix/babylonia-nights-soft-crepuscule-wallpaper/p25874"},{"hreflang":"fi-fi","href":"https://www.designersguild.com/fi/wallpaper/christian-lacroix/babylonia-nights-soft-crepuscule-wallpaper/p25874"}],"CountryDropDown":{"countryDropDownItems":[{"CountryID":81,"Code":null,"LanguageID":1,"RegionID":3,"LanguageCode":"en","Country":"UK","Region":"Europe","URL":"uk","URLKeywords":"","SortOrder":1,"PageID":0},{"CountryID":15,"Code":null,"LanguageID":4,"RegionID":3,"LanguageCode":"de","Country":"Austria","Region":"Europe","URL":"at","URLKeywords":"","SortOrder":11,"PageID":0},{"CountryID":23,"Code":null,"LanguageID":1,"RegionID":3,"LanguageCode":"en","Country":"Belgium","Region":"Europe","URL":"be","URLKeywords":"","SortOrder":12,"PageID":0},{"CountryID":62,"Code":null,"LanguageID":1,"RegionID":3,"LanguageCode":"en","Country":"Denmark","Region":"Europe","URL":"dk","URLKeywords":"","SortOrder":13,"PageID":0},{"CountryID":74,"Code":null,"LanguageID":15,"RegionID":3,"LanguageCode":"fi","Country":"Finland","Region":"Europe","URL":"fi","URLKeywords":"","SortOrder":15,"PageID":0},{"CountryID":79,"Code":null,"LanguageID":3,"RegionID":3,"LanguageCode":"fr","Country":"France","Region":"Europe","URL":"fr","URLKeywords":"","SortOrder":16,"PageID":0},{"CountryID":60,"Code":null,"LanguageID":4,"RegionID":3,"LanguageCode":"de","Country":"Germany","Region":"Europe","URL":"de","URLKeywords":"","SortOrder":17,"PageID":0},{"CountryID":106,"Code":null,"LanguageID":1,"RegionID":3,"LanguageCode":"en","Country":"Ireland","Region":"Europe","URL":"ie","URLKeywords":"","SortOrder":18,"PageID":0},{"CountryID":114,"Code":null,"LanguageID":6,"RegionID":3,"LanguageCode":"it","Country":"Italy","Region":"Europe","URL":"it","URLKeywords":"","SortOrder":19,"PageID":0},{"CountryID":170,"Code":null,"LanguageID":13,"RegionID":3,"LanguageCode":"en","Country":"Netherlands","Region":"Europe","URL":"nl","URLKeywords":"","SortOrder":20,"PageID":0},{"CountryID":71,"Code":null,"LanguageID":5,"RegionID":3,"LanguageCode":"es","Country":"Spain","Region":"Europe","URL":"es","URLKeywords":"","SortOrder":23,"PageID":0},{"CountryID":202,"Code":null,"LanguageID":1,"RegionID":3,"LanguageCode":"en","Country":"Sweden","Region":"Europe","URL":"se","URLKeywords":"","SortOrder":24,"PageID":0},{"CountryID":171,"Code":null,"LanguageID":1,"RegionID":3,"LanguageCode":"en","Country":"Norway","Region":"Europe","URL":"no","URLKeywords":"","SortOrder":52,"PageID":0},{"CountryID":118,"Code":null,"LanguageID":11,"RegionID":4,"LanguageCode":"jp","Country":"Nihon","Region":"Africa, Asia & the Middle East","URL":"jp","URLKeywords":"","SortOrder":71,"PageID":0},{"CountryID":46,"Code":null,"LanguageID":3,"RegionID":3,"LanguageCode":"fr","Country":"Switzerland","Region":"Europe","URL":"fr-ch","URLKeywords":"","SortOrder":102,"PageID":0},{"CountryID":46,"Code":null,"LanguageID":4,"RegionID":3,"LanguageCode":"de","Country":"Switzerland","Region":"Europe","URL":"de-ch","URLKeywords":"","SortOrder":103,"PageID":0},{"CountryID":196,"Code":null,"LanguageID":10,"RegionID":3,"LanguageCode":"ru","Country":"Russian Federation","Region":"Europe","URL":"ru","URLKeywords":"","SortOrder":109,"PageID":0},{"CountryID":238,"Code":null,"LanguageID":2,"RegionID":2,"LanguageCode":"us","Country":"United States","Region":"North America","URL":"us","URLKeywords":"","SortOrder":125,"PageID":0},{"CountryID":16,"Code":null,"LanguageID":12,"RegionID":6,"LanguageCode":"au","Country":"Australia","Region":"Australasia","URL":"au","URLKeywords":"","SortOrder":150,"PageID":0},{"CountryID":175,"Code":null,"LanguageID":18,"RegionID":6,"LanguageCode":"nz","Country":"New Zealand","Region":"Australasia","URL":"nz","URLKeywords":"","SortOrder":151,"PageID":0},{"CountryID":67,"Code":null,"LanguageID":1,"RegionID":3,"LanguageCode":"en","Country":"Other Countries in Europe","Region":"Europe","URL":"eu","URLKeywords":"","SortOrder":255,"PageID":0},{"CountryID":51,"Code":null,"LanguageID":1,"RegionID":4,"LanguageCode":"en","Country":"Rest of the World","Region":"Africa, Asia & the Middle East","URL":"row","URLKeywords":"","SortOrder":255,"PageID":0}]},"ProductTypeDropDown":{"ProductTypes":[{"ProductTypeID":15,"Name":"Fabric","NamePlural":null,"URLKeywords":null,"SortOrder":0,"FilterIndexRestrictions":null,"ProductPageIDs":null,"FormValue":"fabric"},{"ProductTypeID":18,"Name":"Wallpaper","NamePlural":null,"URLKeywords":null,"SortOrder":0,"FilterIndexRestrictions":null,"ProductPageIDs":null,"FormValue":"wallpaper"},{"ProductTypeID":8,"Name":"Paint","NamePlural":null,"URLKeywords":null,"SortOrder":0,"FilterIndexRestrictions":null,"ProductPageIDs":null,"FormValue":"paint"},{"ProductTypeID":10,"Name":"Rug","NamePlural":null,"URLKeywords":null,"SortOrder":0,"FilterIndexRestrictions":null,"ProductPageIDs":null,"FormValue":"rug"},{"ProductTypeID":4,"Name":"Cushion","NamePlural":null,"URLKeywords":null,"SortOrder":0,"FilterIndexRestrictions":null,"ProductPageIDs":null,"FormValue":"cushion"},{"ProductTypeID":1,"Name":"Bed Linen","NamePlural":null,"URLKeywords":null,"SortOrder":0,"FilterIndexRestrictions":null,"ProductPageIDs":null,"FormValue":"bed-linen"},{"ProductTypeID":2,"Name":"Throw","NamePlural":null,"URLKeywords":null,"SortOrder":0,"FilterIndexRestrictions":null,"ProductPageIDs":null,"FormValue":"throw"},{"ProductTypeID":35,"Name":"Furniture","NamePlural":null,"URLKeywords":null,"SortOrder":0,"FilterIndexRestrictions":null,"ProductPageIDs":null,"FormValue":"furniture"}]},"TradeMember":false,"TradeAllowed":false,"CanViewRRPs":false,"LoginStatus":0,"UserName":null},"Visitor":{"visitorDbId":200345640,"FullName":null,"Email":null,"Culture":null,"VisitorCreatedDT":"0001-01-01T00:00:00","memberId":null,"tradePriceListId":null,"memberTradeAccountNumber":null,"memberTradeAccountID":null,"memberDisplayTradePrice":false,"memberTradeDataSourceJson":null,"tradePermissionAccountAdmin":false,"tradePermissionPlaceOrder":false,"tradePermissionViewAccounts":false,"tradePermissionDownloadPricelistsBrochures":false,"tradePermissionDownloadProductFeeds":false},"DotDigitalBehaviourProfile":{"WebBehaviourTrackingProfileID":"DM-1667704159-01"},"Scrapbook":{"Images":[]},"TradeOrderingAllowed":false,"SearchTerm":null,"ProductType":null,"LanguageID":11,"CountryID":118,"Date":"2023-06-05T00:00:00","ContentType":1,"ContentID":25874,"SiteSectionID":null,"ShowRecentlyViewed":true,"Partial":null,"CategoryPageProductType":null}
{"ImageID":91899,"SortOrder":0,"AltText":"babylonia nights soft crepuscule","Overlay":null,"MaxWidth":1024,"ImageSize":6,"ForceLazyLoading":false}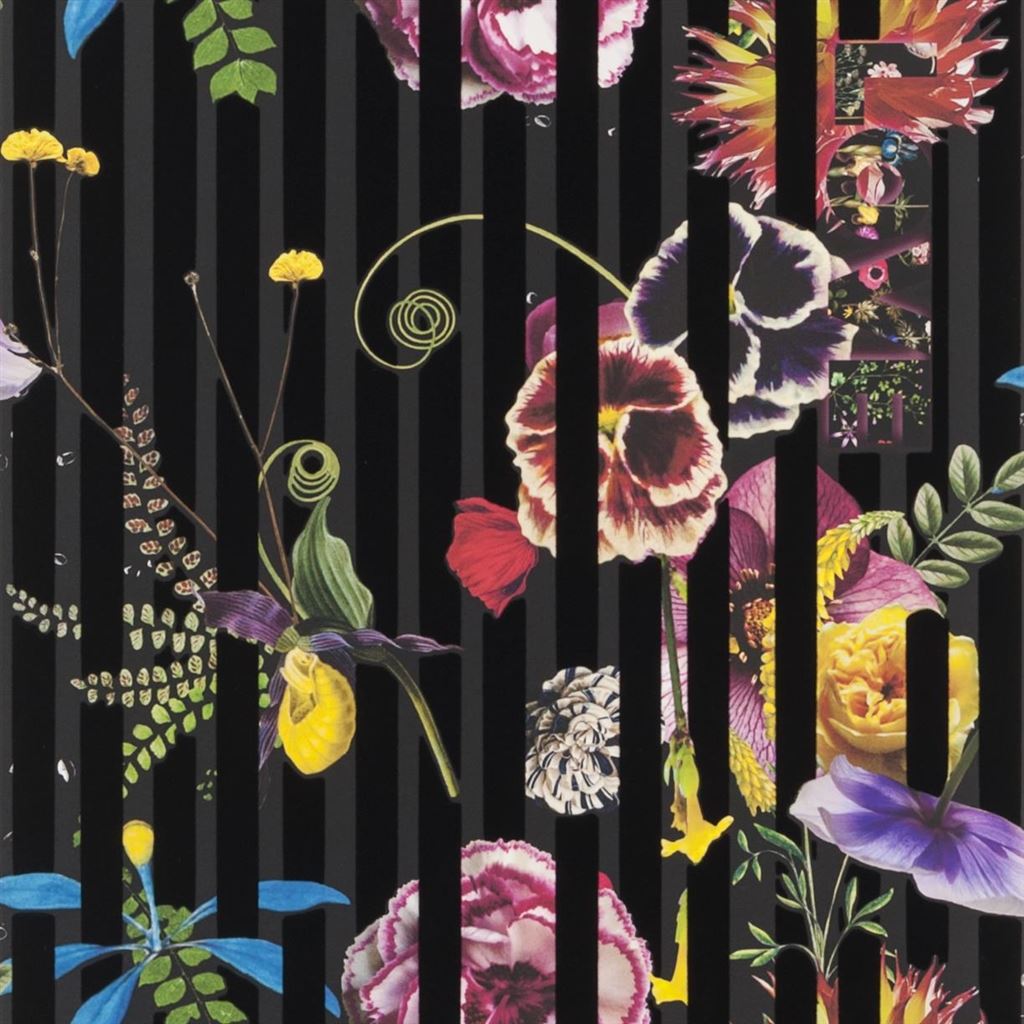 {"ImageID":94184,"SortOrder":1,"AltText":null,"Overlay":null,"MaxWidth":1024,"ImageSize":6,"ForceLazyLoading":false}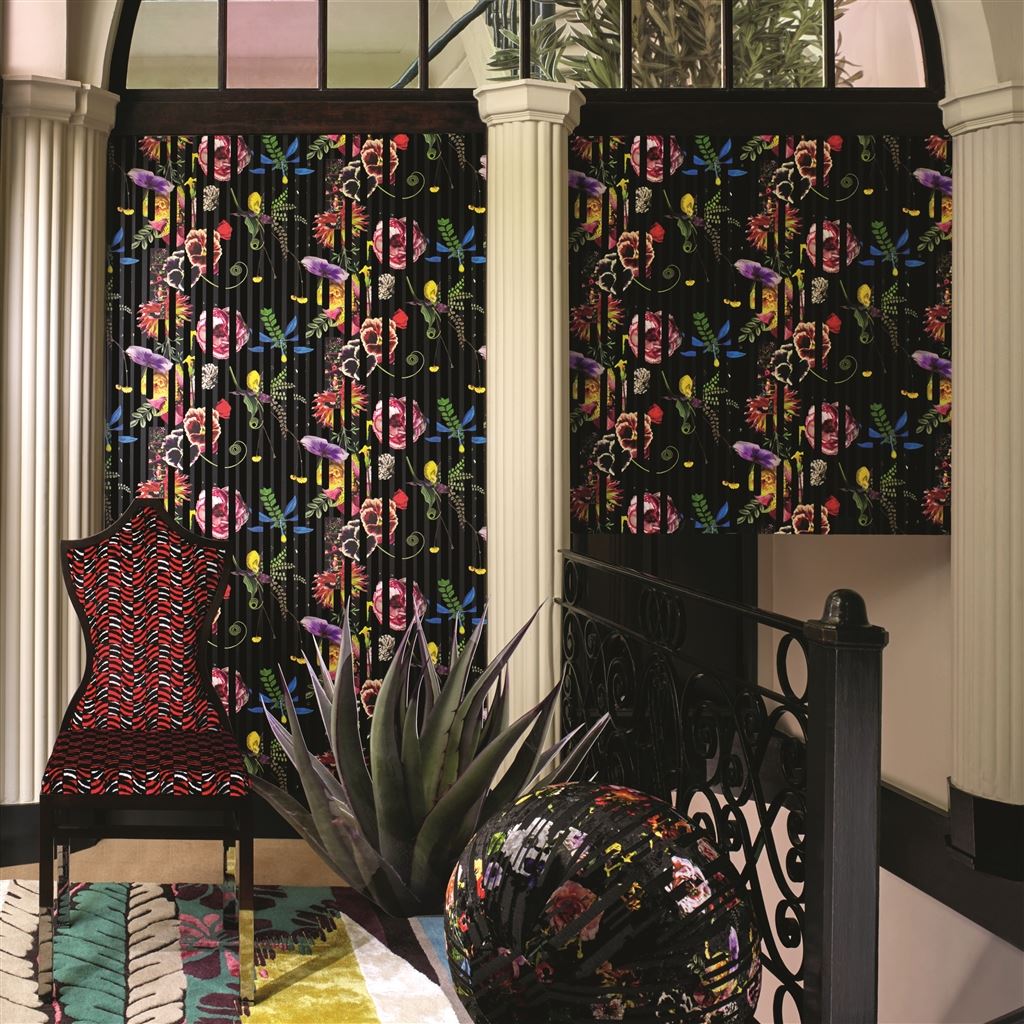 {"ImageID":94182,"SortOrder":2,"AltText":null,"Overlay":null,"MaxWidth":1024,"ImageSize":6,"ForceLazyLoading":false}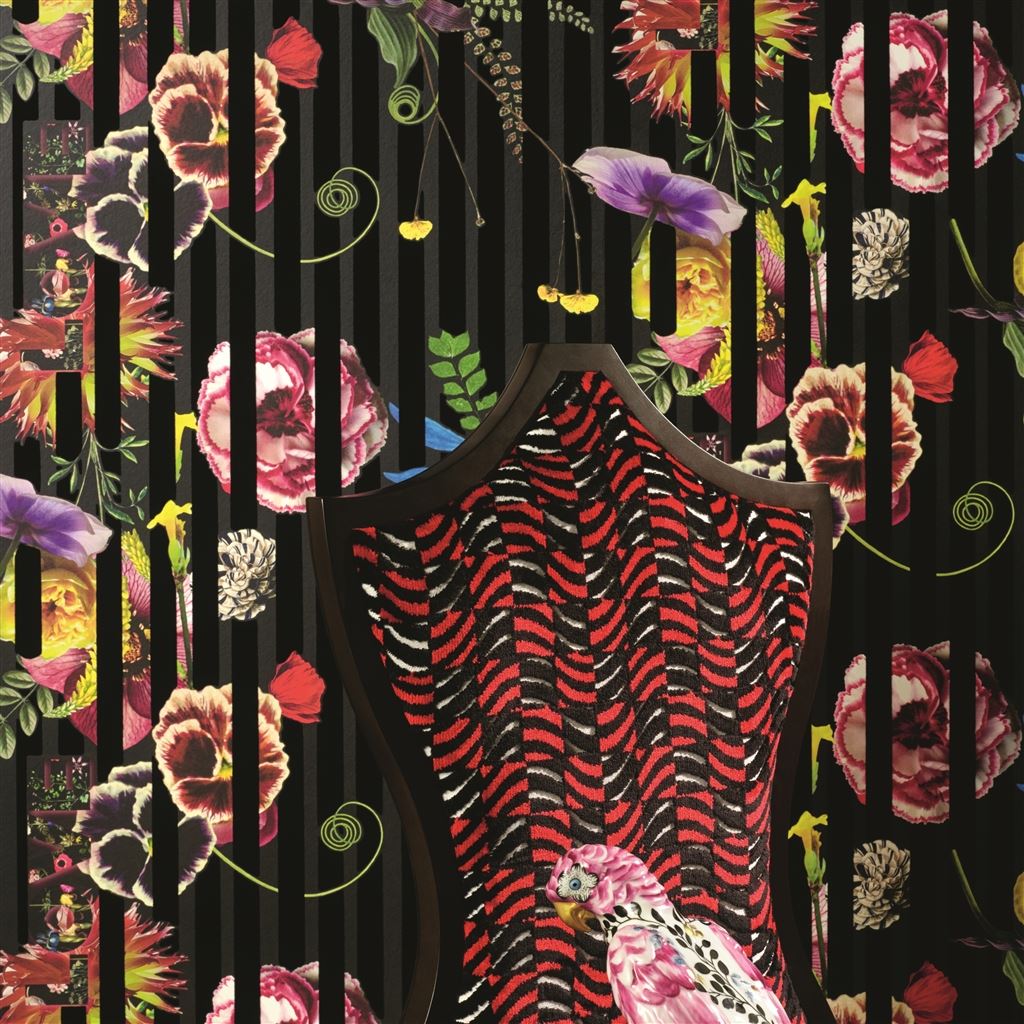 Babylonia Nights Soft Crepuscule
Christian Lacroix
Wallpaper
---
{"imageId":91899,"templateImageId":2,"altText":"Babylonia Nights Soft Crepuscule","titleText":"Babylonia Nights Soft Crepuscule","sortOrder":0,"maxWidth":488}
"PCL7019/01"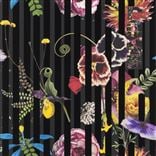 Colour
Crepuscule
Code
PCL7019/01
---
Signature Christian Lacroix florals bloom in technicolour glory feature in this digitally printed wallpaper design which is taken to a dramatic new height by the black flock over-printed stripes in varying scales. Find the secret Love message ! Produced onto a luxurious non-woven ground for ease of hanging.
Collection(s)

Composition

NON-WOVEN WALLPAPER

Width

52 cm

Weight

225 gsm

Pattern Match

Half drop

Roll Length

10 m

Vertical Pattern Repeat

52 cm

Horizontal Pattern Repeat

52 cm

Tests Passed

EN13501 Class B-s1-d0

EN15102

ASTM E84 Class A

Product After Care

SPONGEABLE WALLCOVERING

Additional Info

Roll: 10m - Spongeable - Paste the wall - Strippable. Flock wallpapers are reverse rolled. Please check design direction before hanging.