{"AllProductsUnavailable":false,"UseSizeButtons":false,"UseOrderFormGrouping":false,"UsePaintOrderForm":false,"TechInfo":{"width":"130 cm","weight":"420 gsm","horizontalPatternRepeat":"130 cm","verticalPatternRepeat":"97.5 cm","martindale":50000.0,"composition":"66% Co 31% Vi 3% Pl","patternMatch":"Full width pattern - Straight match","flamcode":"(UK Flamcode B+M) Cigarette Resistant - In UK/Eire Upholstery use FR interliner or FR treat","domesticFR":"Cigarette Resistant","additionalInfo":"Iron on the reverse.","collections":[{"collectionId":686,"name":"Jaipur Rose Fabrics","urlSemantics":"fabric/designers-guild/jaipur-rose-fabrics","url":"/jp/fabric/designers-guild/jaipur-rose-fabrics/c686","brochureurl":"http://brochures.designersguild.com/aw18/brochures/aw18-accessories-uk/do_not_upload/pdf/uk aw18.compressed.pdf"}],"tests":[{"test":"EN1021-1 Cigarette - UPHOLSTERY"},{"test":"BS5852 Cigarette - UPHOLSTERY"}],"usages":[{"usageId":1,"usage":"Cushions"},{"usageId":2,"usage":"Curtains And Blinds"},{"usageId":3,"usage":"Loose Covers"},{"usageId":4,"usage":"Upholstery"}],"aftercares":[{"aftercareId":4,"aftercare":"NO WASH"},{"aftercareId":17,"aftercare":"DRY CLEAN - P process (GENTLE)"},{"aftercareId":27,"aftercare":"IRON COOL (1 spot - 110deg c)"},{"aftercareId":47,"aftercare":"NO TUMBLE DRY"},{"aftercareId":50,"aftercare":"NO BLEACH"}]},"Prices":{"productPages":[{"productPageId":29562,"productPage":{"productPageId":29562,"heading":null,"subheading":null,"shortHeading":null,"new":null,"productTypeId":null,"urlKeywords":null,"url":null,"imageId":null,"imageWidth":null,"imageHeight":null,"aspectRatio":null,"merchandisedSortOrder":null,"searchSortOrder":null,"colourSort":255,"stockSortOrder":35.7,"azSortOrder":5,"reviewCount":null,"reviewAverage":null,"ratingSortOrder":5,"priceSortOrder":5,"discountSortOrder":1,"salesRank":null,"newSort":1,"designId":11732,"brandId":3,"alternateColourwayIncludeSize":true,"sizeMetric":null,"productPagePrice":{"priceMin":null,"priceMax":null,"salePriceMin":null,"salePriceMax":null,"discountPercentageMin":null,"discountPercentageMax":null,"clearanceDiscountPercentageMin":null,"clearanceDiscountPercentageMax":null,"discountMessage":null,"priceMessage":null,"rRPMessage":null,"codeMessage":null}}},{"productPageId":29587,"productPage":{"productPageId":29587,"heading":null,"subheading":null,"shortHeading":null,"new":null,"productTypeId":null,"urlKeywords":null,"url":null,"imageId":null,"imageWidth":null,"imageHeight":null,"aspectRatio":null,"merchandisedSortOrder":null,"searchSortOrder":null,"colourSort":255,"stockSortOrder":167.8,"azSortOrder":2,"reviewCount":null,"reviewAverage":null,"ratingSortOrder":2,"priceSortOrder":2,"discountSortOrder":2,"salesRank":null,"newSort":2,"designId":13897,"brandId":2,"alternateColourwayIncludeSize":true,"sizeMetric":null,"productPagePrice":{"priceMin":null,"priceMax":null,"salePriceMin":null,"salePriceMax":null,"discountPercentageMin":null,"discountPercentageMax":null,"clearanceDiscountPercentageMin":null,"clearanceDiscountPercentageMax":null,"discountMessage":null,"priceMessage":null,"rRPMessage":null,"codeMessage":null}}},{"productPageId":29818,"productPage":{"productPageId":29818,"heading":null,"subheading":null,"shortHeading":null,"new":null,"productTypeId":null,"urlKeywords":null,"url":null,"imageId":null,"imageWidth":null,"imageHeight":null,"aspectRatio":null,"merchandisedSortOrder":null,"searchSortOrder":null,"colourSort":255,"stockSortOrder":67.0,"azSortOrder":3,"reviewCount":null,"reviewAverage":null,"ratingSortOrder":3,"priceSortOrder":3,"discountSortOrder":3,"salesRank":null,"newSort":3,"designId":14092,"brandId":2,"alternateColourwayIncludeSize":true,"sizeMetric":null,"productPagePrice":{"priceMin":null,"priceMax":null,"salePriceMin":null,"salePriceMax":null,"discountPercentageMin":null,"discountPercentageMax":null,"clearanceDiscountPercentageMin":null,"clearanceDiscountPercentageMax":null,"discountMessage":null,"priceMessage":null,"rRPMessage":null,"codeMessage":null}}},{"productPageId":29859,"productPage":{"productPageId":29859,"heading":null,"subheading":null,"shortHeading":null,"new":null,"productTypeId":null,"urlKeywords":null,"url":null,"imageId":null,"imageWidth":null,"imageHeight":null,"aspectRatio":null,"merchandisedSortOrder":null,"searchSortOrder":null,"colourSort":255,"stockSortOrder":194.2,"azSortOrder":4,"reviewCount":null,"reviewAverage":null,"ratingSortOrder":4,"priceSortOrder":4,"discountSortOrder":4,"salesRank":null,"newSort":4,"designId":14128,"brandId":2,"alternateColourwayIncludeSize":true,"sizeMetric":null,"productPagePrice":{"priceMin":null,"priceMax":null,"salePriceMin":null,"salePriceMax":null,"discountPercentageMin":null,"discountPercentageMax":null,"clearanceDiscountPercentageMin":null,"clearanceDiscountPercentageMax":null,"discountMessage":null,"priceMessage":null,"rRPMessage":null,"codeMessage":null}}},{"productPageId":11777,"productPage":{"productPageId":11777,"heading":null,"subheading":null,"shortHeading":null,"new":null,"productTypeId":null,"urlKeywords":null,"url":null,"imageId":null,"imageWidth":null,"imageHeight":null,"aspectRatio":null,"merchandisedSortOrder":null,"searchSortOrder":null,"colourSort":255,"stockSortOrder":28.1,"azSortOrder":1,"reviewCount":null,"reviewAverage":null,"ratingSortOrder":1,"priceSortOrder":1,"discountSortOrder":5,"salesRank":null,"newSort":5,"designId":623,"brandId":3,"alternateColourwayIncludeSize":true,"sizeMetric":null,"productPagePrice":{"priceMin":null,"priceMax":null,"salePriceMin":null,"salePriceMax":null,"discountPercentageMin":null,"discountPercentageMax":null,"clearanceDiscountPercentageMin":null,"clearanceDiscountPercentageMax":null,"discountMessage":null,"priceMessage":null,"rRPMessage":null,"codeMessage":null}}},{"productPageId":7456,"productPage":{"productPageId":7456,"heading":null,"subheading":null,"shortHeading":null,"new":null,"productTypeId":null,"urlKeywords":null,"url":null,"imageId":null,"imageWidth":null,"imageHeight":null,"aspectRatio":null,"merchandisedSortOrder":null,"searchSortOrder":null,"colourSort":255,"stockSortOrder":79.93,"azSortOrder":6,"reviewCount":null,"reviewAverage":null,"ratingSortOrder":6,"priceSortOrder":6,"discountSortOrder":6,"salesRank":null,"newSort":6,"designId":4533,"brandId":3,"alternateColourwayIncludeSize":true,"sizeMetric":null,"productPagePrice":{"priceMin":null,"priceMax":null,"salePriceMin":null,"salePriceMax":null,"discountPercentageMin":null,"discountPercentageMax":null,"clearanceDiscountPercentageMin":null,"clearanceDiscountPercentageMax":null,"discountMessage":null,"priceMessage":null,"rRPMessage":null,"codeMessage":null}}}]},"Definition":{"productPageId":29859,"productTypeId":0,"languageId":11,"countryId":118,"templateId":2,"titleTag":"Shalimar Garden Amethyst Fabric | Designers Guild","heading":"Shalimar Garden Amethyst","subHeading":"Fabric","brand":"Designers Guild","isNew":false,"metaDescription":"In powerful and sultry amethyst tones comes a brooding design with an evocative sensibility. Digitally printed onto a rich pile velvet, this floral design ","urlKeywords":"/jp/fabric/designers-guild/shalimar-garden-amethyst-fabric/p29859","isRugOrRunner":false,"urlSemantics":"fabric/designers-guild/shalimar-garden-amethyst-fabric","googleHrefs":[{"hreflang":"de","href":"https://www.designersguild.com/de/fabric/designers-guild/shalimar-garden-amethyst-fabric/p29859"},{"hreflang":"fr","href":"https://www.designersguild.com/fr/fabric/designers-guild/shalimar-garden-amethyst-fabric/p29859"},{"hreflang":"en-gb","href":"https://www.designersguild.com/uk/fabric/designers-guild/shalimar-garden-amethyst-fabric/p29859"},{"hreflang":"en-se","href":"https://www.designersguild.com/se/fabric/designers-guild/shalimar-garden-amethyst-fabric/p29859"},{"hreflang":"en-us","href":"https://www.designersguild.com/us/fabric/designers-guild/shalimar-garden-amethyst-fabric/p29859"},{"hreflang":"es","href":"https://www.designersguild.com/es/fabric/designers-guild/shalimar-garden-amethyst-fabric/p29859"},{"hreflang":"it-it","href":"https://www.designersguild.com/it/fabric/designers-guild/shalimar-garden-amethyst-fabric/p29859"},{"hreflang":"en-nl","href":"https://www.designersguild.com/nl/fabric/designers-guild/shalimar-garden-amethyst-fabric/p29859"},{"hreflang":"ru","href":"https://www.designersguild.com/ru/fabric/designers-guild/shalimar-garden-amethyst-fabric/p29859"},{"hreflang":"ja-jp","href":"https://www.designersguild.com/jp/fabric/designers-guild/shalimar-garden-amethyst-fabric/p29859"},{"hreflang":"en-be","href":"https://www.designersguild.com/be/fabric/designers-guild/shalimar-garden-amethyst-fabric/p29859"},{"hreflang":"en-au","href":"https://www.designersguild.com/au/fabric/designers-guild/shalimar-garden-amethyst-fabric/p29859"},{"hreflang":"en-dk","href":"https://www.designersguild.com/dk/fabric/designers-guild/shalimar-garden-amethyst-fabric/p29859"},{"hreflang":"en-gr","href":"https://www.designersguild.com/eu/fabric/designers-guild/shalimar-garden-amethyst-fabric/p29859"},{"hreflang":"en-no","href":"https://www.designersguild.com/no/fabric/designers-guild/shalimar-garden-amethyst-fabric/p29859"},{"hreflang":"de-at","href":"https://www.designersguild.com/at/fabric/designers-guild/shalimar-garden-amethyst-fabric/p29859"},{"hreflang":"de-ch","href":"https://www.designersguild.com/de-ch/fabric/designers-guild/shalimar-garden-amethyst-fabric/p29859"},{"hreflang":"fr-ch","href":"https://www.designersguild.com/fr-ch/fabric/designers-guild/shalimar-garden-amethyst-fabric/p29859"},{"hreflang":"en","href":"https://www.designersguild.com/row/fabric/designers-guild/shalimar-garden-amethyst-fabric/p29859"},{"hreflang":"en-nz","href":"https://www.designersguild.com/nz/fabric/designers-guild/shalimar-garden-amethyst-fabric/p29859"},{"hreflang":"en-ie","href":"https://www.designersguild.com/ie/fabric/designers-guild/shalimar-garden-amethyst-fabric/p29859"},{"hreflang":"fi-fi","href":"https://www.designersguild.com/fi/fabric/designers-guild/shalimar-garden-amethyst-fabric/p29859"}],"pinterestImageId":102695,"breadcrumb":"<li><a href=\"/jp/fabric/l1292\">DESIGNERS GUILD FABRIC</a></li><li><span>Shalimar Garden Amethyst</span></li>","Images":[{"imageId":102695,"templateImageId":2,"altText":"shalimar garden - amethyst","titleText":"shalimar garden - amethyst","sortOrder":0,"maxWidth":1024},{"imageId":107158,"templateImageId":2,"altText":null,"titleText":null,"sortOrder":1,"maxWidth":1024},{"imageId":107154,"templateImageId":2,"altText":null,"titleText":null,"sortOrder":2,"maxWidth":1024},{"imageId":107151,"templateImageId":2,"altText":null,"titleText":null,"sortOrder":3,"maxWidth":1024},{"imageId":106976,"templateImageId":2,"altText":null,"titleText":null,"sortOrder":4,"maxWidth":1024}],"RelatedSearches":[],"CustomCanonical":null,"PageJSON":"{\"productPageId\":29859,\"productTypeId\":15,\"heading\":\"Shalimar Garden Amethyst\",\"subHeading\":\"Fabric\",\"shortHeading\":\"Shalimar Garden Amethyst\",\"category\":\"\",\"brand\":\"Designers Guild\",\"description\":\"In powerful and sultry amethyst tones comes a brooding design with an evocative sensibility. Digitally printed onto a rich pile velvet, this floral design boasts a slight sheen and is luxuriously soft. A subtle fretwork stamp in the ground provides depth and texture. A brilliant fabric for curtains, blinds, cushions, bedcovers and upholstery alike. Available in one colourway.\",\"urlSemantics\":\"fabric/designers-guild/shalimar-garden-amethyst-fabric\",\"breadcrumb\":\"<li><a href=\\\"/jp/fabric/l1292\\\">DESIGNERS GUILD FABRIC</a></li><li><span>Shalimar Garden Amethyst</span></li>\",\"url\":\"/jp/fabric/designers-guild/shalimar-garden-amethyst-fabric/p29859\",\"titleTag\":\"Shalimar Garden Amethyst Fabric | Designers Guild\",\"metaDescription\":\"In powerful and sultry amethyst tones comes a brooding design with an evocative sensibility. Digitally printed onto a rich pile velvet, this floral design \",\"reviewAverage\":null,\"reviewCount\":null,\"isNew\":false,\"customCanonical\":null,\"templateId\":2,\"isRugOrRunner\":false,\"delivery\":null,\"returns\":null,\"products\":[{\"productId\":174781,\"code\":\"FDG2816/01\",\"orderFormName\":\"Shalimar Garden - Amethyst\",\"brand\":\"Designers Guild\",\"images\":[{\"imageId\":102695,\"altText\":\"Shalimar Garden - Amethyst\",\"titleText\":\"Shalimar Garden - Amethyst\",\"templateImageId\":true,\"maxWidth\":1024}]}],\"images\":[{\"imageId\":102695,\"templateImageId\":2,\"altText\":\"shalimar garden - amethyst\",\"titleText\":\"shalimar garden - amethyst\",\"sortOrder\":0,\"maxWidth\":1024},{\"imageId\":107158,\"templateImageId\":2,\"sortOrder\":1,\"maxWidth\":1024},{\"imageId\":107154,\"templateImageId\":2,\"sortOrder\":2,\"maxWidth\":1024},{\"imageId\":107151,\"templateImageId\":2,\"sortOrder\":3,\"maxWidth\":1024},{\"imageId\":106976,\"templateImageId\":2,\"sortOrder\":4,\"maxWidth\":1024}],\"alternateColourways\":[{\"productPageId\":29859,\"urlSemantics\":\"fabric/designers-guild/shalimar-garden-amethyst-fabric\",\"code\":\"FDG2816/01\",\"url\":\"/jp/fabric/designers-guild/shalimar-garden-amethyst-fabric/p29859\",\"heading\":\"Shalimar Garden Amethyst\",\"imageId\":102695}],\"reviews\":null,\"hreflangs\":[{\"hreflang\":\"de\",\"href\":\"https://www.designersguild.com/de/fabric/designers-guild/shalimar-garden-amethyst-fabric/p29859\"},{\"hreflang\":\"fr\",\"href\":\"https://www.designersguild.com/fr/fabric/designers-guild/shalimar-garden-amethyst-fabric/p29859\"},{\"hreflang\":\"en-gb\",\"href\":\"https://www.designersguild.com/uk/fabric/designers-guild/shalimar-garden-amethyst-fabric/p29859\"},{\"hreflang\":\"en-se\",\"href\":\"https://www.designersguild.com/se/fabric/designers-guild/shalimar-garden-amethyst-fabric/p29859\"},{\"hreflang\":\"en-us\",\"href\":\"https://www.designersguild.com/us/fabric/designers-guild/shalimar-garden-amethyst-fabric/p29859\"},{\"hreflang\":\"es\",\"href\":\"https://www.designersguild.com/es/fabric/designers-guild/shalimar-garden-amethyst-fabric/p29859\"},{\"hreflang\":\"it-it\",\"href\":\"https://www.designersguild.com/it/fabric/designers-guild/shalimar-garden-amethyst-fabric/p29859\"},{\"hreflang\":\"en-nl\",\"href\":\"https://www.designersguild.com/nl/fabric/designers-guild/shalimar-garden-amethyst-fabric/p29859\"},{\"hreflang\":\"ru\",\"href\":\"https://www.designersguild.com/ru/fabric/designers-guild/shalimar-garden-amethyst-fabric/p29859\"},{\"hreflang\":\"ja-jp\",\"href\":\"https://www.designersguild.com/jp/fabric/designers-guild/shalimar-garden-amethyst-fabric/p29859\"},{\"hreflang\":\"en-be\",\"href\":\"https://www.designersguild.com/be/fabric/designers-guild/shalimar-garden-amethyst-fabric/p29859\"},{\"hreflang\":\"en-au\",\"href\":\"https://www.designersguild.com/au/fabric/designers-guild/shalimar-garden-amethyst-fabric/p29859\"},{\"hreflang\":\"en-dk\",\"href\":\"https://www.designersguild.com/dk/fabric/designers-guild/shalimar-garden-amethyst-fabric/p29859\"},{\"hreflang\":\"en-gr\",\"href\":\"https://www.designersguild.com/eu/fabric/designers-guild/shalimar-garden-amethyst-fabric/p29859\"},{\"hreflang\":\"en-no\",\"href\":\"https://www.designersguild.com/no/fabric/designers-guild/shalimar-garden-amethyst-fabric/p29859\"},{\"hreflang\":\"de-at\",\"href\":\"https://www.designersguild.com/at/fabric/designers-guild/shalimar-garden-amethyst-fabric/p29859\"},{\"hreflang\":\"de-ch\",\"href\":\"https://www.designersguild.com/de-ch/fabric/designers-guild/shalimar-garden-amethyst-fabric/p29859\"},{\"hreflang\":\"fr-ch\",\"href\":\"https://www.designersguild.com/fr-ch/fabric/designers-guild/shalimar-garden-amethyst-fabric/p29859\"},{\"hreflang\":\"en\",\"href\":\"https://www.designersguild.com/row/fabric/designers-guild/shalimar-garden-amethyst-fabric/p29859\"},{\"hreflang\":\"en-nz\",\"href\":\"https://www.designersguild.com/nz/fabric/designers-guild/shalimar-garden-amethyst-fabric/p29859\"},{\"hreflang\":\"en-ie\",\"href\":\"https://www.designersguild.com/ie/fabric/designers-guild/shalimar-garden-amethyst-fabric/p29859\"},{\"hreflang\":\"fi-fi\",\"href\":\"https://www.designersguild.com/fi/fabric/designers-guild/shalimar-garden-amethyst-fabric/p29859\"}],\"relatedProductPages\":[{\"productPageId\":29587,\"heading\":\"Chandigarh Berry\",\"subHeading\":\"Fabric\",\"urlSemantics\":\"fabric/designers-guild/chandigarh-berry-fabric\",\"url\":\"/jp/fabric/designers-guild/chandigarh-berry-fabric/p29587\",\"imageId\":105623,\"aspectRatio\":1.0,\"reviewAverage\":null,\"reviewCount\":null},{\"productPageId\":7456,\"heading\":\"varese - aubergine\",\"subHeading\":\"Fabric\",\"urlSemantics\":\"fabric/designers-guild-essentials/varese-aubergine-fabric\",\"url\":\"/jp/fabric/designers-guild-essentials/varese-aubergine-fabric/p7456\",\"imageId\":13156,\"aspectRatio\":1.0,\"reviewAverage\":null,\"reviewCount\":null},{\"productPageId\":29562,\"heading\":\"Calozzo Stretto Platinum\",\"subHeading\":\"Fabric\",\"urlSemantics\":\"fabric/designers-guild-essentials/calozzo-stretto-platinum-fabric\",\"url\":\"/jp/fabric/designers-guild-essentials/calozzo-stretto-platinum-fabric/p29562\",\"imageId\":106143,\"aspectRatio\":1.0,\"reviewAverage\":null,\"reviewCount\":null},{\"productPageId\":11777,\"heading\":\"brera lino - platinum\",\"subHeading\":\"Fabric\",\"urlSemantics\":\"fabric/designers-guild-essentials/brera-lino-platinum-fabric\",\"url\":\"/jp/fabric/designers-guild-essentials/brera-lino-platinum-fabric/p11777\",\"imageId\":57153,\"aspectRatio\":1.0,\"reviewAverage\":null,\"reviewCount\":null},{\"productPageId\":29818,\"heading\":\"Shirakawa Graphite\",\"subHeading\":\"Wallpaper\",\"urlSemantics\":\"wallpaper/designers-guild/shirakawa-graphite-wallpaper\",\"url\":\"/jp/wallpaper/designers-guild/shirakawa-graphite-wallpaper/p29818\",\"imageId\":102252,\"aspectRatio\":1.0,\"reviewAverage\":null,\"reviewCount\":null}],\"attributes\":[{\"attributeGroup\":\"Brand\",\"attribute\":\"Designers Guild\"},{\"attributeGroup\":\"Pattern\",\"attribute\":\"Floral\"},{\"attributeGroup\":\"Type\",\"attribute\":\"Print\"}],\"collection\":{\"collectionId\":686,\"heading\":\"Jaipur Rose Fabrics\",\"description\":\"A deeply evocative collection of elegant and captivating prints with a timeless, luxurious spirit. This dynamic collection celebrates the global glamour and nomadic sophistication of newly discovered lands and exotic journeys. Inspired by the pioneering travel of 19th century explorers and naturalists like Isabella Bird. These beautiful designs are printed onto linen, cotton and lustrous velvet in a new, wondrously rich colour palette. A brilliant and versatile collection for curtains, blinds, cushions, bedcovers and upholstery. \\n\",\"name\":\"Jaipur Rose Fabrics\",\"urlSemantics\":\"fabric/designers-guild/jaipur-rose-fabrics\",\"url\":\"/jp/fabric/designers-guild/jaipur-rose-fabrics/c686\",\"brochureurl\":\"http://brochures.designersguild.com/aw18/brochures/aw18-accessories-uk/do_not_upload/pdf/uk aw18.compressed.pdf\"},\"moduleOptions\":null,\"modules\":null,\"moduleOptionGroups\":null,\"wholesaleFurniture\":null,\"relatedSearches\":null}","json":{"productPageId":29859,"productTypeId":15,"heading":"Shalimar Garden Amethyst","subHeading":"Fabric","shortHeading":"Shalimar Garden Amethyst","category":"","brand":"Designers Guild","description":"In powerful and sultry amethyst tones comes a brooding design with an evocative sensibility. Digitally printed onto a rich pile velvet, this floral design boasts a slight sheen and is luxuriously soft. A subtle fretwork stamp in the ground provides depth and texture. A brilliant fabric for curtains, blinds, cushions, bedcovers and upholstery alike. Available in one colourway.","urlSemantics":"fabric/designers-guild/shalimar-garden-amethyst-fabric","breadcrumb":"<li><a href=\"/jp/fabric/l1292\">DESIGNERS GUILD FABRIC</a></li><li><span>Shalimar Garden Amethyst</span></li>","url":"/jp/fabric/designers-guild/shalimar-garden-amethyst-fabric/p29859","titleTag":"Shalimar Garden Amethyst Fabric | Designers Guild","metaDescription":"In powerful and sultry amethyst tones comes a brooding design with an evocative sensibility. Digitally printed onto a rich pile velvet, this floral design ","reviewAverage":null,"reviewCount":null,"isNew":false,"customCanonical":null,"templateId":2,"isRugOrRunner":false,"delivery":null,"returns":null,"products":[{"productId":174781,"code":"FDG2816/01","orderFormName":"Shalimar Garden - Amethyst","brand":"Designers Guild","images":[{"imageId":102695,"altText":"Shalimar Garden - Amethyst","titleText":"Shalimar Garden - Amethyst","templateImageId":true,"maxWidth":1024}]}],"images":[{"imageId":102695,"templateImageId":2,"altText":"shalimar garden - amethyst","titleText":"shalimar garden - amethyst","sortOrder":0,"maxWidth":1024},{"imageId":107158,"templateImageId":2,"sortOrder":1,"maxWidth":1024},{"imageId":107154,"templateImageId":2,"sortOrder":2,"maxWidth":1024},{"imageId":107151,"templateImageId":2,"sortOrder":3,"maxWidth":1024},{"imageId":106976,"templateImageId":2,"sortOrder":4,"maxWidth":1024}],"alternateColourways":[{"productPageId":29859,"urlSemantics":"fabric/designers-guild/shalimar-garden-amethyst-fabric","code":"FDG2816/01","url":"/jp/fabric/designers-guild/shalimar-garden-amethyst-fabric/p29859","heading":"Shalimar Garden Amethyst","imageId":102695}],"reviews":null,"hreflangs":[{"hreflang":"de","href":"https://www.designersguild.com/de/fabric/designers-guild/shalimar-garden-amethyst-fabric/p29859"},{"hreflang":"fr","href":"https://www.designersguild.com/fr/fabric/designers-guild/shalimar-garden-amethyst-fabric/p29859"},{"hreflang":"en-gb","href":"https://www.designersguild.com/uk/fabric/designers-guild/shalimar-garden-amethyst-fabric/p29859"},{"hreflang":"en-se","href":"https://www.designersguild.com/se/fabric/designers-guild/shalimar-garden-amethyst-fabric/p29859"},{"hreflang":"en-us","href":"https://www.designersguild.com/us/fabric/designers-guild/shalimar-garden-amethyst-fabric/p29859"},{"hreflang":"es","href":"https://www.designersguild.com/es/fabric/designers-guild/shalimar-garden-amethyst-fabric/p29859"},{"hreflang":"it-it","href":"https://www.designersguild.com/it/fabric/designers-guild/shalimar-garden-amethyst-fabric/p29859"},{"hreflang":"en-nl","href":"https://www.designersguild.com/nl/fabric/designers-guild/shalimar-garden-amethyst-fabric/p29859"},{"hreflang":"ru","href":"https://www.designersguild.com/ru/fabric/designers-guild/shalimar-garden-amethyst-fabric/p29859"},{"hreflang":"ja-jp","href":"https://www.designersguild.com/jp/fabric/designers-guild/shalimar-garden-amethyst-fabric/p29859"},{"hreflang":"en-be","href":"https://www.designersguild.com/be/fabric/designers-guild/shalimar-garden-amethyst-fabric/p29859"},{"hreflang":"en-au","href":"https://www.designersguild.com/au/fabric/designers-guild/shalimar-garden-amethyst-fabric/p29859"},{"hreflang":"en-dk","href":"https://www.designersguild.com/dk/fabric/designers-guild/shalimar-garden-amethyst-fabric/p29859"},{"hreflang":"en-gr","href":"https://www.designersguild.com/eu/fabric/designers-guild/shalimar-garden-amethyst-fabric/p29859"},{"hreflang":"en-no","href":"https://www.designersguild.com/no/fabric/designers-guild/shalimar-garden-amethyst-fabric/p29859"},{"hreflang":"de-at","href":"https://www.designersguild.com/at/fabric/designers-guild/shalimar-garden-amethyst-fabric/p29859"},{"hreflang":"de-ch","href":"https://www.designersguild.com/de-ch/fabric/designers-guild/shalimar-garden-amethyst-fabric/p29859"},{"hreflang":"fr-ch","href":"https://www.designersguild.com/fr-ch/fabric/designers-guild/shalimar-garden-amethyst-fabric/p29859"},{"hreflang":"en","href":"https://www.designersguild.com/row/fabric/designers-guild/shalimar-garden-amethyst-fabric/p29859"},{"hreflang":"en-nz","href":"https://www.designersguild.com/nz/fabric/designers-guild/shalimar-garden-amethyst-fabric/p29859"},{"hreflang":"en-ie","href":"https://www.designersguild.com/ie/fabric/designers-guild/shalimar-garden-amethyst-fabric/p29859"},{"hreflang":"fi-fi","href":"https://www.designersguild.com/fi/fabric/designers-guild/shalimar-garden-amethyst-fabric/p29859"}],"relatedProductPages":[{"productPageId":29587,"heading":"Chandigarh Berry","subHeading":"Fabric","urlSemantics":"fabric/designers-guild/chandigarh-berry-fabric","url":"/jp/fabric/designers-guild/chandigarh-berry-fabric/p29587","imageId":105623,"aspectRatio":1.0,"reviewAverage":null,"reviewCount":null},{"productPageId":7456,"heading":"varese - aubergine","subHeading":"Fabric","urlSemantics":"fabric/designers-guild-essentials/varese-aubergine-fabric","url":"/jp/fabric/designers-guild-essentials/varese-aubergine-fabric/p7456","imageId":13156,"aspectRatio":1.0,"reviewAverage":null,"reviewCount":null},{"productPageId":29562,"heading":"Calozzo Stretto Platinum","subHeading":"Fabric","urlSemantics":"fabric/designers-guild-essentials/calozzo-stretto-platinum-fabric","url":"/jp/fabric/designers-guild-essentials/calozzo-stretto-platinum-fabric/p29562","imageId":106143,"aspectRatio":1.0,"reviewAverage":null,"reviewCount":null},{"productPageId":11777,"heading":"brera lino - platinum","subHeading":"Fabric","urlSemantics":"fabric/designers-guild-essentials/brera-lino-platinum-fabric","url":"/jp/fabric/designers-guild-essentials/brera-lino-platinum-fabric/p11777","imageId":57153,"aspectRatio":1.0,"reviewAverage":null,"reviewCount":null},{"productPageId":29818,"heading":"Shirakawa Graphite","subHeading":"Wallpaper","urlSemantics":"wallpaper/designers-guild/shirakawa-graphite-wallpaper","url":"/jp/wallpaper/designers-guild/shirakawa-graphite-wallpaper/p29818","imageId":102252,"aspectRatio":1.0,"reviewAverage":null,"reviewCount":null}],"attributes":[{"attributeGroup":"Brand","attribute":"Designers Guild"},{"attributeGroup":"Pattern","attribute":"Floral"},{"attributeGroup":"Type","attribute":"Print"}],"collection":{"collectionId":686,"heading":"Jaipur Rose Fabrics","description":"A deeply evocative collection of elegant and captivating prints with a timeless, luxurious spirit. This dynamic collection celebrates the global glamour and nomadic sophistication of newly discovered lands and exotic journeys. Inspired by the pioneering travel of 19th century explorers and naturalists like Isabella Bird. These beautiful designs are printed onto linen, cotton and lustrous velvet in a new, wondrously rich colour palette. A brilliant and versatile collection for curtains, blinds, cushions, bedcovers and upholstery. \n","name":"Jaipur Rose Fabrics","urlSemantics":"fabric/designers-guild/jaipur-rose-fabrics","url":"/jp/fabric/designers-guild/jaipur-rose-fabrics/c686","brochureurl":"http://brochures.designersguild.com/aw18/brochures/aw18-accessories-uk/do_not_upload/pdf/uk aw18.compressed.pdf"},"moduleOptions":null,"modules":null,"moduleOptionGroups":null,"wholesaleFurniture":null,"relatedSearches":null}},"Stock":{"OrderFormJSON":"{\"products\":[{\"product\":{\"productId\":174781,\"sortOrder\":50,\"productTypeId\":15,\"templateId\":2,\"code\":\"FDG2816\\/01\",\"brand\":\"Designers Guild\",\"gtin13\":null,\"name\":\"Shalimar Garden - Amethyst\",\"AKA\":null,\"size\":null,\"imageId\":102695,\"imageAltText\":\"Shalimar Garden - Amethyst\",\"imageTitleText\":\"Shalimar Garden - Amethyst\",\"rRPMessage\":null,\"rLRRP\":null,\"rLTradePrice\":null,\"displayPrice\":null,\"displaySalePrice\":null,\"priceMessage\":null,\"statusMessage\":null,\"urlSemantics\":\"fabric\\/designers-guild\\/shalimar-garden-amethyst-fabric\",\"productPageId\":29859,\"url\":\"\\/jp\\/fabric\\/designers-guild\\/shalimar-garden-amethyst-fabric\\/p29859\",\"itemAvailability\":\"InStock\",\"orderFormGroupId\":null,\"orderFormName\":\"Shalimar Garden - Amethyst\",\"attributes\":null,\"orderFormGroup\":null,\"orderFormProperties\":[{\"key\":\"Colour\",\"value\":\"Amethyst\"},{\"key\":\"Code\",\"value\":\"FDG2816\\/01\"}],\"controls\":{\"allowOrder\":false,\"allowReserve\":false,\"allowReserveWithBatchSample\":false,\"allowSample\":false,\"allowLargeSample\":false,\"allowBackInStockReminder\":false,\"disableOrder\":false,\"disableSample\":false},\"stockMessage\":{\"productTypeID\":15,\"quantityMinimum\":1.00,\"quantityMaximum\":0.00,\"productTypeQuantityMaximum\":null,\"quantityIncrement\":0.10,\"reserveQuantityMaximum\":50.00,\"unit\":\"m\",\"allowStockCheck\":false,\"pieceBreakdownMinimum\":1.00,\"pieceBreakdownMaximum\":50.00,\"allowBackInStockReminder\":false,\"freeStock\":194.20,\"nextPOFreeStock\":0.00,\"nextPODueDate\":null,\"totalPOFreeStock\":0.00,\"basketQuantityThresholds\":[{\"minimum\":0,\"maximum\":99999.99}]},\"orderButtonText\":\"Add to Basket\",\"reserveButtonText\":\"Reserve\",\"reserveWithBatchSampleButtonText\":\"Reserve with Batch Sample\",\"sample\":{\"productId\":176370,\"stockMessage\":{\"productTypeID\":55,\"quantityMinimum\":1.00,\"quantityMaximum\":2.00,\"productTypeQuantityMaximum\":20.00,\"quantityIncrement\":1.00,\"reserveQuantityMaximum\":13.00,\"unit\":\"\",\"allowStockCheck\":false,\"pieceBreakdownMinimum\":null,\"pieceBreakdownMaximum\":null,\"allowBackInStockReminder\":false,\"freeStock\":13.00,\"nextPOFreeStock\":99.00,\"nextPODueDate\":\"2023-04-12\",\"totalPOFreeStock\":99.00,\"basketQuantityThresholds\":[{\"minimum\":0,\"maximum\":99999.99,\"stockMessages\":[{\"stockMessage\":\"In stock\",\"class\":\"\",\"stockBreakdownTab\":0}]}]},\"orderButtonText\":\"Request a Sample\",\"displayPrice\":null,\"displaySalePrice\":null,\"priceMessage\":null},\"largeSample\":{\"productId\":176371,\"stockMessage\":{\"productTypeID\":null,\"quantityMinimum\":1.00,\"quantityMaximum\":99.00,\"productTypeQuantityMaximum\":null,\"quantityIncrement\":1.00,\"reserveQuantityMaximum\":null,\"unit\":\"\",\"allowStockCheck\":false,\"pieceBreakdownMinimum\":null,\"pieceBreakdownMaximum\":null,\"allowBackInStockReminder\":false,\"freeStock\":null,\"nextPOFreeStock\":null,\"nextPODueDate\":null,\"totalPOFreeStock\":null,\"basketQuantityThresholds\":[{\"minimum\":0,\"maximum\":99999.99,\"stockMessages\":[{\"stockMessage\":\" more due in (1-2 weeks)\",\"class\":\"\",\"stockBreakdownTab\":1}]}]},\"orderButtonText\":\"Add to Basket\",\"displayPrice\":null,\"displaySalePrice\":null,\"priceMessage\":null}}}]}","orderForm":{"products":[{"product":{"productId":174781,"sortOrder":50,"productTypeId":15,"templateId":2,"code":"FDG2816/01","brand":"Designers Guild","gtin13":null,"name":"Shalimar Garden - Amethyst","AKA":null,"size":null,"imageId":102695,"imageAltText":"Shalimar Garden - Amethyst","imageTitleText":"Shalimar Garden - Amethyst","rRPMessage":null,"rLRRP":null,"rLTradePrice":null,"displayPrice":null,"displaySalePrice":null,"priceMessage":null,"statusMessage":null,"urlSemantics":"fabric/designers-guild/shalimar-garden-amethyst-fabric","productPageId":29859,"url":"/jp/fabric/designers-guild/shalimar-garden-amethyst-fabric/p29859","itemAvailability":"InStock","orderFormGroupId":null,"orderFormName":"Shalimar Garden - Amethyst","attributes":null,"orderFormGroup":null,"orderFormProperties":[{"key":"Colour","value":"Amethyst"},{"key":"Code","value":"FDG2816/01"}],"controls":{"allowOrder":false,"allowReserve":false,"allowReserveWithBatchSample":false,"allowSample":false,"allowLargeSample":false,"allowBackInStockReminder":false,"disableOrder":false,"disableSample":false},"stockMessage":{"productTypeID":15,"quantityMinimum":1.0,"quantityMaximum":0.0,"productTypeQuantityMaximum":null,"quantityIncrement":0.1,"reserveQuantityMaximum":50.0,"unit":"m","allowStockCheck":false,"pieceBreakdownMinimum":1.0,"pieceBreakdownMaximum":50.0,"allowBackInStockReminder":false,"freeStock":194.2,"nextPOFreeStock":0.0,"nextPODueDate":null,"totalPOFreeStock":0.0,"basketQuantityThresholds":[{"minimum":0,"maximum":99999.99}]},"orderButtonText":"Add to Basket","reserveButtonText":"Reserve","reserveWithBatchSampleButtonText":"Reserve with Batch Sample","sample":{"productId":176370,"stockMessage":{"productTypeID":55,"quantityMinimum":1.0,"quantityMaximum":2.0,"productTypeQuantityMaximum":20.0,"quantityIncrement":1.0,"reserveQuantityMaximum":13.0,"unit":"","allowStockCheck":false,"pieceBreakdownMinimum":null,"pieceBreakdownMaximum":null,"allowBackInStockReminder":false,"freeStock":13.0,"nextPOFreeStock":99.0,"nextPODueDate":"2023-04-12","totalPOFreeStock":99.0,"basketQuantityThresholds":[{"minimum":0,"maximum":99999.99,"stockMessages":[{"stockMessage":"In stock","class":"","stockBreakdownTab":0}]}]},"orderButtonText":"Request a Sample","displayPrice":null,"displaySalePrice":null,"priceMessage":null},"largeSample":{"productId":176371,"stockMessage":{"productTypeID":null,"quantityMinimum":1.0,"quantityMaximum":99.0,"productTypeQuantityMaximum":null,"quantityIncrement":1.0,"reserveQuantityMaximum":null,"unit":"","allowStockCheck":false,"pieceBreakdownMinimum":null,"pieceBreakdownMaximum":null,"allowBackInStockReminder":false,"freeStock":null,"nextPOFreeStock":null,"nextPODueDate":null,"totalPOFreeStock":null,"basketQuantityThresholds":[{"minimum":0,"maximum":99999.99,"stockMessages":[{"stockMessage":" more due in (1-2 weeks)","class":"","stockBreakdownTab":1}]}]},"orderButtonText":"Add to Basket","displayPrice":null,"displaySalePrice":null,"priceMessage":null}}}]}},"Carousel":{"CarouselID":"#product-page-29859-carousel","WrapperCSSClass":null,"AspectRatio":1.0,"Heading":"Shalimar Garden Amethyst","Images":[{"ImageID":102695,"SortOrder":0,"AltText":"shalimar garden - amethyst","Overlay":null,"MaxWidth":1024,"ImageSize":6},{"ImageID":107158,"SortOrder":1,"AltText":null,"Overlay":null,"MaxWidth":1024,"ImageSize":6},{"ImageID":107154,"SortOrder":2,"AltText":null,"Overlay":null,"MaxWidth":1024,"ImageSize":6},{"ImageID":107151,"SortOrder":3,"AltText":null,"Overlay":null,"MaxWidth":1024,"ImageSize":6},{"ImageID":106976,"SortOrder":4,"AltText":null,"Overlay":null,"MaxWidth":1024,"ImageSize":6}],"DisplayThumbnails":true,"DisplayDashes":true,"Interval":null,"PermitLargeImageModal":true},"MainProduct":{"Solitary":false,"ProductBase":{"product":{"productId":174781,"sortOrder":50,"productTypeId":15,"templateId":2,"code":"FDG2816/01","brand":"Designers Guild","gtin13":null,"name":"Shalimar Garden - Amethyst","AKA":null,"size":null,"imageId":102695,"imageAltText":"Shalimar Garden - Amethyst","imageTitleText":"Shalimar Garden - Amethyst","rRPMessage":null,"rLRRP":null,"rLTradePrice":null,"displayPrice":null,"displaySalePrice":null,"priceMessage":null,"statusMessage":null,"urlSemantics":"fabric/designers-guild/shalimar-garden-amethyst-fabric","productPageId":29859,"url":"/jp/fabric/designers-guild/shalimar-garden-amethyst-fabric/p29859","itemAvailability":"InStock","orderFormGroupId":null,"orderFormName":"Shalimar Garden - Amethyst","attributes":null,"orderFormGroup":null,"orderFormProperties":[{"key":"Colour","value":"Amethyst"},{"key":"Code","value":"FDG2816/01"}],"controls":{"allowOrder":false,"allowReserve":false,"allowReserveWithBatchSample":false,"allowSample":false,"allowLargeSample":false,"allowBackInStockReminder":false,"disableOrder":false,"disableSample":false},"stockMessage":{"productTypeID":15,"quantityMinimum":1.0,"quantityMaximum":0.0,"productTypeQuantityMaximum":null,"quantityIncrement":0.1,"reserveQuantityMaximum":50.0,"unit":"m","allowStockCheck":false,"pieceBreakdownMinimum":1.0,"pieceBreakdownMaximum":50.0,"allowBackInStockReminder":false,"freeStock":194.2,"nextPOFreeStock":0.0,"nextPODueDate":null,"totalPOFreeStock":0.0,"basketQuantityThresholds":[{"minimum":0,"maximum":99999.99}]},"orderButtonText":"Add to Basket","reserveButtonText":"Reserve","reserveWithBatchSampleButtonText":"Reserve with Batch Sample","sample":{"productId":176370,"stockMessage":{"productTypeID":55,"quantityMinimum":1.0,"quantityMaximum":2.0,"productTypeQuantityMaximum":20.0,"quantityIncrement":1.0,"reserveQuantityMaximum":13.0,"unit":"","allowStockCheck":false,"pieceBreakdownMinimum":null,"pieceBreakdownMaximum":null,"allowBackInStockReminder":false,"freeStock":13.0,"nextPOFreeStock":99.0,"nextPODueDate":"2023-04-12","totalPOFreeStock":99.0,"basketQuantityThresholds":[{"minimum":0,"maximum":99999.99,"stockMessages":[{"stockMessage":"In stock","class":"","stockBreakdownTab":0}]}]},"orderButtonText":"Request a Sample","displayPrice":null,"displaySalePrice":null,"priceMessage":null},"largeSample":{"productId":176371,"stockMessage":{"productTypeID":null,"quantityMinimum":1.0,"quantityMaximum":99.0,"productTypeQuantityMaximum":null,"quantityIncrement":1.0,"reserveQuantityMaximum":null,"unit":"","allowStockCheck":false,"pieceBreakdownMinimum":null,"pieceBreakdownMaximum":null,"allowBackInStockReminder":false,"freeStock":null,"nextPOFreeStock":null,"nextPODueDate":null,"totalPOFreeStock":null,"basketQuantityThresholds":[{"minimum":0,"maximum":99999.99,"stockMessages":[{"stockMessage":" more due in (1-2 weeks)","class":"","stockBreakdownTab":1}]}]},"orderButtonText":"Add to Basket","displayPrice":null,"displaySalePrice":null,"priceMessage":null}}},"Product":{"productId":174781,"sortOrder":50,"productTypeId":15,"templateId":2,"code":"FDG2816/01","brand":"Designers Guild","gtin13":null,"name":"Shalimar Garden - Amethyst","AKA":null,"size":null,"imageId":102695,"imageAltText":"Shalimar Garden - Amethyst","imageTitleText":"Shalimar Garden - Amethyst","rRPMessage":null,"rLRRP":null,"rLTradePrice":null,"displayPrice":null,"displaySalePrice":null,"priceMessage":null,"statusMessage":null,"urlSemantics":"fabric/designers-guild/shalimar-garden-amethyst-fabric","productPageId":29859,"url":"/jp/fabric/designers-guild/shalimar-garden-amethyst-fabric/p29859","itemAvailability":"InStock","orderFormGroupId":null,"orderFormName":"Shalimar Garden - Amethyst","attributes":null,"orderFormGroup":null,"orderFormProperties":[{"key":"Colour","value":"Amethyst"},{"key":"Code","value":"FDG2816/01"}],"controls":{"allowOrder":false,"allowReserve":false,"allowReserveWithBatchSample":false,"allowSample":false,"allowLargeSample":false,"allowBackInStockReminder":false,"disableOrder":false,"disableSample":false},"stockMessage":{"productTypeID":15,"quantityMinimum":1.0,"quantityMaximum":0.0,"productTypeQuantityMaximum":null,"quantityIncrement":0.1,"reserveQuantityMaximum":50.0,"unit":"m","allowStockCheck":false,"pieceBreakdownMinimum":1.0,"pieceBreakdownMaximum":50.0,"allowBackInStockReminder":false,"freeStock":194.2,"nextPOFreeStock":0.0,"nextPODueDate":null,"totalPOFreeStock":0.0,"basketQuantityThresholds":[{"minimum":0,"maximum":99999.99}]},"orderButtonText":"Add to Basket","reserveButtonText":"Reserve","reserveWithBatchSampleButtonText":"Reserve with Batch Sample","sample":{"productId":176370,"stockMessage":{"productTypeID":55,"quantityMinimum":1.0,"quantityMaximum":2.0,"productTypeQuantityMaximum":20.0,"quantityIncrement":1.0,"reserveQuantityMaximum":13.0,"unit":"","allowStockCheck":false,"pieceBreakdownMinimum":null,"pieceBreakdownMaximum":null,"allowBackInStockReminder":false,"freeStock":13.0,"nextPOFreeStock":99.0,"nextPODueDate":"2023-04-12","totalPOFreeStock":99.0,"basketQuantityThresholds":[{"minimum":0,"maximum":99999.99,"stockMessages":[{"stockMessage":"In stock","class":"","stockBreakdownTab":0}]}]},"orderButtonText":"Request a Sample","displayPrice":null,"displaySalePrice":null,"priceMessage":null},"largeSample":{"productId":176371,"stockMessage":{"productTypeID":null,"quantityMinimum":1.0,"quantityMaximum":99.0,"productTypeQuantityMaximum":null,"quantityIncrement":1.0,"reserveQuantityMaximum":null,"unit":"","allowStockCheck":false,"pieceBreakdownMinimum":null,"pieceBreakdownMaximum":null,"allowBackInStockReminder":false,"freeStock":null,"nextPOFreeStock":null,"nextPODueDate":null,"totalPOFreeStock":null,"basketQuantityThresholds":[{"minimum":0,"maximum":99999.99,"stockMessages":[{"stockMessage":" more due in (1-2 weeks)","class":"","stockBreakdownTab":1}]}]},"orderButtonText":"Add to Basket","displayPrice":null,"displaySalePrice":null,"priceMessage":null}},"Carousel":{"CarouselID":"#product-174781-carsouel","WrapperCSSClass":null,"AspectRatio":1.0,"Heading":"Shalimar Garden - Amethyst","Images":[{"ImageID":102695,"SortOrder":0,"AltText":"Shalimar Garden - Amethyst","Overlay":null,"MaxWidth":null,"ImageSize":1}],"DisplayThumbnails":false,"DisplayDashes":true,"Interval":null,"PermitLargeImageModal":true},"ProductID":174781,"ProductTypeID":15,"ProductPageID":29859,"ProductCode":"FDG2816/01","Brand":"Designers Guild","OrderFormID":"#product-174781","OrderFormCarouselID":"#product-174781-slide","OrderFormGroupID":null,"OrderFormGroup":null,"Size":null,"OrderFormName":"Shalimar Garden - Amethyst","BasketName":"Shalimar Garden - Amethyst","SortOrder":50,"Attributes":null,"Image":{"imageId":102695,"templateImageId":2,"altText":"Shalimar Garden - Amethyst","titleText":"Shalimar Garden - Amethyst","sortOrder":0,"maxWidth":488},"OrderFormProperties":[{"Key":"Colour","Value":"Amethyst"},{"Key":"Code","Value":"FDG2816/01"}],"AllowSample":false,"AllowLargeSample":false,"AllowOrder":false,"AllowReserve":false,"AllowReserveWithBatchCutting":false,"ClientProductViewModels":"","URLKeywords":"fabric/designers-guild/shalimar-garden-amethyst-fabric","ImageLinkToProductPage":false,"IsLifestyle":false},"OtherProducts":[],"RelatedProductPages":[{"ImageSize":2,"MasterDefinition":{"SiteSectionID":null,"TitleTag":"Shalimar Garden Amethyst Fabric | Designers Guild","MetaDescription":"In powerful and sultry amethyst tones comes a brooding design with an evocative sensibility. Digitally printed onto a rich pile velvet, this floral design ","BackInStockReminder":null,"ItemsInBasket":0.0,"UrlBreakdown":{"ContentType":1,"ContentId":29859,"ContentDate":"2023-03-29T00:00:00","SemanticString":"fabric/designers-guild/shalimar-garden-amethyst-fabric","countryDetails":{"CountryLanguageID":15,"RegionID":4,"CountryID":118,"CountryCode":"JP","LanguageID":11,"SortOrder":71,"Name":"Japan","URL":"jp","DotNetCulture":"ja-JP","ShopEnabled":false,"LanguageCode":"jp","LanguageDotNetCulture":"ja-JP","MertexCurrencyCode":null,"CurrencyCode":null,"PriceListID":null,"AllowTradeOrders":false,"AcceptAmazonPay":false,"BuyOnlineRedirectAllowed":false,"EcommerceEnabled":false,"SamplesEnabled":false},"contentTypeAndIdNotFound":false,"CountryAwareness":{"Match":false,"Culture":"us","objCountryItem":{"CountryLanguageID":5,"RegionID":2,"CountryID":238,"CountryCode":null,"LanguageID":2,"SortOrder":1,"Name":"United States","URL":"us","DotNetCulture":"en-US","ShopEnabled":true,"LanguageCode":"us","LanguageDotNetCulture":"en-US","MertexCurrencyCode":"USD","CurrencyCode":"USD","PriceListID":2,"AllowTradeOrders":false,"AcceptAmazonPay":true,"BuyOnlineRedirectAllowed":false,"EcommerceEnabled":false,"SamplesEnabled":false}},"GeoIPCulture":null,"siteCountryNotFoundInUrl":false},"GoogleHrefs":[{"hreflang":"de","href":"https://www.designersguild.com/de/fabric/designers-guild/shalimar-garden-amethyst-fabric/p29859"},{"hreflang":"fr","href":"https://www.designersguild.com/fr/fabric/designers-guild/shalimar-garden-amethyst-fabric/p29859"},{"hreflang":"en-gb","href":"https://www.designersguild.com/uk/fabric/designers-guild/shalimar-garden-amethyst-fabric/p29859"},{"hreflang":"en-se","href":"https://www.designersguild.com/se/fabric/designers-guild/shalimar-garden-amethyst-fabric/p29859"},{"hreflang":"en-us","href":"https://www.designersguild.com/us/fabric/designers-guild/shalimar-garden-amethyst-fabric/p29859"},{"hreflang":"es","href":"https://www.designersguild.com/es/fabric/designers-guild/shalimar-garden-amethyst-fabric/p29859"},{"hreflang":"it-it","href":"https://www.designersguild.com/it/fabric/designers-guild/shalimar-garden-amethyst-fabric/p29859"},{"hreflang":"en-nl","href":"https://www.designersguild.com/nl/fabric/designers-guild/shalimar-garden-amethyst-fabric/p29859"},{"hreflang":"ru","href":"https://www.designersguild.com/ru/fabric/designers-guild/shalimar-garden-amethyst-fabric/p29859"},{"hreflang":"ja-jp","href":"https://www.designersguild.com/jp/fabric/designers-guild/shalimar-garden-amethyst-fabric/p29859"},{"hreflang":"en-be","href":"https://www.designersguild.com/be/fabric/designers-guild/shalimar-garden-amethyst-fabric/p29859"},{"hreflang":"en-au","href":"https://www.designersguild.com/au/fabric/designers-guild/shalimar-garden-amethyst-fabric/p29859"},{"hreflang":"en-dk","href":"https://www.designersguild.com/dk/fabric/designers-guild/shalimar-garden-amethyst-fabric/p29859"},{"hreflang":"en-gr","href":"https://www.designersguild.com/eu/fabric/designers-guild/shalimar-garden-amethyst-fabric/p29859"},{"hreflang":"en-no","href":"https://www.designersguild.com/no/fabric/designers-guild/shalimar-garden-amethyst-fabric/p29859"},{"hreflang":"de-at","href":"https://www.designersguild.com/at/fabric/designers-guild/shalimar-garden-amethyst-fabric/p29859"},{"hreflang":"de-ch","href":"https://www.designersguild.com/de-ch/fabric/designers-guild/shalimar-garden-amethyst-fabric/p29859"},{"hreflang":"fr-ch","href":"https://www.designersguild.com/fr-ch/fabric/designers-guild/shalimar-garden-amethyst-fabric/p29859"},{"hreflang":"en","href":"https://www.designersguild.com/row/fabric/designers-guild/shalimar-garden-amethyst-fabric/p29859"},{"hreflang":"en-nz","href":"https://www.designersguild.com/nz/fabric/designers-guild/shalimar-garden-amethyst-fabric/p29859"},{"hreflang":"en-ie","href":"https://www.designersguild.com/ie/fabric/designers-guild/shalimar-garden-amethyst-fabric/p29859"},{"hreflang":"fi-fi","href":"https://www.designersguild.com/fi/fabric/designers-guild/shalimar-garden-amethyst-fabric/p29859"}],"CountryDropDown":{"countryDropDownItems":[{"CountryID":81,"Code":null,"LanguageID":1,"RegionID":3,"LanguageCode":"en","Country":"UK","Region":"Europe","URL":"uk","URLKeywords":"","SortOrder":1,"PageID":0},{"CountryID":15,"Code":null,"LanguageID":4,"RegionID":3,"LanguageCode":"de","Country":"Austria","Region":"Europe","URL":"at","URLKeywords":"","SortOrder":11,"PageID":0},{"CountryID":23,"Code":null,"LanguageID":1,"RegionID":3,"LanguageCode":"en","Country":"Belgium","Region":"Europe","URL":"be","URLKeywords":"","SortOrder":12,"PageID":0},{"CountryID":62,"Code":null,"LanguageID":1,"RegionID":3,"LanguageCode":"en","Country":"Denmark","Region":"Europe","URL":"dk","URLKeywords":"","SortOrder":13,"PageID":0},{"CountryID":74,"Code":null,"LanguageID":15,"RegionID":3,"LanguageCode":"fi","Country":"Finland","Region":"Europe","URL":"fi","URLKeywords":"","SortOrder":15,"PageID":0},{"CountryID":79,"Code":null,"LanguageID":3,"RegionID":3,"LanguageCode":"fr","Country":"France","Region":"Europe","URL":"fr","URLKeywords":"","SortOrder":16,"PageID":0},{"CountryID":60,"Code":null,"LanguageID":4,"RegionID":3,"LanguageCode":"de","Country":"Germany","Region":"Europe","URL":"de","URLKeywords":"","SortOrder":17,"PageID":0},{"CountryID":106,"Code":null,"LanguageID":1,"RegionID":3,"LanguageCode":"en","Country":"Ireland","Region":"Europe","URL":"ie","URLKeywords":"","SortOrder":18,"PageID":0},{"CountryID":114,"Code":null,"LanguageID":6,"RegionID":3,"LanguageCode":"it","Country":"Italy","Region":"Europe","URL":"it","URLKeywords":"","SortOrder":19,"PageID":0},{"CountryID":170,"Code":null,"LanguageID":13,"RegionID":3,"LanguageCode":"en","Country":"Netherlands","Region":"Europe","URL":"nl","URLKeywords":"","SortOrder":20,"PageID":0},{"CountryID":71,"Code":null,"LanguageID":5,"RegionID":3,"LanguageCode":"es","Country":"Spain","Region":"Europe","URL":"es","URLKeywords":"","SortOrder":23,"PageID":0},{"CountryID":202,"Code":null,"LanguageID":1,"RegionID":3,"LanguageCode":"en","Country":"Sweden","Region":"Europe","URL":"se","URLKeywords":"","SortOrder":24,"PageID":0},{"CountryID":171,"Code":null,"LanguageID":1,"RegionID":3,"LanguageCode":"en","Country":"Norway","Region":"Europe","URL":"no","URLKeywords":"","SortOrder":52,"PageID":0},{"CountryID":118,"Code":null,"LanguageID":11,"RegionID":4,"LanguageCode":"jp","Country":"Nihon","Region":"Africa, Asia & the Middle East","URL":"jp","URLKeywords":"","SortOrder":71,"PageID":0},{"CountryID":46,"Code":null,"LanguageID":3,"RegionID":3,"LanguageCode":"fr","Country":"Switzerland","Region":"Europe","URL":"fr-ch","URLKeywords":"","SortOrder":102,"PageID":0},{"CountryID":46,"Code":null,"LanguageID":4,"RegionID":3,"LanguageCode":"de","Country":"Switzerland","Region":"Europe","URL":"de-ch","URLKeywords":"","SortOrder":103,"PageID":0},{"CountryID":196,"Code":null,"LanguageID":10,"RegionID":3,"LanguageCode":"ru","Country":"Russian Federation","Region":"Europe","URL":"ru","URLKeywords":"","SortOrder":109,"PageID":0},{"CountryID":238,"Code":null,"LanguageID":2,"RegionID":2,"LanguageCode":"us","Country":"United States","Region":"North America","URL":"us","URLKeywords":"","SortOrder":125,"PageID":0},{"CountryID":16,"Code":null,"LanguageID":12,"RegionID":6,"LanguageCode":"au","Country":"Australia","Region":"Australasia","URL":"au","URLKeywords":"","SortOrder":150,"PageID":0},{"CountryID":175,"Code":null,"LanguageID":18,"RegionID":6,"LanguageCode":"nz","Country":"New Zealand","Region":"Australasia","URL":"nz","URLKeywords":"","SortOrder":151,"PageID":0},{"CountryID":67,"Code":null,"LanguageID":1,"RegionID":3,"LanguageCode":"en","Country":"Other Countries in Europe","Region":"Europe","URL":"eu","URLKeywords":"","SortOrder":255,"PageID":0},{"CountryID":51,"Code":null,"LanguageID":1,"RegionID":4,"LanguageCode":"en","Country":"Rest of the World","Region":"Africa, Asia & the Middle East","URL":"row","URLKeywords":"","SortOrder":255,"PageID":0}]},"ProductTypeDropDown":{"ProductTypes":[{"ProductTypeID":15,"Name":"Fabric","NamePlural":null,"URLKeywords":null,"SortOrder":0,"FilterIndexRestrictions":null,"ProductPageIDs":null,"FormValue":"fabric"},{"ProductTypeID":18,"Name":"Wallpaper","NamePlural":null,"URLKeywords":null,"SortOrder":0,"FilterIndexRestrictions":null,"ProductPageIDs":null,"FormValue":"wallpaper"},{"ProductTypeID":8,"Name":"Paint","NamePlural":null,"URLKeywords":null,"SortOrder":0,"FilterIndexRestrictions":null,"ProductPageIDs":null,"FormValue":"paint"},{"ProductTypeID":10,"Name":"Rug","NamePlural":null,"URLKeywords":null,"SortOrder":0,"FilterIndexRestrictions":null,"ProductPageIDs":null,"FormValue":"rug"},{"ProductTypeID":4,"Name":"Cushion","NamePlural":null,"URLKeywords":null,"SortOrder":0,"FilterIndexRestrictions":null,"ProductPageIDs":null,"FormValue":"cushion"},{"ProductTypeID":1,"Name":"Bed Linen","NamePlural":null,"URLKeywords":null,"SortOrder":0,"FilterIndexRestrictions":null,"ProductPageIDs":null,"FormValue":"bed-linen"},{"ProductTypeID":2,"Name":"Throw","NamePlural":null,"URLKeywords":null,"SortOrder":0,"FilterIndexRestrictions":null,"ProductPageIDs":null,"FormValue":"throw"},{"ProductTypeID":35,"Name":"Furniture","NamePlural":null,"URLKeywords":null,"SortOrder":0,"FilterIndexRestrictions":null,"ProductPageIDs":null,"FormValue":"furniture"}]},"TradeMember":false,"TradeAllowed":false,"CanViewRRPs":false,"LoginStatus":0,"UserName":null},"ProductPage":{"ScorePercent":0,"URL":"/jp/fabric/designers-guild/chandigarh-berry-fabric/p29587","URLSemantics":"fabric/designers-guild/chandigarh-berry-fabric","AttributeFormValues":null,"ProductType":null,"IsLifestyle":false,"ShortHeading":null,"ProductTypeFormValue":null,"ProductPageID":29587,"Heading":"Chandigarh Berry","SubHeading":"Fabric","New":false,"ProductTypeID":0,"URLKeywords":null,"ImageID":105623,"ImageWidth":0,"ImageHeight":0,"AspectRatio":1.0,"MerchandisedSortOrder":null,"SearchSortOrder":null,"ColourSort":null,"StockSortOrder":0.0,"AZSortOrder":0,"SalesRank":0,"ReviewCount":0,"ReviewAverage":null,"RatingSortOrder":null,"PriceSortOrder":null,"DiscountSortOrder":null,"NewSort":null,"DesignID":null,"BrandID":0,"AlternateColourwayIncludeSize":false,"SizeMetric":null,"SizeImperial":null,"Code":null,"SortOrder":null,"Design":null,"ProductPagePrice":{"PriceMin":null,"PriceMax":null,"SalePriceMin":null,"SalePriceMax":null,"DiscountPercentageMin":null,"DiscountPercentageMax":null,"ClearanceDiscountPercentageMin":null,"ClearanceDiscountPercentageMax":null,"PriceMessageBase64":null,"DiscountMessageBase64":null,"RRPMessageBase64":null,"CodeMessageBase64":null},"DisplayParagraph":false,"DisplayRating":false,"ReviewStarsDisplayBase64":null,"DisplayRRPs":false},"UseLifestyleGalleryBehaviour":false,"ProductPageID":29587,"DisplayParagraph":false,"DisplayRating":false},{"ImageSize":2,"MasterDefinition":{"SiteSectionID":null,"TitleTag":"Shalimar Garden Amethyst Fabric | Designers Guild","MetaDescription":"In powerful and sultry amethyst tones comes a brooding design with an evocative sensibility. Digitally printed onto a rich pile velvet, this floral design ","BackInStockReminder":null,"ItemsInBasket":0.0,"UrlBreakdown":{"ContentType":1,"ContentId":29859,"ContentDate":"2023-03-29T00:00:00","SemanticString":"fabric/designers-guild/shalimar-garden-amethyst-fabric","countryDetails":{"CountryLanguageID":15,"RegionID":4,"CountryID":118,"CountryCode":"JP","LanguageID":11,"SortOrder":71,"Name":"Japan","URL":"jp","DotNetCulture":"ja-JP","ShopEnabled":false,"LanguageCode":"jp","LanguageDotNetCulture":"ja-JP","MertexCurrencyCode":null,"CurrencyCode":null,"PriceListID":null,"AllowTradeOrders":false,"AcceptAmazonPay":false,"BuyOnlineRedirectAllowed":false,"EcommerceEnabled":false,"SamplesEnabled":false},"contentTypeAndIdNotFound":false,"CountryAwareness":{"Match":false,"Culture":"us","objCountryItem":{"CountryLanguageID":5,"RegionID":2,"CountryID":238,"CountryCode":null,"LanguageID":2,"SortOrder":1,"Name":"United States","URL":"us","DotNetCulture":"en-US","ShopEnabled":true,"LanguageCode":"us","LanguageDotNetCulture":"en-US","MertexCurrencyCode":"USD","CurrencyCode":"USD","PriceListID":2,"AllowTradeOrders":false,"AcceptAmazonPay":true,"BuyOnlineRedirectAllowed":false,"EcommerceEnabled":false,"SamplesEnabled":false}},"GeoIPCulture":null,"siteCountryNotFoundInUrl":false},"GoogleHrefs":[{"hreflang":"de","href":"https://www.designersguild.com/de/fabric/designers-guild/shalimar-garden-amethyst-fabric/p29859"},{"hreflang":"fr","href":"https://www.designersguild.com/fr/fabric/designers-guild/shalimar-garden-amethyst-fabric/p29859"},{"hreflang":"en-gb","href":"https://www.designersguild.com/uk/fabric/designers-guild/shalimar-garden-amethyst-fabric/p29859"},{"hreflang":"en-se","href":"https://www.designersguild.com/se/fabric/designers-guild/shalimar-garden-amethyst-fabric/p29859"},{"hreflang":"en-us","href":"https://www.designersguild.com/us/fabric/designers-guild/shalimar-garden-amethyst-fabric/p29859"},{"hreflang":"es","href":"https://www.designersguild.com/es/fabric/designers-guild/shalimar-garden-amethyst-fabric/p29859"},{"hreflang":"it-it","href":"https://www.designersguild.com/it/fabric/designers-guild/shalimar-garden-amethyst-fabric/p29859"},{"hreflang":"en-nl","href":"https://www.designersguild.com/nl/fabric/designers-guild/shalimar-garden-amethyst-fabric/p29859"},{"hreflang":"ru","href":"https://www.designersguild.com/ru/fabric/designers-guild/shalimar-garden-amethyst-fabric/p29859"},{"hreflang":"ja-jp","href":"https://www.designersguild.com/jp/fabric/designers-guild/shalimar-garden-amethyst-fabric/p29859"},{"hreflang":"en-be","href":"https://www.designersguild.com/be/fabric/designers-guild/shalimar-garden-amethyst-fabric/p29859"},{"hreflang":"en-au","href":"https://www.designersguild.com/au/fabric/designers-guild/shalimar-garden-amethyst-fabric/p29859"},{"hreflang":"en-dk","href":"https://www.designersguild.com/dk/fabric/designers-guild/shalimar-garden-amethyst-fabric/p29859"},{"hreflang":"en-gr","href":"https://www.designersguild.com/eu/fabric/designers-guild/shalimar-garden-amethyst-fabric/p29859"},{"hreflang":"en-no","href":"https://www.designersguild.com/no/fabric/designers-guild/shalimar-garden-amethyst-fabric/p29859"},{"hreflang":"de-at","href":"https://www.designersguild.com/at/fabric/designers-guild/shalimar-garden-amethyst-fabric/p29859"},{"hreflang":"de-ch","href":"https://www.designersguild.com/de-ch/fabric/designers-guild/shalimar-garden-amethyst-fabric/p29859"},{"hreflang":"fr-ch","href":"https://www.designersguild.com/fr-ch/fabric/designers-guild/shalimar-garden-amethyst-fabric/p29859"},{"hreflang":"en","href":"https://www.designersguild.com/row/fabric/designers-guild/shalimar-garden-amethyst-fabric/p29859"},{"hreflang":"en-nz","href":"https://www.designersguild.com/nz/fabric/designers-guild/shalimar-garden-amethyst-fabric/p29859"},{"hreflang":"en-ie","href":"https://www.designersguild.com/ie/fabric/designers-guild/shalimar-garden-amethyst-fabric/p29859"},{"hreflang":"fi-fi","href":"https://www.designersguild.com/fi/fabric/designers-guild/shalimar-garden-amethyst-fabric/p29859"}],"CountryDropDown":{"countryDropDownItems":[{"CountryID":81,"Code":null,"LanguageID":1,"RegionID":3,"LanguageCode":"en","Country":"UK","Region":"Europe","URL":"uk","URLKeywords":"","SortOrder":1,"PageID":0},{"CountryID":15,"Code":null,"LanguageID":4,"RegionID":3,"LanguageCode":"de","Country":"Austria","Region":"Europe","URL":"at","URLKeywords":"","SortOrder":11,"PageID":0},{"CountryID":23,"Code":null,"LanguageID":1,"RegionID":3,"LanguageCode":"en","Country":"Belgium","Region":"Europe","URL":"be","URLKeywords":"","SortOrder":12,"PageID":0},{"CountryID":62,"Code":null,"LanguageID":1,"RegionID":3,"LanguageCode":"en","Country":"Denmark","Region":"Europe","URL":"dk","URLKeywords":"","SortOrder":13,"PageID":0},{"CountryID":74,"Code":null,"LanguageID":15,"RegionID":3,"LanguageCode":"fi","Country":"Finland","Region":"Europe","URL":"fi","URLKeywords":"","SortOrder":15,"PageID":0},{"CountryID":79,"Code":null,"LanguageID":3,"RegionID":3,"LanguageCode":"fr","Country":"France","Region":"Europe","URL":"fr","URLKeywords":"","SortOrder":16,"PageID":0},{"CountryID":60,"Code":null,"LanguageID":4,"RegionID":3,"LanguageCode":"de","Country":"Germany","Region":"Europe","URL":"de","URLKeywords":"","SortOrder":17,"PageID":0},{"CountryID":106,"Code":null,"LanguageID":1,"RegionID":3,"LanguageCode":"en","Country":"Ireland","Region":"Europe","URL":"ie","URLKeywords":"","SortOrder":18,"PageID":0},{"CountryID":114,"Code":null,"LanguageID":6,"RegionID":3,"LanguageCode":"it","Country":"Italy","Region":"Europe","URL":"it","URLKeywords":"","SortOrder":19,"PageID":0},{"CountryID":170,"Code":null,"LanguageID":13,"RegionID":3,"LanguageCode":"en","Country":"Netherlands","Region":"Europe","URL":"nl","URLKeywords":"","SortOrder":20,"PageID":0},{"CountryID":71,"Code":null,"LanguageID":5,"RegionID":3,"LanguageCode":"es","Country":"Spain","Region":"Europe","URL":"es","URLKeywords":"","SortOrder":23,"PageID":0},{"CountryID":202,"Code":null,"LanguageID":1,"RegionID":3,"LanguageCode":"en","Country":"Sweden","Region":"Europe","URL":"se","URLKeywords":"","SortOrder":24,"PageID":0},{"CountryID":171,"Code":null,"LanguageID":1,"RegionID":3,"LanguageCode":"en","Country":"Norway","Region":"Europe","URL":"no","URLKeywords":"","SortOrder":52,"PageID":0},{"CountryID":118,"Code":null,"LanguageID":11,"RegionID":4,"LanguageCode":"jp","Country":"Nihon","Region":"Africa, Asia & the Middle East","URL":"jp","URLKeywords":"","SortOrder":71,"PageID":0},{"CountryID":46,"Code":null,"LanguageID":3,"RegionID":3,"LanguageCode":"fr","Country":"Switzerland","Region":"Europe","URL":"fr-ch","URLKeywords":"","SortOrder":102,"PageID":0},{"CountryID":46,"Code":null,"LanguageID":4,"RegionID":3,"LanguageCode":"de","Country":"Switzerland","Region":"Europe","URL":"de-ch","URLKeywords":"","SortOrder":103,"PageID":0},{"CountryID":196,"Code":null,"LanguageID":10,"RegionID":3,"LanguageCode":"ru","Country":"Russian Federation","Region":"Europe","URL":"ru","URLKeywords":"","SortOrder":109,"PageID":0},{"CountryID":238,"Code":null,"LanguageID":2,"RegionID":2,"LanguageCode":"us","Country":"United States","Region":"North America","URL":"us","URLKeywords":"","SortOrder":125,"PageID":0},{"CountryID":16,"Code":null,"LanguageID":12,"RegionID":6,"LanguageCode":"au","Country":"Australia","Region":"Australasia","URL":"au","URLKeywords":"","SortOrder":150,"PageID":0},{"CountryID":175,"Code":null,"LanguageID":18,"RegionID":6,"LanguageCode":"nz","Country":"New Zealand","Region":"Australasia","URL":"nz","URLKeywords":"","SortOrder":151,"PageID":0},{"CountryID":67,"Code":null,"LanguageID":1,"RegionID":3,"LanguageCode":"en","Country":"Other Countries in Europe","Region":"Europe","URL":"eu","URLKeywords":"","SortOrder":255,"PageID":0},{"CountryID":51,"Code":null,"LanguageID":1,"RegionID":4,"LanguageCode":"en","Country":"Rest of the World","Region":"Africa, Asia & the Middle East","URL":"row","URLKeywords":"","SortOrder":255,"PageID":0}]},"ProductTypeDropDown":{"ProductTypes":[{"ProductTypeID":15,"Name":"Fabric","NamePlural":null,"URLKeywords":null,"SortOrder":0,"FilterIndexRestrictions":null,"ProductPageIDs":null,"FormValue":"fabric"},{"ProductTypeID":18,"Name":"Wallpaper","NamePlural":null,"URLKeywords":null,"SortOrder":0,"FilterIndexRestrictions":null,"ProductPageIDs":null,"FormValue":"wallpaper"},{"ProductTypeID":8,"Name":"Paint","NamePlural":null,"URLKeywords":null,"SortOrder":0,"FilterIndexRestrictions":null,"ProductPageIDs":null,"FormValue":"paint"},{"ProductTypeID":10,"Name":"Rug","NamePlural":null,"URLKeywords":null,"SortOrder":0,"FilterIndexRestrictions":null,"ProductPageIDs":null,"FormValue":"rug"},{"ProductTypeID":4,"Name":"Cushion","NamePlural":null,"URLKeywords":null,"SortOrder":0,"FilterIndexRestrictions":null,"ProductPageIDs":null,"FormValue":"cushion"},{"ProductTypeID":1,"Name":"Bed Linen","NamePlural":null,"URLKeywords":null,"SortOrder":0,"FilterIndexRestrictions":null,"ProductPageIDs":null,"FormValue":"bed-linen"},{"ProductTypeID":2,"Name":"Throw","NamePlural":null,"URLKeywords":null,"SortOrder":0,"FilterIndexRestrictions":null,"ProductPageIDs":null,"FormValue":"throw"},{"ProductTypeID":35,"Name":"Furniture","NamePlural":null,"URLKeywords":null,"SortOrder":0,"FilterIndexRestrictions":null,"ProductPageIDs":null,"FormValue":"furniture"}]},"TradeMember":false,"TradeAllowed":false,"CanViewRRPs":false,"LoginStatus":0,"UserName":null},"ProductPage":{"ScorePercent":0,"URL":"/jp/fabric/designers-guild-essentials/varese-aubergine-fabric/p7456","URLSemantics":"fabric/designers-guild-essentials/varese-aubergine-fabric","AttributeFormValues":null,"ProductType":null,"IsLifestyle":false,"ShortHeading":null,"ProductTypeFormValue":null,"ProductPageID":7456,"Heading":"varese - aubergine","SubHeading":"Fabric","New":false,"ProductTypeID":0,"URLKeywords":null,"ImageID":13156,"ImageWidth":0,"ImageHeight":0,"AspectRatio":1.0,"MerchandisedSortOrder":null,"SearchSortOrder":null,"ColourSort":null,"StockSortOrder":0.0,"AZSortOrder":0,"SalesRank":0,"ReviewCount":0,"ReviewAverage":null,"RatingSortOrder":null,"PriceSortOrder":null,"DiscountSortOrder":null,"NewSort":null,"DesignID":null,"BrandID":0,"AlternateColourwayIncludeSize":false,"SizeMetric":null,"SizeImperial":null,"Code":null,"SortOrder":null,"Design":null,"ProductPagePrice":{"PriceMin":null,"PriceMax":null,"SalePriceMin":null,"SalePriceMax":null,"DiscountPercentageMin":null,"DiscountPercentageMax":null,"ClearanceDiscountPercentageMin":null,"ClearanceDiscountPercentageMax":null,"PriceMessageBase64":null,"DiscountMessageBase64":null,"RRPMessageBase64":null,"CodeMessageBase64":null},"DisplayParagraph":false,"DisplayRating":false,"ReviewStarsDisplayBase64":null,"DisplayRRPs":false},"UseLifestyleGalleryBehaviour":false,"ProductPageID":7456,"DisplayParagraph":false,"DisplayRating":false},{"ImageSize":2,"MasterDefinition":{"SiteSectionID":null,"TitleTag":"Shalimar Garden Amethyst Fabric | Designers Guild","MetaDescription":"In powerful and sultry amethyst tones comes a brooding design with an evocative sensibility. Digitally printed onto a rich pile velvet, this floral design ","BackInStockReminder":null,"ItemsInBasket":0.0,"UrlBreakdown":{"ContentType":1,"ContentId":29859,"ContentDate":"2023-03-29T00:00:00","SemanticString":"fabric/designers-guild/shalimar-garden-amethyst-fabric","countryDetails":{"CountryLanguageID":15,"RegionID":4,"CountryID":118,"CountryCode":"JP","LanguageID":11,"SortOrder":71,"Name":"Japan","URL":"jp","DotNetCulture":"ja-JP","ShopEnabled":false,"LanguageCode":"jp","LanguageDotNetCulture":"ja-JP","MertexCurrencyCode":null,"CurrencyCode":null,"PriceListID":null,"AllowTradeOrders":false,"AcceptAmazonPay":false,"BuyOnlineRedirectAllowed":false,"EcommerceEnabled":false,"SamplesEnabled":false},"contentTypeAndIdNotFound":false,"CountryAwareness":{"Match":false,"Culture":"us","objCountryItem":{"CountryLanguageID":5,"RegionID":2,"CountryID":238,"CountryCode":null,"LanguageID":2,"SortOrder":1,"Name":"United States","URL":"us","DotNetCulture":"en-US","ShopEnabled":true,"LanguageCode":"us","LanguageDotNetCulture":"en-US","MertexCurrencyCode":"USD","CurrencyCode":"USD","PriceListID":2,"AllowTradeOrders":false,"AcceptAmazonPay":true,"BuyOnlineRedirectAllowed":false,"EcommerceEnabled":false,"SamplesEnabled":false}},"GeoIPCulture":null,"siteCountryNotFoundInUrl":false},"GoogleHrefs":[{"hreflang":"de","href":"https://www.designersguild.com/de/fabric/designers-guild/shalimar-garden-amethyst-fabric/p29859"},{"hreflang":"fr","href":"https://www.designersguild.com/fr/fabric/designers-guild/shalimar-garden-amethyst-fabric/p29859"},{"hreflang":"en-gb","href":"https://www.designersguild.com/uk/fabric/designers-guild/shalimar-garden-amethyst-fabric/p29859"},{"hreflang":"en-se","href":"https://www.designersguild.com/se/fabric/designers-guild/shalimar-garden-amethyst-fabric/p29859"},{"hreflang":"en-us","href":"https://www.designersguild.com/us/fabric/designers-guild/shalimar-garden-amethyst-fabric/p29859"},{"hreflang":"es","href":"https://www.designersguild.com/es/fabric/designers-guild/shalimar-garden-amethyst-fabric/p29859"},{"hreflang":"it-it","href":"https://www.designersguild.com/it/fabric/designers-guild/shalimar-garden-amethyst-fabric/p29859"},{"hreflang":"en-nl","href":"https://www.designersguild.com/nl/fabric/designers-guild/shalimar-garden-amethyst-fabric/p29859"},{"hreflang":"ru","href":"https://www.designersguild.com/ru/fabric/designers-guild/shalimar-garden-amethyst-fabric/p29859"},{"hreflang":"ja-jp","href":"https://www.designersguild.com/jp/fabric/designers-guild/shalimar-garden-amethyst-fabric/p29859"},{"hreflang":"en-be","href":"https://www.designersguild.com/be/fabric/designers-guild/shalimar-garden-amethyst-fabric/p29859"},{"hreflang":"en-au","href":"https://www.designersguild.com/au/fabric/designers-guild/shalimar-garden-amethyst-fabric/p29859"},{"hreflang":"en-dk","href":"https://www.designersguild.com/dk/fabric/designers-guild/shalimar-garden-amethyst-fabric/p29859"},{"hreflang":"en-gr","href":"https://www.designersguild.com/eu/fabric/designers-guild/shalimar-garden-amethyst-fabric/p29859"},{"hreflang":"en-no","href":"https://www.designersguild.com/no/fabric/designers-guild/shalimar-garden-amethyst-fabric/p29859"},{"hreflang":"de-at","href":"https://www.designersguild.com/at/fabric/designers-guild/shalimar-garden-amethyst-fabric/p29859"},{"hreflang":"de-ch","href":"https://www.designersguild.com/de-ch/fabric/designers-guild/shalimar-garden-amethyst-fabric/p29859"},{"hreflang":"fr-ch","href":"https://www.designersguild.com/fr-ch/fabric/designers-guild/shalimar-garden-amethyst-fabric/p29859"},{"hreflang":"en","href":"https://www.designersguild.com/row/fabric/designers-guild/shalimar-garden-amethyst-fabric/p29859"},{"hreflang":"en-nz","href":"https://www.designersguild.com/nz/fabric/designers-guild/shalimar-garden-amethyst-fabric/p29859"},{"hreflang":"en-ie","href":"https://www.designersguild.com/ie/fabric/designers-guild/shalimar-garden-amethyst-fabric/p29859"},{"hreflang":"fi-fi","href":"https://www.designersguild.com/fi/fabric/designers-guild/shalimar-garden-amethyst-fabric/p29859"}],"CountryDropDown":{"countryDropDownItems":[{"CountryID":81,"Code":null,"LanguageID":1,"RegionID":3,"LanguageCode":"en","Country":"UK","Region":"Europe","URL":"uk","URLKeywords":"","SortOrder":1,"PageID":0},{"CountryID":15,"Code":null,"LanguageID":4,"RegionID":3,"LanguageCode":"de","Country":"Austria","Region":"Europe","URL":"at","URLKeywords":"","SortOrder":11,"PageID":0},{"CountryID":23,"Code":null,"LanguageID":1,"RegionID":3,"LanguageCode":"en","Country":"Belgium","Region":"Europe","URL":"be","URLKeywords":"","SortOrder":12,"PageID":0},{"CountryID":62,"Code":null,"LanguageID":1,"RegionID":3,"LanguageCode":"en","Country":"Denmark","Region":"Europe","URL":"dk","URLKeywords":"","SortOrder":13,"PageID":0},{"CountryID":74,"Code":null,"LanguageID":15,"RegionID":3,"LanguageCode":"fi","Country":"Finland","Region":"Europe","URL":"fi","URLKeywords":"","SortOrder":15,"PageID":0},{"CountryID":79,"Code":null,"LanguageID":3,"RegionID":3,"LanguageCode":"fr","Country":"France","Region":"Europe","URL":"fr","URLKeywords":"","SortOrder":16,"PageID":0},{"CountryID":60,"Code":null,"LanguageID":4,"RegionID":3,"LanguageCode":"de","Country":"Germany","Region":"Europe","URL":"de","URLKeywords":"","SortOrder":17,"PageID":0},{"CountryID":106,"Code":null,"LanguageID":1,"RegionID":3,"LanguageCode":"en","Country":"Ireland","Region":"Europe","URL":"ie","URLKeywords":"","SortOrder":18,"PageID":0},{"CountryID":114,"Code":null,"LanguageID":6,"RegionID":3,"LanguageCode":"it","Country":"Italy","Region":"Europe","URL":"it","URLKeywords":"","SortOrder":19,"PageID":0},{"CountryID":170,"Code":null,"LanguageID":13,"RegionID":3,"LanguageCode":"en","Country":"Netherlands","Region":"Europe","URL":"nl","URLKeywords":"","SortOrder":20,"PageID":0},{"CountryID":71,"Code":null,"LanguageID":5,"RegionID":3,"LanguageCode":"es","Country":"Spain","Region":"Europe","URL":"es","URLKeywords":"","SortOrder":23,"PageID":0},{"CountryID":202,"Code":null,"LanguageID":1,"RegionID":3,"LanguageCode":"en","Country":"Sweden","Region":"Europe","URL":"se","URLKeywords":"","SortOrder":24,"PageID":0},{"CountryID":171,"Code":null,"LanguageID":1,"RegionID":3,"LanguageCode":"en","Country":"Norway","Region":"Europe","URL":"no","URLKeywords":"","SortOrder":52,"PageID":0},{"CountryID":118,"Code":null,"LanguageID":11,"RegionID":4,"LanguageCode":"jp","Country":"Nihon","Region":"Africa, Asia & the Middle East","URL":"jp","URLKeywords":"","SortOrder":71,"PageID":0},{"CountryID":46,"Code":null,"LanguageID":3,"RegionID":3,"LanguageCode":"fr","Country":"Switzerland","Region":"Europe","URL":"fr-ch","URLKeywords":"","SortOrder":102,"PageID":0},{"CountryID":46,"Code":null,"LanguageID":4,"RegionID":3,"LanguageCode":"de","Country":"Switzerland","Region":"Europe","URL":"de-ch","URLKeywords":"","SortOrder":103,"PageID":0},{"CountryID":196,"Code":null,"LanguageID":10,"RegionID":3,"LanguageCode":"ru","Country":"Russian Federation","Region":"Europe","URL":"ru","URLKeywords":"","SortOrder":109,"PageID":0},{"CountryID":238,"Code":null,"LanguageID":2,"RegionID":2,"LanguageCode":"us","Country":"United States","Region":"North America","URL":"us","URLKeywords":"","SortOrder":125,"PageID":0},{"CountryID":16,"Code":null,"LanguageID":12,"RegionID":6,"LanguageCode":"au","Country":"Australia","Region":"Australasia","URL":"au","URLKeywords":"","SortOrder":150,"PageID":0},{"CountryID":175,"Code":null,"LanguageID":18,"RegionID":6,"LanguageCode":"nz","Country":"New Zealand","Region":"Australasia","URL":"nz","URLKeywords":"","SortOrder":151,"PageID":0},{"CountryID":67,"Code":null,"LanguageID":1,"RegionID":3,"LanguageCode":"en","Country":"Other Countries in Europe","Region":"Europe","URL":"eu","URLKeywords":"","SortOrder":255,"PageID":0},{"CountryID":51,"Code":null,"LanguageID":1,"RegionID":4,"LanguageCode":"en","Country":"Rest of the World","Region":"Africa, Asia & the Middle East","URL":"row","URLKeywords":"","SortOrder":255,"PageID":0}]},"ProductTypeDropDown":{"ProductTypes":[{"ProductTypeID":15,"Name":"Fabric","NamePlural":null,"URLKeywords":null,"SortOrder":0,"FilterIndexRestrictions":null,"ProductPageIDs":null,"FormValue":"fabric"},{"ProductTypeID":18,"Name":"Wallpaper","NamePlural":null,"URLKeywords":null,"SortOrder":0,"FilterIndexRestrictions":null,"ProductPageIDs":null,"FormValue":"wallpaper"},{"ProductTypeID":8,"Name":"Paint","NamePlural":null,"URLKeywords":null,"SortOrder":0,"FilterIndexRestrictions":null,"ProductPageIDs":null,"FormValue":"paint"},{"ProductTypeID":10,"Name":"Rug","NamePlural":null,"URLKeywords":null,"SortOrder":0,"FilterIndexRestrictions":null,"ProductPageIDs":null,"FormValue":"rug"},{"ProductTypeID":4,"Name":"Cushion","NamePlural":null,"URLKeywords":null,"SortOrder":0,"FilterIndexRestrictions":null,"ProductPageIDs":null,"FormValue":"cushion"},{"ProductTypeID":1,"Name":"Bed Linen","NamePlural":null,"URLKeywords":null,"SortOrder":0,"FilterIndexRestrictions":null,"ProductPageIDs":null,"FormValue":"bed-linen"},{"ProductTypeID":2,"Name":"Throw","NamePlural":null,"URLKeywords":null,"SortOrder":0,"FilterIndexRestrictions":null,"ProductPageIDs":null,"FormValue":"throw"},{"ProductTypeID":35,"Name":"Furniture","NamePlural":null,"URLKeywords":null,"SortOrder":0,"FilterIndexRestrictions":null,"ProductPageIDs":null,"FormValue":"furniture"}]},"TradeMember":false,"TradeAllowed":false,"CanViewRRPs":false,"LoginStatus":0,"UserName":null},"ProductPage":{"ScorePercent":0,"URL":"/jp/fabric/designers-guild-essentials/calozzo-stretto-platinum-fabric/p29562","URLSemantics":"fabric/designers-guild-essentials/calozzo-stretto-platinum-fabric","AttributeFormValues":null,"ProductType":null,"IsLifestyle":false,"ShortHeading":null,"ProductTypeFormValue":null,"ProductPageID":29562,"Heading":"Calozzo Stretto Platinum","SubHeading":"Fabric","New":false,"ProductTypeID":0,"URLKeywords":null,"ImageID":106143,"ImageWidth":0,"ImageHeight":0,"AspectRatio":1.0,"MerchandisedSortOrder":null,"SearchSortOrder":null,"ColourSort":null,"StockSortOrder":0.0,"AZSortOrder":0,"SalesRank":0,"ReviewCount":0,"ReviewAverage":null,"RatingSortOrder":null,"PriceSortOrder":null,"DiscountSortOrder":null,"NewSort":null,"DesignID":null,"BrandID":0,"AlternateColourwayIncludeSize":false,"SizeMetric":null,"SizeImperial":null,"Code":null,"SortOrder":null,"Design":null,"ProductPagePrice":{"PriceMin":null,"PriceMax":null,"SalePriceMin":null,"SalePriceMax":null,"DiscountPercentageMin":null,"DiscountPercentageMax":null,"ClearanceDiscountPercentageMin":null,"ClearanceDiscountPercentageMax":null,"PriceMessageBase64":null,"DiscountMessageBase64":null,"RRPMessageBase64":null,"CodeMessageBase64":null},"DisplayParagraph":false,"DisplayRating":false,"ReviewStarsDisplayBase64":null,"DisplayRRPs":false},"UseLifestyleGalleryBehaviour":false,"ProductPageID":29562,"DisplayParagraph":false,"DisplayRating":false},{"ImageSize":2,"MasterDefinition":{"SiteSectionID":null,"TitleTag":"Shalimar Garden Amethyst Fabric | Designers Guild","MetaDescription":"In powerful and sultry amethyst tones comes a brooding design with an evocative sensibility. Digitally printed onto a rich pile velvet, this floral design ","BackInStockReminder":null,"ItemsInBasket":0.0,"UrlBreakdown":{"ContentType":1,"ContentId":29859,"ContentDate":"2023-03-29T00:00:00","SemanticString":"fabric/designers-guild/shalimar-garden-amethyst-fabric","countryDetails":{"CountryLanguageID":15,"RegionID":4,"CountryID":118,"CountryCode":"JP","LanguageID":11,"SortOrder":71,"Name":"Japan","URL":"jp","DotNetCulture":"ja-JP","ShopEnabled":false,"LanguageCode":"jp","LanguageDotNetCulture":"ja-JP","MertexCurrencyCode":null,"CurrencyCode":null,"PriceListID":null,"AllowTradeOrders":false,"AcceptAmazonPay":false,"BuyOnlineRedirectAllowed":false,"EcommerceEnabled":false,"SamplesEnabled":false},"contentTypeAndIdNotFound":false,"CountryAwareness":{"Match":false,"Culture":"us","objCountryItem":{"CountryLanguageID":5,"RegionID":2,"CountryID":238,"CountryCode":null,"LanguageID":2,"SortOrder":1,"Name":"United States","URL":"us","DotNetCulture":"en-US","ShopEnabled":true,"LanguageCode":"us","LanguageDotNetCulture":"en-US","MertexCurrencyCode":"USD","CurrencyCode":"USD","PriceListID":2,"AllowTradeOrders":false,"AcceptAmazonPay":true,"BuyOnlineRedirectAllowed":false,"EcommerceEnabled":false,"SamplesEnabled":false}},"GeoIPCulture":null,"siteCountryNotFoundInUrl":false},"GoogleHrefs":[{"hreflang":"de","href":"https://www.designersguild.com/de/fabric/designers-guild/shalimar-garden-amethyst-fabric/p29859"},{"hreflang":"fr","href":"https://www.designersguild.com/fr/fabric/designers-guild/shalimar-garden-amethyst-fabric/p29859"},{"hreflang":"en-gb","href":"https://www.designersguild.com/uk/fabric/designers-guild/shalimar-garden-amethyst-fabric/p29859"},{"hreflang":"en-se","href":"https://www.designersguild.com/se/fabric/designers-guild/shalimar-garden-amethyst-fabric/p29859"},{"hreflang":"en-us","href":"https://www.designersguild.com/us/fabric/designers-guild/shalimar-garden-amethyst-fabric/p29859"},{"hreflang":"es","href":"https://www.designersguild.com/es/fabric/designers-guild/shalimar-garden-amethyst-fabric/p29859"},{"hreflang":"it-it","href":"https://www.designersguild.com/it/fabric/designers-guild/shalimar-garden-amethyst-fabric/p29859"},{"hreflang":"en-nl","href":"https://www.designersguild.com/nl/fabric/designers-guild/shalimar-garden-amethyst-fabric/p29859"},{"hreflang":"ru","href":"https://www.designersguild.com/ru/fabric/designers-guild/shalimar-garden-amethyst-fabric/p29859"},{"hreflang":"ja-jp","href":"https://www.designersguild.com/jp/fabric/designers-guild/shalimar-garden-amethyst-fabric/p29859"},{"hreflang":"en-be","href":"https://www.designersguild.com/be/fabric/designers-guild/shalimar-garden-amethyst-fabric/p29859"},{"hreflang":"en-au","href":"https://www.designersguild.com/au/fabric/designers-guild/shalimar-garden-amethyst-fabric/p29859"},{"hreflang":"en-dk","href":"https://www.designersguild.com/dk/fabric/designers-guild/shalimar-garden-amethyst-fabric/p29859"},{"hreflang":"en-gr","href":"https://www.designersguild.com/eu/fabric/designers-guild/shalimar-garden-amethyst-fabric/p29859"},{"hreflang":"en-no","href":"https://www.designersguild.com/no/fabric/designers-guild/shalimar-garden-amethyst-fabric/p29859"},{"hreflang":"de-at","href":"https://www.designersguild.com/at/fabric/designers-guild/shalimar-garden-amethyst-fabric/p29859"},{"hreflang":"de-ch","href":"https://www.designersguild.com/de-ch/fabric/designers-guild/shalimar-garden-amethyst-fabric/p29859"},{"hreflang":"fr-ch","href":"https://www.designersguild.com/fr-ch/fabric/designers-guild/shalimar-garden-amethyst-fabric/p29859"},{"hreflang":"en","href":"https://www.designersguild.com/row/fabric/designers-guild/shalimar-garden-amethyst-fabric/p29859"},{"hreflang":"en-nz","href":"https://www.designersguild.com/nz/fabric/designers-guild/shalimar-garden-amethyst-fabric/p29859"},{"hreflang":"en-ie","href":"https://www.designersguild.com/ie/fabric/designers-guild/shalimar-garden-amethyst-fabric/p29859"},{"hreflang":"fi-fi","href":"https://www.designersguild.com/fi/fabric/designers-guild/shalimar-garden-amethyst-fabric/p29859"}],"CountryDropDown":{"countryDropDownItems":[{"CountryID":81,"Code":null,"LanguageID":1,"RegionID":3,"LanguageCode":"en","Country":"UK","Region":"Europe","URL":"uk","URLKeywords":"","SortOrder":1,"PageID":0},{"CountryID":15,"Code":null,"LanguageID":4,"RegionID":3,"LanguageCode":"de","Country":"Austria","Region":"Europe","URL":"at","URLKeywords":"","SortOrder":11,"PageID":0},{"CountryID":23,"Code":null,"LanguageID":1,"RegionID":3,"LanguageCode":"en","Country":"Belgium","Region":"Europe","URL":"be","URLKeywords":"","SortOrder":12,"PageID":0},{"CountryID":62,"Code":null,"LanguageID":1,"RegionID":3,"LanguageCode":"en","Country":"Denmark","Region":"Europe","URL":"dk","URLKeywords":"","SortOrder":13,"PageID":0},{"CountryID":74,"Code":null,"LanguageID":15,"RegionID":3,"LanguageCode":"fi","Country":"Finland","Region":"Europe","URL":"fi","URLKeywords":"","SortOrder":15,"PageID":0},{"CountryID":79,"Code":null,"LanguageID":3,"RegionID":3,"LanguageCode":"fr","Country":"France","Region":"Europe","URL":"fr","URLKeywords":"","SortOrder":16,"PageID":0},{"CountryID":60,"Code":null,"LanguageID":4,"RegionID":3,"LanguageCode":"de","Country":"Germany","Region":"Europe","URL":"de","URLKeywords":"","SortOrder":17,"PageID":0},{"CountryID":106,"Code":null,"LanguageID":1,"RegionID":3,"LanguageCode":"en","Country":"Ireland","Region":"Europe","URL":"ie","URLKeywords":"","SortOrder":18,"PageID":0},{"CountryID":114,"Code":null,"LanguageID":6,"RegionID":3,"LanguageCode":"it","Country":"Italy","Region":"Europe","URL":"it","URLKeywords":"","SortOrder":19,"PageID":0},{"CountryID":170,"Code":null,"LanguageID":13,"RegionID":3,"LanguageCode":"en","Country":"Netherlands","Region":"Europe","URL":"nl","URLKeywords":"","SortOrder":20,"PageID":0},{"CountryID":71,"Code":null,"LanguageID":5,"RegionID":3,"LanguageCode":"es","Country":"Spain","Region":"Europe","URL":"es","URLKeywords":"","SortOrder":23,"PageID":0},{"CountryID":202,"Code":null,"LanguageID":1,"RegionID":3,"LanguageCode":"en","Country":"Sweden","Region":"Europe","URL":"se","URLKeywords":"","SortOrder":24,"PageID":0},{"CountryID":171,"Code":null,"LanguageID":1,"RegionID":3,"LanguageCode":"en","Country":"Norway","Region":"Europe","URL":"no","URLKeywords":"","SortOrder":52,"PageID":0},{"CountryID":118,"Code":null,"LanguageID":11,"RegionID":4,"LanguageCode":"jp","Country":"Nihon","Region":"Africa, Asia & the Middle East","URL":"jp","URLKeywords":"","SortOrder":71,"PageID":0},{"CountryID":46,"Code":null,"LanguageID":3,"RegionID":3,"LanguageCode":"fr","Country":"Switzerland","Region":"Europe","URL":"fr-ch","URLKeywords":"","SortOrder":102,"PageID":0},{"CountryID":46,"Code":null,"LanguageID":4,"RegionID":3,"LanguageCode":"de","Country":"Switzerland","Region":"Europe","URL":"de-ch","URLKeywords":"","SortOrder":103,"PageID":0},{"CountryID":196,"Code":null,"LanguageID":10,"RegionID":3,"LanguageCode":"ru","Country":"Russian Federation","Region":"Europe","URL":"ru","URLKeywords":"","SortOrder":109,"PageID":0},{"CountryID":238,"Code":null,"LanguageID":2,"RegionID":2,"LanguageCode":"us","Country":"United States","Region":"North America","URL":"us","URLKeywords":"","SortOrder":125,"PageID":0},{"CountryID":16,"Code":null,"LanguageID":12,"RegionID":6,"LanguageCode":"au","Country":"Australia","Region":"Australasia","URL":"au","URLKeywords":"","SortOrder":150,"PageID":0},{"CountryID":175,"Code":null,"LanguageID":18,"RegionID":6,"LanguageCode":"nz","Country":"New Zealand","Region":"Australasia","URL":"nz","URLKeywords":"","SortOrder":151,"PageID":0},{"CountryID":67,"Code":null,"LanguageID":1,"RegionID":3,"LanguageCode":"en","Country":"Other Countries in Europe","Region":"Europe","URL":"eu","URLKeywords":"","SortOrder":255,"PageID":0},{"CountryID":51,"Code":null,"LanguageID":1,"RegionID":4,"LanguageCode":"en","Country":"Rest of the World","Region":"Africa, Asia & the Middle East","URL":"row","URLKeywords":"","SortOrder":255,"PageID":0}]},"ProductTypeDropDown":{"ProductTypes":[{"ProductTypeID":15,"Name":"Fabric","NamePlural":null,"URLKeywords":null,"SortOrder":0,"FilterIndexRestrictions":null,"ProductPageIDs":null,"FormValue":"fabric"},{"ProductTypeID":18,"Name":"Wallpaper","NamePlural":null,"URLKeywords":null,"SortOrder":0,"FilterIndexRestrictions":null,"ProductPageIDs":null,"FormValue":"wallpaper"},{"ProductTypeID":8,"Name":"Paint","NamePlural":null,"URLKeywords":null,"SortOrder":0,"FilterIndexRestrictions":null,"ProductPageIDs":null,"FormValue":"paint"},{"ProductTypeID":10,"Name":"Rug","NamePlural":null,"URLKeywords":null,"SortOrder":0,"FilterIndexRestrictions":null,"ProductPageIDs":null,"FormValue":"rug"},{"ProductTypeID":4,"Name":"Cushion","NamePlural":null,"URLKeywords":null,"SortOrder":0,"FilterIndexRestrictions":null,"ProductPageIDs":null,"FormValue":"cushion"},{"ProductTypeID":1,"Name":"Bed Linen","NamePlural":null,"URLKeywords":null,"SortOrder":0,"FilterIndexRestrictions":null,"ProductPageIDs":null,"FormValue":"bed-linen"},{"ProductTypeID":2,"Name":"Throw","NamePlural":null,"URLKeywords":null,"SortOrder":0,"FilterIndexRestrictions":null,"ProductPageIDs":null,"FormValue":"throw"},{"ProductTypeID":35,"Name":"Furniture","NamePlural":null,"URLKeywords":null,"SortOrder":0,"FilterIndexRestrictions":null,"ProductPageIDs":null,"FormValue":"furniture"}]},"TradeMember":false,"TradeAllowed":false,"CanViewRRPs":false,"LoginStatus":0,"UserName":null},"ProductPage":{"ScorePercent":0,"URL":"/jp/fabric/designers-guild-essentials/brera-lino-platinum-fabric/p11777","URLSemantics":"fabric/designers-guild-essentials/brera-lino-platinum-fabric","AttributeFormValues":null,"ProductType":null,"IsLifestyle":false,"ShortHeading":null,"ProductTypeFormValue":null,"ProductPageID":11777,"Heading":"brera lino - platinum","SubHeading":"Fabric","New":false,"ProductTypeID":0,"URLKeywords":null,"ImageID":57153,"ImageWidth":0,"ImageHeight":0,"AspectRatio":1.0,"MerchandisedSortOrder":null,"SearchSortOrder":null,"ColourSort":null,"StockSortOrder":0.0,"AZSortOrder":0,"SalesRank":0,"ReviewCount":0,"ReviewAverage":null,"RatingSortOrder":null,"PriceSortOrder":null,"DiscountSortOrder":null,"NewSort":null,"DesignID":null,"BrandID":0,"AlternateColourwayIncludeSize":false,"SizeMetric":null,"SizeImperial":null,"Code":null,"SortOrder":null,"Design":null,"ProductPagePrice":{"PriceMin":null,"PriceMax":null,"SalePriceMin":null,"SalePriceMax":null,"DiscountPercentageMin":null,"DiscountPercentageMax":null,"ClearanceDiscountPercentageMin":null,"ClearanceDiscountPercentageMax":null,"PriceMessageBase64":null,"DiscountMessageBase64":null,"RRPMessageBase64":null,"CodeMessageBase64":null},"DisplayParagraph":false,"DisplayRating":false,"ReviewStarsDisplayBase64":null,"DisplayRRPs":false},"UseLifestyleGalleryBehaviour":false,"ProductPageID":11777,"DisplayParagraph":false,"DisplayRating":false},{"ImageSize":2,"MasterDefinition":{"SiteSectionID":null,"TitleTag":"Shalimar Garden Amethyst Fabric | Designers Guild","MetaDescription":"In powerful and sultry amethyst tones comes a brooding design with an evocative sensibility. Digitally printed onto a rich pile velvet, this floral design ","BackInStockReminder":null,"ItemsInBasket":0.0,"UrlBreakdown":{"ContentType":1,"ContentId":29859,"ContentDate":"2023-03-29T00:00:00","SemanticString":"fabric/designers-guild/shalimar-garden-amethyst-fabric","countryDetails":{"CountryLanguageID":15,"RegionID":4,"CountryID":118,"CountryCode":"JP","LanguageID":11,"SortOrder":71,"Name":"Japan","URL":"jp","DotNetCulture":"ja-JP","ShopEnabled":false,"LanguageCode":"jp","LanguageDotNetCulture":"ja-JP","MertexCurrencyCode":null,"CurrencyCode":null,"PriceListID":null,"AllowTradeOrders":false,"AcceptAmazonPay":false,"BuyOnlineRedirectAllowed":false,"EcommerceEnabled":false,"SamplesEnabled":false},"contentTypeAndIdNotFound":false,"CountryAwareness":{"Match":false,"Culture":"us","objCountryItem":{"CountryLanguageID":5,"RegionID":2,"CountryID":238,"CountryCode":null,"LanguageID":2,"SortOrder":1,"Name":"United States","URL":"us","DotNetCulture":"en-US","ShopEnabled":true,"LanguageCode":"us","LanguageDotNetCulture":"en-US","MertexCurrencyCode":"USD","CurrencyCode":"USD","PriceListID":2,"AllowTradeOrders":false,"AcceptAmazonPay":true,"BuyOnlineRedirectAllowed":false,"EcommerceEnabled":false,"SamplesEnabled":false}},"GeoIPCulture":null,"siteCountryNotFoundInUrl":false},"GoogleHrefs":[{"hreflang":"de","href":"https://www.designersguild.com/de/fabric/designers-guild/shalimar-garden-amethyst-fabric/p29859"},{"hreflang":"fr","href":"https://www.designersguild.com/fr/fabric/designers-guild/shalimar-garden-amethyst-fabric/p29859"},{"hreflang":"en-gb","href":"https://www.designersguild.com/uk/fabric/designers-guild/shalimar-garden-amethyst-fabric/p29859"},{"hreflang":"en-se","href":"https://www.designersguild.com/se/fabric/designers-guild/shalimar-garden-amethyst-fabric/p29859"},{"hreflang":"en-us","href":"https://www.designersguild.com/us/fabric/designers-guild/shalimar-garden-amethyst-fabric/p29859"},{"hreflang":"es","href":"https://www.designersguild.com/es/fabric/designers-guild/shalimar-garden-amethyst-fabric/p29859"},{"hreflang":"it-it","href":"https://www.designersguild.com/it/fabric/designers-guild/shalimar-garden-amethyst-fabric/p29859"},{"hreflang":"en-nl","href":"https://www.designersguild.com/nl/fabric/designers-guild/shalimar-garden-amethyst-fabric/p29859"},{"hreflang":"ru","href":"https://www.designersguild.com/ru/fabric/designers-guild/shalimar-garden-amethyst-fabric/p29859"},{"hreflang":"ja-jp","href":"https://www.designersguild.com/jp/fabric/designers-guild/shalimar-garden-amethyst-fabric/p29859"},{"hreflang":"en-be","href":"https://www.designersguild.com/be/fabric/designers-guild/shalimar-garden-amethyst-fabric/p29859"},{"hreflang":"en-au","href":"https://www.designersguild.com/au/fabric/designers-guild/shalimar-garden-amethyst-fabric/p29859"},{"hreflang":"en-dk","href":"https://www.designersguild.com/dk/fabric/designers-guild/shalimar-garden-amethyst-fabric/p29859"},{"hreflang":"en-gr","href":"https://www.designersguild.com/eu/fabric/designers-guild/shalimar-garden-amethyst-fabric/p29859"},{"hreflang":"en-no","href":"https://www.designersguild.com/no/fabric/designers-guild/shalimar-garden-amethyst-fabric/p29859"},{"hreflang":"de-at","href":"https://www.designersguild.com/at/fabric/designers-guild/shalimar-garden-amethyst-fabric/p29859"},{"hreflang":"de-ch","href":"https://www.designersguild.com/de-ch/fabric/designers-guild/shalimar-garden-amethyst-fabric/p29859"},{"hreflang":"fr-ch","href":"https://www.designersguild.com/fr-ch/fabric/designers-guild/shalimar-garden-amethyst-fabric/p29859"},{"hreflang":"en","href":"https://www.designersguild.com/row/fabric/designers-guild/shalimar-garden-amethyst-fabric/p29859"},{"hreflang":"en-nz","href":"https://www.designersguild.com/nz/fabric/designers-guild/shalimar-garden-amethyst-fabric/p29859"},{"hreflang":"en-ie","href":"https://www.designersguild.com/ie/fabric/designers-guild/shalimar-garden-amethyst-fabric/p29859"},{"hreflang":"fi-fi","href":"https://www.designersguild.com/fi/fabric/designers-guild/shalimar-garden-amethyst-fabric/p29859"}],"CountryDropDown":{"countryDropDownItems":[{"CountryID":81,"Code":null,"LanguageID":1,"RegionID":3,"LanguageCode":"en","Country":"UK","Region":"Europe","URL":"uk","URLKeywords":"","SortOrder":1,"PageID":0},{"CountryID":15,"Code":null,"LanguageID":4,"RegionID":3,"LanguageCode":"de","Country":"Austria","Region":"Europe","URL":"at","URLKeywords":"","SortOrder":11,"PageID":0},{"CountryID":23,"Code":null,"LanguageID":1,"RegionID":3,"LanguageCode":"en","Country":"Belgium","Region":"Europe","URL":"be","URLKeywords":"","SortOrder":12,"PageID":0},{"CountryID":62,"Code":null,"LanguageID":1,"RegionID":3,"LanguageCode":"en","Country":"Denmark","Region":"Europe","URL":"dk","URLKeywords":"","SortOrder":13,"PageID":0},{"CountryID":74,"Code":null,"LanguageID":15,"RegionID":3,"LanguageCode":"fi","Country":"Finland","Region":"Europe","URL":"fi","URLKeywords":"","SortOrder":15,"PageID":0},{"CountryID":79,"Code":null,"LanguageID":3,"RegionID":3,"LanguageCode":"fr","Country":"France","Region":"Europe","URL":"fr","URLKeywords":"","SortOrder":16,"PageID":0},{"CountryID":60,"Code":null,"LanguageID":4,"RegionID":3,"LanguageCode":"de","Country":"Germany","Region":"Europe","URL":"de","URLKeywords":"","SortOrder":17,"PageID":0},{"CountryID":106,"Code":null,"LanguageID":1,"RegionID":3,"LanguageCode":"en","Country":"Ireland","Region":"Europe","URL":"ie","URLKeywords":"","SortOrder":18,"PageID":0},{"CountryID":114,"Code":null,"LanguageID":6,"RegionID":3,"LanguageCode":"it","Country":"Italy","Region":"Europe","URL":"it","URLKeywords":"","SortOrder":19,"PageID":0},{"CountryID":170,"Code":null,"LanguageID":13,"RegionID":3,"LanguageCode":"en","Country":"Netherlands","Region":"Europe","URL":"nl","URLKeywords":"","SortOrder":20,"PageID":0},{"CountryID":71,"Code":null,"LanguageID":5,"RegionID":3,"LanguageCode":"es","Country":"Spain","Region":"Europe","URL":"es","URLKeywords":"","SortOrder":23,"PageID":0},{"CountryID":202,"Code":null,"LanguageID":1,"RegionID":3,"LanguageCode":"en","Country":"Sweden","Region":"Europe","URL":"se","URLKeywords":"","SortOrder":24,"PageID":0},{"CountryID":171,"Code":null,"LanguageID":1,"RegionID":3,"LanguageCode":"en","Country":"Norway","Region":"Europe","URL":"no","URLKeywords":"","SortOrder":52,"PageID":0},{"CountryID":118,"Code":null,"LanguageID":11,"RegionID":4,"LanguageCode":"jp","Country":"Nihon","Region":"Africa, Asia & the Middle East","URL":"jp","URLKeywords":"","SortOrder":71,"PageID":0},{"CountryID":46,"Code":null,"LanguageID":3,"RegionID":3,"LanguageCode":"fr","Country":"Switzerland","Region":"Europe","URL":"fr-ch","URLKeywords":"","SortOrder":102,"PageID":0},{"CountryID":46,"Code":null,"LanguageID":4,"RegionID":3,"LanguageCode":"de","Country":"Switzerland","Region":"Europe","URL":"de-ch","URLKeywords":"","SortOrder":103,"PageID":0},{"CountryID":196,"Code":null,"LanguageID":10,"RegionID":3,"LanguageCode":"ru","Country":"Russian Federation","Region":"Europe","URL":"ru","URLKeywords":"","SortOrder":109,"PageID":0},{"CountryID":238,"Code":null,"LanguageID":2,"RegionID":2,"LanguageCode":"us","Country":"United States","Region":"North America","URL":"us","URLKeywords":"","SortOrder":125,"PageID":0},{"CountryID":16,"Code":null,"LanguageID":12,"RegionID":6,"LanguageCode":"au","Country":"Australia","Region":"Australasia","URL":"au","URLKeywords":"","SortOrder":150,"PageID":0},{"CountryID":175,"Code":null,"LanguageID":18,"RegionID":6,"LanguageCode":"nz","Country":"New Zealand","Region":"Australasia","URL":"nz","URLKeywords":"","SortOrder":151,"PageID":0},{"CountryID":67,"Code":null,"LanguageID":1,"RegionID":3,"LanguageCode":"en","Country":"Other Countries in Europe","Region":"Europe","URL":"eu","URLKeywords":"","SortOrder":255,"PageID":0},{"CountryID":51,"Code":null,"LanguageID":1,"RegionID":4,"LanguageCode":"en","Country":"Rest of the World","Region":"Africa, Asia & the Middle East","URL":"row","URLKeywords":"","SortOrder":255,"PageID":0}]},"ProductTypeDropDown":{"ProductTypes":[{"ProductTypeID":15,"Name":"Fabric","NamePlural":null,"URLKeywords":null,"SortOrder":0,"FilterIndexRestrictions":null,"ProductPageIDs":null,"FormValue":"fabric"},{"ProductTypeID":18,"Name":"Wallpaper","NamePlural":null,"URLKeywords":null,"SortOrder":0,"FilterIndexRestrictions":null,"ProductPageIDs":null,"FormValue":"wallpaper"},{"ProductTypeID":8,"Name":"Paint","NamePlural":null,"URLKeywords":null,"SortOrder":0,"FilterIndexRestrictions":null,"ProductPageIDs":null,"FormValue":"paint"},{"ProductTypeID":10,"Name":"Rug","NamePlural":null,"URLKeywords":null,"SortOrder":0,"FilterIndexRestrictions":null,"ProductPageIDs":null,"FormValue":"rug"},{"ProductTypeID":4,"Name":"Cushion","NamePlural":null,"URLKeywords":null,"SortOrder":0,"FilterIndexRestrictions":null,"ProductPageIDs":null,"FormValue":"cushion"},{"ProductTypeID":1,"Name":"Bed Linen","NamePlural":null,"URLKeywords":null,"SortOrder":0,"FilterIndexRestrictions":null,"ProductPageIDs":null,"FormValue":"bed-linen"},{"ProductTypeID":2,"Name":"Throw","NamePlural":null,"URLKeywords":null,"SortOrder":0,"FilterIndexRestrictions":null,"ProductPageIDs":null,"FormValue":"throw"},{"ProductTypeID":35,"Name":"Furniture","NamePlural":null,"URLKeywords":null,"SortOrder":0,"FilterIndexRestrictions":null,"ProductPageIDs":null,"FormValue":"furniture"}]},"TradeMember":false,"TradeAllowed":false,"CanViewRRPs":false,"LoginStatus":0,"UserName":null},"ProductPage":{"ScorePercent":0,"URL":"/jp/wallpaper/designers-guild/shirakawa-graphite-wallpaper/p29818","URLSemantics":"wallpaper/designers-guild/shirakawa-graphite-wallpaper","AttributeFormValues":null,"ProductType":null,"IsLifestyle":false,"ShortHeading":null,"ProductTypeFormValue":null,"ProductPageID":29818,"Heading":"Shirakawa Graphite","SubHeading":"Wallpaper","New":false,"ProductTypeID":0,"URLKeywords":null,"ImageID":102252,"ImageWidth":0,"ImageHeight":0,"AspectRatio":1.0,"MerchandisedSortOrder":null,"SearchSortOrder":null,"ColourSort":null,"StockSortOrder":0.0,"AZSortOrder":0,"SalesRank":0,"ReviewCount":0,"ReviewAverage":null,"RatingSortOrder":null,"PriceSortOrder":null,"DiscountSortOrder":null,"NewSort":null,"DesignID":null,"BrandID":0,"AlternateColourwayIncludeSize":false,"SizeMetric":null,"SizeImperial":null,"Code":null,"SortOrder":null,"Design":null,"ProductPagePrice":{"PriceMin":null,"PriceMax":null,"SalePriceMin":null,"SalePriceMax":null,"DiscountPercentageMin":null,"DiscountPercentageMax":null,"ClearanceDiscountPercentageMin":null,"ClearanceDiscountPercentageMax":null,"PriceMessageBase64":null,"DiscountMessageBase64":null,"RRPMessageBase64":null,"CodeMessageBase64":null},"DisplayParagraph":false,"DisplayRating":false,"ReviewStarsDisplayBase64":null,"DisplayRRPs":false},"UseLifestyleGalleryBehaviour":false,"ProductPageID":29818,"DisplayParagraph":false,"DisplayRating":false}],"RelatedSearches":[],"AllProducts":[{"Solitary":false,"ProductBase":{"product":{"productId":174781,"sortOrder":50,"productTypeId":15,"templateId":2,"code":"FDG2816/01","brand":"Designers Guild","gtin13":null,"name":"Shalimar Garden - Amethyst","AKA":null,"size":null,"imageId":102695,"imageAltText":"Shalimar Garden - Amethyst","imageTitleText":"Shalimar Garden - Amethyst","rRPMessage":null,"rLRRP":null,"rLTradePrice":null,"displayPrice":null,"displaySalePrice":null,"priceMessage":null,"statusMessage":null,"urlSemantics":"fabric/designers-guild/shalimar-garden-amethyst-fabric","productPageId":29859,"url":"/jp/fabric/designers-guild/shalimar-garden-amethyst-fabric/p29859","itemAvailability":"InStock","orderFormGroupId":null,"orderFormName":"Shalimar Garden - Amethyst","attributes":null,"orderFormGroup":null,"orderFormProperties":[{"key":"Colour","value":"Amethyst"},{"key":"Code","value":"FDG2816/01"}],"controls":{"allowOrder":false,"allowReserve":false,"allowReserveWithBatchSample":false,"allowSample":false,"allowLargeSample":false,"allowBackInStockReminder":false,"disableOrder":false,"disableSample":false},"stockMessage":{"productTypeID":15,"quantityMinimum":1.0,"quantityMaximum":0.0,"productTypeQuantityMaximum":null,"quantityIncrement":0.1,"reserveQuantityMaximum":50.0,"unit":"m","allowStockCheck":false,"pieceBreakdownMinimum":1.0,"pieceBreakdownMaximum":50.0,"allowBackInStockReminder":false,"freeStock":194.2,"nextPOFreeStock":0.0,"nextPODueDate":null,"totalPOFreeStock":0.0,"basketQuantityThresholds":[{"minimum":0,"maximum":99999.99}]},"orderButtonText":"Add to Basket","reserveButtonText":"Reserve","reserveWithBatchSampleButtonText":"Reserve with Batch Sample","sample":{"productId":176370,"stockMessage":{"productTypeID":55,"quantityMinimum":1.0,"quantityMaximum":2.0,"productTypeQuantityMaximum":20.0,"quantityIncrement":1.0,"reserveQuantityMaximum":13.0,"unit":"","allowStockCheck":false,"pieceBreakdownMinimum":null,"pieceBreakdownMaximum":null,"allowBackInStockReminder":false,"freeStock":13.0,"nextPOFreeStock":99.0,"nextPODueDate":"2023-04-12","totalPOFreeStock":99.0,"basketQuantityThresholds":[{"minimum":0,"maximum":99999.99,"stockMessages":[{"stockMessage":"In stock","class":"","stockBreakdownTab":0}]}]},"orderButtonText":"Request a Sample","displayPrice":null,"displaySalePrice":null,"priceMessage":null},"largeSample":{"productId":176371,"stockMessage":{"productTypeID":null,"quantityMinimum":1.0,"quantityMaximum":99.0,"productTypeQuantityMaximum":null,"quantityIncrement":1.0,"reserveQuantityMaximum":null,"unit":"","allowStockCheck":false,"pieceBreakdownMinimum":null,"pieceBreakdownMaximum":null,"allowBackInStockReminder":false,"freeStock":null,"nextPOFreeStock":null,"nextPODueDate":null,"totalPOFreeStock":null,"basketQuantityThresholds":[{"minimum":0,"maximum":99999.99,"stockMessages":[{"stockMessage":" more due in (1-2 weeks)","class":"","stockBreakdownTab":1}]}]},"orderButtonText":"Add to Basket","displayPrice":null,"displaySalePrice":null,"priceMessage":null}}},"Product":{"productId":174781,"sortOrder":50,"productTypeId":15,"templateId":2,"code":"FDG2816/01","brand":"Designers Guild","gtin13":null,"name":"Shalimar Garden - Amethyst","AKA":null,"size":null,"imageId":102695,"imageAltText":"Shalimar Garden - Amethyst","imageTitleText":"Shalimar Garden - Amethyst","rRPMessage":null,"rLRRP":null,"rLTradePrice":null,"displayPrice":null,"displaySalePrice":null,"priceMessage":null,"statusMessage":null,"urlSemantics":"fabric/designers-guild/shalimar-garden-amethyst-fabric","productPageId":29859,"url":"/jp/fabric/designers-guild/shalimar-garden-amethyst-fabric/p29859","itemAvailability":"InStock","orderFormGroupId":null,"orderFormName":"Shalimar Garden - Amethyst","attributes":null,"orderFormGroup":null,"orderFormProperties":[{"key":"Colour","value":"Amethyst"},{"key":"Code","value":"FDG2816/01"}],"controls":{"allowOrder":false,"allowReserve":false,"allowReserveWithBatchSample":false,"allowSample":false,"allowLargeSample":false,"allowBackInStockReminder":false,"disableOrder":false,"disableSample":false},"stockMessage":{"productTypeID":15,"quantityMinimum":1.0,"quantityMaximum":0.0,"productTypeQuantityMaximum":null,"quantityIncrement":0.1,"reserveQuantityMaximum":50.0,"unit":"m","allowStockCheck":false,"pieceBreakdownMinimum":1.0,"pieceBreakdownMaximum":50.0,"allowBackInStockReminder":false,"freeStock":194.2,"nextPOFreeStock":0.0,"nextPODueDate":null,"totalPOFreeStock":0.0,"basketQuantityThresholds":[{"minimum":0,"maximum":99999.99}]},"orderButtonText":"Add to Basket","reserveButtonText":"Reserve","reserveWithBatchSampleButtonText":"Reserve with Batch Sample","sample":{"productId":176370,"stockMessage":{"productTypeID":55,"quantityMinimum":1.0,"quantityMaximum":2.0,"productTypeQuantityMaximum":20.0,"quantityIncrement":1.0,"reserveQuantityMaximum":13.0,"unit":"","allowStockCheck":false,"pieceBreakdownMinimum":null,"pieceBreakdownMaximum":null,"allowBackInStockReminder":false,"freeStock":13.0,"nextPOFreeStock":99.0,"nextPODueDate":"2023-04-12","totalPOFreeStock":99.0,"basketQuantityThresholds":[{"minimum":0,"maximum":99999.99,"stockMessages":[{"stockMessage":"In stock","class":"","stockBreakdownTab":0}]}]},"orderButtonText":"Request a Sample","displayPrice":null,"displaySalePrice":null,"priceMessage":null},"largeSample":{"productId":176371,"stockMessage":{"productTypeID":null,"quantityMinimum":1.0,"quantityMaximum":99.0,"productTypeQuantityMaximum":null,"quantityIncrement":1.0,"reserveQuantityMaximum":null,"unit":"","allowStockCheck":false,"pieceBreakdownMinimum":null,"pieceBreakdownMaximum":null,"allowBackInStockReminder":false,"freeStock":null,"nextPOFreeStock":null,"nextPODueDate":null,"totalPOFreeStock":null,"basketQuantityThresholds":[{"minimum":0,"maximum":99999.99,"stockMessages":[{"stockMessage":" more due in (1-2 weeks)","class":"","stockBreakdownTab":1}]}]},"orderButtonText":"Add to Basket","displayPrice":null,"displaySalePrice":null,"priceMessage":null}},"Carousel":{"CarouselID":"#product-174781-carsouel","WrapperCSSClass":null,"AspectRatio":1.0,"Heading":"Shalimar Garden - Amethyst","Images":[{"ImageID":102695,"SortOrder":0,"AltText":"Shalimar Garden - Amethyst","Overlay":null,"MaxWidth":null,"ImageSize":1}],"DisplayThumbnails":false,"DisplayDashes":true,"Interval":null,"PermitLargeImageModal":true},"ProductID":174781,"ProductTypeID":15,"ProductPageID":29859,"ProductCode":"FDG2816/01","Brand":"Designers Guild","OrderFormID":"#product-174781","OrderFormCarouselID":"#product-174781-slide","OrderFormGroupID":null,"OrderFormGroup":null,"Size":null,"OrderFormName":"Shalimar Garden - Amethyst","BasketName":"Shalimar Garden - Amethyst","SortOrder":50,"Attributes":null,"Image":{"imageId":102695,"templateImageId":2,"altText":"Shalimar Garden - Amethyst","titleText":"Shalimar Garden - Amethyst","sortOrder":0,"maxWidth":488},"OrderFormProperties":[{"Key":"Colour","Value":"Amethyst"},{"Key":"Code","Value":"FDG2816/01"}],"AllowSample":false,"AllowLargeSample":false,"AllowOrder":false,"AllowReserve":false,"AllowReserveWithBatchCutting":false,"ClientProductViewModels":"","URLKeywords":"fabric/designers-guild/shalimar-garden-amethyst-fabric","ImageLinkToProductPage":false,"IsLifestyle":false}],"OrderFormGroups":[{"OrderFormGroupID":null,"Name":null,"UseSizeButtons":false,"Items":[{"Solitary":false,"ProductBase":{"product":{"productId":174781,"sortOrder":50,"productTypeId":15,"templateId":2,"code":"FDG2816/01","brand":"Designers Guild","gtin13":null,"name":"Shalimar Garden - Amethyst","AKA":null,"size":null,"imageId":102695,"imageAltText":"Shalimar Garden - Amethyst","imageTitleText":"Shalimar Garden - Amethyst","rRPMessage":null,"rLRRP":null,"rLTradePrice":null,"displayPrice":null,"displaySalePrice":null,"priceMessage":null,"statusMessage":null,"urlSemantics":"fabric/designers-guild/shalimar-garden-amethyst-fabric","productPageId":29859,"url":"/jp/fabric/designers-guild/shalimar-garden-amethyst-fabric/p29859","itemAvailability":"InStock","orderFormGroupId":null,"orderFormName":"Shalimar Garden - Amethyst","attributes":null,"orderFormGroup":null,"orderFormProperties":[{"key":"Colour","value":"Amethyst"},{"key":"Code","value":"FDG2816/01"}],"controls":{"allowOrder":false,"allowReserve":false,"allowReserveWithBatchSample":false,"allowSample":false,"allowLargeSample":false,"allowBackInStockReminder":false,"disableOrder":false,"disableSample":false},"stockMessage":{"productTypeID":15,"quantityMinimum":1.0,"quantityMaximum":0.0,"productTypeQuantityMaximum":null,"quantityIncrement":0.1,"reserveQuantityMaximum":50.0,"unit":"m","allowStockCheck":false,"pieceBreakdownMinimum":1.0,"pieceBreakdownMaximum":50.0,"allowBackInStockReminder":false,"freeStock":194.2,"nextPOFreeStock":0.0,"nextPODueDate":null,"totalPOFreeStock":0.0,"basketQuantityThresholds":[{"minimum":0,"maximum":99999.99}]},"orderButtonText":"Add to Basket","reserveButtonText":"Reserve","reserveWithBatchSampleButtonText":"Reserve with Batch Sample","sample":{"productId":176370,"stockMessage":{"productTypeID":55,"quantityMinimum":1.0,"quantityMaximum":2.0,"productTypeQuantityMaximum":20.0,"quantityIncrement":1.0,"reserveQuantityMaximum":13.0,"unit":"","allowStockCheck":false,"pieceBreakdownMinimum":null,"pieceBreakdownMaximum":null,"allowBackInStockReminder":false,"freeStock":13.0,"nextPOFreeStock":99.0,"nextPODueDate":"2023-04-12","totalPOFreeStock":99.0,"basketQuantityThresholds":[{"minimum":0,"maximum":99999.99,"stockMessages":[{"stockMessage":"In stock","class":"","stockBreakdownTab":0}]}]},"orderButtonText":"Request a Sample","displayPrice":null,"displaySalePrice":null,"priceMessage":null},"largeSample":{"productId":176371,"stockMessage":{"productTypeID":null,"quantityMinimum":1.0,"quantityMaximum":99.0,"productTypeQuantityMaximum":null,"quantityIncrement":1.0,"reserveQuantityMaximum":null,"unit":"","allowStockCheck":false,"pieceBreakdownMinimum":null,"pieceBreakdownMaximum":null,"allowBackInStockReminder":false,"freeStock":null,"nextPOFreeStock":null,"nextPODueDate":null,"totalPOFreeStock":null,"basketQuantityThresholds":[{"minimum":0,"maximum":99999.99,"stockMessages":[{"stockMessage":" more due in (1-2 weeks)","class":"","stockBreakdownTab":1}]}]},"orderButtonText":"Add to Basket","displayPrice":null,"displaySalePrice":null,"priceMessage":null}}},"Product":{"productId":174781,"sortOrder":50,"productTypeId":15,"templateId":2,"code":"FDG2816/01","brand":"Designers Guild","gtin13":null,"name":"Shalimar Garden - Amethyst","AKA":null,"size":null,"imageId":102695,"imageAltText":"Shalimar Garden - Amethyst","imageTitleText":"Shalimar Garden - Amethyst","rRPMessage":null,"rLRRP":null,"rLTradePrice":null,"displayPrice":null,"displaySalePrice":null,"priceMessage":null,"statusMessage":null,"urlSemantics":"fabric/designers-guild/shalimar-garden-amethyst-fabric","productPageId":29859,"url":"/jp/fabric/designers-guild/shalimar-garden-amethyst-fabric/p29859","itemAvailability":"InStock","orderFormGroupId":null,"orderFormName":"Shalimar Garden - Amethyst","attributes":null,"orderFormGroup":null,"orderFormProperties":[{"key":"Colour","value":"Amethyst"},{"key":"Code","value":"FDG2816/01"}],"controls":{"allowOrder":false,"allowReserve":false,"allowReserveWithBatchSample":false,"allowSample":false,"allowLargeSample":false,"allowBackInStockReminder":false,"disableOrder":false,"disableSample":false},"stockMessage":{"productTypeID":15,"quantityMinimum":1.0,"quantityMaximum":0.0,"productTypeQuantityMaximum":null,"quantityIncrement":0.1,"reserveQuantityMaximum":50.0,"unit":"m","allowStockCheck":false,"pieceBreakdownMinimum":1.0,"pieceBreakdownMaximum":50.0,"allowBackInStockReminder":false,"freeStock":194.2,"nextPOFreeStock":0.0,"nextPODueDate":null,"totalPOFreeStock":0.0,"basketQuantityThresholds":[{"minimum":0,"maximum":99999.99}]},"orderButtonText":"Add to Basket","reserveButtonText":"Reserve","reserveWithBatchSampleButtonText":"Reserve with Batch Sample","sample":{"productId":176370,"stockMessage":{"productTypeID":55,"quantityMinimum":1.0,"quantityMaximum":2.0,"productTypeQuantityMaximum":20.0,"quantityIncrement":1.0,"reserveQuantityMaximum":13.0,"unit":"","allowStockCheck":false,"pieceBreakdownMinimum":null,"pieceBreakdownMaximum":null,"allowBackInStockReminder":false,"freeStock":13.0,"nextPOFreeStock":99.0,"nextPODueDate":"2023-04-12","totalPOFreeStock":99.0,"basketQuantityThresholds":[{"minimum":0,"maximum":99999.99,"stockMessages":[{"stockMessage":"In stock","class":"","stockBreakdownTab":0}]}]},"orderButtonText":"Request a Sample","displayPrice":null,"displaySalePrice":null,"priceMessage":null},"largeSample":{"productId":176371,"stockMessage":{"productTypeID":null,"quantityMinimum":1.0,"quantityMaximum":99.0,"productTypeQuantityMaximum":null,"quantityIncrement":1.0,"reserveQuantityMaximum":null,"unit":"","allowStockCheck":false,"pieceBreakdownMinimum":null,"pieceBreakdownMaximum":null,"allowBackInStockReminder":false,"freeStock":null,"nextPOFreeStock":null,"nextPODueDate":null,"totalPOFreeStock":null,"basketQuantityThresholds":[{"minimum":0,"maximum":99999.99,"stockMessages":[{"stockMessage":" more due in (1-2 weeks)","class":"","stockBreakdownTab":1}]}]},"orderButtonText":"Add to Basket","displayPrice":null,"displaySalePrice":null,"priceMessage":null}},"Carousel":{"CarouselID":"#product-174781-carsouel","WrapperCSSClass":null,"AspectRatio":1.0,"Heading":"Shalimar Garden - Amethyst","Images":[{"ImageID":102695,"SortOrder":0,"AltText":"Shalimar Garden - Amethyst","Overlay":null,"MaxWidth":null,"ImageSize":1}],"DisplayThumbnails":false,"DisplayDashes":true,"Interval":null,"PermitLargeImageModal":true},"ProductID":174781,"ProductTypeID":15,"ProductPageID":29859,"ProductCode":"FDG2816/01","Brand":"Designers Guild","OrderFormID":"#product-174781","OrderFormCarouselID":"#product-174781-slide","OrderFormGroupID":null,"OrderFormGroup":null,"Size":null,"OrderFormName":"Shalimar Garden - Amethyst","BasketName":"Shalimar Garden - Amethyst","SortOrder":50,"Attributes":null,"Image":{"imageId":102695,"templateImageId":2,"altText":"Shalimar Garden - Amethyst","titleText":"Shalimar Garden - Amethyst","sortOrder":0,"maxWidth":488},"OrderFormProperties":[{"Key":"Colour","Value":"Amethyst"},{"Key":"Code","Value":"FDG2816/01"}],"AllowSample":false,"AllowLargeSample":false,"AllowOrder":false,"AllowReserve":false,"AllowReserveWithBatchCutting":false,"ClientProductViewModels":"","URLKeywords":"fabric/designers-guild/shalimar-garden-amethyst-fabric","ImageLinkToProductPage":false,"IsLifestyle":false}],"MasterDefinition":{"SiteSectionID":null,"TitleTag":"Shalimar Garden Amethyst Fabric | Designers Guild","MetaDescription":"In powerful and sultry amethyst tones comes a brooding design with an evocative sensibility. Digitally printed onto a rich pile velvet, this floral design ","BackInStockReminder":null,"ItemsInBasket":0.0,"UrlBreakdown":{"ContentType":1,"ContentId":29859,"ContentDate":"2023-03-29T00:00:00","SemanticString":"fabric/designers-guild/shalimar-garden-amethyst-fabric","countryDetails":{"CountryLanguageID":15,"RegionID":4,"CountryID":118,"CountryCode":"JP","LanguageID":11,"SortOrder":71,"Name":"Japan","URL":"jp","DotNetCulture":"ja-JP","ShopEnabled":false,"LanguageCode":"jp","LanguageDotNetCulture":"ja-JP","MertexCurrencyCode":null,"CurrencyCode":null,"PriceListID":null,"AllowTradeOrders":false,"AcceptAmazonPay":false,"BuyOnlineRedirectAllowed":false,"EcommerceEnabled":false,"SamplesEnabled":false},"contentTypeAndIdNotFound":false,"CountryAwareness":{"Match":false,"Culture":"us","objCountryItem":{"CountryLanguageID":5,"RegionID":2,"CountryID":238,"CountryCode":null,"LanguageID":2,"SortOrder":1,"Name":"United States","URL":"us","DotNetCulture":"en-US","ShopEnabled":true,"LanguageCode":"us","LanguageDotNetCulture":"en-US","MertexCurrencyCode":"USD","CurrencyCode":"USD","PriceListID":2,"AllowTradeOrders":false,"AcceptAmazonPay":true,"BuyOnlineRedirectAllowed":false,"EcommerceEnabled":false,"SamplesEnabled":false}},"GeoIPCulture":null,"siteCountryNotFoundInUrl":false},"GoogleHrefs":[{"hreflang":"de","href":"https://www.designersguild.com/de/fabric/designers-guild/shalimar-garden-amethyst-fabric/p29859"},{"hreflang":"fr","href":"https://www.designersguild.com/fr/fabric/designers-guild/shalimar-garden-amethyst-fabric/p29859"},{"hreflang":"en-gb","href":"https://www.designersguild.com/uk/fabric/designers-guild/shalimar-garden-amethyst-fabric/p29859"},{"hreflang":"en-se","href":"https://www.designersguild.com/se/fabric/designers-guild/shalimar-garden-amethyst-fabric/p29859"},{"hreflang":"en-us","href":"https://www.designersguild.com/us/fabric/designers-guild/shalimar-garden-amethyst-fabric/p29859"},{"hreflang":"es","href":"https://www.designersguild.com/es/fabric/designers-guild/shalimar-garden-amethyst-fabric/p29859"},{"hreflang":"it-it","href":"https://www.designersguild.com/it/fabric/designers-guild/shalimar-garden-amethyst-fabric/p29859"},{"hreflang":"en-nl","href":"https://www.designersguild.com/nl/fabric/designers-guild/shalimar-garden-amethyst-fabric/p29859"},{"hreflang":"ru","href":"https://www.designersguild.com/ru/fabric/designers-guild/shalimar-garden-amethyst-fabric/p29859"},{"hreflang":"ja-jp","href":"https://www.designersguild.com/jp/fabric/designers-guild/shalimar-garden-amethyst-fabric/p29859"},{"hreflang":"en-be","href":"https://www.designersguild.com/be/fabric/designers-guild/shalimar-garden-amethyst-fabric/p29859"},{"hreflang":"en-au","href":"https://www.designersguild.com/au/fabric/designers-guild/shalimar-garden-amethyst-fabric/p29859"},{"hreflang":"en-dk","href":"https://www.designersguild.com/dk/fabric/designers-guild/shalimar-garden-amethyst-fabric/p29859"},{"hreflang":"en-gr","href":"https://www.designersguild.com/eu/fabric/designers-guild/shalimar-garden-amethyst-fabric/p29859"},{"hreflang":"en-no","href":"https://www.designersguild.com/no/fabric/designers-guild/shalimar-garden-amethyst-fabric/p29859"},{"hreflang":"de-at","href":"https://www.designersguild.com/at/fabric/designers-guild/shalimar-garden-amethyst-fabric/p29859"},{"hreflang":"de-ch","href":"https://www.designersguild.com/de-ch/fabric/designers-guild/shalimar-garden-amethyst-fabric/p29859"},{"hreflang":"fr-ch","href":"https://www.designersguild.com/fr-ch/fabric/designers-guild/shalimar-garden-amethyst-fabric/p29859"},{"hreflang":"en","href":"https://www.designersguild.com/row/fabric/designers-guild/shalimar-garden-amethyst-fabric/p29859"},{"hreflang":"en-nz","href":"https://www.designersguild.com/nz/fabric/designers-guild/shalimar-garden-amethyst-fabric/p29859"},{"hreflang":"en-ie","href":"https://www.designersguild.com/ie/fabric/designers-guild/shalimar-garden-amethyst-fabric/p29859"},{"hreflang":"fi-fi","href":"https://www.designersguild.com/fi/fabric/designers-guild/shalimar-garden-amethyst-fabric/p29859"}],"CountryDropDown":{"countryDropDownItems":[{"CountryID":81,"Code":null,"LanguageID":1,"RegionID":3,"LanguageCode":"en","Country":"UK","Region":"Europe","URL":"uk","URLKeywords":"","SortOrder":1,"PageID":0},{"CountryID":15,"Code":null,"LanguageID":4,"RegionID":3,"LanguageCode":"de","Country":"Austria","Region":"Europe","URL":"at","URLKeywords":"","SortOrder":11,"PageID":0},{"CountryID":23,"Code":null,"LanguageID":1,"RegionID":3,"LanguageCode":"en","Country":"Belgium","Region":"Europe","URL":"be","URLKeywords":"","SortOrder":12,"PageID":0},{"CountryID":62,"Code":null,"LanguageID":1,"RegionID":3,"LanguageCode":"en","Country":"Denmark","Region":"Europe","URL":"dk","URLKeywords":"","SortOrder":13,"PageID":0},{"CountryID":74,"Code":null,"LanguageID":15,"RegionID":3,"LanguageCode":"fi","Country":"Finland","Region":"Europe","URL":"fi","URLKeywords":"","SortOrder":15,"PageID":0},{"CountryID":79,"Code":null,"LanguageID":3,"RegionID":3,"LanguageCode":"fr","Country":"France","Region":"Europe","URL":"fr","URLKeywords":"","SortOrder":16,"PageID":0},{"CountryID":60,"Code":null,"LanguageID":4,"RegionID":3,"LanguageCode":"de","Country":"Germany","Region":"Europe","URL":"de","URLKeywords":"","SortOrder":17,"PageID":0},{"CountryID":106,"Code":null,"LanguageID":1,"RegionID":3,"LanguageCode":"en","Country":"Ireland","Region":"Europe","URL":"ie","URLKeywords":"","SortOrder":18,"PageID":0},{"CountryID":114,"Code":null,"LanguageID":6,"RegionID":3,"LanguageCode":"it","Country":"Italy","Region":"Europe","URL":"it","URLKeywords":"","SortOrder":19,"PageID":0},{"CountryID":170,"Code":null,"LanguageID":13,"RegionID":3,"LanguageCode":"en","Country":"Netherlands","Region":"Europe","URL":"nl","URLKeywords":"","SortOrder":20,"PageID":0},{"CountryID":71,"Code":null,"LanguageID":5,"RegionID":3,"LanguageCode":"es","Country":"Spain","Region":"Europe","URL":"es","URLKeywords":"","SortOrder":23,"PageID":0},{"CountryID":202,"Code":null,"LanguageID":1,"RegionID":3,"LanguageCode":"en","Country":"Sweden","Region":"Europe","URL":"se","URLKeywords":"","SortOrder":24,"PageID":0},{"CountryID":171,"Code":null,"LanguageID":1,"RegionID":3,"LanguageCode":"en","Country":"Norway","Region":"Europe","URL":"no","URLKeywords":"","SortOrder":52,"PageID":0},{"CountryID":118,"Code":null,"LanguageID":11,"RegionID":4,"LanguageCode":"jp","Country":"Nihon","Region":"Africa, Asia & the Middle East","URL":"jp","URLKeywords":"","SortOrder":71,"PageID":0},{"CountryID":46,"Code":null,"LanguageID":3,"RegionID":3,"LanguageCode":"fr","Country":"Switzerland","Region":"Europe","URL":"fr-ch","URLKeywords":"","SortOrder":102,"PageID":0},{"CountryID":46,"Code":null,"LanguageID":4,"RegionID":3,"LanguageCode":"de","Country":"Switzerland","Region":"Europe","URL":"de-ch","URLKeywords":"","SortOrder":103,"PageID":0},{"CountryID":196,"Code":null,"LanguageID":10,"RegionID":3,"LanguageCode":"ru","Country":"Russian Federation","Region":"Europe","URL":"ru","URLKeywords":"","SortOrder":109,"PageID":0},{"CountryID":238,"Code":null,"LanguageID":2,"RegionID":2,"LanguageCode":"us","Country":"United States","Region":"North America","URL":"us","URLKeywords":"","SortOrder":125,"PageID":0},{"CountryID":16,"Code":null,"LanguageID":12,"RegionID":6,"LanguageCode":"au","Country":"Australia","Region":"Australasia","URL":"au","URLKeywords":"","SortOrder":150,"PageID":0},{"CountryID":175,"Code":null,"LanguageID":18,"RegionID":6,"LanguageCode":"nz","Country":"New Zealand","Region":"Australasia","URL":"nz","URLKeywords":"","SortOrder":151,"PageID":0},{"CountryID":67,"Code":null,"LanguageID":1,"RegionID":3,"LanguageCode":"en","Country":"Other Countries in Europe","Region":"Europe","URL":"eu","URLKeywords":"","SortOrder":255,"PageID":0},{"CountryID":51,"Code":null,"LanguageID":1,"RegionID":4,"LanguageCode":"en","Country":"Rest of the World","Region":"Africa, Asia & the Middle East","URL":"row","URLKeywords":"","SortOrder":255,"PageID":0}]},"ProductTypeDropDown":{"ProductTypes":[{"ProductTypeID":15,"Name":"Fabric","NamePlural":null,"URLKeywords":null,"SortOrder":0,"FilterIndexRestrictions":null,"ProductPageIDs":null,"FormValue":"fabric"},{"ProductTypeID":18,"Name":"Wallpaper","NamePlural":null,"URLKeywords":null,"SortOrder":0,"FilterIndexRestrictions":null,"ProductPageIDs":null,"FormValue":"wallpaper"},{"ProductTypeID":8,"Name":"Paint","NamePlural":null,"URLKeywords":null,"SortOrder":0,"FilterIndexRestrictions":null,"ProductPageIDs":null,"FormValue":"paint"},{"ProductTypeID":10,"Name":"Rug","NamePlural":null,"URLKeywords":null,"SortOrder":0,"FilterIndexRestrictions":null,"ProductPageIDs":null,"FormValue":"rug"},{"ProductTypeID":4,"Name":"Cushion","NamePlural":null,"URLKeywords":null,"SortOrder":0,"FilterIndexRestrictions":null,"ProductPageIDs":null,"FormValue":"cushion"},{"ProductTypeID":1,"Name":"Bed Linen","NamePlural":null,"URLKeywords":null,"SortOrder":0,"FilterIndexRestrictions":null,"ProductPageIDs":null,"FormValue":"bed-linen"},{"ProductTypeID":2,"Name":"Throw","NamePlural":null,"URLKeywords":null,"SortOrder":0,"FilterIndexRestrictions":null,"ProductPageIDs":null,"FormValue":"throw"},{"ProductTypeID":35,"Name":"Furniture","NamePlural":null,"URLKeywords":null,"SortOrder":0,"FilterIndexRestrictions":null,"ProductPageIDs":null,"FormValue":"furniture"}]},"TradeMember":false,"TradeAllowed":false,"CanViewRRPs":false,"LoginStatus":0,"UserName":null},"ParentProductPageProductTypeID":0,"SortOrder":50,"OrderFormCarouselID":"order-form-group--carousel"}],"AlternateColourways":[{"productPageId":29859,"code":"FDG2816/01","heading":"Shalimar Garden Amethyst","imageId":102695,"url":"/jp/fabric/designers-guild/shalimar-garden-amethyst-fabric/p29859","urlSemantics":"fabric/designers-guild/shalimar-garden-amethyst-fabric"}],"ProductPagePrice":{"priceMin":null,"priceMax":null,"salePriceMin":null,"salePriceMax":null,"discountPercentageMin":null,"discountPercentageMax":null,"clearanceDiscountPercentageMin":null,"clearanceDiscountPercentageMax":null,"discountMessage":null,"priceMessage":null,"rRPMessage":null,"codeMessage":null},"Reviews":[],"TechInfoCollections":[{"CollectionID":686,"Name":"Jaipur Rose Fabrics","URL":"/jp/fabric/designers-guild/jaipur-rose-fabrics/c686","URLSemantics":"fabric/designers-guild/jaipur-rose-fabrics","BrochureURL":"http://brochures.designersguild.com/aw18/brochures/aw18-accessories-uk/do_not_upload/pdf/uk aw18.compressed.pdf"}],"TechInfoAftercares":[{"AftercareID":4,"Aftercare":"NO WASH"},{"AftercareID":17,"Aftercare":"DRY CLEAN - P process (GENTLE)"},{"AftercareID":27,"Aftercare":"IRON COOL (1 spot - 110deg c)"},{"AftercareID":47,"Aftercare":"NO TUMBLE DRY"},{"AftercareID":50,"Aftercare":"NO BLEACH"}],"TechInfoUsages":[{"UsageID":1,"Usage":"Cushions"},{"UsageID":2,"Usage":"Curtains And Blinds"},{"UsageID":3,"Usage":"Loose Covers"},{"UsageID":4,"Usage":"Upholstery"}],"TechInfoTests":[{"Test":"EN1021-1 Cigarette - UPHOLSTERY"},{"Test":"BS5852 Cigarette - UPHOLSTERY"}],"Width":"130 cm","Weight":"420 gsm","HorizontalPatternRepeat":"130 cm","VerticalPatternRepeat":"97.5 cm","Martindale":"50000","Composition":"66% Co 31% Vi 3% Pl","PatternMatch":"Full width pattern - Straight match","Flamcode":"(UK Flamcode B+M) Cigarette Resistant - In UK/Eire Upholstery use FR interliner or FR treat","ContractFR":null,"DomesticFR":"Cigarette Resistant","Type":null,"AdditionalInfo":"Iron on the reverse.","RollLength":null,"PileHeight":null,"WideWidthFabricDefaultPoleWidth":null,"MaxFoldLength":null,"TechInfoDisplayBase64":"PGR0PkNvbGxlY3Rpb24ocyk8L2R0PjxkZD48YSBjbGFzcz0iZC1ibG9jayBtYi0xIiBocmVmPSIvanAvZmFicmljL2Rlc2lnbmVycy1ndWlsZC9qYWlwdXItcm9zZS1mYWJyaWNzL2M2ODYiPkphaXB1ciBSb3NlIEZhYnJpY3M8L2E+PGEgY2xhc3M9ImQtYmxvY2sgbWItMSIgaHJlZj0iaHR0cDovL2Jyb2NodXJlcy5kZXNpZ25lcnNndWlsZC5jb20vYXcxOC9icm9jaHVyZXMvYXcxOC1hY2Nlc3Nvcmllcy11ay9kb19ub3RfdXBsb2FkL3BkZi91ayBhdzE4LmNvbXByZXNzZWQucGRmIj5WaWV3IEJyb2NodXJlPC9hPjwvZGQ+PGR0PkNvbXBvc2l0aW9uPC9kdD48ZGQ+NjYlIENvIDMxJSBWaSAzJSBQbDwvZGQ+PGR0PlVLL0VJUkUgRmxhbWNvZGU8L2R0PjxkZD4oVUsgRmxhbWNvZGUgQitNKSBDaWdhcmV0dGUgUmVzaXN0YW50IC0gSW4gVUsvRWlyZSBVcGhvbHN0ZXJ5IHVzZSBGUiBpbnRlcmxpbmVyIG9yIEZSIHRyZWF0PC9kZD48ZHQ+V2lkdGg8L2R0PjxkZD4xMzAgY208L2RkPjxkdD5XZWlnaHQ8L2R0PjxkZD40MjAgZ3NtPC9kZD48ZHQ+TWFydGluZGFsZTwvZHQ+PGRkPjUwMDAwPC9kZD48ZHQ+UGF0dGVybiBNYXRjaDwvZHQ+PGRkPkZ1bGwgd2lkdGggcGF0dGVybiAtIFN0cmFpZ2h0IG1hdGNoPC9kZD48ZHQ+VmVydGljYWwgUGF0dGVybiBSZXBlYXQ8L2R0PjxkZD45Ny41IGNtPC9kZD48ZHQ+SG9yaXpvbnRhbCBQYXR0ZXJuIFJlcGVhdDwvZHQ+PGRkPjEzMCBjbTwvZGQ+PGR0PlRlc3RzIFBhc3NlZDwvZHQ+PGRkPjxzcGFuIGNsYXNzPSJkLWJsb2NrIj5FTjEwMjEtMSBDaWdhcmV0dGUgLSBVUEhPTFNURVJZPC9zcGFuPjxzcGFuIGNsYXNzPSJkLWJsb2NrIj5CUzU4NTIgQ2lnYXJldHRlIC0gVVBIT0xTVEVSWTwvc3Bhbj48L2RkPjxkdD5Qcm9kdWN0IFVzYWdlPC9kdD48ZGQ+PGRpdiBjbGFzcz0iZC1mbGV4IGFsaWduLWl0ZW1zLWNlbnRlciI+PGltZyB3aWR0aD0iMzIiIGhlaWdodD0iMzIiIGNsYXNzPSJ1c2FnZS1pY29uIiB0aXRsZT0iQ3VzaGlvbnMiIGFsdD0iQ3VzaGlvbnMiIHNyYz0iaHR0cHM6Ly93d3cuZGVzaWduZXJzZ3VpbGQuY29tL2ltYWdlcy9pY29ucy90ZWNoaW5mby91c2FnZS8xLmdpZiIgLz48c3BhbiBjbGFzcz0iZC1ibG9jayI+Q3VzaGlvbnM8L3NwYW4+PC9kaXY+PGRpdiBjbGFzcz0iZC1mbGV4IGFsaWduLWl0ZW1zLWNlbnRlciI+PGltZyB3aWR0aD0iMzIiIGhlaWdodD0iMzIiIGNsYXNzPSJ1c2FnZS1pY29uIiB0aXRsZT0iQ3VydGFpbnMgQW5kIEJsaW5kcyIgYWx0PSJDdXJ0YWlucyBBbmQgQmxpbmRzIiBzcmM9Imh0dHBzOi8vd3d3LmRlc2lnbmVyc2d1aWxkLmNvbS9pbWFnZXMvaWNvbnMvdGVjaGluZm8vdXNhZ2UvMi5naWYiIC8+PHNwYW4gY2xhc3M9ImQtYmxvY2siPkN1cnRhaW5zIEFuZCBCbGluZHM8L3NwYW4+PC9kaXY+PGRpdiBjbGFzcz0iZC1mbGV4IGFsaWduLWl0ZW1zLWNlbnRlciI+PGltZyB3aWR0aD0iMzIiIGhlaWdodD0iMzIiIGNsYXNzPSJ1c2FnZS1pY29uIiB0aXRsZT0iTG9vc2UgQ292ZXJzIiBhbHQ9Ikxvb3NlIENvdmVycyIgc3JjPSJodHRwczovL3d3dy5kZXNpZ25lcnNndWlsZC5jb20vaW1hZ2VzL2ljb25zL3RlY2hpbmZvL3VzYWdlLzMuZ2lmIiAvPjxzcGFuIGNsYXNzPSJkLWJsb2NrIj5Mb29zZSBDb3ZlcnM8L3NwYW4+PC9kaXY+PGRpdiBjbGFzcz0iZC1mbGV4IGFsaWduLWl0ZW1zLWNlbnRlciI+PGltZyB3aWR0aD0iMzIiIGhlaWdodD0iMzIiIGNsYXNzPSJ1c2FnZS1pY29uIiB0aXRsZT0iVXBob2xzdGVyeSIgYWx0PSJVcGhvbHN0ZXJ5IiBzcmM9Imh0dHBzOi8vd3d3LmRlc2lnbmVyc2d1aWxkLmNvbS9pbWFnZXMvaWNvbnMvdGVjaGluZm8vdXNhZ2UvNC5naWYiIC8+PHNwYW4gY2xhc3M9ImQtYmxvY2siPlVwaG9sc3Rlcnk8L3NwYW4+PC9kaXY+PC9kZD48ZHQ+UHJvZHVjdCBBZnRlciBDYXJlPC9kdD48ZGQ+PGRpdiBjbGFzcz0iZC1mbGV4IGFsaWduLWl0ZW1zLWNlbnRlciI+PGltZyB3aWR0aD0iMzIiIGhlaWdodD0iMzIiIGNsYXNzPSJ1c2FnZS1pY29uIiB0aXRsZT0iTk8gV0FTSCIgYWx0PSJOTyBXQVNIIiBzcmM9Imh0dHBzOi8vd3d3LmRlc2lnbmVyc2d1aWxkLmNvbS9pbWFnZXMvaWNvbnMvdGVjaGluZm8vYWZ0ZXJjYXJlLzQuZ2lmIiAvPjxzcGFuIGNsYXNzPSJkLWJsb2NrIj5OTyBXQVNIPC9zcGFuPjwvZGl2PjxkaXYgY2xhc3M9ImQtZmxleCBhbGlnbi1pdGVtcy1jZW50ZXIiPjxpbWcgd2lkdGg9IjMyIiBoZWlnaHQ9IjMyIiBjbGFzcz0idXNhZ2UtaWNvbiIgdGl0bGU9IkRSWSBDTEVBTiAtIFAgcHJvY2VzcyAoR0VOVExFKSIgYWx0PSJEUlkgQ0xFQU4gLSBQIHByb2Nlc3MgKEdFTlRMRSkiIHNyYz0iaHR0cHM6Ly93d3cuZGVzaWduZXJzZ3VpbGQuY29tL2ltYWdlcy9pY29ucy90ZWNoaW5mby9hZnRlcmNhcmUvMTcuZ2lmIiAvPjxzcGFuIGNsYXNzPSJkLWJsb2NrIj5EUlkgQ0xFQU4gLSBQIHByb2Nlc3MgKEdFTlRMRSk8L3NwYW4+PC9kaXY+PGRpdiBjbGFzcz0iZC1mbGV4IGFsaWduLWl0ZW1zLWNlbnRlciI+PGltZyB3aWR0aD0iMzIiIGhlaWdodD0iMzIiIGNsYXNzPSJ1c2FnZS1pY29uIiB0aXRsZT0iSVJPTiBDT09MICgxIHNwb3QgLSAxMTBkZWcgYykiIGFsdD0iSVJPTiBDT09MICgxIHNwb3QgLSAxMTBkZWcgYykiIHNyYz0iaHR0cHM6Ly93d3cuZGVzaWduZXJzZ3VpbGQuY29tL2ltYWdlcy9pY29ucy90ZWNoaW5mby9hZnRlcmNhcmUvMjcuZ2lmIiAvPjxzcGFuIGNsYXNzPSJkLWJsb2NrIj5JUk9OIENPT0wgKDEgc3BvdCAtIDExMGRlZyBjKTwvc3Bhbj48L2Rpdj48ZGl2IGNsYXNzPSJkLWZsZXggYWxpZ24taXRlbXMtY2VudGVyIj48aW1nIHdpZHRoPSIzMiIgaGVpZ2h0PSIzMiIgY2xhc3M9InVzYWdlLWljb24iIHRpdGxlPSJOTyBUVU1CTEUgRFJZIiBhbHQ9Ik5PIFRVTUJMRSBEUlkiIHNyYz0iaHR0cHM6Ly93d3cuZGVzaWduZXJzZ3VpbGQuY29tL2ltYWdlcy9pY29ucy90ZWNoaW5mby9hZnRlcmNhcmUvNDcuZ2lmIiAvPjxzcGFuIGNsYXNzPSJkLWJsb2NrIj5OTyBUVU1CTEUgRFJZPC9zcGFuPjwvZGl2PjxkaXYgY2xhc3M9ImQtZmxleCBhbGlnbi1pdGVtcy1jZW50ZXIiPjxpbWcgd2lkdGg9IjMyIiBoZWlnaHQ9IjMyIiBjbGFzcz0idXNhZ2UtaWNvbiIgdGl0bGU9Ik5PIEJMRUFDSCIgYWx0PSJOTyBCTEVBQ0giIHNyYz0iaHR0cHM6Ly93d3cuZGVzaWduZXJzZ3VpbGQuY29tL2ltYWdlcy9pY29ucy90ZWNoaW5mby9hZnRlcmNhcmUvNTAuZ2lmIiAvPjxzcGFuIGNsYXNzPSJkLWJsb2NrIj5OTyBCTEVBQ0g8L3NwYW4+PC9kaXY+PC9kZD48ZHQ+QWRkaXRpb25hbCBJbmZvPC9kdD48ZGQ+SXJvbiBvbiB0aGUgcmV2ZXJzZS48L2RkPg==","IsShop":true,"IsLifestyle":false,"NoFollow":false,"NoIndex":false,"CustomCanonical":null,"AttributeFilterText":null,"UserInCorrectSite":false,"CountryCorrectorDismissed":false,"CorrectSitesForUser":[{"CountryLanguageID":5,"RegionID":2,"CountryID":238,"CountryCode":"US","LanguageID":2,"SortOrder":125,"Name":"United States","URL":"us","DotNetCulture":"en-US","ShopEnabled":true,"LanguageCode":"us","LanguageDotNetCulture":"en-US","MertexCurrencyCode":"USD","CurrencyCode":"USD","PriceListID":2,"AllowTradeOrders":false,"AcceptAmazonPay":true,"BuyOnlineRedirectAllowed":false,"EcommerceEnabled":true,"SamplesEnabled":false}],"PrefetchedResources":[{"Name":"PleaseProvideWidth","Value":"Please provide a Width"},{"Name":"PleaseProvideHeight","Value":"Please provide a Height"},{"Name":"PleaseProvideLength","Value":"Please provide a Length"},{"Name":"Width","Value":"Width"},{"Name":"Length","Value":"Length"},{"Name":"Height","Value":"Height"},{"Name":"CalculatorMustBeBetween","Value":"must be between 1 and 99"},{"Name":"FormsErrorEmailFormat","Value":"Your email address is not in the correct format"},{"Name":"FormsErrorEmail","Value":"Your email address must be between 5 and 254 characters"},{"Name":"ThankYou","Value":"Thank You"},{"Name":"ThankYouEmailSent","Value":"Thank you, your email has been sent."},{"Name":"Quantity","Value":"Quantity"},{"Name":"QuantityRequired","Value":"You must provide a quantity"},{"Name":"pleaseGreaterThanEqualTo","Value":"Please enter a value greater than or equal to"},{"Name":"pleaseLessThanEqualTo","Value":"Please enter a value less than or equal to"},{"Name":"FormsErrorEmail","Value":"Your email address must be between 5 and 254 characters"},{"Name":"FormsErrorEmailFormat","Value":"Your email address is not in the correct format"},{"Name":"ThankYou","Value":"Thank You"},{"Name":"ThankYouEmailSent","Value":"Thank you, your email has been sent."},{"Name":"PleaseProvideWidth","Value":"Please provide a Width"},{"Name":"CalculatorMustBeBetween","Value":"must be between 1 and 99"},{"Name":"Width","Value":"Width"},{"Name":"Height","Value":"Height"},{"Name":"Length","Value":"Length"},{"Name":"PleaseProvideHeight","Value":"Please provide a Height"},{"Name":"PleaseProvideWidth","Value":"Please provide a Width"},{"Name":"PleaseProvideLength","Value":"Please provide a Length"},{"Name":"MajorError","Value":"We could not process your request at this present time. Please click on the back button and try again. If this problem re-occurs, please email shoponlineuk@designersguild.com and one of our customer service agents will get back to you as soon as possible"}],"PrefetchedSnippets":[],"HeaderBanners":[],"HasHeaderBanners":false,"FooterBanners":[],"HasFooterBanners":false,"EcommercePopupBanners":[],"HasEcommercePopupBanners":false,"Banners":[{"id":12,"name":"One","banners":[{"bannerId":6325,"name":"Christian Lacroix","version":11,"sortOrder":1,"overlayText":"","altText":"Christian Lacroix","titleText":"Christian Lacroix","width":1024,"height":394,"linkURL":"/jp/christian-lacroix/l1397","newWindow":false,"foregroundColour":"#000000","backgroundColour":"#ffffff","fontClass":"default-text","restrictions":{"menuIds":[11,45,72,91,108],"siteSectionIds":null,"pageIds":null}},{"bannerId":4116,"name":"Lookbooks 12 (Inspiration)","version":8,"sortOrder":2,"overlayText":"","altText":null,"titleText":null,"width":1024,"height":961,"linkURL":"/jp/lookbooks/l1179","newWindow":false,"foregroundColour":"#000000","backgroundColour":"#ffffff","fontClass":null,"restrictions":{"menuIds":[12,66,106],"siteSectionIds":null,"pageIds":null}},{"bannerId":2186,"name":"Where To Buy GHP UK 12","version":3,"sortOrder":3,"overlayText":"","altText":null,"titleText":null,"width":1024,"height":1024,"linkURL":"/jp/kings-road-store/l1532","newWindow":false,"foregroundColour":"#000000","backgroundColour":"#ffffff","fontClass":"default-text-bold text-banner-center","restrictions":{"menuIds":[67,94,107,109],"siteSectionIds":null,"pageIds":null}}]},{"id":13,"name":"Two","banners":[{"bannerId":5320,"name":"Films 13 (Inspiration)","version":10,"sortOrder":1,"overlayText":"","altText":null,"titleText":null,"width":1024,"height":960,"linkURL":"/jp/films/l1180","newWindow":false,"foregroundColour":"#000000","backgroundColour":"#ffffff","fontClass":null,"restrictions":{"menuIds":[12,66,106],"siteSectionIds":null,"pageIds":null}},{"bannerId":2188,"name":"Where To Buy UK GHP 13","version":5,"sortOrder":3,"overlayText":"","altText":null,"titleText":null,"width":512,"height":475,"linkURL":"/jp/wallpaper-and-paint-studio/l1536","newWindow":false,"foregroundColour":"#000000","backgroundColour":"#ffffff","fontClass":"default-text-bold text-banner-center","restrictions":{"menuIds":[8,17,48,67,94,107],"siteSectionIds":null,"pageIds":null}},{"bannerId":1975,"name":"Global 13 Furniture","version":15,"sortOrder":4,"overlayText":"#YOURSOFAYOURWAY > ","altText":"#YOURSOFAYOURWAY > ","titleText":"#YOURSOFAYOURWAY > ","width":256,"height":224,"linkURL":"/jp/furniture/your-sofa-your-way/l1467","newWindow":false,"foregroundColour":"#000000","backgroundColour":"#ffffff","fontClass":"under-menu-banner-C1","restrictions":{"menuIds":[3,41],"siteSectionIds":null,"pageIds":null}}]},{"id":14,"name":"Three","banners":[{"bannerId":4114,"name":"Blog 14 (Inspiration)","version":4,"sortOrder":1,"overlayText":"","altText":null,"titleText":null,"width":1024,"height":960,"linkURL":"/jp/dg-world/blog/l601","newWindow":false,"foregroundColour":"#000000","backgroundColour":"#ffffff","fontClass":null,"restrictions":{"menuIds":[12,66,106],"siteSectionIds":null,"pageIds":null}},{"bannerId":2187,"name":"Where To Buy GHP UK 14","version":5,"sortOrder":2,"overlayText":"","altText":null,"titleText":null,"width":1024,"height":1024,"linkURL":"/jp/marylebone-high-street-homestore/l1153","newWindow":false,"foregroundColour":"#000000","backgroundColour":"#ffffff","fontClass":"default-text-bold text-banner-center","restrictions":{"menuIds":[67,94,107,109],"siteSectionIds":null,"pageIds":null}},{"bannerId":1809,"name":"Royal Collection","version":11,"sortOrder":3,"overlayText":"","altText":"Royal Collection","titleText":"Royal Collection","width":1024,"height":394,"linkURL":"/jp/the-royal-collection/l1396","newWindow":false,"foregroundColour":"#000000","backgroundColour":"#ffffff","fontClass":"default-text","restrictions":{"menuIds":[45,72,91,108],"siteSectionIds":null,"pageIds":null}}]},{"id":15,"name":"Four","banners":[{"bannerId":4115,"name":"News & Events 15 (Inspiration)","version":5,"sortOrder":1,"overlayText":"","altText":null,"titleText":null,"width":1024,"height":960,"linkURL":"/jp/dg-world/news-and-events/l602","newWindow":false,"foregroundColour":"#000000","backgroundColour":"#ffffff","fontClass":null,"restrictions":{"menuIds":[12,66,106],"siteSectionIds":null,"pageIds":null}},{"bannerId":1988,"name":"Where To Buy GHP UK 15","version":12,"sortOrder":2,"overlayText":"","altText":null,"titleText":null,"width":1024,"height":1024,"linkURL":"/jp/l1635","newWindow":false,"foregroundColour":"#000000","backgroundColour":"#ffffff","fontClass":"default-text-bold text-banner-center","restrictions":{"menuIds":[67,94,107,109],"siteSectionIds":null,"pageIds":null}},{"bannerId":1805,"name":"William Yeoward","version":10,"sortOrder":3,"overlayText":"","altText":"William Yeoward","titleText":"William Yeoward","width":1024,"height":394,"linkURL":"/jp/william-yeoward/l1399","newWindow":false,"foregroundColour":"#000000","backgroundColour":"#ffffff","fontClass":"default-text","restrictions":{"menuIds":[11,45,72,91,108],"siteSectionIds":null,"pageIds":null}}]},{"id":16,"name":"Five","banners":[{"bannerId":7779,"name":"Brands English Heritage ","version":79,"sortOrder":1,"overlayText":"","altText":"English Heritage ","titleText":"English Heritage ","width":1024,"height":394,"linkURL":"/jp/english-heritage-by-designers-guild/l1852","newWindow":false,"foregroundColour":"#000000","backgroundColour":"#ffffff","fontClass":null,"restrictions":{"menuIds":[11,45,72,91,103,108],"siteSectionIds":null,"pageIds":null}},{"bannerId":4118,"name":"Social Media 16 (Inspiration)","version":7,"sortOrder":2,"overlayText":"","altText":null,"titleText":null,"width":1024,"height":960,"linkURL":"/jp/dg-world/dgyourspace/a26","newWindow":false,"foregroundColour":"#000000","backgroundColour":"#ffffff","fontClass":null,"restrictions":{"menuIds":[12,66,106],"siteSectionIds":null,"pageIds":null}},{"bannerId":2189,"name":"Where To Buy GHP 16","version":12,"sortOrder":3,"overlayText":"","altText":null,"titleText":null,"width":1024,"height":958,"linkURL":"/jp/find-your-local-stockist/l500","newWindow":false,"foregroundColour":"#000000","backgroundColour":"#ffffff","fontClass":"default-text-bold text-banner-center","restrictions":{"menuIds":[67,94,107],"siteSectionIds":null,"pageIds":null}}]},{"id":17,"name":"Six","banners":[{"bannerId":8482,"name":"Flagship Stores GHP UK 17","version":6,"sortOrder":1,"overlayText":"","altText":null,"titleText":null,"width":1024,"height":1024,"linkURL":"/jp/request-an-appointment/l1642","newWindow":false,"foregroundColour":"#000000","backgroundColour":"#ffffff","fontClass":null,"restrictions":{"menuIds":[67,94,107,109],"siteSectionIds":null,"pageIds":null}},{"bannerId":4113,"name":"About Us 17 (Inspiration)","version":3,"sortOrder":2,"overlayText":"","altText":null,"titleText":null,"width":1024,"height":958,"linkURL":"/jp/company-profile/l1004","newWindow":false,"foregroundColour":"#000000","backgroundColour":"#ffffff","fontClass":null,"restrictions":{"menuIds":[12,66,106],"siteSectionIds":null,"pageIds":null}},{"bannerId":2117,"name":"John Derian","version":18,"sortOrder":3,"overlayText":"","altText":"John Derian","titleText":"John Derian","width":1024,"height":394,"linkURL":"/jp/john-derian/l1521","newWindow":false,"foregroundColour":"#000000","backgroundColour":"#ffffff","fontClass":"default-text","restrictions":{"menuIds":[45,72,91,108],"siteSectionIds":null,"pageIds":null}}]}],"Hotspots":[{"ImageID":106976,"Hotspots":[{"X":10.1801079695763,"x":"calc(10.1801% - 12.5px)","Y":34.0543769475982,"y":"calc(34.0544% - 12.5px)","OverlayPosition":"top-left","Product":{"Solitary":false,"ProductBase":{"x":10.180107969576341,"y":34.054376947598193,"product":{"productId":174781,"sortOrder":0,"productTypeId":15,"templateId":2,"code":"FDG2816/01","brand":"Designers Guild","gtin13":null,"name":"Shalimar Garden - Amethyst","AKA":null,"size":null,"imageId":102695,"imageAltText":"Shalimar Garden - Amethyst","imageTitleText":"Shalimar Garden - Amethyst","rRPMessage":null,"rLRRP":null,"rLTradePrice":null,"displayPrice":null,"displaySalePrice":null,"priceMessage":null,"statusMessage":null,"urlSemantics":"fabric/designers-guild/shalimar-garden-amethyst-fabric","productPageId":29859,"url":"/jp/fabric/designers-guild/shalimar-garden-amethyst-fabric/p29859","itemAvailability":"InStock","orderFormGroupId":null,"orderFormName":"Shalimar Garden - Amethyst","attributes":null,"orderFormGroup":null,"orderFormProperties":[{"key":"Colour","value":"Amethyst"},{"key":"Code","value":"FDG2816/01"}],"controls":{"allowOrder":false,"allowReserve":false,"allowReserveWithBatchSample":false,"allowSample":false,"allowLargeSample":false,"allowBackInStockReminder":false,"disableOrder":false,"disableSample":false},"stockMessage":{"productTypeID":15,"quantityMinimum":1.0,"quantityMaximum":0.0,"productTypeQuantityMaximum":null,"quantityIncrement":0.1,"reserveQuantityMaximum":50.0,"unit":"m","allowStockCheck":false,"pieceBreakdownMinimum":1.0,"pieceBreakdownMaximum":50.0,"allowBackInStockReminder":false,"freeStock":194.2,"nextPOFreeStock":0.0,"nextPODueDate":null,"totalPOFreeStock":0.0,"basketQuantityThresholds":[{"minimum":0,"maximum":99999.99}]},"orderButtonText":"Add to Basket","reserveButtonText":"Reserve","reserveWithBatchSampleButtonText":"Reserve with Batch Sample","sample":{"productId":176370,"stockMessage":{"productTypeID":null,"quantityMinimum":1.0,"quantityMaximum":99.0,"productTypeQuantityMaximum":null,"quantityIncrement":1.0,"reserveQuantityMaximum":null,"unit":"","allowStockCheck":false,"pieceBreakdownMinimum":null,"pieceBreakdownMaximum":null,"allowBackInStockReminder":false,"freeStock":null,"nextPOFreeStock":null,"nextPODueDate":null,"totalPOFreeStock":null,"basketQuantityThresholds":[{"minimum":0,"maximum":99999.99,"stockMessages":[{"stockMessage":" more due in (1-2 weeks)","class":"","stockBreakdownTab":1}]}]},"orderButtonText":"Add to Basket","displayPrice":null,"displaySalePrice":null,"priceMessage":null},"largeSample":{"productId":176371,"stockMessage":{"productTypeID":null,"quantityMinimum":1.0,"quantityMaximum":99.0,"productTypeQuantityMaximum":null,"quantityIncrement":1.0,"reserveQuantityMaximum":null,"unit":"","allowStockCheck":false,"pieceBreakdownMinimum":null,"pieceBreakdownMaximum":null,"allowBackInStockReminder":false,"freeStock":null,"nextPOFreeStock":null,"nextPODueDate":null,"totalPOFreeStock":null,"basketQuantityThresholds":[{"minimum":0,"maximum":99999.99,"stockMessages":[{"stockMessage":" more due in (1-2 weeks)","class":"","stockBreakdownTab":1}]}]},"orderButtonText":"Add to Basket","displayPrice":null,"displaySalePrice":null,"priceMessage":null}}},"Product":{"productId":174781,"sortOrder":0,"productTypeId":15,"templateId":2,"code":"FDG2816/01","brand":"Designers Guild","gtin13":null,"name":"Shalimar Garden - Amethyst","AKA":null,"size":null,"imageId":102695,"imageAltText":"Shalimar Garden - Amethyst","imageTitleText":"Shalimar Garden - Amethyst","rRPMessage":null,"rLRRP":null,"rLTradePrice":null,"displayPrice":null,"displaySalePrice":null,"priceMessage":null,"statusMessage":null,"urlSemantics":"fabric/designers-guild/shalimar-garden-amethyst-fabric","productPageId":29859,"url":"/jp/fabric/designers-guild/shalimar-garden-amethyst-fabric/p29859","itemAvailability":"InStock","orderFormGroupId":null,"orderFormName":"Shalimar Garden - Amethyst","attributes":null,"orderFormGroup":null,"orderFormProperties":[{"key":"Colour","value":"Amethyst"},{"key":"Code","value":"FDG2816/01"}],"controls":{"allowOrder":false,"allowReserve":false,"allowReserveWithBatchSample":false,"allowSample":false,"allowLargeSample":false,"allowBackInStockReminder":false,"disableOrder":false,"disableSample":false},"stockMessage":{"productTypeID":15,"quantityMinimum":1.0,"quantityMaximum":0.0,"productTypeQuantityMaximum":null,"quantityIncrement":0.1,"reserveQuantityMaximum":50.0,"unit":"m","allowStockCheck":false,"pieceBreakdownMinimum":1.0,"pieceBreakdownMaximum":50.0,"allowBackInStockReminder":false,"freeStock":194.2,"nextPOFreeStock":0.0,"nextPODueDate":null,"totalPOFreeStock":0.0,"basketQuantityThresholds":[{"minimum":0,"maximum":99999.99}]},"orderButtonText":"Add to Basket","reserveButtonText":"Reserve","reserveWithBatchSampleButtonText":"Reserve with Batch Sample","sample":{"productId":176370,"stockMessage":{"productTypeID":null,"quantityMinimum":1.0,"quantityMaximum":99.0,"productTypeQuantityMaximum":null,"quantityIncrement":1.0,"reserveQuantityMaximum":null,"unit":"","allowStockCheck":false,"pieceBreakdownMinimum":null,"pieceBreakdownMaximum":null,"allowBackInStockReminder":false,"freeStock":null,"nextPOFreeStock":null,"nextPODueDate":null,"totalPOFreeStock":null,"basketQuantityThresholds":[{"minimum":0,"maximum":99999.99,"stockMessages":[{"stockMessage":" more due in (1-2 weeks)","class":"","stockBreakdownTab":1}]}]},"orderButtonText":"Add to Basket","displayPrice":null,"displaySalePrice":null,"priceMessage":null},"largeSample":{"productId":176371,"stockMessage":{"productTypeID":null,"quantityMinimum":1.0,"quantityMaximum":99.0,"productTypeQuantityMaximum":null,"quantityIncrement":1.0,"reserveQuantityMaximum":null,"unit":"","allowStockCheck":false,"pieceBreakdownMinimum":null,"pieceBreakdownMaximum":null,"allowBackInStockReminder":false,"freeStock":null,"nextPOFreeStock":null,"nextPODueDate":null,"totalPOFreeStock":null,"basketQuantityThresholds":[{"minimum":0,"maximum":99999.99,"stockMessages":[{"stockMessage":" more due in (1-2 weeks)","class":"","stockBreakdownTab":1}]}]},"orderButtonText":"Add to Basket","displayPrice":null,"displaySalePrice":null,"priceMessage":null}},"Carousel":{"CarouselID":"#product-174781-carsouel","WrapperCSSClass":null,"AspectRatio":1.0,"Heading":"Shalimar Garden - Amethyst","Images":[{"ImageID":102695,"SortOrder":0,"AltText":"Shalimar Garden - Amethyst","Overlay":null,"MaxWidth":null,"ImageSize":1}],"DisplayThumbnails":false,"DisplayDashes":true,"Interval":null,"PermitLargeImageModal":true},"ProductID":174781,"ProductTypeID":15,"ProductPageID":29859,"ProductCode":"FDG2816/01","Brand":"Designers Guild","OrderFormID":"#product-174781","OrderFormCarouselID":"#product-174781-slide","OrderFormGroupID":null,"OrderFormGroup":null,"Size":null,"OrderFormName":"Shalimar Garden - Amethyst","BasketName":"Shalimar Garden - Amethyst","SortOrder":0,"Attributes":null,"Image":{"imageId":102695,"templateImageId":2,"altText":"Shalimar Garden - Amethyst","titleText":"Shalimar Garden - Amethyst","sortOrder":0,"maxWidth":488},"OrderFormProperties":[{"Key":"Colour","Value":"Amethyst"},{"Key":"Code","Value":"FDG2816/01"}],"AllowSample":false,"AllowLargeSample":false,"AllowOrder":false,"AllowReserve":false,"AllowReserveWithBatchCutting":false,"ClientProductViewModels":"","URLKeywords":"fabric/designers-guild/shalimar-garden-amethyst-fabric","ImageLinkToProductPage":true,"IsLifestyle":false}}]},{"ImageID":107151,"Hotspots":[{"X":45.9641946437935,"x":"calc(45.9642% - 12.5px)","Y":24.1975059370645,"y":"calc(24.1975% - 12.5px)","OverlayPosition":"top-left","Product":{"Solitary":false,"ProductBase":{"x":45.964194643793512,"y":24.197505937064509,"product":{"productId":174781,"sortOrder":0,"productTypeId":15,"templateId":2,"code":"FDG2816/01","brand":"Designers Guild","gtin13":null,"name":"Shalimar Garden - Amethyst","AKA":null,"size":null,"imageId":102695,"imageAltText":"Shalimar Garden - Amethyst","imageTitleText":"Shalimar Garden - Amethyst","rRPMessage":null,"rLRRP":null,"rLTradePrice":null,"displayPrice":null,"displaySalePrice":null,"priceMessage":null,"statusMessage":null,"urlSemantics":"fabric/designers-guild/shalimar-garden-amethyst-fabric","productPageId":29859,"url":"/jp/fabric/designers-guild/shalimar-garden-amethyst-fabric/p29859","itemAvailability":"InStock","orderFormGroupId":null,"orderFormName":"Shalimar Garden - Amethyst","attributes":null,"orderFormGroup":null,"orderFormProperties":[{"key":"Colour","value":"Amethyst"},{"key":"Code","value":"FDG2816/01"}],"controls":{"allowOrder":false,"allowReserve":false,"allowReserveWithBatchSample":false,"allowSample":false,"allowLargeSample":false,"allowBackInStockReminder":false,"disableOrder":false,"disableSample":false},"stockMessage":{"productTypeID":15,"quantityMinimum":1.0,"quantityMaximum":0.0,"productTypeQuantityMaximum":null,"quantityIncrement":0.1,"reserveQuantityMaximum":50.0,"unit":"m","allowStockCheck":false,"pieceBreakdownMinimum":1.0,"pieceBreakdownMaximum":50.0,"allowBackInStockReminder":false,"freeStock":194.2,"nextPOFreeStock":0.0,"nextPODueDate":null,"totalPOFreeStock":0.0,"basketQuantityThresholds":[{"minimum":0,"maximum":99999.99}]},"orderButtonText":"Add to Basket","reserveButtonText":"Reserve","reserveWithBatchSampleButtonText":"Reserve with Batch Sample","sample":{"productId":176370,"stockMessage":{"productTypeID":null,"quantityMinimum":1.0,"quantityMaximum":99.0,"productTypeQuantityMaximum":null,"quantityIncrement":1.0,"reserveQuantityMaximum":null,"unit":"","allowStockCheck":false,"pieceBreakdownMinimum":null,"pieceBreakdownMaximum":null,"allowBackInStockReminder":false,"freeStock":null,"nextPOFreeStock":null,"nextPODueDate":null,"totalPOFreeStock":null,"basketQuantityThresholds":[{"minimum":0,"maximum":99999.99,"stockMessages":[{"stockMessage":" more due in (1-2 weeks)","class":"","stockBreakdownTab":1}]}]},"orderButtonText":"Add to Basket","displayPrice":null,"displaySalePrice":null,"priceMessage":null},"largeSample":{"productId":176371,"stockMessage":{"productTypeID":null,"quantityMinimum":1.0,"quantityMaximum":99.0,"productTypeQuantityMaximum":null,"quantityIncrement":1.0,"reserveQuantityMaximum":null,"unit":"","allowStockCheck":false,"pieceBreakdownMinimum":null,"pieceBreakdownMaximum":null,"allowBackInStockReminder":false,"freeStock":null,"nextPOFreeStock":null,"nextPODueDate":null,"totalPOFreeStock":null,"basketQuantityThresholds":[{"minimum":0,"maximum":99999.99,"stockMessages":[{"stockMessage":" more due in (1-2 weeks)","class":"","stockBreakdownTab":1}]}]},"orderButtonText":"Add to Basket","displayPrice":null,"displaySalePrice":null,"priceMessage":null}}},"Product":{"productId":174781,"sortOrder":0,"productTypeId":15,"templateId":2,"code":"FDG2816/01","brand":"Designers Guild","gtin13":null,"name":"Shalimar Garden - Amethyst","AKA":null,"size":null,"imageId":102695,"imageAltText":"Shalimar Garden - Amethyst","imageTitleText":"Shalimar Garden - Amethyst","rRPMessage":null,"rLRRP":null,"rLTradePrice":null,"displayPrice":null,"displaySalePrice":null,"priceMessage":null,"statusMessage":null,"urlSemantics":"fabric/designers-guild/shalimar-garden-amethyst-fabric","productPageId":29859,"url":"/jp/fabric/designers-guild/shalimar-garden-amethyst-fabric/p29859","itemAvailability":"InStock","orderFormGroupId":null,"orderFormName":"Shalimar Garden - Amethyst","attributes":null,"orderFormGroup":null,"orderFormProperties":[{"key":"Colour","value":"Amethyst"},{"key":"Code","value":"FDG2816/01"}],"controls":{"allowOrder":false,"allowReserve":false,"allowReserveWithBatchSample":false,"allowSample":false,"allowLargeSample":false,"allowBackInStockReminder":false,"disableOrder":false,"disableSample":false},"stockMessage":{"productTypeID":15,"quantityMinimum":1.0,"quantityMaximum":0.0,"productTypeQuantityMaximum":null,"quantityIncrement":0.1,"reserveQuantityMaximum":50.0,"unit":"m","allowStockCheck":false,"pieceBreakdownMinimum":1.0,"pieceBreakdownMaximum":50.0,"allowBackInStockReminder":false,"freeStock":194.2,"nextPOFreeStock":0.0,"nextPODueDate":null,"totalPOFreeStock":0.0,"basketQuantityThresholds":[{"minimum":0,"maximum":99999.99}]},"orderButtonText":"Add to Basket","reserveButtonText":"Reserve","reserveWithBatchSampleButtonText":"Reserve with Batch Sample","sample":{"productId":176370,"stockMessage":{"productTypeID":null,"quantityMinimum":1.0,"quantityMaximum":99.0,"productTypeQuantityMaximum":null,"quantityIncrement":1.0,"reserveQuantityMaximum":null,"unit":"","allowStockCheck":false,"pieceBreakdownMinimum":null,"pieceBreakdownMaximum":null,"allowBackInStockReminder":false,"freeStock":null,"nextPOFreeStock":null,"nextPODueDate":null,"totalPOFreeStock":null,"basketQuantityThresholds":[{"minimum":0,"maximum":99999.99,"stockMessages":[{"stockMessage":" more due in (1-2 weeks)","class":"","stockBreakdownTab":1}]}]},"orderButtonText":"Add to Basket","displayPrice":null,"displaySalePrice":null,"priceMessage":null},"largeSample":{"productId":176371,"stockMessage":{"productTypeID":null,"quantityMinimum":1.0,"quantityMaximum":99.0,"productTypeQuantityMaximum":null,"quantityIncrement":1.0,"reserveQuantityMaximum":null,"unit":"","allowStockCheck":false,"pieceBreakdownMinimum":null,"pieceBreakdownMaximum":null,"allowBackInStockReminder":false,"freeStock":null,"nextPOFreeStock":null,"nextPODueDate":null,"totalPOFreeStock":null,"basketQuantityThresholds":[{"minimum":0,"maximum":99999.99,"stockMessages":[{"stockMessage":" more due in (1-2 weeks)","class":"","stockBreakdownTab":1}]}]},"orderButtonText":"Add to Basket","displayPrice":null,"displaySalePrice":null,"priceMessage":null}},"Carousel":{"CarouselID":"#product-174781-carsouel","WrapperCSSClass":null,"AspectRatio":1.0,"Heading":"Shalimar Garden - Amethyst","Images":[{"ImageID":102695,"SortOrder":0,"AltText":"Shalimar Garden - Amethyst","Overlay":null,"MaxWidth":null,"ImageSize":1}],"DisplayThumbnails":false,"DisplayDashes":true,"Interval":null,"PermitLargeImageModal":true},"ProductID":174781,"ProductTypeID":15,"ProductPageID":29859,"ProductCode":"FDG2816/01","Brand":"Designers Guild","OrderFormID":"#product-174781","OrderFormCarouselID":"#product-174781-slide","OrderFormGroupID":null,"OrderFormGroup":null,"Size":null,"OrderFormName":"Shalimar Garden - Amethyst","BasketName":"Shalimar Garden - Amethyst","SortOrder":0,"Attributes":null,"Image":{"imageId":102695,"templateImageId":2,"altText":"Shalimar Garden - Amethyst","titleText":"Shalimar Garden - Amethyst","sortOrder":0,"maxWidth":488},"OrderFormProperties":[{"Key":"Colour","Value":"Amethyst"},{"Key":"Code","Value":"FDG2816/01"}],"AllowSample":false,"AllowLargeSample":false,"AllowOrder":false,"AllowReserve":false,"AllowReserveWithBatchCutting":false,"ClientProductViewModels":"","URLKeywords":"fabric/designers-guild/shalimar-garden-amethyst-fabric","ImageLinkToProductPage":true,"IsLifestyle":false}},{"X":51.4383599658506,"x":"calc(51.4384% - 12.5px)","Y":30.4058650852622,"y":"calc(30.4059% - 12.5px)","OverlayPosition":"top-right","Product":{"Solitary":false,"ProductBase":{"x":51.43835996585063,"y":30.40586508526216,"product":{"productId":175877,"sortOrder":0,"productTypeId":18,"templateId":2,"code":"PDG1063/10","brand":"Designers Guild","gtin13":"5051001572619","name":"Shirakawa Amethyst","AKA":null,"size":null,"imageId":102581,"imageAltText":"Shirakawa Amethyst","imageTitleText":"Shirakawa Amethyst","rRPMessage":null,"rLRRP":null,"rLTradePrice":null,"displayPrice":null,"displaySalePrice":null,"priceMessage":null,"statusMessage":"Limited","urlSemantics":"wallpaper/designers-guild/shirakawa-amethyst-wallpaper","productPageId":29833,"url":"/jp/wallpaper/designers-guild/shirakawa-amethyst-wallpaper/p29833","itemAvailability":"InStock","orderFormGroupId":null,"orderFormName":"Shirakawa Amethyst","attributes":null,"orderFormGroup":null,"orderFormProperties":[{"key":"Colour","value":"Amethyst"},{"key":"Code","value":"PDG1063/10"}],"controls":{"allowOrder":false,"allowReserve":false,"allowReserveWithBatchSample":false,"allowSample":false,"allowLargeSample":false,"allowBackInStockReminder":false,"disableOrder":false,"disableSample":false},"stockMessage":{"productTypeID":18,"quantityMinimum":1.0,"quantityMaximum":0.0,"productTypeQuantityMaximum":null,"quantityIncrement":1.0,"reserveQuantityMaximum":46.0,"unit":" roll(s)","allowStockCheck":false,"pieceBreakdownMinimum":null,"pieceBreakdownMaximum":null,"allowBackInStockReminder":false,"freeStock":46.0,"nextPOFreeStock":0.0,"nextPODueDate":null,"totalPOFreeStock":0.0,"basketQuantityThresholds":[{"minimum":0,"maximum":99999.99}]},"orderButtonText":"Add to Basket","reserveButtonText":"Reserve","reserveWithBatchSampleButtonText":"Reserve with Batch Sample","sample":{"productId":175878,"stockMessage":{"productTypeID":null,"quantityMinimum":1.0,"quantityMaximum":99.0,"productTypeQuantityMaximum":null,"quantityIncrement":1.0,"reserveQuantityMaximum":null,"unit":"","allowStockCheck":false,"pieceBreakdownMinimum":null,"pieceBreakdownMaximum":null,"allowBackInStockReminder":false,"freeStock":null,"nextPOFreeStock":null,"nextPODueDate":null,"totalPOFreeStock":null,"basketQuantityThresholds":[{"minimum":0,"maximum":99999.99,"stockMessages":[{"stockMessage":" more due in (1-2 weeks)","class":"","stockBreakdownTab":1}]}]},"orderButtonText":"Add to Basket","displayPrice":null,"displaySalePrice":null,"priceMessage":null},"largeSample":{"productId":175879,"stockMessage":{"productTypeID":null,"quantityMinimum":1.0,"quantityMaximum":99.0,"productTypeQuantityMaximum":null,"quantityIncrement":1.0,"reserveQuantityMaximum":null,"unit":"","allowStockCheck":false,"pieceBreakdownMinimum":null,"pieceBreakdownMaximum":null,"allowBackInStockReminder":false,"freeStock":null,"nextPOFreeStock":null,"nextPODueDate":null,"totalPOFreeStock":null,"basketQuantityThresholds":[{"minimum":0,"maximum":99999.99,"stockMessages":[{"stockMessage":" more due in (1-2 weeks)","class":"","stockBreakdownTab":1}]}]},"orderButtonText":"Add to Basket","displayPrice":null,"displaySalePrice":null,"priceMessage":null}}},"Product":{"productId":175877,"sortOrder":0,"productTypeId":18,"templateId":2,"code":"PDG1063/10","brand":"Designers Guild","gtin13":"5051001572619","name":"Shirakawa Amethyst","AKA":null,"size":null,"imageId":102581,"imageAltText":"Shirakawa Amethyst","imageTitleText":"Shirakawa Amethyst","rRPMessage":null,"rLRRP":null,"rLTradePrice":null,"displayPrice":null,"displaySalePrice":null,"priceMessage":null,"statusMessage":"Limited","urlSemantics":"wallpaper/designers-guild/shirakawa-amethyst-wallpaper","productPageId":29833,"url":"/jp/wallpaper/designers-guild/shirakawa-amethyst-wallpaper/p29833","itemAvailability":"InStock","orderFormGroupId":null,"orderFormName":"Shirakawa Amethyst","attributes":null,"orderFormGroup":null,"orderFormProperties":[{"key":"Colour","value":"Amethyst"},{"key":"Code","value":"PDG1063/10"}],"controls":{"allowOrder":false,"allowReserve":false,"allowReserveWithBatchSample":false,"allowSample":false,"allowLargeSample":false,"allowBackInStockReminder":false,"disableOrder":false,"disableSample":false},"stockMessage":{"productTypeID":18,"quantityMinimum":1.0,"quantityMaximum":0.0,"productTypeQuantityMaximum":null,"quantityIncrement":1.0,"reserveQuantityMaximum":46.0,"unit":" roll(s)","allowStockCheck":false,"pieceBreakdownMinimum":null,"pieceBreakdownMaximum":null,"allowBackInStockReminder":false,"freeStock":46.0,"nextPOFreeStock":0.0,"nextPODueDate":null,"totalPOFreeStock":0.0,"basketQuantityThresholds":[{"minimum":0,"maximum":99999.99}]},"orderButtonText":"Add to Basket","reserveButtonText":"Reserve","reserveWithBatchSampleButtonText":"Reserve with Batch Sample","sample":{"productId":175878,"stockMessage":{"productTypeID":null,"quantityMinimum":1.0,"quantityMaximum":99.0,"productTypeQuantityMaximum":null,"quantityIncrement":1.0,"reserveQuantityMaximum":null,"unit":"","allowStockCheck":false,"pieceBreakdownMinimum":null,"pieceBreakdownMaximum":null,"allowBackInStockReminder":false,"freeStock":null,"nextPOFreeStock":null,"nextPODueDate":null,"totalPOFreeStock":null,"basketQuantityThresholds":[{"minimum":0,"maximum":99999.99,"stockMessages":[{"stockMessage":" more due in (1-2 weeks)","class":"","stockBreakdownTab":1}]}]},"orderButtonText":"Add to Basket","displayPrice":null,"displaySalePrice":null,"priceMessage":null},"largeSample":{"productId":175879,"stockMessage":{"productTypeID":null,"quantityMinimum":1.0,"quantityMaximum":99.0,"productTypeQuantityMaximum":null,"quantityIncrement":1.0,"reserveQuantityMaximum":null,"unit":"","allowStockCheck":false,"pieceBreakdownMinimum":null,"pieceBreakdownMaximum":null,"allowBackInStockReminder":false,"freeStock":null,"nextPOFreeStock":null,"nextPODueDate":null,"totalPOFreeStock":null,"basketQuantityThresholds":[{"minimum":0,"maximum":99999.99,"stockMessages":[{"stockMessage":" more due in (1-2 weeks)","class":"","stockBreakdownTab":1}]}]},"orderButtonText":"Add to Basket","displayPrice":null,"displaySalePrice":null,"priceMessage":null}},"Carousel":{"CarouselID":"#product-175877-carsouel","WrapperCSSClass":null,"AspectRatio":1.0,"Heading":"Shirakawa Amethyst","Images":[{"ImageID":102581,"SortOrder":0,"AltText":"Shirakawa Amethyst","Overlay":null,"MaxWidth":null,"ImageSize":1}],"DisplayThumbnails":false,"DisplayDashes":true,"Interval":null,"PermitLargeImageModal":true},"ProductID":175877,"ProductTypeID":18,"ProductPageID":29833,"ProductCode":"PDG1063/10","Brand":"Designers Guild","OrderFormID":"#product-175877","OrderFormCarouselID":"#product-175877-slide","OrderFormGroupID":null,"OrderFormGroup":null,"Size":null,"OrderFormName":"Shirakawa Amethyst","BasketName":"Shirakawa Amethyst","SortOrder":0,"Attributes":null,"Image":{"imageId":102581,"templateImageId":2,"altText":"Shirakawa Amethyst","titleText":"Shirakawa Amethyst","sortOrder":0,"maxWidth":488},"OrderFormProperties":[{"Key":"Colour","Value":"Amethyst"},{"Key":"Code","Value":"PDG1063/10"}],"AllowSample":false,"AllowLargeSample":false,"AllowOrder":false,"AllowReserve":false,"AllowReserveWithBatchCutting":false,"ClientProductViewModels":"","URLKeywords":"wallpaper/designers-guild/shirakawa-amethyst-wallpaper","ImageLinkToProductPage":true,"IsLifestyle":false}}]},{"ImageID":107154,"Hotspots":[{"X":16.2776534588306,"x":"calc(16.2777% - 12.5px)","Y":77.2299218045095,"y":"calc(77.2299% - 12.5px)","OverlayPosition":"top-left","Product":{"Solitary":false,"ProductBase":{"x":16.2776534588306,"y":77.229921804509488,"product":{"productId":161814,"sortOrder":0,"productTypeId":15,"templateId":2,"code":"FDG2831/02","brand":"Designers Guild","gtin13":null,"name":"Chandigarh - Berry","AKA":null,"size":null,"imageId":105623,"imageAltText":"Chandigarh - Berry","imageTitleText":"Chandigarh - Berry","rRPMessage":null,"rLRRP":null,"rLTradePrice":null,"displayPrice":null,"displaySalePrice":null,"priceMessage":null,"statusMessage":null,"urlSemantics":"fabric/designers-guild/chandigarh-berry-fabric","productPageId":29587,"url":"/jp/fabric/designers-guild/chandigarh-berry-fabric/p29587","itemAvailability":"InStock","orderFormGroupId":null,"orderFormName":"Chandigarh - Berry","attributes":null,"orderFormGroup":null,"orderFormProperties":[{"key":"Colour","value":"Berry"},{"key":"Code","value":"FDG2831/02"}],"controls":{"allowOrder":false,"allowReserve":false,"allowReserveWithBatchSample":false,"allowSample":false,"allowLargeSample":false,"allowBackInStockReminder":false,"disableOrder":false,"disableSample":false},"stockMessage":{"productTypeID":15,"quantityMinimum":1.0,"quantityMaximum":0.0,"productTypeQuantityMaximum":null,"quantityIncrement":0.1,"reserveQuantityMaximum":50.0,"unit":"m","allowStockCheck":false,"pieceBreakdownMinimum":1.0,"pieceBreakdownMaximum":50.0,"allowBackInStockReminder":false,"freeStock":167.8,"nextPOFreeStock":0.0,"nextPODueDate":null,"totalPOFreeStock":0.0,"basketQuantityThresholds":[{"minimum":0,"maximum":99999.99}]},"orderButtonText":"Add to Basket","reserveButtonText":"Reserve","reserveWithBatchSampleButtonText":"Reserve with Batch Sample","sample":{"productId":161815,"stockMessage":{"productTypeID":null,"quantityMinimum":1.0,"quantityMaximum":99.0,"productTypeQuantityMaximum":null,"quantityIncrement":1.0,"reserveQuantityMaximum":null,"unit":"","allowStockCheck":false,"pieceBreakdownMinimum":null,"pieceBreakdownMaximum":null,"allowBackInStockReminder":false,"freeStock":null,"nextPOFreeStock":null,"nextPODueDate":null,"totalPOFreeStock":null,"basketQuantityThresholds":[{"minimum":0,"maximum":99999.99,"stockMessages":[{"stockMessage":" more due in (1-2 weeks)","class":"","stockBreakdownTab":1}]}]},"orderButtonText":"Add to Basket","displayPrice":null,"displaySalePrice":null,"priceMessage":null},"largeSample":{"productId":161816,"stockMessage":{"productTypeID":null,"quantityMinimum":1.0,"quantityMaximum":99.0,"productTypeQuantityMaximum":null,"quantityIncrement":1.0,"reserveQuantityMaximum":null,"unit":"","allowStockCheck":false,"pieceBreakdownMinimum":null,"pieceBreakdownMaximum":null,"allowBackInStockReminder":false,"freeStock":null,"nextPOFreeStock":null,"nextPODueDate":null,"totalPOFreeStock":null,"basketQuantityThresholds":[{"minimum":0,"maximum":99999.99,"stockMessages":[{"stockMessage":" more due in (1-2 weeks)","class":"","stockBreakdownTab":1}]}]},"orderButtonText":"Add to Basket","displayPrice":null,"displaySalePrice":null,"priceMessage":null}}},"Product":{"productId":161814,"sortOrder":0,"productTypeId":15,"templateId":2,"code":"FDG2831/02","brand":"Designers Guild","gtin13":null,"name":"Chandigarh - Berry","AKA":null,"size":null,"imageId":105623,"imageAltText":"Chandigarh - Berry","imageTitleText":"Chandigarh - Berry","rRPMessage":null,"rLRRP":null,"rLTradePrice":null,"displayPrice":null,"displaySalePrice":null,"priceMessage":null,"statusMessage":null,"urlSemantics":"fabric/designers-guild/chandigarh-berry-fabric","productPageId":29587,"url":"/jp/fabric/designers-guild/chandigarh-berry-fabric/p29587","itemAvailability":"InStock","orderFormGroupId":null,"orderFormName":"Chandigarh - Berry","attributes":null,"orderFormGroup":null,"orderFormProperties":[{"key":"Colour","value":"Berry"},{"key":"Code","value":"FDG2831/02"}],"controls":{"allowOrder":false,"allowReserve":false,"allowReserveWithBatchSample":false,"allowSample":false,"allowLargeSample":false,"allowBackInStockReminder":false,"disableOrder":false,"disableSample":false},"stockMessage":{"productTypeID":15,"quantityMinimum":1.0,"quantityMaximum":0.0,"productTypeQuantityMaximum":null,"quantityIncrement":0.1,"reserveQuantityMaximum":50.0,"unit":"m","allowStockCheck":false,"pieceBreakdownMinimum":1.0,"pieceBreakdownMaximum":50.0,"allowBackInStockReminder":false,"freeStock":167.8,"nextPOFreeStock":0.0,"nextPODueDate":null,"totalPOFreeStock":0.0,"basketQuantityThresholds":[{"minimum":0,"maximum":99999.99}]},"orderButtonText":"Add to Basket","reserveButtonText":"Reserve","reserveWithBatchSampleButtonText":"Reserve with Batch Sample","sample":{"productId":161815,"stockMessage":{"productTypeID":null,"quantityMinimum":1.0,"quantityMaximum":99.0,"productTypeQuantityMaximum":null,"quantityIncrement":1.0,"reserveQuantityMaximum":null,"unit":"","allowStockCheck":false,"pieceBreakdownMinimum":null,"pieceBreakdownMaximum":null,"allowBackInStockReminder":false,"freeStock":null,"nextPOFreeStock":null,"nextPODueDate":null,"totalPOFreeStock":null,"basketQuantityThresholds":[{"minimum":0,"maximum":99999.99,"stockMessages":[{"stockMessage":" more due in (1-2 weeks)","class":"","stockBreakdownTab":1}]}]},"orderButtonText":"Add to Basket","displayPrice":null,"displaySalePrice":null,"priceMessage":null},"largeSample":{"productId":161816,"stockMessage":{"productTypeID":null,"quantityMinimum":1.0,"quantityMaximum":99.0,"productTypeQuantityMaximum":null,"quantityIncrement":1.0,"reserveQuantityMaximum":null,"unit":"","allowStockCheck":false,"pieceBreakdownMinimum":null,"pieceBreakdownMaximum":null,"allowBackInStockReminder":false,"freeStock":null,"nextPOFreeStock":null,"nextPODueDate":null,"totalPOFreeStock":null,"basketQuantityThresholds":[{"minimum":0,"maximum":99999.99,"stockMessages":[{"stockMessage":" more due in (1-2 weeks)","class":"","stockBreakdownTab":1}]}]},"orderButtonText":"Add to Basket","displayPrice":null,"displaySalePrice":null,"priceMessage":null}},"Carousel":{"CarouselID":"#product-161814-carsouel","WrapperCSSClass":null,"AspectRatio":1.0,"Heading":"Chandigarh - Berry","Images":[{"ImageID":105623,"SortOrder":0,"AltText":"Chandigarh - Berry","Overlay":null,"MaxWidth":null,"ImageSize":1}],"DisplayThumbnails":false,"DisplayDashes":true,"Interval":null,"PermitLargeImageModal":true},"ProductID":161814,"ProductTypeID":15,"ProductPageID":29587,"ProductCode":"FDG2831/02","Brand":"Designers Guild","OrderFormID":"#product-161814","OrderFormCarouselID":"#product-161814-slide","OrderFormGroupID":null,"OrderFormGroup":null,"Size":null,"OrderFormName":"Chandigarh - Berry","BasketName":"Chandigarh - Berry","SortOrder":0,"Attributes":null,"Image":{"imageId":105623,"templateImageId":2,"altText":"Chandigarh - Berry","titleText":"Chandigarh - Berry","sortOrder":0,"maxWidth":488},"OrderFormProperties":[{"Key":"Colour","Value":"Berry"},{"Key":"Code","Value":"FDG2831/02"}],"AllowSample":false,"AllowLargeSample":false,"AllowOrder":false,"AllowReserve":false,"AllowReserveWithBatchCutting":false,"ClientProductViewModels":"","URLKeywords":"fabric/designers-guild/chandigarh-berry-fabric","ImageLinkToProductPage":true,"IsLifestyle":false}},{"X":50.3082657037286,"x":"calc(50.3083% - 12.5px)","Y":32.5020242784225,"y":"calc(32.5020% - 12.5px)","OverlayPosition":"top-right","Product":{"Solitary":false,"ProductBase":{"x":50.308265703728559,"y":32.502024278422532,"product":{"productId":174781,"sortOrder":0,"productTypeId":15,"templateId":2,"code":"FDG2816/01","brand":"Designers Guild","gtin13":null,"name":"Shalimar Garden - Amethyst","AKA":null,"size":null,"imageId":102695,"imageAltText":"Shalimar Garden - Amethyst","imageTitleText":"Shalimar Garden - Amethyst","rRPMessage":null,"rLRRP":null,"rLTradePrice":null,"displayPrice":null,"displaySalePrice":null,"priceMessage":null,"statusMessage":null,"urlSemantics":"fabric/designers-guild/shalimar-garden-amethyst-fabric","productPageId":29859,"url":"/jp/fabric/designers-guild/shalimar-garden-amethyst-fabric/p29859","itemAvailability":"InStock","orderFormGroupId":null,"orderFormName":"Shalimar Garden - Amethyst","attributes":null,"orderFormGroup":null,"orderFormProperties":[{"key":"Colour","value":"Amethyst"},{"key":"Code","value":"FDG2816/01"}],"controls":{"allowOrder":false,"allowReserve":false,"allowReserveWithBatchSample":false,"allowSample":false,"allowLargeSample":false,"allowBackInStockReminder":false,"disableOrder":false,"disableSample":false},"stockMessage":{"productTypeID":15,"quantityMinimum":1.0,"quantityMaximum":0.0,"productTypeQuantityMaximum":null,"quantityIncrement":0.1,"reserveQuantityMaximum":50.0,"unit":"m","allowStockCheck":false,"pieceBreakdownMinimum":1.0,"pieceBreakdownMaximum":50.0,"allowBackInStockReminder":false,"freeStock":194.2,"nextPOFreeStock":0.0,"nextPODueDate":null,"totalPOFreeStock":0.0,"basketQuantityThresholds":[{"minimum":0,"maximum":99999.99}]},"orderButtonText":"Add to Basket","reserveButtonText":"Reserve","reserveWithBatchSampleButtonText":"Reserve with Batch Sample","sample":{"productId":176370,"stockMessage":{"productTypeID":null,"quantityMinimum":1.0,"quantityMaximum":99.0,"productTypeQuantityMaximum":null,"quantityIncrement":1.0,"reserveQuantityMaximum":null,"unit":"","allowStockCheck":false,"pieceBreakdownMinimum":null,"pieceBreakdownMaximum":null,"allowBackInStockReminder":false,"freeStock":null,"nextPOFreeStock":null,"nextPODueDate":null,"totalPOFreeStock":null,"basketQuantityThresholds":[{"minimum":0,"maximum":99999.99,"stockMessages":[{"stockMessage":" more due in (1-2 weeks)","class":"","stockBreakdownTab":1}]}]},"orderButtonText":"Add to Basket","displayPrice":null,"displaySalePrice":null,"priceMessage":null},"largeSample":{"productId":176371,"stockMessage":{"productTypeID":null,"quantityMinimum":1.0,"quantityMaximum":99.0,"productTypeQuantityMaximum":null,"quantityIncrement":1.0,"reserveQuantityMaximum":null,"unit":"","allowStockCheck":false,"pieceBreakdownMinimum":null,"pieceBreakdownMaximum":null,"allowBackInStockReminder":false,"freeStock":null,"nextPOFreeStock":null,"nextPODueDate":null,"totalPOFreeStock":null,"basketQuantityThresholds":[{"minimum":0,"maximum":99999.99,"stockMessages":[{"stockMessage":" more due in (1-2 weeks)","class":"","stockBreakdownTab":1}]}]},"orderButtonText":"Add to Basket","displayPrice":null,"displaySalePrice":null,"priceMessage":null}}},"Product":{"productId":174781,"sortOrder":0,"productTypeId":15,"templateId":2,"code":"FDG2816/01","brand":"Designers Guild","gtin13":null,"name":"Shalimar Garden - Amethyst","AKA":null,"size":null,"imageId":102695,"imageAltText":"Shalimar Garden - Amethyst","imageTitleText":"Shalimar Garden - Amethyst","rRPMessage":null,"rLRRP":null,"rLTradePrice":null,"displayPrice":null,"displaySalePrice":null,"priceMessage":null,"statusMessage":null,"urlSemantics":"fabric/designers-guild/shalimar-garden-amethyst-fabric","productPageId":29859,"url":"/jp/fabric/designers-guild/shalimar-garden-amethyst-fabric/p29859","itemAvailability":"InStock","orderFormGroupId":null,"orderFormName":"Shalimar Garden - Amethyst","attributes":null,"orderFormGroup":null,"orderFormProperties":[{"key":"Colour","value":"Amethyst"},{"key":"Code","value":"FDG2816/01"}],"controls":{"allowOrder":false,"allowReserve":false,"allowReserveWithBatchSample":false,"allowSample":false,"allowLargeSample":false,"allowBackInStockReminder":false,"disableOrder":false,"disableSample":false},"stockMessage":{"productTypeID":15,"quantityMinimum":1.0,"quantityMaximum":0.0,"productTypeQuantityMaximum":null,"quantityIncrement":0.1,"reserveQuantityMaximum":50.0,"unit":"m","allowStockCheck":false,"pieceBreakdownMinimum":1.0,"pieceBreakdownMaximum":50.0,"allowBackInStockReminder":false,"freeStock":194.2,"nextPOFreeStock":0.0,"nextPODueDate":null,"totalPOFreeStock":0.0,"basketQuantityThresholds":[{"minimum":0,"maximum":99999.99}]},"orderButtonText":"Add to Basket","reserveButtonText":"Reserve","reserveWithBatchSampleButtonText":"Reserve with Batch Sample","sample":{"productId":176370,"stockMessage":{"productTypeID":null,"quantityMinimum":1.0,"quantityMaximum":99.0,"productTypeQuantityMaximum":null,"quantityIncrement":1.0,"reserveQuantityMaximum":null,"unit":"","allowStockCheck":false,"pieceBreakdownMinimum":null,"pieceBreakdownMaximum":null,"allowBackInStockReminder":false,"freeStock":null,"nextPOFreeStock":null,"nextPODueDate":null,"totalPOFreeStock":null,"basketQuantityThresholds":[{"minimum":0,"maximum":99999.99,"stockMessages":[{"stockMessage":" more due in (1-2 weeks)","class":"","stockBreakdownTab":1}]}]},"orderButtonText":"Add to Basket","displayPrice":null,"displaySalePrice":null,"priceMessage":null},"largeSample":{"productId":176371,"stockMessage":{"productTypeID":null,"quantityMinimum":1.0,"quantityMaximum":99.0,"productTypeQuantityMaximum":null,"quantityIncrement":1.0,"reserveQuantityMaximum":null,"unit":"","allowStockCheck":false,"pieceBreakdownMinimum":null,"pieceBreakdownMaximum":null,"allowBackInStockReminder":false,"freeStock":null,"nextPOFreeStock":null,"nextPODueDate":null,"totalPOFreeStock":null,"basketQuantityThresholds":[{"minimum":0,"maximum":99999.99,"stockMessages":[{"stockMessage":" more due in (1-2 weeks)","class":"","stockBreakdownTab":1}]}]},"orderButtonText":"Add to Basket","displayPrice":null,"displaySalePrice":null,"priceMessage":null}},"Carousel":{"CarouselID":"#product-174781-carsouel","WrapperCSSClass":null,"AspectRatio":1.0,"Heading":"Shalimar Garden - Amethyst","Images":[{"ImageID":102695,"SortOrder":0,"AltText":"Shalimar Garden - Amethyst","Overlay":null,"MaxWidth":null,"ImageSize":1}],"DisplayThumbnails":false,"DisplayDashes":true,"Interval":null,"PermitLargeImageModal":true},"ProductID":174781,"ProductTypeID":15,"ProductPageID":29859,"ProductCode":"FDG2816/01","Brand":"Designers Guild","OrderFormID":"#product-174781","OrderFormCarouselID":"#product-174781-slide","OrderFormGroupID":null,"OrderFormGroup":null,"Size":null,"OrderFormName":"Shalimar Garden - Amethyst","BasketName":"Shalimar Garden - Amethyst","SortOrder":0,"Attributes":null,"Image":{"imageId":102695,"templateImageId":2,"altText":"Shalimar Garden - Amethyst","titleText":"Shalimar Garden - Amethyst","sortOrder":0,"maxWidth":488},"OrderFormProperties":[{"Key":"Colour","Value":"Amethyst"},{"Key":"Code","Value":"FDG2816/01"}],"AllowSample":false,"AllowLargeSample":false,"AllowOrder":false,"AllowReserve":false,"AllowReserveWithBatchCutting":false,"ClientProductViewModels":"","URLKeywords":"fabric/designers-guild/shalimar-garden-amethyst-fabric","ImageLinkToProductPage":true,"IsLifestyle":false}},{"X":92.4237265908283,"x":"calc(92.4237% - 12.5px)","Y":78.2039435321192,"y":"calc(78.2039% - 12.5px)","OverlayPosition":"top-right","Product":{"Solitary":false,"ProductBase":{"x":92.423726590828309,"y":78.203943532119212,"product":{"productId":101452,"sortOrder":0,"productTypeId":15,"templateId":2,"code":"FDG2541/01","brand":"Designers Guild Essentials","gtin13":null,"name":"Brecon - Coconut","AKA":null,"size":null,"imageId":67167,"imageAltText":"Brecon - Coconut Cutting","imageTitleText":"Brecon - Coconut Cutting","rRPMessage":null,"rLRRP":null,"rLTradePrice":null,"displayPrice":null,"displaySalePrice":null,"priceMessage":null,"statusMessage":"Limited","urlSemantics":"fabric/designers-guild-essentials/brecon-coconut-fabric","productPageId":22663,"url":"/jp/fabric/designers-guild-essentials/brecon-coconut-fabric/p22663","itemAvailability":"InStock","orderFormGroupId":null,"orderFormName":"Brecon - Coconut","attributes":null,"orderFormGroup":null,"orderFormProperties":[{"key":"Colour","value":"Coconut"},{"key":"Code","value":"FDG2541/01"}],"controls":{"allowOrder":false,"allowReserve":false,"allowReserveWithBatchSample":false,"allowSample":false,"allowLargeSample":false,"allowBackInStockReminder":false,"disableOrder":false,"disableSample":false},"stockMessage":{"productTypeID":15,"quantityMinimum":1.0,"quantityMaximum":0.0,"productTypeQuantityMaximum":null,"quantityIncrement":0.1,"reserveQuantityMaximum":38.1,"unit":"m","allowStockCheck":false,"pieceBreakdownMinimum":1.0,"pieceBreakdownMaximum":50.0,"allowBackInStockReminder":false,"freeStock":38.1,"nextPOFreeStock":0.0,"nextPODueDate":null,"totalPOFreeStock":0.0,"basketQuantityThresholds":[{"minimum":0,"maximum":99999.99}]},"orderButtonText":"Add to Basket","reserveButtonText":"Reserve","reserveWithBatchSampleButtonText":"Reserve with Batch Sample","sample":{"productId":101490,"stockMessage":{"productTypeID":null,"quantityMinimum":1.0,"quantityMaximum":99.0,"productTypeQuantityMaximum":null,"quantityIncrement":1.0,"reserveQuantityMaximum":null,"unit":"","allowStockCheck":false,"pieceBreakdownMinimum":null,"pieceBreakdownMaximum":null,"allowBackInStockReminder":false,"freeStock":null,"nextPOFreeStock":null,"nextPODueDate":null,"totalPOFreeStock":null,"basketQuantityThresholds":[{"minimum":0,"maximum":99999.99,"stockMessages":[{"stockMessage":" more due in (1-2 weeks)","class":"","stockBreakdownTab":1}]}]},"orderButtonText":"Add to Basket","displayPrice":null,"displaySalePrice":null,"priceMessage":null},"largeSample":{"productId":101551,"stockMessage":{"productTypeID":null,"quantityMinimum":1.0,"quantityMaximum":99.0,"productTypeQuantityMaximum":null,"quantityIncrement":1.0,"reserveQuantityMaximum":null,"unit":"","allowStockCheck":false,"pieceBreakdownMinimum":null,"pieceBreakdownMaximum":null,"allowBackInStockReminder":false,"freeStock":null,"nextPOFreeStock":null,"nextPODueDate":null,"totalPOFreeStock":null,"basketQuantityThresholds":[{"minimum":0,"maximum":99999.99,"stockMessages":[{"stockMessage":" more due in (1-2 weeks)","class":"","stockBreakdownTab":1}]}]},"orderButtonText":"Add to Basket","displayPrice":null,"displaySalePrice":null,"priceMessage":null}}},"Product":{"productId":101452,"sortOrder":0,"productTypeId":15,"templateId":2,"code":"FDG2541/01","brand":"Designers Guild Essentials","gtin13":null,"name":"Brecon - Coconut","AKA":null,"size":null,"imageId":67167,"imageAltText":"Brecon - Coconut Cutting","imageTitleText":"Brecon - Coconut Cutting","rRPMessage":null,"rLRRP":null,"rLTradePrice":null,"displayPrice":null,"displaySalePrice":null,"priceMessage":null,"statusMessage":"Limited","urlSemantics":"fabric/designers-guild-essentials/brecon-coconut-fabric","productPageId":22663,"url":"/jp/fabric/designers-guild-essentials/brecon-coconut-fabric/p22663","itemAvailability":"InStock","orderFormGroupId":null,"orderFormName":"Brecon - Coconut","attributes":null,"orderFormGroup":null,"orderFormProperties":[{"key":"Colour","value":"Coconut"},{"key":"Code","value":"FDG2541/01"}],"controls":{"allowOrder":false,"allowReserve":false,"allowReserveWithBatchSample":false,"allowSample":false,"allowLargeSample":false,"allowBackInStockReminder":false,"disableOrder":false,"disableSample":false},"stockMessage":{"productTypeID":15,"quantityMinimum":1.0,"quantityMaximum":0.0,"productTypeQuantityMaximum":null,"quantityIncrement":0.1,"reserveQuantityMaximum":38.1,"unit":"m","allowStockCheck":false,"pieceBreakdownMinimum":1.0,"pieceBreakdownMaximum":50.0,"allowBackInStockReminder":false,"freeStock":38.1,"nextPOFreeStock":0.0,"nextPODueDate":null,"totalPOFreeStock":0.0,"basketQuantityThresholds":[{"minimum":0,"maximum":99999.99}]},"orderButtonText":"Add to Basket","reserveButtonText":"Reserve","reserveWithBatchSampleButtonText":"Reserve with Batch Sample","sample":{"productId":101490,"stockMessage":{"productTypeID":null,"quantityMinimum":1.0,"quantityMaximum":99.0,"productTypeQuantityMaximum":null,"quantityIncrement":1.0,"reserveQuantityMaximum":null,"unit":"","allowStockCheck":false,"pieceBreakdownMinimum":null,"pieceBreakdownMaximum":null,"allowBackInStockReminder":false,"freeStock":null,"nextPOFreeStock":null,"nextPODueDate":null,"totalPOFreeStock":null,"basketQuantityThresholds":[{"minimum":0,"maximum":99999.99,"stockMessages":[{"stockMessage":" more due in (1-2 weeks)","class":"","stockBreakdownTab":1}]}]},"orderButtonText":"Add to Basket","displayPrice":null,"displaySalePrice":null,"priceMessage":null},"largeSample":{"productId":101551,"stockMessage":{"productTypeID":null,"quantityMinimum":1.0,"quantityMaximum":99.0,"productTypeQuantityMaximum":null,"quantityIncrement":1.0,"reserveQuantityMaximum":null,"unit":"","allowStockCheck":false,"pieceBreakdownMinimum":null,"pieceBreakdownMaximum":null,"allowBackInStockReminder":false,"freeStock":null,"nextPOFreeStock":null,"nextPODueDate":null,"totalPOFreeStock":null,"basketQuantityThresholds":[{"minimum":0,"maximum":99999.99,"stockMessages":[{"stockMessage":" more due in (1-2 weeks)","class":"","stockBreakdownTab":1}]}]},"orderButtonText":"Add to Basket","displayPrice":null,"displaySalePrice":null,"priceMessage":null}},"Carousel":{"CarouselID":"#product-101452-carsouel","WrapperCSSClass":null,"AspectRatio":1.0,"Heading":"Brecon - Coconut","Images":[{"ImageID":67167,"SortOrder":0,"AltText":"Brecon - Coconut Cutting","Overlay":null,"MaxWidth":null,"ImageSize":1}],"DisplayThumbnails":false,"DisplayDashes":true,"Interval":null,"PermitLargeImageModal":true},"ProductID":101452,"ProductTypeID":15,"ProductPageID":22663,"ProductCode":"FDG2541/01","Brand":"Designers Guild Essentials","OrderFormID":"#product-101452","OrderFormCarouselID":"#product-101452-slide","OrderFormGroupID":null,"OrderFormGroup":null,"Size":null,"OrderFormName":"Brecon - Coconut","BasketName":"Brecon - Coconut","SortOrder":0,"Attributes":null,"Image":{"imageId":67167,"templateImageId":2,"altText":"Brecon - Coconut Cutting","titleText":"Brecon - Coconut Cutting","sortOrder":0,"maxWidth":488},"OrderFormProperties":[{"Key":"Colour","Value":"Coconut"},{"Key":"Code","Value":"FDG2541/01"}],"AllowSample":false,"AllowLargeSample":false,"AllowOrder":false,"AllowReserve":false,"AllowReserveWithBatchCutting":false,"ClientProductViewModels":"","URLKeywords":"fabric/designers-guild-essentials/brecon-coconut-fabric","ImageLinkToProductPage":true,"IsLifestyle":false}}]},{"ImageID":107158,"Hotspots":[{"X":45.5991640355852,"x":"calc(45.5992% - 12.5px)","Y":57.5363549633302,"y":"calc(57.5364% - 12.5px)","OverlayPosition":"top-left","Product":{"Solitary":false,"ProductBase":{"x":45.59916403558519,"y":57.536354963330247,"product":{"productId":161814,"sortOrder":0,"productTypeId":15,"templateId":2,"code":"FDG2831/02","brand":"Designers Guild","gtin13":null,"name":"Chandigarh - Berry","AKA":null,"size":null,"imageId":105623,"imageAltText":"Chandigarh - Berry","imageTitleText":"Chandigarh - Berry","rRPMessage":null,"rLRRP":null,"rLTradePrice":null,"displayPrice":null,"displaySalePrice":null,"priceMessage":null,"statusMessage":null,"urlSemantics":"fabric/designers-guild/chandigarh-berry-fabric","productPageId":29587,"url":"/jp/fabric/designers-guild/chandigarh-berry-fabric/p29587","itemAvailability":"InStock","orderFormGroupId":null,"orderFormName":"Chandigarh - Berry","attributes":null,"orderFormGroup":null,"orderFormProperties":[{"key":"Colour","value":"Berry"},{"key":"Code","value":"FDG2831/02"}],"controls":{"allowOrder":false,"allowReserve":false,"allowReserveWithBatchSample":false,"allowSample":false,"allowLargeSample":false,"allowBackInStockReminder":false,"disableOrder":false,"disableSample":false},"stockMessage":{"productTypeID":15,"quantityMinimum":1.0,"quantityMaximum":0.0,"productTypeQuantityMaximum":null,"quantityIncrement":0.1,"reserveQuantityMaximum":50.0,"unit":"m","allowStockCheck":false,"pieceBreakdownMinimum":1.0,"pieceBreakdownMaximum":50.0,"allowBackInStockReminder":false,"freeStock":167.8,"nextPOFreeStock":0.0,"nextPODueDate":null,"totalPOFreeStock":0.0,"basketQuantityThresholds":[{"minimum":0,"maximum":99999.99}]},"orderButtonText":"Add to Basket","reserveButtonText":"Reserve","reserveWithBatchSampleButtonText":"Reserve with Batch Sample","sample":{"productId":161815,"stockMessage":{"productTypeID":null,"quantityMinimum":1.0,"quantityMaximum":99.0,"productTypeQuantityMaximum":null,"quantityIncrement":1.0,"reserveQuantityMaximum":null,"unit":"","allowStockCheck":false,"pieceBreakdownMinimum":null,"pieceBreakdownMaximum":null,"allowBackInStockReminder":false,"freeStock":null,"nextPOFreeStock":null,"nextPODueDate":null,"totalPOFreeStock":null,"basketQuantityThresholds":[{"minimum":0,"maximum":99999.99,"stockMessages":[{"stockMessage":" more due in (1-2 weeks)","class":"","stockBreakdownTab":1}]}]},"orderButtonText":"Add to Basket","displayPrice":null,"displaySalePrice":null,"priceMessage":null},"largeSample":{"productId":161816,"stockMessage":{"productTypeID":null,"quantityMinimum":1.0,"quantityMaximum":99.0,"productTypeQuantityMaximum":null,"quantityIncrement":1.0,"reserveQuantityMaximum":null,"unit":"","allowStockCheck":false,"pieceBreakdownMinimum":null,"pieceBreakdownMaximum":null,"allowBackInStockReminder":false,"freeStock":null,"nextPOFreeStock":null,"nextPODueDate":null,"totalPOFreeStock":null,"basketQuantityThresholds":[{"minimum":0,"maximum":99999.99,"stockMessages":[{"stockMessage":" more due in (1-2 weeks)","class":"","stockBreakdownTab":1}]}]},"orderButtonText":"Add to Basket","displayPrice":null,"displaySalePrice":null,"priceMessage":null}}},"Product":{"productId":161814,"sortOrder":0,"productTypeId":15,"templateId":2,"code":"FDG2831/02","brand":"Designers Guild","gtin13":null,"name":"Chandigarh - Berry","AKA":null,"size":null,"imageId":105623,"imageAltText":"Chandigarh - Berry","imageTitleText":"Chandigarh - Berry","rRPMessage":null,"rLRRP":null,"rLTradePrice":null,"displayPrice":null,"displaySalePrice":null,"priceMessage":null,"statusMessage":null,"urlSemantics":"fabric/designers-guild/chandigarh-berry-fabric","productPageId":29587,"url":"/jp/fabric/designers-guild/chandigarh-berry-fabric/p29587","itemAvailability":"InStock","orderFormGroupId":null,"orderFormName":"Chandigarh - Berry","attributes":null,"orderFormGroup":null,"orderFormProperties":[{"key":"Colour","value":"Berry"},{"key":"Code","value":"FDG2831/02"}],"controls":{"allowOrder":false,"allowReserve":false,"allowReserveWithBatchSample":false,"allowSample":false,"allowLargeSample":false,"allowBackInStockReminder":false,"disableOrder":false,"disableSample":false},"stockMessage":{"productTypeID":15,"quantityMinimum":1.0,"quantityMaximum":0.0,"productTypeQuantityMaximum":null,"quantityIncrement":0.1,"reserveQuantityMaximum":50.0,"unit":"m","allowStockCheck":false,"pieceBreakdownMinimum":1.0,"pieceBreakdownMaximum":50.0,"allowBackInStockReminder":false,"freeStock":167.8,"nextPOFreeStock":0.0,"nextPODueDate":null,"totalPOFreeStock":0.0,"basketQuantityThresholds":[{"minimum":0,"maximum":99999.99}]},"orderButtonText":"Add to Basket","reserveButtonText":"Reserve","reserveWithBatchSampleButtonText":"Reserve with Batch Sample","sample":{"productId":161815,"stockMessage":{"productTypeID":null,"quantityMinimum":1.0,"quantityMaximum":99.0,"productTypeQuantityMaximum":null,"quantityIncrement":1.0,"reserveQuantityMaximum":null,"unit":"","allowStockCheck":false,"pieceBreakdownMinimum":null,"pieceBreakdownMaximum":null,"allowBackInStockReminder":false,"freeStock":null,"nextPOFreeStock":null,"nextPODueDate":null,"totalPOFreeStock":null,"basketQuantityThresholds":[{"minimum":0,"maximum":99999.99,"stockMessages":[{"stockMessage":" more due in (1-2 weeks)","class":"","stockBreakdownTab":1}]}]},"orderButtonText":"Add to Basket","displayPrice":null,"displaySalePrice":null,"priceMessage":null},"largeSample":{"productId":161816,"stockMessage":{"productTypeID":null,"quantityMinimum":1.0,"quantityMaximum":99.0,"productTypeQuantityMaximum":null,"quantityIncrement":1.0,"reserveQuantityMaximum":null,"unit":"","allowStockCheck":false,"pieceBreakdownMinimum":null,"pieceBreakdownMaximum":null,"allowBackInStockReminder":false,"freeStock":null,"nextPOFreeStock":null,"nextPODueDate":null,"totalPOFreeStock":null,"basketQuantityThresholds":[{"minimum":0,"maximum":99999.99,"stockMessages":[{"stockMessage":" more due in (1-2 weeks)","class":"","stockBreakdownTab":1}]}]},"orderButtonText":"Add to Basket","displayPrice":null,"displaySalePrice":null,"priceMessage":null}},"Carousel":{"CarouselID":"#product-161814-carsouel","WrapperCSSClass":null,"AspectRatio":1.0,"Heading":"Chandigarh - Berry","Images":[{"ImageID":105623,"SortOrder":0,"AltText":"Chandigarh - Berry","Overlay":null,"MaxWidth":null,"ImageSize":1}],"DisplayThumbnails":false,"DisplayDashes":true,"Interval":null,"PermitLargeImageModal":true},"ProductID":161814,"ProductTypeID":15,"ProductPageID":29587,"ProductCode":"FDG2831/02","Brand":"Designers Guild","OrderFormID":"#product-161814","OrderFormCarouselID":"#product-161814-slide","OrderFormGroupID":null,"OrderFormGroup":null,"Size":null,"OrderFormName":"Chandigarh - Berry","BasketName":"Chandigarh - Berry","SortOrder":0,"Attributes":null,"Image":{"imageId":105623,"templateImageId":2,"altText":"Chandigarh - Berry","titleText":"Chandigarh - Berry","sortOrder":0,"maxWidth":488},"OrderFormProperties":[{"Key":"Colour","Value":"Berry"},{"Key":"Code","Value":"FDG2831/02"}],"AllowSample":false,"AllowLargeSample":false,"AllowOrder":false,"AllowReserve":false,"AllowReserveWithBatchCutting":false,"ClientProductViewModels":"","URLKeywords":"fabric/designers-guild/chandigarh-berry-fabric","ImageLinkToProductPage":true,"IsLifestyle":false}},{"X":53.100900914934,"x":"calc(53.1009% - 12.5px)","Y":70.4892505194254,"y":"calc(70.4893% - 12.5px)","OverlayPosition":"top-right","Product":{"Solitary":false,"ProductBase":{"x":53.100900914933952,"y":70.4892505194254,"product":{"productId":174781,"sortOrder":0,"productTypeId":15,"templateId":2,"code":"FDG2816/01","brand":"Designers Guild","gtin13":null,"name":"Shalimar Garden - Amethyst","AKA":null,"size":null,"imageId":102695,"imageAltText":"Shalimar Garden - Amethyst","imageTitleText":"Shalimar Garden - Amethyst","rRPMessage":null,"rLRRP":null,"rLTradePrice":null,"displayPrice":null,"displaySalePrice":null,"priceMessage":null,"statusMessage":null,"urlSemantics":"fabric/designers-guild/shalimar-garden-amethyst-fabric","productPageId":29859,"url":"/jp/fabric/designers-guild/shalimar-garden-amethyst-fabric/p29859","itemAvailability":"InStock","orderFormGroupId":null,"orderFormName":"Shalimar Garden - Amethyst","attributes":null,"orderFormGroup":null,"orderFormProperties":[{"key":"Colour","value":"Amethyst"},{"key":"Code","value":"FDG2816/01"}],"controls":{"allowOrder":false,"allowReserve":false,"allowReserveWithBatchSample":false,"allowSample":false,"allowLargeSample":false,"allowBackInStockReminder":false,"disableOrder":false,"disableSample":false},"stockMessage":{"productTypeID":15,"quantityMinimum":1.0,"quantityMaximum":0.0,"productTypeQuantityMaximum":null,"quantityIncrement":0.1,"reserveQuantityMaximum":50.0,"unit":"m","allowStockCheck":false,"pieceBreakdownMinimum":1.0,"pieceBreakdownMaximum":50.0,"allowBackInStockReminder":false,"freeStock":194.2,"nextPOFreeStock":0.0,"nextPODueDate":null,"totalPOFreeStock":0.0,"basketQuantityThresholds":[{"minimum":0,"maximum":99999.99}]},"orderButtonText":"Add to Basket","reserveButtonText":"Reserve","reserveWithBatchSampleButtonText":"Reserve with Batch Sample","sample":{"productId":176370,"stockMessage":{"productTypeID":null,"quantityMinimum":1.0,"quantityMaximum":99.0,"productTypeQuantityMaximum":null,"quantityIncrement":1.0,"reserveQuantityMaximum":null,"unit":"","allowStockCheck":false,"pieceBreakdownMinimum":null,"pieceBreakdownMaximum":null,"allowBackInStockReminder":false,"freeStock":null,"nextPOFreeStock":null,"nextPODueDate":null,"totalPOFreeStock":null,"basketQuantityThresholds":[{"minimum":0,"maximum":99999.99,"stockMessages":[{"stockMessage":" more due in (1-2 weeks)","class":"","stockBreakdownTab":1}]}]},"orderButtonText":"Add to Basket","displayPrice":null,"displaySalePrice":null,"priceMessage":null},"largeSample":{"productId":176371,"stockMessage":{"productTypeID":null,"quantityMinimum":1.0,"quantityMaximum":99.0,"productTypeQuantityMaximum":null,"quantityIncrement":1.0,"reserveQuantityMaximum":null,"unit":"","allowStockCheck":false,"pieceBreakdownMinimum":null,"pieceBreakdownMaximum":null,"allowBackInStockReminder":false,"freeStock":null,"nextPOFreeStock":null,"nextPODueDate":null,"totalPOFreeStock":null,"basketQuantityThresholds":[{"minimum":0,"maximum":99999.99,"stockMessages":[{"stockMessage":" more due in (1-2 weeks)","class":"","stockBreakdownTab":1}]}]},"orderButtonText":"Add to Basket","displayPrice":null,"displaySalePrice":null,"priceMessage":null}}},"Product":{"productId":174781,"sortOrder":0,"productTypeId":15,"templateId":2,"code":"FDG2816/01","brand":"Designers Guild","gtin13":null,"name":"Shalimar Garden - Amethyst","AKA":null,"size":null,"imageId":102695,"imageAltText":"Shalimar Garden - Amethyst","imageTitleText":"Shalimar Garden - Amethyst","rRPMessage":null,"rLRRP":null,"rLTradePrice":null,"displayPrice":null,"displaySalePrice":null,"priceMessage":null,"statusMessage":null,"urlSemantics":"fabric/designers-guild/shalimar-garden-amethyst-fabric","productPageId":29859,"url":"/jp/fabric/designers-guild/shalimar-garden-amethyst-fabric/p29859","itemAvailability":"InStock","orderFormGroupId":null,"orderFormName":"Shalimar Garden - Amethyst","attributes":null,"orderFormGroup":null,"orderFormProperties":[{"key":"Colour","value":"Amethyst"},{"key":"Code","value":"FDG2816/01"}],"controls":{"allowOrder":false,"allowReserve":false,"allowReserveWithBatchSample":false,"allowSample":false,"allowLargeSample":false,"allowBackInStockReminder":false,"disableOrder":false,"disableSample":false},"stockMessage":{"productTypeID":15,"quantityMinimum":1.0,"quantityMaximum":0.0,"productTypeQuantityMaximum":null,"quantityIncrement":0.1,"reserveQuantityMaximum":50.0,"unit":"m","allowStockCheck":false,"pieceBreakdownMinimum":1.0,"pieceBreakdownMaximum":50.0,"allowBackInStockReminder":false,"freeStock":194.2,"nextPOFreeStock":0.0,"nextPODueDate":null,"totalPOFreeStock":0.0,"basketQuantityThresholds":[{"minimum":0,"maximum":99999.99}]},"orderButtonText":"Add to Basket","reserveButtonText":"Reserve","reserveWithBatchSampleButtonText":"Reserve with Batch Sample","sample":{"productId":176370,"stockMessage":{"productTypeID":null,"quantityMinimum":1.0,"quantityMaximum":99.0,"productTypeQuantityMaximum":null,"quantityIncrement":1.0,"reserveQuantityMaximum":null,"unit":"","allowStockCheck":false,"pieceBreakdownMinimum":null,"pieceBreakdownMaximum":null,"allowBackInStockReminder":false,"freeStock":null,"nextPOFreeStock":null,"nextPODueDate":null,"totalPOFreeStock":null,"basketQuantityThresholds":[{"minimum":0,"maximum":99999.99,"stockMessages":[{"stockMessage":" more due in (1-2 weeks)","class":"","stockBreakdownTab":1}]}]},"orderButtonText":"Add to Basket","displayPrice":null,"displaySalePrice":null,"priceMessage":null},"largeSample":{"productId":176371,"stockMessage":{"productTypeID":null,"quantityMinimum":1.0,"quantityMaximum":99.0,"productTypeQuantityMaximum":null,"quantityIncrement":1.0,"reserveQuantityMaximum":null,"unit":"","allowStockCheck":false,"pieceBreakdownMinimum":null,"pieceBreakdownMaximum":null,"allowBackInStockReminder":false,"freeStock":null,"nextPOFreeStock":null,"nextPODueDate":null,"totalPOFreeStock":null,"basketQuantityThresholds":[{"minimum":0,"maximum":99999.99,"stockMessages":[{"stockMessage":" more due in (1-2 weeks)","class":"","stockBreakdownTab":1}]}]},"orderButtonText":"Add to Basket","displayPrice":null,"displaySalePrice":null,"priceMessage":null}},"Carousel":{"CarouselID":"#product-174781-carsouel","WrapperCSSClass":null,"AspectRatio":1.0,"Heading":"Shalimar Garden - Amethyst","Images":[{"ImageID":102695,"SortOrder":0,"AltText":"Shalimar Garden - Amethyst","Overlay":null,"MaxWidth":null,"ImageSize":1}],"DisplayThumbnails":false,"DisplayDashes":true,"Interval":null,"PermitLargeImageModal":true},"ProductID":174781,"ProductTypeID":15,"ProductPageID":29859,"ProductCode":"FDG2816/01","Brand":"Designers Guild","OrderFormID":"#product-174781","OrderFormCarouselID":"#product-174781-slide","OrderFormGroupID":null,"OrderFormGroup":null,"Size":null,"OrderFormName":"Shalimar Garden - Amethyst","BasketName":"Shalimar Garden - Amethyst","SortOrder":0,"Attributes":null,"Image":{"imageId":102695,"templateImageId":2,"altText":"Shalimar Garden - Amethyst","titleText":"Shalimar Garden - Amethyst","sortOrder":0,"maxWidth":488},"OrderFormProperties":[{"Key":"Colour","Value":"Amethyst"},{"Key":"Code","Value":"FDG2816/01"}],"AllowSample":false,"AllowLargeSample":false,"AllowOrder":false,"AllowReserve":false,"AllowReserveWithBatchCutting":false,"ClientProductViewModels":"","URLKeywords":"fabric/designers-guild/shalimar-garden-amethyst-fabric","ImageLinkToProductPage":true,"IsLifestyle":false}},{"X":55.6182620260451,"x":"calc(55.6183% - 12.5px)","Y":13.3032643276712,"y":"calc(13.3033% - 12.5px)","OverlayPosition":"top-right","Product":{"Solitary":false,"ProductBase":{"x":55.618262026045059,"y":13.30326432767122,"product":{"productId":149501,"sortOrder":0,"productTypeId":15,"templateId":2,"code":"FDG2796/12","brand":"Designers Guild Essentials","gtin13":null,"name":"Brera Moda - Antique Jade","AKA":null,"size":null,"imageId":92003,"imageAltText":"Brera Moda - Antique Jade","imageTitleText":"Brera Moda - Antique Jade","rRPMessage":null,"rLRRP":null,"rLTradePrice":null,"displayPrice":null,"displaySalePrice":null,"priceMessage":null,"statusMessage":"Limited","urlSemantics":"fabric/designers-guild-essentials/brera-moda-antique-jade-fabric","productPageId":25667,"url":"/jp/fabric/designers-guild-essentials/brera-moda-antique-jade-fabric/p25667","itemAvailability":"InStock","orderFormGroupId":null,"orderFormName":"Brera Moda - Antique Jade","attributes":null,"orderFormGroup":null,"orderFormProperties":[{"key":"Colour","value":"Antique Jade"},{"key":"Code","value":"FDG2796/12"}],"controls":{"allowOrder":false,"allowReserve":false,"allowReserveWithBatchSample":false,"allowSample":false,"allowLargeSample":false,"allowBackInStockReminder":false,"disableOrder":false,"disableSample":false},"stockMessage":{"productTypeID":15,"quantityMinimum":1.0,"quantityMaximum":0.0,"productTypeQuantityMaximum":null,"quantityIncrement":0.1,"reserveQuantityMaximum":17.7,"unit":"m","allowStockCheck":false,"pieceBreakdownMinimum":1.0,"pieceBreakdownMaximum":50.0,"allowBackInStockReminder":false,"freeStock":17.7,"nextPOFreeStock":0.0,"nextPODueDate":null,"totalPOFreeStock":0.0,"basketQuantityThresholds":[{"minimum":0,"maximum":99999.99}]},"orderButtonText":"Add to Basket","reserveButtonText":"Reserve","reserveWithBatchSampleButtonText":"Reserve with Batch Sample","sample":{"productId":150521,"stockMessage":{"productTypeID":null,"quantityMinimum":1.0,"quantityMaximum":99.0,"productTypeQuantityMaximum":null,"quantityIncrement":1.0,"reserveQuantityMaximum":null,"unit":"","allowStockCheck":false,"pieceBreakdownMinimum":null,"pieceBreakdownMaximum":null,"allowBackInStockReminder":false,"freeStock":null,"nextPOFreeStock":null,"nextPODueDate":null,"totalPOFreeStock":null,"basketQuantityThresholds":[{"minimum":0,"maximum":99999.99,"stockMessages":[{"stockMessage":" more due in (1-2 weeks)","class":"","stockBreakdownTab":1}]}]},"orderButtonText":"Add to Basket","displayPrice":null,"displaySalePrice":null,"priceMessage":null},"largeSample":{"productId":150567,"stockMessage":{"productTypeID":null,"quantityMinimum":1.0,"quantityMaximum":99.0,"productTypeQuantityMaximum":null,"quantityIncrement":1.0,"reserveQuantityMaximum":null,"unit":"","allowStockCheck":false,"pieceBreakdownMinimum":null,"pieceBreakdownMaximum":null,"allowBackInStockReminder":false,"freeStock":null,"nextPOFreeStock":null,"nextPODueDate":null,"totalPOFreeStock":null,"basketQuantityThresholds":[{"minimum":0,"maximum":99999.99,"stockMessages":[{"stockMessage":" more due in (1-2 weeks)","class":"","stockBreakdownTab":1}]}]},"orderButtonText":"Add to Basket","displayPrice":null,"displaySalePrice":null,"priceMessage":null}}},"Product":{"productId":149501,"sortOrder":0,"productTypeId":15,"templateId":2,"code":"FDG2796/12","brand":"Designers Guild Essentials","gtin13":null,"name":"Brera Moda - Antique Jade","AKA":null,"size":null,"imageId":92003,"imageAltText":"Brera Moda - Antique Jade","imageTitleText":"Brera Moda - Antique Jade","rRPMessage":null,"rLRRP":null,"rLTradePrice":null,"displayPrice":null,"displaySalePrice":null,"priceMessage":null,"statusMessage":"Limited","urlSemantics":"fabric/designers-guild-essentials/brera-moda-antique-jade-fabric","productPageId":25667,"url":"/jp/fabric/designers-guild-essentials/brera-moda-antique-jade-fabric/p25667","itemAvailability":"InStock","orderFormGroupId":null,"orderFormName":"Brera Moda - Antique Jade","attributes":null,"orderFormGroup":null,"orderFormProperties":[{"key":"Colour","value":"Antique Jade"},{"key":"Code","value":"FDG2796/12"}],"controls":{"allowOrder":false,"allowReserve":false,"allowReserveWithBatchSample":false,"allowSample":false,"allowLargeSample":false,"allowBackInStockReminder":false,"disableOrder":false,"disableSample":false},"stockMessage":{"productTypeID":15,"quantityMinimum":1.0,"quantityMaximum":0.0,"productTypeQuantityMaximum":null,"quantityIncrement":0.1,"reserveQuantityMaximum":17.7,"unit":"m","allowStockCheck":false,"pieceBreakdownMinimum":1.0,"pieceBreakdownMaximum":50.0,"allowBackInStockReminder":false,"freeStock":17.7,"nextPOFreeStock":0.0,"nextPODueDate":null,"totalPOFreeStock":0.0,"basketQuantityThresholds":[{"minimum":0,"maximum":99999.99}]},"orderButtonText":"Add to Basket","reserveButtonText":"Reserve","reserveWithBatchSampleButtonText":"Reserve with Batch Sample","sample":{"productId":150521,"stockMessage":{"productTypeID":null,"quantityMinimum":1.0,"quantityMaximum":99.0,"productTypeQuantityMaximum":null,"quantityIncrement":1.0,"reserveQuantityMaximum":null,"unit":"","allowStockCheck":false,"pieceBreakdownMinimum":null,"pieceBreakdownMaximum":null,"allowBackInStockReminder":false,"freeStock":null,"nextPOFreeStock":null,"nextPODueDate":null,"totalPOFreeStock":null,"basketQuantityThresholds":[{"minimum":0,"maximum":99999.99,"stockMessages":[{"stockMessage":" more due in (1-2 weeks)","class":"","stockBreakdownTab":1}]}]},"orderButtonText":"Add to Basket","displayPrice":null,"displaySalePrice":null,"priceMessage":null},"largeSample":{"productId":150567,"stockMessage":{"productTypeID":null,"quantityMinimum":1.0,"quantityMaximum":99.0,"productTypeQuantityMaximum":null,"quantityIncrement":1.0,"reserveQuantityMaximum":null,"unit":"","allowStockCheck":false,"pieceBreakdownMinimum":null,"pieceBreakdownMaximum":null,"allowBackInStockReminder":false,"freeStock":null,"nextPOFreeStock":null,"nextPODueDate":null,"totalPOFreeStock":null,"basketQuantityThresholds":[{"minimum":0,"maximum":99999.99,"stockMessages":[{"stockMessage":" more due in (1-2 weeks)","class":"","stockBreakdownTab":1}]}]},"orderButtonText":"Add to Basket","displayPrice":null,"displaySalePrice":null,"priceMessage":null}},"Carousel":{"CarouselID":"#product-149501-carsouel","WrapperCSSClass":null,"AspectRatio":1.0,"Heading":"Brera Moda - Antique Jade","Images":[{"ImageID":92003,"SortOrder":0,"AltText":"Brera Moda - Antique Jade","Overlay":null,"MaxWidth":null,"ImageSize":1}],"DisplayThumbnails":false,"DisplayDashes":true,"Interval":null,"PermitLargeImageModal":true},"ProductID":149501,"ProductTypeID":15,"ProductPageID":25667,"ProductCode":"FDG2796/12","Brand":"Designers Guild Essentials","OrderFormID":"#product-149501","OrderFormCarouselID":"#product-149501-slide","OrderFormGroupID":null,"OrderFormGroup":null,"Size":null,"OrderFormName":"Brera Moda - Antique Jade","BasketName":"Brera Moda - Antique Jade","SortOrder":0,"Attributes":null,"Image":{"imageId":92003,"templateImageId":2,"altText":"Brera Moda - Antique Jade","titleText":"Brera Moda - Antique Jade","sortOrder":0,"maxWidth":488},"OrderFormProperties":[{"Key":"Colour","Value":"Antique Jade"},{"Key":"Code","Value":"FDG2796/12"}],"AllowSample":false,"AllowLargeSample":false,"AllowOrder":false,"AllowReserve":false,"AllowReserveWithBatchCutting":false,"ClientProductViewModels":"","URLKeywords":"fabric/designers-guild-essentials/brera-moda-antique-jade-fabric","ImageLinkToProductPage":true,"IsLifestyle":false}}]}],"RecentlyViewed":[],"MasterDefinition":{"SiteSectionID":null,"TitleTag":"Shalimar Garden Amethyst Fabric | Designers Guild","MetaDescription":"In powerful and sultry amethyst tones comes a brooding design with an evocative sensibility. Digitally printed onto a rich pile velvet, this floral design ","BackInStockReminder":null,"ItemsInBasket":0.0,"UrlBreakdown":{"ContentType":1,"ContentId":29859,"ContentDate":"2023-03-29T00:00:00","SemanticString":"fabric/designers-guild/shalimar-garden-amethyst-fabric","countryDetails":{"CountryLanguageID":15,"RegionID":4,"CountryID":118,"CountryCode":"JP","LanguageID":11,"SortOrder":71,"Name":"Japan","URL":"jp","DotNetCulture":"ja-JP","ShopEnabled":false,"LanguageCode":"jp","LanguageDotNetCulture":"ja-JP","MertexCurrencyCode":null,"CurrencyCode":null,"PriceListID":null,"AllowTradeOrders":false,"AcceptAmazonPay":false,"BuyOnlineRedirectAllowed":false,"EcommerceEnabled":false,"SamplesEnabled":false},"contentTypeAndIdNotFound":false,"CountryAwareness":{"Match":false,"Culture":"us","objCountryItem":{"CountryLanguageID":5,"RegionID":2,"CountryID":238,"CountryCode":null,"LanguageID":2,"SortOrder":1,"Name":"United States","URL":"us","DotNetCulture":"en-US","ShopEnabled":true,"LanguageCode":"us","LanguageDotNetCulture":"en-US","MertexCurrencyCode":"USD","CurrencyCode":"USD","PriceListID":2,"AllowTradeOrders":false,"AcceptAmazonPay":true,"BuyOnlineRedirectAllowed":false,"EcommerceEnabled":false,"SamplesEnabled":false}},"GeoIPCulture":null,"siteCountryNotFoundInUrl":false},"GoogleHrefs":[{"hreflang":"de","href":"https://www.designersguild.com/de/fabric/designers-guild/shalimar-garden-amethyst-fabric/p29859"},{"hreflang":"fr","href":"https://www.designersguild.com/fr/fabric/designers-guild/shalimar-garden-amethyst-fabric/p29859"},{"hreflang":"en-gb","href":"https://www.designersguild.com/uk/fabric/designers-guild/shalimar-garden-amethyst-fabric/p29859"},{"hreflang":"en-se","href":"https://www.designersguild.com/se/fabric/designers-guild/shalimar-garden-amethyst-fabric/p29859"},{"hreflang":"en-us","href":"https://www.designersguild.com/us/fabric/designers-guild/shalimar-garden-amethyst-fabric/p29859"},{"hreflang":"es","href":"https://www.designersguild.com/es/fabric/designers-guild/shalimar-garden-amethyst-fabric/p29859"},{"hreflang":"it-it","href":"https://www.designersguild.com/it/fabric/designers-guild/shalimar-garden-amethyst-fabric/p29859"},{"hreflang":"en-nl","href":"https://www.designersguild.com/nl/fabric/designers-guild/shalimar-garden-amethyst-fabric/p29859"},{"hreflang":"ru","href":"https://www.designersguild.com/ru/fabric/designers-guild/shalimar-garden-amethyst-fabric/p29859"},{"hreflang":"ja-jp","href":"https://www.designersguild.com/jp/fabric/designers-guild/shalimar-garden-amethyst-fabric/p29859"},{"hreflang":"en-be","href":"https://www.designersguild.com/be/fabric/designers-guild/shalimar-garden-amethyst-fabric/p29859"},{"hreflang":"en-au","href":"https://www.designersguild.com/au/fabric/designers-guild/shalimar-garden-amethyst-fabric/p29859"},{"hreflang":"en-dk","href":"https://www.designersguild.com/dk/fabric/designers-guild/shalimar-garden-amethyst-fabric/p29859"},{"hreflang":"en-gr","href":"https://www.designersguild.com/eu/fabric/designers-guild/shalimar-garden-amethyst-fabric/p29859"},{"hreflang":"en-no","href":"https://www.designersguild.com/no/fabric/designers-guild/shalimar-garden-amethyst-fabric/p29859"},{"hreflang":"de-at","href":"https://www.designersguild.com/at/fabric/designers-guild/shalimar-garden-amethyst-fabric/p29859"},{"hreflang":"de-ch","href":"https://www.designersguild.com/de-ch/fabric/designers-guild/shalimar-garden-amethyst-fabric/p29859"},{"hreflang":"fr-ch","href":"https://www.designersguild.com/fr-ch/fabric/designers-guild/shalimar-garden-amethyst-fabric/p29859"},{"hreflang":"en","href":"https://www.designersguild.com/row/fabric/designers-guild/shalimar-garden-amethyst-fabric/p29859"},{"hreflang":"en-nz","href":"https://www.designersguild.com/nz/fabric/designers-guild/shalimar-garden-amethyst-fabric/p29859"},{"hreflang":"en-ie","href":"https://www.designersguild.com/ie/fabric/designers-guild/shalimar-garden-amethyst-fabric/p29859"},{"hreflang":"fi-fi","href":"https://www.designersguild.com/fi/fabric/designers-guild/shalimar-garden-amethyst-fabric/p29859"}],"CountryDropDown":{"countryDropDownItems":[{"CountryID":81,"Code":null,"LanguageID":1,"RegionID":3,"LanguageCode":"en","Country":"UK","Region":"Europe","URL":"uk","URLKeywords":"","SortOrder":1,"PageID":0},{"CountryID":15,"Code":null,"LanguageID":4,"RegionID":3,"LanguageCode":"de","Country":"Austria","Region":"Europe","URL":"at","URLKeywords":"","SortOrder":11,"PageID":0},{"CountryID":23,"Code":null,"LanguageID":1,"RegionID":3,"LanguageCode":"en","Country":"Belgium","Region":"Europe","URL":"be","URLKeywords":"","SortOrder":12,"PageID":0},{"CountryID":62,"Code":null,"LanguageID":1,"RegionID":3,"LanguageCode":"en","Country":"Denmark","Region":"Europe","URL":"dk","URLKeywords":"","SortOrder":13,"PageID":0},{"CountryID":74,"Code":null,"LanguageID":15,"RegionID":3,"LanguageCode":"fi","Country":"Finland","Region":"Europe","URL":"fi","URLKeywords":"","SortOrder":15,"PageID":0},{"CountryID":79,"Code":null,"LanguageID":3,"RegionID":3,"LanguageCode":"fr","Country":"France","Region":"Europe","URL":"fr","URLKeywords":"","SortOrder":16,"PageID":0},{"CountryID":60,"Code":null,"LanguageID":4,"RegionID":3,"LanguageCode":"de","Country":"Germany","Region":"Europe","URL":"de","URLKeywords":"","SortOrder":17,"PageID":0},{"CountryID":106,"Code":null,"LanguageID":1,"RegionID":3,"LanguageCode":"en","Country":"Ireland","Region":"Europe","URL":"ie","URLKeywords":"","SortOrder":18,"PageID":0},{"CountryID":114,"Code":null,"LanguageID":6,"RegionID":3,"LanguageCode":"it","Country":"Italy","Region":"Europe","URL":"it","URLKeywords":"","SortOrder":19,"PageID":0},{"CountryID":170,"Code":null,"LanguageID":13,"RegionID":3,"LanguageCode":"en","Country":"Netherlands","Region":"Europe","URL":"nl","URLKeywords":"","SortOrder":20,"PageID":0},{"CountryID":71,"Code":null,"LanguageID":5,"RegionID":3,"LanguageCode":"es","Country":"Spain","Region":"Europe","URL":"es","URLKeywords":"","SortOrder":23,"PageID":0},{"CountryID":202,"Code":null,"LanguageID":1,"RegionID":3,"LanguageCode":"en","Country":"Sweden","Region":"Europe","URL":"se","URLKeywords":"","SortOrder":24,"PageID":0},{"CountryID":171,"Code":null,"LanguageID":1,"RegionID":3,"LanguageCode":"en","Country":"Norway","Region":"Europe","URL":"no","URLKeywords":"","SortOrder":52,"PageID":0},{"CountryID":118,"Code":null,"LanguageID":11,"RegionID":4,"LanguageCode":"jp","Country":"Nihon","Region":"Africa, Asia & the Middle East","URL":"jp","URLKeywords":"","SortOrder":71,"PageID":0},{"CountryID":46,"Code":null,"LanguageID":3,"RegionID":3,"LanguageCode":"fr","Country":"Switzerland","Region":"Europe","URL":"fr-ch","URLKeywords":"","SortOrder":102,"PageID":0},{"CountryID":46,"Code":null,"LanguageID":4,"RegionID":3,"LanguageCode":"de","Country":"Switzerland","Region":"Europe","URL":"de-ch","URLKeywords":"","SortOrder":103,"PageID":0},{"CountryID":196,"Code":null,"LanguageID":10,"RegionID":3,"LanguageCode":"ru","Country":"Russian Federation","Region":"Europe","URL":"ru","URLKeywords":"","SortOrder":109,"PageID":0},{"CountryID":238,"Code":null,"LanguageID":2,"RegionID":2,"LanguageCode":"us","Country":"United States","Region":"North America","URL":"us","URLKeywords":"","SortOrder":125,"PageID":0},{"CountryID":16,"Code":null,"LanguageID":12,"RegionID":6,"LanguageCode":"au","Country":"Australia","Region":"Australasia","URL":"au","URLKeywords":"","SortOrder":150,"PageID":0},{"CountryID":175,"Code":null,"LanguageID":18,"RegionID":6,"LanguageCode":"nz","Country":"New Zealand","Region":"Australasia","URL":"nz","URLKeywords":"","SortOrder":151,"PageID":0},{"CountryID":67,"Code":null,"LanguageID":1,"RegionID":3,"LanguageCode":"en","Country":"Other Countries in Europe","Region":"Europe","URL":"eu","URLKeywords":"","SortOrder":255,"PageID":0},{"CountryID":51,"Code":null,"LanguageID":1,"RegionID":4,"LanguageCode":"en","Country":"Rest of the World","Region":"Africa, Asia & the Middle East","URL":"row","URLKeywords":"","SortOrder":255,"PageID":0}]},"ProductTypeDropDown":{"ProductTypes":[{"ProductTypeID":15,"Name":"Fabric","NamePlural":null,"URLKeywords":null,"SortOrder":0,"FilterIndexRestrictions":null,"ProductPageIDs":null,"FormValue":"fabric"},{"ProductTypeID":18,"Name":"Wallpaper","NamePlural":null,"URLKeywords":null,"SortOrder":0,"FilterIndexRestrictions":null,"ProductPageIDs":null,"FormValue":"wallpaper"},{"ProductTypeID":8,"Name":"Paint","NamePlural":null,"URLKeywords":null,"SortOrder":0,"FilterIndexRestrictions":null,"ProductPageIDs":null,"FormValue":"paint"},{"ProductTypeID":10,"Name":"Rug","NamePlural":null,"URLKeywords":null,"SortOrder":0,"FilterIndexRestrictions":null,"ProductPageIDs":null,"FormValue":"rug"},{"ProductTypeID":4,"Name":"Cushion","NamePlural":null,"URLKeywords":null,"SortOrder":0,"FilterIndexRestrictions":null,"ProductPageIDs":null,"FormValue":"cushion"},{"ProductTypeID":1,"Name":"Bed Linen","NamePlural":null,"URLKeywords":null,"SortOrder":0,"FilterIndexRestrictions":null,"ProductPageIDs":null,"FormValue":"bed-linen"},{"ProductTypeID":2,"Name":"Throw","NamePlural":null,"URLKeywords":null,"SortOrder":0,"FilterIndexRestrictions":null,"ProductPageIDs":null,"FormValue":"throw"},{"ProductTypeID":35,"Name":"Furniture","NamePlural":null,"URLKeywords":null,"SortOrder":0,"FilterIndexRestrictions":null,"ProductPageIDs":null,"FormValue":"furniture"}]},"TradeMember":false,"TradeAllowed":false,"CanViewRRPs":false,"LoginStatus":0,"UserName":null},"Visitor":{"visitorDbId":198759927,"FullName":null,"Email":null,"Culture":null,"VisitorCreatedDT":"0001-01-01T00:00:00","memberId":null,"tradePriceListId":null,"memberTradeAccountNumber":null,"memberTradeAccountID":null,"memberDisplayTradePrice":false,"memberTradeDataSourceJson":null,"tradePermissionAccountAdmin":false,"tradePermissionPlaceOrder":false,"tradePermissionViewAccounts":false,"tradePermissionDownloadPricelistsBrochures":false,"tradePermissionDownloadProductFeeds":false},"DotDigitalBehaviourProfile":{"WebBehaviourTrackingProfileID":"DM-1667704159-01"},"Scrapbook":{"Images":[]},"TradeOrderingAllowed":false,"SearchTerm":null,"ProductType":null,"LanguageID":11,"CountryID":118,"Date":"2023-03-29T00:00:00","ContentType":1,"ContentID":29859,"SiteSectionID":null,"ShowRecentlyViewed":true,"Partial":null,"CategoryPageProductType":null}
{"ImageID":102695,"SortOrder":0,"AltText":"shalimar garden - amethyst","Overlay":null,"MaxWidth":1024,"ImageSize":6}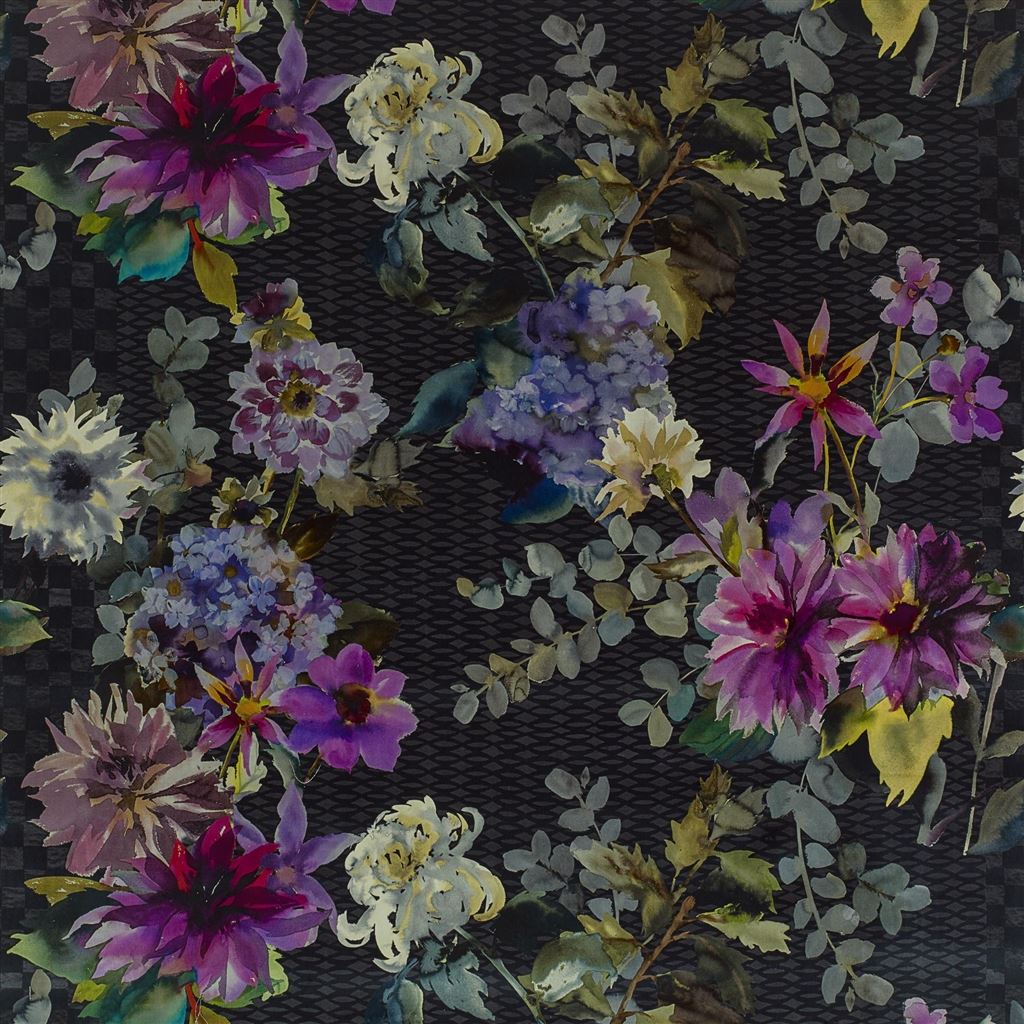 {"ImageID":107158,"SortOrder":1,"AltText":null,"Overlay":null,"MaxWidth":1024,"ImageSize":6}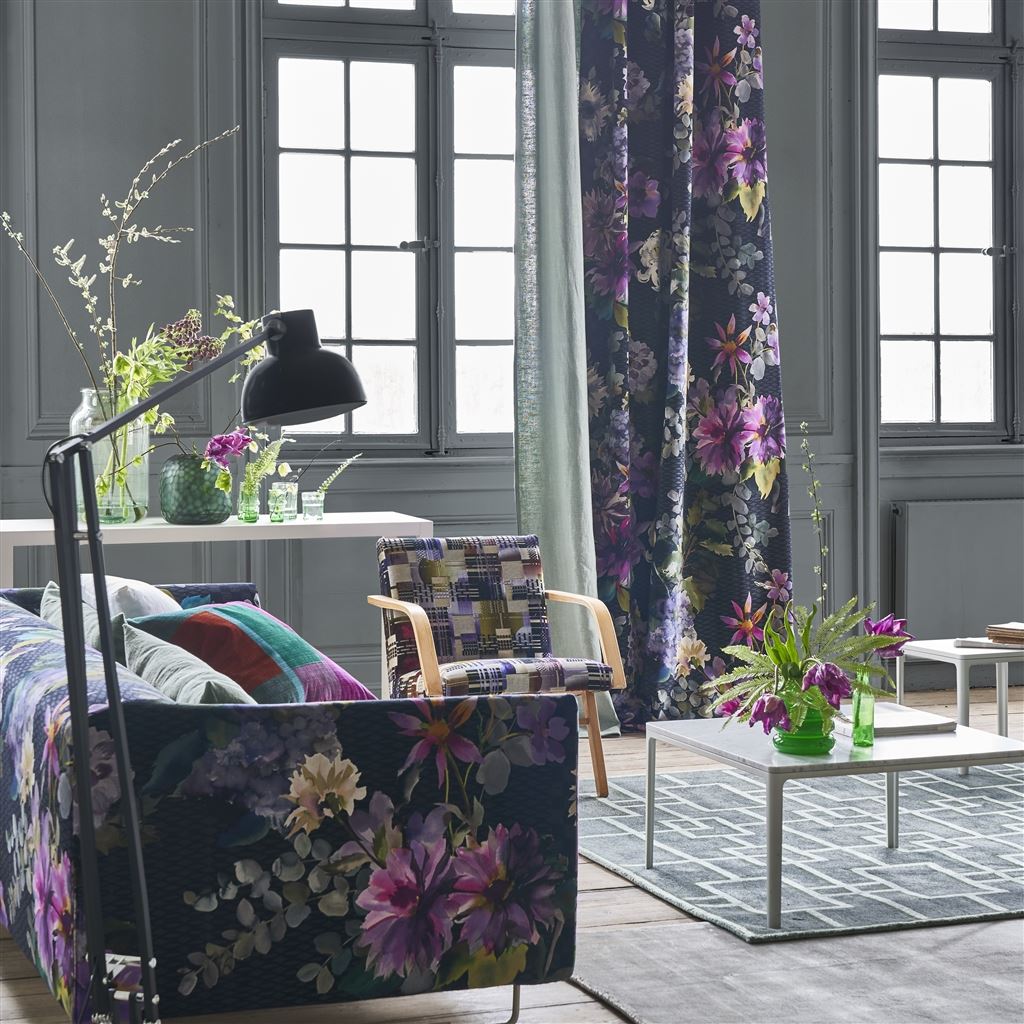 {"ImageID":107154,"SortOrder":2,"AltText":null,"Overlay":null,"MaxWidth":1024,"ImageSize":6}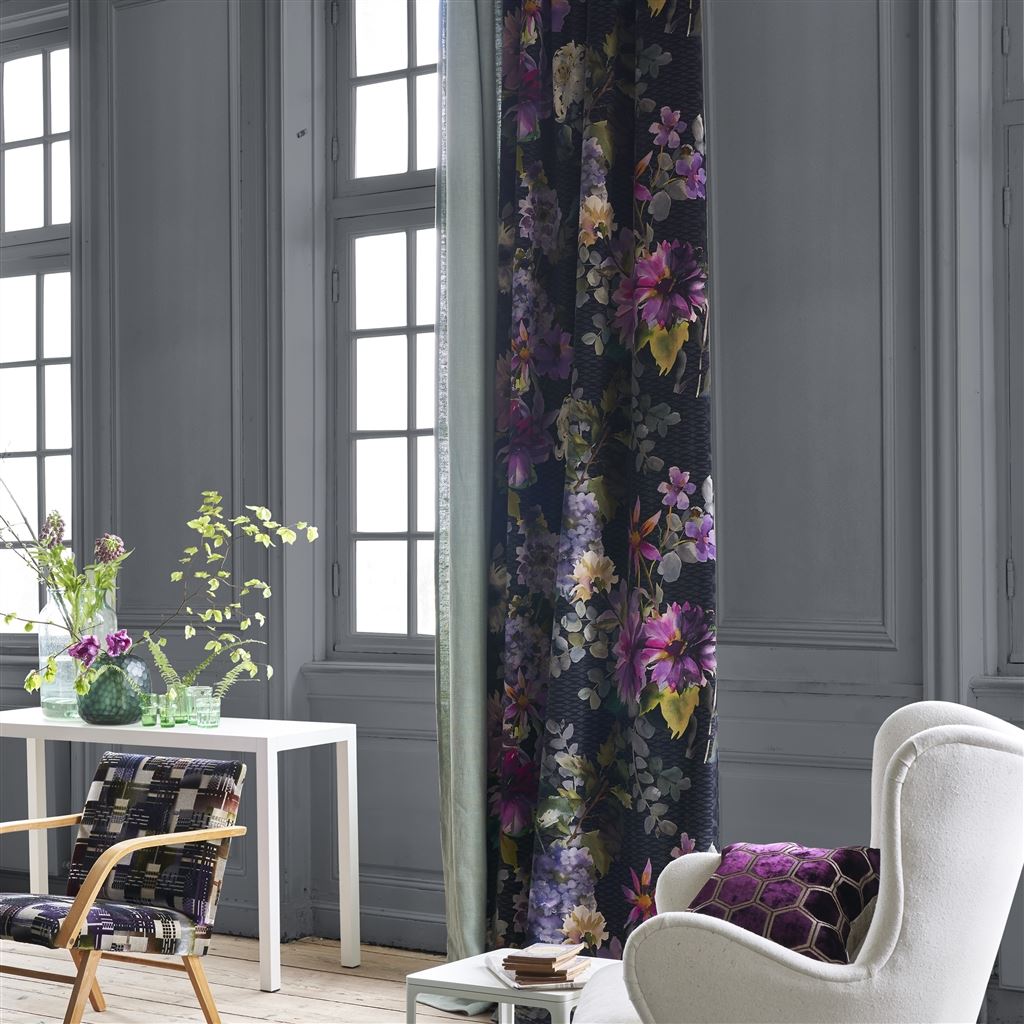 {"ImageID":107151,"SortOrder":3,"AltText":null,"Overlay":null,"MaxWidth":1024,"ImageSize":6}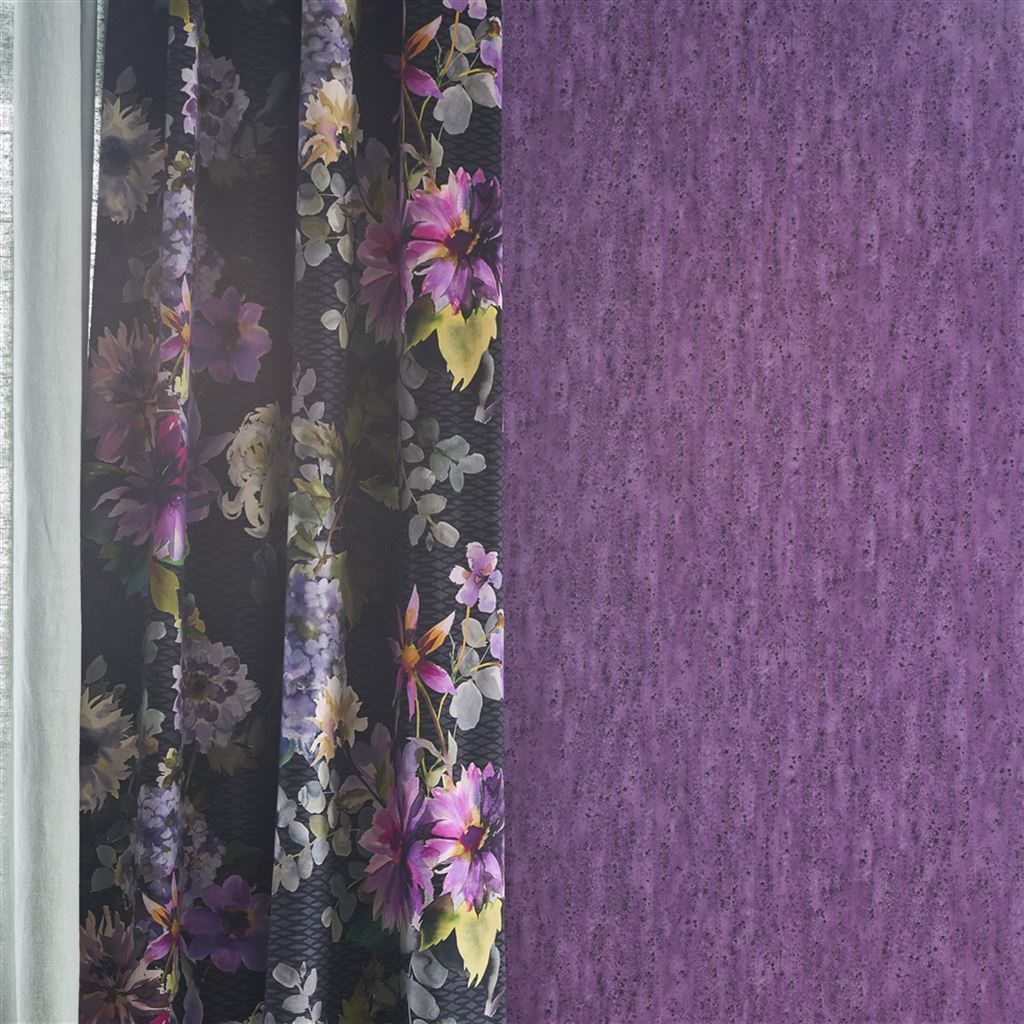 {"ImageID":106976,"SortOrder":4,"AltText":null,"Overlay":null,"MaxWidth":1024,"ImageSize":6}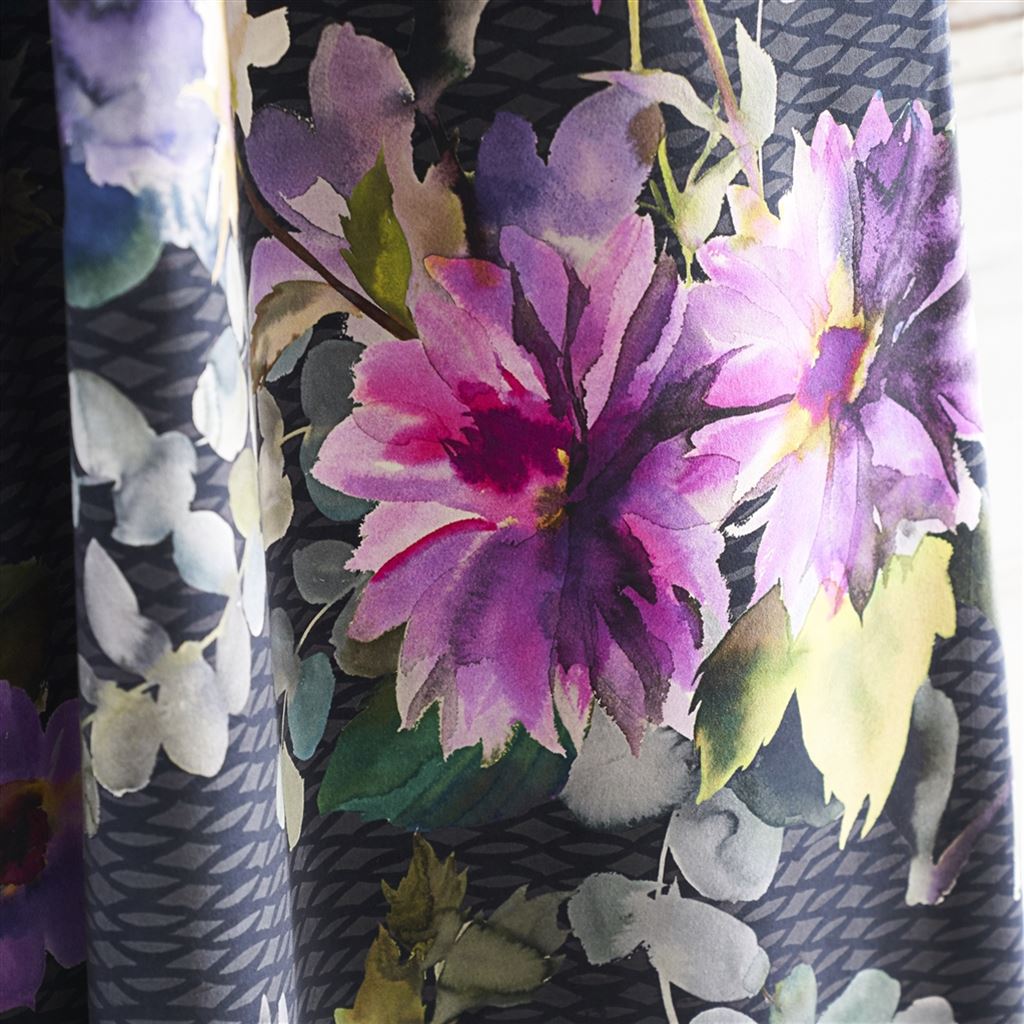 Shalimar Garden Amethyst
Designers Guild
Fabric
---
{"imageId":102695,"templateImageId":2,"altText":"Shalimar Garden - Amethyst","titleText":"Shalimar Garden - Amethyst","sortOrder":0,"maxWidth":488}
"FDG2816/01"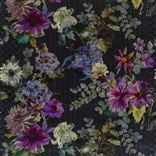 Colour
Amethyst
Code
FDG2816/01
---
In powerful and sultry amethyst tones comes a brooding design with an evocative sensibility. Digitally printed onto a rich pile velvet, this floral design boasts a slight sheen and is luxuriously soft. A subtle fretwork stamp in the ground provides depth and texture. A brilliant fabric for curtains, blinds, cushions, bedcovers and upholstery alike. Available in one colourway.
Collection(s)

Composition

66% Co 31% Vi 3% Pl

UK/EIRE Flamcode

(UK Flamcode B+M) Cigarette Resistant - In UK/Eire Upholstery use FR interliner or FR treat

Width

130 cm

Weight

420 gsm

Martindale

50000

Pattern Match

Full width pattern - Straight match

Vertical Pattern Repeat

97.5 cm

Horizontal Pattern Repeat

130 cm

Tests Passed

EN1021-1 Cigarette - UPHOLSTERY

BS5852 Cigarette - UPHOLSTERY

Product Usage

Cushions

Curtains And Blinds

Loose Covers

Upholstery

Product After Care

NO WASH

DRY CLEAN - P process (GENTLE)

IRON COOL (1 spot - 110deg c)

NO TUMBLE DRY

NO BLEACH

Additional Info

Iron on the reverse.