{"AllProductsUnavailable":false,"UseSizeButtons":false,"UseOrderFormGrouping":false,"UsePaintOrderForm":false,"TechInfo":{"width":"0 cm","composition":"100% Li"},"Prices":{"productPages":[{"productPageId":34934,"productPage":{"productPageId":34934,"heading":null,"subheading":null,"new":null,"productTypeId":null,"urlKeywords":null,"url":null,"imageId":null,"imageWidth":null,"imageHeight":null,"aspectRatio":null,"merchandisedSortOrder":null,"searchSortOrder":null,"colourSort":255,"stockSortOrder":1.0,"azSortOrder":1,"reviewCount":null,"reviewAverage":null,"ratingSortOrder":1,"priceSortOrder":1,"discountSortOrder":1,"salesRank":2147483647,"newSort":1,"designId":623,"brandId":2,"alternateColourwayIncludeSize":true,"sizeMetric":"43 x 43cm","productPagePrice":{"priceMin":null,"priceMax":null,"salePriceMin":null,"salePriceMax":null,"discountPercentageMin":null,"discountPercentageMax":null,"clearanceDiscountPercentageMin":null,"clearanceDiscountPercentageMax":null,"discountMessage":null,"priceMessage":null,"rRPMessage":null,"codeMessage":null}}},{"productPageId":34976,"productPage":{"productPageId":34976,"heading":null,"subheading":null,"new":null,"productTypeId":null,"urlKeywords":null,"url":null,"imageId":null,"imageWidth":null,"imageHeight":null,"aspectRatio":null,"merchandisedSortOrder":null,"searchSortOrder":null,"colourSort":255,"stockSortOrder":21.0,"azSortOrder":2,"reviewCount":null,"reviewAverage":null,"ratingSortOrder":2,"priceSortOrder":2,"discountSortOrder":2,"salesRank":2147483647,"newSort":2,"designId":10536,"brandId":2,"alternateColourwayIncludeSize":true,"sizeMetric":"160 x 260cm","productPagePrice":{"priceMin":null,"priceMax":null,"salePriceMin":null,"salePriceMax":null,"discountPercentageMin":null,"discountPercentageMax":null,"clearanceDiscountPercentageMin":null,"clearanceDiscountPercentageMax":null,"discountMessage":null,"priceMessage":null,"rRPMessage":null,"codeMessage":null}}},{"productPageId":34922,"productPage":{"productPageId":34922,"heading":null,"subheading":null,"new":null,"productTypeId":null,"urlKeywords":null,"url":null,"imageId":null,"imageWidth":null,"imageHeight":null,"aspectRatio":null,"merchandisedSortOrder":null,"searchSortOrder":null,"colourSort":255,"stockSortOrder":11.0,"azSortOrder":3,"reviewCount":null,"reviewAverage":null,"ratingSortOrder":3,"priceSortOrder":3,"discountSortOrder":3,"salesRank":2147483647,"newSort":3,"designId":4533,"brandId":2,"alternateColourwayIncludeSize":true,"sizeMetric":"43 x 43cm","productPagePrice":{"priceMin":null,"priceMax":null,"salePriceMin":null,"salePriceMax":null,"discountPercentageMin":null,"discountPercentageMax":null,"clearanceDiscountPercentageMin":null,"clearanceDiscountPercentageMax":null,"discountMessage":null,"priceMessage":null,"rRPMessage":null,"codeMessage":null}}}]},"Definition":{"productPageId":34934,"productTypeId":0,"languageId":1,"countryId":67,"templateId":3,"titleTag":"Brera Lino Verdigris & Apple Linen Cushion | Designers Guild","heading":"Brera Lino Verdigris & Apple Linen Cushion","subHeading":"43 X 43 cm","brand":"Designers Guild","isNew":false,"metaDescription":"Two tones of Brera Lino pure linen feature in this contemporary square cushion in verdigris, reversing to apple with unique double seams. Finished with a t","urlKeywords":"/eu/brera-lino-verdigris-apple-linen-cushion/p34934","isRugOrRunner":false,"urlSemantics":"brera-lino-verdigris-apple-linen-cushion","googleHrefs":[{"hreflang":"de","href":"https://www.designersguild.com/de/brera-lino-verdigris-apple-linen-cushion/p34934"},{"hreflang":"fr","href":"https://www.designersguild.com/fr/brera-lino-verdigris-apple-linen-cushion/p34934"},{"hreflang":"en-gb","href":"https://www.designersguild.com/uk/brera-lino-verdigris-apple-linen-cushion/p34934"},{"hreflang":"en-se","href":"https://www.designersguild.com/se/brera-lino-verdigris-apple-linen-cushion/p34934"},{"hreflang":"en-us","href":"https://www.designersguild.com/us/brera-lino-verdigris-apple-linen-cushion/p34934"},{"hreflang":"es","href":"https://www.designersguild.com/es/brera-lino-verdigris-apple-linen-cushion/p34934"},{"hreflang":"it-it","href":"https://www.designersguild.com/it/brera-lino-verdigris-apple-linen-cushion/p34934"},{"hreflang":"en-nl","href":"https://www.designersguild.com/nl/brera-lino-verdigris-apple-linen-cushion/p34934"},{"hreflang":"ru","href":"https://www.designersguild.com/ru/brera-lino-verdigris-apple-linen-cushion/p34934"},{"hreflang":"ja-jp","href":"https://www.designersguild.com/jp/brera-lino-verdigris-apple-linen-cushion/p34934"},{"hreflang":"en-be","href":"https://www.designersguild.com/be/brera-lino-verdigris-apple-linen-cushion/p34934"},{"hreflang":"en-au","href":"https://www.designersguild.com/au/brera-lino-verdigris-apple-linen-cushion/p34934"},{"hreflang":"en-dk","href":"https://www.designersguild.com/dk/brera-lino-verdigris-apple-linen-cushion/p34934"},{"hreflang":"en-gr","href":"https://www.designersguild.com/eu/brera-lino-verdigris-apple-linen-cushion/p34934"},{"hreflang":"en-no","href":"https://www.designersguild.com/no/brera-lino-verdigris-apple-linen-cushion/p34934"},{"hreflang":"de-at","href":"https://www.designersguild.com/at/brera-lino-verdigris-apple-linen-cushion/p34934"},{"hreflang":"de-ch","href":"https://www.designersguild.com/de-ch/brera-lino-verdigris-apple-linen-cushion/p34934"},{"hreflang":"fr-ch","href":"https://www.designersguild.com/fr-ch/brera-lino-verdigris-apple-linen-cushion/p34934"},{"hreflang":"en","href":"https://www.designersguild.com/row/brera-lino-verdigris-apple-linen-cushion/p34934"},{"hreflang":"en-nz","href":"https://www.designersguild.com/nz/brera-lino-verdigris-apple-linen-cushion/p34934"},{"hreflang":"en-ie","href":"https://www.designersguild.com/ie/brera-lino-verdigris-apple-linen-cushion/p34934"},{"hreflang":"fi-fi","href":"https://www.designersguild.com/fi/brera-lino-verdigris-apple-linen-cushion/p34934"},{"hreflang":"x-default","href":"https://www.designersguild.com/brera-lino-verdigris-apple-linen-cushion/p34934"}],"pinterestImageId":124318,"breadcrumb":"<li><a href=\"/eu/cushions/l1046\">CUSHIONS </a></li><li><span>Brera Lino Verdigris & Apple Linen Cushion</span></li>","Images":[{"imageId":124318,"templateImageId":2,"altText":"Brera Lino Verdigris & Apple Cushion","titleText":"Brera Lino Verdigris & Apple Cushion","sortOrder":0,"maxWidth":1024},{"imageId":124588,"templateImageId":2,"altText":"Brera Lino Verdigris & Apple Cushion - Reverse","titleText":"Brera Lino Verdigris & Apple Cushion - Reverse","sortOrder":1,"maxWidth":1024},{"imageId":124431,"templateImageId":2,"altText":null,"titleText":null,"sortOrder":2,"maxWidth":1024},{"imageId":124429,"templateImageId":2,"altText":null,"titleText":null,"sortOrder":3,"maxWidth":1024}],"PageJSON":"{\"productPageId\":34934,\"productTypeId\":4,\"heading\":\"Brera Lino Verdigris & Apple Linen Cushion\",\"subHeading\":\"43 X 43 cm\",\"category\":\"\",\"brand\":\"Designers Guild\",\"description\":\"Two tones of Brera Lino pure linen feature in this contemporary square cushion in verdigris, reversing to apple with unique double seams. Finished with a tonal overlocked stitch border, this modern cushion is the perfect complement for any scheme.\",\"urlSemantics\":\"brera-lino-verdigris-apple-linen-cushion\",\"breadcrumb\":\"<li><a href=\\\"/eu/cushions/l1046\\\">CUSHIONS </a></li><li><span>Brera Lino Verdigris & Apple Linen Cushion</span></li>\",\"url\":\"/eu/brera-lino-verdigris-apple-linen-cushion/p34934\",\"titleTag\":\"Brera Lino Verdigris & Apple Linen Cushion | Designers Guild\",\"metaDescription\":\"Two tones of Brera Lino pure linen feature in this contemporary square cushion in verdigris, reversing to apple with unique double seams. Finished with a t\",\"reviewAverage\":null,\"reviewCount\":null,\"isNew\":false,\"templateId\":3,\"isRugOrRunner\":false,\"delivery\":null,\"returns\":null,\"products\":[{\"productId\":195779,\"code\":\"CCDG1003\",\"orderFormName\":\"Brera Lino Verdigris & Apple Cushion\",\"size\":\"43 x 43cm\",\"brand\":\"Designers Guild\",\"gtin13\":\"5051001621621\",\"images\":[{\"imageId\":124318,\"altText\":\"Brera Lino Verdigris & Apple Cushion\",\"titleText\":\"Brera Lino Verdigris & Apple Cushion\",\"templateImageId\":true,\"maxWidth\":1024}]}],\"images\":[{\"imageId\":124318,\"templateImageId\":2,\"altText\":\"Brera Lino Verdigris & Apple Cushion\",\"titleText\":\"Brera Lino Verdigris & Apple Cushion\",\"sortOrder\":0,\"maxWidth\":1024},{\"imageId\":124588,\"templateImageId\":2,\"altText\":\"Brera Lino Verdigris & Apple Cushion - Reverse\",\"titleText\":\"Brera Lino Verdigris & Apple Cushion - Reverse\",\"sortOrder\":1,\"maxWidth\":1024},{\"imageId\":124431,\"templateImageId\":2,\"sortOrder\":2,\"maxWidth\":1024},{\"imageId\":124429,\"templateImageId\":2,\"sortOrder\":3,\"maxWidth\":1024}],\"alternateColourways\":[{\"productPageId\":21857,\"urlSemantics\":\"cushion/designers-guild/brera-lino-alabaster-plain-white-linen-cushion\",\"code\":\"CCDG1003\",\"url\":\"/eu/cushion/designers-guild/brera-lino-alabaster-plain-white-linen-cushion/p21857\",\"heading\":\"Brera Lino Alabaster Linen Cushion\",\"imageId\":149017},{\"productPageId\":39195,\"urlSemantics\":\"brera-lino-indian-ocean-teal-linen-cushion\",\"code\":\"CCDG1003\",\"url\":\"/eu/brera-lino-indian-ocean-teal-linen-cushion/p39195\",\"heading\":\"Brera Lino Indian Ocean & Teal Linen Cushion\",\"imageId\":147195},{\"productPageId\":39196,\"urlSemantics\":\"brera-lino-midnight-chambray-linen-cushion\",\"code\":\"CCDG1003\",\"url\":\"/eu/brera-lino-midnight-chambray-linen-cushion/p39196\",\"heading\":\"Brera Lino Midnight & Chambray Linen Cushion\",\"imageId\":147210},{\"productPageId\":39197,\"urlSemantics\":\"brera-lino-brick-turmeric-linen-cushion\",\"code\":\"CCDG1003\",\"url\":\"/eu/brera-lino-brick-turmeric-linen-cushion/p39197\",\"heading\":\"Brera Lino Brick & Turmeric Linen Cushion\",\"imageId\":147197},{\"productPageId\":36108,\"urlSemantics\":\"brera-lino-cameo-parchment-cushion\",\"code\":\"CCDG1003\",\"url\":\"/eu/brera-lino-cameo-parchment-cushion/p36108\",\"heading\":\"Brera Lino Cameo & Parchment Linen Cushion\",\"imageId\":148999},{\"productPageId\":37849,\"urlSemantics\":\"brera-lino-lagoon-porcelain-linen-cushion\",\"code\":\"CCDG1003\",\"url\":\"/eu/brera-lino-lagoon-porcelain-linen-cushion/p37849\",\"heading\":\"Brera Lino Lagoon & Porcelain Linen Cushion\",\"imageId\":149003},{\"productPageId\":36520,\"urlSemantics\":\"brera-lino-ivy-jade-linen-cushion\",\"code\":\"CCDG1003\",\"url\":\"/eu/brera-lino-ivy-jade-linen-cushion/p36520\",\"heading\":\"Brera Lino Ivy & Jade Linen Cushion\",\"imageId\":148997},{\"productPageId\":37847,\"urlSemantics\":\"brera-lino-emerald-capri-linen-cushion\",\"code\":\"CCDG1003\",\"url\":\"/eu/brera-lino-emerald-capri-linen-cushion/p37847\",\"heading\":\"Brera Lino Emerald & Capri Linen Cushion\",\"imageId\":149002},{\"productPageId\":37851,\"urlSemantics\":\"brera-lino-lime-moss-linen-cushion\",\"code\":\"CCDG1003\",\"url\":\"/eu/brera-lino-lime-moss-linen-cushion/p37851\",\"heading\":\"Brera Lino Lime & Moss Linen Cushion\",\"imageId\":148998},{\"productPageId\":37901,\"urlSemantics\":\"brera-lino-mango-maize-cushion\",\"code\":\"CCDG1003\",\"url\":\"/eu/brera-lino-mango-maize-cushion/p37901\",\"heading\":\"Brera Lino Mango & Maize Linen Cushion\",\"imageId\":149000},{\"productPageId\":37850,\"urlSemantics\":\"brera-lino-nasturtium-papaya-linen-cushion\",\"code\":\"CCDG1003\",\"url\":\"/eu/brera-lino-nasturtium-papaya-linen-cushion/p37850\",\"heading\":\"Brera Lino Nasturtium & Papaya Linen Cushion\",\"imageId\":149001},{\"productPageId\":35606,\"urlSemantics\":\"brera-lino-rosewood-azalea-cushion\",\"code\":\"CCDG1003\",\"url\":\"/eu/brera-lino-rosewood-azalea-cushion/p35606\",\"heading\":\"Brera Lino Rosewood & Azalea Linen Cushion\",\"imageId\":129294},{\"productPageId\":37848,\"urlSemantics\":\"brera-lino-hibiscus-peach-linen-cushion\",\"code\":\"CCDG1003\",\"url\":\"/eu/brera-lino-hibiscus-peach-linen-cushion/p37848\",\"heading\":\"Brera Lino Hibiscus & Peach Linen Cushion\",\"imageId\":149004},{\"productPageId\":34934,\"urlSemantics\":\"brera-lino-verdigris-apple-linen-cushion\",\"code\":\"CCDG1003\",\"url\":\"/eu/brera-lino-verdigris-apple-linen-cushion/p34934\",\"heading\":\"Brera Lino Verdigris & Apple Linen Cushion\",\"imageId\":124318},{\"productPageId\":34111,\"urlSemantics\":\"brera-lino-cassis-purple-plain-linen-cushion\",\"code\":\"CCDG1003\",\"url\":\"/eu/brera-lino-cassis-purple-plain-linen-cushion/p34111\",\"heading\":\"Brera Lino Cassis Linen Cushion\",\"imageId\":119735},{\"productPageId\":35604,\"urlSemantics\":\"brera-lino-espresso-cocoa-cushion\",\"code\":\"CCDG1003\",\"url\":\"/eu/brera-lino-espresso-cocoa-cushion/p35604\",\"heading\":\"Brera Lino Espresso & Cocoa Linen Cushion\",\"imageId\":130535},{\"productPageId\":33837,\"urlSemantics\":\"brera-lino-straw-plain-linen-cushion\",\"code\":\"CCDG1003\",\"url\":\"/eu/brera-lino-straw-plain-linen-cushion/p33837\",\"heading\":\"Brera Lino Straw Cushion\",\"imageId\":114219},{\"productPageId\":21861,\"urlSemantics\":\"cushion/designers-guild/brera-lino-pale-rose-cushion\",\"code\":\"CCDG1003\",\"url\":\"/eu/cushion/designers-guild/brera-lino-pale-rose-cushion/p21861\",\"heading\":\"Brera Lino Pale Rose Cushion\",\"imageId\":58926},{\"productPageId\":36106,\"urlSemantics\":\"brera-lino-coral-putty-cushion\",\"code\":\"CCDG1003\",\"url\":\"/eu/brera-lino-coral-putty-cushion/p36106\",\"heading\":\"Brera Lino Coral & Putty Linen Cushion\",\"imageId\":135433},{\"productPageId\":25353,\"urlSemantics\":\"brera-lino-cinnamon-plain-linen-cushion\",\"code\":\"CCDG1003\",\"url\":\"/eu/brera-lino-cinnamon-plain-linen-cushion/p25353\",\"heading\":\"Brera Lino Cinnamon Cushion\",\"imageId\":92987}],\"reviews\":null,\"hreflangs\":[{\"hreflang\":\"de\",\"href\":\"https://www.designersguild.com/de/brera-lino-verdigris-apple-linen-cushion/p34934\"},{\"hreflang\":\"fr\",\"href\":\"https://www.designersguild.com/fr/brera-lino-verdigris-apple-linen-cushion/p34934\"},{\"hreflang\":\"en-gb\",\"href\":\"https://www.designersguild.com/uk/brera-lino-verdigris-apple-linen-cushion/p34934\"},{\"hreflang\":\"en-se\",\"href\":\"https://www.designersguild.com/se/brera-lino-verdigris-apple-linen-cushion/p34934\"},{\"hreflang\":\"en-us\",\"href\":\"https://www.designersguild.com/us/brera-lino-verdigris-apple-linen-cushion/p34934\"},{\"hreflang\":\"es\",\"href\":\"https://www.designersguild.com/es/brera-lino-verdigris-apple-linen-cushion/p34934\"},{\"hreflang\":\"it-it\",\"href\":\"https://www.designersguild.com/it/brera-lino-verdigris-apple-linen-cushion/p34934\"},{\"hreflang\":\"en-nl\",\"href\":\"https://www.designersguild.com/nl/brera-lino-verdigris-apple-linen-cushion/p34934\"},{\"hreflang\":\"ru\",\"href\":\"https://www.designersguild.com/ru/brera-lino-verdigris-apple-linen-cushion/p34934\"},{\"hreflang\":\"ja-jp\",\"href\":\"https://www.designersguild.com/jp/brera-lino-verdigris-apple-linen-cushion/p34934\"},{\"hreflang\":\"en-be\",\"href\":\"https://www.designersguild.com/be/brera-lino-verdigris-apple-linen-cushion/p34934\"},{\"hreflang\":\"en-au\",\"href\":\"https://www.designersguild.com/au/brera-lino-verdigris-apple-linen-cushion/p34934\"},{\"hreflang\":\"en-dk\",\"href\":\"https://www.designersguild.com/dk/brera-lino-verdigris-apple-linen-cushion/p34934\"},{\"hreflang\":\"en-gr\",\"href\":\"https://www.designersguild.com/eu/brera-lino-verdigris-apple-linen-cushion/p34934\"},{\"hreflang\":\"en-no\",\"href\":\"https://www.designersguild.com/no/brera-lino-verdigris-apple-linen-cushion/p34934\"},{\"hreflang\":\"de-at\",\"href\":\"https://www.designersguild.com/at/brera-lino-verdigris-apple-linen-cushion/p34934\"},{\"hreflang\":\"de-ch\",\"href\":\"https://www.designersguild.com/de-ch/brera-lino-verdigris-apple-linen-cushion/p34934\"},{\"hreflang\":\"fr-ch\",\"href\":\"https://www.designersguild.com/fr-ch/brera-lino-verdigris-apple-linen-cushion/p34934\"},{\"hreflang\":\"en\",\"href\":\"https://www.designersguild.com/row/brera-lino-verdigris-apple-linen-cushion/p34934\"},{\"hreflang\":\"en-nz\",\"href\":\"https://www.designersguild.com/nz/brera-lino-verdigris-apple-linen-cushion/p34934\"},{\"hreflang\":\"en-ie\",\"href\":\"https://www.designersguild.com/ie/brera-lino-verdigris-apple-linen-cushion/p34934\"},{\"hreflang\":\"fi-fi\",\"href\":\"https://www.designersguild.com/fi/brera-lino-verdigris-apple-linen-cushion/p34934\"},{\"hreflang\":\"x-default\",\"href\":\"https://www.designersguild.com/brera-lino-verdigris-apple-linen-cushion/p34934\"}],\"relatedProductPages\":[{\"productPageId\":34922,\"heading\":\"Varese Pale Jade & Celadon Velvet Cushion\",\"subHeading\":\"43 X 43 cm\",\"urlSemantics\":\"varese-pale-jade-celadon-velvet-cushion\",\"url\":\"/eu/varese-pale-jade-celadon-velvet-cushion/p34922\",\"imageId\":124331,\"aspectRatio\":1.0,\"reviewAverage\":null,\"reviewCount\":null},{\"productPageId\":34976,\"heading\":\"Savoie Ocean Rug\",\"subHeading\":null,\"urlSemantics\":\"savoie-ocean-rug\",\"url\":\"/eu/savoie-ocean-rug/p34976\",\"imageId\":127390,\"aspectRatio\":1.0,\"reviewAverage\":null,\"reviewCount\":null}],\"attributes\":[{\"attributeGroup\":\"Brand\",\"attribute\":\"Designers Guild\"},{\"attributeGroup\":\"Style\",\"attribute\":\"Plain\"},{\"attributeGroup\":\"Shape\",\"attribute\":\"Square\"},{\"attributeGroup\":\"Care Instructions\",\"attribute\":\"Cold water gentle wash\"},{\"attributeGroup\":\"Composition\",\"attribute\":\"100%Li\"}],\"collection\":null,\"moduleOptions\":null,\"modules\":null,\"moduleOptionGroups\":null,\"wholesaleFurniture\":null}","json":{"productPageId":34934,"productTypeId":4,"heading":"Brera Lino Verdigris & Apple Linen Cushion","subHeading":"43 X 43 cm","category":"","brand":"Designers Guild","description":"Two tones of Brera Lino pure linen feature in this contemporary square cushion in verdigris, reversing to apple with unique double seams. Finished with a tonal overlocked stitch border, this modern cushion is the perfect complement for any scheme.","urlSemantics":"brera-lino-verdigris-apple-linen-cushion","breadcrumb":"<li><a href=\"/eu/cushions/l1046\">CUSHIONS </a></li><li><span>Brera Lino Verdigris & Apple Linen Cushion</span></li>","url":"/eu/brera-lino-verdigris-apple-linen-cushion/p34934","titleTag":"Brera Lino Verdigris & Apple Linen Cushion | Designers Guild","metaDescription":"Two tones of Brera Lino pure linen feature in this contemporary square cushion in verdigris, reversing to apple with unique double seams. Finished with a t","reviewAverage":null,"reviewCount":null,"isNew":false,"templateId":3,"isRugOrRunner":false,"delivery":null,"returns":null,"products":[{"productId":195779,"code":"CCDG1003","orderFormName":"Brera Lino Verdigris & Apple Cushion","size":"43 x 43cm","brand":"Designers Guild","gtin13":"5051001621621","images":[{"imageId":124318,"altText":"Brera Lino Verdigris & Apple Cushion","titleText":"Brera Lino Verdigris & Apple Cushion","templateImageId":true,"maxWidth":1024}]}],"images":[{"imageId":124318,"templateImageId":2,"altText":"Brera Lino Verdigris & Apple Cushion","titleText":"Brera Lino Verdigris & Apple Cushion","sortOrder":0,"maxWidth":1024},{"imageId":124588,"templateImageId":2,"altText":"Brera Lino Verdigris & Apple Cushion - Reverse","titleText":"Brera Lino Verdigris & Apple Cushion - Reverse","sortOrder":1,"maxWidth":1024},{"imageId":124431,"templateImageId":2,"sortOrder":2,"maxWidth":1024},{"imageId":124429,"templateImageId":2,"sortOrder":3,"maxWidth":1024}],"alternateColourways":[{"productPageId":21857,"urlSemantics":"cushion/designers-guild/brera-lino-alabaster-plain-white-linen-cushion","code":"CCDG1003","url":"/eu/cushion/designers-guild/brera-lino-alabaster-plain-white-linen-cushion/p21857","heading":"Brera Lino Alabaster Linen Cushion","imageId":149017},{"productPageId":39195,"urlSemantics":"brera-lino-indian-ocean-teal-linen-cushion","code":"CCDG1003","url":"/eu/brera-lino-indian-ocean-teal-linen-cushion/p39195","heading":"Brera Lino Indian Ocean & Teal Linen Cushion","imageId":147195},{"productPageId":39196,"urlSemantics":"brera-lino-midnight-chambray-linen-cushion","code":"CCDG1003","url":"/eu/brera-lino-midnight-chambray-linen-cushion/p39196","heading":"Brera Lino Midnight & Chambray Linen Cushion","imageId":147210},{"productPageId":39197,"urlSemantics":"brera-lino-brick-turmeric-linen-cushion","code":"CCDG1003","url":"/eu/brera-lino-brick-turmeric-linen-cushion/p39197","heading":"Brera Lino Brick & Turmeric Linen Cushion","imageId":147197},{"productPageId":36108,"urlSemantics":"brera-lino-cameo-parchment-cushion","code":"CCDG1003","url":"/eu/brera-lino-cameo-parchment-cushion/p36108","heading":"Brera Lino Cameo & Parchment Linen Cushion","imageId":148999},{"productPageId":37849,"urlSemantics":"brera-lino-lagoon-porcelain-linen-cushion","code":"CCDG1003","url":"/eu/brera-lino-lagoon-porcelain-linen-cushion/p37849","heading":"Brera Lino Lagoon & Porcelain Linen Cushion","imageId":149003},{"productPageId":36520,"urlSemantics":"brera-lino-ivy-jade-linen-cushion","code":"CCDG1003","url":"/eu/brera-lino-ivy-jade-linen-cushion/p36520","heading":"Brera Lino Ivy & Jade Linen Cushion","imageId":148997},{"productPageId":37847,"urlSemantics":"brera-lino-emerald-capri-linen-cushion","code":"CCDG1003","url":"/eu/brera-lino-emerald-capri-linen-cushion/p37847","heading":"Brera Lino Emerald & Capri Linen Cushion","imageId":149002},{"productPageId":37851,"urlSemantics":"brera-lino-lime-moss-linen-cushion","code":"CCDG1003","url":"/eu/brera-lino-lime-moss-linen-cushion/p37851","heading":"Brera Lino Lime & Moss Linen Cushion","imageId":148998},{"productPageId":37901,"urlSemantics":"brera-lino-mango-maize-cushion","code":"CCDG1003","url":"/eu/brera-lino-mango-maize-cushion/p37901","heading":"Brera Lino Mango & Maize Linen Cushion","imageId":149000},{"productPageId":37850,"urlSemantics":"brera-lino-nasturtium-papaya-linen-cushion","code":"CCDG1003","url":"/eu/brera-lino-nasturtium-papaya-linen-cushion/p37850","heading":"Brera Lino Nasturtium & Papaya Linen Cushion","imageId":149001},{"productPageId":35606,"urlSemantics":"brera-lino-rosewood-azalea-cushion","code":"CCDG1003","url":"/eu/brera-lino-rosewood-azalea-cushion/p35606","heading":"Brera Lino Rosewood & Azalea Linen Cushion","imageId":129294},{"productPageId":37848,"urlSemantics":"brera-lino-hibiscus-peach-linen-cushion","code":"CCDG1003","url":"/eu/brera-lino-hibiscus-peach-linen-cushion/p37848","heading":"Brera Lino Hibiscus & Peach Linen Cushion","imageId":149004},{"productPageId":34934,"urlSemantics":"brera-lino-verdigris-apple-linen-cushion","code":"CCDG1003","url":"/eu/brera-lino-verdigris-apple-linen-cushion/p34934","heading":"Brera Lino Verdigris & Apple Linen Cushion","imageId":124318},{"productPageId":34111,"urlSemantics":"brera-lino-cassis-purple-plain-linen-cushion","code":"CCDG1003","url":"/eu/brera-lino-cassis-purple-plain-linen-cushion/p34111","heading":"Brera Lino Cassis Linen Cushion","imageId":119735},{"productPageId":35604,"urlSemantics":"brera-lino-espresso-cocoa-cushion","code":"CCDG1003","url":"/eu/brera-lino-espresso-cocoa-cushion/p35604","heading":"Brera Lino Espresso & Cocoa Linen Cushion","imageId":130535},{"productPageId":33837,"urlSemantics":"brera-lino-straw-plain-linen-cushion","code":"CCDG1003","url":"/eu/brera-lino-straw-plain-linen-cushion/p33837","heading":"Brera Lino Straw Cushion","imageId":114219},{"productPageId":21861,"urlSemantics":"cushion/designers-guild/brera-lino-pale-rose-cushion","code":"CCDG1003","url":"/eu/cushion/designers-guild/brera-lino-pale-rose-cushion/p21861","heading":"Brera Lino Pale Rose Cushion","imageId":58926},{"productPageId":36106,"urlSemantics":"brera-lino-coral-putty-cushion","code":"CCDG1003","url":"/eu/brera-lino-coral-putty-cushion/p36106","heading":"Brera Lino Coral & Putty Linen Cushion","imageId":135433},{"productPageId":25353,"urlSemantics":"brera-lino-cinnamon-plain-linen-cushion","code":"CCDG1003","url":"/eu/brera-lino-cinnamon-plain-linen-cushion/p25353","heading":"Brera Lino Cinnamon Cushion","imageId":92987}],"reviews":null,"hreflangs":[{"hreflang":"de","href":"https://www.designersguild.com/de/brera-lino-verdigris-apple-linen-cushion/p34934"},{"hreflang":"fr","href":"https://www.designersguild.com/fr/brera-lino-verdigris-apple-linen-cushion/p34934"},{"hreflang":"en-gb","href":"https://www.designersguild.com/uk/brera-lino-verdigris-apple-linen-cushion/p34934"},{"hreflang":"en-se","href":"https://www.designersguild.com/se/brera-lino-verdigris-apple-linen-cushion/p34934"},{"hreflang":"en-us","href":"https://www.designersguild.com/us/brera-lino-verdigris-apple-linen-cushion/p34934"},{"hreflang":"es","href":"https://www.designersguild.com/es/brera-lino-verdigris-apple-linen-cushion/p34934"},{"hreflang":"it-it","href":"https://www.designersguild.com/it/brera-lino-verdigris-apple-linen-cushion/p34934"},{"hreflang":"en-nl","href":"https://www.designersguild.com/nl/brera-lino-verdigris-apple-linen-cushion/p34934"},{"hreflang":"ru","href":"https://www.designersguild.com/ru/brera-lino-verdigris-apple-linen-cushion/p34934"},{"hreflang":"ja-jp","href":"https://www.designersguild.com/jp/brera-lino-verdigris-apple-linen-cushion/p34934"},{"hreflang":"en-be","href":"https://www.designersguild.com/be/brera-lino-verdigris-apple-linen-cushion/p34934"},{"hreflang":"en-au","href":"https://www.designersguild.com/au/brera-lino-verdigris-apple-linen-cushion/p34934"},{"hreflang":"en-dk","href":"https://www.designersguild.com/dk/brera-lino-verdigris-apple-linen-cushion/p34934"},{"hreflang":"en-gr","href":"https://www.designersguild.com/eu/brera-lino-verdigris-apple-linen-cushion/p34934"},{"hreflang":"en-no","href":"https://www.designersguild.com/no/brera-lino-verdigris-apple-linen-cushion/p34934"},{"hreflang":"de-at","href":"https://www.designersguild.com/at/brera-lino-verdigris-apple-linen-cushion/p34934"},{"hreflang":"de-ch","href":"https://www.designersguild.com/de-ch/brera-lino-verdigris-apple-linen-cushion/p34934"},{"hreflang":"fr-ch","href":"https://www.designersguild.com/fr-ch/brera-lino-verdigris-apple-linen-cushion/p34934"},{"hreflang":"en","href":"https://www.designersguild.com/row/brera-lino-verdigris-apple-linen-cushion/p34934"},{"hreflang":"en-nz","href":"https://www.designersguild.com/nz/brera-lino-verdigris-apple-linen-cushion/p34934"},{"hreflang":"en-ie","href":"https://www.designersguild.com/ie/brera-lino-verdigris-apple-linen-cushion/p34934"},{"hreflang":"fi-fi","href":"https://www.designersguild.com/fi/brera-lino-verdigris-apple-linen-cushion/p34934"},{"hreflang":"x-default","href":"https://www.designersguild.com/brera-lino-verdigris-apple-linen-cushion/p34934"}],"relatedProductPages":[{"productPageId":34922,"heading":"Varese Pale Jade & Celadon Velvet Cushion","subHeading":"43 X 43 cm","urlSemantics":"varese-pale-jade-celadon-velvet-cushion","url":"/eu/varese-pale-jade-celadon-velvet-cushion/p34922","imageId":124331,"aspectRatio":1.0,"reviewAverage":null,"reviewCount":null},{"productPageId":34976,"heading":"Savoie Ocean Rug","subHeading":null,"urlSemantics":"savoie-ocean-rug","url":"/eu/savoie-ocean-rug/p34976","imageId":127390,"aspectRatio":1.0,"reviewAverage":null,"reviewCount":null}],"attributes":[{"attributeGroup":"Brand","attribute":"Designers Guild"},{"attributeGroup":"Style","attribute":"Plain"},{"attributeGroup":"Shape","attribute":"Square"},{"attributeGroup":"Care Instructions","attribute":"Cold water gentle wash"},{"attributeGroup":"Composition","attribute":"100%Li"}],"collection":null,"moduleOptions":null,"modules":null,"moduleOptionGroups":null,"wholesaleFurniture":null}},"Stock":{"OrderFormJSON":"{\"products\":[{\"product\":{\"productId\":195779,\"sortOrder\":50,\"productTypeId\":4,\"templateId\":3,\"code\":\"CCDG1003\",\"brand\":\"Designers Guild\",\"gtin13\":\"5051001621621\",\"name\":\"Brera Lino Verdigris & Apple Cushion\",\"AKA\":null,\"size\":\"43 x 43cm\",\"imageId\":124318,\"imageAltText\":\"Brera Lino Verdigris & Apple Cushion\",\"imageTitleText\":\"Brera Lino Verdigris & Apple Cushion\",\"rRPMessage\":null,\"rLRRP\":\"85 €\",\"rLTradePrice\":null,\"displayPrice\":null,\"displaySalePrice\":null,\"priceMessage\":null,\"statusMessage\":\"Limited\",\"urlSemantics\":\"brera-lino-verdigris-apple-linen-cushion\",\"productPageId\":34934,\"url\":\"\\/eu\\/brera-lino-verdigris-apple-linen-cushion\\/p34934\",\"itemAvailability\":\"LimitedAvailability\",\"orderFormGroupId\":null,\"orderFormName\":\"Brera Lino Verdigris & Apple Cushion\",\"attributes\":null,\"orderFormGroup\":null,\"orderFormProperties\":[{\"key\":\"Size\",\"value\":\"43 x 43cm\"},{\"key\":\"Colour\",\"value\":\"Verdigris & Apple\"},{\"key\":\"Code\",\"value\":\"CCDG1003\"}],\"controls\":{\"allowOrder\":false,\"allowReserve\":false,\"allowReserveWithBatchSample\":false,\"allowSample\":false,\"allowLargeSample\":false,\"allowBackInStockReminder\":false,\"disableOrder\":false,\"disableSample\":false},\"stockMessage\":{\"productTypeID\":4,\"quantityMinimum\":1.00,\"quantityMaximum\":1.00,\"productTypeQuantityMaximum\":null,\"quantityIncrement\":1.00,\"reserveQuantityMaximum\":1.00,\"unit\":\"\",\"allowStockCheck\":false,\"pieceBreakdownMinimum\":null,\"pieceBreakdownMaximum\":null,\"allowBackInStockReminder\":false,\"freeStock\":1.00,\"nextPOFreeStock\":0.00,\"nextPODueDate\":null,\"totalPOFreeStock\":0.00,\"basketQuantityThresholds\":[{\"minimum\":0,\"maximum\":99999.99,\"stockMessages\":[{\"stockMessage\":\"1 in stock\",\"class\":\"\",\"stockBreakdownTab\":0}]}]},\"orderButtonText\":\"Add to Basket\",\"reserveButtonText\":\"Reserve\",\"reserveWithBatchSampleButtonText\":\"Reserve with Batch Sample\",\"sample\":{\"productId\":null,\"stockMessage\":null,\"orderButtonText\":\"Add to Basket\",\"displayPrice\":null,\"displaySalePrice\":null,\"priceMessage\":null},\"largeSample\":{\"productId\":null,\"stockMessage\":null,\"orderButtonText\":\"Add to Basket\",\"displayPrice\":null,\"displaySalePrice\":null,\"priceMessage\":null}}}]}","orderForm":{"products":[{"product":{"productId":195779,"sortOrder":50,"productTypeId":4,"templateId":3,"code":"CCDG1003","brand":"Designers Guild","gtin13":"5051001621621","name":"Brera Lino Verdigris & Apple Cushion","AKA":null,"size":"43 x 43cm","imageId":124318,"imageAltText":"Brera Lino Verdigris & Apple Cushion","imageTitleText":"Brera Lino Verdigris & Apple Cushion","rRPMessage":null,"rLRRP":"85 €","rLTradePrice":null,"displayPrice":null,"displaySalePrice":null,"priceMessage":null,"statusMessage":"Limited","urlSemantics":"brera-lino-verdigris-apple-linen-cushion","productPageId":34934,"url":"/eu/brera-lino-verdigris-apple-linen-cushion/p34934","itemAvailability":"LimitedAvailability","orderFormGroupId":null,"orderFormName":"Brera Lino Verdigris & Apple Cushion","attributes":null,"orderFormGroup":null,"orderFormProperties":[{"key":"Size","value":"43 x 43cm"},{"key":"Colour","value":"Verdigris & Apple"},{"key":"Code","value":"CCDG1003"}],"controls":{"allowOrder":false,"allowReserve":false,"allowReserveWithBatchSample":false,"allowSample":false,"allowLargeSample":false,"allowBackInStockReminder":false,"disableOrder":false,"disableSample":false},"stockMessage":{"productTypeID":4,"quantityMinimum":1.0,"quantityMaximum":1.0,"productTypeQuantityMaximum":null,"quantityIncrement":1.0,"reserveQuantityMaximum":1.0,"unit":"","allowStockCheck":false,"pieceBreakdownMinimum":null,"pieceBreakdownMaximum":null,"allowBackInStockReminder":false,"freeStock":1.0,"nextPOFreeStock":0.0,"nextPODueDate":null,"totalPOFreeStock":0.0,"basketQuantityThresholds":[{"minimum":0,"maximum":99999.99,"stockMessages":[{"stockMessage":"1 in stock","class":"","stockBreakdownTab":0}]}]},"orderButtonText":"Add to Basket","reserveButtonText":"Reserve","reserveWithBatchSampleButtonText":"Reserve with Batch Sample","sample":{"productId":null,"stockMessage":null,"orderButtonText":"Add to Basket","displayPrice":null,"displaySalePrice":null,"priceMessage":null},"largeSample":{"productId":null,"stockMessage":null,"orderButtonText":"Add to Basket","displayPrice":null,"displaySalePrice":null,"priceMessage":null}}}]}},"Carousel":{"CarouselID":"#product-page-34934-carousel","WrapperCSSClass":null,"AspectRatio":1.0,"Heading":"Brera Lino Verdigris & Apple Linen Cushion","Images":[{"ImageID":124318,"SortOrder":0,"AltText":"Brera Lino Verdigris & Apple Cushion","Overlay":null,"MaxWidth":1024,"ApproximateImageSize":5},{"ImageID":124588,"SortOrder":1,"AltText":"Brera Lino Verdigris & Apple Cushion - Reverse","Overlay":null,"MaxWidth":1024,"ApproximateImageSize":5},{"ImageID":124431,"SortOrder":2,"AltText":null,"Overlay":null,"MaxWidth":1024,"ApproximateImageSize":5},{"ImageID":124429,"SortOrder":3,"AltText":null,"Overlay":null,"MaxWidth":1024,"ApproximateImageSize":5}],"ApproximateImageSize":4,"DisplayThumbnails":true,"DisplayDashes":true,"Interval":null,"PermitLargeImageModal":true},"MainProduct":{"Solitary":true,"ProductBase":{"product":{"productId":195779,"sortOrder":50,"productTypeId":4,"templateId":3,"code":"CCDG1003","brand":"Designers Guild","gtin13":"5051001621621","name":"Brera Lino Verdigris & Apple Cushion","AKA":null,"size":"43 x 43cm","imageId":124318,"imageAltText":"Brera Lino Verdigris & Apple Cushion","imageTitleText":"Brera Lino Verdigris & Apple Cushion","rRPMessage":null,"rLRRP":"85 €","rLTradePrice":null,"displayPrice":null,"displaySalePrice":null,"priceMessage":null,"statusMessage":"Limited","urlSemantics":"brera-lino-verdigris-apple-linen-cushion","productPageId":34934,"url":"/eu/brera-lino-verdigris-apple-linen-cushion/p34934","itemAvailability":"LimitedAvailability","orderFormGroupId":null,"orderFormName":"Brera Lino Verdigris & Apple Cushion","attributes":null,"orderFormGroup":null,"orderFormProperties":[{"key":"Size","value":"43 x 43cm"},{"key":"Colour","value":"Verdigris & Apple"},{"key":"Code","value":"CCDG1003"}],"controls":{"allowOrder":false,"allowReserve":false,"allowReserveWithBatchSample":false,"allowSample":false,"allowLargeSample":false,"allowBackInStockReminder":false,"disableOrder":false,"disableSample":false},"stockMessage":{"productTypeID":4,"quantityMinimum":1.0,"quantityMaximum":1.0,"productTypeQuantityMaximum":null,"quantityIncrement":1.0,"reserveQuantityMaximum":1.0,"unit":"","allowStockCheck":false,"pieceBreakdownMinimum":null,"pieceBreakdownMaximum":null,"allowBackInStockReminder":false,"freeStock":1.0,"nextPOFreeStock":0.0,"nextPODueDate":null,"totalPOFreeStock":0.0,"basketQuantityThresholds":[{"minimum":0,"maximum":99999.99,"stockMessages":[{"stockMessage":"1 in stock","class":"","stockBreakdownTab":0}]}]},"orderButtonText":"Add to Basket","reserveButtonText":"Reserve","reserveWithBatchSampleButtonText":"Reserve with Batch Sample","sample":{"productId":null,"stockMessage":null,"orderButtonText":"Add to Basket","displayPrice":null,"displaySalePrice":null,"priceMessage":null},"largeSample":{"productId":null,"stockMessage":null,"orderButtonText":"Add to Basket","displayPrice":null,"displaySalePrice":null,"priceMessage":null}}},"Product":{"productId":195779,"sortOrder":50,"productTypeId":4,"templateId":3,"code":"CCDG1003","brand":"Designers Guild","gtin13":"5051001621621","name":"Brera Lino Verdigris & Apple Cushion","AKA":null,"size":"43 x 43cm","imageId":124318,"imageAltText":"Brera Lino Verdigris & Apple Cushion","imageTitleText":"Brera Lino Verdigris & Apple Cushion","rRPMessage":null,"rLRRP":"85 €","rLTradePrice":null,"displayPrice":null,"displaySalePrice":null,"priceMessage":null,"statusMessage":"Limited","urlSemantics":"brera-lino-verdigris-apple-linen-cushion","productPageId":34934,"url":"/eu/brera-lino-verdigris-apple-linen-cushion/p34934","itemAvailability":"LimitedAvailability","orderFormGroupId":null,"orderFormName":"Brera Lino Verdigris & Apple Cushion","attributes":null,"orderFormGroup":null,"orderFormProperties":[{"key":"Size","value":"43 x 43cm"},{"key":"Colour","value":"Verdigris & Apple"},{"key":"Code","value":"CCDG1003"}],"controls":{"allowOrder":false,"allowReserve":false,"allowReserveWithBatchSample":false,"allowSample":false,"allowLargeSample":false,"allowBackInStockReminder":false,"disableOrder":false,"disableSample":false},"stockMessage":{"productTypeID":4,"quantityMinimum":1.0,"quantityMaximum":1.0,"productTypeQuantityMaximum":null,"quantityIncrement":1.0,"reserveQuantityMaximum":1.0,"unit":"","allowStockCheck":false,"pieceBreakdownMinimum":null,"pieceBreakdownMaximum":null,"allowBackInStockReminder":false,"freeStock":1.0,"nextPOFreeStock":0.0,"nextPODueDate":null,"totalPOFreeStock":0.0,"basketQuantityThresholds":[{"minimum":0,"maximum":99999.99,"stockMessages":[{"stockMessage":"1 in stock","class":"","stockBreakdownTab":0}]}]},"orderButtonText":"Add to Basket","reserveButtonText":"Reserve","reserveWithBatchSampleButtonText":"Reserve with Batch Sample","sample":{"productId":null,"stockMessage":null,"orderButtonText":"Add to Basket","displayPrice":null,"displaySalePrice":null,"priceMessage":null},"largeSample":{"productId":null,"stockMessage":null,"orderButtonText":"Add to Basket","displayPrice":null,"displaySalePrice":null,"priceMessage":null}},"Carousel":{"CarouselID":"#product-195779-carsouel","WrapperCSSClass":null,"AspectRatio":1.0,"Heading":"Brera Lino Verdigris & Apple Cushion","Images":[{"ImageID":124318,"SortOrder":0,"AltText":"Brera Lino Verdigris & Apple Cushion","Overlay":null,"MaxWidth":null,"ApproximateImageSize":5}],"ApproximateImageSize":5,"DisplayThumbnails":false,"DisplayDashes":true,"Interval":null,"PermitLargeImageModal":true},"ProductID":195779,"ProductTypeID":4,"ProductPageID":34934,"ProductCode":"CCDG1003","Brand":"Designers Guild","OrderFormID":"#product-195779","OrderFormCarouselID":"#product-195779-slide","OrderFormGroupID":null,"OrderFormGroup":null,"Size":"43 x 43cm","OrderFormName":"Brera Lino Verdigris & Apple Cushion","BasketName":"Brera Lino Verdigris & Apple Cushion","SortOrder":50,"Attributes":null,"Image":{"imageId":124318,"templateImageId":2,"altText":"Brera Lino Verdigris & Apple Cushion","titleText":"Brera Lino Verdigris & Apple Cushion","sortOrder":0,"maxWidth":488},"OrderFormProperties":[{"Key":"Size","Value":"43 x 43cm"},{"Key":"Colour","Value":"Verdigris & Apple"},{"Key":"Code","Value":"CCDG1003"}],"AllowSample":false,"AllowLargeSample":false,"AllowOrder":false,"AllowReserve":false,"AllowReserveWithBatchCutting":false,"ClientProductViewModels":"","URLKeywords":"brera-lino-verdigris-apple-linen-cushion","ImageLinkToProductPage":false,"IsLifestyle":false},"OtherProducts":[],"RelatedProductPages":[{"MasterDefinition":{"SiteSectionID":null,"TitleTag":"Brera Lino Verdigris & Apple Linen Cushion | Designers Guild","MetaDescription":"Two tones of Brera Lino pure linen feature in this contemporary square cushion in verdigris, reversing to apple with unique double seams. Finished with a t","BackInStockReminder":null,"ItemsInBasket":0.0,"UrlBreakdown":{"ContentType":1,"ContentId":34934,"ContentDate":"2022-12-02T00:00:00","SemanticString":"brera-lino-verdigris-apple-linen-cushion","countryDetails":{"CountryLanguageID":21,"RegionID":3,"CountryID":67,"CountryCode":"EE","LanguageID":1,"SortOrder":255,"Name":"Europe","URL":"eu","DotNetCulture":"et-EE","ShopEnabled":true,"LanguageCode":"en","LanguageDotNetCulture":"en-GB","MertexCurrencyCode":"EUR","CurrencyCode":"EUR","PriceListID":19,"AllowTradeOrders":true,"AcceptAmazonPay":false,"BuyOnlineRedirectAllowed":false,"EcommerceEnabled":false,"SamplesEnabled":true},"contentTypeAndIdNotFound":false,"CountryAwareness":{"Match":false,"Culture":"us","objCountryItem":{"CountryLanguageID":5,"RegionID":2,"CountryID":238,"CountryCode":null,"LanguageID":2,"SortOrder":1,"Name":"United States","URL":"us","DotNetCulture":"en-US","ShopEnabled":true,"LanguageCode":"us","LanguageDotNetCulture":"en-US","MertexCurrencyCode":"USD","CurrencyCode":"USD","PriceListID":2,"AllowTradeOrders":false,"AcceptAmazonPay":true,"BuyOnlineRedirectAllowed":false,"EcommerceEnabled":false,"SamplesEnabled":false}},"GeoIPCulture":null},"GoogleHrefs":[{"hreflang":"de","href":"https://www.designersguild.com/de/brera-lino-verdigris-apple-linen-cushion/p34934"},{"hreflang":"fr","href":"https://www.designersguild.com/fr/brera-lino-verdigris-apple-linen-cushion/p34934"},{"hreflang":"en-gb","href":"https://www.designersguild.com/uk/brera-lino-verdigris-apple-linen-cushion/p34934"},{"hreflang":"en-se","href":"https://www.designersguild.com/se/brera-lino-verdigris-apple-linen-cushion/p34934"},{"hreflang":"en-us","href":"https://www.designersguild.com/us/brera-lino-verdigris-apple-linen-cushion/p34934"},{"hreflang":"es","href":"https://www.designersguild.com/es/brera-lino-verdigris-apple-linen-cushion/p34934"},{"hreflang":"it-it","href":"https://www.designersguild.com/it/brera-lino-verdigris-apple-linen-cushion/p34934"},{"hreflang":"en-nl","href":"https://www.designersguild.com/nl/brera-lino-verdigris-apple-linen-cushion/p34934"},{"hreflang":"ru","href":"https://www.designersguild.com/ru/brera-lino-verdigris-apple-linen-cushion/p34934"},{"hreflang":"ja-jp","href":"https://www.designersguild.com/jp/brera-lino-verdigris-apple-linen-cushion/p34934"},{"hreflang":"en-be","href":"https://www.designersguild.com/be/brera-lino-verdigris-apple-linen-cushion/p34934"},{"hreflang":"en-au","href":"https://www.designersguild.com/au/brera-lino-verdigris-apple-linen-cushion/p34934"},{"hreflang":"en-dk","href":"https://www.designersguild.com/dk/brera-lino-verdigris-apple-linen-cushion/p34934"},{"hreflang":"en-gr","href":"https://www.designersguild.com/eu/brera-lino-verdigris-apple-linen-cushion/p34934"},{"hreflang":"en-no","href":"https://www.designersguild.com/no/brera-lino-verdigris-apple-linen-cushion/p34934"},{"hreflang":"de-at","href":"https://www.designersguild.com/at/brera-lino-verdigris-apple-linen-cushion/p34934"},{"hreflang":"de-ch","href":"https://www.designersguild.com/de-ch/brera-lino-verdigris-apple-linen-cushion/p34934"},{"hreflang":"fr-ch","href":"https://www.designersguild.com/fr-ch/brera-lino-verdigris-apple-linen-cushion/p34934"},{"hreflang":"en","href":"https://www.designersguild.com/row/brera-lino-verdigris-apple-linen-cushion/p34934"},{"hreflang":"en-nz","href":"https://www.designersguild.com/nz/brera-lino-verdigris-apple-linen-cushion/p34934"},{"hreflang":"en-ie","href":"https://www.designersguild.com/ie/brera-lino-verdigris-apple-linen-cushion/p34934"},{"hreflang":"fi-fi","href":"https://www.designersguild.com/fi/brera-lino-verdigris-apple-linen-cushion/p34934"},{"hreflang":"x-default","href":"https://www.designersguild.com/brera-lino-verdigris-apple-linen-cushion/p34934"}],"CountryDropDown":{"countryDropDownItems":[{"CountryID":81,"Code":null,"LanguageID":1,"RegionID":3,"LanguageCode":"en","Country":"UK","Region":"Europe","URL":"uk","URLKeywords":"","SortOrder":1,"PageID":0},{"CountryID":15,"Code":null,"LanguageID":4,"RegionID":3,"LanguageCode":"de","Country":"Austria","Region":"Europe","URL":"at","URLKeywords":"","SortOrder":11,"PageID":0},{"CountryID":23,"Code":null,"LanguageID":1,"RegionID":3,"LanguageCode":"en","Country":"Belgium","Region":"Europe","URL":"be","URLKeywords":"","SortOrder":12,"PageID":0},{"CountryID":62,"Code":null,"LanguageID":1,"RegionID":3,"LanguageCode":"en","Country":"Denmark","Region":"Europe","URL":"dk","URLKeywords":"","SortOrder":13,"PageID":0},{"CountryID":74,"Code":null,"LanguageID":15,"RegionID":3,"LanguageCode":"fi","Country":"Finland","Region":"Europe","URL":"fi","URLKeywords":"","SortOrder":15,"PageID":0},{"CountryID":79,"Code":null,"LanguageID":3,"RegionID":3,"LanguageCode":"fr","Country":"France","Region":"Europe","URL":"fr","URLKeywords":"","SortOrder":16,"PageID":0},{"CountryID":60,"Code":null,"LanguageID":4,"RegionID":3,"LanguageCode":"de","Country":"Germany","Region":"Europe","URL":"de","URLKeywords":"","SortOrder":17,"PageID":0},{"CountryID":106,"Code":null,"LanguageID":1,"RegionID":3,"LanguageCode":"en","Country":"Ireland","Region":"Europe","URL":"ie","URLKeywords":"","SortOrder":18,"PageID":0},{"CountryID":114,"Code":null,"LanguageID":6,"RegionID":3,"LanguageCode":"it","Country":"Italy","Region":"Europe","URL":"it","URLKeywords":"","SortOrder":19,"PageID":0},{"CountryID":170,"Code":null,"LanguageID":13,"RegionID":3,"LanguageCode":"en","Country":"Netherlands","Region":"Europe","URL":"nl","URLKeywords":"","SortOrder":20,"PageID":0},{"CountryID":71,"Code":null,"LanguageID":5,"RegionID":3,"LanguageCode":"es","Country":"Spain","Region":"Europe","URL":"es","URLKeywords":"","SortOrder":23,"PageID":0},{"CountryID":202,"Code":null,"LanguageID":1,"RegionID":3,"LanguageCode":"en","Country":"Sweden","Region":"Europe","URL":"se","URLKeywords":"","SortOrder":24,"PageID":0},{"CountryID":171,"Code":null,"LanguageID":1,"RegionID":3,"LanguageCode":"en","Country":"Norway","Region":"Europe","URL":"no","URLKeywords":"","SortOrder":52,"PageID":0},{"CountryID":118,"Code":null,"LanguageID":11,"RegionID":4,"LanguageCode":"jp","Country":"Nihon","Region":"Africa, Asia & the Middle East","URL":"jp","URLKeywords":"","SortOrder":71,"PageID":0},{"CountryID":46,"Code":null,"LanguageID":3,"RegionID":3,"LanguageCode":"fr","Country":"Switzerland","Region":"Europe","URL":"fr-ch","URLKeywords":"","SortOrder":102,"PageID":0},{"CountryID":46,"Code":null,"LanguageID":4,"RegionID":3,"LanguageCode":"de","Country":"Switzerland","Region":"Europe","URL":"de-ch","URLKeywords":"","SortOrder":103,"PageID":0},{"CountryID":196,"Code":null,"LanguageID":10,"RegionID":3,"LanguageCode":"ru","Country":"Russian Federation","Region":"Europe","URL":"ru","URLKeywords":"","SortOrder":109,"PageID":0},{"CountryID":238,"Code":null,"LanguageID":2,"RegionID":2,"LanguageCode":"us","Country":"United States","Region":"North America","URL":"us","URLKeywords":"","SortOrder":125,"PageID":0},{"CountryID":16,"Code":null,"LanguageID":12,"RegionID":6,"LanguageCode":"au","Country":"Australia","Region":"Australasia","URL":"au","URLKeywords":"","SortOrder":150,"PageID":0},{"CountryID":175,"Code":null,"LanguageID":18,"RegionID":6,"LanguageCode":"nz","Country":"New Zealand","Region":"Australasia","URL":"nz","URLKeywords":"","SortOrder":151,"PageID":0},{"CountryID":67,"Code":null,"LanguageID":1,"RegionID":3,"LanguageCode":"en","Country":"Other Countries in Europe","Region":"Europe","URL":"eu","URLKeywords":"","SortOrder":255,"PageID":0},{"CountryID":51,"Code":null,"LanguageID":1,"RegionID":4,"LanguageCode":"en","Country":"Rest of the World","Region":"Africa, Asia & the Middle East","URL":"row","URLKeywords":"","SortOrder":255,"PageID":0}]},"ProductTypeDropDown":{"ProductTypes":[{"ProductTypeID":15,"Name":"Fabric","NamePlural":null,"URLKeywords":null,"SortOrder":0,"ProductPageIDs":null,"FormValue":"fabric"},{"ProductTypeID":18,"Name":"Wallpaper","NamePlural":null,"URLKeywords":null,"SortOrder":0,"ProductPageIDs":null,"FormValue":"wallpaper"},{"ProductTypeID":8,"Name":"Paint","NamePlural":null,"URLKeywords":null,"SortOrder":0,"ProductPageIDs":null,"FormValue":"paint"},{"ProductTypeID":10,"Name":"Rug","NamePlural":null,"URLKeywords":null,"SortOrder":0,"ProductPageIDs":null,"FormValue":"rug"},{"ProductTypeID":4,"Name":"Cushion","NamePlural":null,"URLKeywords":null,"SortOrder":0,"ProductPageIDs":null,"FormValue":"cushion"},{"ProductTypeID":1,"Name":"Bed Linen","NamePlural":null,"URLKeywords":null,"SortOrder":0,"ProductPageIDs":null,"FormValue":"bed-linen"},{"ProductTypeID":2,"Name":"Throw","NamePlural":null,"URLKeywords":null,"SortOrder":0,"ProductPageIDs":null,"FormValue":"throw"},{"ProductTypeID":35,"Name":"Furniture","NamePlural":null,"URLKeywords":null,"SortOrder":0,"ProductPageIDs":null,"FormValue":"furniture"}]},"TradeMember":false,"TradeAllowed":false,"CanViewRRPs":false,"LoginStatus":0,"UserName":null},"ProductPage":{"ScorePercent":0,"URL":"/eu/varese-pale-jade-celadon-velvet-cushion/p34922","URLSemantics":"varese-pale-jade-celadon-velvet-cushion","AttributeFormValues":null,"ProductType":null,"IsLifestyle":false,"ProductTypeFormValue":null,"ProductPageID":34922,"Heading":"Varese Pale Jade & Celadon Velvet Cushion","SubHeading":"43 X 43 cm","New":false,"ProductTypeID":0,"URLKeywords":null,"ImageID":124331,"ImageWidth":0,"ImageHeight":0,"AspectRatio":1.0,"MerchandisedSortOrder":null,"SearchSortOrder":null,"ColourSort":null,"StockSortOrder":0.0,"AZSortOrder":0,"SalesRank":0,"ReviewCount":0,"ReviewAverage":null,"RatingSortOrder":null,"PriceSortOrder":null,"DiscountSortOrder":null,"NewSort":null,"DesignID":null,"BrandID":0,"AlternateColourwayIncludeSize":false,"SizeMetric":null,"SizeImperial":null,"Code":null,"SortOrder":null,"Design":null,"ProductPagePrice":{"PriceMin":null,"PriceMax":null,"SalePriceMin":null,"SalePriceMax":null,"DiscountPercentageMin":null,"DiscountPercentageMax":null,"ClearanceDiscountPercentageMin":null,"ClearanceDiscountPercentageMax":null,"PriceMessageBase64":null,"DiscountMessageBase64":null,"RRPMessageBase64":null,"CodeMessageBase64":null},"DisplayParagraph":false,"DisplayRating":false,"ReviewStarsDisplayBase64":null,"DisplayRRPs":false},"UseLifestyleGalleryBehaviour":false,"ProductPageID":34922,"DisplayParagraph":false,"DisplayRating":false},{"MasterDefinition":{"SiteSectionID":null,"TitleTag":"Brera Lino Verdigris & Apple Linen Cushion | Designers Guild","MetaDescription":"Two tones of Brera Lino pure linen feature in this contemporary square cushion in verdigris, reversing to apple with unique double seams. Finished with a t","BackInStockReminder":null,"ItemsInBasket":0.0,"UrlBreakdown":{"ContentType":1,"ContentId":34934,"ContentDate":"2022-12-02T00:00:00","SemanticString":"brera-lino-verdigris-apple-linen-cushion","countryDetails":{"CountryLanguageID":21,"RegionID":3,"CountryID":67,"CountryCode":"EE","LanguageID":1,"SortOrder":255,"Name":"Europe","URL":"eu","DotNetCulture":"et-EE","ShopEnabled":true,"LanguageCode":"en","LanguageDotNetCulture":"en-GB","MertexCurrencyCode":"EUR","CurrencyCode":"EUR","PriceListID":19,"AllowTradeOrders":true,"AcceptAmazonPay":false,"BuyOnlineRedirectAllowed":false,"EcommerceEnabled":false,"SamplesEnabled":true},"contentTypeAndIdNotFound":false,"CountryAwareness":{"Match":false,"Culture":"us","objCountryItem":{"CountryLanguageID":5,"RegionID":2,"CountryID":238,"CountryCode":null,"LanguageID":2,"SortOrder":1,"Name":"United States","URL":"us","DotNetCulture":"en-US","ShopEnabled":true,"LanguageCode":"us","LanguageDotNetCulture":"en-US","MertexCurrencyCode":"USD","CurrencyCode":"USD","PriceListID":2,"AllowTradeOrders":false,"AcceptAmazonPay":true,"BuyOnlineRedirectAllowed":false,"EcommerceEnabled":false,"SamplesEnabled":false}},"GeoIPCulture":null},"GoogleHrefs":[{"hreflang":"de","href":"https://www.designersguild.com/de/brera-lino-verdigris-apple-linen-cushion/p34934"},{"hreflang":"fr","href":"https://www.designersguild.com/fr/brera-lino-verdigris-apple-linen-cushion/p34934"},{"hreflang":"en-gb","href":"https://www.designersguild.com/uk/brera-lino-verdigris-apple-linen-cushion/p34934"},{"hreflang":"en-se","href":"https://www.designersguild.com/se/brera-lino-verdigris-apple-linen-cushion/p34934"},{"hreflang":"en-us","href":"https://www.designersguild.com/us/brera-lino-verdigris-apple-linen-cushion/p34934"},{"hreflang":"es","href":"https://www.designersguild.com/es/brera-lino-verdigris-apple-linen-cushion/p34934"},{"hreflang":"it-it","href":"https://www.designersguild.com/it/brera-lino-verdigris-apple-linen-cushion/p34934"},{"hreflang":"en-nl","href":"https://www.designersguild.com/nl/brera-lino-verdigris-apple-linen-cushion/p34934"},{"hreflang":"ru","href":"https://www.designersguild.com/ru/brera-lino-verdigris-apple-linen-cushion/p34934"},{"hreflang":"ja-jp","href":"https://www.designersguild.com/jp/brera-lino-verdigris-apple-linen-cushion/p34934"},{"hreflang":"en-be","href":"https://www.designersguild.com/be/brera-lino-verdigris-apple-linen-cushion/p34934"},{"hreflang":"en-au","href":"https://www.designersguild.com/au/brera-lino-verdigris-apple-linen-cushion/p34934"},{"hreflang":"en-dk","href":"https://www.designersguild.com/dk/brera-lino-verdigris-apple-linen-cushion/p34934"},{"hreflang":"en-gr","href":"https://www.designersguild.com/eu/brera-lino-verdigris-apple-linen-cushion/p34934"},{"hreflang":"en-no","href":"https://www.designersguild.com/no/brera-lino-verdigris-apple-linen-cushion/p34934"},{"hreflang":"de-at","href":"https://www.designersguild.com/at/brera-lino-verdigris-apple-linen-cushion/p34934"},{"hreflang":"de-ch","href":"https://www.designersguild.com/de-ch/brera-lino-verdigris-apple-linen-cushion/p34934"},{"hreflang":"fr-ch","href":"https://www.designersguild.com/fr-ch/brera-lino-verdigris-apple-linen-cushion/p34934"},{"hreflang":"en","href":"https://www.designersguild.com/row/brera-lino-verdigris-apple-linen-cushion/p34934"},{"hreflang":"en-nz","href":"https://www.designersguild.com/nz/brera-lino-verdigris-apple-linen-cushion/p34934"},{"hreflang":"en-ie","href":"https://www.designersguild.com/ie/brera-lino-verdigris-apple-linen-cushion/p34934"},{"hreflang":"fi-fi","href":"https://www.designersguild.com/fi/brera-lino-verdigris-apple-linen-cushion/p34934"},{"hreflang":"x-default","href":"https://www.designersguild.com/brera-lino-verdigris-apple-linen-cushion/p34934"}],"CountryDropDown":{"countryDropDownItems":[{"CountryID":81,"Code":null,"LanguageID":1,"RegionID":3,"LanguageCode":"en","Country":"UK","Region":"Europe","URL":"uk","URLKeywords":"","SortOrder":1,"PageID":0},{"CountryID":15,"Code":null,"LanguageID":4,"RegionID":3,"LanguageCode":"de","Country":"Austria","Region":"Europe","URL":"at","URLKeywords":"","SortOrder":11,"PageID":0},{"CountryID":23,"Code":null,"LanguageID":1,"RegionID":3,"LanguageCode":"en","Country":"Belgium","Region":"Europe","URL":"be","URLKeywords":"","SortOrder":12,"PageID":0},{"CountryID":62,"Code":null,"LanguageID":1,"RegionID":3,"LanguageCode":"en","Country":"Denmark","Region":"Europe","URL":"dk","URLKeywords":"","SortOrder":13,"PageID":0},{"CountryID":74,"Code":null,"LanguageID":15,"RegionID":3,"LanguageCode":"fi","Country":"Finland","Region":"Europe","URL":"fi","URLKeywords":"","SortOrder":15,"PageID":0},{"CountryID":79,"Code":null,"LanguageID":3,"RegionID":3,"LanguageCode":"fr","Country":"France","Region":"Europe","URL":"fr","URLKeywords":"","SortOrder":16,"PageID":0},{"CountryID":60,"Code":null,"LanguageID":4,"RegionID":3,"LanguageCode":"de","Country":"Germany","Region":"Europe","URL":"de","URLKeywords":"","SortOrder":17,"PageID":0},{"CountryID":106,"Code":null,"LanguageID":1,"RegionID":3,"LanguageCode":"en","Country":"Ireland","Region":"Europe","URL":"ie","URLKeywords":"","SortOrder":18,"PageID":0},{"CountryID":114,"Code":null,"LanguageID":6,"RegionID":3,"LanguageCode":"it","Country":"Italy","Region":"Europe","URL":"it","URLKeywords":"","SortOrder":19,"PageID":0},{"CountryID":170,"Code":null,"LanguageID":13,"RegionID":3,"LanguageCode":"en","Country":"Netherlands","Region":"Europe","URL":"nl","URLKeywords":"","SortOrder":20,"PageID":0},{"CountryID":71,"Code":null,"LanguageID":5,"RegionID":3,"LanguageCode":"es","Country":"Spain","Region":"Europe","URL":"es","URLKeywords":"","SortOrder":23,"PageID":0},{"CountryID":202,"Code":null,"LanguageID":1,"RegionID":3,"LanguageCode":"en","Country":"Sweden","Region":"Europe","URL":"se","URLKeywords":"","SortOrder":24,"PageID":0},{"CountryID":171,"Code":null,"LanguageID":1,"RegionID":3,"LanguageCode":"en","Country":"Norway","Region":"Europe","URL":"no","URLKeywords":"","SortOrder":52,"PageID":0},{"CountryID":118,"Code":null,"LanguageID":11,"RegionID":4,"LanguageCode":"jp","Country":"Nihon","Region":"Africa, Asia & the Middle East","URL":"jp","URLKeywords":"","SortOrder":71,"PageID":0},{"CountryID":46,"Code":null,"LanguageID":3,"RegionID":3,"LanguageCode":"fr","Country":"Switzerland","Region":"Europe","URL":"fr-ch","URLKeywords":"","SortOrder":102,"PageID":0},{"CountryID":46,"Code":null,"LanguageID":4,"RegionID":3,"LanguageCode":"de","Country":"Switzerland","Region":"Europe","URL":"de-ch","URLKeywords":"","SortOrder":103,"PageID":0},{"CountryID":196,"Code":null,"LanguageID":10,"RegionID":3,"LanguageCode":"ru","Country":"Russian Federation","Region":"Europe","URL":"ru","URLKeywords":"","SortOrder":109,"PageID":0},{"CountryID":238,"Code":null,"LanguageID":2,"RegionID":2,"LanguageCode":"us","Country":"United States","Region":"North America","URL":"us","URLKeywords":"","SortOrder":125,"PageID":0},{"CountryID":16,"Code":null,"LanguageID":12,"RegionID":6,"LanguageCode":"au","Country":"Australia","Region":"Australasia","URL":"au","URLKeywords":"","SortOrder":150,"PageID":0},{"CountryID":175,"Code":null,"LanguageID":18,"RegionID":6,"LanguageCode":"nz","Country":"New Zealand","Region":"Australasia","URL":"nz","URLKeywords":"","SortOrder":151,"PageID":0},{"CountryID":67,"Code":null,"LanguageID":1,"RegionID":3,"LanguageCode":"en","Country":"Other Countries in Europe","Region":"Europe","URL":"eu","URLKeywords":"","SortOrder":255,"PageID":0},{"CountryID":51,"Code":null,"LanguageID":1,"RegionID":4,"LanguageCode":"en","Country":"Rest of the World","Region":"Africa, Asia & the Middle East","URL":"row","URLKeywords":"","SortOrder":255,"PageID":0}]},"ProductTypeDropDown":{"ProductTypes":[{"ProductTypeID":15,"Name":"Fabric","NamePlural":null,"URLKeywords":null,"SortOrder":0,"ProductPageIDs":null,"FormValue":"fabric"},{"ProductTypeID":18,"Name":"Wallpaper","NamePlural":null,"URLKeywords":null,"SortOrder":0,"ProductPageIDs":null,"FormValue":"wallpaper"},{"ProductTypeID":8,"Name":"Paint","NamePlural":null,"URLKeywords":null,"SortOrder":0,"ProductPageIDs":null,"FormValue":"paint"},{"ProductTypeID":10,"Name":"Rug","NamePlural":null,"URLKeywords":null,"SortOrder":0,"ProductPageIDs":null,"FormValue":"rug"},{"ProductTypeID":4,"Name":"Cushion","NamePlural":null,"URLKeywords":null,"SortOrder":0,"ProductPageIDs":null,"FormValue":"cushion"},{"ProductTypeID":1,"Name":"Bed Linen","NamePlural":null,"URLKeywords":null,"SortOrder":0,"ProductPageIDs":null,"FormValue":"bed-linen"},{"ProductTypeID":2,"Name":"Throw","NamePlural":null,"URLKeywords":null,"SortOrder":0,"ProductPageIDs":null,"FormValue":"throw"},{"ProductTypeID":35,"Name":"Furniture","NamePlural":null,"URLKeywords":null,"SortOrder":0,"ProductPageIDs":null,"FormValue":"furniture"}]},"TradeMember":false,"TradeAllowed":false,"CanViewRRPs":false,"LoginStatus":0,"UserName":null},"ProductPage":{"ScorePercent":0,"URL":"/eu/savoie-ocean-rug/p34976","URLSemantics":"savoie-ocean-rug","AttributeFormValues":null,"ProductType":null,"IsLifestyle":false,"ProductTypeFormValue":null,"ProductPageID":34976,"Heading":"Savoie Ocean Rug","SubHeading":null,"New":false,"ProductTypeID":0,"URLKeywords":null,"ImageID":127390,"ImageWidth":0,"ImageHeight":0,"AspectRatio":1.0,"MerchandisedSortOrder":null,"SearchSortOrder":null,"ColourSort":null,"StockSortOrder":0.0,"AZSortOrder":0,"SalesRank":0,"ReviewCount":0,"ReviewAverage":null,"RatingSortOrder":null,"PriceSortOrder":null,"DiscountSortOrder":null,"NewSort":null,"DesignID":null,"BrandID":0,"AlternateColourwayIncludeSize":false,"SizeMetric":null,"SizeImperial":null,"Code":null,"SortOrder":null,"Design":null,"ProductPagePrice":{"PriceMin":null,"PriceMax":null,"SalePriceMin":null,"SalePriceMax":null,"DiscountPercentageMin":null,"DiscountPercentageMax":null,"ClearanceDiscountPercentageMin":null,"ClearanceDiscountPercentageMax":null,"PriceMessageBase64":null,"DiscountMessageBase64":null,"RRPMessageBase64":null,"CodeMessageBase64":null},"DisplayParagraph":false,"DisplayRating":false,"ReviewStarsDisplayBase64":null,"DisplayRRPs":false},"UseLifestyleGalleryBehaviour":false,"ProductPageID":34976,"DisplayParagraph":false,"DisplayRating":false}],"AllProducts":[{"Solitary":true,"ProductBase":{"product":{"productId":195779,"sortOrder":50,"productTypeId":4,"templateId":3,"code":"CCDG1003","brand":"Designers Guild","gtin13":"5051001621621","name":"Brera Lino Verdigris & Apple Cushion","AKA":null,"size":"43 x 43cm","imageId":124318,"imageAltText":"Brera Lino Verdigris & Apple Cushion","imageTitleText":"Brera Lino Verdigris & Apple Cushion","rRPMessage":null,"rLRRP":"85 €","rLTradePrice":null,"displayPrice":null,"displaySalePrice":null,"priceMessage":null,"statusMessage":"Limited","urlSemantics":"brera-lino-verdigris-apple-linen-cushion","productPageId":34934,"url":"/eu/brera-lino-verdigris-apple-linen-cushion/p34934","itemAvailability":"LimitedAvailability","orderFormGroupId":null,"orderFormName":"Brera Lino Verdigris & Apple Cushion","attributes":null,"orderFormGroup":null,"orderFormProperties":[{"key":"Size","value":"43 x 43cm"},{"key":"Colour","value":"Verdigris & Apple"},{"key":"Code","value":"CCDG1003"}],"controls":{"allowOrder":false,"allowReserve":false,"allowReserveWithBatchSample":false,"allowSample":false,"allowLargeSample":false,"allowBackInStockReminder":false,"disableOrder":false,"disableSample":false},"stockMessage":{"productTypeID":4,"quantityMinimum":1.0,"quantityMaximum":1.0,"productTypeQuantityMaximum":null,"quantityIncrement":1.0,"reserveQuantityMaximum":1.0,"unit":"","allowStockCheck":false,"pieceBreakdownMinimum":null,"pieceBreakdownMaximum":null,"allowBackInStockReminder":false,"freeStock":1.0,"nextPOFreeStock":0.0,"nextPODueDate":null,"totalPOFreeStock":0.0,"basketQuantityThresholds":[{"minimum":0,"maximum":99999.99,"stockMessages":[{"stockMessage":"1 in stock","class":"","stockBreakdownTab":0}]}]},"orderButtonText":"Add to Basket","reserveButtonText":"Reserve","reserveWithBatchSampleButtonText":"Reserve with Batch Sample","sample":{"productId":null,"stockMessage":null,"orderButtonText":"Add to Basket","displayPrice":null,"displaySalePrice":null,"priceMessage":null},"largeSample":{"productId":null,"stockMessage":null,"orderButtonText":"Add to Basket","displayPrice":null,"displaySalePrice":null,"priceMessage":null}}},"Product":{"productId":195779,"sortOrder":50,"productTypeId":4,"templateId":3,"code":"CCDG1003","brand":"Designers Guild","gtin13":"5051001621621","name":"Brera Lino Verdigris & Apple Cushion","AKA":null,"size":"43 x 43cm","imageId":124318,"imageAltText":"Brera Lino Verdigris & Apple Cushion","imageTitleText":"Brera Lino Verdigris & Apple Cushion","rRPMessage":null,"rLRRP":"85 €","rLTradePrice":null,"displayPrice":null,"displaySalePrice":null,"priceMessage":null,"statusMessage":"Limited","urlSemantics":"brera-lino-verdigris-apple-linen-cushion","productPageId":34934,"url":"/eu/brera-lino-verdigris-apple-linen-cushion/p34934","itemAvailability":"LimitedAvailability","orderFormGroupId":null,"orderFormName":"Brera Lino Verdigris & Apple Cushion","attributes":null,"orderFormGroup":null,"orderFormProperties":[{"key":"Size","value":"43 x 43cm"},{"key":"Colour","value":"Verdigris & Apple"},{"key":"Code","value":"CCDG1003"}],"controls":{"allowOrder":false,"allowReserve":false,"allowReserveWithBatchSample":false,"allowSample":false,"allowLargeSample":false,"allowBackInStockReminder":false,"disableOrder":false,"disableSample":false},"stockMessage":{"productTypeID":4,"quantityMinimum":1.0,"quantityMaximum":1.0,"productTypeQuantityMaximum":null,"quantityIncrement":1.0,"reserveQuantityMaximum":1.0,"unit":"","allowStockCheck":false,"pieceBreakdownMinimum":null,"pieceBreakdownMaximum":null,"allowBackInStockReminder":false,"freeStock":1.0,"nextPOFreeStock":0.0,"nextPODueDate":null,"totalPOFreeStock":0.0,"basketQuantityThresholds":[{"minimum":0,"maximum":99999.99,"stockMessages":[{"stockMessage":"1 in stock","class":"","stockBreakdownTab":0}]}]},"orderButtonText":"Add to Basket","reserveButtonText":"Reserve","reserveWithBatchSampleButtonText":"Reserve with Batch Sample","sample":{"productId":null,"stockMessage":null,"orderButtonText":"Add to Basket","displayPrice":null,"displaySalePrice":null,"priceMessage":null},"largeSample":{"productId":null,"stockMessage":null,"orderButtonText":"Add to Basket","displayPrice":null,"displaySalePrice":null,"priceMessage":null}},"Carousel":{"CarouselID":"#product-195779-carsouel","WrapperCSSClass":null,"AspectRatio":1.0,"Heading":"Brera Lino Verdigris & Apple Cushion","Images":[{"ImageID":124318,"SortOrder":0,"AltText":"Brera Lino Verdigris & Apple Cushion","Overlay":null,"MaxWidth":null,"ApproximateImageSize":5}],"ApproximateImageSize":5,"DisplayThumbnails":false,"DisplayDashes":true,"Interval":null,"PermitLargeImageModal":true},"ProductID":195779,"ProductTypeID":4,"ProductPageID":34934,"ProductCode":"CCDG1003","Brand":"Designers Guild","OrderFormID":"#product-195779","OrderFormCarouselID":"#product-195779-slide","OrderFormGroupID":null,"OrderFormGroup":null,"Size":"43 x 43cm","OrderFormName":"Brera Lino Verdigris & Apple Cushion","BasketName":"Brera Lino Verdigris & Apple Cushion","SortOrder":50,"Attributes":null,"Image":{"imageId":124318,"templateImageId":2,"altText":"Brera Lino Verdigris & Apple Cushion","titleText":"Brera Lino Verdigris & Apple Cushion","sortOrder":0,"maxWidth":488},"OrderFormProperties":[{"Key":"Size","Value":"43 x 43cm"},{"Key":"Colour","Value":"Verdigris & Apple"},{"Key":"Code","Value":"CCDG1003"}],"AllowSample":false,"AllowLargeSample":false,"AllowOrder":false,"AllowReserve":false,"AllowReserveWithBatchCutting":false,"ClientProductViewModels":"","URLKeywords":"brera-lino-verdigris-apple-linen-cushion","ImageLinkToProductPage":false,"IsLifestyle":false}],"OrderFormGroups":[{"OrderFormGroupID":null,"Name":null,"UseSizeButtons":false,"Items":[{"Solitary":true,"ProductBase":{"product":{"productId":195779,"sortOrder":50,"productTypeId":4,"templateId":3,"code":"CCDG1003","brand":"Designers Guild","gtin13":"5051001621621","name":"Brera Lino Verdigris & Apple Cushion","AKA":null,"size":"43 x 43cm","imageId":124318,"imageAltText":"Brera Lino Verdigris & Apple Cushion","imageTitleText":"Brera Lino Verdigris & Apple Cushion","rRPMessage":null,"rLRRP":"85 €","rLTradePrice":null,"displayPrice":null,"displaySalePrice":null,"priceMessage":null,"statusMessage":"Limited","urlSemantics":"brera-lino-verdigris-apple-linen-cushion","productPageId":34934,"url":"/eu/brera-lino-verdigris-apple-linen-cushion/p34934","itemAvailability":"LimitedAvailability","orderFormGroupId":null,"orderFormName":"Brera Lino Verdigris & Apple Cushion","attributes":null,"orderFormGroup":null,"orderFormProperties":[{"key":"Size","value":"43 x 43cm"},{"key":"Colour","value":"Verdigris & Apple"},{"key":"Code","value":"CCDG1003"}],"controls":{"allowOrder":false,"allowReserve":false,"allowReserveWithBatchSample":false,"allowSample":false,"allowLargeSample":false,"allowBackInStockReminder":false,"disableOrder":false,"disableSample":false},"stockMessage":{"productTypeID":4,"quantityMinimum":1.0,"quantityMaximum":1.0,"productTypeQuantityMaximum":null,"quantityIncrement":1.0,"reserveQuantityMaximum":1.0,"unit":"","allowStockCheck":false,"pieceBreakdownMinimum":null,"pieceBreakdownMaximum":null,"allowBackInStockReminder":false,"freeStock":1.0,"nextPOFreeStock":0.0,"nextPODueDate":null,"totalPOFreeStock":0.0,"basketQuantityThresholds":[{"minimum":0,"maximum":99999.99,"stockMessages":[{"stockMessage":"1 in stock","class":"","stockBreakdownTab":0}]}]},"orderButtonText":"Add to Basket","reserveButtonText":"Reserve","reserveWithBatchSampleButtonText":"Reserve with Batch Sample","sample":{"productId":null,"stockMessage":null,"orderButtonText":"Add to Basket","displayPrice":null,"displaySalePrice":null,"priceMessage":null},"largeSample":{"productId":null,"stockMessage":null,"orderButtonText":"Add to Basket","displayPrice":null,"displaySalePrice":null,"priceMessage":null}}},"Product":{"productId":195779,"sortOrder":50,"productTypeId":4,"templateId":3,"code":"CCDG1003","brand":"Designers Guild","gtin13":"5051001621621","name":"Brera Lino Verdigris & Apple Cushion","AKA":null,"size":"43 x 43cm","imageId":124318,"imageAltText":"Brera Lino Verdigris & Apple Cushion","imageTitleText":"Brera Lino Verdigris & Apple Cushion","rRPMessage":null,"rLRRP":"85 €","rLTradePrice":null,"displayPrice":null,"displaySalePrice":null,"priceMessage":null,"statusMessage":"Limited","urlSemantics":"brera-lino-verdigris-apple-linen-cushion","productPageId":34934,"url":"/eu/brera-lino-verdigris-apple-linen-cushion/p34934","itemAvailability":"LimitedAvailability","orderFormGroupId":null,"orderFormName":"Brera Lino Verdigris & Apple Cushion","attributes":null,"orderFormGroup":null,"orderFormProperties":[{"key":"Size","value":"43 x 43cm"},{"key":"Colour","value":"Verdigris & Apple"},{"key":"Code","value":"CCDG1003"}],"controls":{"allowOrder":false,"allowReserve":false,"allowReserveWithBatchSample":false,"allowSample":false,"allowLargeSample":false,"allowBackInStockReminder":false,"disableOrder":false,"disableSample":false},"stockMessage":{"productTypeID":4,"quantityMinimum":1.0,"quantityMaximum":1.0,"productTypeQuantityMaximum":null,"quantityIncrement":1.0,"reserveQuantityMaximum":1.0,"unit":"","allowStockCheck":false,"pieceBreakdownMinimum":null,"pieceBreakdownMaximum":null,"allowBackInStockReminder":false,"freeStock":1.0,"nextPOFreeStock":0.0,"nextPODueDate":null,"totalPOFreeStock":0.0,"basketQuantityThresholds":[{"minimum":0,"maximum":99999.99,"stockMessages":[{"stockMessage":"1 in stock","class":"","stockBreakdownTab":0}]}]},"orderButtonText":"Add to Basket","reserveButtonText":"Reserve","reserveWithBatchSampleButtonText":"Reserve with Batch Sample","sample":{"productId":null,"stockMessage":null,"orderButtonText":"Add to Basket","displayPrice":null,"displaySalePrice":null,"priceMessage":null},"largeSample":{"productId":null,"stockMessage":null,"orderButtonText":"Add to Basket","displayPrice":null,"displaySalePrice":null,"priceMessage":null}},"Carousel":{"CarouselID":"#product-195779-carsouel","WrapperCSSClass":null,"AspectRatio":1.0,"Heading":"Brera Lino Verdigris & Apple Cushion","Images":[{"ImageID":124318,"SortOrder":0,"AltText":"Brera Lino Verdigris & Apple Cushion","Overlay":null,"MaxWidth":null,"ApproximateImageSize":5}],"ApproximateImageSize":5,"DisplayThumbnails":false,"DisplayDashes":true,"Interval":null,"PermitLargeImageModal":true},"ProductID":195779,"ProductTypeID":4,"ProductPageID":34934,"ProductCode":"CCDG1003","Brand":"Designers Guild","OrderFormID":"#product-195779","OrderFormCarouselID":"#product-195779-slide","OrderFormGroupID":null,"OrderFormGroup":null,"Size":"43 x 43cm","OrderFormName":"Brera Lino Verdigris & Apple Cushion","BasketName":"Brera Lino Verdigris & Apple Cushion","SortOrder":50,"Attributes":null,"Image":{"imageId":124318,"templateImageId":2,"altText":"Brera Lino Verdigris & Apple Cushion","titleText":"Brera Lino Verdigris & Apple Cushion","sortOrder":0,"maxWidth":488},"OrderFormProperties":[{"Key":"Size","Value":"43 x 43cm"},{"Key":"Colour","Value":"Verdigris & Apple"},{"Key":"Code","Value":"CCDG1003"}],"AllowSample":false,"AllowLargeSample":false,"AllowOrder":false,"AllowReserve":false,"AllowReserveWithBatchCutting":false,"ClientProductViewModels":"","URLKeywords":"brera-lino-verdigris-apple-linen-cushion","ImageLinkToProductPage":false,"IsLifestyle":false}],"MasterDefinition":{"SiteSectionID":null,"TitleTag":"Brera Lino Verdigris & Apple Linen Cushion | Designers Guild","MetaDescription":"Two tones of Brera Lino pure linen feature in this contemporary square cushion in verdigris, reversing to apple with unique double seams. Finished with a t","BackInStockReminder":null,"ItemsInBasket":0.0,"UrlBreakdown":{"ContentType":1,"ContentId":34934,"ContentDate":"2022-12-02T00:00:00","SemanticString":"brera-lino-verdigris-apple-linen-cushion","countryDetails":{"CountryLanguageID":21,"RegionID":3,"CountryID":67,"CountryCode":"EE","LanguageID":1,"SortOrder":255,"Name":"Europe","URL":"eu","DotNetCulture":"et-EE","ShopEnabled":true,"LanguageCode":"en","LanguageDotNetCulture":"en-GB","MertexCurrencyCode":"EUR","CurrencyCode":"EUR","PriceListID":19,"AllowTradeOrders":true,"AcceptAmazonPay":false,"BuyOnlineRedirectAllowed":false,"EcommerceEnabled":false,"SamplesEnabled":true},"contentTypeAndIdNotFound":false,"CountryAwareness":{"Match":false,"Culture":"us","objCountryItem":{"CountryLanguageID":5,"RegionID":2,"CountryID":238,"CountryCode":null,"LanguageID":2,"SortOrder":1,"Name":"United States","URL":"us","DotNetCulture":"en-US","ShopEnabled":true,"LanguageCode":"us","LanguageDotNetCulture":"en-US","MertexCurrencyCode":"USD","CurrencyCode":"USD","PriceListID":2,"AllowTradeOrders":false,"AcceptAmazonPay":true,"BuyOnlineRedirectAllowed":false,"EcommerceEnabled":false,"SamplesEnabled":false}},"GeoIPCulture":null},"GoogleHrefs":[{"hreflang":"de","href":"https://www.designersguild.com/de/brera-lino-verdigris-apple-linen-cushion/p34934"},{"hreflang":"fr","href":"https://www.designersguild.com/fr/brera-lino-verdigris-apple-linen-cushion/p34934"},{"hreflang":"en-gb","href":"https://www.designersguild.com/uk/brera-lino-verdigris-apple-linen-cushion/p34934"},{"hreflang":"en-se","href":"https://www.designersguild.com/se/brera-lino-verdigris-apple-linen-cushion/p34934"},{"hreflang":"en-us","href":"https://www.designersguild.com/us/brera-lino-verdigris-apple-linen-cushion/p34934"},{"hreflang":"es","href":"https://www.designersguild.com/es/brera-lino-verdigris-apple-linen-cushion/p34934"},{"hreflang":"it-it","href":"https://www.designersguild.com/it/brera-lino-verdigris-apple-linen-cushion/p34934"},{"hreflang":"en-nl","href":"https://www.designersguild.com/nl/brera-lino-verdigris-apple-linen-cushion/p34934"},{"hreflang":"ru","href":"https://www.designersguild.com/ru/brera-lino-verdigris-apple-linen-cushion/p34934"},{"hreflang":"ja-jp","href":"https://www.designersguild.com/jp/brera-lino-verdigris-apple-linen-cushion/p34934"},{"hreflang":"en-be","href":"https://www.designersguild.com/be/brera-lino-verdigris-apple-linen-cushion/p34934"},{"hreflang":"en-au","href":"https://www.designersguild.com/au/brera-lino-verdigris-apple-linen-cushion/p34934"},{"hreflang":"en-dk","href":"https://www.designersguild.com/dk/brera-lino-verdigris-apple-linen-cushion/p34934"},{"hreflang":"en-gr","href":"https://www.designersguild.com/eu/brera-lino-verdigris-apple-linen-cushion/p34934"},{"hreflang":"en-no","href":"https://www.designersguild.com/no/brera-lino-verdigris-apple-linen-cushion/p34934"},{"hreflang":"de-at","href":"https://www.designersguild.com/at/brera-lino-verdigris-apple-linen-cushion/p34934"},{"hreflang":"de-ch","href":"https://www.designersguild.com/de-ch/brera-lino-verdigris-apple-linen-cushion/p34934"},{"hreflang":"fr-ch","href":"https://www.designersguild.com/fr-ch/brera-lino-verdigris-apple-linen-cushion/p34934"},{"hreflang":"en","href":"https://www.designersguild.com/row/brera-lino-verdigris-apple-linen-cushion/p34934"},{"hreflang":"en-nz","href":"https://www.designersguild.com/nz/brera-lino-verdigris-apple-linen-cushion/p34934"},{"hreflang":"en-ie","href":"https://www.designersguild.com/ie/brera-lino-verdigris-apple-linen-cushion/p34934"},{"hreflang":"fi-fi","href":"https://www.designersguild.com/fi/brera-lino-verdigris-apple-linen-cushion/p34934"},{"hreflang":"x-default","href":"https://www.designersguild.com/brera-lino-verdigris-apple-linen-cushion/p34934"}],"CountryDropDown":{"countryDropDownItems":[{"CountryID":81,"Code":null,"LanguageID":1,"RegionID":3,"LanguageCode":"en","Country":"UK","Region":"Europe","URL":"uk","URLKeywords":"","SortOrder":1,"PageID":0},{"CountryID":15,"Code":null,"LanguageID":4,"RegionID":3,"LanguageCode":"de","Country":"Austria","Region":"Europe","URL":"at","URLKeywords":"","SortOrder":11,"PageID":0},{"CountryID":23,"Code":null,"LanguageID":1,"RegionID":3,"LanguageCode":"en","Country":"Belgium","Region":"Europe","URL":"be","URLKeywords":"","SortOrder":12,"PageID":0},{"CountryID":62,"Code":null,"LanguageID":1,"RegionID":3,"LanguageCode":"en","Country":"Denmark","Region":"Europe","URL":"dk","URLKeywords":"","SortOrder":13,"PageID":0},{"CountryID":74,"Code":null,"LanguageID":15,"RegionID":3,"LanguageCode":"fi","Country":"Finland","Region":"Europe","URL":"fi","URLKeywords":"","SortOrder":15,"PageID":0},{"CountryID":79,"Code":null,"LanguageID":3,"RegionID":3,"LanguageCode":"fr","Country":"France","Region":"Europe","URL":"fr","URLKeywords":"","SortOrder":16,"PageID":0},{"CountryID":60,"Code":null,"LanguageID":4,"RegionID":3,"LanguageCode":"de","Country":"Germany","Region":"Europe","URL":"de","URLKeywords":"","SortOrder":17,"PageID":0},{"CountryID":106,"Code":null,"LanguageID":1,"RegionID":3,"LanguageCode":"en","Country":"Ireland","Region":"Europe","URL":"ie","URLKeywords":"","SortOrder":18,"PageID":0},{"CountryID":114,"Code":null,"LanguageID":6,"RegionID":3,"LanguageCode":"it","Country":"Italy","Region":"Europe","URL":"it","URLKeywords":"","SortOrder":19,"PageID":0},{"CountryID":170,"Code":null,"LanguageID":13,"RegionID":3,"LanguageCode":"en","Country":"Netherlands","Region":"Europe","URL":"nl","URLKeywords":"","SortOrder":20,"PageID":0},{"CountryID":71,"Code":null,"LanguageID":5,"RegionID":3,"LanguageCode":"es","Country":"Spain","Region":"Europe","URL":"es","URLKeywords":"","SortOrder":23,"PageID":0},{"CountryID":202,"Code":null,"LanguageID":1,"RegionID":3,"LanguageCode":"en","Country":"Sweden","Region":"Europe","URL":"se","URLKeywords":"","SortOrder":24,"PageID":0},{"CountryID":171,"Code":null,"LanguageID":1,"RegionID":3,"LanguageCode":"en","Country":"Norway","Region":"Europe","URL":"no","URLKeywords":"","SortOrder":52,"PageID":0},{"CountryID":118,"Code":null,"LanguageID":11,"RegionID":4,"LanguageCode":"jp","Country":"Nihon","Region":"Africa, Asia & the Middle East","URL":"jp","URLKeywords":"","SortOrder":71,"PageID":0},{"CountryID":46,"Code":null,"LanguageID":3,"RegionID":3,"LanguageCode":"fr","Country":"Switzerland","Region":"Europe","URL":"fr-ch","URLKeywords":"","SortOrder":102,"PageID":0},{"CountryID":46,"Code":null,"LanguageID":4,"RegionID":3,"LanguageCode":"de","Country":"Switzerland","Region":"Europe","URL":"de-ch","URLKeywords":"","SortOrder":103,"PageID":0},{"CountryID":196,"Code":null,"LanguageID":10,"RegionID":3,"LanguageCode":"ru","Country":"Russian Federation","Region":"Europe","URL":"ru","URLKeywords":"","SortOrder":109,"PageID":0},{"CountryID":238,"Code":null,"LanguageID":2,"RegionID":2,"LanguageCode":"us","Country":"United States","Region":"North America","URL":"us","URLKeywords":"","SortOrder":125,"PageID":0},{"CountryID":16,"Code":null,"LanguageID":12,"RegionID":6,"LanguageCode":"au","Country":"Australia","Region":"Australasia","URL":"au","URLKeywords":"","SortOrder":150,"PageID":0},{"CountryID":175,"Code":null,"LanguageID":18,"RegionID":6,"LanguageCode":"nz","Country":"New Zealand","Region":"Australasia","URL":"nz","URLKeywords":"","SortOrder":151,"PageID":0},{"CountryID":67,"Code":null,"LanguageID":1,"RegionID":3,"LanguageCode":"en","Country":"Other Countries in Europe","Region":"Europe","URL":"eu","URLKeywords":"","SortOrder":255,"PageID":0},{"CountryID":51,"Code":null,"LanguageID":1,"RegionID":4,"LanguageCode":"en","Country":"Rest of the World","Region":"Africa, Asia & the Middle East","URL":"row","URLKeywords":"","SortOrder":255,"PageID":0}]},"ProductTypeDropDown":{"ProductTypes":[{"ProductTypeID":15,"Name":"Fabric","NamePlural":null,"URLKeywords":null,"SortOrder":0,"ProductPageIDs":null,"FormValue":"fabric"},{"ProductTypeID":18,"Name":"Wallpaper","NamePlural":null,"URLKeywords":null,"SortOrder":0,"ProductPageIDs":null,"FormValue":"wallpaper"},{"ProductTypeID":8,"Name":"Paint","NamePlural":null,"URLKeywords":null,"SortOrder":0,"ProductPageIDs":null,"FormValue":"paint"},{"ProductTypeID":10,"Name":"Rug","NamePlural":null,"URLKeywords":null,"SortOrder":0,"ProductPageIDs":null,"FormValue":"rug"},{"ProductTypeID":4,"Name":"Cushion","NamePlural":null,"URLKeywords":null,"SortOrder":0,"ProductPageIDs":null,"FormValue":"cushion"},{"ProductTypeID":1,"Name":"Bed Linen","NamePlural":null,"URLKeywords":null,"SortOrder":0,"ProductPageIDs":null,"FormValue":"bed-linen"},{"ProductTypeID":2,"Name":"Throw","NamePlural":null,"URLKeywords":null,"SortOrder":0,"ProductPageIDs":null,"FormValue":"throw"},{"ProductTypeID":35,"Name":"Furniture","NamePlural":null,"URLKeywords":null,"SortOrder":0,"ProductPageIDs":null,"FormValue":"furniture"}]},"TradeMember":false,"TradeAllowed":false,"CanViewRRPs":false,"LoginStatus":0,"UserName":null},"ParentProductPageProductTypeID":0,"SortOrder":50,"OrderFormCarouselID":"order-form-group--carousel"}],"AlternateColourways":[{"productPageId":21857,"code":"CCDG1003","heading":"Brera Lino Alabaster Linen Cushion","imageId":149017,"url":"/eu/cushion/designers-guild/brera-lino-alabaster-plain-white-linen-cushion/p21857","urlSemantics":"cushion/designers-guild/brera-lino-alabaster-plain-white-linen-cushion"},{"productPageId":39195,"code":"CCDG1003","heading":"Brera Lino Indian Ocean & Teal Linen Cushion","imageId":147195,"url":"/eu/brera-lino-indian-ocean-teal-linen-cushion/p39195","urlSemantics":"brera-lino-indian-ocean-teal-linen-cushion"},{"productPageId":39196,"code":"CCDG1003","heading":"Brera Lino Midnight & Chambray Linen Cushion","imageId":147210,"url":"/eu/brera-lino-midnight-chambray-linen-cushion/p39196","urlSemantics":"brera-lino-midnight-chambray-linen-cushion"},{"productPageId":39197,"code":"CCDG1003","heading":"Brera Lino Brick & Turmeric Linen Cushion","imageId":147197,"url":"/eu/brera-lino-brick-turmeric-linen-cushion/p39197","urlSemantics":"brera-lino-brick-turmeric-linen-cushion"},{"productPageId":36108,"code":"CCDG1003","heading":"Brera Lino Cameo & Parchment Linen Cushion","imageId":148999,"url":"/eu/brera-lino-cameo-parchment-cushion/p36108","urlSemantics":"brera-lino-cameo-parchment-cushion"},{"productPageId":37849,"code":"CCDG1003","heading":"Brera Lino Lagoon & Porcelain Linen Cushion","imageId":149003,"url":"/eu/brera-lino-lagoon-porcelain-linen-cushion/p37849","urlSemantics":"brera-lino-lagoon-porcelain-linen-cushion"},{"productPageId":36520,"code":"CCDG1003","heading":"Brera Lino Ivy & Jade Linen Cushion","imageId":148997,"url":"/eu/brera-lino-ivy-jade-linen-cushion/p36520","urlSemantics":"brera-lino-ivy-jade-linen-cushion"},{"productPageId":37847,"code":"CCDG1003","heading":"Brera Lino Emerald & Capri Linen Cushion","imageId":149002,"url":"/eu/brera-lino-emerald-capri-linen-cushion/p37847","urlSemantics":"brera-lino-emerald-capri-linen-cushion"},{"productPageId":37851,"code":"CCDG1003","heading":"Brera Lino Lime & Moss Linen Cushion","imageId":148998,"url":"/eu/brera-lino-lime-moss-linen-cushion/p37851","urlSemantics":"brera-lino-lime-moss-linen-cushion"},{"productPageId":37901,"code":"CCDG1003","heading":"Brera Lino Mango & Maize Linen Cushion","imageId":149000,"url":"/eu/brera-lino-mango-maize-cushion/p37901","urlSemantics":"brera-lino-mango-maize-cushion"},{"productPageId":37850,"code":"CCDG1003","heading":"Brera Lino Nasturtium & Papaya Linen Cushion","imageId":149001,"url":"/eu/brera-lino-nasturtium-papaya-linen-cushion/p37850","urlSemantics":"brera-lino-nasturtium-papaya-linen-cushion"},{"productPageId":35606,"code":"CCDG1003","heading":"Brera Lino Rosewood & Azalea Linen Cushion","imageId":129294,"url":"/eu/brera-lino-rosewood-azalea-cushion/p35606","urlSemantics":"brera-lino-rosewood-azalea-cushion"},{"productPageId":37848,"code":"CCDG1003","heading":"Brera Lino Hibiscus & Peach Linen Cushion","imageId":149004,"url":"/eu/brera-lino-hibiscus-peach-linen-cushion/p37848","urlSemantics":"brera-lino-hibiscus-peach-linen-cushion"},{"productPageId":34934,"code":"CCDG1003","heading":"Brera Lino Verdigris & Apple Linen Cushion","imageId":124318,"url":"/eu/brera-lino-verdigris-apple-linen-cushion/p34934","urlSemantics":"brera-lino-verdigris-apple-linen-cushion"},{"productPageId":34111,"code":"CCDG1003","heading":"Brera Lino Cassis Linen Cushion","imageId":119735,"url":"/eu/brera-lino-cassis-purple-plain-linen-cushion/p34111","urlSemantics":"brera-lino-cassis-purple-plain-linen-cushion"},{"productPageId":35604,"code":"CCDG1003","heading":"Brera Lino Espresso & Cocoa Linen Cushion","imageId":130535,"url":"/eu/brera-lino-espresso-cocoa-cushion/p35604","urlSemantics":"brera-lino-espresso-cocoa-cushion"},{"productPageId":33837,"code":"CCDG1003","heading":"Brera Lino Straw Cushion","imageId":114219,"url":"/eu/brera-lino-straw-plain-linen-cushion/p33837","urlSemantics":"brera-lino-straw-plain-linen-cushion"},{"productPageId":21861,"code":"CCDG1003","heading":"Brera Lino Pale Rose Cushion","imageId":58926,"url":"/eu/cushion/designers-guild/brera-lino-pale-rose-cushion/p21861","urlSemantics":"cushion/designers-guild/brera-lino-pale-rose-cushion"},{"productPageId":36106,"code":"CCDG1003","heading":"Brera Lino Coral & Putty Linen Cushion","imageId":135433,"url":"/eu/brera-lino-coral-putty-cushion/p36106","urlSemantics":"brera-lino-coral-putty-cushion"},{"productPageId":25353,"code":"CCDG1003","heading":"Brera Lino Cinnamon Cushion","imageId":92987,"url":"/eu/brera-lino-cinnamon-plain-linen-cushion/p25353","urlSemantics":"brera-lino-cinnamon-plain-linen-cushion"}],"ProductPagePrice":{"priceMin":null,"priceMax":null,"salePriceMin":null,"salePriceMax":null,"discountPercentageMin":null,"discountPercentageMax":null,"clearanceDiscountPercentageMin":null,"clearanceDiscountPercentageMax":null,"discountMessage":null,"priceMessage":null,"rRPMessage":null,"codeMessage":null},"Reviews":[],"TechInfoCollections":[],"TechInfoAftercares":[],"TechInfoUsages":[],"TechInfoTests":[],"Width":"0 cm","Weight":null,"HorizontalPatternRepeat":null,"VerticalPatternRepeat":null,"Martindale":null,"Composition":"100% Li","PatternMatch":null,"Flamcode":null,"ContractFR":null,"DomesticFR":null,"Type":null,"AdditionalInfo":null,"RollLength":null,"PileHeight":null,"WideWidthFabricDefaultPoleWidth":null,"MaxFoldLength":null,"TechInfoDisplayBase64":"PGR0PkNvbXBvc2l0aW9uPC9kdD48ZGQ+MTAwJSBMaTwvZGQ+","IsShop":true,"IsLifestyle":false,"NoFollow":false,"NoIndex":false,"CustomCanonical":null,"AttributeFilterText":null,"UserInCorrectSite":false,"CountryCorrectorDismissed":false,"CorrectSitesForUser":[{"CountryLanguageID":5,"RegionID":2,"CountryID":238,"CountryCode":"US","LanguageID":2,"SortOrder":125,"Name":"United States","URL":"us","DotNetCulture":"en-US","ShopEnabled":true,"LanguageCode":"us","LanguageDotNetCulture":"en-US","MertexCurrencyCode":"USD","CurrencyCode":"USD","PriceListID":2,"AllowTradeOrders":false,"AcceptAmazonPay":true,"BuyOnlineRedirectAllowed":false,"EcommerceEnabled":true,"SamplesEnabled":false}],"PrefetchedResources":[],"PrefetchedSnippets":[],"HeaderBanners":[],"HasHeaderBanners":false,"FooterBanners":[],"HasFooterBanners":false,"EcommercePopupBanners":[],"HasEcommercePopupBanners":false,"Banners":[{"id":12,"name":"One","banners":[{"bannerId":6325,"name":"Christian Lacroix","version":11,"sortOrder":1,"overlayText":"","altText":"Christian Lacroix","titleText":"Christian Lacroix","width":1024,"height":394,"linkURL":"/eu/christian-lacroix/l1397","newWindow":false,"foregroundColour":"#000000","backgroundColour":"#ffffff","fontClass":"default-text","restrictions":{"menuIds":[11,45,72,91,108],"siteSectionIds":null,"pageIds":null}},{"bannerId":4116,"name":"Lookbooks 12 (Inspiration)","version":6,"sortOrder":2,"overlayText":"","altText":null,"titleText":null,"width":342,"height":320,"linkURL":"/eu/lookbooks/l1179","newWindow":false,"foregroundColour":"#000000","backgroundColour":"#ffffff","fontClass":null,"restrictions":{"menuIds":[12,66,106],"siteSectionIds":null,"pageIds":null}}]},{"id":13,"name":"Two","banners":[{"bannerId":7098,"name":"Ralph Lauren New","version":10,"sortOrder":1,"overlayText":"","altText":"Ralph Lauren","titleText":"Ralph Lauren","width":1024,"height":394,"linkURL":"/eu/ralph-lauren/l1398","newWindow":false,"foregroundColour":"#000000","backgroundColour":"#ffffff","fontClass":"default-text","restrictions":{"menuIds":[45,72,91,108],"siteSectionIds":null,"pageIds":null}},{"bannerId":5320,"name":"Films 13 (Inspiration)","version":9,"sortOrder":2,"overlayText":"","altText":null,"titleText":null,"width":1024,"height":958,"linkURL":"/eu/films/l1180","newWindow":false,"foregroundColour":"#000000","backgroundColour":"#ffffff","fontClass":null,"restrictions":{"menuIds":[12,66,106],"siteSectionIds":null,"pageIds":null}},{"bannerId":1975,"name":"Global 13 Furniture","version":15,"sortOrder":4,"overlayText":"#YOURSOFAYOURWAY > ","altText":"#YOURSOFAYOURWAY > ","titleText":"#YOURSOFAYOURWAY > ","width":256,"height":224,"linkURL":"/eu/furniture/your-sofa-your-way/l1467","newWindow":false,"foregroundColour":"#000000","backgroundColour":"#ffffff","fontClass":"under-menu-banner-C1","restrictions":{"menuIds":[3,41],"siteSectionIds":null,"pageIds":null}}]},{"id":14,"name":"Three","banners":[{"bannerId":4114,"name":"Blog 14 (Inspiration)","version":3,"sortOrder":1,"overlayText":"","altText":null,"titleText":null,"width":1024,"height":958,"linkURL":"/eu/dg-world/blog/l601","newWindow":false,"foregroundColour":"#000000","backgroundColour":"#ffffff","fontClass":null,"restrictions":{"menuIds":[12,66,106],"siteSectionIds":null,"pageIds":null}},{"bannerId":1809,"name":"Royal Collection","version":11,"sortOrder":2,"overlayText":"","altText":"Royal Collection","titleText":"Royal Collection","width":1024,"height":394,"linkURL":"/eu/the-royal-collection/l1396","newWindow":false,"foregroundColour":"#000000","backgroundColour":"#ffffff","fontClass":"default-text","restrictions":{"menuIds":[45,72,91,108],"siteSectionIds":null,"pageIds":null}}]},{"id":15,"name":"Four","banners":[{"bannerId":4115,"name":"News & Events 15 (Inspiration)","version":4,"sortOrder":1,"overlayText":"","altText":null,"titleText":null,"width":1024,"height":958,"linkURL":"/eu/dg-world/news-and-events/l602","newWindow":false,"foregroundColour":"#000000","backgroundColour":"#ffffff","fontClass":"default-text-bold text-banner-center","restrictions":{"menuIds":[12,66,106],"siteSectionIds":null,"pageIds":null}},{"bannerId":1805,"name":"William Yeoward","version":10,"sortOrder":2,"overlayText":"","altText":"William Yeoward","titleText":"William Yeoward","width":1024,"height":394,"linkURL":"/eu/william-yeoward/l1399","newWindow":false,"foregroundColour":"#000000","backgroundColour":"#ffffff","fontClass":"default-text","restrictions":{"menuIds":[11,45,72,91,108],"siteSectionIds":null,"pageIds":null}}]},{"id":16,"name":"Five","banners":[{"bannerId":7779,"name":"Brands English Heritage ","version":79,"sortOrder":1,"overlayText":"","altText":"English Heritage ","titleText":"English Heritage ","width":1024,"height":394,"linkURL":"/eu/english-heritage-by-designers-guild/l1852","newWindow":false,"foregroundColour":"#000000","backgroundColour":"#ffffff","fontClass":null,"restrictions":{"menuIds":[11,45,72,91,103,108],"siteSectionIds":null,"pageIds":null}},{"bannerId":4118,"name":"Social Media 16 (Inspiration)","version":6,"sortOrder":2,"overlayText":"","altText":null,"titleText":null,"width":1024,"height":958,"linkURL":"/eu/dg-world/dgyourspace/a26","newWindow":false,"foregroundColour":"#000000","backgroundColour":"#ffffff","fontClass":null,"restrictions":{"menuIds":[12,66,106],"siteSectionIds":null,"pageIds":null}}]},{"id":17,"name":"Six","banners":[{"bannerId":4113,"name":"About Us 17 (Inspiration)","version":3,"sortOrder":1,"overlayText":"","altText":null,"titleText":null,"width":1024,"height":958,"linkURL":"/eu/company-profile/l1004","newWindow":false,"foregroundColour":"#000000","backgroundColour":"#ffffff","fontClass":null,"restrictions":{"menuIds":[12,66,106],"siteSectionIds":null,"pageIds":null}},{"bannerId":2117,"name":"John Derian","version":18,"sortOrder":2,"overlayText":"","altText":"John Derian","titleText":"John Derian","width":1024,"height":394,"linkURL":"/eu/john-derian/l1521","newWindow":false,"foregroundColour":"#000000","backgroundColour":"#ffffff","fontClass":"default-text","restrictions":{"menuIds":[45,72,91,108],"siteSectionIds":null,"pageIds":null}}]}],"Hotspots":[{"ImageID":124429,"Hotspots":[{"X":11.947323371423,"x":"calc(11.9473% - 12.5px)","Y":13.1468399430735,"y":"calc(13.1468% - 12.5px)","OverlayPosition":"top-left","Product":{"Solitary":false,"ProductBase":{"x":11.94732337142305,"y":13.14683994307353,"product":{"productId":195821,"sortOrder":0,"productTypeId":18,"templateId":2,"code":"PDG1119/20","brand":"Designers Guild","gtin13":"5051001545002","name":"Chinon Sage","AKA":null,"size":null,"imageId":122845,"imageAltText":"Chinon Sage Cutting","imageTitleText":"Chinon Sage Cutting","rRPMessage":null,"rLRRP":"135 € per roll","rLTradePrice":null,"displayPrice":null,"displaySalePrice":null,"priceMessage":null,"statusMessage":null,"urlSemantics":"wallpaper/designers-guild/chinon-sage-wallpaper","productPageId":35312,"url":"/eu/wallpaper/designers-guild/chinon-sage-wallpaper/p35312","itemAvailability":"InStock","orderFormGroupId":null,"orderFormName":"Chinon Sage","attributes":null,"orderFormGroup":null,"orderFormProperties":[{"key":"Colour","value":"Sage"},{"key":"Code","value":"PDG1119/20"}],"controls":{"allowOrder":false,"allowReserve":false,"allowReserveWithBatchSample":false,"allowSample":true,"allowLargeSample":true,"allowBackInStockReminder":false,"disableOrder":false,"disableSample":false},"stockMessage":{"productTypeID":18,"quantityMinimum":1.0,"quantityMaximum":0.0,"productTypeQuantityMaximum":null,"quantityIncrement":1.0,"reserveQuantityMaximum":50.0,"unit":" roll(s)","allowStockCheck":false,"pieceBreakdownMinimum":null,"pieceBreakdownMaximum":null,"allowBackInStockReminder":false,"freeStock":140.0,"nextPOFreeStock":0.0,"nextPODueDate":null,"totalPOFreeStock":0.0,"basketQuantityThresholds":[{"minimum":0,"maximum":99999.99}]},"orderButtonText":"Add to Basket","reserveButtonText":"Reserve","reserveWithBatchSampleButtonText":"Reserve with Batch Sample","sample":{"productId":195818,"stockMessage":{"productTypeID":55,"quantityMinimum":1.0,"quantityMaximum":2.0,"productTypeQuantityMaximum":20.0,"quantityIncrement":1.0,"reserveQuantityMaximum":50.0,"unit":"","allowStockCheck":false,"pieceBreakdownMinimum":null,"pieceBreakdownMaximum":null,"allowBackInStockReminder":false,"freeStock":158.0,"nextPOFreeStock":99.0,"nextPODueDate":"2022-12-16","totalPOFreeStock":99.0,"basketQuantityThresholds":[{"minimum":0,"maximum":99999.99,"stockMessages":[{"stockMessage":"In stock","class":"","stockBreakdownTab":0}]}]},"orderButtonText":"Request a Sample","displayPrice":1.2,"displaySalePrice":null,"priceMessage":"1,20 €"},"largeSample":{"productId":195979,"stockMessage":{"productTypeID":56,"quantityMinimum":1.0,"quantityMaximum":98.0,"productTypeQuantityMaximum":null,"quantityIncrement":1.0,"reserveQuantityMaximum":50.0,"unit":"","allowStockCheck":false,"pieceBreakdownMinimum":null,"pieceBreakdownMaximum":null,"allowBackInStockReminder":false,"freeStock":98.0,"nextPOFreeStock":0.0,"nextPODueDate":null,"totalPOFreeStock":0.0,"basketQuantityThresholds":[{"minimum":0,"maximum":99999.99,"stockMessages":[{"stockMessage":"In stock","class":"","stockBreakdownTab":0}]}]},"orderButtonText":"Request a Large Sample","displayPrice":5.95,"displaySalePrice":null,"priceMessage":"5,95 €"}}},"Product":{"productId":195821,"sortOrder":0,"productTypeId":18,"templateId":2,"code":"PDG1119/20","brand":"Designers Guild","gtin13":"5051001545002","name":"Chinon Sage","AKA":null,"size":null,"imageId":122845,"imageAltText":"Chinon Sage Cutting","imageTitleText":"Chinon Sage Cutting","rRPMessage":null,"rLRRP":"135 € per roll","rLTradePrice":null,"displayPrice":null,"displaySalePrice":null,"priceMessage":null,"statusMessage":null,"urlSemantics":"wallpaper/designers-guild/chinon-sage-wallpaper","productPageId":35312,"url":"/eu/wallpaper/designers-guild/chinon-sage-wallpaper/p35312","itemAvailability":"InStock","orderFormGroupId":null,"orderFormName":"Chinon Sage","attributes":null,"orderFormGroup":null,"orderFormProperties":[{"key":"Colour","value":"Sage"},{"key":"Code","value":"PDG1119/20"}],"controls":{"allowOrder":false,"allowReserve":false,"allowReserveWithBatchSample":false,"allowSample":true,"allowLargeSample":true,"allowBackInStockReminder":false,"disableOrder":false,"disableSample":false},"stockMessage":{"productTypeID":18,"quantityMinimum":1.0,"quantityMaximum":0.0,"productTypeQuantityMaximum":null,"quantityIncrement":1.0,"reserveQuantityMaximum":50.0,"unit":" roll(s)","allowStockCheck":false,"pieceBreakdownMinimum":null,"pieceBreakdownMaximum":null,"allowBackInStockReminder":false,"freeStock":140.0,"nextPOFreeStock":0.0,"nextPODueDate":null,"totalPOFreeStock":0.0,"basketQuantityThresholds":[{"minimum":0,"maximum":99999.99}]},"orderButtonText":"Add to Basket","reserveButtonText":"Reserve","reserveWithBatchSampleButtonText":"Reserve with Batch Sample","sample":{"productId":195818,"stockMessage":{"productTypeID":55,"quantityMinimum":1.0,"quantityMaximum":2.0,"productTypeQuantityMaximum":20.0,"quantityIncrement":1.0,"reserveQuantityMaximum":50.0,"unit":"","allowStockCheck":false,"pieceBreakdownMinimum":null,"pieceBreakdownMaximum":null,"allowBackInStockReminder":false,"freeStock":158.0,"nextPOFreeStock":99.0,"nextPODueDate":"2022-12-16","totalPOFreeStock":99.0,"basketQuantityThresholds":[{"minimum":0,"maximum":99999.99,"stockMessages":[{"stockMessage":"In stock","class":"","stockBreakdownTab":0}]}]},"orderButtonText":"Request a Sample","displayPrice":1.2,"displaySalePrice":null,"priceMessage":"1,20 €"},"largeSample":{"productId":195979,"stockMessage":{"productTypeID":56,"quantityMinimum":1.0,"quantityMaximum":98.0,"productTypeQuantityMaximum":null,"quantityIncrement":1.0,"reserveQuantityMaximum":50.0,"unit":"","allowStockCheck":false,"pieceBreakdownMinimum":null,"pieceBreakdownMaximum":null,"allowBackInStockReminder":false,"freeStock":98.0,"nextPOFreeStock":0.0,"nextPODueDate":null,"totalPOFreeStock":0.0,"basketQuantityThresholds":[{"minimum":0,"maximum":99999.99,"stockMessages":[{"stockMessage":"In stock","class":"","stockBreakdownTab":0}]}]},"orderButtonText":"Request a Large Sample","displayPrice":5.95,"displaySalePrice":null,"priceMessage":"5,95 €"}},"Carousel":{"CarouselID":"#product-195821-carsouel","WrapperCSSClass":null,"AspectRatio":1.0,"Heading":"Chinon Sage","Images":[{"ImageID":122845,"SortOrder":0,"AltText":"Chinon Sage Cutting","Overlay":null,"MaxWidth":null,"ApproximateImageSize":5}],"ApproximateImageSize":2,"DisplayThumbnails":false,"DisplayDashes":true,"Interval":null,"PermitLargeImageModal":true},"ProductID":195821,"ProductTypeID":18,"ProductPageID":35312,"ProductCode":"PDG1119/20","Brand":"Designers Guild","OrderFormID":"#product-195821","OrderFormCarouselID":"#product-195821-slide","OrderFormGroupID":null,"OrderFormGroup":null,"Size":null,"OrderFormName":"Chinon Sage","BasketName":"Chinon Sage","SortOrder":0,"Attributes":null,"Image":{"imageId":122845,"templateImageId":2,"altText":"Chinon Sage Cutting","titleText":"Chinon Sage Cutting","sortOrder":0,"maxWidth":488},"OrderFormProperties":[{"Key":"Colour","Value":"Sage"},{"Key":"Code","Value":"PDG1119/20"}],"AllowSample":true,"AllowLargeSample":true,"AllowOrder":false,"AllowReserve":false,"AllowReserveWithBatchCutting":false,"ClientProductViewModels":"productViewModel(195818, 1), productViewModel(195979, 1)","URLKeywords":"wallpaper/designers-guild/chinon-sage-wallpaper","ImageLinkToProductPage":true,"IsLifestyle":false}},{"X":73.1518435500077,"x":"calc(73.1518% - 12.5px)","Y":11.8018194106842,"y":"calc(11.8018% - 12.5px)","OverlayPosition":"top-right","Product":{"Solitary":false,"ProductBase":{"x":73.1518435500077,"y":11.801819410684169,"product":{"productId":195807,"sortOrder":0,"productTypeId":18,"templateId":2,"code":"PDG1122/02","brand":"Designers Guild","gtin13":"5051001487821","name":"Parterre Emerald","AKA":null,"size":null,"imageId":122788,"imageAltText":"Parterre Emerald Large Sample","imageTitleText":"Parterre Emerald Cutting","rRPMessage":null,"rLRRP":"185 € per roll","rLTradePrice":null,"displayPrice":null,"displaySalePrice":null,"priceMessage":null,"statusMessage":null,"urlSemantics":"wallpaper/designers-guild/parterre-emerald-wallpaper","productPageId":35340,"url":"/eu/wallpaper/designers-guild/parterre-emerald-wallpaper/p35340","itemAvailability":"LimitedAvailability","orderFormGroupId":null,"orderFormName":"Parterre Emerald","attributes":null,"orderFormGroup":null,"orderFormProperties":[{"key":"Colour","value":"Emerald"},{"key":"Code","value":"PDG1122/02"}],"controls":{"allowOrder":false,"allowReserve":false,"allowReserveWithBatchSample":false,"allowSample":true,"allowLargeSample":true,"allowBackInStockReminder":false,"disableOrder":false,"disableSample":false},"stockMessage":{"productTypeID":18,"quantityMinimum":1.0,"quantityMaximum":0.0,"productTypeQuantityMaximum":null,"quantityIncrement":1.0,"reserveQuantityMaximum":6.0,"unit":" roll(s)","allowStockCheck":false,"pieceBreakdownMinimum":null,"pieceBreakdownMaximum":null,"allowBackInStockReminder":false,"freeStock":6.0,"nextPOFreeStock":0.0,"nextPODueDate":null,"totalPOFreeStock":0.0,"basketQuantityThresholds":[{"minimum":0,"maximum":99999.99}]},"orderButtonText":"Add to Basket","reserveButtonText":"Reserve","reserveWithBatchSampleButtonText":"Reserve with Batch Sample","sample":{"productId":195871,"stockMessage":{"productTypeID":55,"quantityMinimum":1.0,"quantityMaximum":2.0,"productTypeQuantityMaximum":20.0,"quantityIncrement":1.0,"reserveQuantityMaximum":50.0,"unit":"","allowStockCheck":false,"pieceBreakdownMinimum":null,"pieceBreakdownMaximum":null,"allowBackInStockReminder":false,"freeStock":58.0,"nextPOFreeStock":60.0,"nextPODueDate":"2022-12-16","totalPOFreeStock":60.0,"basketQuantityThresholds":[{"minimum":0,"maximum":99999.99,"stockMessages":[{"stockMessage":"In stock","class":"","stockBreakdownTab":0}]}]},"orderButtonText":"Request a Sample","displayPrice":1.2,"displaySalePrice":null,"priceMessage":"1,20 €"},"largeSample":{"productId":195802,"stockMessage":{"productTypeID":56,"quantityMinimum":1.0,"quantityMaximum":87.0,"productTypeQuantityMaximum":null,"quantityIncrement":1.0,"reserveQuantityMaximum":50.0,"unit":"","allowStockCheck":false,"pieceBreakdownMinimum":null,"pieceBreakdownMaximum":null,"allowBackInStockReminder":false,"freeStock":87.0,"nextPOFreeStock":0.0,"nextPODueDate":null,"totalPOFreeStock":0.0,"basketQuantityThresholds":[{"minimum":0,"maximum":99999.99,"stockMessages":[{"stockMessage":"In stock","class":"","stockBreakdownTab":0}]}]},"orderButtonText":"Request a Large Sample","displayPrice":5.95,"displaySalePrice":null,"priceMessage":"5,95 €"}}},"Product":{"productId":195807,"sortOrder":0,"productTypeId":18,"templateId":2,"code":"PDG1122/02","brand":"Designers Guild","gtin13":"5051001487821","name":"Parterre Emerald","AKA":null,"size":null,"imageId":122788,"imageAltText":"Parterre Emerald Large Sample","imageTitleText":"Parterre Emerald Cutting","rRPMessage":null,"rLRRP":"185 € per roll","rLTradePrice":null,"displayPrice":null,"displaySalePrice":null,"priceMessage":null,"statusMessage":null,"urlSemantics":"wallpaper/designers-guild/parterre-emerald-wallpaper","productPageId":35340,"url":"/eu/wallpaper/designers-guild/parterre-emerald-wallpaper/p35340","itemAvailability":"LimitedAvailability","orderFormGroupId":null,"orderFormName":"Parterre Emerald","attributes":null,"orderFormGroup":null,"orderFormProperties":[{"key":"Colour","value":"Emerald"},{"key":"Code","value":"PDG1122/02"}],"controls":{"allowOrder":false,"allowReserve":false,"allowReserveWithBatchSample":false,"allowSample":true,"allowLargeSample":true,"allowBackInStockReminder":false,"disableOrder":false,"disableSample":false},"stockMessage":{"productTypeID":18,"quantityMinimum":1.0,"quantityMaximum":0.0,"productTypeQuantityMaximum":null,"quantityIncrement":1.0,"reserveQuantityMaximum":6.0,"unit":" roll(s)","allowStockCheck":false,"pieceBreakdownMinimum":null,"pieceBreakdownMaximum":null,"allowBackInStockReminder":false,"freeStock":6.0,"nextPOFreeStock":0.0,"nextPODueDate":null,"totalPOFreeStock":0.0,"basketQuantityThresholds":[{"minimum":0,"maximum":99999.99}]},"orderButtonText":"Add to Basket","reserveButtonText":"Reserve","reserveWithBatchSampleButtonText":"Reserve with Batch Sample","sample":{"productId":195871,"stockMessage":{"productTypeID":55,"quantityMinimum":1.0,"quantityMaximum":2.0,"productTypeQuantityMaximum":20.0,"quantityIncrement":1.0,"reserveQuantityMaximum":50.0,"unit":"","allowStockCheck":false,"pieceBreakdownMinimum":null,"pieceBreakdownMaximum":null,"allowBackInStockReminder":false,"freeStock":58.0,"nextPOFreeStock":60.0,"nextPODueDate":"2022-12-16","totalPOFreeStock":60.0,"basketQuantityThresholds":[{"minimum":0,"maximum":99999.99,"stockMessages":[{"stockMessage":"In stock","class":"","stockBreakdownTab":0}]}]},"orderButtonText":"Request a Sample","displayPrice":1.2,"displaySalePrice":null,"priceMessage":"1,20 €"},"largeSample":{"productId":195802,"stockMessage":{"productTypeID":56,"quantityMinimum":1.0,"quantityMaximum":87.0,"productTypeQuantityMaximum":null,"quantityIncrement":1.0,"reserveQuantityMaximum":50.0,"unit":"","allowStockCheck":false,"pieceBreakdownMinimum":null,"pieceBreakdownMaximum":null,"allowBackInStockReminder":false,"freeStock":87.0,"nextPOFreeStock":0.0,"nextPODueDate":null,"totalPOFreeStock":0.0,"basketQuantityThresholds":[{"minimum":0,"maximum":99999.99,"stockMessages":[{"stockMessage":"In stock","class":"","stockBreakdownTab":0}]}]},"orderButtonText":"Request a Large Sample","displayPrice":5.95,"displaySalePrice":null,"priceMessage":"5,95 €"}},"Carousel":{"CarouselID":"#product-195807-carsouel","WrapperCSSClass":null,"AspectRatio":1.0,"Heading":"Parterre Emerald","Images":[{"ImageID":122788,"SortOrder":0,"AltText":"Parterre Emerald Large Sample","Overlay":null,"MaxWidth":null,"ApproximateImageSize":5}],"ApproximateImageSize":2,"DisplayThumbnails":false,"DisplayDashes":true,"Interval":null,"PermitLargeImageModal":true},"ProductID":195807,"ProductTypeID":18,"ProductPageID":35340,"ProductCode":"PDG1122/02","Brand":"Designers Guild","OrderFormID":"#product-195807","OrderFormCarouselID":"#product-195807-slide","OrderFormGroupID":null,"OrderFormGroup":null,"Size":null,"OrderFormName":"Parterre Emerald","BasketName":"Parterre Emerald","SortOrder":0,"Attributes":null,"Image":{"imageId":122788,"templateImageId":2,"altText":"Parterre Emerald Large Sample","titleText":"Parterre Emerald Cutting","sortOrder":0,"maxWidth":488},"OrderFormProperties":[{"Key":"Colour","Value":"Emerald"},{"Key":"Code","Value":"PDG1122/02"}],"AllowSample":true,"AllowLargeSample":true,"AllowOrder":false,"AllowReserve":false,"AllowReserveWithBatchCutting":false,"ClientProductViewModels":"productViewModel(195871, 1), productViewModel(195802, 1)","URLKeywords":"wallpaper/designers-guild/parterre-emerald-wallpaper","ImageLinkToProductPage":true,"IsLifestyle":false}},{"X":84.1882257277869,"x":"calc(84.1882% - 12.5px)","Y":46.7621459835934,"y":"calc(46.7621% - 12.5px)","OverlayPosition":"top-right","Product":{"Solitary":false,"ProductBase":{"x":84.188225727786858,"y":46.762145983593363,"product":{"productId":193997,"sortOrder":0,"productTypeId":15,"templateId":2,"code":"FDG2941/10","brand":"Designers Guild Essentials","gtin13":null,"name":"Eriska - Apple","AKA":null,"size":null,"imageId":122285,"imageAltText":"Eriska - Apple Cutting","imageTitleText":"Eriska - Apple Cutting","rRPMessage":null,"rLRRP":"115 € per metre","rLTradePrice":null,"displayPrice":null,"displaySalePrice":null,"priceMessage":null,"statusMessage":null,"urlSemantics":"fabric/designers-guild-essentials/eriska-apple-fabric","productPageId":35117,"url":"/eu/fabric/designers-guild-essentials/eriska-apple-fabric/p35117","itemAvailability":"InStock","orderFormGroupId":null,"orderFormName":"Eriska - Apple","attributes":null,"orderFormGroup":null,"orderFormProperties":[{"key":"Colour","value":"Apple"},{"key":"Code","value":"FDG2941/10"}],"controls":{"allowOrder":false,"allowReserve":false,"allowReserveWithBatchSample":false,"allowSample":true,"allowLargeSample":false,"allowBackInStockReminder":false,"disableOrder":false,"disableSample":false},"stockMessage":{"productTypeID":15,"quantityMinimum":1.0,"quantityMaximum":0.0,"productTypeQuantityMaximum":null,"quantityIncrement":0.1,"reserveQuantityMaximum":36.4,"unit":"m","allowStockCheck":false,"pieceBreakdownMinimum":1.0,"pieceBreakdownMaximum":50.0,"allowBackInStockReminder":false,"freeStock":36.4,"nextPOFreeStock":0.0,"nextPODueDate":null,"totalPOFreeStock":0.0,"basketQuantityThresholds":[{"minimum":0,"maximum":99999.99}]},"orderButtonText":"Add to Basket","reserveButtonText":"Reserve","reserveWithBatchSampleButtonText":"Reserve with Batch Sample","sample":{"productId":193998,"stockMessage":{"productTypeID":55,"quantityMinimum":1.0,"quantityMaximum":2.0,"productTypeQuantityMaximum":20.0,"quantityIncrement":1.0,"reserveQuantityMaximum":23.0,"unit":"","allowStockCheck":false,"pieceBreakdownMinimum":null,"pieceBreakdownMaximum":null,"allowBackInStockReminder":false,"freeStock":23.0,"nextPOFreeStock":99.0,"nextPODueDate":"2022-12-16","totalPOFreeStock":99.0,"basketQuantityThresholds":[{"minimum":0,"maximum":99999.99,"stockMessages":[{"stockMessage":"In stock","class":"","stockBreakdownTab":0}]}]},"orderButtonText":"Request a Sample","displayPrice":1.2,"displaySalePrice":null,"priceMessage":"1,20 €"},"largeSample":{"productId":193999,"stockMessage":{"productTypeID":null,"quantityMinimum":1.0,"quantityMaximum":99.0,"productTypeQuantityMaximum":null,"quantityIncrement":1.0,"reserveQuantityMaximum":null,"unit":"","allowStockCheck":false,"pieceBreakdownMinimum":null,"pieceBreakdownMaximum":null,"allowBackInStockReminder":false,"freeStock":null,"nextPOFreeStock":null,"nextPODueDate":null,"totalPOFreeStock":null,"basketQuantityThresholds":[{"minimum":0,"maximum":99999.99,"stockMessages":[{"stockMessage":" more due in (1-2 weeks)","class":"","stockBreakdownTab":1}]}]},"orderButtonText":"Add to Basket","displayPrice":null,"displaySalePrice":null,"priceMessage":null}}},"Product":{"productId":193997,"sortOrder":0,"productTypeId":15,"templateId":2,"code":"FDG2941/10","brand":"Designers Guild Essentials","gtin13":null,"name":"Eriska - Apple","AKA":null,"size":null,"imageId":122285,"imageAltText":"Eriska - Apple Cutting","imageTitleText":"Eriska - Apple Cutting","rRPMessage":null,"rLRRP":"115 € per metre","rLTradePrice":null,"displayPrice":null,"displaySalePrice":null,"priceMessage":null,"statusMessage":null,"urlSemantics":"fabric/designers-guild-essentials/eriska-apple-fabric","productPageId":35117,"url":"/eu/fabric/designers-guild-essentials/eriska-apple-fabric/p35117","itemAvailability":"InStock","orderFormGroupId":null,"orderFormName":"Eriska - Apple","attributes":null,"orderFormGroup":null,"orderFormProperties":[{"key":"Colour","value":"Apple"},{"key":"Code","value":"FDG2941/10"}],"controls":{"allowOrder":false,"allowReserve":false,"allowReserveWithBatchSample":false,"allowSample":true,"allowLargeSample":false,"allowBackInStockReminder":false,"disableOrder":false,"disableSample":false},"stockMessage":{"productTypeID":15,"quantityMinimum":1.0,"quantityMaximum":0.0,"productTypeQuantityMaximum":null,"quantityIncrement":0.1,"reserveQuantityMaximum":36.4,"unit":"m","allowStockCheck":false,"pieceBreakdownMinimum":1.0,"pieceBreakdownMaximum":50.0,"allowBackInStockReminder":false,"freeStock":36.4,"nextPOFreeStock":0.0,"nextPODueDate":null,"totalPOFreeStock":0.0,"basketQuantityThresholds":[{"minimum":0,"maximum":99999.99}]},"orderButtonText":"Add to Basket","reserveButtonText":"Reserve","reserveWithBatchSampleButtonText":"Reserve with Batch Sample","sample":{"productId":193998,"stockMessage":{"productTypeID":55,"quantityMinimum":1.0,"quantityMaximum":2.0,"productTypeQuantityMaximum":20.0,"quantityIncrement":1.0,"reserveQuantityMaximum":23.0,"unit":"","allowStockCheck":false,"pieceBreakdownMinimum":null,"pieceBreakdownMaximum":null,"allowBackInStockReminder":false,"freeStock":23.0,"nextPOFreeStock":99.0,"nextPODueDate":"2022-12-16","totalPOFreeStock":99.0,"basketQuantityThresholds":[{"minimum":0,"maximum":99999.99,"stockMessages":[{"stockMessage":"In stock","class":"","stockBreakdownTab":0}]}]},"orderButtonText":"Request a Sample","displayPrice":1.2,"displaySalePrice":null,"priceMessage":"1,20 €"},"largeSample":{"productId":193999,"stockMessage":{"productTypeID":null,"quantityMinimum":1.0,"quantityMaximum":99.0,"productTypeQuantityMaximum":null,"quantityIncrement":1.0,"reserveQuantityMaximum":null,"unit":"","allowStockCheck":false,"pieceBreakdownMinimum":null,"pieceBreakdownMaximum":null,"allowBackInStockReminder":false,"freeStock":null,"nextPOFreeStock":null,"nextPODueDate":null,"totalPOFreeStock":null,"basketQuantityThresholds":[{"minimum":0,"maximum":99999.99,"stockMessages":[{"stockMessage":" more due in (1-2 weeks)","class":"","stockBreakdownTab":1}]}]},"orderButtonText":"Add to Basket","displayPrice":null,"displaySalePrice":null,"priceMessage":null}},"Carousel":{"CarouselID":"#product-193997-carsouel","WrapperCSSClass":null,"AspectRatio":1.0,"Heading":"Eriska - Apple","Images":[{"ImageID":122285,"SortOrder":0,"AltText":"Eriska - Apple Cutting","Overlay":null,"MaxWidth":null,"ApproximateImageSize":5}],"ApproximateImageSize":2,"DisplayThumbnails":false,"DisplayDashes":true,"Interval":null,"PermitLargeImageModal":true},"ProductID":193997,"ProductTypeID":15,"ProductPageID":35117,"ProductCode":"FDG2941/10","Brand":"Designers Guild Essentials","OrderFormID":"#product-193997","OrderFormCarouselID":"#product-193997-slide","OrderFormGroupID":null,"OrderFormGroup":null,"Size":null,"OrderFormName":"Eriska - Apple","BasketName":"Eriska - Apple","SortOrder":0,"Attributes":null,"Image":{"imageId":122285,"templateImageId":2,"altText":"Eriska - Apple Cutting","titleText":"Eriska - Apple Cutting","sortOrder":0,"maxWidth":488},"OrderFormProperties":[{"Key":"Colour","Value":"Apple"},{"Key":"Code","Value":"FDG2941/10"}],"AllowSample":true,"AllowLargeSample":false,"AllowOrder":false,"AllowReserve":false,"AllowReserveWithBatchCutting":false,"ClientProductViewModels":"productViewModel(193998, 1)","URLKeywords":"fabric/designers-guild-essentials/eriska-apple-fabric","ImageLinkToProductPage":true,"IsLifestyle":false}}]}],"RecentlyViewed":[],"MasterDefinition":{"SiteSectionID":null,"TitleTag":"Brera Lino Verdigris & Apple Linen Cushion | Designers Guild","MetaDescription":"Two tones of Brera Lino pure linen feature in this contemporary square cushion in verdigris, reversing to apple with unique double seams. Finished with a t","BackInStockReminder":null,"ItemsInBasket":0.0,"UrlBreakdown":{"ContentType":1,"ContentId":34934,"ContentDate":"2022-12-02T00:00:00","SemanticString":"brera-lino-verdigris-apple-linen-cushion","countryDetails":{"CountryLanguageID":21,"RegionID":3,"CountryID":67,"CountryCode":"EE","LanguageID":1,"SortOrder":255,"Name":"Europe","URL":"eu","DotNetCulture":"et-EE","ShopEnabled":true,"LanguageCode":"en","LanguageDotNetCulture":"en-GB","MertexCurrencyCode":"EUR","CurrencyCode":"EUR","PriceListID":19,"AllowTradeOrders":true,"AcceptAmazonPay":false,"BuyOnlineRedirectAllowed":false,"EcommerceEnabled":false,"SamplesEnabled":true},"contentTypeAndIdNotFound":false,"CountryAwareness":{"Match":false,"Culture":"us","objCountryItem":{"CountryLanguageID":5,"RegionID":2,"CountryID":238,"CountryCode":null,"LanguageID":2,"SortOrder":1,"Name":"United States","URL":"us","DotNetCulture":"en-US","ShopEnabled":true,"LanguageCode":"us","LanguageDotNetCulture":"en-US","MertexCurrencyCode":"USD","CurrencyCode":"USD","PriceListID":2,"AllowTradeOrders":false,"AcceptAmazonPay":true,"BuyOnlineRedirectAllowed":false,"EcommerceEnabled":false,"SamplesEnabled":false}},"GeoIPCulture":null},"GoogleHrefs":[{"hreflang":"de","href":"https://www.designersguild.com/de/brera-lino-verdigris-apple-linen-cushion/p34934"},{"hreflang":"fr","href":"https://www.designersguild.com/fr/brera-lino-verdigris-apple-linen-cushion/p34934"},{"hreflang":"en-gb","href":"https://www.designersguild.com/uk/brera-lino-verdigris-apple-linen-cushion/p34934"},{"hreflang":"en-se","href":"https://www.designersguild.com/se/brera-lino-verdigris-apple-linen-cushion/p34934"},{"hreflang":"en-us","href":"https://www.designersguild.com/us/brera-lino-verdigris-apple-linen-cushion/p34934"},{"hreflang":"es","href":"https://www.designersguild.com/es/brera-lino-verdigris-apple-linen-cushion/p34934"},{"hreflang":"it-it","href":"https://www.designersguild.com/it/brera-lino-verdigris-apple-linen-cushion/p34934"},{"hreflang":"en-nl","href":"https://www.designersguild.com/nl/brera-lino-verdigris-apple-linen-cushion/p34934"},{"hreflang":"ru","href":"https://www.designersguild.com/ru/brera-lino-verdigris-apple-linen-cushion/p34934"},{"hreflang":"ja-jp","href":"https://www.designersguild.com/jp/brera-lino-verdigris-apple-linen-cushion/p34934"},{"hreflang":"en-be","href":"https://www.designersguild.com/be/brera-lino-verdigris-apple-linen-cushion/p34934"},{"hreflang":"en-au","href":"https://www.designersguild.com/au/brera-lino-verdigris-apple-linen-cushion/p34934"},{"hreflang":"en-dk","href":"https://www.designersguild.com/dk/brera-lino-verdigris-apple-linen-cushion/p34934"},{"hreflang":"en-gr","href":"https://www.designersguild.com/eu/brera-lino-verdigris-apple-linen-cushion/p34934"},{"hreflang":"en-no","href":"https://www.designersguild.com/no/brera-lino-verdigris-apple-linen-cushion/p34934"},{"hreflang":"de-at","href":"https://www.designersguild.com/at/brera-lino-verdigris-apple-linen-cushion/p34934"},{"hreflang":"de-ch","href":"https://www.designersguild.com/de-ch/brera-lino-verdigris-apple-linen-cushion/p34934"},{"hreflang":"fr-ch","href":"https://www.designersguild.com/fr-ch/brera-lino-verdigris-apple-linen-cushion/p34934"},{"hreflang":"en","href":"https://www.designersguild.com/row/brera-lino-verdigris-apple-linen-cushion/p34934"},{"hreflang":"en-nz","href":"https://www.designersguild.com/nz/brera-lino-verdigris-apple-linen-cushion/p34934"},{"hreflang":"en-ie","href":"https://www.designersguild.com/ie/brera-lino-verdigris-apple-linen-cushion/p34934"},{"hreflang":"fi-fi","href":"https://www.designersguild.com/fi/brera-lino-verdigris-apple-linen-cushion/p34934"},{"hreflang":"x-default","href":"https://www.designersguild.com/brera-lino-verdigris-apple-linen-cushion/p34934"}],"CountryDropDown":{"countryDropDownItems":[{"CountryID":81,"Code":null,"LanguageID":1,"RegionID":3,"LanguageCode":"en","Country":"UK","Region":"Europe","URL":"uk","URLKeywords":"","SortOrder":1,"PageID":0},{"CountryID":15,"Code":null,"LanguageID":4,"RegionID":3,"LanguageCode":"de","Country":"Austria","Region":"Europe","URL":"at","URLKeywords":"","SortOrder":11,"PageID":0},{"CountryID":23,"Code":null,"LanguageID":1,"RegionID":3,"LanguageCode":"en","Country":"Belgium","Region":"Europe","URL":"be","URLKeywords":"","SortOrder":12,"PageID":0},{"CountryID":62,"Code":null,"LanguageID":1,"RegionID":3,"LanguageCode":"en","Country":"Denmark","Region":"Europe","URL":"dk","URLKeywords":"","SortOrder":13,"PageID":0},{"CountryID":74,"Code":null,"LanguageID":15,"RegionID":3,"LanguageCode":"fi","Country":"Finland","Region":"Europe","URL":"fi","URLKeywords":"","SortOrder":15,"PageID":0},{"CountryID":79,"Code":null,"LanguageID":3,"RegionID":3,"LanguageCode":"fr","Country":"France","Region":"Europe","URL":"fr","URLKeywords":"","SortOrder":16,"PageID":0},{"CountryID":60,"Code":null,"LanguageID":4,"RegionID":3,"LanguageCode":"de","Country":"Germany","Region":"Europe","URL":"de","URLKeywords":"","SortOrder":17,"PageID":0},{"CountryID":106,"Code":null,"LanguageID":1,"RegionID":3,"LanguageCode":"en","Country":"Ireland","Region":"Europe","URL":"ie","URLKeywords":"","SortOrder":18,"PageID":0},{"CountryID":114,"Code":null,"LanguageID":6,"RegionID":3,"LanguageCode":"it","Country":"Italy","Region":"Europe","URL":"it","URLKeywords":"","SortOrder":19,"PageID":0},{"CountryID":170,"Code":null,"LanguageID":13,"RegionID":3,"LanguageCode":"en","Country":"Netherlands","Region":"Europe","URL":"nl","URLKeywords":"","SortOrder":20,"PageID":0},{"CountryID":71,"Code":null,"LanguageID":5,"RegionID":3,"LanguageCode":"es","Country":"Spain","Region":"Europe","URL":"es","URLKeywords":"","SortOrder":23,"PageID":0},{"CountryID":202,"Code":null,"LanguageID":1,"RegionID":3,"LanguageCode":"en","Country":"Sweden","Region":"Europe","URL":"se","URLKeywords":"","SortOrder":24,"PageID":0},{"CountryID":171,"Code":null,"LanguageID":1,"RegionID":3,"LanguageCode":"en","Country":"Norway","Region":"Europe","URL":"no","URLKeywords":"","SortOrder":52,"PageID":0},{"CountryID":118,"Code":null,"LanguageID":11,"RegionID":4,"LanguageCode":"jp","Country":"Nihon","Region":"Africa, Asia & the Middle East","URL":"jp","URLKeywords":"","SortOrder":71,"PageID":0},{"CountryID":46,"Code":null,"LanguageID":3,"RegionID":3,"LanguageCode":"fr","Country":"Switzerland","Region":"Europe","URL":"fr-ch","URLKeywords":"","SortOrder":102,"PageID":0},{"CountryID":46,"Code":null,"LanguageID":4,"RegionID":3,"LanguageCode":"de","Country":"Switzerland","Region":"Europe","URL":"de-ch","URLKeywords":"","SortOrder":103,"PageID":0},{"CountryID":196,"Code":null,"LanguageID":10,"RegionID":3,"LanguageCode":"ru","Country":"Russian Federation","Region":"Europe","URL":"ru","URLKeywords":"","SortOrder":109,"PageID":0},{"CountryID":238,"Code":null,"LanguageID":2,"RegionID":2,"LanguageCode":"us","Country":"United States","Region":"North America","URL":"us","URLKeywords":"","SortOrder":125,"PageID":0},{"CountryID":16,"Code":null,"LanguageID":12,"RegionID":6,"LanguageCode":"au","Country":"Australia","Region":"Australasia","URL":"au","URLKeywords":"","SortOrder":150,"PageID":0},{"CountryID":175,"Code":null,"LanguageID":18,"RegionID":6,"LanguageCode":"nz","Country":"New Zealand","Region":"Australasia","URL":"nz","URLKeywords":"","SortOrder":151,"PageID":0},{"CountryID":67,"Code":null,"LanguageID":1,"RegionID":3,"LanguageCode":"en","Country":"Other Countries in Europe","Region":"Europe","URL":"eu","URLKeywords":"","SortOrder":255,"PageID":0},{"CountryID":51,"Code":null,"LanguageID":1,"RegionID":4,"LanguageCode":"en","Country":"Rest of the World","Region":"Africa, Asia & the Middle East","URL":"row","URLKeywords":"","SortOrder":255,"PageID":0}]},"ProductTypeDropDown":{"ProductTypes":[{"ProductTypeID":15,"Name":"Fabric","NamePlural":null,"URLKeywords":null,"SortOrder":0,"ProductPageIDs":null,"FormValue":"fabric"},{"ProductTypeID":18,"Name":"Wallpaper","NamePlural":null,"URLKeywords":null,"SortOrder":0,"ProductPageIDs":null,"FormValue":"wallpaper"},{"ProductTypeID":8,"Name":"Paint","NamePlural":null,"URLKeywords":null,"SortOrder":0,"ProductPageIDs":null,"FormValue":"paint"},{"ProductTypeID":10,"Name":"Rug","NamePlural":null,"URLKeywords":null,"SortOrder":0,"ProductPageIDs":null,"FormValue":"rug"},{"ProductTypeID":4,"Name":"Cushion","NamePlural":null,"URLKeywords":null,"SortOrder":0,"ProductPageIDs":null,"FormValue":"cushion"},{"ProductTypeID":1,"Name":"Bed Linen","NamePlural":null,"URLKeywords":null,"SortOrder":0,"ProductPageIDs":null,"FormValue":"bed-linen"},{"ProductTypeID":2,"Name":"Throw","NamePlural":null,"URLKeywords":null,"SortOrder":0,"ProductPageIDs":null,"FormValue":"throw"},{"ProductTypeID":35,"Name":"Furniture","NamePlural":null,"URLKeywords":null,"SortOrder":0,"ProductPageIDs":null,"FormValue":"furniture"}]},"TradeMember":false,"TradeAllowed":false,"CanViewRRPs":false,"LoginStatus":0,"UserName":null},"Visitor":{"visitorDbId":196308527,"FullName":null,"Email":null,"Culture":null,"VisitorCreatedDT":"0001-01-01T00:00:00","memberId":null,"tradePriceListId":null,"memberTradeAccountNumber":null,"memberTradeAccountID":null,"memberDisplayTradePrice":false,"memberTradeDataSourceJson":null,"tradePermissionAccountAdmin":false,"tradePermissionPlaceOrder":false,"tradePermissionViewAccounts":false,"tradePermissionDownloadPricelistsBrochures":false,"tradePermissionDownloadProductFeeds":false},"DotDigitalBehaviourProfile":{"WebBehaviourTrackingProfileID":"DM-1667704159-01"},"Scrapbook":{"Images":[]},"TradeOrderingAllowed":true,"SearchTerm":null,"ProductType":null,"LanguageID":1,"CountryID":67,"Date":"2022-12-02T00:00:00","ContentType":1,"ContentID":34934,"SiteSectionID":null,"ShowRecentlyViewed":true,"Partial":null,"CategoryPageProductType":null}
{"ImageID":124318,"SortOrder":0,"AltText":"Brera Lino Verdigris & Apple Cushion","Overlay":null,"MaxWidth":1024,"ApproximateImageSize":5}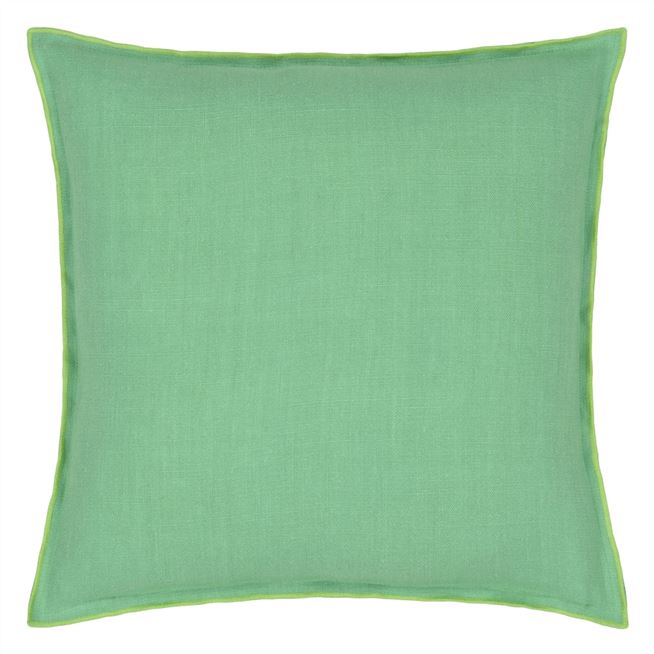 {"ImageID":124588,"SortOrder":1,"AltText":"Brera Lino Verdigris & Apple Cushion - Reverse","Overlay":null,"MaxWidth":1024,"ApproximateImageSize":5}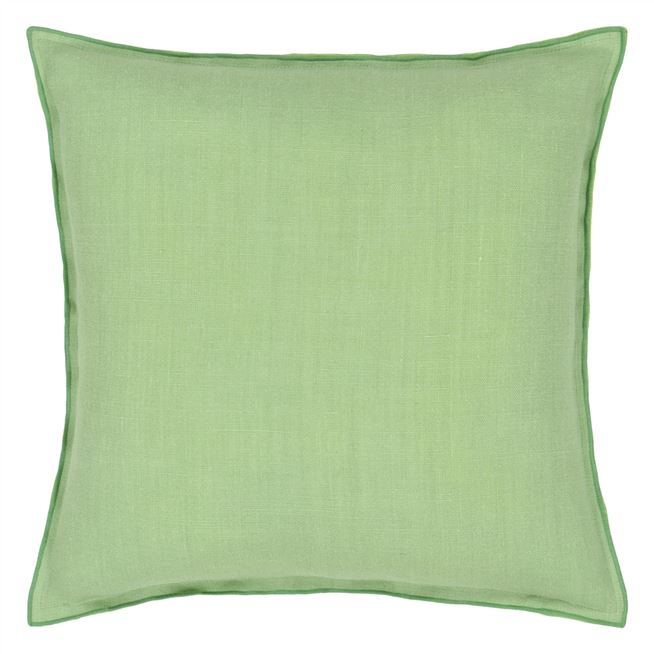 {"ImageID":124431,"SortOrder":2,"AltText":null,"Overlay":null,"MaxWidth":1024,"ApproximateImageSize":5}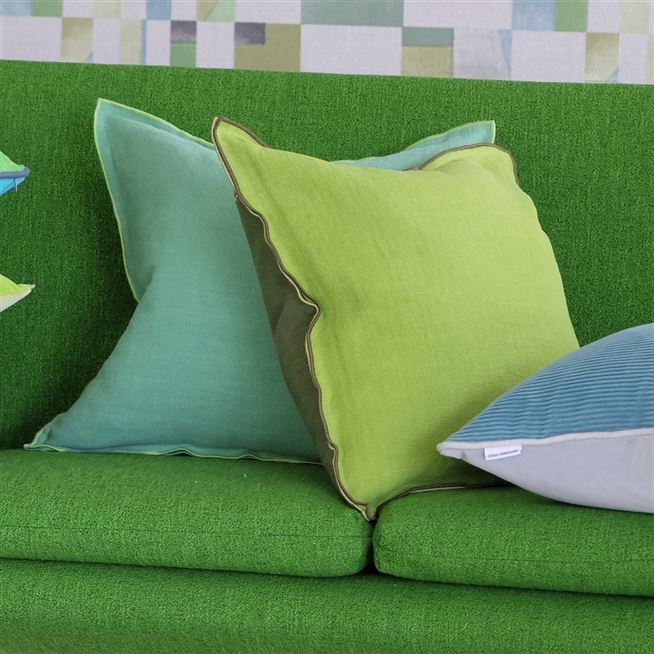 {"ImageID":124429,"SortOrder":3,"AltText":null,"Overlay":null,"MaxWidth":1024,"ApproximateImageSize":5}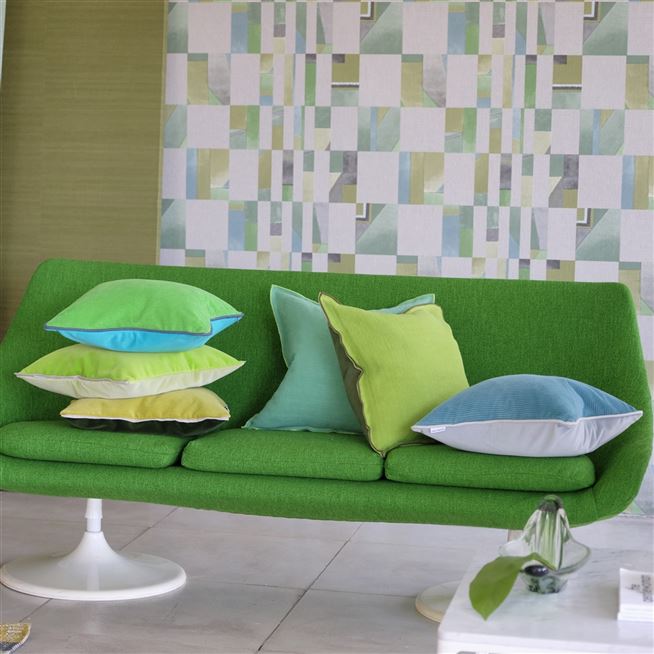 Brera Lino Verdigris & Apple Linen Cushion
Designers Guild
43 X 43 cm
---
---
{"imageId":124318,"templateImageId":2,"altText":"Brera Lino Verdigris & Apple Cushion","titleText":"Brera Lino Verdigris & Apple Cushion","sortOrder":0,"maxWidth":488}
"CCDG1003"
Size
43 x 43cm
Colour
Verdigris & Apple
Code
CCDG1003
---
Two tones of Brera Lino pure linen feature in this contemporary square cushion in verdigris, reversing to apple with unique double seams. Finished with a tonal overlocked stitch border, this modern cushion is the perfect complement for any scheme.
Brand

Designers Guild

Style

Plain

Shape

Square

Care Instructions

Cold water gentle wash

Composition

100%Li
No reviews are available for this product yet.